| | |
| --- | --- |
| | This article, X-D2552, was written by Maslab. Please do not edit this fiction without the writer's permission. |
X-D2552
Biographical Information

DATE OF BIRTH

2550

DATE OF DEATH

April 30, 2580

Physical Description

HEIGHT

6' 11" (Unarmored); 7' 5" (Armored

HAIR COLOR

Ash Blond

EYE COLOR

Bright Blue

GENDER

Male

CYBERNETICS

SPARTAN Class Neural Interface

Political and Military Information

RANK

Petty Officer Second Class (E-5)

SPARTAN TAG

D2552

SERVICE NUMBER

45682-22552-XI

UNIT

SPECIALITY

Demolitions Expert

CLASS

SPARTAN-III, Delta Company

AFFILIATION

ERA

[Source]
"Sir, I would like to report a successful demolition. The others at lunch aren't so happy, however."
―X reporting back to Wings after training
Training
X put forward superb skill in knowing what explosives did and how they worked.
Zeta-9
X was the one who set the charges that destroyed the Covenant base.
Aftermath of the Battle for Zeta-9
X studied up more on experimental demolition techniques.
Siege of Alpha-Alpha-Golf
Phoenix team's first deployment after completing their training was to the dry world of Alpha-Alpha-Golf. It was there that Wings discovered that he had contracted his dangerous disease (see Augmentations below). They were able to successfully destroy several convoys of energy cells, weakening the Covenant lines and allowing Interspecies Union forces to take the planet.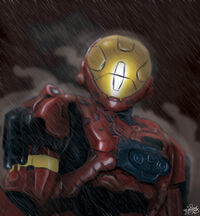 X in his EVA armor.
Aftermath of the Siege of AAG
Phoenix Team returned to the super carrier, Advent, and X and Zero discussed their teammates turmoils.
Appearance and Personality
X reflects Kurt in that he is more sociable than most Spartans, but X has a much fiery temper, especially when the rest of his team's lives are on the line.
His armor is Mark VII MJOLNIR powered armor. It incorporates earlier MJOLNIR design aesthetics, but adds the ability of the discontinued Spartan III SPI armor's camouflage. This gives the new suit a much greater advantage in the battlefield. X has customized his armor with gyro balanced pockets to hold volatile explosives.
X shows emotion much more than Peec, but doesn't have quite so much turmoil.
Advantages
Very skilled demolitions expert and driver. Also Phoenix Team's best close quarters combatant.
Disadvantages
Not good with long ranged weapons.
Likes making bad puns.
Awards
UNSC Medal of Honor
Spartan Training Top Honors
†Deceased
[DISBANDED]