Instalation 06 Monitor Comunications Station

Please enter a message into database A and leave me a Message.--16807 Penitent Spark

[Communications] [File History]
I don't what you did, but when you tried to fix things you screwed up more of it. I've taken care of it though. In future don't edit my pages again, i'm too busy right now to have to run damage control over here too.
-- Donut THX 1138 [Comm] - [CoH] - ['Nodotee] 20:53, 23 March 2007 (UTC)
Next time you want to use an infobox, click on "SOURCE" at the bottom of the box. It shows you the source options, and you don't end up vandalizing another user's page.

-- Donut THX 1138 [Comm] - [CoH] - ['Nodotee] 20:57, 23 March 2007 (UTC)
What's done is done. It has been corrected. Just remember the source tab in the future.
-- Donut THX 1138 [Comm] - [CoH] - ['Nodotee] 21:29, 23 March 2007 (UTC)
It's fine. However, stop speaking badly upon yourself, you're still very new compared to me and others, you make mistakes. What's important is that you learn from your mistakes. The only thing i want from you is, stop speaking badly upon yourself, you're doing fine. You didn't know, it's ok.

-- Donut THX 1138 [Comm] - [CoH] - ['Nodotee] 21:46, 23 March 2007 (UTC)
RE:Penitent Spark
Did you mean could you use the name I suggested, because if that is what you meant, then 16807 Remorseful Incentive. If it isn't...just tell me and I'll roll back the changes.
--Master Gunnery Sergeant

Hank J Wimbleton IV

COM 17:17, 24 March 2007 (UTC)
TT.TT
I thought was going to be the first one on Installation O6! @.O HI!
User:Twilightstorm
n.n
It ok. I'm was making a story with 06 as the setting and your covenant forces are now in it! Perhaps we culd work on installation 06 together. It is al up to you.
Au Revoir!
User:Twilightstorm
Invitation
I would like to invite you into Clan Royal Blood. Please get back to if you can. If you don't reply during this month i will take it that you don't want to join.
Bloodstar 18:57, 12 April 2007 (UTC)
Ars Arcanum, my story takes place on your Installation. I have yet to add your forces to the raging chaos. I wish to ask if we can join up on this. Your making the installation, this i know and my story is about an engimatic woman taking contorl of forerunner installations and cotructs. If we do work together on this we might convert this into a role play. Think about it...
Twilightstorm 14:56, 3 May 2007 (UTC)
Swell...
I already know about your monitor and your installation. We just need peopel now. and thanks.
Twilightstorm 00:18, 7 May 2007 (UTC)
Think I'll get in trouble or is it too soon to do this?
Twilightstorm 00:41, 12 May 2007 (UTC)
Your show
Hey we're partners. Do what ever y'know?
The Proud Lion 14:52, 14 May 2007 (UTC)
RP Invite
Here you go!!!!
Anaba 'Eesoree, you have been invited to Project: Hollow Bastion, an entertaining, fun collaboration amongst Halopedians to encourage comradliness and to forge bonds of cameradarie within the fire of holiday pleasantness and good-'ol Halo fun for the trials to come. It is essentially a freeform fan fiction RP over UNSC battles. If you are interested, Anaba 'Eesoree, please do message me, 117649 Annihilative Repentance at my talk page or Spartan G-23 at his talk page and then head on over to the Project Page.

Good luck, and shall your legacy long be remembered by future generations.

Do not falter in your legendary accomplishments, Anaba 'Eesoree.
-Monitor of Installation-07 11:42 PM, May 15th, 2007
I need help creating a characterMatf 17:43, 31 August 2007 (UTC)
Sysop Campaign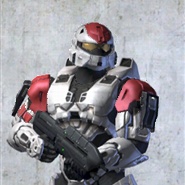 Hi it's the parkster! I'm here to ask for a minute of your time so I can tell you why I would be a great new admin for this site. I've been a dedicated member of this community since November 2007 and I have learnt a lot from many users on this site. I am one of the four users of this community who are running for one of three new places in the administration team. I believe that I am the right person to fore fill this place, and these are my reasons why:
My Work
---
During my time as a member of Halo Fanon I have learnt a lot about fanon and how it works. I have created policy obeying articles and have written some well rated work too, which has had really good feedback. I carry on delivering good fanon with every new article, which I make.
My level of English is also very high. I can write originally and creatively and I do it well too. I have had positive responses to my work and I often tend to create fanon, which links other user's work together. This level of writing and imagination will be useful for me if I become an admin, as I would be hosting RP's and helping people with their stories or projects.
Site Policies
---
Policies are important for any fan fiction site. They bring the level of imagination and freedom to a suitable stage, where users can embellish others work and appreciate the site's fair and appropriate fanon. However with new users and media being added into the Halo universe, sometimes people break the level of suitable work. God Modding is a major problem in lots of fan fiction sites and I believe that it was one, which needed addressing, a few months ago.
Many users agreed but I stepped forward and offered to spend a lot of time to make a sustainable policy, which everyone would obey and most importantly agree with. I created this new policy and a new separate template instead of the old NCF template, which was too vague. This has really helped a lot of articles, which were God Modded, and I've got great feedback from many users about my efforts.
But it hasn't stopped there. If you vote for me, then I can further this and work a lot harder with the community to generate new policies, which will boost the site's popularity and high standards. Not only can I create policies, and help with the development of them, but I can follow them through and use them appropriately. This is an important part of Halo Fanon, and with your support I can advance it so much more for the benefit of the community and you.
Natural Leader
---
As an admin, you would have to lead and show a high level of work in your leadership. I have been praised over the years for my natural ability to lead groups of people and deliver great results. On an online basis, this doesn't change. Back in January of this year I requested a wiki for the game Burnout Paradise.
I have been committed to the site and have made it look really individual and contributed a lot of work to its success. As it has grown to be so successful over the last eight months, we have recently decided to expand the site so it would cover all Burnout games. I have helped the community through the early stages of the expansion well and I have organised many changes, which will be implemented in the near future.
As an admin I can deal with serious issues very well and with appropriate action too. I know in the past I have sometimes made mistakes in the way that I deal with matters. However I have learnt from this and with the responsibilities of being an admin I can resolve issues extremely well and appropriately. I've shown that I can do this and if I am made an admin I will carry on helping the community during rough times.
Helpful
---
Finally if you have any questions that you want to ask; if you are stuck or wondering about something, then I'll be here to give you advice and answer your questions the best I possibly can. I'm always ready to help and if I can't answer your question, as well as you need, then I know users who will be able to help you. I will guide you to them and make sure that your problem or question is solved or answered.
I'm also very honest and constructively critical about other user's fanon. Whether it's breaking policies or well written then I'll give useful feedback. I believe that feedback is important and, before I addressed the issue, people only really commented on other user's work if it was breaking policies or rules.
However I did something to make the talk page a kinder place to read. I introduced the feedback template to ensure that people criticised fanon more positively, than they had previously done. This has made more people happy and appreciative of other user's work, around the site, and it is down to me that this new positive attitude has developed.
Thank You
---
Thanks for spending your time reading this, I greatly appreciate it. Now all you need to do is vote. If you want an admin that is kind and helpful; then vote for me. If you want an admin that can joke but still take serious issues seriously; then vote for me. If you want an admin that creates high standard work, which benefits other people's fanon too; then vote for me. Overall if you want a great admin to make this site, and its fanon, better in loads of beneficial ways; then vote for me. Thank you so much for your time; I hope you make the right decision in voting for me.
Regards,
</b></font>
Installation 06
I noticed that your page, Installation 06, was basically adopted by Eaite'Oodat. I was just wondering if this was willing on your part, or if Eaite did so without your permission. If you didn't agree to the take over, I can make two separate pages, one for you and the other for Eaite (now that the fanon contradiction clause is gone).
--Master Gunnery Sergeant Hank J Wimbleton IVCOM 05:38, 7 September 2008 (UTC)
Community content is available under
CC-BY-SA
unless otherwise noted.