UnggoyZealot
Gender
Male
Height
Unggoy-sized.
Weight
Changes too rapidly for me to know.
Blood Type
Dunno, Unggoy?
Date of Birth
Like I'm telling you that.
Zodiac
Dunno.
Nationality
Guess a big country in America.
Birthplace
Somewhere in that country.
Religion
Like I'm telling you that.
Speciality
Unggoy scientist. (Is it legit?)
Occupation
Like I'm telling you that.
Rank on Wiki
In Unggoy terms, I'm a pro. Otherwise, I am just a normal user.
Gamertag
Like I'm telling you that. (I do have one.)
Slaps hood of car with NCF tag.
"This baby has so many canon breaches in it, you'll never know what official lore is again."
―UnggoyZealot
Behold the noobiest of them all! (Me, not you, <insert name here>) I've been around these parts for about a year now, and hope to stay on Halo Fanon for as long as I can, hopefully a few more years. As the name suggests, I'm an Unggoy with the rank of a Sangheili. If you find my name too long, you can call me UZ for short. Hope all you Kig-Yar out there are hearing this, because Unggoy are the true Reclaimers! Those humans were just a last minute substitution. Anyways, I first got introduced to Halo when I was seven (believe it) and I got some Halo Mega Bloks as they were called back then. I wondered what they were based on, and my dad told me "Halo." If you wanna hear me stop blabbering and look at my stuff <insert name here>, then get on with it, and go to my Organizer and Sandbox. So, back to where I was, I thought that was cool and started playing Halo at ten (I mean it) and soon I was engulfed in the Halo-verse. My sole work that I'm really proud of is my Sangheili character Grono 'Yendam. I've met some pretty cool people here during my year, and I'd recommend you to join so you can meet 'em too! (If you haven't already joined. :P) Moving that aside, I've got two plasma grenades, so who wants hugs?
Awards
2018
2019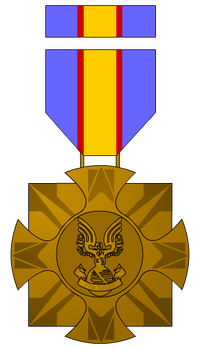 ---
On behalf of the Halo Fanon administration, Brodie-001 has awarded you the Colonial Cross, for acts of tenacity and perseverance. This medal indicates the high level of commitment you have placed towards upholding the quality of Halo Fanon.
---
Given on January 1st, 2019, to UnggoyZealot.
My Creations
Characters
Organizations
Technology
Locations
Battles
Novels
Short Stories
Summaries
Games
Concepts
Species
My Sigs
UnggoyZealot -

<insert name here>

is a bully! And do you know what I do to bullies? I use my Anti-Bully Blamite, that's what!:
TALK - Tuesday 10:55 2019
If you find this on your talk page, then the Unggoy Rebellion has begun...
| | |
| --- | --- |
| | |
Vadumverse
Bulletin
Current News
User
Date
Announcement

Andromeda Vadum

October 20, 2016

Our #NewWindowLink and Vadumverse main theme appears to be broken and will hopefully be fixed shortly
Previous News
User
Date
Announcement
Andromeda Vadum
March 16, 2016
We are now getting started to collaborate on the Earth riots of 2558. In Halo 5 we watched Cortana release an EMP blacking out Earth. With the UEG Law Enforcement and UNSC Defense Force as the primary lines of defense; their mission will be to protect Earth and chase off antagonists from unruly citizens to deadly criminal gangs. Locations are world wide but we will focus on: Los Angeles, Washington D.C, New York, and probably the Midwest. Any other cities fill free to tell me on my talk page. I will start the first post tomorrow if I can fight the laziness and write.
Community content is available under
CC-BY-SA
unless otherwise noted.