Chris Cobbold (a.k.a. Rotaretilbo)
Biographical information
Homeworld

Earth

Date of birth

February 4, 1990

Date of death

N/A

Physical description
Rank

Bureaucrat(R)

Gender

Male

Height

5'6"

Equipment

GIGABYTE GA-990FXA-UD7 AM3+ AMD 990FX Extended ATX ATX Mother Board
AMD FX-8350 Vishera 4.0GHz Socket AM3+ 125W Eight-Core Processor
GIGABYTE Radeon R9 295X2 8GB PCI Express 3.0 x16 Graphics Card
SAMSUNG 840 Series 250GB SATA III Solid State Drive
Western Digital Black 4TB 7200RPM 64MB Cache SATA 6Gb/s Hard Disk Drive
SAMSUNG Spinpoint F3 1TB 7200RPM 32KB Cache SATA 3Gb/s Hard Disk Drive
Antec HCP-1300 Platinum 1300W Power Supply Unit
4 G.SKILL Ripjaws Z Series 8GB PC3 14900 240-Pin DDR3-1866 SDRAM Sticks
Integrated VIA Vinyl VT1708S 8-Channel 7.1 Audio Sound Card
NZXT Phantom Black/Green Full Tower Case
BenQ XL2730Z Black-Red 27" 1ms Widescreen LED Monitor w/ Free-Sync
Acer G246HLAbd Black 24" 5ms Widescreen LED Monitor
RAZER Naga Hex Mouse
RAZER BlackWidow 2013 Edition Mechanical Keyboard
Turtle Beach Ear Force Stealth 450 7.1 USB Wireless Circumaural Headset

Vehicles

2008 Taupe Gray Metallic Chevrolet Malibu Sedan

Hair color

ash brown (with auburn brown facial hair)

Eye color

blue

Chronological and political information
Era(s)

Information Age

  [Source]
Life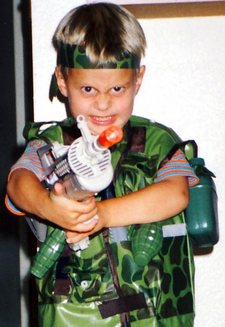 Rotaretilbo's name is Chris Cobbold.
He is twenty-eight-years-old. He was born and raised in Gilbert, Arizona, a suburb of the Phoenix metropolitan area, in the United States of America. He is currently employed as a systems and networking administrator for a small business called Flight Trails. He also provides technical consulting and web design for several other small businesses on the side. He attended Arizona State University in Computer Science Engineering, completing roughly enough credit hours to be a sophomore before dropping out. He enrolled at Mesa Community College in Networking Administration, and took classes to complete a Cisco Certified Network Associate. He lives with several friends in a house in the Phoenix metropolitan area.
Ethnically, he is 3/8 English, 1/4 Irish, 1/8 German, 1/8 Italian, and 1/8 Swedish. He speaks English fluently, German moderately, and dabbles in Russian and Japanese. Politically, he was raised a conservative, but is currently a moderate leaning liberal. Religiously, he was raised a baptist, but is currently an agnostic.
He enjoys satire, and can, at times, be particularly sarcastic. A perfectionist in practice, he has been known to spend hours or even days on projects to ensure that they are exactly as he wants them to be. On the downside, he is frequently overwhelmed by projects he takes on, which end up left incomplete. As a perfectionist, he refuses to compromise on quality, meaning that projects will always either be perfect or incomplete. He is prone to random bouts of laziness and the occasional mood swing.
He is a gamer, preferring PC over any particular console. While games of the first person shooter and real time strategy genres are close to his heart, he spends most of his gaming time playing indie games on Steam, such as Undertale and Darkest Dungeon. His favorite active developer is Valve, and his favorite past developer is WestWood Studios, as Command & Conquer: Red Alert 2 was the game that introduced him to PC gaming. He is also somewhat fond of older games by Blizzard, DICE, and BioWare. He grew up on Nintendo and Sega consoles, and is still fond of those systems, as well as the older Halo games on Xbox and Xbox 360.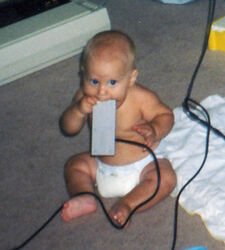 He doesn't watch much television. He followed Breaking Bad on AMC and Game of Thrones on HBO, watching the former to conclusion and continuing to follow the latter despite how poor an adaptation it has grown into. He more frequently watches shows on Netflix, which is far more convenient, and enjoys series such as Firefly and X-Files. When South Park was removed from Netflix, he began following it on Comedy Central. He rather enjoys anime, and is in the process of watching several series. His favorite anime in no particular order are Avatar: The Last Airbender (deal with it), Gurren Lagann, Spice and Wolf, Katanagatari, Psycho-Pass, Hunter x Hunter (2011), Steins;Gate, Madoka★Magica, Nichijou, Cowboy Bebop, Neon Genesis: Evangelion, My Hero Academia, Fullmetal Alchemist: Brotherhood, Azumanga Daioh, Baccano!, Hellsing: Ultimate, Hyouka, K-On!, One Punch Man, KonoSuba, Log Horizon, Mob Psycho 100, Death Note, Kids on the Slope, March Comes Like a Lion, RWBY, Food Wars!: Shokugeki no Soma, Rurouni Kenshin, Kobayashi's Dragon Maid, Serial Experiments Lain, YuYu Hakusho, Saga of Tanya the Evil, From the New World, Samurai Jack (deal with it), No Game No Life, Trigun, Re:ZERO, Attack on Titan, Girl und Panzer, Higurashi no Naku Koro ni, Humanity Has Declined, Mobile Suit Gundam 00, SCHOOL-LIVE!, and Mobile Suit Gundam: Iron-Blooded Orphans. He also considers Bleach, Dragon Ball Z, InuYasha, and Hare+Guu to be guilty pleasures.
He enjoys reading, but he usually stays inside series that he already knows. Thus, he usually tends to read books written by George R.R. Martin, R.A. Salvatore, the late Brian Jacques, and Eric Nylund, with the occasional military history book - such as Tigers in the Mud or Vietnam Verdict: A Citizen's History - thrown in. With the death of Brian Jacques, he has migrates slowly away from reading in favor of anime as a means of passing time. He has occasionally read manga, following Bleach until the art quality decline in 2013, and currently following Shingeki no Kyojin, Hunter x Hunter, and My Hero Academia. He's recently taken to light novels such as Spice and Wolf and Saga of Tanya the Evil.
He spends a decent amount of his time on the Internet, and when he isn't on one of the many forums he frequents, he is reading various webcomics. He enjoys humor, so his current list of things actively viewed is as follows
Digital Gambit (ended)
Virtual Shackles (ended)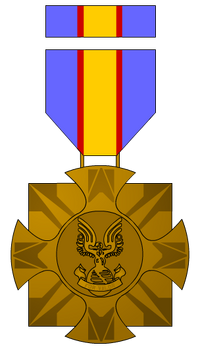 ---
On behalf of the Halo Fanon administration, Ajax 013 has awarded you the Colonial Cross, for acts of tenacity and perseverance. This medal indicates the high level of commitment you have placed towards upholding the quality of Halo Fanon.
---
Given on September 11th, 2008, to Rotaretilbo.
Community content is available under
CC-BY-SA
unless otherwise noted.