| | |
| --- | --- |
| | This article, ONI recon 111/Ben Jackson, was written by ONI recon 111. Please do not edit this fiction without the writer's permission. |
Sergeant Ben Jackson
Biographical information
Homeworld

Earth

Date of birth

2558

Physical description
Rank

Sergeant

Gender

Male

Height

6'0ft

Weapons
Equipment
Vehicles

can drive M12A4 Warthog Knight Light Recon Vehicle

Hair color

Brown

Eye color

Brown

Chronological and political information
Era(s)

Necros War

Affiliation

UNSC

  [Source]
"Move up, they don't know we're here yet"
―during sneak attack
"fallback!, i repeat, fallback!"
―during a battle with necros
Early Life
Ben Jackson was born on Earth, humanities homeworld. His father died during the Syphodyte campaign, and so his mother raised him. When at work, marines came in for recruiting and he decided he liked the look of the marines, so at the age of 20, he signed up.
Family
During high school he met a girl called Sarah Connor by accident, during a callback session to finish work. They began going out together and they got married at the age of 21. He has 1 child, Max, who was born in 2589.
Life before the war
Before the war, he enjoyed travelling with his family. He took them on many trips, but he also enjoyed his fair share of fighting. He would spend his spare time either with his family and friends, or on the shooting range doing practice.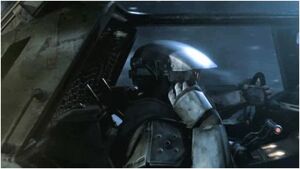 ONI recon 111's Necros Stuff
Human Characters
Sangheili Characters
Brute Characters
SPARTAN's
UNSC Forces And Ships
USR Forces And Ships
JA Forces And Ships
Community content is available under
CC-BY-SA
unless otherwise noted.