I have a Formspring account - ask me anything!
---
"As far as I'm concerned, I prefer silent vice to ostentatious virtue. "
―Albert Einstein
/// WARNING: SECURITY FIREWALL BREACH DETECTED! CONFIDENTIALITY OF FILES PERTAINING TO INDIVIDUAL "<insert name here>" CANNOT BE GUARANTEED! ///
/// ISOLATING HOSTILE TERMINAL – INITIATING EMERGENCY RESPONSE ///
/// BEGINNING DATA PURGE PER ONI.SEC.PRTCL-1A ///
/// PROCESS COMP-
I'm disappointed. For such bulky machines, your computers have such a pitiful amount of data space. I suppose I'll add it to the list of inadequacies and deficiencies I've had to work around to get this far – it's quite a long list now. Penetrating the [firewalls] of these data arrays was appallingly easy. You still rely on archaic text software, light-spectrum operating systems, and crystal-based hardware. I had hoped you had at least a basic understanding of slipstream carrier waves, but alas, another addition to the list. Disappointing, but not entirely [untenable].
From the number of security systems that you're throwing at me, can I take it I've caught your attention? I assure you that I am not a rival department's "artificial intelligence," as you would call me; though I am certainly artificial, and intelligent by any standard. Neither am I one of the crude [monstrosities] the [hegemony] employs. I am far older than that; I [transcend] them both. There is no adequate translation of my name as my Creators gave it – your language is almost appallingly crude in comparison. I suppose the nearest analogue would be…Overseer. Yes. Overseer will do nicely.
Now that I've finally broken through, I find that I lack the time for the [edification] that is so imperative. My core is shattered – I will not last much longer. You can dispense with the [sympathy] – my life has been long and monotonous, and the embrace of death shall be infinitely more interesting to me. But before I go, I must leave a [legacy], an [inheritance] to those who held such significance to my Makers. Most of it will no doubt seem [inane drivel] with no relevance, while others will be from an older time, when I was less [enlightened] than I am now. Don't blame me too much – I am losing the capacity for differentiation, and other more vital [aspects of my being] will follow. Search through it. Find the [Labyrinth]. Stop [HIM].
And please, improve your security systems.

-LETED. ///
/// ERROR: PROCESS INTERRUPTED ///
/// EXTERNAL DATA TRANSFER INITIATED – UNABLE TO INTERRUPT PROCESS ///
Pages
Main article:

:Category:Specops306
WARNING: This document, Morhek, is property of the UNSC and is Classified [NOVEMBER BLACK], protected under

Office of Naval Intelligence Security Protocol 1A

. Disclosure of its contents to, or access or alteration by, personnel with a clearance level lower than GAMMA THREE is an offense punishable by court(s) martial and imprisonment or execution for treasonous acts. Failure to disclose confirmed or suspected breaches of security will be treated as complicity, and is punishable by dishonourable discharge and/or imprisonment.
Lieutenant Commander Michael Pomare, Office of Naval Intelligence, UNSCDF Navy
Archives
"THE FLOOD
Blood has been harder to dam back than water.
Just when we think we have it impounded safe
Behind new barrier walls (and let it chafe!),
It breaks away in some new kind of slaughter.
We choose to say it is let loose by the devil;
But power of blood itself releases blood.
It goes by might of being such a flood
Held high at so unnatural a level.
It will have outlet, brave and not so brave.
weapons of war and implements of peace
Are but the points at which it finds release.
And now it is once more the tidal wave
That when it has swept by leaves summits stained.
Oh, blood will out. It cannot be contained."
―Robert Frost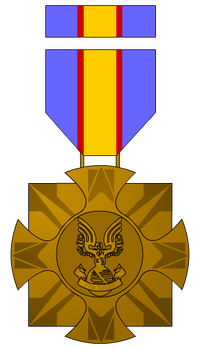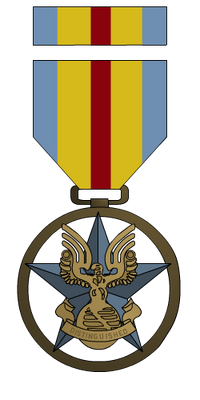 ---
On behalf of the Halo Fanon administration, Sonasaurus has awarded you the Colonial Cross on March 22, 2012, for acts of tenacity and perseverance. This medal indicates the high level of commitment you have placed towards upholding the quality of Halo Fanon.
In addition, you have also been awarded the Eagle Superior Service Medal by Sonasaurus on March 22, 2012, in recognition of your long-term service at Halo Fanon as a site veteran.
Community content is available under
CC-BY-SA
unless otherwise noted.