Clean-Up Plan
A brief refresher on what we need to clean up on the site



Welcome to the lair of LOMI. Proceed if you dare.
"LOMI uses magic...he doesn't have the necessary logic for an ego."
---
Frodo: "I wish the Ring had never come to me. I wish none of this had ever happened."
Gandalf: "So do all who come to see such times, but that is not for them to decide. All they have to decide is what to do with the time that is given them."
―from the Lord of the Rings: the Fellowship of the Rings
"Living in the past is a luxury none of us can afford. We must learn from it, but we cannot live there. It is impossible to plan for the now - the present is ever fleeting. The future is where we must live. The future is what we must plan for."
―excerpt from 24 terabyte data image extracted from Forerunner Terminal Network (found on the inside of the Halo 3 Original Soundtrack)
"When writing a novel, a writer should create living people; people, not characters. Characters are caricatures"
―Ernest Hemmingway
Subpages
Halo: Finish the Fight
Heralds of Chaos
The Fanon Mythos
Sandbox
Image Save
Signature
Irk Shenanigans


Timeline
Halo: Lost Brothers
Halo: Lost Dreams
Halo Spotlights
Halo Spotlight: Nogard

Awards & Medals
Administrative Recognition
Colonial Cross
Eagle Superior Service Medal

---
Awards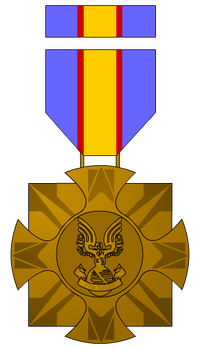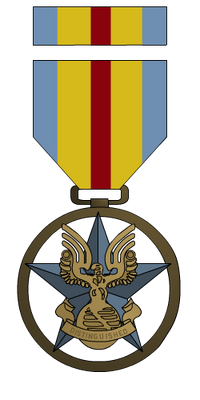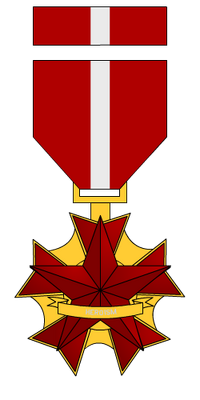 ---
On behalf of the Halo Fanon administration, you have been formally recognized as a distinguished member of Halo Fanon, and have been awarded the following medals:
The Colonial Cross, awarded by Ajax 013 on September 11th, 2008, for acts of tenacity and perseverance. This medal indicates the high level of commitment you have placed towards upholding the quality of Halo Fanon.
The Eagle Superior Service Medal, awarded by -AR- on September 24th, 2009, in recognition of your long-term service at Halo Fanon as a site veteran.
The Red Legion of Honor, awarded by Ahalosniper on December 10th, 2013, for outstanding and selfless acts towards other users of the community. This medal marks you as a role model of Halo Fanon.
Community content is available under
CC-BY-SA
unless otherwise noted.