Hello. I am ED.
I pretty much love halo fanfics, I write a lot of my own, and I do like reading what others have written. I peruse other people's fanfics, correcting minor spelling mistakes and grammar. I never actually change the content of the article, but if you're afraid I have messed yours up somehow, just let me know and I won't do it again. I am enrolled at the Ohio University Scripps school of Journalism, majoring in news editing. I will also be enrolled in ROTC to get a comission as a Lieutenant in the US Army armor branch. Cause I wanna be a bamf when I grow up.
Hmm, well about me. I live in a little corner of Ohio that is always too cold in the morning and always windy when it's too cold. Lived here all my life, but don't let that fool you; I'm out of here as soon as I graduate from OU, probably to Texas and Fort Hood. I was in JROTC for my first two years of high school, which is why I seem to know so much about the american military. My team is the PITTSBURGH STEELERS.
Fanfictions
Halo: Shock Front
Size: 34 articles.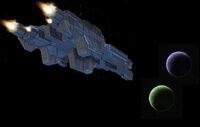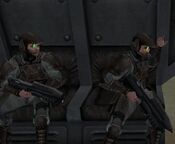 FLEETCOM Sector Eight earned the nickname "The Shock Front" because of its incredible danger and notorious lighting-fast strikes from the Covenant. But when the Covenant war machine sets its eyes on the destruction of the entire region, the fight is anything but fast, and its up to the undermanned defenders of the Tenth Fleet and a handful of Marines to keep the Shock Front from becoming a graveyard for millions.
Community content is available under
CC-BY-SA
unless otherwise noted.