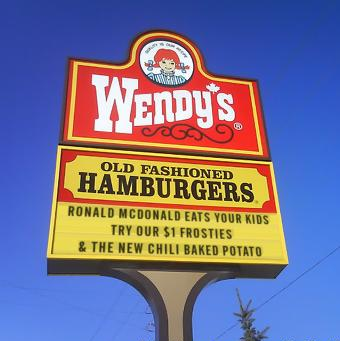 Saw this sign just outside Nashville.
Meh
Age
16
Gender
Male
Height
5'11"
Weight
Anywhere from 225-240 lbs
Blood Type
A+
Date of Birth
Dec. 22 '93
Zodiac
*Capricorn (Western)

Cock (Chinese, rooster if you want to be politically correct, but who's keepin' track? :P)

Birthplace
EST, USA
Religion
Catholic
Favourite
ads
Specialty
Pancakes n' sacks
Occupation
Student
Personal Website
Rah Hur!
Rank on Wiki
Respected Newbie
Gamertag
Other Usernames

\\ FILE_CORRUPT_DOMAIN.
RETRIEVING_REMNANT FILE...
DOMAIN_REMNANT_LOCATED; 87.051% DAMAGED \\
Hello all, my name is Travis, but please call me 0rbital because for some unholy reason, calling me by my own name would confuse me. I used to browse this site months ago, simply browsing articles. After a long absence of the sight in my memory, I remembered all about it and this time, I signed up. :P
Anyways, while I'm here, I plan only to write no later than 2600; my main focus will be on a war between \\ LOCALE_INSECURE; FRAGMENT_TERMINATED \\
Some of my (Upcoming) Works
John Chase - A revolutionary member of the UNSC Army Rangers. He served in the waning years of the war and later in Operation: CASCADE. After the UNSC collapsed with a few years of the Human-Covenant War's end, he sided with UNSC sympathizers, which later formed the UFRH.
Operation: CASCADE - The final operation of the UNSC before its collapse, it involved a last-ditch effort to gain control of its occupied colonies.
United Federation to Restore Humanity - The "good rebel group." The years following the great brought the UNSC to its end. Afterward, the pro-UNSC factions united to win the war and called themselves the UFRH, or the United Federation to Restore Humanity. Many consider them to be the UNSC with a different Alias and infrastructure.
Colonial Protectorate - A rebel group that has its roots in a 23rd century group which itself had originated in the 2020's. It will stop at nothing to "liberate humanity."
Second Light Industries - A major industrial busisness following the Splinter War.
Sky Minion-class Frigate - A cost effective ship designed by Second Light.
Splinter War - The war between multiple rising factions which began in 2562 following the collapse of the splintered and crushed UNSC.
Battle of Earth (Splinter War) - The battle which decimated Earth and rendered much of its surface inhabitable, though not completely on purpose.
Fire and Brimstone Services - A private military contractor service which declared independence midway through the Splinter War. Afterward, it grew and helped bring mining operations back on their feet.
Gtar 'Meuikee (pronounced Tar Moo-ee-kee) - A Sangheili veteran warrior whom remained loyal to the Great Journey following the great war.
Sa 'Tahrim - A Separatist councilor elected directly following the beginning of the Great Schism on Sanghelios.
Community content is available under
CC-BY-SA
unless otherwise noted.