"And when he gets to Heaven, to Saint Peter he will tell; 'One more soldier reporting sir, I've done my time in Hell'."
―The Soldier's Prayer
"I know war as few other men now living know it, and nothing to me is more revolting. I have long advocated its complete abolition, as its very destructiveness on both friend and foe has rendered it useless as a means of settling international disputes... But once war is forced upon us, there is no other alternative than to apply every available means to bring it to a swift end."
―General of the United States Army Douglas MacArthur

I am currently enlisted in the Army of the Republic of Korea, in garrison along with elements of the 1st Special Warfare Group (Airbourne). As a result, my time on the site may be restricted on occasion. Most days, I will be active between 0700 and 1400 (KST), 1700 and 2400 (EST), or 2100 and 0500 (GMT).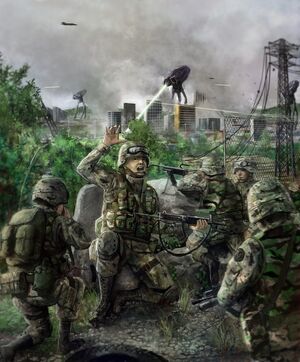 A Short Description of Myself
I am a proponent of Socialism (ironic, all things considered), an agnostic atheist, and a veteran of the War in Iraq. Currently I am 26 years of age, height approximately 2 metres, weight approximately 75 kilos. I respect intelligent individuals of all beliefs and ethnicities so long as they do not attempt to force their beliefs on others, and abhor stupidity, prejudice, and ignorance (the three hallmarks of the general population).
As for an abridged history of my life:
I was born and raised in the United Kingdom, in the market town of Huddersfield, Metropolitan Borough of Kirklees, West Yorkshire. Since then I've been around the world and back, having taken up residence at least temporarily in Seoul, New York, London, and Moscow. For three years I served with the Republic of Korea Army (RoKA), as a Military Police Officer (303rd Border Security Regiment, Korean De-Militarised Zone, temporarily Bagram Airbase as part of Army Engineer and MP Contingent), and as an Infantry Automatic Rifleman, or Light Machinegunner (3rd Armoured Brigade, "Zaytun Division" taskforce, Arbil PRT). I retired from the Army with an E-3 paygrade, after which I took up residence in the United States and traveled among international military circles; I maintain many of these relationships, chiefly among American, Russian, British, Israeli, Iraqi (and Kurdish), and Turkish brother-servicemen.
I re-enlisted on 21 January (22 January in the Korean timezone), 2011, and am currently garrisoned in-country with elements of the 1st Special Warfare Group (Airbourne). I currently hold the rank of 하사, an E-5 paygrade.
I have contributed to Halo Fanon for a long while, and have been here since the site itself had only 500+ articles. Contributing actively and fervently striving for better article quality, expect me to be a part of the community until its end.
My Signature
Respectfully, -- AR Contact Contributions
Awards Received
Colonial Cross

Lordofmonsterisland
23 September, Year of 2009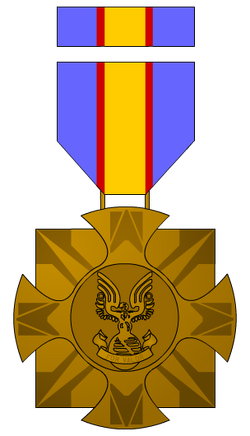 ---
On behalf of UNSC HIGHCOM, Lordofmonsterisland has awarded you the Colonial Cross, for acts of tenacity and perseverance. This medal indicates the high level of commitment you have placed towards upholding the quality of Halo Fanon.
---
Given on this date, 23 September, 2009, to -AR-.
Upon the Deliberations and Consensus of the Community, Administrators, and Bureaucrats, -AR- Has Been Officially Recognized as a System Operator and Administrator on This Date, 24 April, 2010.
Community content is available under
CC-BY-SA
unless otherwise noted.