| | |
| --- | --- |
| | This article, Tristan-A137, was written by KidVegeta. Please do not edit this fiction without the writer's permission. |
| | |
| --- | --- |
| | This article, Tristan-A137, is currently under active construction. |
Lieutenant Commander Tristan-A137 (born Tristan Barnett) is a SPARTAN-III commando of the UNSC Naval Special Warfare Command. Due to the promise he showed, Tristan was one of several Spartans pulled from Alpha Company's main group before its deployment. He fought on Falcon Team, using the call sign Falcon Two, during the majority of the Human-Covenant War.
Biography
Childhood and early career
Human-Covenant War
Personality
To be added.
Armor
SPI

Tristan in SPI Mark I armor
Tristan originally wore SPI Mark I armor while he was a member of Alpha Company. After he was removed from Alpha Company by Kurt, he continued to use this armor set for several years, while facing off against Insurrectionists as well as Covenant.
MJOLNIR Mk IV
MJOLNIR Mk V
MJOLNIR GEN2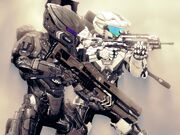 Tristan (left) in his first set of GEN2 armor, along with Ryan-A022 (right)
Tristan was one of the first Spartans to be fitted with MJOLNIR GEN2 armor. He received a prototype suit during the Battle of Earth, as he defended a Materials Group testing facility. Because the facility was being overrun with Covenant, much of the MJOLNIR technology was destroyed. However, Tristan, along with the other members of Falcon Team, was able to pick out whichever armor he wanted before the Covenant breached the defenses. His armor was as follows:
Helmet: Deadeye
Torso: Scout
Left Shoulder: Engineer
Right Shoulder: Engineer
Forearms: Mark V
Legs: Outer-plated
Visor: Tracker
Colors: All steel
Emblem: Compass
Emblem Background: Diamond
Emblem Colors: Steel, silver, and white
MJOLNIR GEN2 (model II)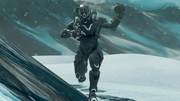 Tristan engaged in combat against the Covenant
After the Requiem campaign, Tristan was refitted with a newer armor set. He chose to keep his Deadeye helmet, while changing the rest of his armor:
Helmet: Deadeye
Body: Freebooter Privateer
Visor: Tenebrae
Colors: All pepper
Emblem: All Square
Emblem colors: Salt, pepper, carnelian
Performance Report
TRISTAN


Lieutenant Commander

UNIT: SPECWAR/SPARTAN/FALCON
NEC: 1130
ENLISTMENT DATE: CLASSIFIED
LOCATION: CLASSIFIED


---

GENDER: M
BIRTHPLACE: KHUAN LANG, HAT YAI
BIRTH DATE: XX/XX/2525


Performance













Comments













Note