| | |
| --- | --- |
| | This article, Team Anion, was written by Spartan-D042. Please do not edit this fiction without the writer's permission. |
| | |
| --- | --- |
| | This article, Team Anion, is currently under active construction. |
| | |
| --- | --- |
| | The author of this article, Team Anion, urges anyone who reads it to provide feedback on the quality of the article. Thank you! |
Team Anion
Unit Background
Role

Assassination (Primary)
Special Operations (Limited)

Garrison

UNSC I Am Your Father

Unit Motto

Nusquam currere et nusquam abscondere est ("Nowhere to run, nowhere to hide")

Personnel
Unit size

5 SPARTAN-IIIs (Initial)

Felicity-D148
Franklin-D319
Amit-D233
Shima-D011
Sergei-D167

Current Commander

Codename: MAGICIAN

Current Status

Active

  [Source]
"They're Spartans through and through, but they're still kids. That's what worries me."
―Codename: MAGICIAN on Anion

Team Anion was a team of SPARTAN-III commandos of Delta Company who were near-exclusively utilized to eliminate high value targets both individual and group, especially targets deemed as extremely dangerous. With each member bringing a specialized set of skills to the table, they rely on each other heavily to execute their individual role flawlessly in order to successfully complete their mission. This reliance on one another was heavily reinforced during their time in training, but was also punished as each Spartan had difficulty operating individually in sharp contrast to their sister team; Team Nova. Their lack of individual sufficiency, but incredible efficiency as a team left their ranking somewhere in the middle of Delta's team ranking. Following the discovery and investigation of Delta Company, Anion quickly became one of ONI's favored hit-squads and garnered a fearsome reputation. Even in the throes of the Created Conflict Anion remained a killing machine dreaded across the galaxy.
History
Training and Early Deployment
Like most Deltas, the members of Anion were orphans of the Epsilon Eridani system, coming from Reach and Tribute exclusively. The five spent the earlier years of their training outside of any official team as was standard for Delta, with each future member displaying a shred of talent in a singular field, whilst utterly failing at most others. All five were in consideration for washing out, when Harald-077 suggested putting the group together when teams were formed, insisting that the impact of their lack of flexibility would be minimized if the group could be properly trained. Taking the Spartan-II at his word, the trainers would have the candidates put into the same team as requested, and Harald would take the five under his wing. Pushing the group out of their initial state of hostility toward each other, Spartan-077 personally oversaw many of their trainings, and whilst he largely failed in his attempts to make each soldier effective individually, he succeeded in forming one of the most skilled teams of the entire company, who when together would become nigh unstoppable.
Throughout training Anion was the source of many intra-company incidents. While close with their sister team, Nova, Anion had a somewhat hostile attitude towards a large portion of the company in response to their treatment before team formation.

One such incident, occurring after Merlin-D032's attempts to modify the bases shower system resulted in a lack of water, resulted in a lengthy confrontation between Anion and Team Boson. Having attempted to shower the following day and discovering the lack of functioning showers, Sergei-D167 personally tracked down Merlin and beat him relentlessly. Before DI's could intervene, Boson would strike back, pelting D167 with TTR before closing in to exact revenge. Not content to let their comrade take a beating, Anion, armed with their own TTR loaded weapons would engage Boson in a prolonged firefight, both sides taking out numerous DI's who attempted to intervene.
Needless to say, punishment for the incident was severe. Both teams were subjected to brutal PT and endless new chores as consequences for their actions. Despite this the two teams would gain a mutual respect for one another and form a friendly rapport between them, with Sergei dubbing Merlin "Shower Head", a nickname that would eventually be used by the majority of the company.
Though numerous disciplinary incidents, along with a rivalry that lasted the remainder of training would follow with Boson, the most peculiar event would come some time after team formation. Despite protests from Harald, citing the team's strong cohesion, the other DI's forced Anion to undergo reorganization in order to promote individuality in the most hyper-specialized members. Sergei was shuffled into Anion's sister team, Emergence, to fill one of the slots now left empty by several training events which hit D167 notably hard, and Shima was swapped with Andra-D054 of none other than Boson.
While the switches were short lived, they were eventful. Inside Anion, Andra often butted heads with Amit due to his close friendship with Shima and despite the team's performance suffering, the internal dynamic was the most non-beneficial part of the exchange overall. Eventually Andra and Shima would rotate back into their original teams, with Sergei returning not long after despite working well with Emergence, as he was deemed key to Anion's overall success.
When the time came for augmentation and soon after, deployment, Anion was fielded to eliminate a Jiralhanae chieftain by the name of Erebus who after splitting from a large mercenary group, rallied his pack and stole a single corvette began sacking human settlements at random. Tracking Erebus back to his base of operations, a small asteroid facility built by the Covenant prior to the Great War, the team would be inserted via long-range stealth drop pods. Once on the asteroid Anion proceeded to sneak into the facility and quickly eliminate Erebus, and the entirety of his pack with little trouble.
Following this the team would be deployed in a similar capacity on several more occasions, assassinating several of the Storm Covenant's high ranking officials, and depending on their assigned objective either wiped out said official's contingent or disappeared the moment they died. That said, when Delta was discovered Anion was put through numerous interrogations in order to further the investigation into the illegal program, but unlike others in the company, Anion made no attempt to flee the UNSC for fear of bringing harm to each other.
After the investigation concluded, Anion was pulled requisitioned by Codename: MAGICIAN, an ONI Operative who'd grown to carry considerable influence over the course of the Human-Covenant War and the years following. From then on MAGICIAN would be Anion's commander and deployed them as he saw fit to eliminate targets he felt no one else could.
Operation: SERPENT'S HEAD
Amit-D233: "So we do it just like Noble?"
Franklin-D319: "Well, without the casualties if at all possible."
―Anion's members discuss their plan.
The first of many operations carried out by Anion under MAGICIAN, the SPARTAN-III's were assigned a target more dangerous than any before; Kal Doram. A top lieutenant Jul Mdama, Doram had proven to be a thorn in the UNSC's side during the Requiem Campaign and the months following, going so far as to partially glass a human settlement, it was decided that the warrior had to be terminated with haste. With a combination of ONI reconnaissance and Swords of Sangheilios Oosonas, Doram's fleet was located just within the UNSC's reach. Doram intended to gather his forces and return to aid Mdama in what would be the final battles of their conflict with the Swords of Sangheilios, but his forces had been divided in an effort to strike more human colonies, but were taking some time to return.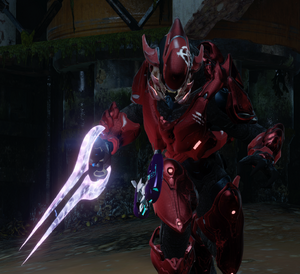 Unsure of if there would be another chance to kill Doram, MAGICIAN had Anion sent in ahead of the battlegroup meant to crush his fleet. Tasked with eliminating Doram in order to throw the fleet into chaos, the relatively inexperienced Spartan team set the bar for their mission significantly higher, determined to make a name for themselves. Deploying via an Owl dropship from the cloaked Hawkins Trove, the Spartans of Anion made a beeline for the Vigilant Observance, a cruiser escorting Doram's flagship with a plan inspired by one of the many battles they had learned about as children. Utilizing an advanced jammer, the team scrambled the unaware cruiser's communications as they quickly inserted onto the vessel. Quickly Amit would flood their insertion point with toxic gas, clearing it out long enough for the team to iron out the details of their plans. First they would have to take down the bridge, then they would have to arm several explosives to detonate the ship's slipspace drive. Making their way to the bridge, Sergei would spearhead their charge, cutting down any and all who crossed his path with a storm of buckshot and as slash of his knife. The battle for the bridge was both brief and brutal, with D167 slaughtering his way through the area whilst the remainder of Anion provided support.
Once the bridge was secure Anion followed the example of NOBLE and set the craft on a refueling path with Doram's flagship, the Solemn Oath. From there Anion made haste to get to the ship's own slipspace drive, with Amit venting the atmosphere out of the remainder of the ship and leaving them with virtually no resistance. Arming several timed explosives, Franklin banked on his teammates skills to ensure they would be well clear of the massive rupture in slipspace once the charges blew. Then the group simply waited for the ship to dock with the Oath so they could proceed with their plan.
As soon as the Observance as docked to begin refueling Anion boarded the massive assault carrier. Remaining hidden and following their leader, Felicity utilized her active camouflage to covertly clear a path through much of the ship, with Shima putting her suppressed sniper rifle to good use down the long hallways to kill any potential threats that came from their backs. Obviously, the fact the Observance was filled with corpses and the trail of bodies was eventually discovered and Doram's vessel went on high alert. Moments later the charges blew and tore a gaping hole in the middle of the sangheili's ship, warping a massive section to oblivion.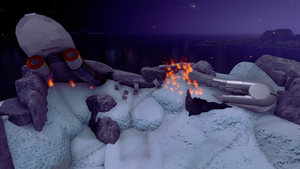 Soon the ship's remaining pieces began to tumble to the planet below, a frozen world that lacked so much as a name. Leaping into one of the vessels remaining Spirt dropships, Anion followed the wreckage to the surface. Utilizing a connection to the Covenant BattleNet and Franklin's fluent Sangheili, located an injured Kal Doram rallying survivors of his vessel. Shima would then promptly kill him from long range with an armor piercing round, and the team was quietly extracted. The mission would leave the Storm Covenant short a skilled leader, as well as an entire assault carrier and cruiser, all while throwing the remaining forces in the area into disarray. But the damage dealt to the enemy aside, the success also earned Anion a fearsome reputation among all circles of ONI, boosting their reputation as well as MAGICIAN's influence.
Termination of Foxtrot Four Two
Shortly after SNAKE'S HEAD in July of 2558, Anion was once again deployed after MAGICIAN caught word of the whereabouts of Foxtrot Four Two. The unit was a ONI Wetworks strike team utilized by a rival of MAGICIAN, Codename: SICARIO to do his his dirty work. Eager weaken his rival's standing within ONI, Team Anion was deployed against what they believed to be a team of UNSC Special Forces operators who had defected to the New Colonial Alliance.
Arriving on Komoya, Anion began their hunt for the supposed terrorist agents. Unbeknownst to them, SICARIO had uncovered MAGICIAN's plan and alerted his operatives, unable to go to CINCONI as he had the team deployed on illegal operation working alongside a criminal element in exchange for information on the NCA. The seasoned killers prepared an ambush for the Spartans, luring them into one of the many slums which were packed with non-combatants as well as plenty of thugs and mercenaries under the employ of the same criminal group SICARIO was working with.
Springing their trap, Foxtrot and a host of their allies opened fire from all sides of the densely packed streets on the advancing Sergei, Franklin, Felicity, and Amit. With both Amit and Franklin unable to utilize their preferred combat discipline out of fear of harming civilians, unit cohesion began to crumble and D167 attempted to rush one group, killing innumerable thugs and four members of Foxtrot before his shields gave out from concentrated fire and he was hit by several rounds in the shoulder.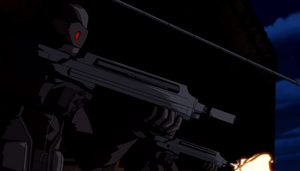 As the situation began to deteriorate, Shima intervened and opened fire from her position, killing three of Foxtrot's operators and driving off the attackers long enough for Felicity to rally Anion and pull out of the slum. Having seen multiple innocent people be caught by bullets meant for Sergei when he made his reckless charge, an angered Franklin became involved in an altercation with his teammate. Even in his injured state Sergei was leagues ahead of D319 in close quarters, and ended the fight quickly. The remaining members had to pry the two apart as Felicity attempted to diffuse the situation.
Before any resolution could be reached Foxtrot once again engaged the Spartans, utilizing an SRS-99 to severely injure Sergei. Instantly Franklin's anger towards his comrade melted away as he rushed to his aid, stabilizing D167 as Felicity and Shima forced the group back into the slums while D233 covered Franklin as he carried Sergei out of danger.
However, as Sergei slipped from consciousness due to blood loss Franklin became inconsolable, charging the enemy position with his SPnKR and sidearm, blowing away their sniper and shooting multiple mercenaries before narrowly avoiding his own death as a blast from a 'Spartan Laser' grazed his side, taking a chunk of flesh with it.
With two injured subordinates, Felicity ordered the team to retreat into the desert of the planet to regroup and lick their wounds. Over the course of the engagement they had killed most of Foxtrot Two Four, leaving roughly five of the twenty alive among all of them. Banking on the belief the operatives would pursue as they had before, Felicity had Shima and Amit pull Sergei and Amit back while she remained behind.
Sure enough Foxtrot and their thugs pushed into the desert, abandoning their advantage of hiding within the civilian populous to pursue their Spartans the agents would barely have time to activate their VISR to locate the cloaked Felicity before several chemical weapons rigged to explosives detonated compliments of Amit, and as Shima cut down two more of the operatives, Felicity would engage them in close quarters, slaughtering the remaining mercs with ease, and despite the fight put up by the remaining three members of Foxtrot, she killed them as well.
Shaken by how quickly they fell apart, and heavily reprimanded for how they supposedly put the greater population at risk by being so cautious in the slums, the mission was nonetheless a success. Using the sudden death of SICARIO's team at the hands of unknown augmented operators as evidence to back his claims that non-UNSC augmented individuals were becoming a serious threat, MAGICIAN received a promotion as well as an influx of resources to deal with the supposed enemy super soldiers. In this new mission, Anion would spearhead MAGICIAN's war against augmented individuals not on the UNSC payroll.
Operation: TABULAE
Members
CODENAME: GOZEN
(as of January 1, 2558)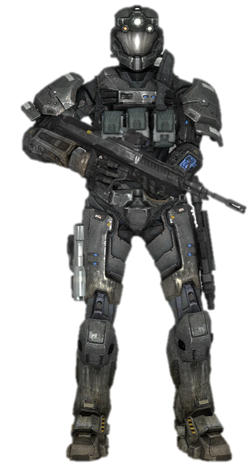 FELICITY


PETTY OFFICER SECOND CLASS
FULL NAME: POTTER, FELICITY
SERVICE #: D148
UNIT: NAVSPECWAR/SPARTAN-III DELTA COMPANY/TEAM ANION
ENLISTMENT DATE: CLASSIFIED
LOCATION: CLASSIFIED
STATUS: ACTIVE
GENDER: F
BIRTPLACE: NEW ALEXANDRIA, REACH
BIRTH DATE: 3/13/2545
EVALUATION: THE CLOSEST THING TO A LEADER WITHIN ANION, [S-D148] IS PRIMARILY THE TEAM'S INFILTRATION AND TECHNICAL SPECIALIST. KNOWN TO BE QUICK THINKING AND INCREDIBLY SMART, THE TEAM RELIES ON HER TO MAKE SPLIT SECOND DECISIONS IN THE FIELD. IN ADDITION, D148 IS THE ONLY ONE OF THE TEAM WHO SEEMS TO POSSESS THE CAPABILITY TO OPERATE INDEPENDENTLY THANKS IN LARGE PART TO HARALD WHOM SHE IDOLIZES. HER ARMOR ITSELF IS CONFIGURED BOTH TO ALLOW A BALANCE BETWEEN INFILTRATION AND COMBAT ABILITY BY UTILIZING AN ACTIVE CAMOUFLAGE MODULE AS WELL AS MORE PROTECTIVE ARMOR COMPONENTS SUCH AS GUNGNIR SHOULDER PAULDRONS, BUT ALSO THE CONFIGURATION SERVES AS A TRIBUTE TO HER MENTOR.

CODENAME: QUIET RIVER
(as of January 1, 2558)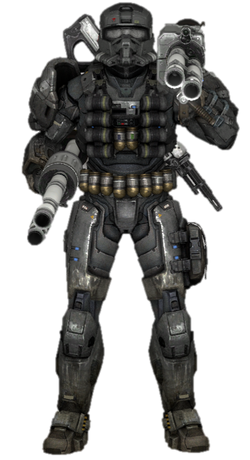 FRANKLIN


PETTY OFFICER SECOND CLASS
FULL NAME: FOSTER, FRANKLIN
SERVICE #: D319
UNIT: NAVSPECWAR/SPARTAN-III DELTA COMPANY/TEAM ANION
ENLISTMENT DATE: CLASSIFIED
LOCATION: CLASSIFIED
STATUS: ACTIVE
GENDER: M
BIRTPLACE: AZOD, REACH
BIRTH DATE: 12/29/2545
EVALUATION: [S-D319] TACITURN HEAVY WEAPONS EXPERT OF THE TEAM, [S-D319] IS ODDLY THE MOST CAUTIOUS OF THE TEAM, OFTEN THE VOICE OF REASON AND THE ONLY ONE WHO WOULD EVER ADVISE TACTICAL RETREAT. D319'S HAS PROVEN CRITICAL TO THE TEAM'S SURVIVAL TIME AND TIME AGAIN, HIS RESERVATION AS WELL AS HIS SKILL WITH HEAVIER HITTING WEAPONS HAVING SAVED EVERY MEMBER OF THE TEAM MORE THAN ONCE. HIS CAREFUL APPROACH HAS LED TO HIM SERVING AS [S-D148]'S SECOND IN COMMAND. HIS MJOLNIR MK V HAS BEEN CONFIGURED FOR USE WITH HEAVY WEAPONS SYSTEMS RANGING FROM SPNKRS, TO M247'S, ESSENTIALLY ANYTHING THAT PACKS ENOUGH POWER TO CUT DOWN A BRUTE IN ITS TRACKS.

CODENAME: WOE
(as of January 1, 2558)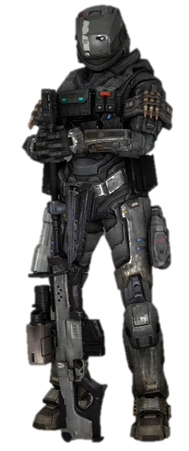 SHIMA


PETTY OFFICER SECOND CLASS
FULL NAME: YANG, SHIMA
SERVICE #: D011
UNIT: NAVSPECWAR/SPARTAN-III DELTA COMPANY/TEAM ANION
ENLISTMENT DATE: CLASSIFIED
LOCATION: CLASSIFIED
STATUS: ACTIVE
GENDER: F
BIRTPLACE: BEJING, EARTH
BIRTH DATE: 11/22/2546
EVALUATION: [S-D011] IS THE TEAM'S SNIPER WITH AN ICY DEMEANOR BEFITTING OF THE ROLE. IN SINGLE TARGET ASSASSINATIONS [S-D011] IS THE TEAM'S GO-TO MEMBER, OFTEN ENDING DEPLOYMENTS SHORTLY AFTER THEY BEGAN BY EXECUTING THE TARGET FROM EXTREME LONG RANGE. SHE AND [S-D167] ARE EASILY THE MOST DEPENDENT MEMBERS OF THE TEAM, AS WHILE [S-D011] IS A SNIPER ON PAR WITH THE LIKES OF [S-A226] AND PERHAPS EVEN CLOSE TO [S-058], SHE IS VIRTUALLY INCAPABLE OF FIGHTING EFFICIENTLY WITH MOST WEAPONRY ASIDE FROM LONG RANGE RIFLES. HER ARMOR CONFIGURATION IS HEAVILY FOCUSED ON THE UTILIZATION OF WEAPONS SUCH AS THE SRS-99 SERIES AND THE M99 STANCHION, FEATURING THE LARGER GRENADIER SHOULDER PLATE ON HER RIGHT ARM TO CUSHION THE KICK AND REDUCE THE RECOIL OF THE RIFLES, THEREFORE BOOSTING ACCURACY.

CODENAME: MENDELEEV
(as of January 1, 2558)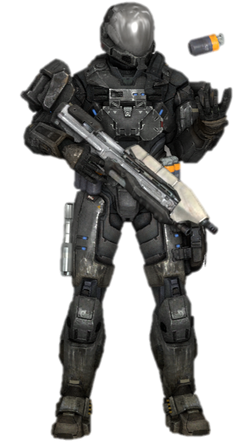 AMIT


PETTY OFFICER SECOND CLASS
FULL NAME: SALUJA, AMIT
SERVICE #: D233
UNIT: NAVSPECWAR/SPARTAN-III DELTA COMPANY/TEAM ANION
ENLISTMENT DATE: CLASSIFIED
LOCATION: CLASSIFIED
STATUS: ACTIVE
GENDER: M
BIRTPLACE: NEW JERUSALEM, NEW JERUSALEM
BIRTH DATE: 8/03/2546
EVALUATION: [S-D233] SERVES A BROADER ROLE IN COMPARISON TO THE REST OF HIS TEAM, SERVING AS THE NON-CONVENTIONAL WARFARE EXPERT OF THE TEAM. UTILIZING TALENTS IN ZERO-G COMBAT AND AN ARSENAL OF NON-CONVENTIONAL WEAPONS INCLUDING BIOLOGICAL AGENTS AND NERVE GAS. [S-D233] AND [S-D148] WORK HAND IN HAND IN OPERATIONS THAT REQUIRE A DECIDEDLY QUIET APPROACH, WITH [S-D233] USING HIS SPECIALIZED WEAPONRY TO QUICKLY DISPOSE OF ENEMIES IN THE PATH OF THE TEAM'S INFILTRATOR WITHOUT A SOUND. IN ONE INCIDENT, THE TEAM'S TARGET, [REDACTED], ATTEMPTED TO FLEE IN A D-77 PELICAN ONLY FOR [S-D233], IN A STUNNING DISPLAY OF HIS ZERO-G CAPABILITIES, TO MANEUVER HIMSELF INTO A PROPER POSITION AND PROCEED TO PROPEL HIMSELF THROUGH THE CRAFT'S COCKPIT AND KILL [REDACTED] VIA THE FORCE OF HIS IMPACT. D223'S ARMOR CONFIGURATION IS SET UP IN ORDER TO BOLSTER HIS EVA ACTIVITIES AS WELL AS HOUSE HIS NON-TRADITIONAL ARSENAL.

CODENAME: SHASTA OF WOLVES
(as of January 1, 2558)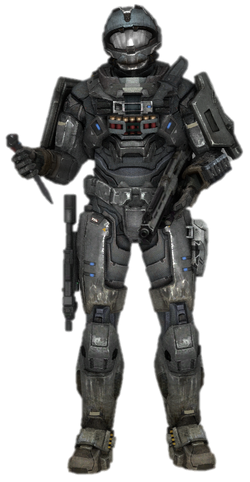 SERGEI


PETTY OFFICER SECOND CLASS
FULL NAME: KUZNETSOV, SERGEI
SERVICE #: D167
UNIT: NAVSPECWAR/SPARTAN-III DELTA COMPANY/TEAM ANION
ENLISTMENT DATE: CLASSIFIED
LOCATION: CLASSIFIED
STATUS: ACTIVE
GENDER: M
BIRTPLACE: CABASH CITY, TRIBUTE
BIRTH DATE: 2/08/2546
EVALUATION: [S-D167] IS THE CLOSE QUARTERS EXPERT OF ANION IS ONE, AND SOMEWHAT INFAMOUS AMONG DELTA FOR HIS AGGRESSIVE NATURE. HIS COMBAT SCORES AGAINST ANYTHING OUT OF RANGE OF AN M45 ARE NEARLY AS ABYSMAL AS HIS DISCIPLINARY RECORD, HOWEVER [S-D167]'S UNPRECEDENTED SKILL, BRUTALITY, AND DETERMINATION MAKE HIM AN INDISPENSABLE ASSET. AS MENTIONED, [S-D167], LIKE MOST CQC SPECIALISTS HAS A TEMPER TO MATCH THE JOB, AND IN THE FIELD IS ANION'S GO-TO TOOL FOR DISPOSING OF TARGETS ONCE THINGS GO LOUD. HIS ARMOR IS BUILT AROUND CLOSE QUARTERS, UTILIZING THE CQC VARIANT OF MARK V. IT SHOULD ALSO BE NOTED THAT [S-D167], DESPITE HIS AGGRESSIVE NATURE IS THE ONLY MEMBER OF ANION TO VOICE, IN NO SMALL AMOUNT, HIS DISDAIN FOR THE TASK OF HUNTING FELLOW DELTA'S, REGARDING IT AS TREASONOUS AND COWARDLY.


 



Armor and Equipment
Literary Appearances
Community content is available under
CC-BY-SA
unless otherwise noted.