| | |
| --- | --- |
| | This article, Simon-G294, was written by Actene. Please do not edit this fiction without the writer's permission. |
| | |
| --- | --- |
| | The author of this article, Simon-G294, urges anyone who reads it to provide feedback on the quality of the article. Thank you! |
Simon-G294
The Wandering Stray
Biographical Information

REAL NAME

Simon Onegin

ALIAS

DATE OF BIRTH

2540

HOMEWORLD

Iskander

Physical Information

GENDER

Male

HEIGHT

176 cm

WEIGHT

68 kg

HAIR COLOR

Black

EYE COLOR

Gray

CYBERNETICS

Political/Military Information

SPECIALTY

Survival
Close quarters combat
Demolitions

SIGNATURE WEAPONS

RANK

Petty Officer Second Class (stripped)

Warrior

(Covenant remnant)

SPARTAN TAG

G294

CLASS

III: Gamma Company

BRANCH

UNSC Navy (former)

UNIT

AFFILIATION

[Source]
"There, out in the darkness, a fugitive running; fallen from God, fallen from grace."
―"Stars", Les Miserables, the Musical

Simon-G294—also known by the pseudonym "Stray"—was a SPARTAN-III commando from Gamma Company who was raised and augmented as a child supersoldier during the final years of the Human-Covenant War. Lambasted as both a coward and the worst-performing Spartan in his company, he gained infamy when he deserted from the UNSC and fought for the Insurrectionist movement on Mamore. Ultimately betrayed and abandoned by the rebels, he was left with a lasting hatred for both of his former allegiances and found himself selling his skills to the highest bidder as a mercenary in order to survive. Consumed by doubts and self-loathing, he nonetheless possesses a keen survival instinct and boundless tenacity in pursuit of his goals. In spite of his crimes and selfish tendencies, he found lasting companions in the rogue Insurrectionist AI Diana and fellow Gamma deserter Cassandra-G006. After a fruitless effort to score big as a solitary freelancer, Simon found himself hired on to the smuggling freighter Chancer V, which became his new home and base of operations.[1] His status as a fugitive, as well as his penchant for becoming involved in broader galactic affairs, often brought him into conflict with agents of the Office of Naval Intelligence and Spartan division. Captured and tortured by the Covenant, Simon's devotion to Diana and personal ambitions saw him reverse his situation and pledge allegiance to Jul 'Mdama in order to become commander of the infamous Kru'desh Legion. But his bid for power ended in failure after Diana cast him aside, reducing him once again to a lonely wanderer as the galaxy writhed and changed amidst the rise of the Created.
Introduction
FULL NAME: Onegin, Simon
SERVICE #: G294


---

Performance

Mediocre across the board—I refrain from using the term "abysmal" only due to some latent talent G294 has occasionally exhibited in close quarters combatives. Exhibits some of the worst marksmanship in the company; apparently he experiences body tremors when under pressure that throw off his aim. Lacking in leadership skills and frequently flagged for discipline problems. However, G294 displays high levels of endurance and tenacity even for one of our recruits. He absorbs whatever punishment the DIs—or his fellow Spartans—dish out and usually tries to give it right back. Does not know when to quit.

Comments

SPARTAN-G294 is easily one of the most troubling candidates we've had since the inception of the SPARTAN-III program. No other candidate has been considered for expulsion as many times as G294. CPO Mendez is a particularly vocal advocate for his removal from the program, claiming that he will endanger himself and others on the battlefield. But Tom is convinced that given the proper guidance G294 can be molded into a proper Spartan. Lucy seems to agree—if I am reading her signals correctly—and so far I have chosen to defer to their judgement.

Poor performance scores aside, many of his peers view him as a liability both on and off the field. Wherever he goes, accidents and unfortunate occurrences—from equipment failures to pitfalls to full-on brawls—are never too far behind and it is often hard to determine whether these are due to his own faults or just plain bad luck. Regardless, he is something of a black sheep among his peers. Worse yet, he knows it and does not get on well with most Spartans outside his own team. Professor Schulz has suggested that years of consistently performing beneath most of his peers have contributed to a deep-seated inferiority complex and self-esteem issues. At the very least he's determined—he'd have washed out years ago if this were not the case. Apparently he has avoided being "tagged" in recent combat exercises. Perhaps he's realized that you can't kill what you can't catch; hopefully this will eventually translate into a skill that will help him find his niche among the ranks of the Gammas.

[Update]

SPARTAN-G294 has been designated a KILL, NO CAPTURE target by Office of Naval Intelligence Section-III. After being declared MIA on Mamore in 2552 he resurfaced as a rogue operative with known ties to multiple terrorist and criminal organizations. Circumstances behind the failure of traditional Spartan indoctrination and loyalty protocols are still under investigation. Contrary to LCDR Ambrose's files on Gamma Company operatives, G294 is considered a lethal and highly dangerous element. The events surrounding the disaster at Philadelphia speak for themselves. He is directly responsible for the deaths of five Spartans, including three Gamma operatives and two IVs, as well as countless UNSC personnel. It is also highly probable that his influence played a large role in SPARTAN-G006's desertion (Note: See attached dossier). Section III psychological professionals are currently investigating potential side-effects from the CHRYSANTHEMUM augmentations procedures, particularly the modifications to the Gammas' frontal brain lobes. The possibility that G294 is mentally unstable has not been ruled out. Section III considers him to be a high-risk target and has issued standing orders for his immediate termination.
Biography
"Spartan, rebel, traitor, hero, murderer, savior. You are many things, Simon—'the one who is all.' And yet you are nothing. In the end you belong to no one. You are a wanderer and will forever stand alone."
―Juno
Personality and Traits
Mental Overview
"He isn't interested in duty, ideology, or any sort of creed. He allies himself with

rebels

, criminals,

even aliens

if it suits his purposes. He hires himself out to the highest bidder, but when we trace his activities the money itself rarely seems to be his ultimate concern. He is, in effect, a rogue vector, a loose variable, and we have no idea what he wants or how to control him. This makes him dangerous beyond words."
"He's a lot like me, that masterless little Spartan: Unimpressed by grandeur and never at a loss for a trick."
Molded by a life of loss, pain, and betrayal, Simon possesses an extremely cynical understanding of both the galaxy and himself. A lifetime spent at the bottom of the heap—particularly the years spent growing up in the hyper-competitive training environment on Onyx—has conditioned him to expect nearly everyone to be faster, stronger, or smarter than himself. Having had to struggle and fight for even marginal successes, Simon's self-image has largely been shaped by the perceptions of others, particularly those of his fellow Gamma Company Spartans, most of whom condemn him as a failure, a traitor, and a mass murderer. In order to combat his own insecurities, he has embraced the image of a deceitful, self-serving coward willing to use whatever methods are necessary to win the daily battle for survival. His professed disdain for the world around him actually masks his own doubts and insecurities regarding his own place in the galaxy. Guilt over his crimes—both real and imagined—haunts him on a daily basis and he balances such feelings with a marked contempt for the perceived hypocrisy of those who hunt and condemn him. He has become adept at using the preconceptions of others against them, playing up his role as a cowardly failure before catching them off guard with focused, deadly brutality.
"Poor Simon. His heart was made of glass, and all it took was Cassandra to crack him apart."
―Diana
As a person, Simon is at times sardonic and irreverent and at others contemplative and self-aware. Though never the most dedicated of Spartans[4] he is viciously stubborn and possesses a fortitude of will that drove him to keep trying to better himself in spite of his constant failures. He took to the battlefield of the Human-Covenant War determined to prove himself a hero and live up to the Spartan legacy he had been raised into; his humble idealism held fast even after he joined Rat Pack and betrayed the UNSC for the Insurrection. Even after losing faith in the rebel cause Simon still believed in his own good intentions and fought to do as well as he could by those few still faithful to him. It was only after the Bombing of Philadelphia that Simon, believing himself responsible for the deaths of thousands, descended into a spiral of despair that was at once self-serving and self-loathing. No longer believing himself capable of redemption (or, for that matter, that he was worth saving) he embraced a violent mercenary lifestyle and focused on material gains even as his lifestyle drove him deeper and deeper into the galactic underworld. But in spite of his selfish outlook Simon was still capable of occasionally performing acts of kindness and even selflessness. He despises injustice and his own experience of being used as an expendable pawn sometimes pushes him into risking his own safety to help those who are often ignored by the rest of the galaxy. While he is well-known for deceit and treachery, he is in fact steadfastly loyal[5] to his small circle of friends and will go to whatever lengths are necessary in order to keep them safe.
"Stray"
"Over the years I've come to realize that it's in humanity's nature to create monsters. And it's in the nature of monsters to destroy their creators."
Perhaps the most enigmatic and misunderstood facets of Simon-G294's personality was the alternate persona that manifested itself in him during periods of heightened stress or fear. The confusion surrounding this phenomenon was compounded by the fact that neither Simon nor those familiar with him understood exactly what it was. This persona's true nature was further concealed by the name Simon gave it: "Stray," a nickname given him by his fellow child soldiers during his time on Mamore. For many years Simon actually preferred this pseudonym to his real name, thus perpetuating the idea that Simon and Stray were one and the same. When under Stray's influence Simon became exceedingly violent and often reverted to a near-feral state of unchecked savagery. This behavior was not unique to Simon and was indeed shared to some degree by all members of Gamma Company as a result of the illegal modifications made to their frontal brain lobes during Project: CHRYSANTHEMUM. Many believed that the more extreme behavior exhibited by Simon was a result of prolonged periods of time spent without access to the "smoother" drugs designed to counteract the effects of the brain augmentation. After a prototype cure for the frontal lobe augmentations spearheaded by Cassandra-G006 was administered, Simon's fellow crew aboard the Chancer V believed that the Stray persona had been purged. However, the cure simply allowed the true, far more malevolent, source of the outbursts to convalesce within Simon's psyche.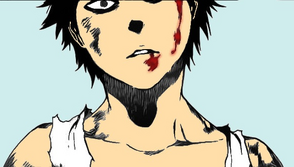 "Stray"'s true identity was actually the composed mental essence of the ancient Forerunner renegade known as Wanderer. Imprinted upon Simon's mind when the Spartan inadvertently breached his prison on Genesis, Wanderer instinctively attempted to complete the mind transfer by forcing Simon's body to undergo a traditional Forerunner brevet mutation. This process failed due to Simon's human physiology and the Wanderer's consciousness was trapped within the confines of Simon's mind. Subsumed and kept in check by Simon's ego, Wanderer was only able to manifest himself during the mental lapses brought on by the frontal lobe augmentations and even then only in desperate bouts of frenzied rage as the disoriented and terrified Wanderer attempted to break free of his new prison. Only when the augmentation cure was administered was Simon's brain inadvertently modified to the point that Wanderer could attain full self-awareness and begin plotting his return to true physical form. Wanderer's first true contact with an external entity occurred when Diana probed Simon's mind during his torture following his capture by Jul 'Mdama's Covenant. Wanderer manipulated the ambitious AI into hunting for unrestricted access to the Domain in the hopes that immersing Simon's body in the information repository would grant him the power he needed to complete his escape. Following Diana's betrayal of Simon, Wanderer's goal remained the same and he used Simon's despair and lust for revenge to manipulate him into continued pursuit of the Domain. As the effects of the cloning sickness sparked the rapid deterioration of Simon's body, he began relying upon "Stray" more and more to enable himself to keep fighting. As a result, Wanderer was able to take control of Simon's body for ever-increasing amounts of time. He continued pursuing the Domain, believing that Simon's inferior and increasingly unstable psyche would not be able to survive contact with the quantum plane. However his fatal mistake was to underestimate his host, never fully appreciating that beneath Simon's veneer of dout and self-loathing lurked a cunning intellect to match his own.
It will never fully be determined just how much of the Wanderer's personality was permanently imprinted on Simon's mind prior to his demise within the Domain. Wanderer almost certainly passed on several of his qualities as a warrior and military leader that were not present during Simon's abysmal training on Onyx. Likewise, Wanderer possessed a ruthless ambition that had never been present in the mind of the frightened, traumatized Spartan he sought to overcome. However, both warriors shared a keen will to survive as well as a vindictive streak and desire to overcome their own limitations. The presence of Wanderer's imprint allowed Simon's body to access technology assigned to the Forerunner warrior in life, such as his personal war sphinx and combat skin.
Relationships
"There's that look. They always give me the same look. You all despise me. Traitor. Murderer. Selfish, twisted, evil monster. I never wanted to be a hero like the rest of you did. All I wanted was for someone to tell me I wasn't so bad, that I wasn't such a disappointment after all. I just wanted to help the people I cared about. But it always went wrong. It always ends with more blood, more guilt, more pain. I can't even explain why I'm even trying anymore. But it's the only way I know how to live. As long as there's a tide to fight against, I'll keep on struggling."
―Simon-G294
As an infamously sub-par trainee Simon was a laughingstock and byword for failure among his fellow Gamma Company trainees. Though he got on well within Team Jian and his willingness to break rules and go along with daring pranks won him some friends among Camp Currahee's resident troublemakers, most trainees ignored him. This dismissive attitude evaporated after his defection, replaced by a burning hatred and desire for revenge. Though Simon was hardly the only Spartan traitor his supposed responsibility for the destruction of Philadelphia, killing of several Spartans, and ongoing survival was seen as a glaring smear on both Gamma Company and the entire Spartan institution. With few notable exceptions, SPARTAN-IIIs saw him as a vile traitor—even to the extent of exacerbating the true extent of his crimes. The task of hunting him down was a highly sought-after duty by Headhunter teams. Simon for his part both hated the Spartans who pursued him for their self-righteous judgement while also envying the exalted status they enjoyed while he was consigned to hide in the shadows.
Throughout his life Simon gained and lost a diverse array of family, bound by both blood and bonds. His loveless upbringing and isolation from other Spartans robbed him of the sense of belonging famously enjoyed by his Spartan brethren. Though too cynical and guarded to admit it, Simon yearned for the love of friends and family even as sacrificed the bonds he cherished for the sake of his ambitions.
Though raised to fight and hate the Covenant's alien races, circumstances drove Simon repeatedly into cooperation with humanity's mortal enemies until he eventually ascended to a command position within the Covenant itself. He ironically proved a better soldier with the Covenant than the UNSC, leading the Kru'desh Legion to victories with unexpected strategic prowess. Forced to adapt and assimilate in order to survive, his studies of Sangheili language and culture brought him into circles of power and prestige unthinkable to most humans—though his inability to fully grasp the nature of his alien allies sometimes led to disastrous results.
Tuka 'Refum
Simon-G294: "When has it ever mattered how we kill our enemies? Shoot them, stab them, glass them, bomb them. What, you want to win this war without killing anyone? Our enemies have always outnumbered us. They've always been stronger. They'll hate us no matter how clean we fight."
Tuka 'Refum: "It isn't a question of clean or unclean, of war or peace. These weapons are monstrosities. Using them is wrong. It is evil. Your enemies may say differently, but you are not an evil man."
―Simon-G294 and Tuka 'Refum debate using captured UNSC weapons of mass destruction against the Created
"I've seen things you couldn't believe. Eternity, stretching on past our galaxy. The things inside that eternity. Galaxies dying and being reborn. Things a gutter rat like me was never meant to see. But you can't forget once you see them, even if you try."
―Simon-G294
Simon's exploration of the galaxy's dark fringes brought him into contact with vast swaths of undiscovered Forerunner technology. The true extent of the Forerunners' achievements offered him a glimpse of eternity that forced him to transcend his crude survivalist worldview and view the galaxy in terms of a greater lens that surpassed rational thought.
Physical Profile
Always a scrawny individual, Simon's size and stature earned him many nicknames during his training on Onyx and he was referred to by such monikers as "Runt" and "Shorty" just as much as he was by his own name. The augmentation procedure did little to rectify the situation and Simon can pass himself off as an regular human when not in armor. Simon's body is covered with scars inflicted over his life of brutal training and combat. His back in particular is heavily scarred by punishments he received during his time as a slave to Jiralhanae pirates, marking him as living property to anyone familiar with the Jiralahanae and their customs. His arms and torso sport several tattoos, including one depicting the Spartan eagle insignia[6], several images popular among insurrectionist groups, and even Kig-Yar and Sangheili cultural images.
When not clad in armor, Simon generally dresses in a ragged, patchy overcoat and underclothes of similar quality. Perpetually scruffy and unkempt, his hair is a tangled mop that resists any and all attempts to groom it. Although cleanliness has never been of much concern to Simon, he does make some effort to conduct routine personal hygiene in order to make himself at least somewhat presentable around others.
Weapons

Tuka 'Refum: "A 'shotgun'? A rather graceless weapon, even by your human standards."
Simon-G294: "No one's ever accused me of being a graceful person."
―Tuka 'Refum and Simon-G294 discuss weapon preferences.
Life on the run has forced Simon to adapt and improvise his combat strategies in order to make up for his lack of resources or support. Without the UNSC's arsenal to draw from and no consistent source of income outside of his mercenary work, the renegade Spartan must scavenge or steal much of his equipment from the battlefield. He has accumulated an impressive cache of sidearms and can be counted on to always have a backup pistol stowed away somewhere to be used in a tight spot. A notoriously poor shot at longer ranges, he makes use of M7 submachine guns and other such light firearms. His weapon of choice is the M45 tactical shotgun he took from the body of Ralph-G299 after killing his former teammate amidst the Pillars of Loki on Reach, wielding it both as a memento to his friend and for the M45's deadly stopping power and surprising versatility. Utilizing tactics learned from Insurrectionist fighters, Simon has made a hobby out of preparing improvised shells for the M45, creating unorthodox ammunition that range from miniature explosive pellets to miniaturized EMP pulses. Zoey Hunsinger etched the name "Rampant Defender" into the weapon's stock and though Simon less than pleased with her initiative he never removed the etching.
Simon-G294: "Always carry another pistol. If you lose your rifle, use the first one. If that one gets knocked away, use the second one. If they take that from you, shoot them with the third."
Cassandra-G006: "I thought there were only two pistols."
Simon-G294: "So did they."
— Simon-G294 discussing self-defense tactics with Cassandra-G006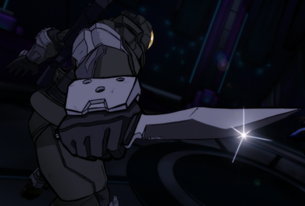 Simon's deadliest skills lie within the brutal confines of hand to hand combat. He has always had a penchant for knives, a trait that was recognized and encouraged by Simon's instructor Tom-B292 who trained him in a uniquely Spartan form of Sambo that was geared towards fighting larger, stronger opponents. Simon's hand to hand training expanded after he defected to the Insurrection and under Redmond Venter he trained to use a machete alongside his more traditional firearms; even after abandoning the Insurrection Simon kept the machete Venter had given him and continued to use it in combat. During his time in exile with Cassandra-G006, his fellow Spartan helped improve his accuracy, particularly with M6 series sidearms. Simon often wields a pistol alongside a machete or combat knife, using his augmented speed and strength to move through battle and clsoe in on his targets. His time spent fighting alongside Sangheili such as Tuka 'Refum has given him a working knowledge of most Covenant weapon systems, particularly the compact and deadly Sangheili energy sword. Upon realizing that MJOLNIR-equipped Spartans would always be hunting for him, Simon made sure to incorporate a plasma pistol into his fighting load.
Simon is also known for employing a wide range of grenades in combat. Alongside standard fragmentation ordnance, he also makes use of flashbang and EMP grenades to disorient enemies and level the playing field against better-equipped opponents. Simon carries an impressive array of both military grade and homemade explosive charges with him in his assault bag. As inventive and resourceful with explosives as he is with his other fighting methods, Simon has often used remote charges to devastating effect against enemy forces, hard points, and even the occasional warship.
Armor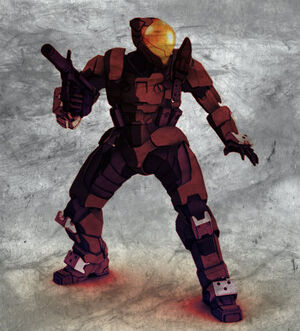 A relic of the Human-Covenant War, Simon's suit of Semi Powered Infiltration armor is as battered and scarred as its owner. The body armor was originally intended to provide its Spartan-III owner with light protection and stealth capabilities; while the reflective paneling that made the SPI's camouflage system possible has long since worn out, Simon has kept his weathered combat armor functional while augmenting it with his own custom improvements. Though the SPI armor lacks the speed and strength-enhancing abilities of powered armor systems such as the PISCES and MJOLNIR its structure acts as a load-bearing aid similar to the frame on a ruck pack, enabling Simon to carry his extensive fighting load without losing mobility. With large portions of the armor irreparably damaged in combat, Simon has replaced chunks of the original SPI with components scavenged from UNSC trooper gear, ODST combat armor, and even Sangheili combat harnesses.
During times of respite, Simon has taken it upon himself to graft additional features into his armor's frame. His gauntlets have been upgraded to feature Sangheili-style energy daggers as well as micro-magnets linked to his weapons for quick retrievals. In addition to practical upgrades to his helmet's sensors and Heads Up Display, he has been known to stow a variety of poisonous spores in his armor, releasing them in the midst of combat to incapacitate or even kill his foes. His helmet has also been upgraded to feature a neural interface, permitting Diana (and later Juno) to access his neural implants when linked in with his armor.
"I can't believe you fell for my oldest trick, even Cassandra sees through those holograms by now! And if that one got you, I know you won't see this one coming..."
―Simon-G294
Among Simon's most prized possessions are a set of Covenant holo-drones given to him by Tuka 'Refum. Designed to misdirect the enemy in the heat of battle, the drones were heavily modified by Simon and Diana as a result of their exposure to Forerunner technology. Incorporating elements of Forerunner hard-light technology, the drones can mimic the heat signatures and density of an organic being in order to fool electronic sensors as well as the naked eye. The highly mobile drones have become one of Simon's most frequently used deceptions, keeping his opponents off-balance in combat and even making people believe they are speaking with Simon himself when they are in fact conversing with nothing but light and sound.
Quotes
"Spartans are all inhuman monsters, but at least the rest of those bastards have a purpose. Everything I've ever believed in has been ripped away, one right after the other. There's nothing left for me now, just survival. But nothing I do can ever change the fact that I'll never stop being a Spartan. So if I'm just a monster without a purpose, what does that make me? Some kind of dog? Or something even worse?"
―Simon-G294
"You dumb piece of shit. When it comes to living with disgrace I wrote the book. There's not a damn thing a loser like you could ever teach me. When you fight somebody, either you kill them or they kill you, there's no goddamn in between. Now I'm sick of all your pissing and moaning, so why don't you just shut the hell up and get over it!"
―Simon-G294 to Blake Mordaunt
"I hate my job."
―Simon-G294
Gallery
See Also
| | |
| --- | --- |
| Notable Related Articles | Literary Appearances |
Behind the Scenes
Simon was Actene's first character on Halo Fanon
The name "Simon" was taken from The Lord of the Flies which Actene was reading at the time of this article's creation. Simon-G294 bears no resemblance to the boy from the novel.
Development Notes
Community content is available under
CC-BY-SA
unless otherwise noted.