| | |
| --- | --- |
| | This article, Ratag-Gaust Aircraft Carrier-23, was written by Ajax 013. Please do not edit this fiction without the writer's permission. |

The Ratag-Gaust Aircraft Carrier-23, or Tidal Wave-class, is an aircraft carrier similar to the UNSC's Megalodon, can carry a varied load of aircraft and 20 defensive turrets throughout the ship.
Description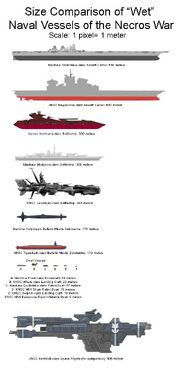 Aircraft
Total: 182
Fighters

12x Air Raid
30x Sky Dive

Bombers

10x Thundercracker
20x Darkwing
20x Sky Shadow

Dropships
Gunships
Modular Sections
Defensive turrets

twin 30mm rotary cannon: two rapid fire rotary cannons, burns through ammo quickly, but tears up low flying aircraft.
twin plasma lances: two plasma lances for short range ship to ship combat.
2x 200mm Rail Guns-Gaust- designed railguns. Efficient multi-purpose weapons.
Sledge Hammer Missile Battery: Ten artillery missiles capable of accurately knocking out priority targets ashore.
Claw Hammer Missile Battery: Twenty surface to air missiles for shooting down hostile aircraft, useful for defending the ship from enemy bombers and gunships.
Ships of the Line
MF Tidal Wave
MF Hurricane
MF Typhoon
Image Credits
The image was originally created by Doc-Evilonavich of DeviantArt