Losing Hope

"Just... dust and echoes."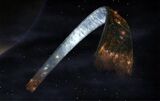 This project, Losing Hope, has either been cancelled, completed, or is totally inactive. Please refrain from editing or attempting to join it. Thank you.
WARNING
Losing Hope is a conglomeration of multiple participant's independent universes, and this RP will certainly spark contradiction. If anyone can find some sort of solution to this problem, please message me. Thank you.

---
"We've lost contact... we've lost Hope..."
Overview
If you haven't received a copy for some reason, please read the invitation.
On their way from Reach, after having salvaged their Fragment of Divinity, the Covenant continue their invasion on the nearest UNSC colony planets, in search of other valuable Forerunner artifacts. Among these planets, a colonized world that Humans call Hope holds a valuable secret that the Covenant would love to have in their possession...
And the rest is up to you!
Losing Hope's goals are to engage its players in exciting hand to hand combat situations, giving everyone the opportunity to let their creative writing shine. The path that you choose for your characters will affect the entire plot, and the ending! What is Hope's treasure? How is Hope destroyed? What are your characters histories and how did they come to be fighting for their lives on Hope? Will your characters be among the few survivors, or will they fall victim to the invaders? It's up to you to decide the outcome! Just follow to simple rules bellow.
Rules
Be civil - Don't allow conflicts between characters in the Roleplay turn into a real flamewar between players.
Canon hugger - Don't disregard canon, in other words, stay canon-friendly.
Don't go to extremes - Do not post consecutively. Give at least one other player a chance.
Don't be all talk - Godplaying is tolerated to an extent, as long as you can write as well as you fight. Also, I recommend that you check your grammar before posting. You would not want to make any embarrassing typos, now would you?
Borrow, don't steal - If you're intending to use someone else's character in your part of the RP, please consult the user who signed as that character.
Questions, anyone? - Ask any questions you have on the discussion page. If I don't respond after a while, inquire about it on my talk page.
Size matters - Any posts you make should be at least 2 paragraphs long. If you aren't used to writing that much at once, you may switch between your characters in each paragraph if you want, to make writing that much a little easier.
Sign here, - Sign the end of your post with --~~~~, then lay out a new section for the next user. For example, if you're writing under ===5===, put ===6=== at the bottom of your post.
Shoot your way out, mix things up a little - Make your work original, don't copy another player's actions.
Who the hell are you? - It is suggested that you create an article about any characters that you want to play as, once you are accepted. You might also want to create articles about any organizations, cities, colonies, and important background characters to give readers some insight on all of the little things that you mention.
Joining
If you want to join this RP, just ask me, and I will most likely allow you to join, based upon your writing skills. In some occasions, I might even send out invitations. If I allow you to play, just add your name and characters under either the UNSC, or Covenant category below, following proper format of course. Only add your self to a category that is still accepting recruits.
Participating characters
Please follow this format when adding yourself and your characters below:

=== [[User:USERNAME|USERNAME]] ===
* [[EXAMPLE CHARACTER 1 (Loosing Hope)|EXAMPLE CHARACTER 1]]
* [[EXAMPLE CHARACTER 2 (Loosing Hope)|EXAMPLE CHARACTER 2]] 
* [[EXAMPLE CHARACTER 3 (Loosing Hope)|EXAMPLE CHARACTER 3]] 

Factions
It is required that all participants list themselves and all of their primary characters below. It is not necessary to list all minor characters.
UNSC forces (Accepting recruits!)
Covenant forces (Accepting recruits!)
Insurrectionist forces (Accepting recruits!)
Forerunner AI (Accepting recruits!)
Losing Hope
---
Each set of posts have been grouped into chapters for the convenience of the reader. Once the RP is complete, Pikapi plans to format these posts into one or more novels. Your help would be greatly appreciated if you would be as kind to proofread these works now and correct any spelling or grammatical errors that you come across. If you would like to participate in this RP, feel free to step-in at any point! Just follow the instructions and rules given above, please.
Community content is available under
CC-BY-SA
unless otherwise noted.