Gaining Faith

"Just... dust and echoes."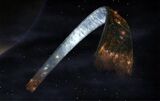 This project, Gaining Faith, has either been cancelled, completed, or is totally inactive. Please refrain from editing or attempting to join it. Thank you.

---
Overview
The UNSC's renowned colony world, Hope, harbored intense fighting between The Covenant Empire and the Humans. This paradise held some deep secrets however, as its true purpose was revealed once the brutal fight on its surface had awoken the true composition of this ancient, Forerunner Shield World. The planet ultimately collapsed, due to instability, revealing a slipspace rift. A teleportation hub that was never meant for direct exposure to the Covenant, nor to continue the conflict between the two warring factions...
The battlefield is now open space, an uncharted star system "in a bottle"; the interior of a dyson sphere.
And the rest is up to you!
Last year, Losing Hope achieved its goal of engaging its players in exciting combat situations, giving everyone the opportunity to let their creative writing shine. Losing Hope made history, having become this wiki's largest page, as well as one of the few RPs to reach completion. This legendary story's long awaited sequel has finally arrived, and now it is your turn to finish the fight! You make the story, and make history!
Rules, policies and terms of use
Be civil - Don't allow conflicts between characters in the Roleplay turn into a real flamewar between players
Shit just got awkward - This project is open to writers of all skill levels and any age. Blood and gore are fine, and even sexual content (if it is called for). Just don't get into detail, because this RP is not to contain erotica-themed literature. We have people of all ages here, and if a post gets anywhere close to something that someone might jerk-off to, please take it off.
Canon hugger - Don't disregard canon, in other words, stay canon-friendly. Please review the necessary canon prior to posting information that you are unsure of. One great place to do this is

Halopedia

!
The fourth rule - Conveniently located under the fourth bullet, this rule is more of a subset of "Canon hugger". By whatever means of force they can muster, no character may break the fourth wall. While I trust that most contributers wouldn't throw in this sort of humor, I am afraid that some may use their characters as a medium, directly speaking to other contributers. You may either do so in an obscure manner, referring to other characters. One better way to collaborate directly to other contributers would be sending a message in small type after a post, or to use a talktext box.
Don't go to extremes - Do not post consecutively. Give at least one other player a chance.
Don't be all talk - Godplaying is tolerated to an extent, as long as you can write as well as you fight. Also, I recommend that you check your grammar before posting. You would not want to make any embarrassing typos, now would you?
Borrow, don't steal - If you're intending to use someone else's character in your part of the RP, please consult the user who conscripted that character.
Shoot your way out, mix things up a little - Make your work original, don't just copy another player's actions.
Are you talking to that corpse? - If something has been established by a character in a previous post, and is explained in a truthful, factual manner by that character, (or was just described) you are required to abide by this change. Coordination is everything, and if you are not up to date on everything, major inconveniences may arise.
Pulling a Mordant Song - Dramatic influential posts are appreciated. Even so, contributers do not have the authority to incapacitate other conscripted characters without permission, and plausibility is everything! For example, a team of insurrectionists breaking out of the ground from inside of a behemoth Forerunner mechagodzilla, knocking other players ships out of the sky with metal tentacles is not cool! Your post will be redacted on sight!
Who the hell are you? - It is suggested that you create an article about any characters that you want to play as, once you are accepted. You might also want to create articles about any organizations, cities, colonies, and important background characters to give readers some insight on all of the little things that you mention.
Questions, anyone? - Ask any questions you have on the discussion page. If I don't respond after a while, inquire about it on my talk page.
Size matters - Any posts you make should be at least 2 paragraphs long. If you aren't used to writing that much at once, you may switch between your characters in each paragraph, in order to make writing that much easier.
Sign here, - Sign the end of your post with --~~~~, then lay out a new section for the next user. For example, if you're writing under ===5===, put ===6=== at the bottom of your post.
Making it official - So you really like the story, and want to bring the events of the story into your universe (even if only within a section of your character's service record). Perhaps you want to bring your character into our universe, wether this is for them to play a bigger role in our timeline, or just in order to make things official under your name. Either way, that is great, but you must make sure to abide by the rules stated on this page, under "Joining and terms of use" for the integrity of each universe that becomes involved.
Joining
If you want to join this RP, just ask me, and I will most likely allow you to join, based upon your writing skills. In some occasions, I might even send out invitations. If I allow you to play, just add your name and characters under any category below that applies, while following the proper format of course. Only add your self to a category that is still accepting recruits.
Participating characters
Please follow this basic format when adding yourself and your characters below:

=== [[User:USERNAME|USERNAME]] ===
* [[User:USERNAME/EXAMPLE CHARACTER 1|EXAMPLE CHARACTER 1]]
* [[EXAMPLE CHARACTER 2 (Losing Hope)|EXAMPLE CHARACTER 2]] 
* [[EXAMPLE CHARACTER 3|EXAMPLE "THE EXAMPLE" CHARACTER 3]]
* [[EXAMPLE CHARACTER 4]]

Factions
It is required that all participants list themselves and all of their primary characters below. It is not necessary to list all minor characters.
UNSC & allied (Blood Heresy, defected Insurrectionist) forces (Accepting recruits!)
Covenant forces (Accepting recruits!)
Forerunner AI (Accepting recruits!)
Gaining Faith
---
Each set of posts have been grouped into chapters for the convenience of the reader. Once the RP is complete, Pikapi plans to format these posts into one or more novels. Your help would be greatly appreciated if you would be as kind to proofread these works now and correct any spelling or grammatical errors that you come across. If you would like to participate in this RP, feel free to step-in at any point! Just follow the instructions and rules given above, please.
Community content is available under
CC-BY-SA
unless otherwise noted.