| | |
| --- | --- |
| | This article, Peec-D1074, was written by Maslab. Please do not edit this fiction without the writer's permission. |
Peec-D1074
Biographical Information

REAL NAME

Jeffrey Morley

DATE OF BIRTH

April 27, 2549

HOMEWORLD

Earth / Seattle, United Republic of North America

Physical Description

HEIGHT

6' 6" (Unarmored); 7' (Armored)

HAIR COLOR

Blond

EYE COLOR

Blue

GENDER

Male

CYBERNETICS

SPARTAN Class Neural Interface

Political and Military Information

RANK

Chief Warrant Officer 4 (W-4)

SPARTAN TAG

D1074

SERVICE NUMBER

24838-21074-JM

UNIT

SPECIALITY

Tech Specialist

CLASS

SPARTAN-III, Delta Company

AFFILIATION

ERA

[Source]
"Fear death? Why would I fear something that releases me from the bonds of this universe? Why should I fear something that frees me of all pain?"
―Peec-D1074
Training
Peec displayed incredible skills with computers and most hardware from an early stage. He managed, with the help of the camp AI, to hack in to ONI servers and learned more about Covenant archetypes, culture, and the species that served under the Prophets than most humans knew.
Zeta-9
Peec was the one who realized what happened to Wings during the Battle for Zeta-9. Other than that, his contributions were minimal.
Aftermath of the Battle for Zeta-9
Peec passed the time waiting for Wings to recover by learning more about the Sangheili and the inter-species politics.
Siege of Alpha-Alpha-Golf
Phoenix team's first deployment after completing their training was to the dry world of Alpha-Alpha-Golf. They were able to successfully destroy several convoys of energy cells, weakening the Covenant lines and allowing Interspecies Union forces to take the planet.
Aftermath of the Siege of AAG
Phoenix Team returned to the super carrier, Advent, and Peec learned that they would be working on a Sangheili cruiser next.
"I'm not worried about seeing my family again. But I want them to be able to tell me how long you screamed."
―Peec to Fira 'Demal, preempting their fight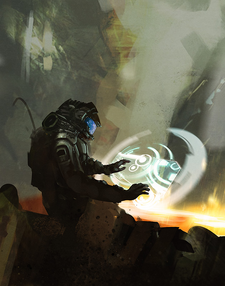 Peec taps into a Precursor database on Sanghelios.
Peec met Fira 'Demal aboard a Sangheili cruiser, and his past resurfaced. He confronted Fira in a hangar and wounded the Sangheili warrior, stabbing him in the lung with a combat knife.
Personality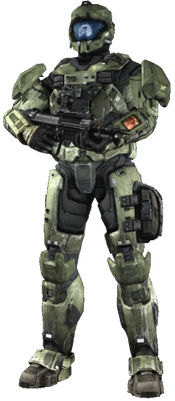 Peec in MJOLNIR Mk. VII armor.
Peec hides a surprising amount of emotional attachment to things, he cares about life more than many others. He personally witnessed his parents torn to shreds by the Sangheili, Fira 'Demal, mere seconds before the Sangheili left the Covenant.
Psychological Evaluation
Abnormally low sociopathic tendencies for a SPARTAN. D1074 seems to have gone back to his familial roots in the study of technology. Extreme curiosity and focus on his work suggests some form of autism or Asperger's Syndrome.
†Deceased
[DISBANDED]