| | |
| --- | --- |
| | This article, Mra 'Harsranee, was written by Spartan-552. Please do not edit this fiction without the writer's permission. |
Mra 'Harsranee
Biographical Information
Lineage Name

'Hararanee

Homeworld
Born

2498

Physical Description
Gender

Male

Height

2.6 meters (7ft 2in)

Weight

152 Kilograms (335 Pounds)

Skin

Pale

Eyes

Orange

Political and Military Information
Allegiance

Covenant Empire (Formerly)

Rank
Battles

Harvest Campaign
Battle of Reach
Great Schism

Era(s)

  [Source]
Mra 'Harsranee was a Arbiter in the Covenant. He served the Prophet of Mercy, and a Unknown prophet.
History
Early Life
Mra was born on Sanghelios. Mra was a fighter and a winner. He joined the Covenant to see action and to lead.
Early years in the Covenant
He was ranked Major after 2 battles. He was in charge of a squad of sangheili and unggoy. On the Planet of Reach Mra and a group of Covenant attacked a group of marines and Spartan-A221. Mra wiped out the marines while the group of covenant attacked Spartan-A221. Once Mra killed the marines he ran t word A221 and turned him around and ignited his energy sword and stabbed A221 in the neck, killing him.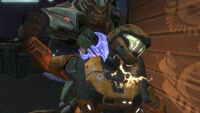 After the Fall of Reach Mra was ranked Zealot and assigned to High Charity for military operations. Mra was not seen or a while. (WIP)
Community content is available under
CC-BY-SA
unless otherwise noted.