Halo Fanon
Writer of the Year

2019:

UnggoyZealot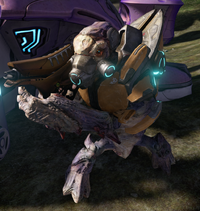 Winner of the 2019 Best Concept/Heroic Article award.
---
"This baby has so many canon breaches in it, you'll never know what official lore is again."
―UnggoyZealot
Behold the noobiest of them all! I've been around these parts for about two years now, and am an active member of the community! If you find my name too long, you can call me UZ for short. If you wanna hear me stop blabbering and look at my stuff <insert name here>, then get on with it, and go to my Organizer and Sandbox. My sole work that I'm really proud of is my Sangheili character Grono 'Yendam. I've met some pretty cool people here during my year, and I'd recommend you to join so you can meet 'em too! (If you haven't already joined. :P) Moving that aside, I've got two plasma grenades, so who wants hugs?
Previous recipients: Distant Tide (2018) • S-D379 (2017) • Sev40 (2016) • Minuteman 2492 (2015) • Brodie-001 (2014)
Mythic Article of the Year

:

Halo: Heaven and Earth

by

Actene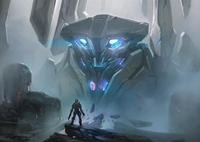 As rain pours down upon a city rooftop, they clash. Two figures clad in near-identical armor, their faces hidden behind broad-visored helmets, trade blows through the drenched night air. The crunch and thud of armor striking armor reverberates across the roof and down into the foggy streets below. Each fighter tears into the other with every ounce of their strength. Nothing is held back. They punch and kick, grapple and throw. Each time one of the combatants falls they rise from the rain-slicked rooftop to throw themselves back into the battle with even greater ferocity.
Each sees the other's attacks before they come. They know every move, every form, down to the slightest twitch. They've sparred countless times, teaching each other techniques, learning together until they know the other's moves better than they know their own. They've sparred, but never fought.
Not like this.
Read more»
Legendary Article: Cody-B042 • Heroic Article: Halo: Warhunt
Good Articles

:

Vinh-030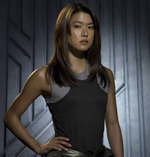 SPARTAN-030, Vinh, was a SPARTAN-II commando serving NAVSPECWEP through the Human-Covenant War and the Post-war Era. Born the daughter of Vietnamese-American colonists on Jericho VII, she was selected for the SPARTAN-II Program by Dr. Catherine E. Halsey in 2517. Her father, who'd been a career marine and long practitioner of kenjutsu, instilled in her a strong sense of discipline that would become invaluable through her career, and began teaching her to wield a blade before she was abducted for the program.
Quickly proving herself to be a capable soldier, Vinh excelled early on, but became overshadowed as the other trainees came into their own. Eventually, she found her own talent as a mechanic and combat engineer, while continuing to learn to wield a sword more as a hobby than actual combat method. While willing to risk her life for any SPARTAN, Vinh and Isaac-039 had a particularly close relationship that became romantic during the Human-Covenant War, and Vinh bore a son named Dyne who was placed in foster care under the watch of ONI agent Erin Coney.
In the last year of the war, Isaac was killed in front of Vinh after the Fall of Reach, and Vinh was captured to await execution. Only surviving because of an alliance with Parthius during the Great Schism, Vinh returned to Earth to fight in the Battle of Tokyo, and discovered that her son had survived, being absent from Reach because of his entrance into the SPARTAN-III Program. Vinh met her son on the battlefield, but didn't tell him of their relation. After the end of the war, Vinh requested a non-combat position on the exploration and recolonization survey ship UNSC Themistocles, where she could watch over her son and his team.
Read more»
Latest News
Good Articles! — Know of a quality article that you think deserves its moment to shine? Let us know about it here, and it could earn Good Article status like Ash Mitchell by Brodie-001.
Fanon of the Month — Fanon of the Month has returned! Everyone can nominate and vote for articles that deserve recognition here! This month's Featured Article is: Fireteam Caliber by UnggoyZealot.
Canon Policy Update — There are important updates to the Canon policy. Please check to see how it affects you.
Latest blogs
Fanon of the Month

— July 2020:

Fireteam Caliber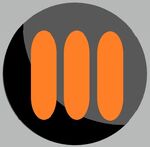 "A team of Spartan-IVs pulled from the best of the UNSC ranks. While perhaps not as well-known as others, they have marked themselves as one of the top teams in the entire branch of Spartan Operations."
―Assessment from Commander

Sarah Palmer

.

Fireteam Caliber is a Spartan Operations team made up of Spartan-IV operators culled from the ranks of various military branches. Created on January 17, 2558 for the Requiem Campaign, the team lasted long after, engaging in multiple missions in the Joint-Occupaton Zone against Covenant remnants ranging from scouting to breakthrough ops. They continued in this manner until the Created Conflict began, seeing them stuck on the UNSC Infinity as it narrowly escaped a Created Guardian.
Read more»
---
Previous featured articles: Insubordinate • KSM1 Jabber • Annalee-B220
Helping Out
To write a new article, just enter the title in the box below.
Not sure where to start?

Find out more about the wiki on the About page.
If you are new to wikis and in need of an edit-specific help, check out the tutorial and editing help page.
Questions? If you have questions you can post them at our community center, the Main Page discussion.

Adding content

Want to try something out? Check out the Sandbox, where you can test out any of the wiki code.
Uploading images is another really easy way to help out - see the Special:Upload page!
You can find a list of useful templates on Category:Templates.

Talk and more...

Check out the forums to see what the community is working on, to give feedback or just to say "hi".
Community Links
Bungie.net
Homepage of Bungie Studios
Waypoint
Halo Waypoint, managed by 343 Industries
HBO
Ultimate fansite for everything Halo!
Halopedia
The definitive source for Halo information!
Community content is available under
CC-BY-SA
unless otherwise noted.