Halo Fanon
Good Articles

:

Kaaranese Sangheili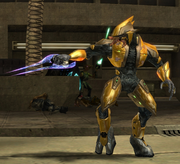 Compared to some species, such as humanity, the Sangheili have been a technologically advanced society for a considerable amount of time, expanding from their homeworld of Sanghelios relatively soon after acquiring interstellar travel capabilities, and making First Contact with the San'Shyuum in 938 B.C.E., leading to total war. It is easy to forget that, in the long run, their establishment of interstellar colonies is still only a recent occurrence in the 100,000 years since the Forerunners embarked upon their "Great Journey", and that for the most part the Sangheili remained as they were when they were archived - a primitive but robust warrior species, perfectly adapted to the harsh conditions of Sanghelios. It is therefore difficult to see how the Sangheili could have colonised a planet such as Ketesh thousands of years before they acquired slipspace technology, forgotten about the colony, and its inhabitants built up a society to rival that of Sanghelios itself.

The answer, of course, is that they didn't. Genetic studies of Sangheili mitochondrial DNA show that the Kaaranese split off from the main species much earlier - approximately 250,000 years ago, even before the activation of the Halo Array. Exactly how the Kaaranese reached Ketesh remains a mystery few feel confident in solving - even Kaaranese legend is extremely hazy on the subject, mentioning only that their ancestors were "guided" to their new home by "the Holy Light of the Gods wisdom" as they fled persecution, and known as the First Exodus of the Followers of Light. Exactly what they were fleeing is not stated - neither is how they reached Ketesh, when it would be another 99,062 years until their Sanghelios ancestors would achieve interstellar travel themselves. What is known is that the Kaaranese Sangheili made this planet their home, and have branched out in almost every way possible, making it their own.
Read more»
Helping Out
To write a new article, just enter the title in the box below.
Not sure where to start?

Find out more about the wiki on the About page.
If you are new to wikis and in need of an edit-specific help, check out the tutorial and editing help page.
Questions? If you have questions you can post them at our community center, the Main Page discussion.

Adding content

Want to try something out? Check out the Sandbox, where you can test out any of the wiki code.
Uploading images is another really easy way to help out - see the Special:Upload page!
You can find a list of useful templates on Category:Templates.

Talk and more...

Check out the forums to see what the community is working on, to give feedback or just to say "hi".
Latest News
Good Articles! — Know of a quality article that you think deserves its moment to shine? Let us know about it here, and it could earn Good Article status like Reginald Harding by Ahalosniper.
Fanon of the Month — Fanon of the Month has returned! Everyone can nominate and vote for articles that deserve recognition here! This month's Featured Article is: M874 Armored Troop Transport by EvenManatee887.
Request for Administration — Halo Fanon is having its first administrative vote in over seven years! All editors, do your part and vote on whether or not our applicant deserves this role here!
Fanon of the Month

— April 2021:

M874 Armored Troop Transport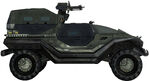 The M874 Armored Troop Transport (ATT), nicknamed Pangolin, is a variant of the standard

M831 Troop Transport

which is suited for operations in areas of heavy combat. As its name suggests, the Pangolin features armored gullwing doors over the driver and passenger sides of the vehicle and split armored doors on the passenger module in the back, which has also been enlarged to make up for space lost in enclosing it. Being used in combat heavy environments it also features a M43 Remote Weapon Station (RWS) mounted ahead of the troop module and behind the crew compartment.
Read more»
---
Previous featured articles: Halo: Stolen Gauntlet • Far Harvest Legion • Emma Sówka
Community Links
Bungie.net
Homepage of Bungie Studios
Waypoint
Halo Waypoint, managed by 343 Industries
HBO
Ultimate fansite for everything Halo!
Halopedia
The definitive source for Halo information!
Community content is available under
CC-BY-SA
unless otherwise noted.