Halo Fanon
Mythic Article of the Year

:

Halo: Heaven and Earth/Book Three: Heaven and Earth

by

Actene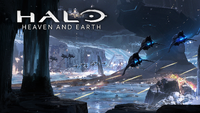 Chapter Forty-Six: Legacy
A cool breeze slipped through the open window. The window had been open for some time—the apartment's sole occupant could not remember when he'd opened it—and the assorted smells from the streets outside filled the room with an unpleasant odor. Still, the old man made no move to close the window. He didn't mind the smell and the warmth of late afternoon's dwindling sunbeams felt good on his face.
Tobias Lensky sat at his dining table and turned the pages of a large book over in his hands. His eyes scanned the words before him but his mind was elsewhere. A datapad across the table—a parting gift from Tom Spender—brought news of the surging events engulfing the galaxy. Shinsu 'Refum was on the move, his fleet gathering strength with each passing day. The Created tightened their hold on the Inner Colonies and more Covenant worlds pledged fealty to the Mantle of Responsibility with each passing day. Grand decisions were being made and for once Tobias had no part in them. At one time he'd been a colossus, head of the Syndicate, wealthiest man in the galaxy, ONI's favorite informant and party to secrets most people could only dream of. Now he was an old, shrunken man wasting away in this grubby apartment. Time had passed him by.
He sighed and looked to the empty room behind him. Simon Onegin had lain in that room. How long since Ryder's last visit? How long since Tobias's son had seized a new lease on life? Simon Venter he was calling himself now, according to Spender's report. The thought brought a smile to Tobias's wrinkled face. Always full of surprises, that one. Just like his father. He'd go far in this new galaxy, no question about that.
Read more»
Legendary Article: Bodark-B076 • Heroic Article: Halo: Stolen Gauntlet
Helping Out
To write a new article, just enter the title in the box below.
Not sure where to start?

Find out more about the wiki on the About page.
If you are new to wikis and in need of an edit-specific help, check out the tutorial and editing help page.
Questions? If you have questions you can post them at our community center, the Main Page discussion.

Adding content

Want to try something out? Check out the Sandbox, where you can test out any of the wiki code.
Uploading images is another really easy way to help out - see the Special:Upload page!
You can find a list of useful templates on Category:Templates.

Talk and more...

Check out the forums to see what the community is working on, to give feedback or just to say "hi".
Latest News
Good Articles! — Know of a quality article that you think deserves its moment to shine? Let us know about it here, and it could earn Good Article status like Pete Stacker (AAO) by Ahalosniper.
Fanon of the Month — Fanon of the Month has returned! Everyone can nominate and vote for articles that deserve recognition here! This month's Featured Article is: Alexander Redford by Brodie-001.
The Weekly — Its time to have a chat in the latest weekly contest.
Fanon of the Month

— May 2022:

Alexander Redford
Alexander Redford, also known as Codename: CAESAR and Agent 19, was a long-serving agent and later leader of the Office of Naval Intelligence's Project BRUTUS. Working for years as a saboteur, infiltrator and assassin, he took part in numerous classified missions over the years and became was well-known within the organisation due to his impressive conduct and distinctive personality. Though he never held a particularly powerful position for most of his career, Redford commanded a surprising amount of authority and held the respect of both his peers and superiors.
The son of ORION Project member Harold Redford, Alexander was born as a Spartan 1.1 and would undergo minor augmentations as a child that made him superior to baseline humans. After becoming a doctor in 2523, Redford practised for several years before being recruited for ONI's BRUTUS division after his father's death in battle.
Alexander would soon become well known within the organisation, and worked as both a deep-cover agent and assassin throughout the Human-Covenant War. An elusive figure within the intelligence community, Redford was both respected and feared, having killed several fellow agents during his long career of espionage. In the mid-2550's, he was partnered with Layla-B101, a SPARTAN-III who matched him in sheer skill and general unsympathetic disposition towards life. He would continue to work as a field agent until the Avalon Incident of 2556, after which Frederick King was almost killed and put into a coma, prompting his immediate promotion to the head of BRUTUS. His leadership would prove invaluable for the organisation, as the threat of the Prometheans and the Created emerged in the following years.
Read more»
---
Previous featured articles: Aug-boxing • Ceo 'Theainee •

Operation: OCTOBER
Community Links
Bungie.net
Homepage of Bungie Studios
Waypoint
Halo Waypoint, managed by 343 Industries
HBO
Ultimate fansite for everything Halo!
Halopedia
The definitive source for Halo information!