| | |
| --- | --- |
| | This article, MOLE, was written by Ajax 013. Please do not edit this fiction without the writer's permission. |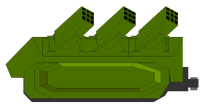 Mine Ordnance Launcher Equipment (MOLE) is a modular mine launching system. The system consists of modular dispensers which can be fired to either side or to the rear, mounted on six sets of turntables on a flat bed. It uses either conventional pressure actived anti tank mines, the M320 Anti Tank Mine, useful against armoured vehicles using treads or wheels, though being phased out in favour of the M341 Anti Tank Mine that use a mixture of pressure, magnetic induction and vibrations to detect vehicles and vent almost a dozen incediary flechettes into the underbelly of a armoured vehicle via an explosive charge. These catch fire inside it and burn it internally. It also fires M121 Bounding Anti Personnel Mine which bound up when the sensor network detects a hostile combatant and sprays their direction with tungsten fragments. These mines are carried in canisters, (each of which hold six mines with up to 40 canisters), and are carried on a launcher rack. These are on the rear of the flatbed and discharge the mines either side as the launcher moves across the terrain. A dispenser control unit provides fire signals, testing and arming of the self-destruct mechanism. Also, these mines can be activated and deactivated with 1000 digit codes to allow friendlies to pass through the field, along with IFF detection and querying. This means they cannot be bombarded with random codes to simply deactivate them.
UNSC Comments
Community content is available under
CC-BY-SA
unless otherwise noted.