| | |
| --- | --- |
| | This article, M460C Automatic Grenade Launcher, was written by Ajax 013. Please do not edit this fiction without the writer's permission. |

The M460C Automatic Grenade Launcher is a UNSC heavy weapon. It is used by heavy weapon platoons and as a vehicle weapon mount for close range anti-personnel and anti-armour duties.
Description
The M460C AGL is a belt fed 40mm grenade launcher, designed for medium range engagements, specifically against light to medium armour and infantry formations. The gun fires from a closed bolt, improving accuracy, especially on the first round. The bolt retreats down into the receiver, preventing the majority of the recoil from transferring backwards, allowing higher stability. The gun is fitted with a central aligned misriah rail, for fitting a fire control scope. Fitted to the side of the rail is the fire control system, shared with other UNSC grenade launchers. The gun has a reciprocating gas system, propelled by the recoil induced by the grenades. The grenade launcher can be fed with either an external drum fitted on a ramp, with 40 or 50 round belt drums or a C magazine fitting twenty five grenades without a belt and can be replaced with speed, without having to feed the belt. The rifled barrel is constructed from carbonized metal to reduce metal distortion caused by high rates of fire, allowing it to retain the majority of its accuracy. The barrel is flanked by two doppler cooling systems, with another planted beside the bolt. These use LASERs and the doppler effect to cool the gun, or warm it, keeping it as close to room temperature as possible. The gun is fitted with two spade grips, each with a trigger, two button and four point analogue stick control for range control and point detonation. This way, both left and right handed users can use the weapon. The weapon is compatible with standard issue tripods and vehicle mounts.
Variants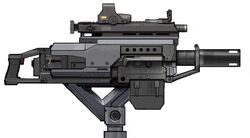 The M460C1 AGL is used on PALADIN Weapon Station, with an electronic control, sensors and preloaded drum.
The M460D AGL is a heavily modified version for use with Wolf exoskeletons. It has a single trigger, a linked sensor with nightvision and thermographic capabilities and can only be fitted with the 25 round magazines. It has a lengthened barrel and a collapsing stock.
UNSC Remarks
Community content is available under
CC-BY-SA
unless otherwise noted.