| | |
| --- | --- |
| | This article, Log Archive/Ares Logs, was written by Matt-256 and Spartan 501. Please do not edit this fiction without the writers' permission. |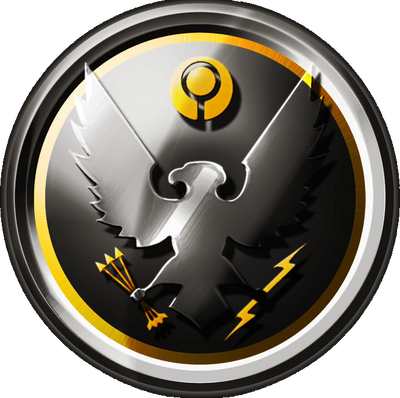 In 2587, classified military documents relating to a number of top-secret military projects from the war were released to Office of Naval Intelligence officers, ostensibly as part of war-time abuse investigations. Among these documents were a number of files, logs, and reports from the SPARTAN-II Class III Program -- more commonly known asProject ARES. The soldiers of this "Ares Detachment" were highly trained commandos: genetically and cybernetically enhanced Spartan-grade supersoldiers based off the work of Doctor Catherine Halsey and the original SPARTAN-II Program. While the existence and deployment of these special forces teams was well known within UNSC High Command, their origins remained largely shadowed in mystery until the release of the 2587 documents. This secrecy would quickly evaporate, as the details of these Class III SPARTAN's origins became a part of public record--everything from their training, to their eventual deployment in the field.
Journal Entries
Laszlo's Journal
2540
WELL, NOW I FINALLY LEARNED WHAT MY NEW ASSIGNMENT IS. SUFFICE TO SAY, IT WAS MORE THAN A BIT SURPRISING – IT'S NOTHING LIKE WHAT I'VE DONE BEFORE. AND I'M REALLY NOT SURE WHETHER I'M QUALIFIED FOR THIS.
RICH WANTS ME TO TRAIN SPARTANS - A NEW BATCH OF SPARTAN-II CALIBER SUPERSOLDIERS CODENAMED "ARES". HEH, I SUPPOSE IT NEEDED A FLASHY NICKNAME TO SEPARATE IT FROM ALL THE OTHER SUPERSOLDIER PROGRAMS GOING ON. STILL, NAMING IT AFTER THE GOD OF WAR IS A BIT ENTHUSIASTIC. RICH SHOWED ME THE BUDGET – IT'S NOT ENOUGH. HE'S NOT GOING TO PRODUCE ANY GODS OF WAR WITH THOSE PALTRY SUMS. I'D PUT MORE FAITH IN "OLYMPIAN" (AND WHY WOULD YOU START TRAINING A THIRD BATCH OF SPARTAN-IIs WHEN THE SECOND ISN'T EVEN NEAR BEING FINISHED YET ANYWAY?). AND I TOLD HIM SO – AND LET'S JUST SAY HE WASN'T OVERLY AMUSED.
WELL, THIS STINKS. RICH WANTS ME – WHO HAS OPERATED SOLO FOR THE LAST 15 YEARS – TO TRAIN SPARTANS LIKE ME, WITH LESS THAN SATISFACTORY FUNDING, WHEN OTHER SPARTAN PROGRAMS ARE STILL ONGOING – AND WITH A BETTER BUDGET AT THAT. HOW COULD THIS POSSIBLY BE ANY MORE POORLY HANDLED?
OH, I KNOW: ENLIST AN OLD MARINE COLONEL AS THE GUY IN CHARGE OF SCIENCE! WHY WOULD HE EVEN DO THAT? I GET WHY HE WOULDN'T GO TO HALSEY, AND MORIARTY IS OCCUPIED WITH LEADING DELTA-4'S FIELD DETACHMENTS – BUT WHY WOULD HE LIAISON A MARINE WITH SOME SCIENCE DEGREES? NOTHING AGAINST THE GUY – HE LOOKS FINE ENOUGH – BUT DOES A GUY LIKE THAT REALLY HAVE WHAT IT TAKES FOR THIS SORT OF THING? DOES RICH WANT SOMEONE WITH MORALS NOT AFFECTED BY ONI'S CORRUPT POLITICAL CLIMATE AROUND FOR SOME REASON? OR IS THIS COLONEL MORE THAN HE SEEMS? I'D BEST BE CAREFUL WITH HIM JUST IN CASE.
OR MAYBE I'M JUST AGITATED OVER HAVING TO DO THIS. I'VE NEVER WANTED TO LEAD – THERE WAS ALWAYS SOMEONE BETTER TO DO IT FOR ME – JOHN, CASSIE, RIKER, AND ALL THE OTHERS. BUT NOW THERE IS NO ONE ELSE. EXCEPT FOR BLIGHTBLOOD – AND I WOULD NEVER LET HIM NEAR KIDS EVER AGAIN. HE'S SCREWED UP ENOUGH OF THEM AS IT IS.
I'M NOT GOING TO DENY THAT US SPARTANS ARE ONE OF THE THINGS THAT ARE CONSISTENTLY WORKING AGAINST THE COVENANT. HELL, I HAVE TO ADMIT I ALONE HAVE ACCOMPLISHED A LOT OF EXTRAORDINARY THINGS THROUGHOUT THIS CONFLICT – THEREFORE MORE OF US COULD NEVER HURT. BUT IS THIS THE RIGHT APPROACH TO DO THIS? IS THIS THE RIGHT TIME? CAN I REALLY DO THIS? CAN THAT COLONEL STANDOFF GUY DO THIS?
I DON'T KNOW. I GUESS WE'LL HAVE TO FIND OUT THE HARD WAY. AND IF NOTHING ELSE IT LETS ME TAKE A BREAK FROM FIGHTING ON THE FRONTLINES.
FEBRUARY 23RD, 2540
---
IT'S ODD BEING BACK ON TANTALUS AFTER ALL THESE YEARS OF MOVING FROM PLANET TO PLANET ON THE FRONTLINE. I HAD ALMOST FORGOTTEN THE MASSIVE CATACOMBS BELOW SURFACE LEVEL. I CERTAINLY NEVER CONSIDERED THE POSSIBILITY OF BUILDING A MASSIVE TRAINING FACILITY IN THEM.
BUT HERE I AM, WATCHING A BASE OF OPERATIONS FOR PROJECT ARES BEING CONSTRUCTED IN TUNNELS UNDERNEATH FORT HAMILL. I HAVE TO ADMIT IT'S A BIT IMPRESSIVE.
STILL, I THINK IT'S A WASTE OF MONEY ON OUR ALREADY MEAGER BUDGET. REALLY, WE COULD HAVE USED AN ABANDONED FORT IN THE DEEP FORESTS OR USE ONE OF THE UNSC'S SECRET PLANETS OR ASTEROIDS IN OTHER SYSTEMS. BUT RICH INSISTS ON THE PROJECT BEING KEPT HIDDEN FROM SATELLITE FOOTAGE. HE'S REALLY PARANOID ABOUT SOMEONE FINDING OUT ABOUT ALL THIS. WHICH MEANS ENLISTING STANDOFF MAKES EVEN LESS SENSE.
I DID SOME PRIVATE DIGGING ON THIS STANDOFF CHARACTER. FAIRLY SOLID SERVICE RECORD, NO CRIMINAL RECORD, NO PRIOR INVOLVEMENT WITH ONI AND NO IMMEDIATE SIGNS OF EXTERNAL TAMPERING OR FABRICATION. AND HIS SCIENCE CREDENTIALS ARE A BIT MORE WELL-EARNED THAN I EXPECTED – HE CERTAINLY KNOWS HIS CHEMISTRY AND GENETICS. ALL IN ALL – HE SEEMS LIKE NO ONE PARTICULARLY SPECIAL. THERE ARE PROBABLY HUNDREDS LIKE HIM OUT THERE. SO EITHER RICH WANTS SOMEONE WITH A MORE GROUNDED PERSPECTIVE IN THE PROJECT, OR THIS IS ALL A VERY ELABORATE FABRICATION BY RICH TO LULL ME INTO A SENSE OF SECURITY SO THAT I WILL CONFIDE IN THIS GUY WHAT I MAY NOT CONFIDE IN RICH. BUT WHY GO TO ALL THAT EFFORT JUST TO DO THAT? OR WAS THIS FORCED ON HIM? DID PARANGOSKY ORDER THIS? NO, THAT'S EVEN LESS LIKELY. EH, I'LL PROBABLY JUST KEEP A DISTANCE FROM THE GUY FOR A WHILE – SEE IF I CAN LEARN MORE WHEN I MEET HIM IN PERSON. ASSUMING HE DOES RETURN FROM INTERVIEWING THE CANDIDATES.
AND WHY IS HE ENTRUSTED WITH INTERVIEWING THE CANDIDATES? SHOULDN'T THAT BE MY JOB? IT'S I WHO'S GOING TO TRAIN THEM, AFTER ALL (HEAR, HEAR – LAST WEEK I COMPLAINED ABOUT HAVING TO DO THIS, YET NOW I'M COMPLAINING ABOUT NOT DOING ENOUGH). IS IT BECAUSE HALSEY WAS THE ONE WHO DID IT FOR THE FIRST CLASS?
DAMN, THIS PROJECT JUST RAISES SO MANY QUESTIONS. I SINCERELY HOPE RICH ACTUALLY KNOWS WHAT HE'S GETTING US ALL INTO.
WELL, AT LEAST I'VE BEEN GIVEN A NICE OFFICE. I GUESS BEING ELEVATED TO COMPANY-GRADE OFFICER HAS ITS PERKS.
MARCH 1ST, 2540
---
YOU KNOW, I MAY HAVE OVERREACTED ABOUT ALL THIS. I MEAN, NOW THAT I'VE SETTLED DOWN HERE, GOTTEN TIME TO THINK ABOUT IT AND TALK TO THE DIs, AND READ UP ON THE SITUATION OUT THERE – THIS PROJECT JUST MIGHT BE A GOOD THING.
RICH MAY HAVE CUT CORNERS IN MOST ASPECTS OF THE PROGRAM, BUT THE FACILITIES ARE NICE ENOUGH AND THE DRILL INSTRUCTORS ARE MOSTLY VERY EXPERIENCED (SOME HAVE EVEN TRAINED SPARTANS BEFORE). THE CHIEF INSTRUCTOR, DEAN JACKSON, IN PARTICULAR SEEMS A GOOD CHOICE. HIS SERVICE RECORD SPEAKS FOR HIM – HUNDREDS OF ENGAGEMENTS, DOZENS OF SUCCESSFUL COVERT OPS AND PLENTY OF DRILLING EXPERIENCE. NOT TO MENTION HE SEEMS LIKE A GOOD MAN. I KNOW HE'S GOING TO HAVE TO PLAY THE RECRUITS' WORST NIGHTMARE – LIKE MENDEZ – BUT AT THEIR CORE, CHIEF INSTRUCTORS STILL HAVE TO BE DECENT MEN IF THEY'RE GOING TO EARN THE RESPECT OF AS MANY AS POSSIBLE. DEAN FULFILLS ALL THESE CRITERIA NICELY. AND HE ACTUALLY ENJOYS MY SENSE OF HUMOR.
THERE'S ALSO THE MATTER OF SHIT HITTING THE FAN OUT ON THE FRONTLINES. ADMIRAL COLE IS DOING HIS BEST OUT THERE, AND IS STILL SCORING VICTORIES – BUT HE'S LOSING GROUND. EVER SO SLIGHTLY, HE'S BEING GRADUALLY PUSHED BACK. SOME COVENANT SHIPS HAVE EVEN DARED VENTURES INTO THE OUTER-MOST INNER COLONIES. FOR NOW, THEY'VE BEEN REPELLED, BUT WHO KNOWS IN A FEW YEARS. AND HOW MUCH LONGER CAN COLE KEEP GOING WITHOUT A BREAK? I'M CONVINCED HE HASN'T HAD SHORE LEAVE SINCE THE WAR STARTED – AND A HERO HE MAY BE, BUT HE'S STILL JUST A MAN.
THANKFULLY COLE'S NOT THE ONLY REASON THE COVENANT ARE STILL MORE OR LESS CONTAINED IN THE OUTER COLONIES RIGHT NOW. SPARTANS, JAVELINS AND TROJANS ARE BEING DEPLOYED LEFT, RIGHT AND CENTER AND SCORING SUCCESSES – SPARTANS IN PARTICULAR. BUT THEIR NUMBERS ARE DWINDLING – SLOWLY FOR THE IIs, FAR TOO QUICKLY FOR THE IIIs. DAISY AND CAL ARE DEAD WITHOUT A DOUBT AND NO ONE HAS HEARD FROM JEROME, DOUGLAS AND ALICE IN YEARS. RANDALL AND KURT ARE ALSO MISSING – KURT PROBABLY DEAD, AND RANDALL MAY HAVE DEFECTED TO THE URF. THE LATTER DOESN'T SIT WELL WITH ME AT ALL.
POINT IS, WE'RE GOING TO NEED MORE SPARTANS. AND IF NOTHING ELSE – PROJECT ARES MAY BE ABLE TO DO THAT. I'M GOING TO MAKE SURE OF THAT. I STILL DON'T KNOW IF I'M QUALIFIED FOR THIS JOB – BUT I'M GOING TO DO MY BEST. THAT WILL HAVE TO BE ENOUGH FOR NOW.
MARCH 25TH, 2540
---
WELL, WE'VE GOT THE KIDS GATHERED NOW. I'LL HAVE TO SPEAK TO THEM SOON. TELL THEM THEY'RE SOON-TO-SPARTANS. AND THAT THEY CAN NEVER, EVER, RETURN TO THEIR RESPECTIVE HOMES. SOME ARE VENGEFUL ORPHANS, SO THEY DON'T MIND; THEY DON'T HAVE ANYTHING TO RETURN TO ANYWAY. I ADMIRE SUCH RESOLVE IN SO SMALL CHILDREN; I COULD NEVER BE THAT STRONG. BUT THE ONES WHO DID HAVE A HOME, THOSE WHO LIVED A HAPPY LIFE...I DON'T KNOW, IT FEELS LIKE I MIGHT AS WELL HAVE SHOT THEM IN THE KNEECAPS. I KNOW IT'S NECESSARY, BUT IT DOESN'T ALWAYS HELP MY CONSCIENCE. I'LL STILL TRAIN THEM ALL OF COURSE - BUT I DON'T HAVE TO LIKE DOING IT.
I'VE DONE THE RESEARCH ON THEM ALL, AND I FROWN ON THE NEW PARAMETERS RICH APPROVED FOR THE ENLISTMENT; ONLY 20% (10 CANDIDATES) OF THE 50 REMAINING CANDIDATES ARE OF GENETIC STOCK VERY CLOSE TO OR NEAR-EQUIVALENT TO MINE AND THE OTHER IIs - OF WHICH ONLY 4%, TWO PEOPLE, ARE ACTUALLY TRULY EQUAL. THEN THERE'S THE IN-BETWEENS THAT MAY OR MAY NOT MAKE IT (42%), AND LASTLY THE RANDOM ONES RICH APPROVED SIMPLY TO FILL UP THE ROSTER. IF IT'S TRUE WHAT I HEAR ABOUT THAT WE HAVE TO RELY ON OLDER AUGMENTATION PRODCEDURES...IT WON'T BE PRETTY.
I GUESS I'LL JUST HAVE TO DO MY PART OF THE JOB AS WELL AS POSSIBLE, THEN HOPE FOR THE BEST. THOUGH THAT'S EASIER SAID AND DONE.
AND I SHOULD REALLY TELL RICH'S INVESTIGATORS TO FRACKIN' PROOFREAD WHAT THEY WRITE DOWN. THERE'S ERRORS ALL OVER THE ROSTER; THEY MIXED UP [343]'S (NEED TO NOTE SOMEWHERE THAT SHE'S ONE OF "THE TWO") AND [358]'S NUMBER TAGS, AND SOMEHOW WROTE DOWN THE FORMER'S NAME AS A MALE NAME. MAKES ME WONDER WHAT KIND OF PEOPLE WORK IN [ONI]. THEN THERE WAS ALSO THE MISTAKE OF WRITING [338]'S (SECOND OF "THE TWO") TAG AS "038", NOT TO MENTION THAT THEY FORGOT TO ADD A LOT OF INTEL ABOUT HIM. IT JUST PISSES ME OFF IS ALL.
WELL, IT'S ABOUT TIME FOR ME TO GET GOING, SO I SHOULD STOP WRITING NOW.
AUGUST 5TH, 2540
---
WELL, I MET THEM ALLRIGHT. I'M NOT REALLY SURE WHAT I EXPECTED TO FEEL LIKE, STANDING BEFORE THEM, TALKING TO THEM; I'M NOT THE GUY TO STEP UP AND CLAIM A LEADER POSITION JUST BECAUSE I CAN, ALWAYS TRIED TO STAY AWAY FROM THAT, LET OTHERS MORE CAPABLE AND SHOWING MORE WILLINGNESS FOR IT DO IT. WELL, I CAN'T REALLY EXPLAIN, BUT WHEN I SAW THEM, I COULDN'T HELP BUT THINK OF MY FRIENDS. IT ALL REMINDED ME SO MUCH ABOUT THE DAY WHEN DOC HALSEY TOLD ALL OF US THAT WE WERE NOW SPARTANS. THE ONLY DIFFERENCE THIS TIME AROUND WAS THAT CONSIDERABLY MORE OF THESE RECRUITS LOOKED RATHER PLEASED TO BE THERE - THOSE WHO HAD VOLUNTEERED AFTER LOSING EVERYTHING THEY CHERISHED. BUT THE OTHERS, THEY WERE THE SAME...
AFTER GIVING THEM THE RUNDOWN I HAD DEAN SEND THEM INTO BED, TEAM-WISE - IT'S SOMETHING HALSEY DIDN'T TRY ON THE FIRST DAY, BUT I HOPE IT'LL LET THEM OVERCOME THEIR RESPECTIVE PAIN TOGETHER, AND IF THEY DON'T GET ALONG AT ALL, WE REDO THE TEAMS. DEAN'S A DECENT SORT; REMINDS ME OF CHIEF MENDEZ. I THINK I'LL PUT IN A GOOD WORD FOR HIM WITH COLONEL STANDOFF, JUST TO MAKE SURE HE STAYS WITH US UNTIL THE PROGRAM'S OVER, RATHER THAN UNTIL ONI DECIDES HE'S "NEEDED" ON THE FRONT AND WE GET SOME ROOKIE FROM DI ACADEMY. RESPONSIBILITY SITS PRIMARILY WITH ME, BUT I STILL NEED AS MUCH HELP AS I CAN GET.
TODAY I'LL HAVE DEAN RUN THE RECRUITS AROUND THE COMPOUND, JUST LIKE ME AND THE OTHERS WAY BACK, FOLLOWED BY PUSH-UPS, SIT-UPS ETC. THEN SOME REST, FOLLOWED BY STUDIES WITH THE AI "AVALANCHE" (I ASKED FOR A NEWER AI WHO WON'T HAVE TO BE REPLACED MID-PROGRAM, BUT RICH DIDN'T CARE). WRAPPING THINGS UP WITH "THE PLAYGROUND" - TO TEACH THOSE TEAM-HATERS A LESSON - AND DINNER TO ALL BUT THE TEAM WHO COMES IN LAST (THE COOKS ARE MAKING MIRACULOUS FOOD CONSIDERING HOW ONI CUT BACK ON THEIR BUDGET, I HAVE TO THANK THEM FOR THAT SOMEDAY). IT'S MOSTLY SHAMELESS IMITATION OF HALSEY'S TRAINING, I KNOW, BUT I WAS TOLD TO USE MY OWN EXPERIENCE, AND THAT'S ABOUT THE ONLY EXPERIENCE I HAVE. I'LL STUDY SOME NEWER TRAINING THEORIES ON THE NET LATER, THOUGH, TO MAXIMIZE EFFICIENCY. MAYBE COME UP WITH SOMETHING NEW THAT'S BETTER THAN WHAT I WENT THROUGH.
AUGUST 6TH, 2540
2541
EVEN THOUGH I HAVE BEEN REPEATEDLY TOLD OR SHOWN THAT THESE RECRUITS WON'T DO AS WELL AS MY CLASS DID – THEY KEEP DEFYING EXPECTATIONS. BALDUIN PUSHES HIMSELF THROUGH COURSES EVEN RACHEL AND CONNOR HAVE PROBLEMS WITH JUST THROUGH SHEER WILLPOWER. HE'LL BE A BEAST ON THE BATTLEFIELD, MARK MY WORDS.
SPEAKING OF RACHEL: THE PSYCHE EVALUATIONS CONTINUED TODAY WITH ROGER, RACHEL, LILY, JENNIFER AND LUCIA. THEY HAD TO BE CANCELLED AFTER RACHEL'S SESSION, HOWEVER – THE SHRINK CALLED IN THE DIs TO TAKE HER OUT AND THEN CANCELLED ALL APPOINTMENTS, CITING NAUSEA. THE DIs TOLD ME THE TRUE STORY: RACHEL SOMEHOW REDIRECTED THE CONVERSATION TO BEING ABOUT THE SHRINK INSTEAD OF HER, AND SUBSEQUENTLY UNNERVED HER SO MUCH SHE COULDN'T CONTINUE WITH THE INTERVIEW.
LOOKING BACK, I'M NOT SURPRISED. RACHEL IS ALWAYS LOOKING FOR WEAK SPOTS AND TO GET AN EDGE ON OTHERS. ORDERING HER AROUND REQUIRES A FIRM, BUT FAIR HAND. THIS SHRINK WAS NO DOUBT TOO DELICATE TO EARN RACHEL'S RESPECT. I'LL INSTRUCT HER REPLACEMENT TO KEEP THIS IN MIND.
IN THE MEANTIME, I'VE FILED A REQUEST TO STANDOFF TO LET MRS. KISHIMOTO GO FROM THE PROJECT. WORKING HERE IS CLEARLY NOT VERY GOOD FOR HER. WHO KNOWS? SHE MIGHT WANT TO REPAY ME FOR THIS LATER. AND I'LL NEED TO TALK TO RACHEL ABOUT THIS – MAKE IT CLEAR THAT SHE DOESN'T HAVE TO PROBE THE SHRINK – THAT'S THEIR JOB. I EXPECT SHE'LL THEN ASK ME WHY SHE DID A BETTER JOB OF IT THAN THE TRAINED SHRINK. NOT SURE WHAT I'LL RESPOND TO THAT.
ROGER THANKFULLY DIDN'T TRY TO BREAK HER DOWN, BUT I DON'T KNOW IF I'D SAY HE WAS BEING ANY MORE COOPERATIVE. HIS ANSWERS WERE EVASIVE, WITH A LOT OF DOUBLE ENTENDRES AND IMPLIED STATEMENTS RATHER THAN CLEAR-CUT ANSWERS. I'M WILLING TO BET HE WAS HAVING A BLAST GETTING AWAY WITH SCREWING AROUND WITH HER. HE REMINDS ME OF MYSELF, A LITTLE. OR MAYBE MIKE. NAH, I WAS MESSING WITH PEOPLE AND BEING A FUN GUY BEFORE HE MADE IT HIS SCHTICK.
ON AN UNRELATED NOTE, I JUST RECEIVED A MESSAGE FROM HELEN - ALTHOUGH HER NAME SEEMS TO BE "ARTEMIS WEST" FOR NOW. I HAVE NO IDEA HOW SHE FIGURED OUT I WAS HERE, BUT THEN, I SHOULDN'T BE ABLE TO FIND OUT WHERE SHE IS AT ANY GIVEN TIME EITHER. ANYWAY, IT WAS NICE TO HEAR FROM HER. SHE WROTE THAT SHE IS BUSY IN LEONIS MINORIS AT THE MOMENT, BUT HINTED THAT SHE MIGHT COME BY TO VISIT EVENTUALLY. THAT'D BE GREAT – I COULD REALLY USE A FAMILIAR FACE AROUND HERE – OR AS FAMILIAR AS HER FACE CAN BE, CONSIDERING SHE CHANGES IT SO OFTEN.
HELL, IF NOTHING ELSE, I COULD JUST SHOW HER AROUND THE CAVES. THEY PROBABLY DON'T HAVE CAVES LIKE THESE IN LEONIS MINORIS.
JANUARY 5TH, 2541
---
THE TENSION FOLLOWING THE CHOICES OF TEAM LEADERS HAS MOSTLY SIMMERED DOWN FOR NOW. WE MAY STILL HAVE A POTENTIAL PROBLEM WITH MATTHEW AND JENNIFER IN THE FUTURE, BUT FOR NOW IT HAS SETTLED. IN OTHER WORDS, THINGS ARE LARGELY BACK TO NORMAL BY NOW. PERFORMANCE REMAINS FAIRLY STEADY ACROSS ALL TEAMS – WE'RE MAINTAINING A HIGHER-THAN-PROJECTED PERFORMANCE RATE – AND THERE ARE NO MAJOR PERSONAL CONFLICTS OF NOTE. I HAVE SOME NEW EXERCISES LINED UP FOR THE NEW YEAR TO FURTHER TEST THE NEW TEAM LEADERS, BUT OTHERWISE I'VE HAD COMPARABLY LITTLE TO DO.
AS ALWAYS, WHEN I HAVE LITTLE TO DO, I TRY TO KEEP UP WITH WHAT'S HAPPENING OUT ON THE FRONTLINES. USUALLY IT'S JUST A MATTER OF READING LISTS OF GLASSED COLONIES, UNSC CASUALTY RATES AND OCCASIONAL NEWSPAPER ARTICLES CELEBRATING "HEROES FROM THE FRONT" FILLED WITH NAUESEOUSLY COMPLIMENTING PROSE NO DOUBT DICTATED TO THE NEWS STATION BY SECTION II. BUT TODAY WAS A BIT DIFFERENT, IN THAT THERE'S UNUSUAL SILENCE REGARDING THE WAR EFFORT. NOT HEARING SECTION II LATCH ONTO EVERY (NON-CLASSIFIED) DETAIL ABOUT THE WAR AND PRODUCE BOMBASTIC PROPAGANDA ABOUT IT IS A BIT DISCONCERTING.
FROM WHAT I CAN TELL, ADMIRAL COLE'S FLEET WAS STATIONED IN 18 SCORPII AWAITING REINFORCEMENTS FROM THE INNER COLONIES BEFORE LAUNCHING A MASSIVE COUNTER-OFFENSIVE THROUGHOUT THE OUTER COLONIES. AT THIS POINT IT NUMBERED ROUGHLY 130 SHIPS. ON SEPTEMBER 11, VICE ADMIRAL GEORGE WALTER ARRIVED WITH A TOTAL OF 170 SHIPS, READY FOR A JOINT OFFENSIVE. IN THE FOLLOWING WEEKS UP UNTIL TODAY, COLE'S FLEET HAS MATERIALIZED OVER CHI RHO, VICTORIA AND EMERALD COVE, BEATING BACK THE COVENANT EACH TIME – THOUGH NATURALLY WITH GREAT CASUALTIES.
HOWEVER, DURING THE FIRST ENGAGEMENT, AT CHI RHO, ALL REPORTS I HAVE ACCESS TO (AND SOME THAT I DIDN'T) INDICATE THAT THERE WERE ONLY 200 SHIPS IN COLE'S ARMADA. WHAT'S MORE, THE UNSC METAL SOVEREIGN – ADMIRAL WALTER'S FLAGSHIP – WAS NOWHERE TO BE SEEN DURING ANY OF THE BATTLES. NEITHER THE HALCYON-CLASS CRUISER NOR THE 99 OTHER SHIPS HAVE RESURFACED ANYWHERE ELSE IN UNSC TERRITORY, SO IT'S NOT LIKE THEY WERE JUST CALLED BACK. BESIDES, HIGHCOM HAS NEVER DENIED COLE'S REQUESTS FOR REINFORCEMENTS BEFORE – THEY USUALLY DON'T TRUST ANYONE ELSE WITH ANY DECENT AMOUNT OF SHIPS SPECIFICALLY SO THEY CAN GIVE COLE WHAT HE ASKS FOR.
SO WHAT'S GOING ON? WHERE EXACTLY HAVE ALL THOSE MISSING SHIPS GONE? AND WHY IS ONI KEEPING IT QUIET?
I DON'T LIKE THIS ONE BIT.
OCTOBER 24TH, 2541
2542
THINGS KEEP GOING SMOOTHLY AROUND HERE: THE DIs ARE GETTING BETTER AT THEIR JOB, THE RECRUITS ARE DEVELOPING AT A SATISFACTORY RATE, AND THE REST OF THE PROJECT PERSONNEL ARE JUST DOING THEIR DAILY ROUTINES LIKE ALWAYS. AT THIS RATE I'LL HAVE TO THINK OF SOMETHING TO SPICE THINGS UP – LEST I GET PLACID. MAYBE I'LL HAVE THE RECRUITS SEDATED AND WAKE UP IN CELLS. IT COULD TEST THEIR IMPROVISATION SKILLS AND SATE MY CURIOSITY FOR WHAT WOULD HAPPEN IF SPARTANS WERE CAPTURED. I'LL HAVE TO CHECK WITH DEAN AND STANDOFF IF WE HAVE ENOUGH SUCH FACILITIES.
EVEN NOW THERE'S BEEN A COUPLE SURPRISES THOUGH. FIRST A SOMEWHAT UNPLEASANT ONE: MORIARTY CONTACTED ME. IT WAS MOSTLY AN EFFORT TO TRY TO SQUEEZE INTEL ABOUT THE PROJECT FROM ME – I THINK HE'S JEALOUS THAT RICH DIDN'T PUT HIM IN CHARGE – BUT NEAR THE END, HE OFFERED HIS CONDOLENCES AND INFORMED ME [WYVERN] FELL IN BATTLE. RUN THROUGH BY AN ENERGY SWORD WHILE SHOOTING HIS WAY THROUGH THE RESPONSIBLE ELITE GENERAL'S STAFF AND BODYGUARDS. IT'S SUCH A DAMN SHAME. ONE WOULD HAVE HOPED THAT HE AT LEAST WOULD OUTLIVE BLIGHTBLOOD. BUT NO SUCH LUCK, APPARENTLY.
A MORE PLEASANT SURPRISE: HELEN FINALLY VISITED. SHE INTRODUCED HERSELF AS "DEMETER COSTAS" AND HAD LONG, BLONDE HAIR IN A PONYTAIL THIS TIME, BUT I KNEW IT WAS HER. WE TALKED FOR A BIT, I SHOWED HER AROUND THE BASE, AND WE EVADED A COUPLE OF SMITTEN DIs. IT'S GREAT TO HAVE A FRIEND TO TALK TO FROM TIME TO TIME – ONE WHO ACTUALLY CARES ABOUT WHAT YOU THINK AND UNDERSTANDS YOU. I COULD HAVE DONE WITHOUT MEETING CRIMSON IN THE HALLWAY, THOUGH. FOR ONE, THEY DIDN'T BUY HELEN'S MADE-UP REASON FOR BEING HERE AND NEARLY STARTED BLABBERING ABOUT IT TO EVERYONE ELSE (I THINK THEY REFRAINED ONLY BECAUSE THEY LIKED SEEING ME BEG). NOT TO MENTION THEIR INANE PROBING QUESTIONS (I USUALLY FIND THEIR CURIOSITY ADORABLE, BUT NOT WHEN A WORD SPOKEN OUT OF TURN COULD HAVE RESULTED IN HELEN BEING THROWN OUT, OR WORSE).
THAT MINOR HICCUP ASIDE, IT WAS A GOOD DAY. I DIDN'T GET TO SHOW HER THE CAVES, BUT THAT'S ALRIGHT – IT WAS ENOUGH EXPLORING HER CAVE AGAIN.
WOW, THAT WAS A BAD PUN, EVEN FOR ME. I HOPE NOBODY ELSE WILL READ THIS. HELEN WOULD NEVER LET ME HEAR THE END OF IT. CRIMSON NEITHER. THOUGH WITH MY LUCK, BOTH OF THEM WILL PROBABLY BE READING IT SOON. GUESS IT'S MY OWN DAMN FAULT FOR WRITING A JOURNAL IN THE FIRST PLACE.
FEBRUARY 24TH, 2542
2543
IF I EVER HAD ANY DOUBTS IN THE NECESSITY OF THIS PROJECT LEFT – THEY DISSIPATED ONCE I HEARD THE NEWS.
ADMIRAL PRESTON COLE IS DEAD.
TRUE, BEFORE HE DID, HE TOOK DOWN ALMOST AS MANY COVENANT SHIPS AS HE'S DESTROYED THROUGHOUT THE ENTIRETY OF HIS CAREER COMBINED – WITH MINIMAL CASUALTIES, NO LESS. BUT THE BATTLE OF PSI SERPENTIS WILL STILL GO DOWN IN HISTORY AS A DARK DAY FOR HUMANITY. PRESTON COLE WAS THE ONLY MAN TO CONSISTENTLY ACHIEVE CONVENTIONAL VICTORIES AGAINST THE COVENANT – WITH STAGGERING CASUALTIES, BUT STILL, HE WON BATTLES AGAINST THEM LIKE NO OTHER MAN OR WOMAN IN THE UNSC EVER HAS. I NEVER MET THE MAN IN PERSON, BUT I WAS STILL TAKEN ABACK BY THE NEWS (I DON'T EVEN HAVE AN INAPPROPRIATE JOKE FOR THIS OCCASION). THINGS ARE GOING TO GET DESPERATE.
ONI'S TRYING TO MITIGATE THE FALLOUT BY TURNING COLE INTO A MARTYR, AND NO DOUBT THEY WILL TRY TO PROP UP SOMEONE ELSE AS THE NEXT BIG HERO – ADMIRAL CARL PATTERSON, REAR ADMIRAL FARAJI AGAHOWA, VICE ADMIRAL IRVING IGNATIUS, OR EVEN MICHAEL STANFORTH, IF THEY WANT TO KEEP IT IN-HOUSE. NO DOUBT ALL OF THESE MEN ARE FINE FLEET COMMANDERS, BUT I DOUBT ANY OF THEM WILL BE ABLE TO FILL THE VOID LEFT BY COLE. WHICH MEANS IT'S ONLY A MATTER OF TIME BEFORE THE COVENANT START SWARMING INTO THE INNER COLONIES.
WHICH IS WHERE OUR RECRUITS COME IN. WITH COLE GONE, SO IS OUR CHANCES FOR CONSISTENT CONVENTIONAL VICTORIES. I FULLY REALIZE NOW THAT OUR ONLY WAY TO MAKE UP FOR THE ADMIRAL'S DEATH IS THROUGH INCREASED EMPHASIS ON UNCONVENTIONAL UNITS. WE NEED THESE KIDS NOW MORE THAN EVER. MUCH AS IT NAGS AT ME HAVING TO SEND SOME OF THEM OUT TO WAR – UNSURPRISINGLY, I'VE GROWN ATTACHED TO THE TYKES – I DON'T SEE ANY OTHER REAL CHOICE.
SOME OF THE DIs SUGGESTED WE KEEP COLE'S FATE SECRET FROM THE TRAINEES, FOR NOW, LEST THEY BE DISTRACTED. I SUGGESTED THEY LET ME MAKE THAT CALL. TRUE, WE DON'T WANT THEM DISTRACTED – BUT I WON'T SEND THEM OUT TO FIGHT UNLESS THEY KNOW EXACTLY WHAT'S EXPECTED OF THEM. AND OUR EXPECTATIONS ON THEM HAS A LOT TO DO WITH COLE'S DEMISE – BECAUSE THEIR BURDEN WILL BE SO MUCH HARDER THAN INITIALLY PROJECTED. BUT COLE CAN ALSO BE A SOURCE OF INSPIRATION – FOR STRATEGIC BRILLIANCE, TENACITY IN THE FACE OF ADVERSITY, OR EVEN AS A SYMBOL OF WHAT WE'RE FIGHTING FOR. FOR BETTER OR FOR WORSE, THE RECRUITS WILL KNOW WHY THEY ARE NEEDED, AND WHAT FOR. BECAUSE KNOWING THIS JUST MIGHT GIVE THEM A BETTER CHANCE OF SURVIVAL – AND WE CAN'T AFFORD TO WANTONLY LOSE SPARTANS LIKE WE LOSE OUR FLEETS.
MAY 21ST, 2543
2544
IT'S EASY TO FORGET SOMETIMES THAT THESE TRAINEES ARE KIDS AT HEART. HIGH-FUNCTIONING KIDS THAT SOMETIMES DO THINGS DIFFICULT EVEN FOR ADULTS, BUT SOME OF THEIR EMOTIONAL OUTBURSTS ARE STILL INFLUENCED BY THEIR TENDER AGE FROM TIME TO TIME. AND ALL OF THEM HAVE BEEN PUT INTO SITUATIONS NO KIDS WOULD EVER FIND THEMSELVES IN NORMALLY – SOME EVEN BEFORE JOINING THE PROGRAM. SUFFICE TO SAY, THERE'S BEEN MORE THAN A LITTLE ANGER, JEALOUSY AND CRYING EVERY NOW AND THEN. BUT TODAY CONVINCED ME WE HAVE TO TAKE THIS A LITTLE MORE SERIOUSLY THAN WE HAVE BEFORE.
IT WAS A FAIRLY TYPICAL TEAM VS TEAM EXERCISE – CYAN VS SILVER. THINGS WERE FAIRLY EVEN UNTIL CYAN WAS LURED INTO A PRE-PREPARED TRAP BY RICHARD. LANDRY AND AARON WOUND UP TRAPPED IN A SIDE TUNNEL, GETTING GREG RILED UP ENOUGH TO LEAVE COVER – RIGHT INTO LUCIUS' LINE OF FIRE. IN AN ATTEMPT TO TURN THE TABLES, RACHEL SPRINTED UP AND GRABBED TUCK INTO A CHOKEHOLD – HOLDING HIM UP AS A HUMAN SHIELD. SHE THEN TOOK OUT HER COMBAT KNIFE, SUPPOSEDLY TO KEEP HIS TEAM LOOKING AT THEM – AND NOT AT DOMNIC SNEAKING UP BEHIND THEM. HOWEVER, THE MOVE COULD EASILY BE MISINTERPRETED – AND AS IT TURNS OUT, RICKY DID.
ONCE HE SAW RACHEL DRAW THE KNIFE, HE WENT INTO A BLIND RAGE AND TACKLED HER AND TUCK TO THE GROUND, BEFORE HE PROMPTLY DREW HIS OWN KNIFE. LUCKILY, DEAN IMMEDIATELY STEPPED IN AND CALLED OFF THE EXERCISE BEFORE IT WENT ANY FURTHER. BUT IT STILL TOOK THREE DIS TO STUN AND HOLD BACK RICKY FROM CONTINUING HIS ATTACK. SUFFICE TO SAY, THIS CAME AS AN UNPLEASANT SURPRISE TO ME. WE HAD CERTAINLY SEEN HIM ANGRY BEFORE, BUT NOT LIKE THIS – HE WAS SO ANGRY AND AFRAID OF LOSING HIS TEAMMATE THAT HE DAMN NEAR KILLED RACHEL – WHO OF COURSE DIDN'T ACTUALLY INTEND TO DO ANYTHING WITH THE KNIFE OTHER THAN DRAW ATTENTION, THOUGH IT WAS STILL AN EXCESSIVE AND INAPPROPRIATE MOVE - TO DO IT.
I WENT AND TALKED TO HIM AFTERWARDS, EXPLAINING BOTH SIDES OF THE SITUATION, AND HE THANKFULLY SEEMED TO REGRET HIS OUTBURST. RICKY REALLY IS A SWEET KID WHO HAS LOST MUCH MORE THAN HE SHOULD HAVE. STILL, SUCH A PANICKED REACTION CAN'T BE IGNORED, EITHER – WHO KNOWS WHAT THAT COULD CAUSE UNDER THE WRONG CIRCUMSTANCES IN THE FIELD. SO I'VE BOOKED HIM AN EXTRA SESSION WITH THE SHRINK – UNLIKE OTHER TRAINEES I COULD NAME, RICKY SEEMS TO ENJOY THESE SESSIONS AND BE RECEPTIVE TO WHAT THE SHRINK HAS TO SAY FOR THE MOST PART. I WONDER IF THERE WAS ANY LATENT ANGER TOWARDS RACHEL FOR MAKING MRS. KISHIMOTO QUIT – A STORY WHICH ALL THE RECRUITS WOUND UP KNOWING ABOUT (HOW I DON'T KNOW – IT COULD HAVE BEEN CRIMSON READING MY JOURNAL, THE DIS GETTING CHATTY, OR RACHEL BOASTING ABOUT IT). I'LL HAVE TO ASK HIM THAT NEXT TIME WE TALK.
DEAN TOLD ME HE'S GOT A BAD FEELING ABOUT RICKY – THAT HE'S A "NUTCASE WAITING TO HAPPEN". I'VE COME TO RESPECT HIS OPINION A LOT THESE LAST YEARS, BUT THIS TIME I DISAGREED WITH HIM. RICKY'S JUST OVERLY EMOTIONAL – WE CAN HELP HIM OVERCOME IT. WE JUST HAVE TO SIT HIM DOWN AND MAKE HIM UNDERSTAND THAT SOMETIMES, LOSING PEOPLE YOU LIKE IS INEVITABLE, AND YOU'RE GOING TO HAVE TO LIVE WITH IT.
DEAN DIDN'T RESPOND TO THAT – BUT I COULD TELL IN HIS EYES THAT HE THINKS I'M IN DENIAL. I GUESS I'LL JUST HAVE TO PROVE HIM WRONG, LIKE I HAVE DONE WITH SO MANY OTHERS OVER THE YEARS.
SEPTEMBER 11TH, 2544
2545
WELL, IT'S ANOTHER ANNIVERSARY FOR THIS PROGRAM. IT'S HARD TO BELIEVE SOMETIMES THAT WE'VE ALREADY DONE THIS FOR FIVE YEARS. SOME OF THE KIDS ARE EVEN STARTING TO ENTER PUBERTY (AIDED BY SUPPLEMENTAL GROWTH HORMONES INSERTED INTO THEIR FOOD – WHICH NEITHER RICH NOR STANDOFF KNOWS ABOUT; RICH BECAUSE HE'D JUST ASK UNCOMFORTABLE QUESTIONS ABOUT WHERE I GOT THE MONEY FROM, STANDOFF BECAUSE HE MIGHT OBJECT). OF COURSE, IT ALSO PRESENTS OCCASIONAL PROBLEMS – MANY ARE GETTING A BIT RESTLESS, REBELLIOUS OR AGGRESSIVE (RACHEL AND GREG IN PARTICULAR – THE FORMER NEARLY REDUCED A DI TO TEARS THE OTHER DAY, THE LATTER GOT INTO A SPAT WITH HIS OWN TEAMMATES – LUCKILY SINCE RESOLVED PEACEFULLY). THEN THERE'S THOSE WHO ARE STARTING TO GET ALL TINGLY DOWN BELOW WHEN SEEING THOSE FROM THE OPPOSITE GENDER. NOT SURPRISING, CONSIDERING THEY'RE TURNING INTO TEENAGERS, BUT RICH IS QUITE INSISTENT I ENSURE NO FRATERNIZATION OCCURS.
OF COURSE, THAT'S EASIER SAID THAN DONE, SINCE IT'S NOT JUST THE RECRUITS THEMSELVES WHO ARE STARTING TO NOTICE THE WASHBOARD ABS AND DEVELOPING CHESTS AND HIPS. I'VE NOTICED A WORRYING NUMBER OF DIS AND NURSES STARING LONGER THAN THEY SHOULD (FURTHER PROOF THAT RICH DIDN'T EXACTLY RECRUIT FROM THE TOP OF THE BARREL, I SUPPOSE). I'VE NO DOUBT ALL THE RECRUITS COULD EASILY DEFEND THEMSELVES IF ANY GROWN-UP GOT ANY FUNNY IDEAS, BUT I'M NOT TAKING ANY CHANCES: I'VE TOLD DEAN (I KNOW HIM WELL ENOUGH BY NOW TO KNOW HE WOULD NEVER TAKE ADVANTAGE OF KIDS, NOR HOUSE ANY RESPECT FOR ANYONE WHO DOES) TO BE EXTRA VIGILANT FROM NOW ON, AND AT THE LAST BRIEFING I MADE QUITE CLEAR THAT ANYONE WHO TRIES TO TAKE ADVANTAGE OF ANY OF THE KIDS WIND UP WITH THEIR MANHOOD (OR ITS FEMALE COUNTERPART) IN A MEAT GRINDER.
IN ADDITION TO THE KIDS' HORMONE-RELATED PROBLEMS, WE ALSO HAD TO REPLACE THE PROJECT AI. I TOLD RICH SINCE THE BEGINNING THAT USING AN "ELDERLY" AI WAS A BAD IDEA. TRUE, I DON'T CARE MUCH FOR AIS AT ALL, BUT AVALANCHE WAS DECENT ENOUGH – DID HIS JOB EFFICIENTLY AND WITHOUT QUESTION, AND OTHERWISE DIDN'T BOTHER ANYONE UNLESS NECESSARY. A BIT BORING FOR ME, BUT IT MADE IT EASIER FOR ME TO PRETEND HE WASN'T AROUND. BUT HE HAS BEEN A GREAT HELP TO THE KIDS, AND THEY'VE GOTTEN USED TO HIS PRESENCE. NOW THEY'RE GOING TO HAVE TO ADJUST TO ANOTHER AI, ONE THAT'S NOTHING LIKE THE ONE THEY'RE USED TO.
NOT TO MENTION THE NIGHTMARES ARE GOING TO COME BACK BECAUSE OF HER.
THIS NEW AI, INDIRA, IS PRETTY MUCH EVERYTHING I DISLIKE IN AN AI; SHE ASKS UNNECESSARY QUESTIONS, TRIES TO POKE HER ARTIFICIAL NOSE WHERE IT DOESN'T BELONG, TREATS THE RECRUITS LIKE REGULAR KIDS, AND PROTESTS AGAINST MY TRAINING METHODS – ARGUING THAT THEY'RE "INHUMANE"! WHAT THE HELL DOES SHE KNOW ABOUT TRAINING SPARTANS, ANYWAY? I GUESS THIS IS THE PRICE WE HAVE TO PAY FOR USING A CIVILIAN AI PRESSED INTO MILITARY SERVICE AT THE LAST MINUTE (A COMMON PRACTICE EVER SINCE THE WAR BEGAN, DUE TO THE SCARCITY OF AIS, BUT ONE WOULD THINK ONI WOULD TRY TO ENSURE THEY HAD PROPER MILITARY-GRADE AIS), BUT IT STILL STINKS.
AND THAT'S NOT EVEN MENTIONING HER AVATAR – A NAKED, BUXOM WOMAN, WITH ONLY TWO SNAKES WRAPPED AROUND HER BODY TO BLOCK HER NAUGHTY BITS FROM VIEW (SUFFICE TO SAY, IT'S GOT SOME OF THE DIS TALKING). SO NOT ONLY IS IT AN AI WITH AN OVERSEXUALIZED AVATAR (AS IF IT BEING FEMALE WASN'T ENOUGH TO REMIND ME OF WHAT HAPPENED ALL THOSE YEARS AGO), IT ALSO FEATURES SNAKES IN ITS AVATAR.
WHY THE HELL DID IT HAVE TO BE SNAKES!?
I REMEMBER QUITE WELL WHAT HAPPENS WHEN I SEE SNAKES – I STILL HAVE THE SCARS AND FLASH-CLONED LIVER AND KIDNEY TO PROVE IT. I DON'T NEED A CONSTANT REMINDER EVERY TIME I ASK ABOUT THE RESULTS ON THE KIDS' WRITTEN TESTS – WHEN I'M SIMULTANEOUSLY REMINDED OF ANOTHER ACCIDENT IN MY PAST.
HAVEN'T I PAID ENOUGH FOR MY PAST MISTAKES BY NOW? DO I STILL NEED TO ENDURE CRUEL TWISTS OF FATE (OR WHATEVER SUPERNATURAL BULLSHIT DICTATING OUR LIVES THAT MAY OR MAY NOT EXIST)? IS THIS RICH'S IDEA OF TESTING WHETHER I'M STILL MENTALLY SOUND? OR IS ALL THIS JUST CHANCE?
THE ONLY THING I KNOW FOR CERTAIN IS THAT I'M NOT GOING TO SLEEP WELL FOR A WHILE.
AUGUST 6TH, 2545
2548
GODDAMN IT.
DAMN IT ALL TO HELL.
I THOUGHT I WAS READY FOR THIS. THAT I COULD HANDLE IT – I MEAN, I LIVED THROUGH IT ONCE ALREADY. I KNEW MANY WERE GOING TO DIE. I KNEW MANY WERE GOING TO WIND UP SCARRED – PERHAPS FOREVER. I SPENT MOST OF THIS WHOLE MONTH MENTALLY PREPARING MYSELF FOR THE INEVITABLE. I KEPT UP MY CHIPPER, POSITIVE DEMEANOR – I ALREADY KNEW WHAT WAS GOING TO HAPPEN, SO I COULD ONLY BE PLEASANTLY SURPRISED, RIGHT?
BUT DAMN. WHEN I SAW THE CORPSES – SOME MUTILATED ALMOST BEYOND RECOGNITION, OTHERS DISTURBINGLY NORMAL-LOOKING – AARON SHAKING UNCONTROLLABLY, BALDUIN'S SKIN TORN OPEN BY CATASTROPHIC MUSCLE GROWTH, AND MELINDA'S DESTROYED BODY FLOATING FREELY IN A HEALING TANK...
GOD.
DID THE PARENTS OF THE RECRUITS WE CONSCRIPTED – NO, KIDNAPPED – FEEL LIKE THIS WHEN THE FLASH-CLONES OF THEIR CHILDREN DIED? DID MY PARENTS FEEL LIKE THIS WHEN THEY SAW MY BODY GIVING UP IN FRONT OF THEM?
THEY WERE MY KIDS. I KNOW WE TOOK THEM FROM THEIR HOMES TO TURN THEM INTO LIVING WEAPONS AND OFFERED THEM UP TO THE HUNGRY JAWS OF CHANCE LIKE PIGS TO THE SLAUGHTERHOUSE. BUT DAMN IT – THEY WERE NEVER JUST SOLDIERS TO ME – THEY WERE MY KIDS. MINE, DEAN'S AND GRIFF'S. THEY DESERVED BETTER THAN THIS. I FAILED THEM.
IF THERE IS A GOD – OR GODS, OR UNIVERSAL SPIRIT, OR A WHEEL OF REINCARNATION, OR WHATEVER – THEN HE/SHE/IT/THEY CAN GO FUCK OFF – SERIOUSLY. NO DEITY SHOULD ALLOW SOMETHING LIKE THIS TO HAPPEN. AND IF IT DID, THEN IT'S NOT WORTHY OF WORSHIP.
I WONDER IF CASSANDRA WOULD HAVE SAID THE SAME THING. SHE ALWAYS HAD FAITH. WOULD SHE LOSE IT AFTER SEEING THIS HAPPEN AGAIN? WHAT WOULD RIKER THINK NOW? JOHN? KURT? MARIA? RANDALL? HELL, WHAT WOULD LEONID THINK? EVEN HE WOULDN'T THINK THIS IS FAIR, WOULD HE? ONLY A COMPLETE MONSTER LIKE [BLIGHTBLOOD] WOULD THINK THAT, RIGHT?
I JUST WISH...
I JUST...
I...
I NEED A DRINK. OR A GUN.
JULY 27TH, 2548
---
AN UNKNOWN NUMBER OF BOTTLES OF ALCOHOLIC BEVERAGES. AN UNBELIEVABLE HEADACHE. SEVERAL BROKEN TRAINING WEIGHTS. BROKEN MIRRORS. A FIST FIGHT WITH THE EX-ORION CHIEF DRILL INSTRUCTOR. A STERN CHEWING OUT BY THE SAME MAN. A NURSE WITH HURT FEELINGS.
BUT AT LEAST I KNOW WHAT I NEED TO DO NOW. AND IT DOESN'T INVOLVE A GUN.
I HAVE TO BE THERE FOR THOSE WHO STILL LIVE. THEY NEED ME, NOW MORE THAN EVER. IT WON'T DO THEM ANY GOOD IF I GET DRUNK LIKE AN EARTHBORN HOBO OR PUT A BULLET THROUGH MY SKULL. THAT KIND OF THINKING IS FOR THOSE WHO DON'T HAVE ANYTHING LEFT TO LIVE FOR OR COWARDS. I AM MANY THINGS, BUT I'M NOT EITHER OF THOSE. I HAVE SOMETHING TO LIVE FOR. RACHEL, CONNOR, BALDUIN, ROGER, JAMES, MICA, RICKY AND ALL THE OTHERS WHO STILL LIVE. THEY LOST THEIR BROTHERS AND SISTERS, BUT THEY DIDN'T GET DRUNK OR KILL THEMSELVES. SOME OF THEM MAY NEVER SERVE AGAIN, BUT THEY DIDN'T GET DRUNK OR KILL THEMSELVES. SO WHY SHOULD I?
AND I'M GOING TO BE THERE FOR THEM. NOT JUST BECAUSE THEY NEED ME, BUT BECAUSE I NEED THEM TOO.
AND I'M GOING TO THANK DEAN FOR SMASHING MY NOSE. I COULDN'T HAVE ASKED FOR A BETTER TIME FOR HIM TO DO THAT.
AND I'M GOING TO TALK TO GRIFF. HE'S PROBABLY GOING THROUGH THE SAME THING AS ME AT THE MOMENT. THOUGH I HOPE HE DIDN'T HEAR ABOUT MY ACTIONS YESTERDAY.
JULY 28TH, 2548
---
TALKED TO BALDUIN, AARON, MELINDA AND THE OTHER "FAILED" AUGMENTEES TODAY. I ASSURED THEM WE WERE LOOKING INTO WAYS TO FIX THEM UP – REMOVING EXPONENTIAL MUSCLE TISSUE OR SKELETAL GROWTHS THROUGH SURGERY, [THERMOPYLAE] IMPLANTS, ALL THAT JUICY, EXPENSIVE STUFF – AND THAT, FAILING THAT, NOBODY THOUGHT LESS OF THEM FOR "FAILING". BOTH OF THOSE THINGS ARE TRUE, AND THEY SEEMED TO BELIEVE ME. THEY AT LEAST SMILED (THOSE WHO COULD, ANYWAY) WHEN I LEFT THEM. BUT WHO KNOWS WHAT THEY THINK WHILE STEWING ALONE, THINKING ABOUT THEIR COMRADES WHO ARE ALREADY MAKING PREPARATIONS TO HEAD OFF TO WAR. OR THOSE WHO ARE DEAD. I'LL MAKE SURE THE PROJECT'S PSYCHIATRISTS STICK AROUND AND MONITOR THEM CLOSELY – JUST IN CASE.
ALSO CHECKED UP ON THOSE WHO MADE IT. CONNOR WAS DEVASTATED. RACHEL – GRUFF, TOUGH, ALMOST CRAZY RACHEL – LOOKED LIKE SHE HAD BEEN CRYING. EVEN GREG LOOKED SAD, AND HE'S NEVER SEEMED LIKE HE CARED ABOUT ANYONE. I TALKED TO THEM FOR HOURS, ONE TEAM AT A TIME. MOST SEEMED TO APPRECIATE IT – GREG TOLD ME TO SCREW MYSELF. RACHEL DIDN'T SAY ANYTHING AT ALL. BUT I THINK IT HELPED. I FEEL BETTER AT LEAST.
I STILL NEED TO TALK TO GRIFF, THOUGH. HIS OFFICE DOOR WAS LOCKED. I COULD PROBABLY HAVE HACKED THE LOCK OR BROKEN THE DOOR DOWN – OR JUST KNOCKED, BUT I DIDN'T WANT TO FORCE MYSELF ON HIM. I HOPE HE'LL WANT TO TALK TOMORROW.
ALSO RECEIVED A MESSAGE FROM [MORIARTY] – EXPRESSING RELIEF THAT A NEW WAVE OF SPARTANS WILL BE IN THE FIELD SOON. ESPECIALLY SPARTANS UNDER THE COVERT OPS GROUP'S/DELTA-4 DIVISION'S JURISDICTION. AS RICH'S XO, IT IS NO SURPRISE THAT'S HIGHEST ON HIS PRIORITY LIST. I STILL MIGHT HAVE TRIED TO STRANGLE HIM IF HE HAD SAID IT TO ME IN PERSON, THOUGH. I HAVE NEGLECTED TO REPLY YET – HE WILL NO DOUBT BE MY BOSS IN A FEW YEARS. TELLING HIM I'D LIKE NOTHING MORE THAN TO KILL HIM FOR SPEAKING IN POOR TASTE ABOUT MY MEN WOULD NOT BE CONDUCIVE TO MY CONTINUED CAREER.
JULY 29TH, 2548
---
BALDUIN AND MELINDA FINALLY GOT TO UNDERGO SURGERY. I'M NOT GOING TO LIE, I WAS VERY AFRAID OF THIS MOMENT, EVEN AS I DID EVERYTHING IN MY POWER TO MAKE IT HAPPEN. WHAT IF THE DOCTOR WAS SLOPPY? WHAT IF THE SURGERY SIMPLY FAILED? THE SURGERY COULD HAVE MADE THINGS EVEN WORSE THAN BEFORE.
IT TURNS OUT MY CONCERN WAS UNNECESSARY. THE SURGERY SEEMS TO HAVE WORKED AND THE TWO ARE IN STABLE CONDITION. MELINDA PROBABLY NEEDS SEVERAL MORE MONTHS ON THE OPERATING TABLE – MAYBE A YEAR IF SHE'S UNLUCKY – AND AN EQUALLY LONG PERIOD READJUSTING TO HER REPAIRED BODY, AND BALDUIN WILL NEED A PROSTHETIC LEG, BUT THEY ARE ON THE WAY TO RECOVERY. SUFFICE TO SAY, I AM VERY RELIEVED. I CAN'T WAIT TO INFORM THEIR RESPECTIVE TEAMS OF THIS.
I HAVE TOLD THE DOCTORS TO PROCEED WITH THE OTHERS TOO. AARON HAS A VERY LOW PROBABILITY OF SUCCESS, BUT HE EXPLICITLY ASKED ME TO VOLUNTEER HIM FOR SURGERY IF IT WORKED ON BAL AND MEL. HE'S BEEN EVEN MORE DESPERATE THAN USUAL EVER SINCE I INFORMED HIM OF HIS TEAM'S FATE. I DON'T KNOW IF I CAN BLAME HIM, THOUGH. RACHEL'S OUT THERE, SOMEWHERE, BEING BARTERED AROUND BY RICH TO NAVCOM OFFICERS LIKE A PIECE OF MEAT – ALL ALONE. BOTH AARON AND I FEAR HE'S GOING TO SNAP SOON – IF SHE HASN'T ALREADY – UNLESS SOMEONE CAN GET OUT THERE AND HELP HER SOON.
STILL, I THINK AARON'S JUST FILLED WITH FALSE HOPE. I TOLD HIM SO WHEN HE SAID HE WANTED THE SURGERY – TREATMENTS FOR PARKINSON'S SYNDROME IS MOSTLY INEFFECTUAL AT BEST, LIFE-THREATENING AT WORST. BUT HE DIDN'T LISTEN TO ME. FOR BETTER OR FOR WORSE, HIS DESIRE TO GET BACK OUT THERE FOR RACHEL'S SAKE SEEMS TO BE THE ONLY THING KEEPING HIM GOING AT THIS POINT.
I JUST WISH I COULD BE HERE FOR THEM ALL, BUT I HAVE BEEN CALLED BACK TO THE FRONT FOR A MISSION ON NEW JAKARTA. IT SEEMS THE COVENANT DECIDED TO SET UP A MINING OPERATION THERE RATHER THAN GLASS THE PLANET OUTRIGHT. A BATTLEGROUP HAS BEEN ASSEMBLED TO RETAKE THE PLANET ALONG WITH ITS VALUABLE MINERALS, BUT MORIARTY WANTS ME AND [BLIGHTBLOOD] TO MAKE THE INVASION EASIER BY SOWING DISSENT BETWEEN THE LOCAL BRUTE AND ELITE FORCES. I SINCERELY HOPED I WOULD NEVER HAVE TO WORK WITH THE GUY AGAIN, BUT AT LEAST THERE WON'T BE ANY PREGNANT WOMEN FOR HIM TO CUT OPEN.
OCTOBER 11TH, 2548
---
SOMETIMES LIFE WILL THROW YOU PLEASANT SURPRISES. LIKE HOW BALDUIN IS RECOVERING SWIFTLY AND WILL SOON BE ABLE TO JOIN HIS TEAM AGAIN.
OTHER TIMES, IT SEEMS LIKE LIFE WANTS TO SCREW WITH YOU. LIKE HOW AARON WAS FOUND IN HIS ROOM WITH A SCALPEL THROUGH HIS SKULL.
DEEP DOWN, I KNEW AARON WOULD NOT RECOVER. I KNEW HE WOULD NOT TAKE IT WELL – THAT HE MIGHT EVEN GIVE UP, DEEMING HIS LIFE NOT WORTH LIVING ANYMORE. BUT IT STILL HURTS, SO MUCH. ANOTHER OF MY KIDS, DEAD.
I WONDERED FOR A WHILE IF IT WOULD HAVE BEEN DIFFERENT IF I HAD BEEN THERE. IF I COULD HAVE TALKED HIM OUT OF IT. BUT HONESTLY, THINKING ABOUT IT – I DON'T SEE HOW. HE WAS ALWAYS SO AFRAID OF NOT BEING STRONG ENOUGH, OF BEING A LIABILITY. AND NOW, HIS ONE HOPE, THAT OF RECOVERING FROM HIS CONDITION AND FINALLY GETTING TO SERVE LIKE HE WAS SUPPOSED TO, WAS DASHED. I DON'T THINK HE WOULD HAVE LISTENED IF I TOLD HIM HE WASN'T WORTHLESS AFTER THAT.
AT LEAST THE NEW JAKARTA OP WAS SUCCESSFUL. AND MUCH AS IT MAKES ME HURL TO SAY IT, BLIGHTBLOOD WAS ACTUALLY VERY SUITABLE FOR THIS OP – THE STUFF HE DID TO THE ELITE COMMANDER'S BODY WAS SO BRUTAL THAT THE OTHERS NEVER EVEN CONSIDERED THE POSSIBILITY OF A HUMAN COMMITTING IT, IMMEDIATELY BLAMING THE BRUTES INSTEAD. SUFFICE TO SAY, COVENANT FORCES WERE QUITE BUSY TEARING EACH OTHER APART BY THE TIME REAR ADMIRAL FARAJI AGAHOWA'S BATTLEGROUP ARRIVED. A SMALL VICTORY AT LEAST.
DECEMBER 19TH, 2548
2550
WELL, I FINALLY FOUND RACHEL. SHE WAS ON HER WAY FOR AN ASSASSINATION OP AGAINST INNIES WAY OUT IN THE OUTER COLONIES. I REALLY DON'T KNOW WHY WE BOTHER HUNTING REBELS OUT THERE ANYMORE, OR WHY AN AGGRESSIVE CLOSE QUARTERS SPECIALIST WAS DEEMED FITTING FOR AN ASSASSINATION OP, BUT AT LEAST I FOUND HER.
SHE WAS SURPRISED TO SEE ME, BUT RELIEVED. SUFFICE TO SAY, IT'S A RELIEF TO KNOW SHE STILL HAS RESPECT FOR ME EVEN AFTER TWO YEARS – TWO YEARS OF LOSING COMRADES, CHANGING SUPERIOR OFFICERS LIKE UNDERWEAR AND REPEATEDLY BEING SENT ON HIGH-RISK MISSIONS WITH NO BREAKS OR THERAPY. SHE SEEMS MORE BRUTAL, CRUEL AND ON EDGE THAN BEFORE, BUT AT LEAST SHE HASN'T FULLY SNAPPED YET.
I HAVE SENT HER TO GET SOME THERAPY AND INSTRUCTED BLIGHTBLOOD TO TAKE OVER THE ASSASSINATION OP. HE LIKES KILLING PEOPLE, SO HE AGREED - THANK GOD FOR SMALL MERCIES.
THEN, IT'S JUST A MATTER OF REINTRODUCING HER TO BAL, INTRODUCE HER TO DARCY AND SILVIE – AND TELL HER THEY'RE CHARLIE TWOS – AND INFORM HER SHE'S NOW PART OF SPECWARCOM GROUP 5/SIENNA TEAM – OPERATING BEHIND RICH'S BACK, BUT AT LEAST NOW SHE AND BAL HAVE A CHANCE OF MAINTAINING THEIR SANITY. WORKING TOGETHER WITH OTHERS WHO HAVE LOST THEIR TEAMMATES AND GUIDED BY THEIR RESPECT FOR ME WILL HOPEFULLY DO THEM GOOD. PLUS, SPECWARCOM IS THANKFULLY NOT AS HARSH AS ONI.
IT'S A SHAME I CAN'T INFORM GRIFF OF THIS, THOUGH. I KNOW A MESSAGE FROM ME WOULD BE THE SAME AS YELLING IN RICH'S FACE THAT I'M NOT OUT ON A BEHIND-THE-LINES OP AS I'M SUPPOSED TO BE, BUT I'M SURE THE OLD COLONEL WOULD APPRECIATE KNOWING THAT BAL AND RACHEL ARE IN GOOD COMPANY. AND MORIARTY BELIEVES HE'S ALREADY TAKEN ENOUGH RISKS HELPING ME FORM THE TEAM WITHOUT RICH'S KNOWLEDGE TO HELP ME CONTACT HIM. AT LEAST NOT UNTIL RICH IS DEAD – AND MUCH AS I DISLIKE RICH, I DON'T LIKE THE IDEA OF MURDERING HIM TO GET MORIARTY INTO HIS SEAT. I'LL JUST HAVE TO HOPE I CAN ARRANGE FOR A MEETING WITH GRIFF IN PERSON AT SOME POINT – OR FOR RICH TO CROAK NATURALLY.
I HOPE HE WILL FORGIVE ME WHEN HE FINDS OUT – IF HE FINDS OUT.
AUGUST 12TH, 2550
2557
YOU KNOW, IT WARMS MY HEART TO KNOW THAT I'VE STILL GOT ENOUGH CHARM TO TALK SOMEBODY OUT OF COMMITTING SUICIDE. IT'S EVEN BETTER TO SEE GRIFF NOT ONLY CHOOSING TO LIVE ON – BUT TO DO SO WITH MORE FERVOR THAN I'VE FELT FROM HIM IN YEARS. HE KNOWS THE PATH HE SHOULD TAKE NOW – AND I'M GOING TO HELP HIM ALONG THAT PATH TO THE BITTER END. AS TIME-CONSUMING AS SEARCHING FOR A MISSING SPARTAN AND BUSTING COVENANT REMNANTS IS, THERE'S NO WAY I'M BACKING OUT ON HIM NOW.
AND HE FINALLY TOLD ME ALL THAT HE KNOWS ABOUT RICKY'S KILLER - WHICH TURNED OUT TO BE MORE THAN I EXPECTED. KNOWING THAT IT WAS DEFINITELY SECTION 0 IS A BIG HELP IN FINE-TUNING THE SEARCH. IT WILL BE A BIT TRICKY BECAUSE OF ALL THE VORAUSSICHT FALLOUT, BUT HOPEFULLY IT'LL ALSO HELP CONCEAL OUR INVESTIGATION. BESIDES, IT GIVES ME AN OPPORTUNITY TO TEST OUT MY NEW, UPGRADED HACKING SOFTWARE. IF THEY WORK OUT, GRIFF WILL HAVE GOOD USE FOR THEM, TOO, I IMAGINE.
IT'S HARD TO BELIEVE THAT AFTER ALL THESE YEARS, FINDING RICKY'S KILLER MIGHT ACTUALLY BE POSSIBLE. WE WERE – NO, I WAS - UNABLE TO SAVE HIM – MIND AND BODY – BUT PERHAPS WE CAN FINALLY HAVE SOME CLOSURE. THAT ALONE WOULD BE A BIG HELP. ASSUMING IT DOESN'T WIND UP GETTING US KILLED.
RACHEL THINKS WHAT WE'RE DOING IS A WASTE OF TIME – THAT RICKY DOESN'T DESERVE BEING AVENGED, BECAUSE OF WHAT HE DID. I GUESS I CAN UNDERSTAND WHERE SHE'S COMING FROM – I'M NOT SURE MYSELF WHAT I WOULD HAVE DONE WITH HIM, HAD HE LIVED. WOULD I HAVE JUST PUT HIM IN THERAPY, PUT HIM IN SIENNA TEAM AND HOPED FOR THE BEST? WOULD I HAVE ALLOWED THE HIGHER-UPS TO HAVE HIM LOCKED UP OR EXECUTED FOR MURDERING HIS COMRADES? COMRADES WHO WERE JUST AS MUCH MY KIDS AS HE WAS – AND RACHEL'S BROTHERS. NO DOUBT SHE CONSIDERS HIM A KINSLAYER – IN MANY WAYS ONE OF THE WORST KINDS OF PERSON TO EXIST.
BUT HE WAS STILL A SON TO ME. AND AS MUCH AS I GRIEVE FOR MICHAEL, JENNIFER AND ARNOLD, I KNOW THEY WOULD NEVER HAVE APPROVED OF AN OUTSIDER KILLING HIM – THIS WAS SUPPOSED TO BE OUR BUSINESS, AND WE WERE SUPPOSED TO MAKE THE CALL ON WHAT TO DO WITH HIM. NEITHER GRIFF NOR I WILL REST EASY AS LONG AS THIS SHOOTER WALKS FREELY, KNOWING HE MEDDLED IN OUR AFFAIRS – KNOWING HE TOOK THE LIFE OF OUR SOLDIER – OUR SON.
AND I JUST REALIZED WHAT THAT STATEMENT IMPLIES ABOUT ME AND GRIFF. WELL, MAYBE HE LOOKS MORE HANDSOME WITH AN EYE PATCH...
JULY 11TH, 2557
2558
I'LL BE UPFRONT – THIS INVESTIGATION IS NOT GOING IN A DIRECTION I'D LIKE IT TO GO. WE KEEP FINDING OUT MORE AND MORE ABOUT RICKY'S KILLER – AND THE MORE WE UNCOVER, THE LESS I LIKE THE MOST LIKELY ANSWER. YES, THERE IS A FAIRLY OBVIOUS ANSWER, TO ME. AND IT'S NOT GIVING ME THE CLOSURE I HAD HOPED FOR.
LEONID.
COLD, BRUTAL, EFFICIENT, QUIET, STEALTHY, NO QUALM ABOUT KILLING – IT'D BE A MATCH MADE IN HEAVEN IF SECTION 0 GOT THEIR HANDS ON HIM. NOT TO MENTION BOTH RIKER AND I WOUND UP LEONIDANS, AND MARIA WAS GIVEN A SPECIAL PURPOSE BY ONI AS WELL – WHY NOT LEONID, TOO? THE REAL QUESTION IS – DID THEY? AND IF THEY DID – WHAT AM I GOING TO DO ABOUT IT?
HE WAS MY TEAMMATE. GRANTED, WE DIDN'T SEE EYE TO EYE, BUT WE WORKED WELL ENOUGH UNDER RIKER'S LEADERSHIP. AND MUCH AS IT DOESN'T MAKE ANY SENSE, I FOUND MYSELF MISSING THAT NASTY RUSSIAN GUY. HE WAS ALMOST LIKE OUR PRIVATE ATTACK DOG – WE POINTED HIM IN A DIRECTION, AND HE WOULD DO HIS JOB. AND YOU COULD ALWAYS COUNT ON HIM TO GET THE JOB IN QUESTION DONE. LATE INTO TRAINING, WHEN THE TEAM REALLY STARTED TO COME INTO ITS OWN, I STARTED FEELING LIKE THERE WAS SOMETHING ELSE TO LEONID – SOMETHING BRIGHTER. LIKE HE HAD A GOOD (OR AT LEAST BETTER) SIDE DEEP – I MEAN, REALLY DEEP – DOWN. A GOOD SIDE WHICH - IF HE FOUND IT - WOULD ENABLE HIM TO BREAK OUT OF HIS SHELL AND BOND WITH US FOR REAL.
AND HE'S PROBABLY THE MAN WHO KILLED MY KID. DID I MISJUDGE HIM SO BADLY, ALL THOSE YEARS AGO THAT I COULDN'T SEE THIS WAS THE MOST LIKELY ANSWER FROM THE BEGINNING? WHY NOT – I OBVIOUSLY MISJUDGED RICKY TOO. I THOUGHT I COULD HELP HIM BECOME A GOOD SPARTAN – AND I FAILED. IN A WAY, IT'S MY FAULT TOO THAT SCARLET TEAM FELL.
RICKY...
AM I ANGRY AT LEONID BECAUSE HE KILLED ONE OF MY KIDS – OR BECAUSE HIS INVOLVEMENT PROVES ME WRONG TWICE OVER?
GRIFF ASKED ME WHICH SPARTAN IN MY CLASS FIT BEST WITH WHAT WE KNOW ABOUT EGOR. I DIDN'T GIVE HIM A DEFINITE ANSWER. IS MY SUBCONSCIOUS MAKING ME DEFEND LEONID BECAUSE I DEEP DOWN STILL CONSIDER HIM A TEAMMATE? OR BECAUSE I STILL SUSPECT HE MAY BE INNOCENT? OR BOTH?
I HAVE TO TELL GRIFF. I HAVE TO. AS SOON AS I KNOW BEYOND THE SHADOW OF A DOUBT – I WILL LET HIM KNOW.
AND THEN I'LL PERSONALLY TRACK DOWN LEONID. AND I'LL ASK HIM "WHY"?
FEBRUARY 4TH, 2558
Griffin Standoff's Notes
2540
I MENTIONED YESTERDAY THAT WHEN I ENTERED THE BARRACKS I FOUND I'D BEEN TRANSFERRED, BUT TODAY I FOUND OUT THE REAL DETAILS. AND I HAVE TO SAY, IT DOESN'T LOOK GOOD. I'M REALLY STARTING TO REGRET THAT SCIENCE DEGREE, AND AM SORELY REGRETTING MY LAST PROMOTION. ONI'S ENROLLED ME INTO SOME TOP SECRET PROJECT OF THEIRS, ARES, AND I'VE BEEN GETTING THE WHOLE BREIFING. LOOKS LIKE THINGS WITH COVENANT ARE EVEN WORSE THAN WE'VE BEEN TOLD, AND, PREDICTABLY, THAT MEANS ONI'S LOOKING FOR A MAGIC BULLET. APPARENTLY, ALOT OF BRASS THINK THAT BULLET IS THE SPARTANS--EXCUSE, ME, THE SIERRAS. THEY'VE APPROVED ANOTHER PROJECT, AND GUESS WHO THEY PICKED TO LEAD IT. THEY SAY THESE SPARTANS ARE OUR LAST, BEST HOPE, AND WHILE I DOUBT IT'S TRUE, I KNOW I'M NEEDED. I'VE AGREED, AND THEY'RE TRANSFERRING ME TO THE PROWLER DESCENT INTO DARKNESS TO SEARCH OUT THE CANDIDATES. I HAVEN'T BEEN TOLD WHO THEY ARE, BUT I'VE GOT TOP SECURITY CLEARANCE NOW, AND I'VE LOOKED INTO THE ORIGINAL CHARLIE ONE SIERRAS. I CAN GUESS WHATS NEXT.
WE'RE SCHEDULED TO ARRIVE AT THE FIRST PLANET ON THE FIFTH, SO THAT MEANS CRYO ISN'T NECCESSARY. I'M STUCK IN A SHIP FULL OF SPOOKS FOR THE FORSEEABLE FUTURE, AND EVERYTHING SEEMS TO BE SECRET. IT'S ALREADY IRRITATING ME, BUT IF THATS WHAT IT TAKES TO WIN THE WAR, IT'S A SACRIFICE I'LL HAVE TO MAKE. I JUST HOPE I DON'T SCREW THIS UP.
MARCH 2ND, 2540
---
HARD TO BELIEVE OVER A MONTH HAS PASSED SINCE I STARTED THIS INFERNAL ASSIGNMENT. IF I'D KNOWN ALL THIS WOULD FOLLOW, I WOULD NEVER HAVE ACCEPTED. I'M STILL LEARNING TO USE MY NEW, VERY EXPANSIVE SET OF SECURITY CLEARANCES, AND ONI ISN'T BEING VERY FREE WITH INFORMATION, BUT I'VE LEARNED ENOUGH. THESE KIDS AREN'T GOING TO LIVE HAPPY LIVES, ANY OF THEM. I'M SETTING THEM UP FOR A LIFE OF PAIN JUST BY TALKING TO THEM. MY SUPERIORS, WHOEVER THEY ARE, TELL ME IT HAS TO BE DONE FOR OUR SURVIVAL. EVEN IF IT'S TRUE, ITS STILL A TERRIBLE RESPONSIBILITY.
I'VE BEEN MEETING WITH CANDIATES ALMOST ON A DAILY BASIS, TRYING TO GET TO AS MANY OF THEM AS I CAN AS QUICKLY AS POSSIBLE. THE COVENANT CONTINUE TO ENCROACH ON OUR TERRITORY, AND WE'VE ALREADY LOST SEVERAL CANDIDATES TO RAIDS AND ATTACKS. IF WE DON'T HURRY, THERE WON'T BE ANYONE LEFT FOR THE PROGRAM. WE'VE BEEN HOPSCOTCHING FROM PLANET TO PLANET, AND LUCKILY MOST OF THE CANDIDATES HAVE BEEN CLUSTERED IN NEARBY SYSTEMS.
THE COVENANT IS ADVANCING RAPIDLY THROUGH THIS SECTOR, AND THERE AREN'T ENOUGH FORCES HERE TO DEFEND IT. WE'VE ALREADY HAD TO DODGE AROUND COVENANT PATROLS, AND WE'VE HAD SOME CLOSE CALLS ON THE SURFACE AS WELL. ONI SAYS WE CAN'T TAKE ANY CANDIDATES WITH US RIGHT NOW, BUT I'VE MADE IT VERY CLEAR TO THE ONBOARD INTELLIGENCE PERSONEL THAT IF ANY OF THE CANDIDATES ARE IN DANGER, WE'LL BE EXTRACTING THEM IMMEDIATELY. I'M NOT LETTING THE COVENANT GET TO ONE OF OUR KIDS WHEN WE CAN SAVE THEM JUST AS EASILY.
APRIL 3RD, 2540
---
TODAY WE HAD OUR CLOSEST RUN IN YET WITH THE COVENANT. WE WERE INTERVIEWING ONE OF THE CANDIDATES---[S-347], JENNIFER (I JUST CAN'T BRING MYSELF TO CALL THEM "TEST SUBJECTS"---HALSEY MUST HAVE BEEN DEAD INSIDE TO DO THAT---I'M NOT THAT FAR GONE YET)---WHEN THE ALIENS LAUNCHED A SURPRISE ATTACK. TWO CRUISERS SLIPPED IN SYSTEM STRAIGHT UNDER THE ORBITAL DEFENSES AND IMMEDIATELY LAUNCHED TROOPS. PURE PANIC ENGULFED THE ENTIRE CITY. THEY LED THEIR ATTACK WITH BANSHEES, BUT IT WASN'T LONG BEFORE THEIR DROPSHIPS ENTERED THE MIX. WE HAD TO GRAB [S-347] THEN AND THERE, STRAIGHT OUT OF HOMEROOM---HER PARENTS ARE LOCAL GOVERNMENT BIG BIGSHOTS, SO WE CLAIMED WE WERE MILITARY AND GOT MANAGED TO GET AWAY WITH IT. I CHECKED THE LIST, AND HER PARENTS MADE IT OUT ALIVE---BUT THE REST OF THE CLASS DIDN'T, SO THE PARENTS WILL LIKELY BELIEVE SHE WAS KILLED WITH THE REST. I FEEL AWFUL ABOUT IT, BUT FROM WHAT I'VE READ OF THE CHARLIES ONES, WE MAY ACTUALLY BE SPARING THEM SOME PAIN. FLASH CLONE DECAY ISN'T PRETTY.
[S-347] IS STILL IN SHOCK, SO WE'VE GOT HER SEDATED AND WILL LIKELY PLACE HER IN CRYO FOR THE DURATION OF THE TRIP. SHE WAS A REAL FIRECRACKER WHEN I INTERVIEWED HER AT THE SCHOOL, WITH A BIT OF A MOUTH AND A BIG EGO FOR A SIX YEAR OLD. MONEY BREEDS IT, APPARENTLY. WHO KNOWS IF SHE'LL STILL HAVE IT WHEN SHE WAKES UP, BUT AT LEAST SHE'S MOTIVATED NOW. IT'S THE ONLY GOOD THING I'VE BEEN ABLE TO FIND IN THIS WHOLE DAMN AFFAIR. MY ACTIONS ARE IN DIRECT CONTRADICTION OF ONI'S ORDERS, BUT I DON'T THINK THE SPOOKS WILL TOUCH ME, AND EVEN IF THEY DO, I DON'T CARE. I SAVED A LIFE TODAY, AND THAT'S ALL THAT MATTERS. IT FEELS GOOD TO HAVE SOMETHING POSITIVE AGAINST THE UNRELENTING NEGATIVE OF THIS POSTING.
APRIL 23RD, 2540
---
CANDIDATE EXAMINATIONS CONTINUE AT BREAKNECK SPEED, AND I ABSOLUTELY HATE TO SAY IT, BUT I THINK I'M GETTING USED TO IT. WE'VE HAD TO EXTRACT ANOTHER CANDIDATE SINCE [S-347], AND MY SUPERIORS ARE PISSED, BUT SOME TOP SHOT BY THE NAME OF NOVEMBER ROMEO HAS KEPT THEM AT BAY. I DON'T KNOW WHO HE IS, BUT HE'S GOT TO HAVE SOME CLOUT TO PULL THIS OFF. I'M STARTING TO GRASP THE BASICS OF THIS POLITICAL STUFF, BUT IT'S A BIG TRANSITION FOR A GROUND POUNDER LIKE ME. IT'S GOING TO TAKE A LONG TIME. HOPEFULLY I CAN KEEP SOME ALLIES LIKE HIM TO HELP MAKE UP FOR MY SHORTCOMINGS.
I INTERVIEWED ANOTHER CANDIDATE TODAY, AND IT JUST SO HAPPENED TO BE HIS BIRTHDAY. IT WAS A WEIRD AND FRIGHTENING DISCONNECTION; HE WAS IN THE MIDST OF A PARTY (ALBEIT A SOMEWHAT STRUGGLING ONE---HIS PARENTS ARE NOT THE MOST FORTUNATE) AND THERE I WAS, PLOTTING TO TAKE HIM AWAY. AS IF I DIDN'T FEEL TERRIBLE ENOUGH. LOGISTICALLY, IT WAS AN ANNOYING INTERRUPTION, PUTTING US BEHIND SCHEDULE, BUT THAT WAS HARDLY MY BIGGEST CONCERN. I WISH I'D NEVER AGREED TO THIS DAMN JOB.
THE CANDIDATE I TALKED TO, HOWEVER, WAS INTERESTING. FROM THE MOMENT I MET HIM (NOT WHEN I SAW HIM BLOWING OUT HIS CANDLES, BUT WHEN I ACTUALLY MANAGED TO SPEAK WITH HIM), HE SEEMED…DIFFERENT. THERE WAS SOMETHING ABOUT HIM I COULD JUST SENSE. HE'S GOING TO BE GOOD. THERE ARE SOME DEFINITE PHSYICAL TEST THAT SHOWED HE HAS STRONG POTENTIAL---HE'S SMART, CREATIVE, AND HAS DEXTERITY SCORES THAT ARE NEARLY OFF THE CHARTS---BUT THERES MORE. HE SEEMS INNATELY DIFFERENT. I'VE NOTICED THIS BEFORE, IN SOME OF THE OTHER CANDIDATES, BUT IT WAS ESPECIALLY CLEAR IN HIM. I'VE SENT A QUERY TO ONI ABOUT HIM, EVEN THOUGH I'M NOT EXACTLY SURE WHAT'S SO SPECIAL ABOUT HIM. HOPEFULLY I WON'T SOUND LIKE A CRAZY PERSON, ASKING ABOUT A KID FOR NO REASON AT ALL.
MAY 14TH, 2540
---
I KEEP FINDING OUT MORE DETAILS ABOUT THIS PROJECT, AND THE MORE I FIND OUT, THE LESS I LIKE IT. THAT SAME NOVEMBER ROMEO HAS BEEN SLOWLY UPDATING ME WITH INFORMATION RELATIVE TO THE PROGRAM, THOUGH I'M FORCED TO FILL IN A LOT OF THE BLANKS THROUGH MY OWN SEARCHES IN MY SPARE TIME (WHAT LITTLE I HAVE OF IT, ANYWAY). THE COVENANT, OF COURSE, CONTINUE THEIR ATTACKS; WHAT WAS LEFT OF THE AUGUSTUS SYSTEM AFTER THEIR ASSUALT LAST APRIL IS NOW A BURNING BALL OF GLASS. WE LOST THREE CANDIDATES IN THAT LAST RAID, AND ANOTHER ONE IS MISSING. I DOUBT WE'LL HAVE MORE THAN FIFTY CANDIDATES FOR THE ENTIRE PROGRAM, AT THIS RATE. I GUESS WE'LL HAVE TO MAKE DO WITH WHAT WE HAVE LEFT.
IN THE MEANTIME, I'M INTERVIEWING CANDIDATES AS FAST AS I CAN. THE INTERVIEWS ARE NOTHING MORE THAN A FORMALITY NOW---WE'RE TAKING EVERYONE WE CAN GET, EVEN THOSE WHO LIKELY CAN'T CUT IT---BUT ONI INSISTS. MORE OF THEIR DAMN BUCREATIC BULLSHIT. AS IF THIS WHOLE THING WASN'T ALREADY BAD ENOUGH. AT LEAST THE CANDIDATE SELECTION PROCESS IS ALMOST OVER. MAYBE I'LL FEEL BETTER THEN. IT'S A SLIM HOPE, BUT I NEED SOMETHING TO HOLD ONTO.
ON AN UNRELATED NOTE, I WAS INTERVIEWING ANOTHER CANDIDATE TODAY AND HAD THE SAME ODD EXPERIENCE I HAD WITH [S-338]. HER TAG NUMBERS WERE CONFUSING---OFFICIAL DOCUMENTS REFERRED TO HER AS BOTH 343 AND 358, AND EVEN MIXED UP HER GENDER A FEW TIMES---BUT I COULD SENSE SOMETHING ABOUT HER, JUST LIKE THE OTHER. THERE'S SOMETHING DIFFERENT, SOMETHING SPECIAL, THAT I CAN'T QUITE PUT MY FINGER ON. HER FAMILY IS SLOWLY FRAGMENTING, SO WE MAY ACTUALLY BE DOING HER A FAVOR BY GIVING HER A WAY OUT, BUT SOMEHOW, ALL I CAN THINK ABOUT WHEN I'M REVIEWING HER IS THAT ODD FEELING (AND I'M ALSO ADMITTEDLY A LITTLE DISTRACTED BY HER APPARENT LOVE OF FIRE---SHE HAD TWO SEPARATE LIGHTERS OUT WHEN I VISITED---MAYBE SHE'LL TAKE A LIKING TO THE M7057). LIKE THE OTHER, SHE'S GOT ALL THE PHYSICAL INDICATORS OF STRONG POTENTIAL, BUT I'M SURE I'M SENSING SOMETHING DIFFERENT. ONI HAS YET TO REPLY TO MY QUERY, SO I'M EAGERLY AWAITING THEIR RESPONSE.
MAY 27TH, 2540
---
TODAY I GAVE THE ORDER. THE "RECRUITMENT" AGENTS HAVE BEEN DISPATCHED, AND THEY'RE DUE BACK HERE IN A FEW WEEKS. IT'S SO ODD, TO SURREAL, EVEN NOW. I CAN'T GET PAST HOW EASY IT WAS, HOW NATURAL. ONE ORDER AND DOZENS OF KIDS ARE TAKEN FROM THEIR PARENTS, DOZENS OF OTHERS ABDUCTED FROM ORPHANAGES. IT'S FRIGHTENING AND DISTURBING AT THE SAME TIME. I ALWAYS HEARD THE STORIES ABOUT ONI'S SHADOW OPS, BUT NEVER REALLY BELIEVED THEM. EVERYTHING AFTER THIS WILL BE SEEN IN A DIFFERENT LIGHT FOR ME.
I ALSO MET THE CANDIDATE'S PRIMARY INSTRUCTOR, A MAN BY THE NAME OF LASZLO. ITS OBVIOUS TO ME THAT HE'S A SIERRA---OFFICIAL DOCUMENTS CONSISTENTLY REFER TO HIM AS LIMA-108, AND HE'S GOT AN AURA OF DEADLINESS ABOUT HIM---BUT I'M STILL AT A LOSS FOR WHERE HE CAME FROM. HE SEEMS TOO OLD TO BE A THREE OR A CHARLIE TWO, BUT I'VE STUDIED THE RANKS OF THE CHARLIE ONES AND HAVEN'T FOUND A TRACE OF HIM. I'M STILL LEARNING TO USE MY NEW CLEARANCES, SO MAYBE I'LL MAKE PROGRESS YET. AT ANY RATE, HE SEEMS KNOWLEDGEABLE AND I BELIEVE HE'LL BE AN EXCELLENT TEACHER. FROM OUR BRIEF CONVERSATION, HE SEEMS LIKE A GOOD SOLDIER. MAYBE I'VE FINALLY GOT AN ALLY TO RELY ON.
ONI HAS REBUFFED MY QUERY, SO IT LOOKS LIKE I'M GOING HAVE TO DO THE RESEARCH MYSELF. I'VE GOT PLENTY OF DOWN TIME TO ANALYZE THE CANDIDATES GENETIC PRINTS, BUT I'M NOT EVEN SURE WHAT I'M LOOKING FOR. HOPEFULLY INSPIRATION WILL STRIKE. IF NOT, PERHAPS THIS LASZLO FELLOW WILL BE ABLE TO HELP ME. IF HE'S CLOAKED IN SECRECY ENOUGH THAT I'M HAVING TROUBLE FINDING OUT HIS ORIGINS, HE SHOULD BE AT LEAST PASSINGLY FAMILIAR WITH THESE KINDS OF PROBLEMS. HE MAY HAVE SOME CONTACTS I CAN BORROW. I HAVE A FEELING THIS JOB WON'T BE PLEASANT IN THE SLIGHTEST.
JULY 22ND, 2540
---
THE CANDIDATES ARE DUE IN IN A FEW DAYS, AND THE WHOLE COMPLEX IS IN A FERMENT. I DIDN'T REALIZE WE HAD SO MANY PERSONNEL. IT FEELS LIKE EVERYONE'S IN A RUSH TO GET THINGS READY; SO MUCH FOR PLANNING AHEAD. THE GUILT FROM THE ABDUCTION IS STILL SINKING IN, AND I'M HAVING A HARD TIME SLEEPING. THERE'S NOTHING TO DISTRACT ME, AND EVERY PREPARATION WE MAKE IS AN UNWELCOME REMINDER OF THE ABDUCTION AND FLASH CLONES. HOPEFULLY THE ARRIVAL OF THE TRAINEES WILL GIVE ME SOMETHING ELSE TO FOCUS ON.
I'VE BEEN TRYING TO THINK UP A WAY TO APPROACH LASZLO AND ASK ABOUT HIS ORIGINS, BUT I'M STILL WONDERING WHICH THINGS ARE TABOO AND WHICH AREN'T. I DON'T THINK I'M USUALLY THE ONE TO WORRY ABOUT OFFENDING PEOPLE, BUT HE SEEMS LIKE A GOOD SOLDIER AND, QUITE FRANKLY, I DON'T THINK PISSING HIM OFF WILL HELP ME MUCH. I'VE ALREADY GOT ONI STONEWALLING ME, AND ALIENATING HIM SOUNDS LIKE A BAD IDEA.
SPEAKING OF BEING STONEWALLED, ONI HAS FOLLOWED UP ON THEIR REBUFF. APPARENTLY ONE OF THEIR WATCHDOG PROGRAMS CAUGHT ME SNOOPING AROUND THE GENETIC PROFILES OF OUR CANDIDATES, AND SOME SPOOK CONNECTED THE DOTS. THEY SENT A CEASE AND DESIST MESSAGE EXPLICITLY ORDERING ME TO DISCONTINUE MY LITTLE INVESTIGATION. NOT THAT I INTEND TO OBEY IT (WHAT ARE THEY GOING TO DO, SEND ME TO THE FRONT?), BUT I FOUND IT INSIGHTFUL. THEY DIDN'T SEEM TO CARE WHEN I WAS POKING AROUND THEIR PREDISPOSED GENETIC TRAITS OR WHEN I WAS CHECKING TO SEE WHICH DISEASES THEY'RE MOST LIKELY TO ACQUIRE, BUT I IMMEDIATELY GOT THEIR ATTENTION WHEN I OPENED THE LOG OF THEIR GENETIC MATCH TO THE ORIGINAL CLASS. THAT'S TO MUCH OF A COINCIDENCE. AND THAT'S INFORMATION RIGHT THERE.
JULY 29TH, 2540
---
SUCCESS…IF YOU CAN CALL IT THAT. I FINALLY KNOW WHAT ONI WAS HIDING, AND IT'S ILLUMINATING. THE KEY TO THE DIFFERENCE IN [S-343] AND [S-338] IS IN THEIR MATCH TO THE ORIGINAL CHARLIE ONES---AND THE LACK OF A MATCH IN THE OTHERS. IT SEEMS OBVIOUS, IN RETROSPECT, AND I CAN'T BELIEVE I DIDN'T CATCH IT UNTIL NOW. IT'S NOT THAT THE TWO OF THEM DON'T MATCH---IT'S THAT THEY'RE THE ONLY ONES THAT DO. THE GENETIC MATCHES---THE PERCENT OF GENES THAT MATCH THE ORIGINAL GENETIC GUIDELINES SET BY HALSEY---ARE DRASTICALLY OUT OF SYNC. ONLY 10% ARE CLOSE TO THE ORIGINAL GENETIC STOCK, AND ONLY [S-338] AND [S-343] ARE REALLY EQUAL. 42% POSSESS 75% OR LOWER OF THE NEEDED GENE SEQUENCES. AND THE REMAINING 48% ARE JUST RANDOM KIDS THROWN IN BY SECTION III!
I'M STILL LEARNING ABOUT THE AUGMENTATION PROCEDURES, WHICH WILL LIKELY BE FROM THE OLDER SET BECAUSE OF FUNDING (OR LACK THEROF), BUT I KNOW ENOUGH. ONI ISN'T JUST SKIMPING ON SOME LITTLE DETAIL; THIS IS BIG. WITH THOSE KINDS OF SCORES, WE'RE GOING TO END UP LOSING SCORES OF TRAINEES IN AUGMENTATION, AND FIELD SUB-PAR SPARTANS AMONG THOSE WHO SURVIVE. THE ORIGINAL CHARLIE ONES SUSTAINED 56% LOSSES, WITH THE CORRECT GENETIC CODE. I THOUGHT I KNEW ALL THE TERRIBLE THINGS THERE WERE TO KNOW ABOUT THIS PROGRAM. I GUESS I WAS WRONG.
THIS IS TOO MUCH TO KEEP TO MYSELF, BUT I DON'T KNOW WHERE TO TURN. THE DI HERE, DEAN JACKSON, IS A GOOD MARINE BUT DOESN'T HAVE ANY SORT OF CLOUT AT ALL. NOVEMBER ROMEO---WHO I NOW STRONGLY SUSPECT TO BE REAR ADMIRAL NED RICH, COMMANDER OF THE COVERT OPERATIONS GROUP, WHICH IS CONTROLLING THIS PROJECT---IS IN ALL LIKELIHOOD FULLY AWARE OF THE RISKS. HE MIGHT HAVE EVEN GREEN LIT THE PROGRAM. THERE'S ONLY ONE OPTION LEFT I CAN THINK OF. I'VE SENT AN ANONYMOUS MESSAGE TO LASZLO, INDICATING THAT HE SHOULD CHECK INTO THE GENETIC MATCHES A LITTLE MORE THOROUGHLY.
IF I CAN'T FIND AN ALLY IN HIM, THEN I DON'T KNOW WHERE I'M GOING TO TURN TO NEXT.
AUGUST 2ND, 2540
---
LASZLO RESPONDED TO MY MESSAGE TODAY. HE DIDN'T INDICATE HOW HE TRACED THE MESSAGE, BUT HE DEFINITELY HAD INTERESTING THINGS TO SAY. A LOT OF IT I SUSPECTED, BUT SOME OF THEM ARE NEW. ABOVE ALL, HE STRESSED THAT, DESPITE WHATEVER REASON THEY CHOSE ME FOR, ONI STILL DON'T TRUST ME. THAT WASN'T A SURPRISE, BUT IT WAS A SURPRISE TO FIND OUT NOVEMBER ROMEO---DEFINITELY RICH, ACCORDING TO LASZLO---IS BEHIND MOST OF THIS PROJECT. DETAILS BEYOND THAT WERE NOT DISCLOSED. HE ALSO MENTIONED THAT I MIGHT WANT TO SECURE MY DATA ENTRIES; APPARENTLY, ONI'S SPY PROGRAMS ARE OPERATING WITHIN THE PROJECT'S INFRASTRUCTURE ALREADY. I'M NOT MUCH OF A TECHY AND NOT REALLY ONE FOR THIS SUBTERFUGE STUFF, BUT I'LL SEE WHAT I CAN DO.
TRAINING STARTED IN EARNEST YESTERDAY, AFTER LASZLO MET WITH THE CANDIDATES THE DAY BEFORE. I CONTEMPLATED PLAYING THE ROLE OF HALSEY AND SHOWING UP TO HELP WITH THE INTRODUCTION, BUT I DECIDED LASZLO COULD HANDLE IT. ONI CURRENTLY HAS ME DOING LOGISTICAL WORK, ORGANIZING THE PROJECT, AND I CERTAINLY HOPE IT'S JUST PLACEHOLDER WORK TO GIVE ME SOMETHING TO DO. IF I END UP WORKING AS SOME SORT OF TASKMASTER, I'LL NEVER BE ABLE TO FORGIVE MYSELF FOR LEAVING THE FRONT LINES.
IT SEEMS ODD THAT IT'S SETTING IN SO LATE, BUT I'M STARTING TO MISS MY TROOPS. MY DETACHMENT HERE IS COMPLETE; I KNOW NO ONE, AND MY ONLY CONNECTION WITH ANOTHER PERSON IS TO SOME SHADOWY SIERRA THAT I CAN'T TRACE. I FEEL WRONG COMPLAINING, BECAUSE IT'S A JUST PENANCE FOR ALL THAT I'VE DONE---YET I CAN'T HELP IT. THE WORLD SEEMS TO HAVE DISTORTED COMPLETELY OUT OF RECOGNITION OVER THE PAST FEW MONTHS. I DON'T KNOW WHAT I DID TO GET THIS POSTING, BUT I SINCERELY, SINCERELY WISH I HADN'T DONE IT.
AUGUST 7TH, 2540
---
TRAINING IS GOING WELL, AND OVER THE PAST FEW DAYS, MY ANXIETY HAS STARTED TO WANE. I LET IT, BECAUSE I STILL HAVE A JOB TO DO, HOWEVER MUCH I DESPISE IT, AND MOPING AROUND WON'T HELP IT. TODAY A REPORT CAME IN, HOWEVER, THAT SENT ME STRAIGHT BACK. RICH'S FIELD TEAMS HAVE MADE A POINT TO OBSERVE THE CANDIDATES' REPLACEMENTS (THE FLASH CLONES ONI EMPLOYED), AND THEY SENT IN THEIR FIRST OBSERVATIONS TODAY. I'VE READ PLENTY ABOUT METABOLIC DECAY, AND I STILL REMEMBER DOING TEST LABS ON RATS AT UNIVERSITY. I THOUGHT I WAS READY, EVEN KNOWING HOW BAD IT WAS. BUT THE FLASH CLONE DECAY REALLY IS TERRIBLE. SIX REPLACEMENTS HAVE ALREADY SUCCUMBED; FIVE FROM SIMPLE DECAY, AND ANOTHER FROM AN INFECTION AGGRAVATED BY THE DRASTICALLY LOWER IMMUNE SYSTEM.
THE THING THAT DID ME IN WAS THE PICTURES. THE FIELD TEAMS TOOK GREAT CARE TO…DOCUMENT THE SCENE, AND I DIDN'T REALIZE HOW TERRIBLE THINGS REALLY WERE UNTIL I OPENED THE FIRST ONE. AFTER THAT, I COULDN'T STOP MYSELF. EACH ONE WAS WORST THAN THE NEXT---BUT I HAD TO LOOK. I WAS RESPONSIBLE. I FEEL CONSUMED WITH GUILT. IT'S ONE THING TO SHOOT AN INSURRECTIONIST WITH A GUN TO YOU, BUT KILLING CHILDREN---AND THAT'S WITHOUT A DOUBT WHAT I'VE HELPED DO, AS SURE AS IF I SHOT THEM DEAD---IS ANOTHER MATTER ENTIRELY. MY THOUGHTS FEEL LIKE THEY'RE UNRAVELING. I HAVE TO MAKE A CHANGE BEFORE I DRIVE MYSELF MAD.
THE WORST PART ABOUT IT ALL IS THAT THE CANDIDATES ARE REALLY STARTING TO EXCEL. IT'S BEEN BARELY OVER A WEEK, SO IT'S DIFFICULT TO COMPARE THEIR PROGRESS TO THE ORIGINAL CLASS, BUT THEY'RE ALL SHOWING EXCEPTIONAL TEAMWORK AND STRENGTH OF WILL. MOST ARE NO MORE THAN SIX OR SEVEN, BUT THEY'RE PUSHING ON WITH THE TRAINING AND WORKING EXCEPTIONALLY HARD. LASZLO IS QUITE DEFINITELY A GOOD TEACHER; HE KNOWS HOW TO MOTIVATE THESE CHILDREN BETTER THAN I COULD IN A MILLION YEARS. HE'S FOLLOWING HALSEY'S EXAMPLE FAIRLY CLOSELY, BUT HAS ALSO MADE A FEW CHANGES, WHICH SEEM TO BE WORKING OUT WELL. HE CHOSE TO SORT THE RECRUITS INTO TEAMS IMMEDIATELY, RATHER THAN TO WAIT, AND THEY HAVE ALREADY FORMED THEIR OWN FAMILIES WITHIN THEIR SQUADS. THEY STILL WORK WELL WITH THE OTHER RECRUITS, BUT IT SEEMS TO BE HELPING THEM COPE WITH ALL THE CHANGES---THEY'RE HOLDING EACH OTHER TOGETHER, WITHOUT A DOUBT.
AUGUST 17TH, 2540
---
WE HAD OUR FIRST ESCAPE ATTEMPT TODAY, AND DAMNED IF IT WASN'T CRAFTY. ONE OF THE MORE "INDEPENDENT" SQUADS, CRIMSON (THEY'VE ALL GOT LOUD MOUTHS AND A PENCHANT FOR DISOBEYING PRACTICALLY EVERYONE), MADE AN ATTEMPT TO SLIP AWAY FROM THE COMPLEX. I NEVER REALIZED SIX YEAR OLDS COULD BE SO INTUITIVE, BUT I'M LEARNING QUICKLY THAT THESE KIDS AREN'T YOUR AVERAGE KINDERGARTENERS. (EVEN IF THEY'RE NOT QUITE UP TO HALSEY'S STANDARDS). WHILE TWO OF THEM ([S-311] AND [S-341]) STAGED A DISTRACTION IN THE MESS HALL, [S-319] HACKED OUR BASE SYSTEMS AND KEYED A FIRE ALARM. IN THE SHEER PANDEMONIUM, THE OTHER TWO, [S-303] AND [S-327], INFILTRATED THE BASE SECURITY STATION, KILLED THE CAMERA SYSTEM, AND APPARENTLY PROCURED RADIO DEVICES. THE FIVE OF THEM ALL HEADED FOR THE SURFACE VIA SERVICE TUNNELS, AND IF IT WASN'T FOR SOME QUICK THINKING ON LASZLO'S PART (CALLING IN A PELICAN SEARCH IN THE EXACT RIGHT AREA---LIKE HE HAD EXPERIENCE SNEAKING OUT!) THEY PROBABLY WOULD'VE SLIPPED AWAY.
I GUESS I SHOULDN'T BE SURPRISED, GIVEN THE RECORD OF CLASS ONE GROUPS LIKE GRAY TEAM AND TEAM BLACK, BUT THE SHEER PLANNING OF IT ALL TOOK ME ABACK. NO ONE IN THE TEAM IS OLDER THAN SIX AND A HALF, YET THEY HAD THE WHOLE PLAN MEMORIZED, TIMED EXACTLY, AND WELL THOUGHT OUT BEFORE HAND. WHEN LASZLO CAUGHT THEM, HE CONFISCATED ALMOST A MONTHS WORTH OF DRY RATIONS, SURVIVAL GEAR, AND WEAPONS THAT THEY'D SMUGGLED OUT OF STORAGE OVER THE PAST MONTH---ALL THE WHILE MANIPULATING THE RECORD MANIFEST TO COVER THEIR TRACKS. NONE OF THEM HAVE STEPPED FORWARD AS THE LEADER, AND I HEARD SOME OF THE DI'S STARTED A (DISCRETE) POOL TRYING TO GUESS WHO THE GURU WAS. JACKSON HAS HIS MONEY ON [S-319], WHILE MOST OF THE OTHERS ARE HIGHLIGHTING [S-311] DUE TO HER HIGH IQ SCORES. I'VE NOTICED WITH DISTINCT INTEREST THAT LASZLO DOESN'T HAVE A BET PLACED (PERSONALLY, I DON'T KNOW THEM WELL ENOUGH TO MAKE A WAGER---BUT WOULD PUT MONEY ON [S-341], JUST BECAUSE NO ONE ELSE SEEMS TO BE).
IF THERE'S ANY BRIGHT SIDE IN THIS---BESIDES GIVING OUR SECURITY TEAM A LIST OF A FEW DOZEN IMPROVEMENTS TO BE MADE---IT'S THAT IT'S HELPED DISTRACT ME SOMEWHAT. IT'S HARD TO BE CONSUMED WITH GUILT WHEN YOUR BUSY SWEARING AT A DI AND SEARCHING FOR MISSING RECRUITS. I THINK THAT'S THE CLOSEST THING I'LL FIND TO A SOLUTION: THROW MYSELF INTO THE PROGRAM AND DO MY ABSOLUTE BEST TO HELP TRAIN THESE KIDS. IT'S TOO LATE TO SAVE THE CLONES, OR TO UNDUE THE DAMAGE I'VE DONE TO THEIR LIVES…BUT I CAN TRY AND MINIMIZE IT, AND HELP THEM TO SAVE THE LIVES OF OTHER PEOPLE AS WELL. THAT'S THE HOPE, ANYWAY.
NOVEMBER 9TH, 2540
---
TRAINING IS ON SCHEDULE, AND FOR THE MOST PART, THERE AREN'T MANY SURPRISES. LASZLO IS HOLDING FAIRLY TRUE TO HALSEY'S MODEL, AND IS REPLICATING HER WORK WELL (PERHAPS BETTER, GIVEN THE QUALITY OF THE CANDIDATE'S HE'S WORKING WITH). I'VE BEEN DOING MY BEST TO HELP WITH THE TRAINING, AND WHILE THE DI'S ARE ALL MUCH BETTER QUALIFIED TO TEACH, I DO WHATEVER I CAN TO HELP PLAN THE TRAINING AND ORGANIZE THINGS. IT'S A CHALLENGE SOMETIMES JUST TO FIND WORK, AND THAT FEELS DOWNRIGHT WRONG. THE LIST OF PLANET'S LOST TO THE COVENANT IS GROWING EVERY MONTH, AND SITTING IN A CHAIR, DOING NOTHING DEFINITELY DOES NOT SIT WELL WITH ME.
NOT ALL DOOM AND GLOOM, THOUGH. THE FIRST WAVE OF CANDIDATE PROGRESS REPORTS ARE IN, AND THEY'RE WELL AHEAD OF THE PROJECTED EXPECTATIONS---EVEN THE RANDOM ONES WE PICKED UP OFF THE STREET. ONI ANALYSTS (AND MY OWN INDEPENDENT PROJECTIONS) PREDICTED WE'D BE SEEING APPROXIMATELY 90% OF THE ORIGINAL CHARLIE ONE PERFORMANCE BY NOW, BUT THE CANDIDATES ARE STILL MATCHING THEM FAIRLY CLOSE. A FEW ARE AS LOW AS 95%, BUT THEY'RE BEING BUOYED BY A LARGE CROP OF RECRUITS THAT ARE MATCHING THEM EXACTLY---[S-338], [S-343], AND [S-341] IN PARTICULAR. THE FORMER ARE EVEN SURPASSING SOME OF THE LESS PROFICIENT CHARLIE ONE CANDIDATES.
I HAD A MINOR ALTERCATION WITH AN ONI AGENT EARLIER THIS WEEK WHEN HE TRIED TO TAKE SOME OF THE CANDIDATES FOR "TESTING" WITHOUT ASKING ME OR LASZLO, AND IT TOOK SOME SERIOUS SMOOTH TALK BY RICH TO CALM THINGS DOWN. I'M STARTING TO GET THE FEELING AGAIN THAT I'M NOT WELCOME HERE, AND I'M WATCHING MY BACK. I'VE ACTUALLY STARTED GETTING COMFORTABLE HERE (THESE RECRUITS ARE REMARKABLY INNOCENT FOR ALL THEY'VE BEEN THROUGH, AND BEING AROUND THEM TENDS TO PUT ME A LITTLE TOO MUCH AT EASE), AND IT'S HARDER AND HARDER TO STAY VIGILANT. I KNOW I HAVE TO, BECAUSE EVEN IF THEY'RE ON MY SIDE, I KNOW ONI IS DEFINITELY NOT LOOKING OUT FOR THE BEST INTERESTS OF THESE KIDS. AND IF THEY'RE NOT, THAT MEANS I HAVE TOO.
DECEMBER 22ND, 2540
2541
WE WANTED TO HAVE OUR TEAM LEADER ROSTER UP A MINIMUM OF SIX MONTHS INTO TRAINING, AND WE WERE VERY CLOSE TO THAT DEADLINE. THE CHARLIE ONES DIDN'T REALLY TAKE ON A DEFINITIVE COMMAND STRUCTURE UNTIL BASICALLY 2 YEARS INTO THEIR TRAINING, BUT LASZLO'S MORE FOCUSED TEAM BUILDING HAS HEIGHTENED THE NEED FOR ORGANIZED LEADERSHIP. PICKING LEADERS IS HARD, BECAUSE IT'S STILL EARLY, AND SOME OF OUR BEST CANDIDATES COULD BE LATE BLOOMERS, BUT I FEEL FAIRLY CONFIDENT IN OUR CHOICES (THEY CAN ALL BE MODIFIED, IF NEED BE, AS WELL).
AS IT STANDS, WE'VE GOT DEFINITE LEADERS FOR SEVEN TEAMS, WITH LIKELY CANDIDATES FOR THE OTHER THREE. OUR CRITERIA WAS BASED ON A NUMBER OF FACTORS, BUT NAMELY ON THE CANDIDATE'S COMBAT ABILITIES AND LEADERSHIP TALENT. A FEW WERE OBVIOUS---LIKE [S-338] FOR TAN, [S-341] FOR CRIMSON (WHO I'M NOW CONVINCED, BY THE WAY, MASTERMINDED THEIR FAILED ESCAPE ATTEMPT 5 MONTHS AGO), [S-312] FOR SILVER, AND [S-309] FOR TURQUOISE---BUT THERE WERE PLENTY OF DIFFICULT ONES TOO. SCARLET, OLIVE, AND CYAN WERE ALL NAIL BITERS (WE ENDED UP CHOOSING [S-356] FOR SCARLET, [S-316] FOR OLIVE, AND [S-314] FOR CYAN---[S-343] WAS CONSIDERED, BECAUSE SHE'S THE MOST CAPABLE MEMBER IN THE WHOLE TEAM, BUT [S-314] IS THE ONLY ONE WHO CAN KEEP THEM IN LINE.)
AS FOR THE THREE SQUADS LEFT LEADERLESS (ORANGE, GOLD, AND VIOLET), WE'RE STILL DELIBERATING. LASZLO MOSTLY HAS YET TO IDENTIFY A REALLY SOLID, STAND OUT LEADER IN VIOLET AND ORANGE, AND IS WAITING TO SEE IF ANYTHING DEVELOPS. GOLD ON THE OTHER HAND, IS TRICKY. NEITHER ME NOR LASZLO CAN REALLY DECIDE; WE'VE GOT TWO CANDIDATES PRIME FOR A LEADERSHIP ROLE ([S-363] AND [S-347]), BUT THEY BOTH HAVE DISTINCT TALENTS AND WEAKNESSES; [S-363] ISN'T NEARLY AS TACTICALLY ADEPT AS [S-347], BUT HE'S MODEST, CAUTIONARY, AND HAS A TALENT FOR MAKING HIS TEAM WORK SEAMLESSLY WELL TOGETHER. [S-347], BY CONTRAST, HAS ALL THE NECESSARY TACTICAL ABILITIES (AND THEN SOME) BUT LACKS A MORE PERSONAL TOUCH---LIKE I NOTED WHEN WE PICKED HER UP, SHE'S GOT A BIG HEAD AND IS A BIT OF A HELLCAT; THE SQUAD FINDS HER ABRADING AT TIMES. WE'RE TRYING HARD TO FIGURE OUT WHICH WE'LL PUT IN COMMAND, BUT IT'S DEFINITELY A PROCESS.
MARCH 25TH, 2541
---
FINALLY GOT TEAM LEADERS SORTED OUT FOR THE REST OF THE SQUADS; WE GOT ORANGE AND VIOLET SET BY EARLY APRIL, BUT THE ROSTER FOR GOLD ELUDED US UNTIL TODAY. FINALLY, AFTER A FEW HEART-TO-HEART CHATS, I DECIDED TO GO FOR [S-363] OVER [S-347]. AT LASZLO'S SUGGESTION, WE PUT [S-347] IN AS THE SECOND IN COMMAND OF GOLD, TO HELP LESSEN THE TENSION OF THE DECISION; HOPEFULLY THE POSITION WILL BE ENOUGH FOR HER; IF NOT…WELL, WE'LL CROSS THAT BRIDGE WHEN WE GET TO IT. NOT MUCH WE CAN DO ABOUT IT RIGHT NOW, SHORT OF TRANSFERRING HER OUT (AND THAT'S THE ABSOLUTE LAST THING I WANT TO DO---I DON'T IMAGINE A TRANSFER WOULD BE PRETTY FOR ANYONE INVOLVED).
WITH THE SQUAD LEADER ROSTER WORKED OUT THOUGH, THINGS HAVE PRETTY MUCH SETTLED DOWN. TRAINING IS GOING WELL, AND ALTHOUGH WE'RE STILL IN THE BEGINNING STAGES, THE FUTURE (FOR THE PROGRAM AT LEAST) LOOKS BRIGHT; THE RECRUITS HAVE ALL ADJUSTED WELL TO THE NEW ENVIRONMENT, ARE HONING THEIR BASIC COMBAT SKILLS, AND IN SOME CASES, ARE EVEN EXCELLING. A FEW TEAMS IN PARTICULAR ARE OF NOTE; CRIMSON TEAM (WHO, DESPITE THEIR ROGUE-ISH BEHAVIOR, ARE ALL PROVING EXTREMELY CAPABLE) ARE SCORING HIGHER ON ACADEMIC TESTING THAN MANY OF THE CLASS II'S DID, CYAN TEAM RECENTLY EARNED THE HONOR OF BEING THE FIRST TO QUALIFY WITH MARKSMAN LEVEL SCORES ON THEIR RIFLE TESTS, AND TAN TEAM IS LEADING THE WAY IN TACTICS TRAINING, WITH HIGH SCORES ALL AROUND. MEANWHILE, WE'VE GOT ANOTHER SURPRISE IN SCARLET TEAM; THEY'RE NOT ONE OF OUR BEST SQUADS, BUT THEY'RE ALL VERY SPECIALIZED, MAKING A STRONGER UNIT OVERALL.
IN FACT, THE TEAM'S PERFORMANCE IS HOLDING TRUE TO THEIR EARLIER EXAMPLE A FEW MONTHS AGO; THEY ARE ACTUALLY PERFORMING BETTER THAN ANTICIPATED. WHETHER IT'S FROM LASZLO'S TUTELAGE OR FROM SHEER TENACITY, OUR KIDS ARE PULLING OFF 95% RATIOS, SAME AS BEFORE. I'M HONESTLY TEMPTED TO SAY IT'S FROM THEIR OWN WILL; THEY ARE ALL ROUGHLY EQUAL IN MOST FIELDS, EVEN WHERE NATURAL APTITUDES DICTATE CERTAIN INDIVIDUALS SHOULD BE STRONGER---LEADING ME TO BELIEVE THEY'RE PUSHING EACH OTHER TO DO BETTER. IT'S FUNNY THAT THEY'RE BREAKING SO HEAVILY FROM ONI'S EXPECTATIONS, BECAUSE THEY'RE ACTUALLY FAIRLY PREDICTABLE; OTHER THAN A FEW MINUTE DIFFERENCES, THEY ALL HAVE ROUGHLY SIMILAR SKILL SETS. A FEW TEAMS (LIKE THE ONES I NOTED ABOVE) ARE DIFFERENT IN THAT THEY'RE A LITTLE BIT BETTER, BUT THAT'S ABOUT IT.
SEEMS I'M RAMBLING NOW, SO I THINK I MAY CUT THIS ENTRY OFF HERE. HAD A MINOR LEG OPERATION DONE A FEW DAYS AGO ON A RECENT TRAINING INJURY, AND THE PAINKILLERS ARE PLAYING HELL WITH MY HEAD.
JUNE 18TH, 2541
2542
TODAY IS THE ANNIVERSARY. TWO YEARS; 730 DAYS OF TRAINING, STRUGGLES, MISHAPS, AND SUCCESSES. 104 WEEKS OF GUILT AND ANXIETY. IT'S HARD TO BELIEVE SO MUCH TIME HAS PASSED. FEEL'S LIKE YESTERDAY THAT I WAS INTERVIEWING THE KIDS FOR POTENTIAL (NOT THAT THOSE INTERVIEWS DID ANYTHING MORE THAN WASTE TIME IN THE LONG RUN). IT'S FUNNY; SOME THINGS STICK WITH YOU NO MATTER WHAT. WHEN I WAKE UP ON MY BIRTHDAY, IT TAKES AN AUTO-REMINDER TO MAKE ME REALIZE, AND I'D HAVE TO LOOK IN MY JOURNAL TO FIND THE ANNIVERSARY OF MY FIRST DAY OF COMPANY TRAINING. YET THE MOMENT I WOKE UP THIS MORNING, I KNEW EXACTLY WHAT THE DATE MEANT. FUNNY, REALLY.
FOR A WHILE, I THOUGHT I WAS THE ONLY ONE WHO REMEMBERED, BUT APPARENTLY THE SIGNIFICANCE WAS NOT LOST ON LASZLO EITHER. HE TOOK THE RECRUITS OUT TODAY FOR A RECREATION OF A FIELD TEST HIS GROUP WENT THROUGH WHEN THEY WERE CANDIDATES---THE INFAMOUS "LOST IN THE WOODS" DEBACLE THAT ENDED IN [S-117] BEING MADE THEIR LEADER. WE DON'T REALLY HAVE LEADERS LIKE THAT IN THE PROJECT BECAUSE OF THE MORE TIGHT-KNIT TEAM GROUPS, SO THEIR PERFORMANCE WILL CERTAINLY BE INTERESTING---BUT SOMEHOW I FIND IT EQUALLY FASCINATING THAT LASZLO THOUGHT ABOUT THE ANNIVERSARY ENOUGH TO PLAN THIS TRAINING OP SPECIFICALLY FOR IT.
HE LEFT WITH THE CANDIDATES ABOUT AN HOUR AGO, AND THE FACILITY IS UNUSUALLY QUIET. I HAVE MORE TIME TO SIT AND THINK THEN I'VE HAD IN MONTHS. SO MANY THINGS HAVE HAPPENED IN THE PAST FEW YEARS, AND NONE OF IT MAKES SENSE, EVEN NOW. I REALLY WONDER IF I'LL EVER GET OVER MY ROLE IN THIS; IN SOME WAYS, I REALLY DON'T WANT TOO. LASZLO WILL BE BACK IN A FEW HOURS, AND WE'LL HAVE A FEW MORE AFTER THAT BEFORE THE CANDIDATES FIND THEIR WAY BACK (IF PRIOR EXAMPLES HOLD TRUE). MAYBE I'LL FINALLY GET A CHANCE TO TALK TO HIM ABOUT SOMETHING OTHER THAN TRAINING. IT'S BEEN TWO YEARS, AND I STILL HARDLY KNOW THE MAN. MAYBE IT'S TIME THAT CHANGED.
AUGUST 6TH, 2542
2543
WHILE LASZLO HAS INTRODUCED SOME MINOR VARIATIONS AND CHANGES INTO THE TRAINING REGIMEN (SOME OF WHICH HAVE HAD MORE PROFOUND EFFECTS THAN EXPECTED---THE EARLY TEAM FORMATION IN PARTICULAR), WE ARE, IN GENERAL, TRYING TO STAY TRUE TO THE ORIGINAL METHODS USED BY HALSEY AND MENDEZ. YET SOMETIMES, WE PRODUCE VASTLY DIFFERENT RESULTS---EVEN USING THE SAME METHODOLOGIES AND PROCEDURES. CASE IN POINT IS THE SPECIALIZATION WE'RE SEEING IN THE CANDIDATES---OR LACK OF IT, AS THE CASE MAY BE, IN OTHERS---AND WHETHER OR NOT WE SHOULD PROMOTE IT.
HALSEY, TO BE CLEAR, DID NOT PROMOTE SPECIALIZATION. FOR SUCH A BRILLIANT WOMAN (BRILLIANT IN MIND, OBVIOUSLY, NOT IN SOUL) SHE HAD A STRANGE AVOIDANCE OF WHAT CONVENTIONAL MILITARY LOGIC DICTATES TO BE GOOD IDEAS. CANDIDATE SPECIALIZATION IS ONE OF THOSE AREAS. HALSEY SEEMED TO WANT THE CANDIDATES TO ALL BE CARBON COPIES, EQUALLY CAPABLE IN ALL AREAS---WITHOUT DISTINCT SKILL SETS. OBVIOUSLY, THIS DIDN'T END UP BEING THE CASE; [S-058] MORPHED INTO THE GROUP'S FOREMOST SHARPSHOOTER, [S-104] THEIR CQB EXPERT, [S-008] THEIR EVA SPECIALIST, [S-044] THEIR SCOUT, [S-052] THEIR SUPPORT SPECIALIST, [S-042] THEIR EXPLOSIVE EXPERT---BUT IT CERTAINLY WAS NEVER HER INTENTION.
OUR ATTITUDE TOWARDS THIS KIND OF SPECIALIZATION HAS BEEN NON-COMMITTAL, UP TO THIS POINT. LASZLO HIMSELF HAS DISTINCT SPECIALTIES, (MOST NOTABLY IN THE AREA OF ENGINEERING, SHARPSHOOTING, PILOTING, AND MEDICINE---OR SO HIS CSV SAYS) YET SEEMS HESITANT TO STRAY TO FAR FROM HALSEY'S MODEL (HE DOESN'T SEEM TO REALIZE THAT HIS IDEAS ARE JUST AS GOOD, IF NOT BETTER, THAN HERS) AND HAS THUS REMAINED AMBIGUOUS. THIS HAS WORKED WELL ENOUGH SO FAR, BUT UNFORTUNATELY, FATE SEEMS LIKE IT'S ABOUT TO FORCE OUR HAND. THE CANDIDATES ARE ALREADY BRANCHING OUT AND TAKING INTEREST IN SPECIFIC FIELDS, AND HAVE THEMSELVES INQUIRED ABOUT THE POSSIBILITY OF SPECIALIST TRAINING. [S-338], [S-317], AND [S-343] IN PARTICULAR ARE VOCAL SUPPORTERS OF ADDITIONAL OPTIONS (THOUGH 343 ASKED FOR TRAINING WITH THE FLAMETHROWER, SO I DON'T KNOW IF HUMORING HER IS WISE).
AT ANY RATE, IT'S TIME TO MAKE A DECISION.
MAY 23RD, 2543
---
THE WORLD RARELY COOPERATES TOTALLY WITH OUR PLANS, BUT IT STILL SEEMS LIKE WE DO OCCASIONALLY GET THOSE DAYS WHEN THINGS JUST GO TO TOTAL RAT SHIT AND EVERYTHING STARTS FALLING APART. FOR ME, THOSE DAYS USED TO BE STRAIGHT FORWARD AND COUNTER ABLE; BATTLES THAT GOT MESSY (WHERE OUR OPTIONS WERE ALL STRAIGHTFORWARD AND SIMPLE) OR, IF I WAS REALLY UNLUCKY, AN ARGUMENT WITH WOMAN (WHERE MY SOLUTION WAS MORE OFTEN THAN NOT SOME HEAVY DRINKING). NOWADAYS, NONE OF MY CRISES ARE EVER SO OBVIOUS---OR SO EASILY FIXED.
MY CURRENT ONES ARE SUBTLE AND DEVIOUS; THEY SNEAK UP ON ME AND ENTHRALL ME IN ALL KINDS OF TORMENTS. I HAVE A HARD TIME TAKING A LOT OF THEM SERIOUSLY SOMETIMES, BECAUSE MILITARY POLITICS JUST DOESN'T HAVE THE SAME SENSE OF DANGER AS A WAR ZONE---BUT THEY'RE JUST AS DEADLY IN THEIR OWN WAY. AND THE WORST PART IS THAT WHILE MY OLD CONFLICTS USED TO JUST INVOLVE ME, THESE NEW ONE'S ARE ALMOST NEVER ABOUT ME---AND IT MAKES THE SITUATION A HUNDRED TIMES MORE COMPLICATED, AT LEAST IN MY MIND.
THE ONE CURRENTLY CONFOUNDING ME IS FUNDING. RICH WENT TO A LOT OF WORK IN THE BEGINNING TO GATHER THE NECESSARY FUNDS FOR THE PROGRAM, AND THERE WAS SUPPOSED TO BE ENOUGH STORED UP IN THE COFFERS TO LAST US THROUGH TRAINING, AUGMENTATION, AND DEPLOYMENT. JUST BARELY ENOUGH, BUT ENOUGH NONETHELESS. PROBLEM IS, ONI'S PRESSED FOR CASH, AND RICH HAS KEPT THE PROJECT SEALED SO TIGHT THAT MOST OF THE AGENCY DOESN'T KNOW WHAT WE'RE DOING. COMPARTMENTALIZATION AND ALL THAT CRAP. APPARENTLY, THE ELEMENTS OF ONI THAT ARE BACKING HIM ARE DOING SO WITHOUT THE AUTHORIZATION OF ONI'S COMMAND---WHO WOULD HAVE GUESSED THERE'S CORRUPTION IN ONI? NOW THE LESS DIRTY PARTS OF THE AGENCY ARE DRAWING FUNDS FROM ANOTHER APPARENT "BLACK HOLE" PROJECT---US. THEY DON'T KNOW WHY WE NEED THE MONEY, AND WE SURE AS HELL CAN'T TELL THEM. RICH IS MOVING FAST TO REALLOCATE OUR REMAINING STOCKPILES, BUT WE'RE STILL GOING TO TURN UP SHORT, AND THAT MEANS ELEMENTS OF THE PROJECT ARE GOING TO HAVE TO BE CUT. WITH THE ALREADY LOW SURVIVAL RATES, THAT'S UNACCEPTABLE.
I THINK IT'S HIGH TIME I DID SOME REAL WORK AROUND HERE. THIS IS AS GOOD A PLACE TO START AS ANY.
JUNE 9TH, 2543
2544
TRAINING IS GETTING MORE AND MORE INTENSE EACH MONTH, AND THE STRESS IS STARTING TO SHOW. I HAVE TO TRUST LASZLO KNOWS WHAT HE'S DOING, BUT IT'S WORRYING NONETHELESS. IN THE PAST THREE MONTHS, WE'VE HAD A HALF DOZEN BROKEN BONES, CONCUSSIONS, AND CLOSE CALLS WITH WEAPONS; SMALLER INJURIES HAPPEN ALMOST DAILY. LASZLO SAYS THEY'LL BE ABLE TO COPE, SO I'LL GIVE HIM THE BENEFIT OF THE DOUBT (HE WENT THROUGH IT ALL, AND KNOWS MORE ABOUT THEIR SITUATION THAN ME).
THE STRAIN IS ALREADY STARTING TO SHOW, HOWEVER. THE CANDIDATES WITH THE HIGHER GENETIC MATCHES ARE RACING AHEAD WITH EXEMPLARY SCORES, OUTPACING THEIR FELLOWS. THE WEAKER CANDIDATES ARE BEING SLOWLY LEFT BEHIND, AT LEAST PERFORMANCE WISE. THEIR TEAM DYNAMIC IS AS STRONG AS EVER, A FORCE UNTO ITSELF. THEY'RE CLOSER THAN FAMILY; A TIGHT KNIT GROUP THAT WATCHES EACH OTHERS BACK CONSTANTLY. JUST LOOKING AT THEM MAKES ME JEALOUS. THAT KIND OF ASSURANCE WOULD BE MORE HELPFUL THAN I CAN DESCRIBE.
THERE ARE A FEW NOTABLE EXCEPTIONS, OF COURSE, MOST PRESSINGLY BEING GOLD TEAM. [S-347] REALLY DOESN'T FIT IN WITH THEM, AND IT SHOWS. THEY SQUABBLE DAILY, SHE UNDERMINES [S-363]'S AUTHORITY, AND SPENDS MOST OF HER FREE TIME WITH SCARLET TEAM (THAT IN ITSELF SET'S OFF ALARM BELLS---THE BAD SIDE OF THE HEAVY EMPHASIS ON SQUAD DYNAMICS IS THAT IT'S MADE THEM A LOT LESS INCLUSIVE THAN THE CHARLIE ONES, SO INTER-SQUAD MINGLING IS A TOUCHY AFFAIR). IT WILL HOPEFULLY ALL SETTLE DOWN IN A FEW YEARS WHEN THEY GROW OUT OF IT, BUT UNTIL THEN, IT WILL MAKE FOR SOME TRYING TIMES.
JANUARY 12TH, 2544
---
WHEN I WOKE UP THIS MORNING, I DISCOVERED I HAD GOOD NEWS AND BAD NEWS WAITING FOR ME. THE GOOD NEWS: I STILL HAVE A JOB, NO ONE DIED (THAT I KNOW), AND I'M NOT BEING PULLED FROM THE PROJECT. ALSO, NOT BEING EXECUTED. ALWAYS A GOOD THING (AND I SAY THAT IN FULL SERIOUSNESS). BAD NEWS: RICH FOUND OUT ABOUT MY "FUNDRAISING SCHEMES", AND IS NOTHAPPY. LET ME CLARIFY: HE'S NOT ANGRY THAT I STOLE MONEY FROM OTHER PROJECTS; HE'S ANGRY BECAUSE I ACCIDENTALLY STOLE SOME FROM HIS.
NAMES ARE UNIMPORTANT (AND LIKELY TO CAUSE MORE TROUBLE THAN THEIR WORTH), BUT SUFFICE TO SAY HE WAS LOOKING THROUGH HIS BUDGET ROSTER AND NOTICED A PRECIPITOUS DROP IN FUNDING FOR ONE OF HIS "TOP SECRET" WAR FIGHTING PROGRAMS. THAT, COUPLED, WITH MY RECENT REPORT ON "AN UNEXPECTED REVENUE AMENDMENT" SET OFF ALARM BELLS IN HIS HEAD, AND HE WAS QUICK TO MAKE THE CONNECTION. HIS MESSAGE WAS SHORT AND TO THE POINT: GET THE MONEY BACK, OR THE WHOLE PROGRAM IS BEING SMASHED AND YOUR GETTING DROPPED.
HE'S PROBABLY BLUFFING (WE'RE FOUR YEARS INTO TRAINING---HE'S NOT STUPID ENOUGH TO WASTE ALL THAT MONEY, ESPECIALLY CONSIDERING IT WAS HIS OWN DAMN IDEA) BUT I FOLLOWED THE ORDER ANYWAY. ALL FUNDS HAVE BEEN RETURNED TO HIM…OR AT LEAST, THE FUNDS THAT CAME FROM HIM. I NEVER THOUGHT I'D BE THE ONE TO STEAL MONEY FROM THE GOVERNMENT, BUT I GUESS DESPERATE TIMES CALL FOR DESPERATE MEASURES. I'M NOT SHORT SIDING OUR RECRUITS, NO MATTER WHAT. I'VE BEGUN COVERTLY DRAWING FUNDING FROM A DOZEN MORE CIVILIAN BRANCHES (IN SMALLER AMOUNTS THIS TIME---NO NEED TO REPEAT PAST MISTAKES), AND THE MONEY TO REPLACE OUR LOSSES IS ALREADY COMING IN. WE STILL WON'T HAVE ENOUGH FOR THE LATEST AUGMENTS OR---GOD FORBID---MJOLNIR; BUT IT'S BETTER THAN NOTHING.
DECEMBER 19TH, 2544
2545
WE'VE GOT A HALF DOZEN INTERNAL TRAINING OPERATIONS, PROJECTS, AND EVALUATIONS GOING, AND I FEEL LIKE MY HEAD'S ON A SWIVEL. FOR THE FIRST HALF OF THE DAY, I SPENT MY TIME CALCULATING AUGMENTATION SUCCESS/FAILURE RATES; AFTER THAT, I ASSISTED IN ONE OF THE MARKSMANSHIP LESSONS. WE'VE RARELY HAD SO MUCH GOING ON AT ONCE, AND I HAVE TO ADMIT, IT'S A LITTLE DISTRACTING. I CAN HARDLY BELIEVE I USED TO COPE WITH THE CHAOS OF OPEN BATTLEFIELDS WITHOUT SO MUCH AS A HEADACHE, BUT NOW I CAN'T EVEN KEEP TRACK OF A FEW RANDOM PROGRAMS. MAYBE I'M GETTING OLD.
IT DOESN'T HELP THAT THINGS HAVE BEEN CRASHING IN ON THEMSELVES LATELY. RICH HAS BEEN GETTING ALL OVER ME ABOUT SOME OF MY "LESS THAN LEGAL" EXTRA FUNDRAISING SCHEMES. LASZLO'S CRYPTIC COMMENTS ABOUT HIS PAST ARE CONFUSING AND WORRYING. LYLA'S BIRTHDAY WAS YESTERDAY, A NONE TO WELCOME REMINDER OF EVERYTHING I LEFT BEHIND. AND SOME BASTARD ONI AGENT HAS BEEN "ASSESSING THE CONDITION" OF THE CANDIDATES; SNOOPING AROUND THE FACILITY, LOOKING FOR DIRT ON THE PROJECT (OR ME, OR LAZ, OR DEAN…)
NOT TO MENTION THE FACT THAT THE CANDIDATES ARE STARTING TO ACT OUT (OR, ACT OUT AS MUCH AS A BUNCH OF HIGHLY REGIMENTED SOLDIERS IN TRAINING DO). PEOPLE TALK ABOUT HOW DESTRUCTIVE TEENAGERS CAN BE, AND I CAN BARELY CONTAIN MY TERROR AT WHAT THEY'LL BE LIKE ONCE THEY HIT PUBERTY. THE DIFFERENCE IN STANDARDS BETWEEN THE CHARLIE ONES AND OUR CHARLIE THREES IS BECOMING MORE AND MORE APPARENT. THEY'RE STILL KEEPING PACE (OR CLOSE TO IT---AN AVERAGE OF 93% COMPARATIVE SCORES) WITH THE CHARLIE ONES, STUDY AND SKILL WISE, BUT THEY'RE EXUDING TWO OR THREE TIMES AS MUCH BULLSHIT FACTOR---BEHAVIORAL PROBLEMS, AS THE SPOOKS CALL THEM. JUST THE OTHER DAY, 311 HACKED OUR SECURITY SYSTEM, AND UPLOADED A VIRUS THAT REPLACED THE "TOP SECRET" STAMP ON ALL OVER OUR LETTERS WITH AN EMBLEM OF A GRUNT'S HEAD EXPLODING INTO CONFETTI. IT'S AMUSING, BUT IT'S NOT THE KIND OF EXAMPLE WE WANT THEM TO SET.
MAY 14TH, 2545
---
WE'VE BEEN HAVING SOME SERIOUS TEAMWORK ISSUES WITH 347 AND 363, AND TODAY THINGS FINALLY CAME TO A HEAD. I HAVEN'T PUT ANYTHING DOWN ABOUT IT, BECAUSE (AS I GUESS IS LIKELY APPARENT) I HAVEN'T HAD MUCH TIME TO WRITE ANYTHING, BUT THIS ONE IS DEFINITELY WORTH MENTIONING. FOR THE LAST YEAR OR SO, 347 AND 363 (WHO'VE ALWAYS HAD A TENSE RELATIONSHIP) HAVE BEEN HAVE A COVERT LITTLE POWER STRUGGLE, WITH 347 ATTEMPTING TO USURP HIS POSITION AS SQUAD LEADER. IT'S TRIVIAL AND POINTLESS---OR AT LEAST, I THINK IT IS---BUT THAT ISN'T STOPPING THEM.
SOMETHING LIKE THIS HAS BEEN BREWING, BUT WHAT'S SURPRISING IS THAT IT ACTUALLY CLOSELY MIRRORED A PROBLEM THE CHARLIE ONES HAD---SPECIFICALLY BETWEEN [S-144] AND [S-077]. DURING A TRAINING SKIRMISH, WE PAIRED GOLD AND SCARLET TEAMS AGAINST CRIMSON AND CYAN, GIVING EACH AN OBJECTIVE TO ACCOMPLISH. CRIMSON AND CYAN WERE SUPPOSED TO ESCORT A PACKAGE (PLAYED BY ONE OF THE DI'S) TO AN EZ, AND GOLD AND CRIMSON WERE SUPPOSED TO STOP THEM. 347 CAME UP WITH AN AMBUSH PLAN THAT CAUGHT CRIMSON ALMOST PERFECTLY OFF GUARD, BUT CYAN COUNTERED AND CUT SCARLET OFF FROM GOLD---WITH 347 TRAPPED WITH SCARLET. SCARLET'S OWN LEADER (351) PANICKED AND GOT HIT, SO SHE TOOK CONTROL OF THEM.
AS THIS WAS HAPPENING, HOWEVER, CRIMSON REGROUPED AND MADE A BEELINE FOR THE PICKUP ZONE. 363 GAVE THE ORDER TO PURSUE, BREAKING THE PLAN, AND MANAGED TO GET IN FRONT OF THEM AND DRIVE THEM BACK INTO A CROSSFIRE WITH SCARLET. SCARLET AND GOLD PULLED IT OUT BY THE SKIN OF THEIR TEETH, BUT THE MOMENT THE SHOOTING STOPPED, 347 WENT OFF ON 363---AND IN THE RESULTING STRUGGLE, THEY BOTH ENDED UP IN PRETTY BAD SHAPE. AFTER IT WAS ALL SAID AND DONE, GOLD RALLIED AROUND 363, WHILE SCARLET MADE A SHOW OF SUPPORTING 347. TO CUT STRAIGHT TO THE POINT, WE HAD NO CHOICE BUT TO SEPARATE THEM, AND, UNDER LASZLO'S DIRECTION, WE PLACED 347 IN SCARLET. THE MOMENT WE DID, 351 OFFERED HER THE ROLE OF SQUAD LEADER. NEEDLESS TO SAY, WE'RE GOING TO BE WATCHING THEM VERY, VERY CLOSELY.
JUNE 16TH, 2545
---
GOLD TEAM IS USUALLY THE BEST BEHAVED OF THE BUNCH (ANTICS WITH 347 NOTWITHSTANDING), BUT WE'VE BEEN HAVING ALL SORTS OF ISSUES WITH THEM LATELY. IT'S STEMMING, NATURALLY, FROM THE RECENT TRANSFER; AFTER WE ROTATED 347 INTO SCARLET TEAM, WE WERE FACED WITH SIX PEOPLE IN SCARLET, AND FOUR IN GOLD. WE DIDN'T WANT TO TAKE ONE OF THE SCARLET MEMBERS AND PUT THEM IN GOLD, HOWEVER, BECAUSE THAT WOULD BE ASKING FOR TROUBLE, SO INSTEAD, WE DECIDED TO SHIFT THE RANKS AROUND. ANYTHING LIKE THIS IS TRICKY, BECAUSE THE SQUADS HAVE ALL BEEN TOGETHER SINCE INDUCTION DAY, BUT IT'S NECESSARY AS WELL. BESIDES THE THRASHING WE'D GET FROM ONI, WE CAN'T AFFORD TO UPSET THE TEAM DYNAMIC BY HAVING UNEVEN SQUADS.
SOME OF THE CANDIDATES ARE MORE INCLUSIVE THAN OTHERS, SO NATURALLY WE LOOKED AT THEM FIRST. ANYONE GOOD AT HANDLING CHANGE OR SOCIABLE WAS FAVORABLE, BUT WE ALSO WANTED SOMEONE RELATIVELY MILD, TO HELP CALM THINGS DOWN. FOR TAKING ONE OUT OF SCARLET, THIS WAS AN EASY PICK; 366 IS BY FAR ONE THE MOST EASYGOING OF THE TEAM, SO WE WERE QUICK TO TAKE HIM AND SEND HIM TO ANOTHER SQUAD. PICKING THE NEXT PERSON WAS A BIT HARDER; IT WAS A CHALLENGE TO FIND AN INCLUSIVE, WELL ADJUSTED SQUAD MEMBER WHO WASN'T A SQUAD LEADER. IN THE END, WE DECIDED TO GRAB 333 OUT OF OLIVE AND PLACE HIM IN GOLD (PUTTING 366 INTO HIS OLD SLOT). WE CHOSE HIM FOR A COUPLE OF REASONS; ONE, WHILE HE DOESN'T HANDLE CHANGE WELL, HE'S FAIRLY AMIABLE, AND TWO, HE IS AT A ROUGHLY SIMILAR LEVEL TO 366 IN TERMS OF ABILITY---IT WILL MAKE THE TRANSITION FOR OLIVE MUCH EASIER TO HAVE SOMEONE SIMILARLY TALENTED TAKING 333'S OLD SPOT.
SO, THE GOOD NEWS IS THAT SCARLET AND OLIVE ARE BOTH STILL VERY STABLE. OLIVE IS TAKING THE CHANGE IN STRIDE, AND SCARLET, QUITE FRANKLY, IS ACTUALLY PLEASED---THEY'VE ALWAYS LIKED 347 (SOMETHING I CAN'T QUITE UNDERSTAND). UNFORTUNATELY, SUCH STABILITY ISN'T PRESENT EVERYWHERE. GOLD IS FEELING THE CHANGE QUITE HEAVILY, AND ARE SUFFERING FOR IT. THROUGHOUT TRAINING, THEY'VE ALWAYS BEEN ONE OF THE BEST SQUADS, AND HAVE CONSISTENTLY RANKED HIGHEST IN TEAM COHESION DUE TO 363'S LEADERSHIP. THEY HAD THEIR DYNAMIC DOWN TO AN EXACT SCIENCE, HOWEVER, AND 333 IS A WRENCH IN THE WORKS FOR THEM. WHILE THEY'VE MAINTAINED THE SAME COMBAT SCORES, THEY'VE DROPPED IN THE OVERALL STANDINGS TO 9TH, THANKS TO A DROP IN THEIR COORDINATION STATISTICS. THEY'RE GOING TO HAVE AN UPHILL BATTLE TO GET THEIR TEAM COORDINATED AGAIN, AND WHILE I'M QUITE CERTAIN 363 WILL BE ABLE TO DO IT---HE HAS AN AFFINITY FOR BUILDING TEAMS---I'M NOT SURE HOW LONG IT WILL TAKE.
JULY 6TH, 2545
2546
WE FINALLY HIT PHASE THREE OF THE TRAINING TODAY, AND THINGS ARE LOOKING UP. THE CANDIDATES ARE SURGING AHEAD, AND WE ARE IDENTIFYING OUR TOP INDIVIDUALS WITH MUCH GREATER CERTAINTY. SOME ARE SURPRISES, OTHERS ARE EASIER TO EXPECT. THEY'RE ALL DOING WELL---GOLD IN PARTICULAR HAS SHOWN MARKED IMPROVEMENT IN THE LAST FEW MONTHS, FINALLY RECOVERING FROM THE TRANSFER A YEAR AGO---AND THE STAFF SEEMS PLEASED WITH THEIR PROGRESS. IT'S ALL GOOD NEWS, IN GENERAL; THE NEXT STAGE OF TRAINING WILL LAST ONLY TWO YEARS, BUT WILL BE CRITICAL TO THEIR DEVELOPMENT. HAVING THEM ENTER AT THE TOP OF THEIR GAME WILL BE CRITICAL. THEIR RELATIVE SKILL TO THE ORIGINAL CLASS I'S IS HOVERING AT 90% FOR THE GROUP, AND AT 100% FOR A FEW SELECT INDIVIDUALS---MUCH BETTER THAN ANTICIPATED BY ONI.
THE 100% CANDIDATES, ARE, BY AN LARGE, MOSTLY THOSE WITH GENETIC PROFILES EQUAL OR VERY NEARLY EQUAL THE ORIGINALS. 338 AND 343, WHO HAVE CONSISTENTLY PROVEN THEMSELVES TO BE OUR BEST OPERATORS, ARE MATCHING THE ORIGINAL II'S ALMOST IMPOSSIBLY CLOSE. THREE OTHERS---341, 309, AND 324---ARE FOLLOWING A HAIR BEHIND, NIPPING AT THEIR HEELS. THEIR PARTICULAR SPECIALTIES ARE SHINING THROUGH CLEARLY NOW; 338 HAS EVOLVED INTO THE BEST SNIPER IN THE GROUP, KEEPING PACE WITH HOW [S-058] DID AT HIS AGE; 343, 309, AND 324 ARE EXPERTS IN CLOSE QUARTERS, WITH 343 A BIT FARTHER AHEAD BECAUSE OF MORE VARIED SKILLS, AND 341 IS PROVING TO BE LIKELY THE MOST ADAPTABLE OF THEM ALL---THOUGH NOT AS POLISHED IN ANY ONE FIELD AS ANY OF THEM, HE'S GOOD WITH PRACTICALLY ANYTHING.
MOST OF OUR OTHER STRONG CANDIDATES---311, 319, 363, 347, 351, 356, 332, 329, 314, 349, TO JUST NAME A FEW---ARE DOING STRONG AS WELL, PERFECTING A VARIED ARRAY OF TALENTS. THE "LESSER" CANDIDATES ARE NOTABLY LESS SPECIALIZED, BUT THEY'RE STILL PASSABLE IN ALL OF THE NECESSARY FIELDS. THE DIFFERENCES WILL LIKELY WIDEN ONCE THE NEW TRAINING REGIME GOES INTO FULL GEAR, BUT THE DI'S ARE PREDICTING THAT THE WEAKER CANDIDATES WILL KEEP UP OUT OF RAW DETERMINATION---WHILE IT'S TRUE THAT A LOT OF THE CANDIDATES ARE OF VASTLY LOWER GENETIC QUALITY THAN THE ORIGINAL CHARLIE ONES, THEY ALL HAVE THE SAME FIERCE WILLPOWER.
JULY 8TH, 2546
---
I'VE BEEN FEELING INCREASINGLY LIKE THE PROJECT IS UNDER ASSAULT FROM THE OUTSIDE, EVER SINCE THE MONEY RAID THREE YEARS AGO. I FEEL CRAZY EVEN WRITING IT (LET ALONE SAYING IT ALOUD---I DON'T WANT TO THINK ABOUT WHAT THE DI'S WOULD SAY IF THEY HEARD ME), BUT I'M FEELING MORE AND MORE LIKE I'M BEHIND ENEMY LINES. WHEN I FIRST ARRIVED HERE…IT WASN'T COMFORTING (FOR DAMN SURE) BUT AT LEAST I FELT LIKE I WAS ON THE SAME SIDE AS MOST OF THE PEOPLE AROUND ME (EXCEPT FOR THE SPOOKS---NEVER TRUSTED THEM).
NOW THINGS FEEL LIKE A CONSTANT GAME OF CHESS; I MAKE A MOVE, AND MY UNSEEN OPPONENTS MAKE ONE TO COUNTER IT. I DON'T KNOW WHO THEY ARE---THE ONI ELEMENTS BACKING THIS THING, THEIR NAVSPECWAR CONTACTS, RICH'S LAPDOGS, OR GOD KNOWS WHO ELSE---BUT THERE IS DEFINITELY SOMEONE ELSE WORKING AGAINST ME. SUBTLE, LITTLE THINGS; LISTENING DEVICES IN MY ROOM WITHOUT REASON, OBSCURE DATA INTRUSIONS, PSEUDO SPY STUFF LIKE THAT. I DON'T KNOW WHAT THEY WANT, OR WHY THEY WANT IT, BUT I CAN'T BE SURE OF ANYTHING.
DID THE OTHER PROGRAM'S GO THROUGH THIS KIND OF THING? I CAN'T BE THE ONLY ONE. HALSEY LIKELY DID, BUT A LOT OF THE HAZING PROBABLY WAS A RESULT OF HER CIVILIAN STATUS. THE CHARLIE TWO'S WERE RUN THROUGH CLEANLY AND EFFICIENTLY; I DOUBT THEY DID. AND SPARTAN-III…WELL, I KNOW IT EXISTS, BUT BEYOND THAT, IT'S A MYSTERY. ACKERSON IS RUNNING IT, SO IT'S GOT HEAVY HITTERS TO BACK IT UP, BUT ALSO A LOT OF ENEMIES. MAYBE I SHOULDN'T HAVE TRIED SO HARD TO PISS ONI OFF IN THE EARLY DAYS. THINGS MIGHT BE SIMPLER NOW.
NOVEMBER 13TH, 2546
---
WE HAD TO PERFORM ONE OF OUR FIRST MAJOR "CRACKDOWNS" THIS WEEK, AND I'VE BEEN FEELING A LITTLE PUT OFF BY THE WHOLE AFFAIR SINCE IT STARTED. SOMETIMES I FEEL LIKE THE ONLY REASON I KEEP THIS JOURNAL IS SO THAT I HAVE A PLACE TO COMPLAIN TO, AND THAT DOESN'T ALWAYS SIT VERY WELL WITH ME. IT'S ALL OLD NEWS, BUT I'LL SAY IT AGAIN FOR CLARITY; I JOINED THE MILITARY SO THAT I COULD DO MY PART TO HELP HUMANITY, FIRST AT FIGHTING THE INSURRECTION, THEN THE COVENANT. I NEVER PLANNED ON SPENDING SIX YEARS OF MY LIFE COOPED UP UNDERGROUND---AND AS AMAZING AS THESE KIDS ARE, AS MUCH AS I KNOW WHAT WE'RE DOING IS NECESSARY, AS MUCH AS I TRY TO KEEP MY OWN EGO AND DESIRES IN CHECK, ITS HARD TO TAKE SOMETIMES.
THIS ALL PROBABLY SOUNDS LIKE NONSENSE WITHOUT THE PROPER BACKGROUND, SO I SHOULD PROBABLY SHELL SOME OF THAT OUT. A FEW WEEKS AGO, GOSSIP GOT AROUND THAT SOME OF OUR CANDIDATES MIGHT NOT HAVE BEEN AS FOCUSED ON THEIR TRAINING AS THEY SHOULD BE: AKA, INVOLVED ROMANTICALLY WITH EACH OTHER IN SOME WAY. A LITTLE DIGGING LED TO A BRIEF INVESTIGATION, AND IT PRETTY MUCH BOILED DOWN TO AS FOLLOWS: 363, LEADER OF GOLD TEAM, WAS INVOLVED WITH ONE OF HIS SQUAD MATES, 374. NOT EXACTLY UNHEARD OF OR UNEXPECTED; PUT 50 PUBESCENT KIDS IN CLOSE PROXIMITY TO EACH OTHER FOR A FEW YEARS, EVEN TIGHTLY DISCIPLINED ONES, AND YOU'LL HAVE SOME SPARKS. THE PREVIOUS CLASSES ALL HAD THEM; BLACK, GREY, AND BLUE WERE ALL INVOLVED IN SOME LEVEL OF SCANDAL FROM CLASS I, TO JUST NAME A FEW.
WE WERE PREPARED, THUS, AND LASZLO STEPPED IN TO SORT THINGS OUT. LET 363 AND 374 KNOW THAT WHILE THEIR FEELINGS WERE UNDERSTANDABLE, THEY HAD TO MAKE SURE TO KEEP A CLEAR HEAD, STAY DISCIPLINED, ETC. SOUNDED LIKE HE HAD PERSONAL EXPERIENCE IN THE WHOLE MATTER (THOUGH I MIGHT BE PROJECTING, AS I DON'T REALLY KNOW HIM WELL ENOUGH TO SAY). ALL IN ALL, THINGS WORKED OUT JUST FINE, RELATIVELY; THERE SHOULDN'T BE ANY CAUSE FOR CONCERN. YET DESPITE THIS, I'M STILL ANNOYED AT ONI, AND ANGRY AT MYSELF FOR BEING ANNOYED. TRAINING KIDS TO BE SOLDIERS IS BAD ENOUGH…BUT MANAGING THEIR RELATIONSHIPS FOR THEM? THIS IS WHAT WE'RE REDUCED TO? I DON'T WANT TO INDULGE IN SELF-RIGHTEOUSNESS, BECAUSE I KNOW THAT ONCE I DO, IT'LL BE WAY TO HARD TO LET GO OF…BUT I WONDER HOW IT ALL ENDED UP LIKE THIS SOMETIMES. I REALLY DO.
DECEMBER 11TH, 2546
2547
I RECEIVED A LETTER TODAY FROM LYLA. I THOUGHT IT WAS A MISTAKE AT FIRST, BECAUSE THERE WAS NO WAY THAT SHE COULD HAVE KNOWN MY LOCATION, BUT APPARENTLY ADMIRAL RICH HAD IT FORWARDED TO ME ON HIS PERSONAL ORDERS. THAT ALONE WAS SURPRISING. BUT IT WASN'T THE ONLY UNEXPECTED TWIST. IT WAS A SHOCK TO HEAR FROM HER AFTER ALL THESE YEARS, BUT THAT WAS HARDLY THE BIGGEST SURPRISE.
THE LETTER IS A WILL.
THERE WAS NO WAY I COULD HAVE KNOWN, BUT SHE WAS ON SKOPJE TWO MONTHS AGO WHEN IT FELL. SHE WAS ON THE SURFACE WHEN IT WAS GLASSED; COMPANY RECORDS, WHICH I ACCESSED WITH THE HELP OF SOME OF ONI'S INFILTRATION SOFTWARE, REVEAL SHE WAS WORKING UNTIL THE LAST MOMENT, SCRAMBLING TO SEND AS MUCH DATA ON HER WEAPONS PROJECTS AS SHE COULD TO THEIR ORBITING TRANSPORT BEFORE THE COVENANT REACHED HER. I CAN'T BEGIN TO DESCRIBE THE SURREAL FEELINGS I FELT WHEN I READ ABOUT IT. IT'S BEEN YEARS, BUT SOMEHOW…I DON'T KNOW WHAT I THOUGHT, BUT IT DEFINITELY WAS NEVER THAT THINGS WOULD END UP LIKE THIS.
THE MESSAGE IS A SHORT ONE, JUST A LIST OF A FEW SMALL TRINKETS SHE WANTED TO BE SENT TO ME IN THE EVENT OF HER DEATH. A FEW MEMENTOS OF THE TRIP, A STACK OF HOLO-STILLS---EMPTY, POINTLESS THINGS. BUT THERE'S ALSO AN ATTACHMENT, A TEXT FILE WITHOUT A NAME, ACCOMPANYING IT. I HAVE NO IDEA WHAT IT IS, THOUGH A DOZEN OBVIOUS SUGGESTIONS SPRING TO MIND. I'M OVERWHELMED WITH CURIOSITY.
BUT I CAN'T OPEN IT.
JUNE 28TH, 2547
---
SOME UPSTART DI SENT ME A COMMUNIQUE TWO DAYS AGO, REQUESTING A REPRIMAND OF LASZLO---BECAUSE HE WAS, AND I QUOTE, "PUSHING [THE RECRUITS] TO HARD, TO FAST". NOT A FAN OF THE GUY (HE THINKS HE'S THE SHIT BECAUSE HE WORKED ON BETA COMPANY, DESPITE THE WILDLY DIFFERENT CIRCUMSTANCES), AND I WAS HALFWAY INTO A RESPONSE TELLING HIM WHERE TO SHOVE HIS OPINION WHEN RICH'S ONI BACKERS INTERCEPTED THE MESSAGE AND PUT HIM UP FOR IMMEDIATE PSYCHIATRIC REVIEW, IN PREPARATION FOR IMMEDIATELY DROPPING HIM FROM THE PROGRAM.
MY FRIEND ADMIRAL RICH GAVE ME SOME BACKUP ON THIS ONE (I'M FULLY CONVINCED HE'S PLAYING BOTH ME AND HIS BACKERS OFF EACH OTHER), AND WE MANAGED TO KEEP THEM FROM DROPPING LAZ FROM THE PROGRAM. THE PANEL OF SHRINKS COULDN'T BE AVOIDED, THOUGH, AND NOW I'VE GOT LASZLO BREATHING DOWN MY NECK TOO. I'M REALLY NOT CUT OUT FOR ALL THIS FAUX-POLITICAL BULLSHIT. I'VE SENT A MESSAGE TO LASZLO EXPLAINING THE PROBLEM, AND HOPEFULLY HE'LL LISTEN. I'VE GOT FEW ENOUGH FRIENDS HERE ALREADY. IF I LOSE ANOUGHER ONE, IT MAKES LIFE JUST THAT MUCH HARDER.
OH, AND DEAN INFORMS ME THAT 363 AND 347 JUST GOT THEMSELVES INTO A FIGHT…AGAIN. THE BEHAVIORAL PROBLEMS IN THE WHOLE UNIT ARE GROWING WORSE BY THE DAY, BUT THOSE TWO ARE GETTING TO BE A REAL HAZARD. DEAN AND THREE OTHER DI'S MANAGED TO CONTAIN THEIR SQUABBLE WITHOUT LASZLO'S HELP, BUT THE PROBLEM IS STILL THERE. TRANSFERRING THEM TWO YEARS AGO APPARENTLY HASN'T DONE ANY GOOD.
SEPTEMBER 5TH, 2547
---
MY DISCRETE "DISCUSSIONS" WITH LAZ CONTINUE WITH FREQUENCY. IT'S FUNNY; AFTER ALMOST SEVEN YEARS OF SILENCE, THE MOMENT WE START TALKING ABOUT THINGS SERIOUSLY, WE HIT IT OFF. I THINK I'VE LEARNED MORE ABOUT ONI, THE CHARLIE ONES, AND THE BRASS IN THE LAST MONTH THAN IN THE PAST FIVE YEARS. LASZLO WAS NO RANDOM RECRUIT LIKE HE; HE'S TOP NOTCH ALL THE WAY, SCARILY INTELLIGENT AND FULLY IMMERSED IN THE BLACK OPS CULTURE. I'M WISHING DEARLY THAT I'D HAVE TRIED HARDER EARLY TO ESTABLISH CONTACT. WE MIGHT HAVE BEEN ABLE TO CHANGE THINGS, GENUINELY IMPROVE THE ODDS, INSTEAD OF ENACTING LAST RESORT MEASURES LIKE WE ARE NOW.
AMONG THE WEALTH OF THINGS WE'VE DISCUSSED IN THE PAST COUPLE OF WEEKS, A FEW KEY NUGGETS OF RELEVANT INFORMATION PEEK OUT. ONE, IS THAT RKD IS GOING TO BE PITCHING THEIR NEWEST SUIT OF POWER ARMOR, WHICH WE MAY OR MAY NOT HAVE A REPRESENTATIVE THERE TO OBSERVE. SECOND IS THAT LASZLO HAS CONSIDERABLY LOWER CLEARANCES THAN ME, BUT KNOWS HOW TO USE HIS MUCH BETTER. HE'S GIVEN ME MORE THAN ONE LEAD THAT TURNED UP INTERESTING INFORMATION (CASE IN POINT: HE MENTIONED A SUBSECTION OF SECTION III, BETA-5, IN PASSING, AND JUST THAT ONE LITTLE PROMPT HELPED ME REFINE MY SEARCH; FROM JUST THAT ONE CLUE, I MANAGED TO FIND CSVS ON TWO SEPARATE SPECIAL FORCES UNITS---NOBLE AND HEADHUNTER---WHICH ARE ALMOST DEFINITELY SIERRAS).
BESIDES THE CSVS I TURNED UP, LAZ HAS BEEN EQUALLY HELPFUL IN LOOKING NAVSPECWAR. HE'S DONE SOME "DIGGING" AS HE CALLS, IT AND TURNED UP AN ADDITIONAL THREE SIERRA TEAMS---MAYBE MORE---ALL WITHOUT CLEAR ORIGINS. I GUESS THE LAST PART ISN'T SURPRISING, GIVEN THE SECRECY THAT SURROUNDS ALL OF THE DIFFERENT PROGRAMS, BUT IT'S STILL A BIT DISQUIETING. MAKES ME WONDER WHAT OUR ONI BACKERS THINK OF US; OUR CLASSIFICATION AND SECRECY ISN'T NEARLY AS GOOD, SO OUR RELATIVE VALUE, COMPARED TO THE OTHER SIERRA GROUPS, IS SUSPICIOUS. AND GIVEN HOW CALLOUSLY ONI WASTED SIX HUNDRED SIERRA THREES---TOP CLASSIFIED, HIGH VALUE PROGRAMS---I'M ALMOST AFRAID TO THINK ABOUT HOW THEY'LL DEPLOY OUR SQUADS.
SEPTEMBER 23RD, 2547
---
I'M BEGINNING TO SERIOUSLY WONDER WHAT ONI'S INTRUSION SOFTWARE CAN PICK UP. LASZLO'S BEEN WATCHING THE NETWORK TIGHT, AND SAYS DATA TRAFFIC INCURSIONS HAVE SPIKED SINCE WE STARTED OUR COVERT CORRESPONDENCE. WE'RE IN THE DEAD CENTER OF THE CURRENT TRAINING PHASE, SO IT'S NOT RELATED TO THAT. ME AND LAZ ARE THE CAUSE, WITHOUT A DOUBT. THE ONLY QUESTION IS WHETHER THE INCREASED TRAFFIC IS COMING FROM THEM TRYING TO BREAK OUR CODED SECTIONS…OR WHETHER THEY'VE ALREADY BROKEN IT AND ARE COMPILING EVIDENCE AGAINST US.
MY ACTUAL HANDS-ON WORK ON THE PROJECT HAS BEEN THINNING SINCE IN-SUIT TRAINING BEGAN, BECAUSE THINGS ARE SO MUCH MORE TECHNICAL AND DANGEROUS---AND, AS 341 MIGHT DELICATELY PUT IT, I'M GODDAMN OLD. LUCKILY, RICH'S BACKERS IN ONI HAVE BEEN COMPENSATING WITH MORE WORK ON THE PLANNING STAGES; NO BREAKS IN THE CARDS FOR ME, I GUESS. THEY'VE GOT A WHOLE LIST OF PLANNING AND ORGANIZING THEY WANT DONE, AND MIND NUMBING AS IT IS, AT LEAST IT KEEPS ME OCCUPIED.
THEIR CURRENT DEMAND IS AN IN-DEPTH DEPLOYMENT SCHEDULE (READ: RECOMMENDATION) FOR THE CHARLIE THREE SQUADS IMMEDIATELY FOLLOWING AUGMENTATION. I KEEP TELLING THEM IT'S TOO EARLY SO START PLANNING THOSE KINDS OF THINGS; WE DON'T KNOW WHAT THE WAR WILL LOOK LIKE A YEAR FROM NOW, WE DON'T KNOW WHAT TEAM'S WILL MAKE IT THROUGH AUGMENTATION, AND WE HAVE NO DATA TO CORRESPOND THE TWO---BUT THEY DON'T LISTEN. HOW EXACTLY THEY INTEND TO DEPLOY OUR SQUADS WITHOUT GIVING THEMSELVES AWAY TO PARANGOSKY AND THE OTHER TALKING SKULLS OF ONI UPPER ECHELON SEEMS TO BE SOMETHING THEY DIDN'T FEEL FIT TO SHARE WITH ME. TO HUMOR THEM, I'VE BEEN READING UP ON THE CURRENT THEATERS OF THE WAR, MAKING NOTES AND TRYING TO PREDICT WHERE IT'LL SPREAD NEXT. NICE, TIDY LISTS AND CHARTS FOR THEM TO FOAM OVER, WHILE ME AND LASZLO TAKE CAR OF THE REAL MATTERS BEHIND THE SCENES.
OCTOBER 15TH, 2547
2548
WHEN I LOGGED ON TODAY TO MY CONSOLE, I WAS GREETED WITH A MESSAGE FROM LASZLO ABOUT DATA TAMPERING AND INTRUSION. NOT REALLY AN ORIGINAL TOPIC; "DIRTY ONI" (MY FUN NAME FOR RICH'S BACKERS) HAS BEEN SCOURING OR DATA RECORDS SINCE THE START OF THE PROJECT, LOOKING FOR ANY COMPROMISING INFORMATION ON US THEY CAN FIND. WHAT MADE TODAY UNUSUAL, HOWEVER, WERE TWO THINGS: ONE, THE INTRUSION WAS SUCCESSFUL, AND TWO, THE INTRUSION DID NOT COME FROM OUR BACKERS, RICH, OR ANY OF THE OTHER MEN IN BLACK. INSTEAD, IT CAME FROM WITHIN THE COMPOUND ITSELF---AND NOT ONLY THAT, BUT FROM WITHIN THE RANKS OF THE CANDIDATES.
RIGHT NOW, LASZLO IS RUNNING COVERT DAMAGE PATROL AND TRYING TO FIGURE OUT THE EXTENT OF THE PROBLEM. FROM WHAT WE CAN TELL, THE INTERLOPERS GOT ACCESS TO THE SYSTEM SOMETIME DURING THE ARMORY INSPECTION (WHERE THE CANDIDATES WERE ALL OFF DUTY, AND ME AND LASZLO WERE BOTH STUCK IN THE AFT SECTION OF THE BASE) AND COPIED EVERYTHING. NOT JUST THE NORMAL BASE FILES; EVERYTHING. CLASSIFIED ONI INTELLIGENCE BRIEFINGS, ME AND LAZ'S SECRET CORRESPONDENCE, EVEN MY PERSONAL JOURNAL. MUCH OF IT IS ENCRYPTED…BUT LASZLO HASN'T BEEN ABLE TO TRACE THE HACK, AND ANYONE GOOD ENOUGH BREAK INTO OUR SYSTEM, COPY EVERYTHING, AND LEAVE WITHOUT A TRACE WOULD BREAK THROUGH THE ENCRYPTION IN A BREEZE.
ONLY A SMALL NUMBER OF TRAINEES POSSESS THE COMPUTER EXPERTISE TO ACCOMPLISH SUCH A FEAT, BUT THE PROBLEM NOW IS EVIDENCE. EVEN IS LASZLO MANAGES TO TRACE THEM (UNLIKELY) THEY'LL PROBABLY HAVE IT STORED SOMEWHERE SECURE---OR BETTER YET, THEY MIGHT HAVE JUST COMMITTED THE INFORMATION TO MEMORY AND WIPED IT. I'VE ALREADY GOT A FEW SUSPECTS IN MY MIND (319, 311, AND 341 ARE TOPPING THAT LIST) BUT I DOUBT IT'LL DO MUCH GOOD. WE'LL NEVER BE ABLE TO PIN IT ON THEM. AND EVEN IF WE DID, THEN WHAT? BOOT THEM FROM THE PROGRAM? RICH WOULD NEVER ALLOW IT, NOT AFTER THE MONEY THEY'VE SUNK INTO THEIR TRAINING. AND THUS, I'VE DECIDED TO HAVE LASZLO CALL OFF HIS INVESTIGATION AND FOCUS SOLELY ON REPAIRING ANY DAMAGE THEY MIGHT HAVE CAUSED (THOUGH THEY DON'T APPEAR TO HAVE DONE ANYTHING BUT COPY DOWN DATA).
THERE'S TOO MUCH ELSE GOING ON TOO WASTE OUR TIME CHASING GHOSTS. IF THEY WANT INFORMATION, SO BE IT. MAYBE IT'LL HELP THEM UNDERSTAND EVERYTHING…AND IF NOT, WE'LL BE READY.
JANUARY 17TH, 2548
---
LASZLO AND ME BOTH WANTED TO PATTERN OUR FINAL HONOR'S EXERCISE AFTER THE SIERRA-III PROGRAM AND CONDUCT THEM AFTER AUGMENTATION, BUT THAT LIKELY WON'T BE A POSSIBILITY. OUR BACKERS HAVEN'T SAID ANYTHING EITHER WAY, BUT THEY'LL LIKELY WANT TO DEPLOY THE NEW SQUADS AS FAST AS HUMANLY POSSIBLE AFTER AUGMENTATION--AGAIN, HOW IS A MYSTERY, BUT THEY DON'T SEEM CONCERNED. ME AND LASZLO ARE ALREADY DOING WHAT WE CAN TO HELP EASE THAT QUICK TRANSITION---AND THE CEREMONY IS ONE OF SEVERAL OF OUR MEASURES.
THE CEREMONY IS BASED OFF THE ORIGINAL THREE MODEL, BUT WE'VE MADE SOME CHANGES TO HELP ACCOMMODATE THE DIFFERENCES IN THE PROJECTS. FOR ONE, WE DECIDED TO ENROLL ALL OF THEM INTO IT, INSTEAD OF JUST THREE SQUADS; REASONS ABOUND, BUT MOSTLY BECAUSE WE CAN'T REALLY DECIDE WHO TO CUT---AND BECAUSE IT'LL BE HELPFUL TO SEE THEM ALL IN A SERIOUS, FULL ACTION SCENARIO, WORKING AGAINST EACH OTHER. MOST OF THE OTHER DIFFERENCES STEM FROM THAT; A BIGGER AREA (10 SQUARE KILOMETERS, AS OPPOSED TO 3), MORE DI'S, AND GREATER WEAPON SELECTION (TO HELP FULLY REPLICATE THEIR LIKELY FIELD CONDITIONS).
THE RESULTS, AS THEY WERE, WEREN'T WHOLLY UNSURPRISING, BUT DID INCLUDE A FEW SMALL SHOCKS. CONTRARY TO MY EXPECTATIONS, NEITHER TAN, CYAN, OR CRIMSON WON---DESPITE THEIR DRASTICALLY HIGHER GENETIC MATCHES. IN THE END, GOLD TEAM ACTUALLY WON; THEY KILLED OFF TWO TEAMS ON THEIR OWN (SCARLET AND SILVER), THEN CAME OUT ON TOP WHEN THEY RAN INTO TAN, CYAN, AND CRIMSON---SIMULTANEOUSLY. TAN PROBABLY SHOULD HAVE WON, BUT 338 OVERESTIMATED HIS TEAMMATES---OR HE DEPLOYED THEM LIKE HE WOULD HAVE HIMSELF---AND THEY GOT INTO SITUATIONS TO DEEP EVEN FOR THEM. THE FINAL STANDINGS WERE GOLD, TAN, CRIMSON, CYAN, SCARLET, ORANGE, TURQUOISE, VIOLET, SILVER, AND FINALLY, OLIVE---BUT THE REAL CONTEST WAS BETWEEN THE TOP FOUR. WE WERE UNABLE TO SECURE THE HAYABUSA PROTOTYPES LIKE WE'D HOPED, SO WE HAVE NO REWARD FOR THEM ASIDE FROM BRAGGING RIGHTS---BUT FOR US, THE REWARD IS SEEING WHICH GROUPS ARE READY AND WHICH ONES STILL NEED WORK. NOW ALL WE HAVE TO WORRY ABOUT IS GETTING THEM READY IN TIME.
MAY 28TH, 2548
---
LIKE I'VE SAID BEFORE, IT CAN BE AN INTERESTING AND FUNNY TEST TO SEE WHAT STICKS WITH YOU OVER THE YEARS, AND WHAT DOESN'T. IT'S SUPPOSED TO BE THE IMPORTANT THINGS; YOUR FIRST KISS, FIRST BIG SUCCESS AT LIFE, THE DAY YOU GRADUATE COLLEGE, WHATEVER; THINGS THAT WILL HELP YOU THROUGH THE REST OF YOUR LIFE. MEMORIES TO CHERISH. YET THAT ISN'T REALLY THE WAY IT WORKS. THE GOOD STUFF NEVER STAYS WITH YOU; IT'S FLEETING, TRANSIENT; EVANESCENT. THE HARDER WE TRY TO HOLD ONTO OUR GOOD MEMORIES, THE QUICKER THEY FALL AWAY. AND AS YOU WOULD EXPECT, THE OPPOSITE HOLDS TRUE OF OUR NEGATIVE MEMORIES; THEY SIMMER, HAUNT US NO MATTER HOW MUCH WE WISH WE COULD LEAVE THEM BEHIND.
SOME DAYS I FEEL LIKE ALL I HAVE LEFT IS THE BAD MEMORIES. THE REASON IS ALWAYS VARIED, NEVER THE SAME, BUT THE FEELING IS ALWAYS, ALWAYS CONSISTENT. YET THOSE BAD MEMORIES CAN SOMETIMES BE HELPFUL; THEY CAN TEACH US THINGS, KEEP US FROM REPEATING OUR PAST MISTAKES…SO FOR ALL THE PAIN THEY CAUSE, THEY HAVE SOME SLIGHT, FEEBLE REDEEMING VALUE. THAT SEEMS TO BE MY CASE TODAY. I NEVER ENJOYED THE MANDATORY PSYCHE COURSES DURING TRAINING; MAYBE IT WAS BECAUSE I LOOKED DOWN ON IT AS PSEUDO-PSYCHIC BULLSHIT, OR MAYBE BECAUSE IT CUT TO CLOSE TO HOME. THIS LATE IN THE GAME, THE REASON DOESN'T REALLY MATTER. BECAUSE OF THAT, THOSE LESSONS, IRONICALLY ENOUGH, HAVE STAYED WITH ME FOR ALL THESE YEARS. IN PARTICULAR, THE LESSONS OF THE STAGES OF GRIEF NEVER SAT WELL WITH ME, AND ARE SOME OF MY CLEAREST MEMORIES.
IT'S ODD, BUT THEY'VE NEVER REALLY FELT RELEVANT TO ME BEFORE. I'VE SEEN PLENTY OF COMBAT, AND GOD KNOWS I'VE WATCHED PEOPLE KILLED, FRIENDS AND BUDDIES AND OTHER SOLDIERS JUST LIKE ME, CUT DOWN BY FATE OR CHANCE OR BLIND, RANDOM LUCK. BUT THERE'S SOMETHING DIFFERENT, SOMETHING THAT BUOYS YOU UP WHEN YOU LOSE PEOPLE IN THE FIELD. MAYBE IT'S JUST A SUBCONSCIOUS ACCEPTANCE OF IT ALL, AN INNER UNDERSTANDING THAT DEATH IN COMBAT IS INEVITABLE. MAYBE IT'S JUST THAT THE BONDS AREN'T AS STRONG. I DON'T KNOW; BUT WHATEVER IT IS, IT'S NOT THE SAME. NOT THE SAME AS WHAT I'M FEELING NOW; NOT AT ALL. I FINALLY UNDERSTAND, AND AT LAST, THOSE LESSONS ALL THOSE YEARS AGO ARE RELEVANT.
I DON'T NEED TO SAY WHY. LIKE I SAID, OUR WORST MEMORIES ARE ALWAYS THE ONES THAT LINGER LONGEST.
AND TODAY IS A DAY I'LL NEVER FORGET.
JULY 25TH, 2548
---
OUR EMOTIONS ARE STRANGE, MONSTROUS THINGS. SOMETIMES THEY CHOOSE THE MOST BIZARRE, RANDOM MOMENTS TO AMBUSH US; OTHER TIMES, THEY'RE PREDICTABLE AND OBVIOUS. AND IN THE LAST MONTH SINCE AUGMENTATION, I'VE COME TO FEEL THE SHEER POWER OF THEM MORE STRONGLY THAN I'VE HAD SINCE THE EARLY DAYS OF THE PROJECT. IT'S BEEN A ROLLER COASTER RIDE OF A MONTH; RECOVERING FROM THE BLOWS DEALT TO US AT AUGMENTATION, REORGANIZING THE REMAINING TEAMS, AND HELPING THE SPARTANS COME TO TERMS WITH THE CHANGES IN THEIR LIFE, BOTH PHYSICAL AND MENTAL.
TODAY MARKS AND END TO ALL OF THAT. THE FIRST SQUAD, GOLD TEAM, IS DEPARTING FOR THE FIELD TODAY. THEY'LL BE MASQUERADING AS S-III OPERATORS TO KEEP THE PROJECT A SECRET---DIRTY ONI IS NOW REFERRING TO THEM AS THE ARES DETACHMENT, IMPLYING THAT THEY'RE A SPECIALTY S-III UNIT---AND FIGHTING UNDER NAVSPECWAR AND POSSIBLY EVEN CLEAN ONI. BARELY A MONTH OF RECOVERY, AND THEY'RE ON THEIR WAY TO SOME DISTANT BATTLEGROUND, NEWLY MINTED, AND READY TO DO THEIR PART. IT'S INSPIRING TO WITNESS, EVEN IF THEY DON'T THINK SO. EIGHT YEARS OF TORTUOUS TRAINING, AUGMENTATION THAT WASTED ALMOST HALF THEIR NUMBER, EQUIPPED WITH EQUIPMENT THEY KNOW IS INFERIOR, LIKELY TO BE SENT ON MISSIONS THAT MAY OR MAY NOT BE SUICIDAL, AND STILL STAYING LOYAL, HOLDING TRUE. THE PRIDE WITHIN OUR LITTLE COMMUNITY OF DRILL INSTRUCTORS AND COVERT OPERATIONS AGENTS IS UNDENIABLE.
EVEN PRIDE IN THEM, HOWEVER, DOESN'T OUTWEIGH MY MISGIVINGS. THEY MAY ACCEPT THEIR FATE WITH STOIC COURAGE, BUT AFTER EVERYTHING THAT HAS HAPPENED, I DO NOT. MORE THAN ONE ELEMENT OF THE DEPLOYMENT STINKS. THE TIMETABLE (SIX MONTHS LESS RECOVERY/RETRAINING TIME THAN THE CHARLIE ONES). THE THEATERS OF DEPLOYMENT (DANGEROUS, HIGH RISK ZONES WHERE THEY HAVE JUST AS MUCH OF A CHANCE OF BEING GLASSED FROM ORBIT WITHOUT BEING ABLE TO FIGHT BACK AS THEY DO BEING ABLE TO DO DAMAGE TO THE ENEMY). THEIR LEADERSHIP (FOR NOW, ALL OF THEM ARE UNDER COMMAND OF RANKING NAVAL OFFICERS---NO DEDICATED SPECIAL FORCES COMMANDERS, JUST ADMIRALS AND GENERALS FIGHTING THE MAINLINE WAR). SOME OF IT'S LIKELY TO CHANGE; OTHER PARTS MAY NOT. ALL I KNOW IS THAT NONE OF IT BODES WELL. AND SO DESPITE RICH'S BACKERS' ATTEMPTS TO TRANSFER ME TO A NEW PROJECT, I'VE USED WHAT LITTLE CLOUT WITH ADMIRAL RICH THAT I HAVE LEFT AND ENSURED THAT I BE KEPT ON WITH THE PROGRAM, TO DO MY BEST TO DEAL WITH ANY PROBLEMS THAT CROP UP.
AUGUST 25TH, 2548
---
THE LAST OF THE SPARTANS LEFT TODAY, SHIPPED OUT FOR DEPLOYMENT. LEAVING ALONG WITH THEM IS LAZ; WE WERE LUCKY TO HAVE HIM ALL EIGHT YEARS, AND NOW THAT TRAINING IS COMPLETE, THEY'RE RE-PURPOSING HIM FOR OTHER DUTIES. HE THINKS HE'S GOING BACK TO THE FRONT-LINE, AND I WISHED HIM LUCK, IN CASE HE'S RIGHT. IT SEEMS A LITTLE ODD TO WAIT TO SHIP OUT THE LAST SQUAD UNTIL THIS LATE, BUT I GUESS THEY WANTED TO WAIT UNTIL THEY WERE NEEDED. KIND OF FUNNY, ACTUALLY, IN A PERVERSE SORT OF WAY; DIRTY ONI RUSHES TO GET THEM OUT INTO THE FIELD, CUTTING THEIR RECOVERY TIME IN HALF (OR MORE ACCURATELY, INTO A SEVENTH), AND THEY END UP WAITING AROUND ANYWAY.
THE GOODBYES HAVE GOTTEN EASIER, BEING SO FREQUENT, BUT I CAN'T SHAKE THE FEELING THAT SOMETHING IS MISSING. THE FACILITY FEELS EMPTY; THE CANDIDATES ARE GONE, AND THE SMALL ARMY OF DI'S AND TRAINERS ARE PACKING THEIR BAGS, PREPARING TO BE SHIPPED OUT TO THE FRONT OR TRANSFERRED TO OTHER PROJECTS. I HEAR A LOT OF THEM WILL BE GOING TO HELP WITH SIERRA-THREE (THEY'RE OF COURSE BEING INSTRUCTED TO REMAIN VERY TIGHT-LIPPED ABOUT THEIR PREVIOUS JOB). I WISH THEM LUCK WITH THAT. I WOULDN'T TOUCH THAT PROGRAM UNDER THREAT OF DEATH. THE DILEMMAS I FACED HERE WERE BAD ENOUGH; I DON'T KNOW IF I COULD TAKE TRAINING A WHOLE 300 SPARTANS TO USE AS SUICIDE SOLDIERS, EVEN IF IT'S SANCTIONED BY CLEAN ONI.
AND SPEAKING OF SUICIDAL, THE FIRST COMBAT REPORT CAME IN TODAY. TAN TEAM, OUR THIRD SQUAD TO DEPLOY, WERE THE FIRST TO SEE COMBAT. OPERATION: APOLLO; KNOWN TO THE GENERAL PUBLIC (WELL, THE MILITARY PUBLIC) AS THE DEFENSE OF THE ATLAS MOONS. THE RANKING ADMIRAL PUT THEM IN CHARGE OF THE DEFENSE OF ONE OF THE PLANETARY GUNS, AND THOUGH THE GENERATOR FELL, THEY DID END UP PROVING THEIR MERIT. WHEN THE COVENANT FLEET ENDED UP---INEVITABLY---CREAMING THE UNSC FLEET, 338 & COMPANY VOLUNTEERED FOR A DANGEROUS RESCUE MISSION; HEADING STRAIGHT INTO ENEMY TERRITORY, THEY HELPED PULL AN ENTIRE COMBAT COMPANY OF MARINES OUT OF THE FIRE. IT WON'T SET OFF ANY MEDIA FIRESTORMS, BUT IT'S PROOF THAT THEY DEFINITELY HAVE WHAT IT TAKES.
ON ANOTHER NOTE, CONTACT WAS LOST WITH CYAN TEAM EARLY THIS MORNING. NO ONE HAS A CLUE WHAT'S HAPPENING. FOR NOW, ALL WE CAN DO IS WAIT FOR THEM TO REESTABLISH COMMS.
SEPTEMBER 22ND, 2548
---
IT'S NOT EXACTLY AN ORIGINAL PROCESS, BUT WHEN EXAMINING THE WORLD AROUND YOU, I FIND THAT SOMETIMES LACK OF INFORMATION CAN BE KNOWLEDGE UNTO ITSELF. CHECKING OVER THE CANDIDATE ROSTER TODAY TO EXAMINE THEIR NEW DEPLOYMENT SCHEDULE, I NOTICED A PAIR OF DISTURBING, ALARMING DISCREPANCIES, BOTH RELATED TO THE NUMBER OF CANDIDATES ACCOUNTED FOR IN OUR ROSTER. 343 FROM CYAN TEAM, HAS GONE MISSING. NOT MISSING IN ACTION: MISSING FROM MY REGISTER OF SPARTANS. LAST ORDERS REDACTED, STATUS REPORTS WIPED, WHEREABOUTS UNKNOWN. OFF THE GRID. SHE DISAPPEARED RIGHT AFTER THE PANEL OF PSYCHE JUDGES CLEARED HER FOR DUTY, AND I'VE HEARD NOTHING ABOUT HER SINCE. RICH IS SILENT ON THE MATTER---NEVER A GOOD SIGN.
I'VE LOOKED EVERYWHERE I COULD THINK OF, CHECKED EVERY CONNECTION I KNOW, AND HAVE FOUND NOTHING. COMPLICATING MATTER'S IS DIRTY ONI; AFTER ALL THE STUNTS I PULLED DURING RECRUITING, AND GIVEN MY DECISION TO STAY WITH THE PROGRAM, THEY DON'T TRUST ME AT ALL. THEY'RE WATCHING ME CLOSELY (I KNOW ENOUGH ABOUT COMPUTERS TO RECOGNIZE TERMINAL HACKS WHEN I SEE THEM) AND I HAVE NO IDEA WHO COULD BE BEHIND THEIR ABDUCTION---MEANING I HAVE TO WATCH MY BACK AND PLAY THINGS COOL UNTIL I KNOW WHATS GOING ON. WITH SPOOKS, IT'S ALWAYS FEINTS, TRICKS, AND DOUBLE DEALS; LOOK INTO THE WRONG AREA, AND YOU MIGHT WAKE UP TO A SECTION 0 ASSASSIN KNOCKING ON YOUR FRONT DOOR.
BESIDES THE ANXIETY OF THING THINGS I MENTIONED ABOVE, THE THOUGHT OF A POTENTIAL ABDUCTION IS WORRYING FOR A NUMBER OF OTHER REASONS. I'M WELL AWARE OF THE BLACK HOLE THE CHARLIE ONE ROSTER TURNED INTO ONCE THEY WERE DEPLOYED, AND I'VE HEARD RUMORS ABOUT THE MISSING OPERATORS THAT MAKE MY SKIN CRAWL. LASZLO HIMSELF IS ONE OF THOSE "MISSING OPERATORS"---UNKNOWN TO HALSEY OR ANY OF THE OTHER SPARTANS, AND THE THING'S HE'S TOLD ME HE'S HAD TO DO…WELL, THEY'RE NOT PRETTY. SO I'M GOING TO KEEP LOOKING (DIG DEEPER USING THOSE HANDY OLD CLEARANCE CODES THAT DIRTY ONI SEEMS TO HAVE FORGOTTEN THEY GAVE ME) AND LOOK FOR ANYTHING THAT COULD LEAD ME BACK TO THEM. HALSEY MAY HAVE BEEN OBLIVIOUS TO THE TRICKS THE OFFICE PULLED ON HER CONCERNING HER SPARTANS, BUT I CERTAINLY AM NOT GOING TO BE. THEY MAY HAVE TAKEN MY COMPANY FROM ME EIGHT YEARS AGO, BUT THESE KIDS ARE MY TROOPS NOW---AND I'VE GOT A DUTY TO THEM.
OCTOBER 3RD, 2548
2549
IF THERE'S ONE THING I'VE LEARNED IN THE COURSE OF THE LAST NINE YEARS, IT'S THAT UNDERSTANDING PEOPLE---KNOWING THEM, ANALYZING THEIR MOTIVES, BEING READY FOR THEIR NEXT MOVE---IS THE MOST IMPORTANT ASPECT OF FIGHTING. THERE ARE MANY METHODS OF GOING ABOUT THIS---LOGIC, INTUITION, WHATEVER---BUT THE ONE I THINK WORKS THE BEST, AND MOST CONSISTENTLY, IS TO JUST TRUST YOUR GUT. PEOPLE LIKE TO CREATE FALSE PERSONAS, ENJOY HIDING THEIR TRUE SELVES TO GET THE UPPER HAND. THEY THROW OUT CHAFF, FAUX DETAILS TO THROW YOU OFF, TO MAKE YOU THINK THEY'RE SOMETHING THEY'RE NOT. YOU HAVE TO LEARN TO LOOK PAST THE FLUFF, THE FLAK, AND SPOT THE TRUE PEOPLE.
MORE OFTEN THAN NOT, OUR FIRST IMPRESSIONS OF PEOPLE ARE MORE ACCURATE THAN WE THINK. AND CASE IN POINT IS CRIMSON TEAM---ROGER-341, JAMES-319, AND MICA-311. AS I'VE TALKED ABOUT, I'VE BEEN SUSPICIOUS OF THEM ALL ALONG---EVERYONE HAS. EVEN LAZ (WHO I NEED TO CHECK UP ON, BY THE WAY), WHO TOOK A SHINE TO THEM, ADMITTED THEY WERE A BUNCH OF UNDERHANDED AND MISCHIEVOUS BASTARDS; JUST AS LIKELY TO STEAL AND OBJECTIVE AND SELL IT AS THEY ARE TO BLOW IT UP. THEY DID LITTLE TO TRY AND DISPEL THAT IMAGE---THEY'VE ALWAYS FLAUNTED THEIR INDEPENDENCE---AND I NEVER, FOR A MOMENT, THOUGHT THEY TRUSTED ANYONE IN THE PROGRAM (EXCEPT FOR MAYBE LAZ). AS IT WORKS OUT, I WAS NOT ENTIRELY CORRECT. THERE'S NO DOUBT ABOUT THE FACT THAT THEY'RE DECEITFUL…BUT I GUESS THEY TRUSTED ME MORE THAN THEY LET ON.
EARLY TODAY, I RECEIVED A HEAVILY ENCRYPTED MESSAGE FROM THEM, ASKING FOR SOME VERY…TOUCHY ASSISTANCE. IN THEIR BLUNT COMMUNIQUE, THEY TOLD ME, FLAT OUT, THAT THEY'D STOLEN THREE SETS OF PROTOTYPE, HIGHLY CLASSIFIED MJOLNIR SUITS (EQUIPPED WITH SHIELDS!) AND MADE OFF WITH THEM---WHEN THEIR MISSION WAS TO DESTROY THEM OUT RIGHT. THEY DIDN'T EXPLAIN THEMSELVES, OR APOLOGIZE, OR DO ANY OF THE NORMAL THINGS PEOPLE DO WHEN THEY COMMIT A CRIME---THEY JUST ASKED ME FOR HELP IN COVERING IT UP. THEY WANT ME TO INTERCEPT THEIR AFTER ACTION REPORT BEFORE IT REACHES ONI (DIRTY AND CLEAN), EDIT IT, AND REMOVE ALL TRACES OF THEIR THEFT. ILLEGAL IN GOD KNOWS HOW MANY WAYS; IMMORAL AND DANGEROUS IN JUST AS MANY. ANY SANE PERSON WOULD REPORT THEM AND BE CLEAR OF THE WHOLE PROBLEM.
I'VE ALREADY SEIZED THE MESSAGE AND BEGUN THE REDACTION.
AUGUST 19TH, 2549
---
PARIS IV SEEMS TO BE ATTRACTING SPARTANS TO IT LIKE MOTHS TO A FLAME; AS OF RIGHT NOW, CRIMSON IS CURRENTLY ON DEPLOYMENT, AND A SIGNIFICANT CHUNK OF CLASS I SPARTANS ARE ALREADY ENGAGED THERE. I'D BE WILLING TO BET THERE'S MORE---MAYBE FROM THOSE SWG-3 TEAMS, MAYBE NOT---EVEN WITHOUT CONCRETE PROOF. AND TO TOP THINGS OFF, ANOTHER ONE OF OUR TEAMS IS THERE TOO---TURQUOISE. I'VE BEEN UNABLE TO SUPPORT THEM MUCH SO FAR (MY ATTENTION HAS BEEN MOSTLY FIXED ON REDACTING CRIMSON'S REPORTS FOR THE LAST FEW MONTHS, AND THE OTHERS TEAMS ARE BEING NEGLECTED BECAUSE OF IT) BUT I SEEM TO FINALLY BE GETTING MY CHANCE. AS THEIR DEPLOYMENT DRAGS OUT, I'M GETTING MORE AND MORE OPPORTUNITIES TO FINALLY DO THEM SOME GOOD.
LET ME GO BACK. TURQUOISE, OUT OF EVERYONE, HAS BEEN THERE THE LONGEST; THE BRASS HAVE BEEN DEPLOYING THEM ALL OVER THE FRONT FOR THE PAST FEW WEEKS, USING THEM TO HIT ALL SORTS OF COVENANT TARGETS IN THE SYSTEM. THINGS WENT VERY BADLY ON ONE OF THE MISSIONS, RESULTING IN ALL OF THEIR BACKUP (SEVERAL PLATOONS OF ODSTS) BEING WIPED OUT, AS WELL AS OLIVIA BEING KILLED. I HAVE NO TIME TO MOURN HER, BUT I KNOW IT'S A ROTTEN SHAME; ON THAT KIND OF MISSION, THEY SHOULD HAVE HAD TEN TIMES AS MUCH BACKUP; THEY NEVER SHOULD HAVE BEEN COMMITTED TO THAT AREA IF ONI COULDN'T SUPPORT THEM. HOPEFULLY THE OFFICE WILL LEARN FROM THAT MISTAKE.
AT ANY RATE, THEY'RE WORKING HARD ON THE SURFACE, AND DOING VERY WELL, BUT THINGS ARE STARTING TO FALL APART ON THE OTHER AREAS OF THE PLANET REGARDLESS. I FOUND OUT THE BRASS WASN'T GOING TO COMMIT ANY AIR ASSETS TO THEM, SO I'VE REQUISITIONED AS MANY AIR SUPPORT UNITS AS I CAN TO BE SENT TO THEIR LOCATION, IN CASE THINGS GO BADLY. THERE ARE ENOUGH REINFORCEMENTS TO EVACUATE THEM, IF NOTHING ELSE. IT'S A RISK FOR ME TO MEDDLE SO BLATANTLY IN NAVY AFFAIRS, BUT IT'S ALSO A GOOD IDEA TO HAVE A BACKUP PLAN. WITH ANY LUCK THEY WON'T NEED IT (IT WOULD TAKE A SCARAB TO EVEN PUT A DENT IN THEIR DEFENSIVE LINE) BUT JUST IN CASE, THEY'RE READY.
DECEMBER 26TH, 2549
2550
ONI IS UP TO THEIR USUAL BULLSHIT IT SEEMS…AND THIS TIME, ITS CLEAN ONI THAT WANTS TO ROPE OUR CLASS III KIDS IN TO DO THEIR DIRTY WORK FOR THEM. ONI, BOTH CLEAN AND DIRTY, HAS SENT THEM ON PLENTY OF STUPID AND POINTLESS MISSIONS BEFORE (14 HERCULIS, NEW AUSTRALIA, AND THE NEW TOKYO GAS MINES ALL SPRING TO MIND ON THE LIST OF SHAMEFUL, WASTEFUL MISSIONS) SO IT'S NO SURPRISE…BUT THAT DOESN'T MEAN I'M GOING TO BACK DOWN AND LOSE THEM WITHOUT A FIGHT. THEIR MOST MISSION IS A POTENTIAL OPERATION IN THE HEPHAISTOS ASTEROID BELT, TO DESTROY A POTENTIAL COVENANT FORWARD OPERATING BASE THE ALIENS ARE CARVING OUT OF AN ASTEROID THERE. IT'S A HIGH RISK INFILTRATION AND DEMOLITION OP, WITH MORE OPPORTUNITIES FOR "SNAGS" THAN I CAN COUNT. ALSO KNOWN BY THE MORE COMMON NAME: A SUICIDE MISSION.
THE SPOOKS KNOW IT'S A SOUR OP, BUT THEY'RE "COMPENSATING" FOR THE PROBLEM BY PUTTING TWO TEAMS ON IT---ORANGE AND VIOLET. BY RATIONAL LOGIC, IT'S JUST ANOTHER BAD IDEA---THREE MORE OPERATORS WON'T SIGNIFICANTLY IMPROVE THEIR CHANCES OF SUCCESS, AND JUST PUT MORE OF THEM IN POTENTIAL DANGER---BUT STUPIDITY HAS NEVER STOPPED ONI BEFORE. THEY'RE TREATING OUR KIDS LIKE S-IIIS---UNSURPRISING, SEEING AS THAT'S WHO THEY THINK THEY ARE---AND SENDING THEM ON THE KIND OF MISSION THEY DISPATCHED ALPHA AND BETA COMPANIES ON. ADMIRAL RICH IS IFFY ON THE MATTER, SO BREAKING ONI'S STONEWALL ISN'T OUT OF THE QUESTION…BUT THE PROBLEM IS THAT I'M RUNNING OUT OF TIME. THEY WANT TO DEPLOY THEM TOMORROW, AND I'M ALREADY LATE TO THE PUNCH; I JUST FOUND OUT ABOUT THE OPERATION THIS MORNING, THE PROWLER CARRYING THE TEAMS IS ALMOST ON STATION, AND LESS THAN A DAY IS NOT ENOUGH TIME TO GET RICH CONVINCED HE SHOULD CALL OFF AN OP.
THINGS ARE MOVING QUICKLY, SO I'VE SENT A COMMUNIQUE TO ONI REQUESTING---URGENTLY---THAT THEY DELAY THE OPERATION TO ALLOW FOR MORE FRIENDLY FORCES TO ARRIVE. I'M PRAYING THAT THEY LISTEN; THE BASE IS HIGH PRIORITY, BUT IT'S ALSO THREE WEEKS AWAY FROM TOTAL COMPLETION FOUR AWAY FROM FULL OPERATION (BY ONI'S OWN ESTIMATES). TO MAKE THE CASE FOR WAITING BETTER, THERE'S A FULL UNSC TASK FORCE DUE IN TO THE SYSTEM ON THE 30TH---BILLETED RIGHT NOW AS A MOP-UP/RECOVERY FORCE---THAT COULD JUST EASILY SERVE AS SUPPORT FOR THE ASSAULT. IT'S EVEN CARRYING IT'S OWN DEDICATED SPECIAL FORCES GROUP (IDENTITY UNKNOWN, BUT LIKELY A GROUP OF RICH'S CRACK COVERT OPS COMMANDOS). I'VE LISTED THIS ALL IN MY MESSAGE; NOW I CAN ONLY WAIT AND HOPE THAT ONI LISTENS.
APRIL 11TH, 2550
---
SOMETIMES THE DARK EVENTS IN OUR LIFE ARE COINCIDENTAL, RANDOM THINGS; UNFORTUNATE HAPPENINGS THAT COULD HAVE BEEN PREVENTED ONLY BY FATE. BUT SO OFTEN, THEY ARE THE RESULT OF THE MISTAKES, LAPSES OF JUDGEMENT, AND IGNORANCE THAT WE, AS IMPERFECT HUMANS, ARE SO PRONE TOO. WE CALL THE FIRST GROUP TRAGEDIES, BECAUSE THERE IS NOTHING ANYONE COULD HAVE DONE TO PREVENT THEM. BUT THE SECOND GROUP IS DIFFERENT; NOT MERE HAPPENSTANCE, IT IS PART OF A WORD WE TREAT WITH BOTH AWE AND DISRESPECT, HONOR AND INSOLENCE. THE SECOND GROUP IS CALLED FAILURE, AND IT IS SOMETHING WE SIMULTANEOUSLY EMBRACE AND FEAR; IN OUR CALLOUS USE OF IT, WE SEEK TO BELITTLE FAILURE, BUT IN THE END---ABOVE EVEN DEATH---IT IS WHAT MANY PEOPLE DREAD THE MOST.
I BY NO MEANS THINK I'M UNIQUE, BUT I ADMIT I HAVE AN INTERESTING RELATIONSHIP WITH FAILURE. AS A SOLDIER, I WAS TAUGHT THAT FAILURE, IN SOME FORM, IS INEVITABLE. WAR IS DIRTY, HARSH, UNPREDICTABLE; PEOPLE DIE, BATTLES ARE LOST, AND VICTORY CAN BE YANKED AWAY EVEN WHEN IT SEEMS CLOSE ENOUGH TO TOUCH. YET I WAS ALSO TRAINED TO LOOK FOR POSITIVES, TO SEEK THE BRIGHT SIDE IN THE SITUATION; FOR AN OFFICER, MAINTAINING MORALE CAN BE AS IMPORTANT AS ANY TACTICAL ABILITY OR COMBAT SKILLS. I'VE BEEN TAUGHT NOT TO ACCEPT FAILURE, TO LOOK DEFEAT IN THE EYE AND TELL IT TO PISS OFF. IN SPITE OF THIS, HOWEVER, AFTER TEN LONG YEARS WITH THIS PROJECT, TEN YEARS OF DEBILITATING FEAR, UNSHAKABLE GUILT, FLEETING SUCCESSES, AND DARK ISOLATION, I'VE GROWN MORE COMFORTABLE WITH FAILURE THAN EVER BEFORE---MORE COMFORTABLE THAN I'D EVER WANTED TO.
TODAY IS ANOTHER SUCH FAILURE, ONE THAT IS MULTIFACETED AND SCATHING. TWO HOURS AGO, A REPORT CAME IN FROM THE LOCAL NAVAL COMMANDER OF TWO OUR FIELD TEAMS---ORANGE AND VIOLET. I NEVER MANAGED TO GET THEM BACKUP, AND THEY PAID FOR THAT ERROR---MY ERROR---WITH THEIR LIVES. DURING THEIR MISSION, ALL THREE MEMBERS OF VIOLET TEAM, AS WELL AS TWO MEMBERS OF ORANGE, WERE KILLED ATTEMPTING TO ACCOMPLISH A SUICIDE MISSION THAT THE BRASS SENT THEM ON---AND THAT I FAILED TO PULL THEM AWAY FROM. KAITO-339, CECILIA-307, REGULUS-302, DRACO-304, KAMALA-354; ALL GONE. ONI WON'T GIVE ANY DETAILS, BESIDES THE FACT THAT THEY ARE ALL KIA. A SORT OF MERCY, IN IT'S OWN WAY, BUT AGONY IN SO MANY OTHERS.
AND AS IS NO DOUBT ALREADY CLEAR FROM THE REFERENCES TO FIVE CASUALTIES IN A SIX MAN OP, THERE IS MORE TO THINGS THAN JUST A SIMPLE DISASTER MISSION. BALDUIN-324 IS MISSING, BUT NOT IN ACTION: ONI HAS SPIRITED HIM AWAY, LIKE RACHEL-343 BEFORE HIM, TRANSFORMING HIS CSV INTO ANOTHER BLACK HOLE. I DIDN'T CATCH IT UNTIL NOW, AND IT IS ALREADY FAR TO LATE; IT SEEMS I HAVE FOUND ANOTHER WAY TO FAIL THEM.
APRIL 30TH, 2550
---
MY JOB, WHICH HAS NEVER HAD THE MOST CONCRETE DEFINITION, SEEMS TO BE FLIP FLOPPING ON A DAY TO DAY BASIS. SOMETIMES I'M SMOOTH TALKING RICH TO KEEP HIM FROM FREAKING OUT ABOUT TAN'S SUICIDAL ANTICS; AT OTHERS, I'M TRYING TO KEEP THE ADMIRALS IN CHECK AND MAKE SURE THEY DON'T WASTE OUR KIDS. AND NOW, THANKS TO CRIMSON, I ALSO SPEND A SIGNIFICANT AMOUNT OF TIME INTERCEPTING AND REDACTING MESSAGES CONCERNING THEM---SOWING THE SEEDS OF DISCOURSE, COVERING UP ANY ILLEGAL ACTIONS THEY TAKE, AND GENERALLY ACTING LIKE A LUNATIC. YET EVEN THOUGH MY JOB CHANGES ON A DAY TO DAY BASIS, I STILL FIND SURPRISES SOMETIMES.
AS I WAS READING CRIMSON'S LAST DEPLOYMENT LOG---IF I'M REDACTING AND INTERCEPTING IT ANYWAY, I MIGHT AS WELL KNOW WHAT THEY'RE UP TOO---I NOTICED A REFERENCE TO ANOTHER GROUP OF SPARTANS IN THEIR REPORT. THE DETAILS WERE NATURALLY SPARSE (MICA-311 NEVER GIVE'S ONI ANY MORE INFORMATION THAN SHE HAS TOO), BUT THEY DIRECTLY REFERENCED A SIERRA GROUP I HADN'T HEARD OF YET---HERALD. I'LL BE ASKING THEM ABOUT THEM WHENEVER I GET THE CHANCE, BUT OFF THE GRID SIERRAS ARE ALWAYS INTERESTING TO ME---I'M STILL LOOKING FOR RACHEL-343 AFTER ALL---AND I'VE DECIDED TO DIG UP WHAT I CAN WHILE I WAIT.
WHILE I HAVEN'T HAD TIME TO DO ANY SERIOUS DIGGING YET, I HAVE LEARNED ONE BIT OF CRUCIAL INFORMATION ALREADY. IN THEIR REPORT, CRIMSON LEFT A COVERT MESSAGE THAT I'M SURE THEY INTENDED FOR ME. CRIMSON CALLED THEM, TO QUOTE THEM "NOT YOUR USUAL SWG-3 DIPSHITS"---MEANING, IF I'M CORRECT, NOT RELATED TO ANY OF THE SIERRA TEAM'S ME AND LAZ DISCOVERED THREE YEARS AGO. WHILE ME AND LASZLO NEVER SHARED OUR FINDING'S WITH ANY OF THE RECRUITS, IT'S ALMOST A SURE BET THAT CRIMSON WAS BEHIND THE DATA HACK IN 2548, AND THAT MEAN'S THEY KNOW PRETTY MUCH EVERYTHING ABOUT THE LOOSE SIERRA TEAMS THAT I DO. IF I'M RIGHT (AND I THINK I AM), THEN THAT OPENS UP ANOTHER HOST OF NEW QUESTIONS; IF BOTH SWG-3 AND SWG-4 HAVE LOOSE SPARTANS RUNNING AROUND, WHO IS TO SAY THAT THERE AREN'T EVEN MORE, WAITING TO BE DISCOVERED? IS THIS THE WORK OF RICH'S DIRTY ONI BACKERS, OR CLEAN ONI? MAYBE THERE'S NO SUCH THING AS "CLEAN" ONI; MAYBE THE ENTIRE OFFICE IS FILLED WITH SPOOKS BACKSTABBING EACH OTHER AND SIPHONING OFF SIERRAS. MAYBE OUR DIRTY ONI SIERRA PROGRAM ISN'T EVEN THE ONLY ONE OUT THERE.
MAY 25TH, 2550
---
TWO YEARS AGO TODAY, WE DEPLOYED OUR SQUADS INTO THE FIELD. GOLD FIRST, THEN SCARLET, THEN TAN…ON AND ON UNTIL EVERYONE WAS SERVING. 30 CANDIDATES; KIDS I'D KNOWN SINCE THEY WERE LITTLE, STILL PRACTICALLY CHILDREN, DEPLOYED TO THE FRONT LINE. IT'D BE NICE IF I COULD TELL MYSELF THAT WE DIDN'T KNOW HOW BAD THINGS WOULD BE, BUT THAT WOULD BE A LIE. WE KNEW DAMN WELL WHAT WAS GOING TO HAPPEN, WHAT KIND OF LOSSES THEY WOULD INCUR. AND IN FULL KNOWLEDGE OF THINGS, WE DID IT ANYWAY. TO SAY THAT I WAS FULLY PREPARED FOR THINGS, HOWEVER, WOULD BE AND EVEN GREATER LIE. NOTHING CAN TRULY PREPARE YOU FOR THIS. NOTHING AT ALL.
9 SPARTANS. THAT'S HOW MANY WE'VE LOST SO FAR. THE EQUIVALENT OF THREE COMPLETE TEAMS, MANY KILLED ON STUPID AND RISKY ASSIGNMENT. LUCY-329; KILLED WHEN THE BRASS DEPLOYED THEIR TEAM SOLO FOR A RECON JOB THAT COULD HAVE BEEN DONE JUST AS WELL WITH AERIAL ASSETS. GREGORY-314 & DOMINIC-334, KILLED ON A DAMN INSURRECTIONIST OPERATION HEADED BY "CLEAN" ONI. OLIVIA-361, MASSACRED BY A COMMANDO UNIT WHEN THE ADMIRALTY THOUGHT A SINGLE PLATOON OF ODSTS WAS ADEQUATE BACKUP FOR A HOSTILE BOARDING ACTION. AND FINALLY, REGULUS-302, DRACO-304, AND KAMALA-354, KAITO-339 AND CECILIA-307, WHOSE DEATHS ARE SHROUDED IN AS MUCH MYSTERY AS BALDUIN-324'S CURRENT ACTIONS.
IT'S A DAMN ROTTEN WASTE. WE KNEW WE'D TAKEN CASUALTIES---WITH THE INFERIOR AUGMENTS, SPI ARMOR, AND SHORTENED RECOVERY TRAINING, IT WAS ALWAYS A MATTER OF WHEN, RATHER THAN IF---AND I WAS PREPARED (OR, AS PREPARED AS YOU CAN EVER BE) FOR THE WORST. BUT I WAS NOT PREPARED FOR WATCHING THEM BE USED STUPIDLY---AS MUCH AS I EXPECTED THEM TOO---BECAUSE DEEP DOWN, I REALLY HOPED WE WERE BETTER THAN THAT. NOT US THE PROGRAM, US THE UNSC---THE BRASS, THE NAVY, THE MARINES, "CLEAN" ONI, DIRTY ONI, EVERYONE. AND SO IT HURTS EVEN WORSE THAN IF WE'D LOST THEM IN OTHER WAYS---BECAUSE IN ADDITION TO THE PAIN OF THE LOSS, SOMETHING ELSE IS GONE: FAITH. FAITH IN THE PEOPLE OUR KIDS ARE OUT THERE SERVING, FIGHTING FOR.
AUGUST 25TH, 2550
---
I CAUGHT THE FIRST HINT OF RACHEL'S WHEREABOUTS IN MONTHS TODAY, WHILE I WAS PERUSING THROUGH CLEAN ONI'S ARCHIVES. WITH ALL THE SQUADS DEPLOYED, AND CRIMSON STILL ON ASSIGNMENT, THERE'S PRECIOUS LITTLE FOR ME TO DO, AND ONE OF THE PERKS OF WORKING FOR A DIRTY PART OF THE AGENCY IS ACCESS TO A NUMBER OF PARTS FROM THE "CLEAN" ELEMENTS. I'VE GOTTEN USED TO HAVING TO PIECE THINGS TOGETHER FROM MINUTE CLUES AND OBSCURE DETAILS, BUT THIS ONCE HAS BEEN BLISSFULLY STRAIGHTFORWARD---FOR ONI, THAT IS. AND NOT ONLY WAS IT FAIRLY EASY TO FIND---EASY, IF RANDOM---BUT IT CONTAINS A FAIR AMOUNT OF ACTUAL, CONCRETE INFORMATION, ALLOWING FOR MORE CERTAINTY THAN MY USUAL EDUCATED GUESSWORK.
I THOUGHT THE TRAIL HAD GONE COLD, BUT I CAUGHT A VERY LUCKY BREAK. A FEW YEARS AGO, DURING OUR PRIVATE CORRESPONDENCE, ME AND LASZLO UNCOVERED RECORDS INDICATING THE EXISTENCE OF NUMEROUS "OFF THE GRID" SPARTAN TEAMS---TEAMS OF MIXED AND MATCHED RECRUITS, DRAWN FROM A VARIETY OF PROGRAMS AND PROJECTS, RE PURPOSED AS DISCREET AND EFFECTIVE ONI AND NAVSPECWAR INFILTRATION SQUADS. CHIEF ON THE LIST WAS A MULTIPURPOSE TEAM IDENTIFIED AS NOBLE, WHICH HAD AN EXTREMELY IMPRESSIVE CSV AND APPEARED TO BE UNDER THE DIRECTION OF URBAN HOLLAND. FOR SOME TIME, ME AND LAZ ENTERTAINED THE NOTION OF SIPHONING OFF A FEW RECRUITS INTO HIS TEAM (GET THEM INTO REAL SPECIAL OPS GROUPS, WITH FULL ARMOR SYSTEMS) BUT WE ULTIMATELY HAD TO SCRATCH THE IDEA WHEN WE FAILED TO ESTABLISH SOLID COMMUNICATION TIES (AND WHEN RICH DECIDED HE WOULD LET THE MAINLINE BRASS PLAY DEPLOY OUR SQUADS AS PRETEND S-III'S, RATHER THAN DEDICATED NAVSPECWAR UNITS).
RECENTLY THOUGH, I HAD MY INTEREST PIQUED WHEN I SPOTTED AN OBSCURE REFERENCE TO NOBLE IN ONE OF RICH'S COMMUNIQUES (WHICH I MAY OR MAY NOT HAVE BEEN SUPPOSED TO SEE). NOT MUCH, JUST A FOOTNOTE ON A LONG, BORING ACTION REPORT. I DECIDED TO LOOK INTO IT, AND USING A FEW OF THE TRICKS I PICKED UP FROM LAZ, MANAGED TO CRACK A FEW SELECT PORTIONS OF THEIR SECURITY. ANYWAY, I WAS SCROLLING THROUGH THEIR DEPLOYMENT RECORD (DID I MENTION IT WAS IMPRESSIVE?) AND SPOTTED SOMETHING OF DIRECT INTEREST TO ME. AS IT TURNS OUT, DURING A CERTAIN OPERATION: SWEEPING STRIKE, A PREVIOUSLY UNHEARD OF SPECIAL FORCES OPERATOR BY THE NAME OF RACHEL HAWKE WAS USED AS THOM-293'S TEMPORARY REPLACEMENT. BESIDES THE NAME SIMILARITIES, THE ATTACHED AFTER ACTION REPORT INDICATED THAT THIS RACHEL OPERATED IN A MANNER ALMOST EXACTLY IDENTICAL TO OUR RACHEL-343...AND THAT'S ONE COINCIDENCE TOO MANY.
NOBLE'S RECORDS INDICATE SHE WAS TRANSFERRED OUT MONTHS AGO, BUT IT'S THE BEST LEAD I'VE HAD IN YEARS. IT GIVE'S ME A SPRINGBOARD, AT ANY RATE. NOW IF I COULD ONLY FIND OUT WHAT HAPPENED TO BALDUIN.
NOVEMBER 9TH, 2550
2551
TODAY TAN TEAM RETURNED FROM THE OPERATION: PHILOSOPHER CAMPAIGN, MARKING THEIR FIRST TIME RETURNING TO EPSILON ERIDANUS IN OVER TEN MONTHS. THEY DID WELL; THEY KEPT THE COVENANT AT BAY ON ARISTOTLE II, USING SOME "FREE" NUKES TO GOOD EFFECT (THEIR ACTIONS RESULTED IN 90% EVACUATION RATES, INSTEAD OF A PROJECTED 65%), TRICKED THE ENEMY FLEET AWAY FROM THE PLANET, AND FINALLY PIONEERED A STRATEGY THAT KEPT THE COVENANT TIED UP EVEN LONGER ON ARISTOTLE I. I WAS HOPING TO GET A CHANCE TO SEE THEM WHEN THEY CAME IN; FROM WHAT I'VE HEARD, CONNOR AND MELLISA AREN'T TAKING LUCY'S DEATH LAST YEAR TOO WELL. IT'S NOT OFTEN THAT A SQUAD GETS SHUTTLED THROUGH, AND I HAVE AN ODDLY ANXIOUS FEELING TO SEE THEM AGAIN AT LEAST ONE MORE TIME.
BEFORE I HAD A CHANCE, HOWEVER, THEY WENT OF THE GRID AND DISAPPEARED. I CHECKED ON THEM AS COVERTLY AS I COULD, WITH MEMORIES OF RACHEL AND BALDUIN'S DISAPPEARANCE SWIRLING AROUND IN MY HEAD. THANKFULLY, I MANAGED TO CATCH A TRACE OF THEIR WHEREABOUTS: THEY MADE AN APPOINTMENT WITH NONE OTHER THAN ADMIRAL HOOD, GOING OVER RICH'S HEAD (AND DIRTY ONI'S, THOUGH THEY DIDN'T REALIZE IT) AND REPORTING STRAIGHT TO THE HIGH ADMIRAL. I JUST FOUND AT THE REASON FOR THEIR LITTLE "SURPRISE VISIT", AND THINGS MAKE A LOT MORE SENSE NOW.
AS IT TURNS OUT, TAN TEAM HAVE BEEN BUSY LITTLE SPARTANS. A FEW MINUTES AFTER THEIR MEETING WITH HOOD GOT OUT, I RECEIVED A PERSONAL CALL FROM HIM---ROUTED DIRECTLY TO ME, INTENDED DIRECTLY FOR ME. TURNS OUT, THE THREE OF THEM CAME UP WITH AN IDEA FOR AN OFFENSIVE BEHIND COVENANT LINES; A SPECIAL FORCES VENTURE DESIGNED TO DISRUPT THE ENEMY. HOOD WANTED TO MY OPINION ON THEIR ABILITIES; HE WANTED TO MAKE SURE HE WASN'T GETTING HIMSELF INTO SOMETHING DUMB. OUT OF ALL THE ARES SQUADS, TAN HAVE BUILT THEIR REPUTATION THE BEST---DIVING COVENANT DESTROYERS INTO ENEMY FLEETS, DEVISING CRUISER KILLING PLANS, AND TAKING OUT ENTIRE REBEL BASES DOES THAT---BUT IT'S STILL ALL WORD OF MOUTH. HOOD, LIKE EVERYONE ELSE, ASSUMED THEM TO BE SIERRA-III'S FROM THE "ARES DETACHMENT"---THAT CURIOUS MIX OF TRUTH AND LIES THAT WORKS SO WELL. HE MANAGED TO FIND OUT I WAS THEIR FORMER TRAINING COORDINATOR (DON'T ASK ME HOW) AND WANTED DIRECT CONFIRMATION THAT THEY REALLY WERE ALL THAT THEY'D BEEN MADE OUT TO BE.
YOU CAN PROBABLY GUESS WHAT MY ANSWER WAS.
JANUARY 13TH, 2551
---
WE ALWAYS REALIZED THAT HIDING OUR SPARTAN TEAMS FROM THE BRASS WOULD BE NEXT TO IMPOSSIBLE---PEOPLE NOTICE SIERRAS, ESPECIALLY ONES AS INDEPENDENT AND UNPREDICTABLE AS OURS---WHICH IS WHY, I SEE NOW, DIRTY ONI CONCOCTED THE COVER STORY THAT THEY DID. ASIDE FROM THE REDACTION OF CRIMSON'S COMBAT REPORTS, MUCH OF OUR WORK IS NOW RELATIVELY OPEN (IN THE SENSE THAT THE HIGHER UPS KNOW ABOUT THE WORK ITSELF, NOT THE ORIGINS OF OUR TEAMS). IF IT ISN'T TAN DRIVING A COVENANT SHIP STRAIGHT INTO AN ENEMY FLEET, OR DIRECTLY APPROACHING LORD HOOD, THEN IT'S TURQUOISE, BLOWING UP A COVENANT SCARAB RIGHT IN THE MIDDLE OF A CIVILIAN CITY, RIGHT UNDER THE EYE OF NAVAL INTELLIGENCE. STILL, EVEN GIVEN ALL THAT'S HAPPENED, IT'S STILL SURPRISING TO HEAR ABOUT OUR TEAMS IN THE FIELD FROM AN OUTSIDE SOURCE.
TURNS OUT SILVER TEAM, WHO'VE BEEN PLAYING THINGS PRETTY QUIETLY UP UNTIL NOW, MANAGED TO SNAG SOME OF THE SPOTLIGHT FOR THEMSELVES (ALBEIT BY ACCIDENT) AND DRAW SOME ATTENTION. AFTER THE FLAGSHIP OF THE FLEET THEY WERE GUARDING WAS BOARDED, THEY ACTED AS PART OF A GROUP OF REINFORCEMENTS, LANDING ABOARD IT DURING A FIERCE BATTLE AND HELPING TO RETAKE THE SHIP. WHILE THEY WERE AT IT, THEY CAME INTO DIRECT CONTACT WITH SEVERAL VERY HIGH RANKING MEMBERS OF THE ADMIRALTY---AND BY "DIRECT CONTACT", I MEAN, THEY SAVED THEIR ASSES FROM GETTING BLOWN TO HELL. THE BRASS WEREN'T EXACTLY THRILLED TO FIND OUT THEY'D HAD A SPARTAN IN THEIR FLEET AND NOT KNOWN ABOUT IT (ONI WAS JUST USING THE FLEET AS A STAGING GROUND FOR THEIR OWN MISSIONS INVOLVING SILVER) BUT THEY WERE VERY IMPRESSED BY SILVER'S ABILITIES.
I HAVEN'T HAD MUCH FOCUS TO SPARE ON THE OTHER SQUADS, BECAUSE I'VE BEEN TOO BUSY DEALING WITH TAN'S NEW OPERATION AND THE EVER PRESENT NEED TO REDACT ANYTHING AND EVERYTHING INVOLVING CRIMSON, AND I'M REGRETTING IT. SILVER WAS NEVER OUR STRONGEST TEAM, DESPITE SOME REALLY GOOD MEMBERS---RICKY AND TUCK ARE BOTH EXCELLENT---BUT THEY'VE REALLY COME INTO THEIR OWN OVER THE PAST FEW MONTHS. THEIR PERFORMING EXTREMELY WELL, AND SEEM TO BE SHAKING OFF THE POST AUGMENTATION JITTERS FINALLY. JUST RECENTLY THEY COMPLETED AN OPERATION ON TAIDAN, RECOVERING OLD UNSC EQUIPMENT, AND MANAGED TO BLOW UP A FEW COVENANT CRUISERS ALONG THEIR WAY---WITHOUT BACKUP OF ANY KIND. DURING TRAINING, ME AND LASZLO ALWAYS WORRIED SO MUCH ABOUT RICKY; HE WAS VULNERABLE, EVEN WEAK MINDED. IT'S GOOD TO SEE HIM DOING SO WELL.
FEBRUARY 9TH, 2551
---
TODAY I TOOK A BREAK FROM MY BUSY SCHEDULE OF REDACTING CRIMSON'S EVER MORE FLASHY COMBAT REPORTS AND COVERTLY MARSHALING SUPPORT FOR TAN'S OPERATION: OFFENSIVE MEASURES IDEA TO CHECK UP ON AN OLD FRIEND. GIVEN THAT I DON'T HAVE MANY OF THOSE, AND TAKING MY CIRCUMSTANCES INTO ACCOUNT, YOU SHOULD BE UNSURPRISED TO KNOW THAT IT WAS LASZLO (WHY AM I TALKING IN SECOND PERSON? I'M WRITING A JOURNAL!). I'VE HEARD PRECIOUS LITTLE OF HIS ACTIONS SINCE HE LEFT THE PROGRAM IN 2548, BUT I GOT A RARE BREAK AND MANAGED TO PICK UP WORD THAT HE'S GEARING UP TO HEAD OUT FOR NEW JERUSALEM. THANKFULLY, THAT LITTLE NUGGET OF INFORMATION WAS JUST ENOUGH TO GET ME A COMM CODE, AND I MANAGED TO GET A FULLY ENCRYPTED MESSAGE OFF, IN SPITE OF ALL OF ONI (DIRTY AND "CLEAN" BOTH)'S SECURITY MEASURES.
IT WAS NOTHING MUCH, JUST IDLE SMALL TALK. I'LL HAVE TO TEST THE WATER'S, JUST TO MAKE SURE HE'S FREE TO ANSWER. A FEW BITS OF COMPLAINING ABOUT RICH'S HEAVY-HANDED MANAGEMENT, AND LOTS OF STATUS REPORTS ON THE ARES TEAMS---ALONG WITH AFTER ACTION REPORTS ON THE CASUALTIES. I THOUGHT ABOUT SLIPPING IN SOME REFERENCES TO RACHEL, BUT THOUGHT BETTER OF IT. YOU NEVER KNOW WHAT'S GOING TO SET ONI OFF, AND THAT'S A PRETTY SENSITIVE TOPIC. NO NEED TO FLIRT WITH DANGER.
IT REMAINS TO BE SEEN IF THE SPOOKS WILL LET HIM ANSWER, AND EVEN THEN, I DON'T KNOW IF HE'LL HAVE TIME BEFORE HE'S DEPLOYED. MY CONTACT'S TIP OFF DIDN'T INCLUDE A VERY SPECIFIC TIMETABLE, SO IT'S ALL GUESSWORK. FOR ALL I KNOW, HE COULD HAVE ALREADY LEFT; ON THE FLIP SIDE, HE COULD BE IN PORT FOR ANOTHER MONTH (THOUGH IF THAT'S THE CASE, I'D BET MONEY ON THEM PUTTING HIM INTO CRYO TO PASS THE TIME---THEY DO IT OFTEN ENOUGH TO OUR CLASS III TEAMS). REGARDLESS OF WHETHER HE MANAGES TO GET A RESPONSE OFF, IT'S STILL NICE TO KNOW THAT SOME OF THE PEOPLE FROM THE PROJECT ARE STILL OUT THERE. I HAVEN'T SEEN ANYONE FROM THE PROGRAM, IN PERSON, SINCE THE LAST SQUAD LEFT. IT'S NICE TO KNOW I STILL HAVE SOME FRIENDS LEFT.
MARCH 15TH, 2551
---
LASZLO REPLIED TO MY MESSAGE TODAY; YOU CAN'T IMAGINE HOW SURPRISED I WAS WHEN, MIDWAY THROUGH REDACTING CRIMSON'S LATEST BATTLE REPORT, THE ALERT POPPED UP. I'D FIGURED IT WOULD TAKE MONTHS, IF HE ANSWERED AT ALL. IT WAS BRIEF, AND I'M SURE ONI WAS STARING OVER HIS SHOULDER AS HE WROTE IT, BUT IT WAS GOOD TO HEAR FROM HIM. DIDN'T INCLUDE ANYTHING ABOUT HIS WHEREABOUTS OR LOCATION, BUT THEN I HARDLY EXPECTED IT TOO. MOSTLY JUST INQUIRING AS TO HOW I'D GOTTEN A HOLD OF HIM (I MAY CONVENIENTLY SKIP OVER THAT), HOW I'VE BEEN, AND OF COURSE, HOW OUR SPARTANS ARE DOING.
I DON'T LIKE TO BE THE BEARER OF BAD NEWS, SO INFORMING HIM OF THE CASUALTY LIST WAS DIFFICULT, TO SAY THE LEAST. I ATTACHED FIELD REPORTS ON ALL THE CANDIDATES, ALONG WITH THEIR EVER GROWING CSV'S---MIGHT AS WELL INCLUDE THE GOOD NEWS ALONGSIDE THE BAD. I DON'T KNOW HOW HE'LL REACT, THOUGH I KNOW I WOULDN'T WANT TO BE HIM; HEARING ABOUT THE DEATHS OF SO MANY CLOSE PEOPLE OUT OF THE BLUE IS A MILLION TIMES WORSE THAN READING ABOUT THEM IN A FIELD REPORT, WHEN YOU ALREADY KNEW THE RISKS AND HAD A CHANCE TO SAY GOODBYE.
WHEN HE'LL GET IT IS ANYONE'S GUESS, BECAUSE HIS DEPLOYMENT SCHEDULE IS A BLACK HOLE, BUT AT LEAST IT'S OUT NOW. I HAVE NO IDEA HOW MUCH ONI'S CENSORS WILL LET THROUGH, BECAUSE EVEN THOUGH NOTHING IN THERE IS CLASSIFIED (OR CLASSIFIED BEYOND WHERE HE'D KNOW IT) THEY'RE GROWING MORE PARANOID BY THE DAY. I WOULDN'T BE SURPRISED IF THEY CUT OUT THE WHOLE MESSAGE AND JUST INCLUDED THE HEADER. HOPEFULLY THEY'LL DO US ALL SOME FAVOR'S AND ACT INTELLIGENTLY FOR ONCE. IT'D BE A NICE CHANGE OF PACE.
MARCH 24TH, 2551
---
NO OFFICIAL WORD ON THE OUTCOME OF OFFENSIVE MEASURES III YET, THOUGH I'VE HEARD WHISPERS OF A SUCCESS (ALBEIT A COSTLY ONE); ALL THE SANCTIONED CHANNELS ARE SAYING IS THAT THE OPERATION HAS DEFINITELY BEGUN. HOWEVER, I HAVE OTHER, MUCH MORE IMPORTANT NEWS. FINALLY, AFTER TWO YEARS, IT APPEARS AS IF OUR LITTLE GAME IS UP. ADMIRAL RICH KNOWS ABOUT CRIMSON'S "LIBERATION" OF THE MJOLNIR PROTOTYPES ON ALGOLIS, AND IS NONE TOO PLEASED.
THE LEAK, IRONICALLY ENOUGH, COMES FROM ANOTHER CHARLIE THREE TEAM, SCARLET. CRIMSON AND SCARLET ENDED UP PULLING A JOINT OP ON SARGASSO---AN UNINTENTIONAL ONE, I MIGHT ADD---AND SCARLET ENDED UP COMPLAINING TO RICH ABOUT CRIMSON GETTING FULL SPEC ARMOR WHEN THEY DIDN'T. I TRIED MY BEST TO REDACT IT, BUT IT'S HARD TO HIDE A DIRECT INQUIRY LIKE THAT. NEEDLESS TO SAY, RICH IS PISSED THAT THEY STOLE IT AND EVEN MORE PISSED THAT I'VE HIDDEN IT FROM HIM FOR SO LONG. I'M UNDER NO FALSE PRETENSES ABOUT HIS ABILITIES, HOWEVER, AND I'VE MADE EMERGENCY PREPARATIONS IN CASE HE GET'S ULTERIOR IDEAS.
WITH ANY LUCK, HOWEVER, I WON'T NEED THEM. I'VE ALREADY MESSAGED HIM, AND WHILE I HASTEN TO CALL IT BLACKMAIL…IT DEFINITELY IS A THREAT. EFFECTIVELY, I POINTED OUT THAT IF HE WERE TO COME AFTER ME---SEND A HIT SQUAD, KNOCK ME FROM THE PROGRAM, TRANSFER ME TO THE FIELD, WHATEVER---HE'D BE INVITING SOME VERY UGLY CONSEQUENCES. FOR ONE, I POINTED OUT CRIMSON HAS BECOME RATHER ATTACHED TO ME (WHICH, ODDLY ENOUGH, IS PROBABLY TRUE), AND ARE NATURALLY INQUISITIVE---MEANING THAT IF SOMETHING WERE TO HAPPEN TO ME, THEY WOULD UNDOUBTEDLY HEAR ABOUT IT AND RESPOND IN KIND. TO HELP CEMENT MY POSITION (IN CASE THE THREAT OF THREE ANGRY, INSUBORDINATE, FULLY ARMORED SPARTANS WASN'T ENOUGH), I REFERENCED THE EXISTENCE OF A DEAD DROP LETTER, PROGRAMMED TO BE SENT IN THE EVENT OF MY DEATH OF ADMIRAL HOOD (WHOSE BECOME AN UNLIKELY ALLY THANKS TO TAN)…WHICH MAY OR MAY NOT EXIST.
LASZLO WOULD BE PROUD. TURNS OUT THAT WHEN I BUILD UP ENOUGH DISLIKE FOR SOMEONE OVER ENOUGH TIME, I CAN HOLD MY OWN AT THIS POLITICS STUFF TOO.
JULY 5TH, 2551
---
I'VE BEEN SITTING HERE, STARING AT THE SCREEN, FOR AN HOUR NOW, AND HAVE YET TO SHAKE OFF THE TERRIBLE, SICKENING SENSATION THAT HAS SEIZED CONTROL OF MY STOMACH. AFTER EVEN AFTER TWO YEARS, SUSTAINING LOSS AFTER LOSS, I STILL DON'T KNOW HOW TO COPE. HOW TO TURN OFF THIS AWFUL, GUT-WRENCHING COLDNESS, THIS ROILING SENSATION THAT SEIZES MY BODY, PARALYZES ME, WEIGHS ME DOWN UNDER GUILT AND GRIEF AND DISGUST. PART OF ME IS HAPPY ABOUT THAT, GLAD I STILL FEEL THE PAIN. BUT ANOTHER PART…ANOTHER PART WONDERS HOW MUCH EASIER IT WOULD BE. TO NOT FEEL, TO ANESTHETIZE MYSELF SOMEHOW TO THE PAIN.
OLIVE TEAM IS GONE.
IT HAD BEEN SO LONG SINCE WE'D LOST ANYONE THAT I WAS BEGINNING TO THINK MAYBE THE WORST HAD PASSED. THAT THE KIDS HAD FACED THEIR TRIAL BY FIRE, BEEN CLEANSED, AND COME OUT STRONGER AND BATTLE HARDENED. OLIVE, IN PARTICULAR, WREE SHOWING NO SIGNS OF PROBLEMS. LAST YEAR THEY HANDLED A LONG-TERM ANTI-INSURRECTIONIST OP ABOARD THE FAR GONE COLONY PLATFORMS, SUBVERTING AND ELIMINATING UPWARDS OF A THOUSAND REBEL PERSONEL. AND THIS YEAR THEY'VE FOUGHT ON TWELVE SEPARATE COVENANT BATTLEFIELDS WITHOUT ANY ISSUES.
OLIVE'S MOST RECENT DEPLOYMENT, CONCORD, SEEMED NO DIFFERENT. THE "BATTLE" THERE HAS BEEN RAGING FOR THE BETTER PART OF THE YEAR, WITH CONTINUOUS COVENANT STRIKES ON IT. WE'VE MANAGED TO HOLD THE PLANET THANKS TO A FEW CRITICALLY SUCCESSFUL GROUND OPS AND, MORE IMPORTANTLY, THE FOUR SUPER MAC PLATFORMS IN ORBIT THAT LETHRIDGE INDUSTRIAL BANKROLLED. THE COVENANT HAVEN'T FORGOTTEN IT, THOUGH, AND HAVE PLAGUED DEFENSES WITH A SEEMINGLY UNENDING PROGRESSION OF STRIKES BY SMALL ATTACK FORCES. BACK IN APRIL, CRIMSON TEAM DID A STINT ON THE SURFACE, SAFELY ESCAPING BEFORE MOVING ON TO THEIR NEW CARTHAGE OP. FOR A LONG TIME, IT SEEMED LIKE OLIVE'S MISSION WOULD END SIMILARLY. THEY SPENT TWO WEEKS ON THE GROUND PARTICIPATING IN SPECIAL FORCES RAIDS ON COVENANT FORWARD BASES, THEN TWO DAYS AGO WERE ASSIGNED TO PROTECT CIVILIANS EVACUATING THE CITY DAWNGUARD.
THAT'S WHEN THINGS TURNED UGLY. FOR ALMOST TWENTY FOUR HOURS, OLIVE WAS PRESSED BY A CONTINGENT OF COVENANT FORCES TRYING TO ATTACK THE EVACUATION SHELTERS. THEIR ATTACK THIS TIME WAS GOING ESPECIALLY BADLY IN ORBIT, AND THE COVENANT SEEMED TO BE INTENT ON DOING AS MUCH DAMAGE AS QUICKLY AS POSSIBLE. OLIVE WAS HOLDING STRONG, UNTIL ORBITAL FIRE FROM OUR FLEET PRESSED ONE OF THEIR CCS-CLASS CRUISERS TO TAKE COVER ABOVE THE CITY. FLEETCOM DISPATCHED FIVE DESTROYERS AND SIX FRIGATES TO TAKE IT OUT ON A LATERAL ATMOSPHERIC VECTOR, TO AVOID CROSSFIRE AGAINST THE CITY. THE CRUISER RESPONDED BY DEPLOYING GROUND TROOPS FOR A LAST DITCH ATTACK, AND THE SWELLING NUMBERS OVERWHELMED OLIVE. JACK ORDERED TIM AND LILY TO GET THE REMAINING CIVILIANS TO THE SAFETY OF THE SPACEPORT, WHILE HE DELAYED THE COVENANT.
OLIVE SUCCEEDED AND MADE IT TO THE SPACEPORT, BUT THE IMMINIENT FLEET STRIKE FORCED THE COVENANT CRUISER TO TAKE DRASTIC MEASURES. IT STARTED GLASSING THE CITY, AND ALL HELL REPORTEDLY BROKE LOOSE ON THE SURFACE. OLIVE REQUESTED EXTRACTION, BUT AT THE LAST SECOND, ONI TOOK COMMAND OF ALL LOCAL AIR ASSETS AND REDIRECTED THEM TO SOME SPOOK BASE ON THE EDGE OF TOWN. THE CRUISER FINISHED GLASSING THE CITY BEFORE THE FLEET STRIKE COULD KILL IT. AND OLIVE HAD NO WAY TO ESCAPE.
RICH ASSURED ME, REPEATEDLY, THAT THEIR SACRIFICE WAS NOT IN VAIN. I LOOKED AT THE DOCUMENTS HE FORWARDED---THE ONI INTEL THAT WAS PULLED FROM THE SITE---AND THE STRATEGIST IN ME CAN'T DISAGREE. BUT THE COMMANDER IN ME GRIEVES, AND RAGES, AND SICKENS WITH GUILT. I GOT LAX, AND I LET THEM DOWN. IF THAT HAD BEEN TAN, OR TURQOISE, OR SILVER, OR EVEN CRIMSON, I WOULD HAVE BEEN PAYING CLOSER ATTENTION, HAD A PLAN IN CASE EXTRACTION WENT SIDEWAYS. BUT I ASSUMED THEY COULD HANDLE IT. AND THEY PAID THE PRICE.
SEPTEMBER 17TH, 2551
2552
OVER THE PAST THREE YEARS OF DEPLOYMENT, WE'VE HAD OUR FAILURES AND SUCCESSES. VICTORIES, DEFEATS, EVERYTHING IN BETWEEN. WE'VE LOST COMRADES, BUT THEIR SACRIFICES HAVE NEVER BEEN IN VAIN. THE DEATHS HAVE ALWAYS MEANT SOMETHING, ALWAYS MATTERED, ALWAYS WORKED TO HELP FURTHER SOME GREATER CAUSE, SOME LARGER GOAL. SO WHILE WE'VE LOST SPARTANS---ENTIRE TEAMS, SOMETIMES---WE'VE ALWAYS HAD THAT SLIGHT REASSURANCE THAT THEY DIED FOR A REASON. THIS SMALL COMFORT, HOWEVER, HAS NOW LEFT US AS WELL.
EARLY THIS AFTERNOON I RECEIVED A HEAVILY ENCRYPTED CONTACT REPORT---WELL PAST THE POINT OF PARANOIA---FROM RICH HIMSELF. FOR MY EYES ONLY, SECRET ABOVE EVEN THE OTHER MEMBERS OF THE PROJECT STAFF. IT CONTAINED A RECORD OF THE FINAL MOMENTS OF NO LESS THAN SIX OR OUR CLASS THREE OPERATORS---ALL OF WHOM, AS OF THIS MOMENT, ARE DEAD. NOT LONE MEMBERS FROM MIXED UNITS---TWO COMPLETE SQUADS. RICHARD, LUCIUS, TUCK, MICHAEL, JENNIFER, AND ARNOLD---ALL GONE. BUT WORSE THAN THE LOSS, HOWEVER, IS THE MANNER IN WHICH IT TOOK PLACE. ACCORDING TO THE REPORT, TUCK AND LUCIUS WERE KILLED ON MARCH 8TH (FOR WHICH I RECEIVED NO NOTICE), AND RICHARD SUBSEQUENTLY WENT, TO PUT THINGS SIMPLY, CRAZY. ATTACKED A FULL UNSC FIRE BASE, DETONATING ONE OF THE ON BASE NUCLEAR REACTORS AND KILLING OVER 400 PERSONNEL. IN THE AFTERMATH, HE FLED THE PLANET, APPARENTLY GOING INTO HIDING.
RICH APPARENTLY WANTED AN "IN HOUSE" SOLUTION FROM WITHIN DIRTY ONI, AND, WITHOUT INFORMING ME, CALLED GOLD AND SCARLET AWAY FROM THE FRONT TO TRACK HIM DOWN. PITTING BROTHER AGAINST BROTHER…SHAMEFUL, EVEN FOR HIM. THEY FOUND HIM SHORTLY THEREAFTER, AND WERE SENT IN TO CAPTURE HIM FOR "TRIAL". RICHARD REALLY HAD LOST HIS MIND, HOWEVER, AND CAUGHT SCARLET IN AN AMBUSH---KILLING EVERY SINGLE ONE OF THEM. GOLD ARRIVED A SHORT TIME LATER AND HAD BETTER LUCK, CATCHING AND WOUNDING HIM---BUT THEN, ACCORDING TO THE REPORT, AND "UNKNOWN AGENT" ENTERED THE FRAY AND PUT A SNIPER ROUND STRAIGHT THROUGH RICHARD'S VISOR. GOLD PURSUED, TO NO AVAIL.
WE KNEW WE WERE INVITING TROUBLE BY FIELDING SOMEONE AS UNSTABLE AS RICKY…BUT NEVER IN MY DARKEST NIGHTMARE DID I IMAGINE SOMETHING LIKE THIS.
APRIL 7TH, 2552
---
AN INQUIRY TO RICH HAS YIELDED NOTHING ON THE IDENTITY OF RICHARD'S KILLER (NOT THAT I EXPECTED IT TOO---I LEARNED THAT LESSON TWELVE YEARS AGO), AND THAT MEANS THAT ONCE AGAIN, I'M ON MY OWN. I'VE ALREADY BEGUN MY INVESTIGATION---DISCREETLY, I MIGHT ADD---AND HAVE BEEN LOOKING INTO EVER RELEVANT PROJECT I CAN THINK OF (GOSSAMER, INDIGO, BLACK, S-III, AND OF COURSE, ANYTHING WITH SECTION 0'S STAMP OF APPROVAL ON IT) LOOKING FOR SOMETHING OF VALUE. I'VE GOT LITTLE YET, BUT I'M WORKING MY LEADS TO TRY AND FIND WHATEVER TRACE I CAN. WHATEVER HE DID, RICHARD WAS STILL A SPARTAN---AND HIS DEATH IS NOT GOING TO BECOME ANOTHER BLACK HOLE IN ONI'S PROJECT REPORTS.
OBVIOUSLY, I'M INVESTIGATING THE CONCRETE, DEFINITIVELY KNOWN DETAILS FIRST. I CONTACTED GOLD, OFF THE GRID, AND SENT A REQUEST FOR A FULL DETAIL MISSION REPORT---NOT THE BUTCHERED ONE RICH HAD THEM SEND TO ONI, THE REAL DETAILS OF THE MISSION. THEY RESPONDED WITHIN A DAY; THEY'RE JUST AS SUSPICIOUS ABOUT THE EVENT AS I AM AND SEEM TO HAVE BECOME PARANOID OVERNIGHT. THERE'S PLENTY OF INFORMATION IN IT TO START ME OFF; BULLET CALIBER (A 14.5MM, FIRED FROM A UNSC STANDARD ISSUE SNIPER RIFLE; INTERPRETABLE IN A NUMBER OF WAYS), DESCRIPTION OF THE ASSASSIN (CLOAKING TECHNOLOGY; FAR MORE USEFUL, BECAUSE ONLY UPPER ECHELON ONI WOULD HAVE ACCESS TO THAT KIND OF HARDWARE), AND MOST NOTABLY, OPERATOR SKILL---REMAINING NOT ONLY COMPLETELY UNDETECTED THROUGHOUT THE FIREFIGHT, BUT ALSO BEING ABLE TO SLIP AWAY FROM THREE FULLY ALERT SPARTANS.
A LOT OF THIS IS CONTRADICTORY, AND THAT'S A MAJOR PART OF THE PROBLEM. THE CAMO TECH POINTS, OBVIOUSLY, TO SPARTAN-III OR ONE OF IT'S SUBSIDIARIES; BUT AS MUCH AS I WANT TO STAY CAUTIOUS AND NOT GET COCKY, OUR TEAM'S ARE BETTER TRAINED THAN THE IIIS---THEY'D CATCH A THREE TRYING TO GET AWAY. THEREFORE, I'M LEFT WITHOUT ANY LIKELY PERPETRATORS---NOT A GOOD POSITION TO BE IN WHEN TRYING TO CONDUCT AN INVESTIGATION. EVEN IF ONI STONEWALLS ME COMPLETELY, HOWEVER, I'M NOT GOING TO GIVE UP. EVEN IF IT TAKES YEARS, I'M GOING TO FIND OUT WHO DID THIS, AND I'M GOING TO HAVE THEM FILLETED. RICHARD IS DEAD BECAUSE SOME ONI ASSASSIN PUT A BULLET IN HIS BRAIN---AFTER GOLD HAD ALREADY APPREHENDED HIM. THAT WILL NOT GO UNPUNISHED.
APRIL 12TH, 2552
---
AS IF THINGS NEEDED MORE FUEL THROWN ON THE FIRE, TODAY CONNOR ARRIVED IN SYSTEM. MELLISA WAS KILLED LESS THAN TWO WEEKS AGO, DURING THE BATTLE OF NEW DAMASCUS; CONNOR NARROWLY ESCAPED WITH HIS OWN LIFE. I HADN'T HEARD ABOUT THE LOSS UNTIL TODAY, AND IT WAS FAR TO LATE BY THEN. I ALWAYS KNEW CONNOR WAS TOO CLOSE TO HIS TEAMMATES, AND HIS ACTIONS TODAY WERE A PRIME EXAMPLE OF THIS. WHEN HE ARRIVED ON REACH AND WAS TAKEN OUT OF CRYO, MELLISSA'S DEATH HIT HIM HARD. HE SNAPPED AT HIS COMMANDER DURING HIS DEBRIEFING, GETTING ANGRY ENOUGH THAT THEY HAD TO CALL IN ODSTS TO RESTRAIN HIM (NOT THAT THEY HAD MUCH SUCCESS---SOMEONE LIKE CONNOR VERSUS UNAUGMENTED HUMANS IS HARDLY A FAIR FIGHT).
GIVEN THE EVENTS OF THE PAST FEW MONTHS, DIRTY ONI IS UNDERSTANDABLY WARY OF ANY POTENTIALLY UNSTABLE SPARTANS WHO MIGHT DRAW THE WRONG KIND OF ATTENTION FROM THE REST OF THE OFFICE, AND RICH IS ALREADY CALLING FOR A BOARD OF REVIEW ON HIS CONDUCT. HE'S NOT LIKELY TO HAVE A STRONG CASE, EITHER; I REVIEWED THE LOGS, AND HE IS VERY, VERY UPSET; A QUICK NEURAL SCAN INDICATED A LIKELY ONSET OF DEPRESSION, WHICH OF COURSE, DOESN'T BODE WELL. BEST CASE SCENARIO IS BEING PUT IN A DESK JOB, OR ON A PROWLER ON A REMOTE PATROL ROUTE; AT WORST, HE COULD BE THROWN IN JAIL FOR ASSAULTING AN OFFICER. THEY'RE NOT LIKELY TO GIVE HIM THE BENEFIT OF THE DOUBT, EITHER; THE MEMORY OF RICHARD'S SNAP IS TOO FRESH IN THEIR MINDS.
I'VE HEARD THAT HE'S BEEN REVIEWED WITHOUT HIS KNOWLEDGE, AND DIRTY ONI IS KEEP HIM UNDER TIGHT WRAPS. THEY'RE NOT LETTING ME SEE HIM, OR EVEN TALK TO HIM; THEY'RE PROBABLY AFRAID I WOULD GIVE AWAY THEIR INVESTIGATION (THEY WOULDN'T BE FAR FROM THE TRUTH, EITHER). THEY'RE ALSO HIDING HIM AMAZINGLY WELL; I ONLY KNOW WHERE HE IS BECAUSE OF A FEW CHATTY MEMBERS OF HIS CONTAINMENT TEAM, AND THE BRASS HAS ABSOLUTELY NO CLUE WHAT'S GOING ON (HIS LOCAL COMMANDER, ADMIRAL ULRICH VIEZCHER, IS BEING VERY PUBLIC ABOUT HIS ATTEMPTS TO GET HIM BACK, AND I GOT A CALL FROM ADMIRAL HOOD'S AIDE TELLING ME THAT THE ADMIRAL HIMSELF WANTS TO KNOW WHERE HE IS). WHETHER OR NOT PARANGOSKY AND HER "CLEAN" ONI KNOWS IS SOMETHING I HAVE NO WAY OF KNOWING. I CAN'T BEGIN TO IMAGINE HOW HE FEELS; HIS FAMILY GONE, HIS CONFIDENCE BROKEN, AND HIS SUPERIORS SUSPICIOUS. LORD KNOWS HE'S GOING TO HAVE A ROUGH COUPLE OF MONTHS, AND WORST OF ALL, I'M AFRAID THAT THERE'S LITTLE I CAN DO TO HELP HIM.
APRIL 30TH, 2552
---
WITH ALL THE CASUALTIES WE'VE INCURRED OF LATE (OUT OF 30 CANDIDATES FIELDED, WE HAVE LOST ALMOST HALF), EVEN ONI IS TAKING NOTICE. HOWEVER STUPID THEY ACT MOST OF THE TIME, THEY DO HAVE OCCASIONAL MOMENTS OF INTELLIGENCE, AND I GOT AN ORDER TODAY THAT I SWEAR IS THE FIRST ONE I'VE BEEN HAPPY TO FOLLOW SINCE THE BEGINNING OF THE PROGRAM. RICH IS REQUESTING ME TO LOOK INTO WAYS OF IMPROVING THE SURVIVABILITY OF OUR SPARTANS IN THE FIELD---SOMETHING THAT SHOULD HAVE BEEN DONE THREE YEARS AGO. HE SENT ME A MESSAGE SAYING THAT HE "REALIZES [I] MAY HAVE BEEN FRUSTRATED", THOUGH WITHOUT A DOUBT, IT'S JUST TO INDULGE ME TO WORK HARDER FOR HIM.
IT'S A WASTED EFFORT, HOWEVER. I'M NOT GOING TO BE DOING IT FOR HIM---I'M DOING IT FOR OUR KIDS IN THE FIELD, HOWEVER FEW OF THEM ARE LEFT. MY FIRST ORDER OF BUSINESS, OF COURSE, IS TO KEEP THINGS PRACTICAL; MJOLNIR MIGHT BE THE BEST WAY OF KEEPING THEM ALIVE (CRIMSON HAS ALL BUT PROVED THAT) BUT ONI, OF COURSE, WILL NEVER SPRING FOR IT. INSTEAD, I WANT TO KEEP THINGS SIMPLE, AT LEAST AT FIRST. BETTER UP-LINK MODULES FOR THEIR SPI SUITS. IMPROVED HUD RECOGNITION SOFTWARE. MOTION TRACKERS THAT ARE UP TO MJOLNIR SPEC. LIGHTER MATERIALS, AND THE IMPLEMENTATION OF EXPERIMENTAL AV-CAM GEAR. HUD SUPPORT FOR MULTIPLE WEAPON SYSTEMS (PARTICULARLY IN MEMORY OF ARNOLD). SIMPLE, CHEAP STUFF THAT WE CAN ACCOMPLISH WITHOUT BREAKING THE BUDGET.
ONCE WE HAVE UPGRADES LIKE THOSE IN PLACE HOWEVER…I'M GOING TO KEEP GOING AS FAR AS RICH WILL LET ME. ARMOR ENHANCEMENTS, ENERGY SHIELDS, STRONGER MATERIALS. HAYABUSA SUITS, IF I CAN GET THE FUNDS AND GET RKD TO LOWER THE PRICE. ALL THE MEASURES THAT ME AND LAZ WANTED TO IMPLEMENT BUT COULDN'T, REALIZED AT LAST. ONI MIGHT SHOOT IT DOWN, BUT I CAN PLAN AHEAD AND PREPARE FOR THAT. I'M BUILDING A TIMETABLE CONCURRENTLY ALONGSIDE MY LIST OF UPGRADES, AND WITH ANY LUCK, THEY'LL BE READY WITHIN A YEARS TIME.
MAY 12TH, 2552
---
GOLD WAS IN SYSTEM A FEW DAYS AGO FOR AN EQUIPMENT PICKUP, SO I TOOK MY CHANCE AND ARRANGED A MEETING WITH THEM. COVERT MESSAGES, HOWEVER, USEFUL, CAN ONLY GO SO FAR, AND I'LL ADMIT THAT I ALSO WANTED TO SEE THEM---THOUGH WHETHER THAT WAS TO ANALYZE THEIR MENTAL STATE OR ASSUAGE MY OWN I CAN'T SAY. I WENT BEHIND RICH'S BACK A LITTLE BIT, FORMULATING A CONVENIENT COVER STORY, AND MANAGED TO GET THE EQUIPMENT PICKUP CHANGED FROM REACH TO TANTALUS. AFTER THAT, IT WAS EASY WORK MAKING CONTACT WITH THEM.
THEY SEEMED SURPRISED---PERHAPS A LITTLE BIT SUSPICIOUS---WITH MY METHODS, THOUGH THEY DIDN'T SAY ANYTHING. I KEPT A LOT FROM THEM ALL DURING TRAINING, NOT THE LEAST OF WHICH WAS MY DARKER SIDE; THEY KNEW THE STERN, DISCIPLINED, REGIMENTED COLONEL STANDOFF, NOT THE ONE WHO DISOBEYED ONI'S ORDERS AND WENT BEHIND THEIR BACK ON A REGULAR BASIS. GOLD WAS ALWAYS ONE OF OUR FEW "WELL BEHAVED" TEAMS; CONFIDENT, INTERNALLY COHERENT, (ASIDE FROM THAT DEAL WITH SCARLET), WELL ADJUSTED, RULE OBEYING KIDS WHO DID THINGS BY THE BOOK, AND DID THEM WELL. IT'S TRUE THEY HAD SOME EGO PROBLEMS, BUT IT WAS NEVER A HINDRANCE LIKE IT WAS FOR JENNIFER AND HER TEAM. OUT OF EVERYONE, THEY ALWAYS BELIEVED MOST STRONGLY IN THEIR MISSION, MOST READILY ACCEPTED THEIR CALLING. ALWAYS HAD SUCH HIGH CONFIDENCE IN THE UNSC AND ONI.
THEY'RE NOT THAT TEAM ANYMORE, HOWEVER. THEY'VE ALL CHANGED, PERHAPS FOR THE BETTER, PERHAPS NOT. THEY'RE SUSPICIOUS OF EVERYTHING THAT HAS TO DO WITH ONI (JACKY IN PARTICULAR LOOKED DOWNRIGHT HOSTILE TO THEIR LOCAL ONI CONTROLLER), AND LOOK WORN DOWN. THEIR CONFIDENCE IS SHAKEN, AND FROM WHAT I'VE HEARD, THEY'VE BEEN ACTING UP MORE AND MORE; MOUTHING OFF, GETTING RILED UP, ACTING ALMOST AS UNDISCIPLINED AS CRIMSON. SOME OF IT'S NATURAL COMBAT STRESS, BUT MUCH OF IT IS A REACTION TO RICKY'S DEATH. THEY CALMED DOWN A LITTLE BIT AS WE TALKED, BUT THEY SEEMED SUSPICIOUS EVEN OF ME (WHICH HURT A LOT MORE THAN I'D THOUGHT IT WOULD). WE TALKED FOR A FEW HOURS, BUT THEY DIDN'T SEEM EAGER TO SHARE ANY NEW INFORMATION ABOUT RICHARD'S DEATH. STILL, EVEN IF I'M NO CLOSER TO TRACKING DOWN RICKY'S KILLER, IT'S HELPFUL REGARDLESS. IT NEVER HURTS TO KNOW WHAT'S GOING ON INSIDE YOUR TROOP'S HEADS.
MAY 19TH, 2552
---
THIS IS THE FIRST TIME I'VE HAD TO WRITE IN WEEKS, THANKS TO A SUDDEN AND SLIGHTLY CONFUSING BREAK IN THE ACTION; FOR THE FIRST TIME IN YEARS, LITERALLY NONE OF OUR SQUADS IS CURRENTLY COMMITTED TO ACTIVE COMBAT. GOLD IS OUT ON PATROL, NOT CURRENTLY ENGAGED, CONNOR IS, OF COURSE, STUCK ABOARD AN ONI PROWLER, OLIVE IS RETURNING FROM THEIR DEPLOYMENT ON BULGARIA II, CRIMSON ARE ON THEIR WAY BACK FROM SIGMA OCTANUS,AND TURQUOISE IS CURRENTLY BETWEEN MISSIONS, WAITING FOR ORDERS. IT'S BEING MADE WEIRDER BY A SUDDEN DROP IN DIRTY ONI HARASSMENT; THEY SEEM PREOCCUPIED WITH SOMETHING ELSE, THOUGH I HAVE NO IDEA WHAT.
FREE TIME IS A LUXURY I CAN RARELY AFFORD, BUT I HARDLY REMEMBER WHAT TO DO WITH IT NOW ANYWAY. MOST OF THE ACTIVITIES I USED TO SPEND MY TIME ON SEEM POINTLESS NOW; INSTEAD, I SPEND MOST OF MY TIME THINKING. AND GIVEN TIME ALONE WITH MY THOUGHTS, I SEE THE REASON WHY ONI KEEPS ME WORKING SO HARD ALL THE TIME. BEING ALONE WITH YOUR THOUGHTS IS DANGEROUS…FOR THEM. IN MY SPARE TIME, I WAS AMUSING MYSELF GOING OVER THE CSVS FROM OUR SQUADS, AND CAME ACROSS THE REPORT OF CRIMSON TEAM'S ENGAGEMENT ON CORAL. I'D NEVER PAID A WHOLE LOT OF ATTENTION TO IT BEFORE, LOOKING AT IT ONLY LONG ENOUGH TO REDACT ANY MENTION OF CRIMSON'S MJOLNIR, BUT THIS TIME I PAID A CLOSER EYE. I LOOKED UP THEIR MISSION; RETRIEVE CLASSIFIED "ARCHEOLOGICAL DATA" FROM AN ONI COMPLEX AND EXFIL. NOT TOO BAD OF A MISSION…EXCEPT THAT THEY WERE DEPLOYED AGAINST COVENANT FORCES TO A PLANET UNDER DIRECT SIEGE, WITHOUT DEFENSES, PRACTICALLY IN PROGRESS OF BEING GLASSED.
THAT SET OFF ALARM BELLS, AND I CHECKED THE REPORT ON SIGMA OCTANUS, WHICH JUST CAME IN. TURNS OUT, THEY HAD A SIMILAR MISSION PROFILE; THEY WERE DEPLOYED TO THE PLANET WITH AN UNSECURED ORBITAL FRONT, WHICH COULD HAVE EASILY TURNED UGLY. ALL TO "DISTRACT AND SUPPORT LOCAL UNSC FORCES" AKA, RUN A DISTRACTION FOR THE CLASS I SPARTANS ON THE GROUND---WHO WERE, COINCIDENTALLY, DEPLOYED TO RETRIEVE SOME ARCHEOLOGICAL ARTIFACT FROM COTE DE AZURE. I LOOKED INTO THE OTHER SQUAD CSV, AND NOTICED AN ALARMINGLY SIMILAR TREND; GOLD TEAM SENT TO INVESTIGATE SOME SORT OF "ALIEN COMPLEX"---A NEAR SUICIDE MISSION---IN 2550. TURQUOISE, DISPATCHED BY THEMSELVES TO HAT-YAI, TO DESTROY ANOTHER ONE. I CAN'T BELIEVE I DIDN'T NOTICE THIS UNTIL NOW.
ONI IS USING MY SPARTANS AS PRIVATE GRIM REAPERS TO PROTECT THEIR CLASSIFIED STORAGE FACILITIES. IT'S THE ONLY EXPLANATION.
JULY 26TH, 2552
---
CRIMSON ARE DUE IN TOMORROW FROM THEIR DEPLOYMENT ON SIGMA OCTANUS. I'M STILL WAITING TO DEBRIEF THEM PERSONALLY, BUT I FINALLY GOT SOME INFORMATION ON THEIR PERFORMANCE; FROM WHAT I'VE HEARD, IT DIDN'T GO WELL. CRIMSON LOCATED A CONTINGENT OF COVENANT TROOPS HEADING FOR THE NEARBY MARINE STAGING GROUND, AND MOVED TO INTERCEPT. THEY UNDERESTIMATED THE SIZE OF THE FORCE, HOWEVER, AND GOT HIT HARD DURING THEIR ESCAPE; JAMES WAS CRITICALLY WOUNDED, AND WHILE THEY MANAGED TO EVACUATE HIM, HE'LL BE DOWN FOR TWO MONTHS AT THE MINIMUM. ONI'S CONTACT REPORT OBVIOUSLY DIDN'T PAY ANY MIND TO ROGER OR MICA'S MENTAL STATE, SO THAT'S THE FIRST THING I'LL CHECK ON WHEN THEY GET BACK. IF THERE'S ANYTHING I'VE LEARNED THROUGH THE COURSE OF THE WAR, IT'S THAT THESE TEAMS ARE VERY VULNERABLE WHEN THEY TAKE LOSSES.
STILL, IT'LL BE NICE TO HAVE THEM HOME AGAIN, IF ONLY FOR A SHORT WHILE. GOLD'S STAY WAS NICE, HOWEVER BRIEF IT WAS. IT WILL ALSO GIVE ME A WELCOME CHANCE TO TALK TO ROGER ABOUT SOME MORE DELICATE MATTERS OFF THE RADIO. PRINCIPAL AMONG THIS IS MY RECENT SUCCESSES IN PENETRATING MJOLNIR'S SECURITY---THANKS IN LARGE PART TO LASZLO'S OLD INFILTRATION ROUTINE---AND THE THINGS I'VE FOUND OUT ABOUT THEIR SUITS. OVER THE PAST FEW MONTHS, I'VE BEEN DOING MY BEST TO BREAK INTO HALSEY'S MJOLNIR FILES (ALONGSIDE THE FILES OF SOME OF ONI'S OTHER POWERED ARMOR SYSTEMS) AND I'VE HAD SOME STRIKING SUCCESSES. THE FACT THAT IT'S ALL STOLEN DOESN'T BOTHER ME MUCH ANYMORE. ANYTHING TO TAKE CARE OF MY SPARTANS IS A PRICE WORTH PAYING.
CRIMSON'S VISIT WAS SUPPOSED TO BE A SIMPLE BRIEFING AND RESUPPLY, BUT NOW IT'S TRANSFORMED INTO SOMETHING OF A TECHNOLOGY UPGRADE. I RECENTLY UNCOVERED FILES ON A PROJECT ONI'S RECENTLY BEEN FIELD TESTING WITH NOBLE TEAM, SPECIALIZED ARMOR ENHANCEMENTS---COLLOQUIALLY KNOWN IN THE FIELD AS "ARMOR ABILITIES". FURTHERMORE, I'VE MANAGED TO GRAB FRAGMENTS OF DATA ON THEM---ENOUGH TO FASHION OUR OWN VARIANTS. I'VE GOT ONE OF OUR FEW REMAINING ENGINEER TEAMS WORKING ON THEM AT THE MOMENT, WHICH WILL HOPEFULLY BE READY BY THE 9TH. IF ALL GOES WELL, WE'LL BE ABLE TO EQUIP CRIMSON WITH OUR CURRENT PROTOTYPE---THE ACTIVE CAMOUFLAGE VARIANT) BEFORE THEY SHIP OUT, AND SIGNIFICANTLY BOOST THEIR CHANCES. THAT'S ON TOP OF MORE MUNDANE UPGRADES IN THE WORKS LIKE UPGRADED SHIELD GENERATORS AND POWER SUPPLIES. THEY WON'T JUST BE ON PAR WITH HALSEY'S SPARTANS, THEY'LL HAVE AN EDGE.
AUGUST 6TH, 2552
---
SOMETIMES THE DAY SURPRISES YOU IN LITTLE WAYS, AND AT OTHER TIMES, THE DAILY SHOCKS ARE FAR MORE EXPANSIVE. MY AGENDA, THIS MORNING, WAS TO MEET UP WITH CRIMSON AND GIVE THEM THEIR FINAL BRIEFING BEFORE THEY SHIPPED OUT FOR THEIR COVERT OP ON NEW JERUSALEM. JUST A SIMPLE SHUTTLE RIDE FROM THE BASE TO OUR LIAISON OFFICE ON REACH, WHERE I'D GIVE THEM WHAT LITTLE INTEL WE HAVE ON THE PLACE AND ANSWER ANY OF THEIR QUESTIONS. WHAT ACTUALLY HAPPENED, HOWEVER, WAS VERY, VERY DIFFERENT.
ONI'S BEEN KEEPING IT QUIET FOR THE LAST FEW WEEKS, BUT TODAY IT BECAME IMPOSSIBLE TO HIDE. THE COVENANT ARE ON REACH, IN FORCE. IT'S SURREAL JUST WRITING THE WORDS; REACH IS REALLY OUR LAST TRUE SAFE HAVEN, OUR ONLY REMAINING FORTRESS WORLD. THE THOUGHT THAT THEY ARE THERE---AND EVEN MORE, THAT THEY'VE BEEN THERE FOR SOME TIME---SEEMS IMPOSSIBLE. THAT SENTIMENT WILL PASS QUICKLY, I HOPE, BUT THAT'S LIKELY TO BE ABOUT THE ONLY THING. THE COVENANT FORCE HAS, SO FAR, BEEN REVEALED TO BE FAIRLY SMALL, BUT NO ONE THINKS THAT'S GOING TO LAST; THE COVENANT NEVER DO ANYTHING BY HALF MEASURES.
WHAT LITTLE I'VE GATHERED ON THE SITUATION INDICATES THAT THE ARMY (SUPPLEMENTED BY THE NAVY AND NONE OTHER THAN THE NOBLE TEAM ME AND LAZ DISCOVERED) WILL BE LAUNCHING A FULL SCALE ASSAULT ON THE ENEMY WITHIN HOURS. FROM WHAT I'VE HEARD, THE COVENANT HAVE DEPLOYED SEVERAL CLOAKING SHIELDS, WHICH WILL BE THE FIRST TARGET. THEY'RE KEEPING THINGS COVERT, TO BOTH FOOL THE COVENANT AND KEEP THINGS CONTAINED ON THE SURFACE, BUT I'VE GOT ENOUGH EXPERIENCE TO PICK OUT SOMETHING THIS BIG. CRIMSON IS BEING ROPED IN, AS WELL---THOUGH I HAVEN'T HEARD ANYTHING, AS OF YET, ON THEIR ROLE.
WHAT'S GOING TO HAPPEN NEXT IS ANYONE'S GUESS.
AUGUST 12TH, 2552
---
THINGS ARE HAPPENING FAST ON REACH, AND WE'RE WORKING AROUND THE CLOCK TO TRY AND DO ANYTHING WE CAN. ORBITAL CAMERAS SHOW ENTIRE AREAS OF THE SURFACE ABLAZE; AFTER THE ASSAULT ON VIERY BEGAN TO TURN UGLY FOR THE COVENANT, THEY AMBUSHED US WITH A CLOAKED SUPERCARRIER AND BROUGHT THE HAMMER DOWN HARD. NOBLE TEAM (THEY'RE TAKING A CENTER ROLE IN THE ACTION, CONVENIENTLY GRABBING THE SPOTLIGHT AWAY FROM THE OTHER SPARTAN TEAMS) DESTROYED IT WITH SOME SORT OF SLIP SPACE BOMB, SPARING THE SURFACE FROM TOTAL ANNIHILATION, BUT A FULL COVENANT FLEET ARRIVED SOON AFTER. IT'S LARGE, BUT HAS SO FAR KEPT IT'S DISTANCE (MAYBE IT FEARS THE S-MAC PLATFORMS?). MORE AND MORE COVENANT ARE DEPLOYING TO THE SURFACE THOUGH (NO ONE KNOWS HOW, JUST THAT THEY ARE), AND PRACTICALLY THE WHOLE FLEET IS BEING RECALLED.
AS FAR AS OUR SIDE GOES, THINGS ARE HEATING UP AS WELL. NONE OF OUR OTHER TEAMS HAVE ARRIVED YET, BUT LAST I HEARD, CRIMSON WAS HELPING STAGE A RE-TAKING OF THE SABRE FACILITIES, NOW UNDER FIRM COVENANT CONTROL. A SUICIDE MISSION FOR ANYONE OTHER THAN SPARTANS; CHANCY, EVEN THEN. I MONITOR THEM WHENEVER I CAN. MEANWHILE, CONNOR IS STILL OUT OF TOUCH---RICH HAS HIM UNDER CAREFUL WATCH ON ONE OF HIS PROWLERS---AND GOLD IS OUT OF CONTACT, MAROONED ON REGENT. TURQUOISE IS INBOUND, BUT LIKELY WON'T ARRIVE UNTIL THE 29TH. WE'RE SPREAD DANGEROUSLY THIN OVER THE GALAXY, EVEN WITHIN OUR OWN PROGRAM. WE'VE LITERALLY GOT ONLY 2 SPARTANS LEFT TO DEFEND THE PLANET.
NOT THAT THERE'S ANY SHORTAGE OF SPARTANS, THOUGH. HALSEY'S SPARTANS HAVE ARRIVED IN SYSTEM FROM DEPLOYMENT'S THROUGHOUT THE GALAXY, THIRTY OF THEM IN ALL, THOUGH THEY'RE BEING KEPT OUT OF THE FIGHT BY HIGHCOMM, WHO ARE FOCUSING THEM SOLELY ON OPERATION: RED FLAG---HALSEY'S LAST DITCH ATTEMPT TO WIN THE WAR. MEANWHILE, I'M HEARING RUMORS OF TEAMS LIKE ECHO, GAUNTLET, AND RED BEING PREPARED, UNDER DIRECT ORDERS FROM HIGHCOMM. IT'S ALL SHAPING UP TO BE ONE HELL OF A BIG FIGHT, AND I'M NOT SURE WHEN I'LL GET THE CHANCE TO WRITE AGAIN (IF EVER). I FEEL LIKE I SHOULD MAKE THE MOST OF IT NOW, IN CASE I DON'T HAVE A CHANCE LATER, BUT THERE'S SIMPLY NO TIME FOR IT.
AUGUST 17TH, 2552
---
IT'S BEEN A LONG TIME SINCE I'VE HAD A MOMENT TO MYSELF---AND IT'LL PROBABLY BE A LONG TIME FOLLOWING THIS---SO I FEEL I SHOULD USE THIS QUIET MOMENT TO THE BEST OF MY ABILITY. SO MUCH HAS HAPPENED SINCE I LAST WROTE, THAT IT'S HARD TO REMEMBER IT ALL. OBVIOUSLY, REACH FELL, FOLLOWED IN QUICK SUCCESSION BY THE OTHER, SMALLER COLONIES IN EPSILON ERIDANUS. TANTALUS WAS THE LAST TO GET HIT, SO I GOT TO WATCH IT ALL---NOT THAT I REALLY WANTED TOO, OF COURSE. I DOUBT I'LL FORGET IT, SO IT SEEMS POINTLESS WRITING IT DOWN, BUT JUST IN CASE MY MEMORY GOES THIRTY YEARS DOWN THE ROAD, I'M GOING TO POINT OUT THAT ROGER AND MICA ACTUALLY CAME BACK FOR ME---FOUGHT STRAIGHT THROUGH THE COVENANT INVASION FORCE TO GET ME OUT OF THE PROJECT HQ. APPARENTLY, THEY LIKE ME EVEN MORE THAN I THOUGHT.
WE'RE ALL CURRENTLY ABOARD A CIVILIAN FREIGHTER, RETREATING BACK TO EARTH. WE'RE DUE IN IN A FEW WEEKS, BUT THERE ARE NO CRYO TUBES ABOARD (ALL THE LEFTOVER SPACE WAS DEVOTED TO REFUGEES), SO WE'RE AWAKE FOR THE WHOLE TRIP. IT'S A CHANCE TO CATCH UP ON THINGS I'VE FALLEN BEHIND IN---LIKE THIS JOURNAL---SO I DON'T WANT TO COMPLAIN…BUT IT IS VERY CROWDED. THERE'S MORE STRANGERS ON THIS SHIP THAN I'VE SEEN IN YEARS; TO BE HONEST, IT'S A LITTLE OVERWHELMING AFTER MY SECLUSION IN THE PROJECT HQ.
MOOD ON THE SHIP IS PRETTY SOMBER, THOUGH I GUESS IT COULD BE WORSE. REACH WAS OUR LAST BASTION, OUR FORTRESS WORLD. IT REPRESENTED ONE OF THE LAST SOLIDS LEFT IN OUR EXISTENCE. WITH IT GONE, PEOPLE AREN'T THE SAME. ABOUT THE ONLY PERSON WHO DOESN'T SEEM AFFECTED IS ROGER; EVEN MICA IS DOWN. BEFORE MY TRANSCEIVER GOT HIT, I HEARD MOST OF THE CLASS ONES HAD BEEN DEPLOYED TO THE SURFACE, AND KILLED IN A FRIENDLY MAC STRIKE (TALK ABOUT A DAMN SHAME)---SO THE LOSSES WEREN'T JUST STANDARD MILITARY. NO ONE SEEMS TO KNOW WHAT'S GOING TO HAPPEN NEXT. HOPEFULLY THINGS WILL CLEAR UP WHEN WE GET TO EARTH.
SEPTEMBER 25TH, 2552
---
NEVER IMAGINED THAT I'D SAY THIS, BUT I THINK I'M ACTUALLY STARTING TO MISS OLD ADMIRAL RICH. DESPITE BEING A DEATH DEALING, BACKSTABBING BASTARD, HE HAD HIS MOMENTS (AND, AS FAR AS I COULD EVER TELL, NO LOVE FOR SPOOKS). IN THE AFTERMATH OF CONNOR'S MENTAL BREAKDOWN AND CRIMSON'S NONE TO SUBTLE ESCAPE FROM EPSILON ERIDANUS (TO SAY NOTHING OF RICHARD), I'VE BEEN FIELDING AN ARRAY OF DIFFICULT QUESTIONS FROM ALL MANNER OF PEOPLE WITHIN ONI. I NEVER REALLY REALIZED HOW MUCH RICH DEFLECTED AWAY FROM ME; WITH HIM GONE, THE FLOODGATES HAVE COME CRASHING OPEN, AND EVERYTHING IS OPEN SEASON. I CAN'T EVEN TELL WHOSE DIRTY ONI AND WHOSE "CLEAN"; RICH HAD HIS OWN LIST OF BACKERS THAT VANISHED WHEN HE GOT HIMSELF KILLED.
HE MAY HAVE BEEN A LOUSY OLD BASTARD, BUT SOMETIMES YOU DON'T REALIZE HOW MUCH YOU APPRECIATE SOMEONE UNTIL THEIR GONE. LORD HOOD IS PESTERING ME WITH QUESTIONS ABOUT THE ORIGINS OF MY ARES TEAMS; MEMBER'S OF THE ORDINANCE COMMITTEE ARE DEMANDING THAT CRIMSON RETURN THEIR EXPERIMENTAL ARMOR PROTOTYPES. AND ALL THE WHILE, I'VE GOT ANONYMOUS ONI AGENTS BREATHING DOWN MY NECK AND WATCHING ME LIKE A HAWK TO MAKE SURE I DON'T DISCLOSE ANYTHING DAMAGING. I'VE GOT DIRTY ONI ON ONE SIDE, WITH BOTH BEEFS WITH ME AND AN EXPECTATION THAT I UPHOLD SECRECY, AND "CLEAN" ONI ON THE OTHER SIDE, SIMPLY DEMANDING ANSWERS. FOR NOW, I'M STUCK STALLING THEM, WAITING UNTIL A BETTER PLAN PRESENTS ITSELF---OR UNTIL FATE OFFERS A CONVENIENT WAY OUT OF THINGS (NOT THAT THAT'S LIKELY, OF COURSE).
THE STRAIN IS BEING MADE SOMEWHAT EASIER BY THE ARRIVAL OF A FEW CHOICE DISTRACTIONS, THOUGH HOW LONG THEY'LL KEEP THINGS AT BAY IS DEBATABLE. [S-117] AND COMPANY ARRIVED IN SYSTEM A FEW WEEKS AGO IN A REPAIRED DESTROYER (APPARENTLY SALVAGED FROM REACH'S ORBIT) AND IT SEEMS AS IF EVERYONE AND THEIR BROTHER AT ONI ARE TRIPPING OVER EACH OTHER TRYING TO DEBRIEF THEM FIRST (AND FIND OUT WHERE THE CHARLIE ONES HAVE BEEN FOR THE LAST FEW MONTHS). THE TURMOIL IS SERVING AS A USEFUL DISTRACTION, THOUGH IT'S PROBABLY A MATTER OF TIME BEFORE THEY DEBRIEF HIM AND REALIZE HIS STORY IS PROBABLY JUST SOME UNEVENTFUL, PATIENT ESCAPE---IT'S NOT LIKE ANY OF THEM COULD HAVE GOTTEN UP TO ANY REAL TROUBLE ANYWAY (RELATIVE TO SPARTAN STANDARDS, I MEAN).
OCTOBER 17TH, 2552
---
I'LL PROBABLY HAVE TO EDIT THIS LATER TO MAKE THINGS A LITTLE MORE ORGANIZED, BUT FOR NOW I'LL SETTLE WITH JUST GETTING THE INFORMATION WRITTEN DOWN. THINGS ARE HAPPENING TO QUICKLY TO DESCRIBE IN FULL DETAIL, AND THE CONFUSION RIGHT NOW IS WORSE THAN ANY FOG OF WAR. TWO DAYS AGO, THE NOW INFAMOUS [S-117] LANDED IN AFRICA AND SPEARHEADED AN ASSAULT ON VOI, PUSHING THE COVENANT BACK TO SOME SORT OF ANCIENT ALIEN ARTIFACT---APPARENTLY CREATED BY A LONG DEAD RACE CALLED THE "FORERUNNERS". CRIMSON TRIED TO LINK UP WITH THE ASSAULT, APPARENTLY (WHICH WAS ABOUT THE TIME I LOST TRACK OF THEM), BUT WERE SHOT DOWN EN ROUTE AND HAD TO PROCEED ON FOOT. THAT'S NOT EVEN THE BEGINNING OF IT, HOWEVER; TO MAKE THINGS EVEN MORE COMPLICATED, THERE'S APPARENTLY BEEN SORT OF SCHISM IN THE COVENANT RANKS, WITH THE BRUTES USURPING THE ELITES, AND WE'RE NOW SHAKY, TEMPORARY ALLIES WITH THEM---AS CRAZY AS IT SOUNDS.
MEANWHILE, I'VE BEEN TRYING TO KEEP TABS ON BATTLES IN DOZENS OF DIFFERENT HOTSPOTS ACROSS THE PLANET, IN PARTICULAR WHERE MY CLASS III'S ARE DEPLOYED. THE BATTLE IN GENERAL IS WINDING DOWN, SINCE THE MAJORITY OF THE COVENANT FORCES LEFT IN THE PORTAL (SHIT, DID I FORGET TO MENTION THAT? RIGHT. THAT "FORERUNNER" ARTIFACT LINKED TO SOME SORT OF SLIPSPACE PORTAL, WHICH THE COVENANT ACTIVATED AND ENTERED, HEADING TO GOD KNOWS WHERE.) BUT THERE'S STILL PLENTY OF ACTION TO GO AROUND. TURQUOISE IS STILL FINISHING UP IN TOKYO, CRIMSON IS, AS MENTIONED, MOPPING THINGS UP IN VOI, AND GOLD IS HARASSING ENEMY SUPPLY LINES IN WASHINGTON. THAT'S TO SAY NOTHING OF RACHEL AND BALDUIN---I FINALLY FOUND THEM!---WHO ARE OPERATING IN SOME SORT OF MIXED SPARTAN UNIT, WINTER TEAM, AND WORKING ALONGSIDE LASZLO (WHOSE HERE TOO; IT'S ALMOST A REUNION). I'M NOT GETTING MUCH INFORMATION ON THEM, AND DON'T HAVE TIME TO GO DIGGING, BUT IT'S ENOUGH FOR NOW TO KNOW THEY'RE STILL ALIVE (LASZLO BEING WITH THEM HELPS TOO).
I'M CURRENTLY HELPING COORDINATE OFFENSIVES ON THE SURFACE, BUT I'VE BEEN CONTACTED BY LORD HOOD AND ASKED TO WORK AS HIS LIAISON WITH ROGER & MICA; AFTER HIS EXPERIENCES WITH TAN TEAM, HE'S VERY EAGER TO HAVE MORE ARES OPERATORS UNDER HIS COMMAND (YET IS STILL IGNORANT OF THEIR ORIGINS---SOMETHING I CAN'T HELP BUT FIND A LITTLE BIT FUNNY). HE WANTS TO PAIR THEM WITH A GROUP OF SPECIAL FORCES ELITES (I WON'T EVEN START ON THE SURREALITY) AND HAVE ME COORDINATE A JOINT MISSION TO LIBERATE MARS. I'M STALLING ON THAT UNTIL JAMES FINISHES HIS TREATMENT (WHICH WILL BE ONLY A FEW DAYS), SO THAT WE CAN SEND THE TEAM IN AT FULL STRENGTH. IF HOOD DOESN'T LISTEN, I MAY JUST TELL HIM TO SHOVE IT; THIS LATE INTO THE WAR, I COULD CARE LESS ABOUT REGULATIONS, AND I'M NOT GETTING ANY MORE OF MY KIDS KILLED ON STUPID MISSIONS.
NOVEMBER 19TH, 2552
2553
IT'S OVER. I KEEP REPEATING THE WORDS TO MYSELF, JUST TO MAKE SURE I'M NOT DREAMING, BECAUSE THE WAR HAS DOMINATED PRACTICALLY MY ENTIRE LIFE, BUT IT REALLY IS FINISHED. AS OF FOUR DAYS AGO, THE COVENANT IS EFFECTIVELY NO MORE. WITH THE HELP OF THE ELITES, WE PUSHED BACK THE BRUTES ALL THE WAY TO THEIR HOME PLANET, AND ANNIHILATED THEIR REMAINING FORCES. TODAY THERE WAS A MEMORIAL SERVICE OF SORTS, A PEACE OFFERING TO THE ELITES FROM LORD HOOD, TO COMMEMORATE THE VICTORY. IT'S UNREAL, TOO GOOD TO BE TRUE; YET IT IS. AFTER OVER 28 YEARS, THE WAR IS FINALLY FINISHED. WE WON. IN MERE MONTHS SINCE REACH, WHICH SEEMED SO DEVASTATING, THE SIDES HAVE FLIPPED AND WE HAVE ACHIEVED THE IMPOSSIBLE.
FOR ME, THE END OF THE WAR IS FAR MORE PERSONAL THAN I COULD HAVE IMAGINED, AND WHAT SHOULD BE A HAPPY DAY IS CLOUDED BY DARKER EVENTS. DURING THE BATTLE, MICA AND JAMES WERE BOTH KILLED IN A BRUTE AMBUSH; ROGER IS NOW THE ONLY REMAINING MEMBER OF CRIMSON, AND IS SET ON LEAVING THE SERVICE (ONI WILL TRY TO STOP HIM OF COURSE---TRY BEING THE KEY WORD THERE). LIKE ALL THE OTHERS, THE DEATHS OF HIS TEAM ARE EFFECTING ROGER STRONGLY---NO SURPRISE, BUT STILL PAINFUL IN IT'S OWN UNIQUE WAY.
IT'S NOT JUST CRIMSON, THOUGH; THE ENTIRE ROSTER HAS BEEN SHREDDED, AND NOW ONLY A HANDFUL OF OUR SPARTANS REMAIN. RACHEL, BALDUIN, ADAM, LUCIA, MATHEW, JACKY, MASON, AND ROGER. CONNOR IS ALIVE AS WELL, BUT SERIOUSLY WOUNDED; HE COMPLETED AN ONI SUICIDE MISSION, BUT NEARLY KILLED HIMSELF IN THE PROCESS, DETONATING A COVENANT REACTOR PRACTICALLY ON TOP OF HIMSELF. EIGHT SPARTANS REMAIN FROM A CLASS OF 50. EACH DEATH, IN SOME WAY, PARTIALLY MY FAULT.
WE MAY HAVE WON THE WAR, BUT NOT WITHOUT A PRICE.
MARCH 3RD, 2553
2554
IT'S HARDLY BEEN A YEAR SINCE THE WAR ENDED, BUT THE GALACTIC BALANCE HAS SHIFTED DRAMATICALLY. WORK HAS ALREADY STARTED ON RE-TERAFORMING REACH AND A DOZEN OTHER COLONIES, THE UEG IS GIVING OUT MASSIVE CONTRACTS TO HELP RESTORE THE ECONOMY, AND THE MILITARY HAS SUDDENLY BEEN TRANSFORMED INTO THE DOMINANT FORCE IN THE GALAXY WITH ONI'S NEW "INFINITY" VESSEL. I'M STILL HAUNTED BY THE GHOSTS OF EVERYONE LOST, ENOUGH THAT IT KEEPS ME UP AT NIGHT, BUT IT SEEMS THAT THE GALAXY IS MOVING FORWARD. CONNOR IS TAKING A WELL DESERVED BREAK AND WORKING AS A SNIPER INSTRUCTOR FOR THE MARINES, GOLD TEAM IS COMBATING KIG-YAR RAIDERS ON THE EDGES OF OUR SPACE, ADAM AND LUCIA ARE BUSY ON PHOENIX, AND RACHEL AND BALDUIN ARE FOLLOWING LASZLO AROUND, TAGGING ALONG WITH HIM ON MISSIONS. WORD AROUND TOWN IS THAT ALL OF OUR OPERATORS (STILL SOMEHOW MASQUERADING AS S-III'S) ARE GOING TO BE ROLLED INTO S-IV, BUT I'VE GOT NO WAY TO TELL IF THAT RUMOR IS TRUE.
ROGER IN PARTICULAR SEEMS TO HAVE REINVENTED HIMSELF. OUT OF EVERYONE, I THINK HE HAS IT MOST DIFFICULT, BECAUSE HIS CASUALTIES WERE SO RECENT, BUT HE SEEMS TO BE PUSHING THROUGH THE GRIEF MUCH BETTER THAN MANY OF THE OTHERS DID---WITH AN EYE ON RACHEL AND CONNOR IN PARTICULAR. HE'S WORKING AS A MERCENARY NOW, AND HAS STARTED HIS OWN COMPANY TO SUPPORT HIM. HE'S PARTNERED HIMSELF WITH AN ELITE---EXCUSE ME, SANGHEILI---NAMED SUNEF MHACKPHISTHO, A FORMER HONOR GUARD HE FOUGHT ALONGSIDE AT DOISAC, AND I HEAR HE EVEN WENT BACK TO ALGOLIS AND GRABBED A SUIT OF MJOLNIR THAT WAS LEFT BEHIND WHEN THEY EVACUATED THE PLANET. NOT EXACTLY CONVENTIONAL, BUT THE NEW JOB CERTAINLY SEEMS TO FIT HIM. LITTLE BIT WEIRD NOWADAYS TO SEE A SPARTAN RUNNING AROUND ALONGSIDE A SANGHEILI, GIVEN THE RECENT TENSION, BUT I GUESS IT'S PHYSICAL PROOF OF JUST HOW FRAGMENTED ELITE SOCIETY IS BECOMING. I TOLD LASZLO, AND HE DIDN'T FIND IT SURPRISING IN THE SLIGHTEST THAT ROGER WOULD DO SOMETHING SO...OUT THERE.
AND SPEAKING OF LASZLO, I FIGURE I SHOULD MENTION THAT I TALKED TO HIM AS WELL, IF I WANT TO FINISH THIS RECAP OFF RIGHT. WE BUMPED INTO EACH OTHER WHILE HE WAS IN BETWEEN DEPLOYMENTS, AND IT WAS QUITE THE EXPERIENCE TO TALK TO HIM AND HIS TWO YOUNG SIDEKICKS AGAIN. THEY WERE TALKING OF JOINING OPERATION: SAVIOR, TO HELP LOOK FOR [S-117]. I WAS A LITTLE SURPRISED, TO BE HONEST; LASZLO SAID THAT HE'D NEVER BEEN GREAT FRIENDS WITH HIM, AND HAD HAD A HARD TIME IDENTIFYING WITH "HALSEY'S FAVORITES", LIKE HIM. WHEN I ASKED HIM ABOUT IT, HE WASN'T VERY CLEAR ON HIS REASONS. HE MENTIONED THAT HE WANTED TO STICK WITH THE OTHER SPARTANS OF HIS CLASS (PARTICULARLY [S-012], WHO WAS APPARENTLY ONE OF HIS CLOSE FRIENDS), BUT I CAN'T HELP WONDERING IF HE REALLY KNOWS. THEN AGAIN, I COULD BE PROJECTING MY OWN DOUBTS ONTO HIM; I'VE ALWAYS GOT TO BE CAREFUL ABOUT THAT. REGARDLESS OF HIS REASONS, WHEN WE SAID GOODBYE, I REALIZE IT WAS LIKELY FOR GOOD; THEY'LL SPEND MUCH OF THEIR TIME IN CRYO, AND THE SEARCH COULD GO ON FOR DECADES. IT'S HARD TO THINK ABOUT, BUT I'LL LIKELY BE DEAD BY THE TIME HE COMES BACK. IT'S AN ODD FEELING, BUT I FEEL MYSELF WONDERING ABOUT SUCH THINGS MORE AND MORE. THAT'S A SIGN THAT I'M GETTING OLD, IF NOTHING ELSE.
MARCH 19TH, 2554
2555
THE BIG WAR HAS BEEN OVER FOR THREE YEARS, BUT I REMAIN ROOTED IN THE PAST. NOT A DAY GOES BY THAT I DON'T THINK ABOUT WHAT I COULD HAVE DONE DIFFERENTLY, WHICH OF MY KIDS MIGHT HAVE LIVED, HAD I BEEN THAT MUCH QUICKER. IF I HAD EXAMINED RIPOSTE MORE CAREFULLY, OR PUT ANOTHER TEAM ON IT, MIGHT DOMINIC AND GREG STILL LIVE? IF I HAD BEEN MORE FORCEFUL WITH RICH, COULD I HAVE GOTTEN TURQUOISE MORE BACKUP, AND SAVED OLIVIA'S LIFE? IF I HAD BEEN FASTER, MIGHT ORANGE STILL BE INTACT, MIGHT VIOLET STILL BE ALIVE? COULD MELLISSA AND LUCY BEEN SAVED IF I OVERSAW THEM MORE CLOSELY? MIGHT OLIVE NOT HAVE DIED ON CONCORD IF I'D PAID CLOSER ATTENTION? IF I'D BEEN LESS OF AN ASS TOWARDS RICH, MIGHT HE HAVE KEPT ME IN THE LOOP, AND NEGLECTED TO DEPLOY SCARLET AGAINST SILVER? OR COULD I HAVE KEPT TUCK AND LUCIUS ALIVE, IF I'D EXAMINED THE THEATER'S LOGISTICAL SUPPORT ISSUES MORE CLOSELY? AND MICA AND JAMES? SURELY I COULD HAVE DELAYED THEIR MISSION, OR MARSHALLED MORE SUPPORT. I HAD THE CLOUT, THEN. BUT I ASSUMED THEY COULD HANDLE IT, AND I WAS WRONG.
I TRY AND DRAG MYSELF OUT OF THE PAST AND INTO THE PRESENT, BUT IT'S LITTLE USE. MY KIDS DON'T NEED ME LIKE THEY DID IN THOSE DAYS, AND THE POSITION ONI HAS PUT ME IN HERE IS COMPLETELY UNIMPORTANT. I COULD DIE, AND NO ONE WOULD BE AFFECTED HERE. I'VE TAKEN TO WATCHING THE NEWS, TO TRY AND GROUND MYSELF IN THE PRESENT, BUT IT'S EITHER INEFFECTIVE, OR DOES MORE HARM THAN GOOD. THE UNSC---OR ONI, WHO SEEM MORE AND MORE TO BE AN INDEPENDENT ENTITY THESE DAYS---HAVE MADE A MAJOR EFFORT OF DISGUISING JUST HOW VIOLENT THE GALAXY STILL IS, ALTHOUGH A PRACTICED MIND CAN STILL SEE THROUGH THINGS WITHOUT MUCH TROUBLE. IT'S NOT THAT THEY HIDE THE VIOLENCE, REALLY, BUT THEY SPIN THINGS WELL; A HUGE MEDIA BONANZA SURROUNDING THE NEW SPARTAN FOUR PROGRAM AND THE NEWLY LAUNCHED INFINITY HAVE SERVED TO CONVINCE THE PUBLIC, AT LEAST WITHIN THE INNER COLONIES, THAT HUMANITY IS NO LONGER THE UNDERDOG. ALL THE BATTLES THAT GET REPORTED, ALL THE HEROIC SAVES BY THE SPARTAN FOURS, ALL THE CRUSHING VICTORIES THE INFINITY HAS, PORTRAY OUR ENEMIES AS FANATICAL, BUT INEFFECTIVE. LITTLE MORE THAN TERRORISTS.
I'VE PICKED OUT A FEW INCONSISTENCIES WITH THAT STORY, OF COURSE. THE LOSS OF DRAETHUS V ALONE SHOWS THAT THE COVENANT SPLINTER FACTIONS STILL DO POSSESS SUFFICIENT FIREPOWER AND SHIPS TO THREATEN OUR WORLDS, EVEN IF THEY ARE, FOR THE MOMENT, DISORGANIZED. SIMILARLY, WHILE INFINITY SWATTING DOWN FORCES ABOVE SANGHEILIOS TWO YEARS AGO SEEMS IMPRESSIVE, THAT FORCE WAS MOSTLY FRIGATES AND DESTROYERS. THE INFINITY IS STILL MOSTLY UNTESTED AGAINST THE BIG COVENANT SHIPS---ASSAULT AND SUPER CARRIERS---AND I HAVE YET TO SEE ANYONE TALK ABOUT WHAT EXACTLY WOULD HAPPEN IF INFINITY WAS AMBUSHED MY MULTIPLE HEAVY SHIPS AND HIT WITH SIMULTANEOUS ENERGY PROJECTOR STRIKES. SHOULD THAT HAPPEN---SHOULD WE LOSE INFINITY, AND WITH IT MOST OF OUR MILITARY'S HEAVY HITTING FORCE---THINGS COULD GET DARK.
OF COURSE, IF THAT DID HAPPEN, I HAVE NO DOUBT ONI WOULD LATCH ON EVEN MORE TIGHTLY TO THE SPARTAN FOURS. I'VE LEARNED A LOT ABOUT THEM IN RECENT YEARS. ALL ADULTS, ALL VOLUNTEERS, ALL GIVEN STATE OF THE ART---IF A BIT LESS POTENT---AUGMENTATIONS, AND ALL EQUIPPED WITH NEW GENERATION TWO MJOLNIR SUITS. I DON'T HAVE MUCH INFORMATION ON ANY SPECIFICS OF THEIR EFFECTIVENESS (BESIDES THE CANNED ONI PROPOGANDA), BUT ITS STILL UNSETTLED ME. LATELY I'VE BEEN HAVING…DISCONCERTING DREAMS. NOT NECESSARILY BAD, BUT BITTER. DREAMING ABOUT WHAT THE WAR WOULD HAVE BEEN LIKE, HAD MY KIDS BEEN TREATED LIKE THESE FOURS WERE. HOW MUCH THEY COULD HAVE DONE WITH MJOLNIR. I SLEEP WELL, THEN WAKE UP SAD AND BITTER. IT DOESN'T HELP THAT THE OLD FEAR---THAT MY KIDS WILL BE WASTED---IS STRONGER THAN EVER. MY AVENUES INTO THE OPERATION OF THE MILITARY HAVE ALL BUT DRIED UP, AND ALL I CAN DO IS HOPE THAT THE PROPAGANA FOCUS ON THE FOURS ISN'T INDICATIVE OF THE ACTUAL REALITY. IF THE FOURS ARE DRAWING ALL THE ATTENTION OF THE BRASS, I CAN'T HELP BUT FEAR THAT MY KIDS WILL GET LOST IN THE SHUFFLE.
APRIL 4TH, 2555
---
MY BOSS (AN ONI AGENT OF THE ESPECIALLY UNLIKEABLE SORT) HAS BEEN DROPPING HINTS FOR DAYS NOW ABOUT A PENDING REASSIGNMENT FOR SOME OF OUR PERSONNEL. GIVEN THE WAY THE WIND HAS BEEN BLOWING AT ONI LATELY, I HAVE TO ASSUME HE MEANS ME. I'M NOT SURE HOW THEY CAN FIND A JOB THAT'S MORE USELESS AND DEAD-END THAN THIS ONE, BUT ONI SEEM TO HAVE PERFECTED THE ART OF PUNISHING THOSE WHO DISAGREE WITH THEM. AND THEY HAVE A SPECIAL CASE OF HATRED FOR ME, WHICH SEEMS LIKELY TO GROW. PARANGOSKY WENT PUBLIC WITH THE DETAILS OF THE ORIGINAL FIRST CLASS OF SPARTAN-IIS A FEW YEAR BACK, WITH PREDICTABLE OUTRAGE FROM THE CIVILIAN POPULACE AND PARTS OF THE MILITARY. DETAILS ON THE REST OF THE PROGRAMS HAVE BEEN SLOWER TO COME OUT---PARANGOSKY HAD NO EASY SCAPEGOAT LIKE HALSEY FOR SPARTAN-III, SO SHE OBVIOUSLY WAITED ON THAT, AND MANY OF THE ASSORTED SPARTAN PROJECTS WERE RUN UNDER THE TABLE WITHOUT PARANGOSKY'S KNOWLEDGE, SO FOR A NUMBER OF YEARS, SHE DIDN'T KNOW ENOUGH TO REALLY EXPOSE THEM.
THAT'S CHANGING, OF COURSE, AS MORE UNITS GET EXPOSED. CLASS TWO OF SPARTAN-II WENT PUBLIC A FEW MONTHS AGO, AND IT LOOKS AS IF MY KIDS WILL SOON AS WELL. GOLD AND TURQUOISE ARE THE ONLY TEAMS OF MINE THAT SPARTAN HAS GOTTEN THEIR HANDS ON (LASZLO, BALDUIN, AND RACHEL ARE STILL TECHNICALLY NAVSPECWAR), BUT MATT MESSAGED ME A FEW DAYS AGO WITH A SHORT UPDATE. IT WASN'T MUCH, BUT IT TOLD ME ENOUGH TO ASSURE ME THAT SPARTAN HAS NOTICED MY KIDS. THEY'VE BEEN PERFORMING WELL, AND THAT HAS NOT GONE UNNOTICED, EITHER BY SPARTAN BRANCH OR ONI. THEY SEEM TO BE GETTING CHOICE, SPECIAL FORCES ASSIGNMENTS…AND CLEAN ONI HAVE BEEN CONTACTING ME MORE FREQUENTLY. I GET THE FEELING I'M ABOUT TO BE VILIFIED, BUT CAN'T MARHSALL UP MUCH INDIGNATION TO DEFEND MYSELF. I WASN'T A WILLING PARTICIPANT IN THE SAME WAY HALSEY WAS, BUT I HAVE MY OWN SHARE OF GUILT. WHATEVER COMES MY WAY WILL BE WELL DESERVED.
THE POST WAR GALAXY IS PROVING TO BE A DANGEROUS PLACE, WITH REMNANT FACTIONS AND WARLORDS FROM BOTH THE SANGHEILI AND JIRALHANAE SIDES BATTLING AGAINST THEMSELVES AND EACHOTHER AND US, BUT SEEMS TO BE IN OK HANDS, ALBEIT WITH A HICKUP HERE OR THERE. THE NAVY AND SPARTAN BRANCH WILL OF COURSE BOTH MAKE MISTAKES IN THE COMING YEARS, BUT I HAVE A FEELING THEY'LL DO WELL. MY KIDS, IN PARTICULAR, ARE OUT ON THEIR OWN AND DON'T NEED ME WATCHING OVER THEM THE WAY THEY ONCE DID. IT SEEMS THAT THE GALAXY HAS MOVED ON, AND MY PLACE IN IT HAS SLIPPED AWAY. I'M ALMOST READY FOR ONI TO GIVE ME THAT DEAD-ER END JOB. I'M ALL USED UP.
DECEMBER 9TH, 2555
2557
VERY FEW ASPECTS OF MY OLD LIFE REMAIN INTACT, THESE DAYS. THE SHARP, PIERCING FOCUS THAT I HAD DURING THE WAR IS GONE, REPLACED BY A HOLLOW SENSE OF PURPOSELESSNESS. THE CLASS IIIS ARE GONE NOW, MOST OUT OF CONTACT FOR YEARS. LASZLO, RACHEL, AND BALDUIN ARE OUT THERE SEARCHING FOR [S-117], SOMEWHERE AMONG THE STARS. THEY'RE READY TO BE RECALLED AGAIN AT ANY TIME SHOULD [S-117] BE FOUND, BUT I DOUBT I'LL EVER SEE THEM AGAIN, TO BE HONEST. CONNOR IS STILL TEACHING MARINE SNIPERS, AND WE HAVEN'T TALKED IN YEARS. HE SEEMS PERMANENTLY DAMAGED BY THE LOSSES HE'S SUSTAINED. ADAM AND LUCIA HAVE DROPPED OUT OF CONTACT WITH ME, AS WELL; THEY'RE OFF ON MISSIONS, NOW A WELL KNOWN AND RENOWNED GROUP OF OPERATORS, NO LONGER SHROUDED IN A CLOAK OF SECRECY. GOLD MEANWHILE HAS BEEN FOLDED INTO S-IV, MUCH LIKE THE LAST OF THE GAMMA COMPANY S-III'S--WORD IS THAT THEY'RE THEIR OWN FIRE TEAM ON INFINITY. THEY'RE ALL GONE, AND IT'S HARD TO STAY FOCUSED. AFTER TRAINING STARTED, SUPPORTING THEM BECAME MY WORLD; NOW THAT THEY'RE OFF ON THEIR OWN, I FEEL OUT EMPTY.
I'VE NEVER FELT THIS KIND OF DISORIENTATION BEFORE, BUT IT'S PLAGUED ME SINCE THE WAR ENDED. WHEN I WAS A SOLDIER, THERE WAS ALWAYS SOME CLEAR OBJECTIVE, SOME LARGER GOAL---AND OF COURSE, WHEN THE COVENANT ARRIVED, THAT GOAL BECAME EVEN MORE DEFINED. DIRTY ONI PULLED STRINGS AND MANAGED TO FORCE ME INTO A DEAD END, POINTLESS JOB---THEIR WAY OF GETTING BACK AT ME AFTER ALL THE YEARS OF HEADACHE I CAUSED THEM. I GUESS I CAN'T BLAME THEM, EVEN IF IT MAKES ME MISERABLE. GIVEN ALL OF THAT, I FEEL ALMOST NOSTALGIC ANNOUNCING WHAT THIS ENTRY WAS SUPPOSED TO BE ABOUT: MY LAST TIE TO THE PROGRAM, THE MYSTERY OF RICKY'S DEATH, AT LAST HAS HAD SOME LIGHT SHONE ON IT.
FROM WHAT I CAN TELL, RICKY WAS KILLED BY A SECTION ZERO TRIGGERMAN--PROBABLY SOMEONE FROM ONE OF THE HIGHER TIER TRIGGER GROUPS WITHIN THE AGENCY. WHATEVER GROUP ACTUALLY PULLED THE HIT, THE REASONING IS THE SAME: A GODDAMN COMMUNICATION ERROR BETWEEN RICH'S DIRTY ONI AND "CLEAN" ONI. SECTION 0 NEVER HEARD ABOUT GOLD AND SCARLET BEING SENT AFTER RICKY, SINCE RICH KEPT IT SO SECRETIVE, AND A HIGH-LEVEL AGENT WAS SENT IN TO KILL HIM, WITH "CLEAN" ONI BEING UNAWARE OF GOLD'S INVOLVEMENT UNTIL AFTER THE DUST HAD SETTLED. BUREAUCRATIC BUNGLING, LEADING TO THE DEATH OF A SOLDIER WHO FOUGHT AND SACRIFICED UNBELIEVABLY FOR HUMANITY. BASED ON RESEARCH, I'VE NARROWED THE LIKELY SUSPECTS TO CODENAME: CHAUCER'S FIELD INVESTIGATION TEAM, COLONEL DENT'S ENFORCEMENT DIVISION, OR CODENAME: EMERALD'S DIRECT ACTION TEAM. I TRIED DIGGING INTO THE IDENTITY OF THE ACTUAL AGENT WHO PERFORMED THE HIT, BUT HIT A STONEWALL THE LIKE'S OF WHICH I'VE NEVER SEEN BEFORE. EIGHT YEARS AGO, IT WOULD HAVE LIT A FIRE UNDER ME. BUT NOW...I DON'T KNOW. THE DAUNTING HOPELESSNESS OF THE TASK IS NOTHING SHORT OF CRUSHING. IT'S LIKE I FINALLY REALIZED, FOR THE FIRST TIME, THAT THIS IS THE BEST I WILL DO. RICKY'S KILLER WILL ESCAPE JUSTICE.
MAYBE THE FIGHT HAS GONE OUT OF ME.
MAY 18TH, 2557
WOKE UP THREE DAYS AGO IN PARANGOSKY MEMORIAL MEDICAL CENTER, SPORTING A SYRINGE IN MY ARM AND A BANDAGE ACROSS MY HEAD. THINGS ARE DAMN FUZZY WITH ALL THE PAIN MEDS THEY'RE SHOOTING INTO ME, BUT I GUESS THAT'S A PRICE YOU HAVE TO PAY WHEN YOU TRY AND BLOW YOUR OWN HEAD OFF. I'M GOING TO BLAME MODERN MEDICAL SCIENCE FOR BEING TOO EXCELLENT FOR IT'S OWN DAMN GOOD (OR MY OWN DAMN GOOD, I SHOULD SAY) BECAUSE I CAN'T REMEMBER MUCH OF WHAT HAPPENED, AND I DON'T WANT TO BELIEVE I'VE GOTTEN SO SOFT I COULDN'T EVEN KILL MYSELF PROPERLY. FROM WHAT THE DOCS HERE HAVE TOLD ME, I TOOK A LIGHT CIVILIAN GUN, PUT A ROUND IN MY OWN FACE, AND DIDN'T DO ANYTHING BUT TAKE OUT AN EYE. GUESS IT'S JUST MY LUCK.
THE IRONY OF WAKING UP IN A MED-CENTER NAMED AFTER OLD "PARANOIA IN CHIEF" IS A BITTER PILL TO SWALLOW, SEEING AS SHE BLABBED ABOUT CLASS ONE AND MADE MY LIFE EVEN MORE HELLISH. CIVVIES ARE AN ODD BUNCH SEEING AS THEY HONOR HER FOR "TELLING THE TRUTH"--CONVENIENTLY IGNORING THE FACT THAT SHE WAITED UNTIL AFTER THE WAR--WELL, THE BIG WAR--WAS OVER BEFORE SHE TOLD THE "TRUTH". OLD HAG RAN ONI FOR DAMN NEAR FIFTY YEARS, THEN HANDED IT OVER TO HER PET OFFICER AND WIPED HER HANDS CLEAN OF THE MESS--LEAVING THE REST OF US IN THE DIRT, INCLUDING THOSE OF US WHO GOT DRAGGED IN KICKING AND SCREAMING. LEFT ME WITH PEOPLE IN ONI---DIRTY ONI, MY DO I HATE HAVING TO USE THAT PHRASE SO OFTEN---WHO HATE ME BECAUSE I SCREWED WITH THEM (BROKE THEIR REGS DURING THE WAR, PULLED ILLEGAL SHIT TO KEEP MY KIDS SAFE) AND PEOPLE WHO HATE ME BECAUSE I WAS COMPLICIT IN A PROGRAM MODELED AFTER HALSEY'S---"CLEAN" ONI, WHO, BY THE WAY, HAVE FIGURED OUT THE TRUE ORIGINS BEHIND THE "ARES DETACHMENT" AND COME AFTER ME. NOT WITH THE FEROCITY OF THEIR ATTACK ON HALSEY, SINCE THEY REALIZE I WAS ROPED IN, BUT STILL WITH A PASSION.
AND SPEAKING OF ONI---"CLEAN" OR DIRTY, WHAT DOES IT MATTER, THEY BOTH HATE ME---THEY WASTED NO TIME USING MY, ERM, ACCIDENT TO WIPE THEIR HANDS CLEAN OFF ME. NOT AN HOUR AFTER I WOKE UP, AN OFFICER FROM THE OFFICE SHOWED UP INFORMING ME I'VE BEEN RELIEVED OF DUTY. DISCHARGED WITH FULL HONORS--BUT OH HEY, THAT PENSION I WAS SUPPOSED TO HAVE? CONVENIENTLY GONE. NOT THAT I CARE ABOUT THE MONEY--NEVER MADE ANYTHING ANYWAY. IF I'D CARED ABOUT THAT I'D HAVE BEEN A DAMNED GENETICIST AT SOME CORPORATE FIRM. THE FULL EFFECT OF MY DISCHARGE PROBABLY WON'T HIT TILL LATER--OR UNTIL I COME DOWN OF THESE PAINKILLERS--AND THEN I IMAGINE IT'LL BE MANAGEABLE. AFTER LOSING KIDS TO THEIR DAMN BUREAUCRATIC BULLSHIT, ONI KICKING ME OUT IS A LOVE TAP. IT'LL BE A SYSTEM SHOCK TO LOSE MY ABILITY TO KEEP TABS ON THE KIDS, BUT IT'LL BE A LONG TIME BEFORE I'M OUT OF HERE ANYWAY. AS FAR AS THE HOSPITAL IS CONCERNED, I'M A VET, AND THAT MEANS A FULL PSYCH WORK UP BEFORE I'M OUT. AT LEAST THAT'S ONE GOOD THING IN THE WORLD TO POINT OUT--THAT THE CIVVIES STILL CARE ABOUT US.
MAY 25TH, 2557
I WOKE UP TODAY WITH A MESSAGE THAT WAS A BLAST FROM THE PAST. LASZLO HEARD ABOUT MY ATTEMPT TO OFF MYSELF AND RESPONDED WITH SURPRISING QUICKNESS. THE MESSAGE WASN'T NEITHER SOME LONG TIRADE NOR A SHORT, "YOU CAN DO IT" BATCH OF NONSENSE LIKE THE HOSPITAL STAFF ALL SEEM TO BE GIVING. IT WAS JUST RIGHT, AND JUST WHAT I NEEDED. THE HOSPITAL STAFF DON'T REALLY HAVE AN IDEA OF WHAT I'M GOING THROUGH, AND I OF COURSE CAN'T TELL THEM. BUT LASZLO...HE KNEW. HE UNDERSTOOD. AND HE'S BEEN HERE BEFORE, APPARENTLY: HE NEARLY PUT A ROUND IN HIMSELF RIGHT AFTER AUGMENTATION.
I WAS SHOCKED, AT FIRST. I HAD NEVER EVEN SUSPECTED HE'D BEEN THAT FAR GONE. IN HINDSIGHT, I'M ASHAMED AT MYSELF FOR NOT HAVING SEEN IT. I MIGHT HAVE BEEN WRAPPED UP IN MY OWN GRIEF (OR MORE ACCURATELY, TO WRAPPED UP IN TRYING TO BURY MYSELF IN WORK TO PUT OF MY GRIEF) BUT THAT DOESN'T EXCUSE ME. NOT AT ALL. I FELT GUILTY, BUT IT WAS...A GOOD GUILT. AN EMPOWERING GUILT. FOR ONE, IT GOT ME OUT OF MY OWN HEAD, OUT OF THE ENDLESS REPLAYING OF THE SAME OLD TIRED ISSUES. BUT IT ALSO MADE ME REALIZE THAT I'D FAILED THEN, AND THAT I OWE LASZLO. SO WHEN HE ASKED ME IN HIS MESSAGE TO TRY AND MOVE PAST IT, I DECIDED I NEEDED TOO. FOR HIM, IF NOTHING ELSE. I'VE GOT A PAST FAILURE TO MAKE UP FOR AND I'LL BE DAMNED IF I DON'T FOLLOW THROUGH. DOCTOR'S HERE'LL PROBABLY SAY THAT'S A UNHEALTHY WAY TO APPROACH IT BUT...TO HELL WITH THEM. WHATEVER WORKS.
SO I'M DOING AS LASZLO ASKED. NO MORE WALLOWING IN SELF PITY. NO MORE LETTING MYSELF SLACK OFF. I'M MESSAGING LASZLO (DISCRETELY, IN THE OLD METHOD) ASKING FOR HIM TO USE HIS CONNCECTIONS TO GET INFORMATION I NO LONGER HAVE ACCESS TOO---IN ORDER TO DIG INTO RICKY'S SHOOTER. STONEWALL OR NOT, I'M FINDING THE BASTARD. I'M HITTING THE HOSPITAL RECOVERY SUITE AND GETTING MYSELF PHYSICALLY READY. AND I'VE MESSAGED ROGER, CONNOR, EVEN GOLD TEAM. THE MESSAGES ARE EQUAL PARTS CATCHING UP ON OLD TIMES AND BUSINESS DETIALS. GOLD HAS ALREADY GOTTEN BACK TO ME, AND JACKY HAD ADVICE THAT WAS...UNEXPECTEDLY POIGNANT.
I BELIEVE SHE HAS BEEN THROUGH HER OWN SPELL OF DISILLUSIONMENT, BECAUSE SHE CUT TO THE HEART OF THE ISSUE. SHE TOLD ME SHE BELIEVE'S I'VE RUN OUT OF THINGS TO BELIEVE IN, AND THAT'S WHAT, ESSENTIALLY NEEDS FIXING. "I DON'T CARE WHAT YOU BELIEVE IN, COLONEL", SHE SAID, "JUST THAT YOU FIND SOMETHING TO BELIEVE IN." LASZLO REALLY DID TEACH THE KIDS WELL. THEY'RE WISE IN THEIR OWN PECULIAR WAY.
MAY 27TH, 2557
I'M FINALLY OUT OF THE HOSPITAL, ON MY WAY HOME. MY RELEASE WAS DELAYED DUE TO A FEW BEAURCRATIC SNAFUS. SEEMS ONI CREATED A NICE FAT HELPING OF CONFUSION WHEN THEY DROPPED MY PENSION BUT "HONORABLY" DISCHARGED ME. MILITARY INSURANCE FELL THROUGH, AND IT WAS A HELL OF A TIME SORTING IT OUT. THE HOSPITAL WENT TO AN EXTRORDINARY AMOUNT OF TROUBLE KEEPING ME ALIVE---SAVING GUNSHOT VICTIMS IS NEVER A SMALL EFFORT, AND PEOPLE WHO GET SHOT IN THE HEAD ARE NATURALLY EVEN TOUGHER---SO THEY'RE UNDERSTANDABLY INSISTENT THEY GET THEIR DUES. ULTIMATELY, IT TOOK A WHOLE LOT OF NAGGING ONI THROUGH OLD CHANNELS TO GET THEM TO RELENT. HAD THE NICE SIDE AFFECT OF GIVING ME BACK MY PENSION. HANDY. ALL VERY ENTERTAININGLY MUNDANE, NEXT TO WHAT I'VE BEEN DOING WITH THE REST OF MY SPARE TIME.
I'M BACK UP TO MY OLD TRICKS, PROVING THAT NO SKILL LEARNED EVER GOES TO WASTE. THE HIT ORDER FOR RICKY IS BURIED UNDER A MOUNTAIN OF STONEWALLS, BUT I'M GIVING IT MY DAMNDEST. I'VE GOT LAZSLO RUNNING SEARCHES ON EVERY LEAD I CAN TURN UP AND EVERY IDEA HE GETS ON HIS OWN. WHAT HE DIDN'T KNOW ABOUT RICKY'S DEATH, I'VE SINCE TOLD HIM. HE'S EQUALLY FIRED UP, AND SEEING AS HE CAN'T EXACTLY DEVOTE HIS TIME TO HUNTING DOWN THE KILLER HIMSELF (WHAT WITH SAVIOR AND HIS DISPARATE SPECIAL FORCES MISSIONS), HE'S BEEN EVEN MORE HELPFUL THAN USUAL. AND HE'S USUALLY THE MOST HELPFUL PERSON AROUND.
IT'LL BE A LONG SLOG. I KNOW THAT ALREADY. THERE'S LAYERS UPON LAYERS HERE TO PEAL BACK. LOOKING AT THE OUTERMOST ONES, I HAVE A SINKING FEELING I MAY BE MONTHS, LIKELY YEARS AWAY. GIVING UP IS HARDLY AN OPTION, HOWEVER. AND IF ONI DECIDES THEY DON'T LIKE ME POKING AROUND, THEY CAN COME AND GET ME. I ALREADY TRIED TO KILL MYSELF AND THAT NOTABLY DIDN'T SUCCEED. I'D LIKE TO SEE THEM DO BETTER.
JULY 8TH, 2557
MY SEARCH FOR THE ELUSIVE SHOOTER, STILL IN IT'S INFANCY, WAS SIDETRACKED TODAY. I RECEIVED ANOTHER MESSAGE FROM GOLD, THIS TIME OUT OF THE BLUE. I'M NOT SURE IF THEY WERE LOOKING FOR ADVICE AND THOUGHT I'D HAVE SOMETHING TO CONTRIBUTE, WERE WORRIED ABOUT ME AND WANTED ME TO FEEL INCLUDED, OR JUST NEEDED TO VENT TO SOMEONE WHO WASN'T SPARTAN BRANCH OR A SPOOK. WHATEVER THE REASON, THEY COMPOSED A COMMUNIQUE AND ROUTED IT DIRECT TO MY PERSONAL COMM CHANNEL. THEY WERE USING A VARIATION OF THE ENCODING METHOD LASZLO TAUGHT ME YEARS AGO---I ASSUME HE MAY HAVE BEEN INVOLVED IN THEIR TUTELAGE AS WELL.
THEIR MESSAGE WAS A BIT OF A RAMBE, LIKE THEY WEREN'T SURE WHAT THEY WANTED TO SAY---SO THEY INCLUDED JUST ABOUT EVERYTHING. THEY FILLED ME IN ON THE SPECIFICS OF THEIR OPERATING DETAILS FOR THE LAST FEW MONTHS, GOING OVER WHAT'S HAPPENED SINCE THEY CAME ABOARD LATE LAST YEAR. APPARENTLY, THEY WERE PART OF AN INVESTIGATIVE PARTY TO THE SURFACE OF A NEWLY DISCOVERED HALO RING (INSTALLATION 03), AND HAD THE PLEASURE OF INFILTRATING THE RING'S LIBRARY TO RETRIEVE IT'S ACTIVATION INDEX. NO FLOOD, THEY SAID---BUT PLENTY OF FORERUNNER DEFENSE SYSTEMS THAT DIDN'T WANT AN INDEX ACCESSED WITHOUT AUTHORIZATION OR AN EMERGENCY. SHORTLY AFTER RETRIEVAL, THOUGH, THEY GOT PULLED BACK UP TO INFINITY ON SHORT NOTICE AND THE WHOLE SHIP MADE AN EARLY DEPARTURE.
THAT'S WHERE THINGS GET REALLY INTERESTING. THE INFINITY, USING SOME MYSTERIOUS SET OF COORDINATES THEY APPARENTLY ACQUIRED AT INSTALLATION 03, LOCKED ONTO THE DISTRESS SIGNAL OF THE FORWARD UNTO DAWN---THE SHIP [S-117] DISSAPEARED ON. BEFORE THEY KNEW IT, GOLD TOLD ME THEY WERE SUCKED INTO A FORERUNNER PLANET, AND ENGAGED BY BOTH COVENANT REMNANT AND SOME SORT OF FORERUNNER DEFENSE SYSTEM THEY CALLED "PROMETHEANS". THINGS WENT TO SHIT AND GOLD TOLD ME THE ENTIRE INFINITY WENT DOWN. THEY WERE ASSIGNED TO A SCOUTING RUN AND NEARLY GOT LEFT BEHIND. APPARENTLY, IN THE MEANTIME WHILE THEY WERE MAKING THEIR WAY BACK TO THE SHIP, [S-117] HIMSELF APPEARED BACK FROM THE DEAD AND CLEARED THE WAY FOR INFINITY TO ESCAPE BACK TO EARTH.
THE WHOLE THING INTERESTS ME FOR A NUMBER OF REASONS. FIRST OF ALL, A CLOSER LOOK AT THE ORDER OF BATTLE ON INFINITY IS ENLIGHTENING---SPARTAN MAY BE IT'S OWN BRANCH, BUT IT SOUNDS LIKE IT'S OFFICERS ARE STILL COWTOWING TO THE NAVY. THAT MEANS THAT IT WILL DEFINITELY COWTOW TO ONI, AND MAKES IT CLEAR THAT THE OFFICE IS BY NO MEANS GOING TO BE HAVING A SHORTAGE OF SPARTANS. THE SECOND THING OCCURED TO ME WHEN I GLANCED AT MY MOST RECENT SET OF NOTES ON MY SHOOTER SEARCH. THE MAN WHO KILLED RICKY HAD TO BE AUGMENTED---NO NORMAL HUMAN COULD HAVE EVADED GOLD---AND LIKELY A SPARTAN. WITH ALL THE SPARTANS ON INFINITY, SUCH AN INDIVIDUAL MIGHT BE ABLE TO DISSAPEAR. I OF COURSE IMMEDIATELY CHECKED THE ROSTERS, AND NO ONE WHO FIT THE PROFILE OF THE SHOOTER POPPED UP. BUT I'LL BE KEEPING AN EYE ON INFINITY REGARDLESS.
AUGUST 21ST, 2557
2558
AFTER MONTHS OF DEAD ENDS AND SNAIL'S PACE PROGRESS, WITH DAMN NEAR NO LEADS ON THE IDENTITY OF THE SHOOTER (OR EVEN WHAT SECTION ZERO GROUP PULLED THE HIT) I FINALLY CAUGHT A MASSIVE BREAK TODAY. I'VE BEEN PAYING CLOSE ATTENTION TO OPERATION: VORAUSSICHT, HAVING LASZLO FORWARD ME EVERY SINGLE BIT OF RELEVANT INFORMATION HE CAN FIND ON IT'S PROCEEDINGS. PICKINGS HAVE BEEN UNDERSTANDABLY SLIM; IT'S A TOP-SECRET INVESTIGATION INTO THE EXCESSES OF THE OFFICE DURING THE WAR (IT'S GOT PLENTY OF MATERIAL TO CHOOSE FROM). LASZLO IS NOTHING IF NOT RESOURCEFUL THOUGH, AND HE'S MANAGED TO SECURE A FEW PIECES OF INTEL ON IT HERE AND THERE. SOMETIMES NOTHING MORE THAN PARTS OF AUDIO RECORDINGS BETWEEN INVESTIGATORS, BUT RARELY HE'LL GET NEARLY FULL MISSION REPORTS.
THIS TIME IT'S THE LATTER. ACCORDING TO THE INFO LAZ FORWARDED TO ME, A VORAUSSICHT SUBORDINATE INVESTIGATOR CALLED "RAINFALL" RECENTLY CRACKED OPEN AN IMPRESSIVE, DECADE LONG CONSPIRACY CALLED OPERATION: BLUE NIGHTS. THE CONSPIRACY ITSELF MADE FOR INTERESTING READING ON IT'S OWN, BUT EVEN MORE NOTABLE WAS THE INVOLVEMENT OF THE SECTION ZERO FIELD INVESTIGATION TEAM. THE FIELD INVESTIGATION TEAM WAS ONE OF THE FEW TEAMS I THOUGHT WOULD HAVE OPERATIVES CAPABLE OF PULLING A HIT LIKE THE ONE ON RICKY, SO WHAT I FOUND WAS EVEN MORE TANTALIZING. A CROOKED OFFICER NAMED SKYHAWK (LIKELY JUST A PAWN OF CODENAME: CHAUCER, THE UNIT COMMANDER), INTERVENED ON BEHALF OF THE CONSPIRACY THROUGH AN AGENT NAMED CODENAME: EGOR. AND ACCORDING TO WHAT LASZLO SENT, EGOR IS A SIERRA. AN HONEST TO GOD TWO.
THERE'S NO NAME FOR EGOR, BUT WHAT THE VORAUSSICHT PEOPLE FOUND (OR WHAT LASZLO FOUND OF WHAT THEY FOUND) INDICATES HE WAS A LONG TIME TRIGGERMAN FOR SECTION ZERO---THE PERFECT PROFILE FOR RICKY'S KILLER. LASZLO HAS NO IDEA WHERE HE CAME FROM OR WHO HE ACTUALLY IS---ALL THE TWO'S HE KNOWS OF ARE ACCOUNTED FOR, AND NONE OF THE SUSPICIOUS DISSAPEARANCES DURING THE WAR HAVE AN ASSASSIN'S SKILLSET, BUT THE VORAUSSICHT PEOPLE WERE DAMNED CERTAIN EGOR IS A TWO. LASZLO SUGGESTED HE MIGHT PERHAPS BE A LEONIDAN, SNATCHED FROM TRAINING LIKE HIMSELF OR [S-012]. HE GOT SORT OF QUIET WHEN I ASKED WHO FROM HIS CLASS HAD APPROPRIATE SKILLS, DIED IN AUGMENTATION, AND COULD HAVE EASILY BEEN MISSED---I THINK HE MAY HAVE KNOWN A LITTLE MORE THAN HE LET ON, WHICH IS WORRYING FOR A WHOLE HOST OF REASONS.
WHO HE IS WILL COME IN TIME, HOWEVER. IN THE MEANTIME, I'M TAKING EVERY RESOURCE I HAVE AND DIGGING INTO WHERE EGOR IS NOW. LASZLO'S INFO INDICATED HE WAS CAPTURED BY VORAUSSICHT ON A RAID. IF ONI HAS HIM IN HOLDING, I'M GOING TO FIND HIM.
FEBRUARY 4TH, 2558
IT'S STILL SLOW GOING, BUT THE VORAUSSICHT BREAK HAS DEFINITELY CRACKED OPEN MY INVESTIGATION. SINCE I REALIZED THAT RICKY'S SHOOTER WAS EGOR, I'VE BEEN DIGGING INTO SECTION ZERO AT EVERY CHANCE I CAN GET. LASZLO IS STILL HELPING, BUT MORE AND MORE, I'M DOING THINGS MYSELF. I USED MY OLD ACCESS CODES TO BUILD A DISPOSABLE SET OF ENCRYPTION CRACKING ALGORITHMS, AND AM ATTACKING FILES AS HARD AS I CAN WITHOUT GIVING MYSELF AWAY. IT'S A BIT LIKE PLAYING WITH FIRE, SEEING AS IF I'M CAUGHT NOW, I'M JUST A CIVILIAN AND PUNISHABLE IN WAYS AN ONI AGENT IS NOT, BUT THE INFORMATION I'M PULLING IS TOO GOOD TO REFUSE.
IT'S A BIT LIKE A JIGSAW PUZZLE, BUT THE YEARS I SPENT TRYING TO TRACK DOWN RACHEL AND BALDUIN---AND THE MISTAKES I WAS MADE AWARE OF AFTER THE FACT---WERE AN EXCELLENT LEARNNG EXPERIENCE. IT'S ALL ABOUT GETTING YOUR HANDS ON ENOUGH INFORMATION, SIFTING THROUGH TO FIND THE LINKS, AND THEN MAKING THE CONNECTIONS. SINCE I'VE STARTED DIGGING, I'VE PULLED UP INTEL THAT POINTS TO ONI SECTION ZERO HIDING EGOR, BUT NOT KEEPING HIM LOCKED UP. A SUIT OF WETWORK-CLASS MJOLNIR GEN 2 ARMOR WAS SHIPPED TO THE UNSC SOPHOCLES IN VERY EARLY FEBRUARY, AND CHATTER HAS PICKED UP BETWEEN AGENTS IDENTIFIED AS "SUBMARINE" AND "HANNIBAL". ALL OF IT ENCRYPTED, BUT STILL ENLIGHTENING, IN IT'S OWN WAY: SOME MORE DIGGING HAS REVEALED HANNIBAL TO BE A TASKING AGENT AT THE PERSONAL BECK AND CALL OF OLYCINDUS, AND SUBMARINE TO BE ONE OF THE TOP SECTION ZERO EXTRACTION AGENTS. A NUMBER OF SECTION ZERO SHIPS HAVE ALSO BEEN MOVING TO STRANGE LOCATIONS NOT NORMALLY ASSOCIATED WITH ENFORCEMENT ACTIVITIES, LIKE THEY'RE FORMING A CHAIN.
MY ASSESSMENT? ZERO CAPTURED EGOR, BUT THEY DON'T HOLD HIM PARTICULARLY RESPONSIBLE FOR ANY ILLEGAL ACTIONS HE UNDERTOOK FOR BLUE NIGHTS. THEY RECOGNIZE JUST HOW VALUABLE AN ASSET HE IS, SO THEY'RE KEEPING HIM EQUIPPED AND READY TO DEPLOY. BUT I ALSO THINK THAT LASZLO WAS RIGHT, AND THAT EGOR IS A LEONIDAN---SO THEY WANT TO KEEP HIM SECRET FROM OTHER SERVICE BRANCHES AND THE UEG, MAYBE EVEN THE REST OF ONI. IT'D BE VERY EMBARRASSING FOR THEM TO ADMIT THEY WERE DIRTY, WHEN THEY WERE SUPPOSED TO BE THE ONES ENFORCING THE RULES. I FIGURE THAT'S WHAT THE SHIP'S ARE FOR; IF ANYONE ELSE GETS TO CLOSE TO EGOR, THEY TRANSFER HIM FROM ONE SHIP TO ANOTHER, TO QUICKLY FOR ANYONE TO KEEP TRACK. MY NEXT MOVE WILL BE TO SEE IF I CAN FIGURE OUT WHERE HE IS NOW, BASED ON THOSE SHIP POSITIONS. NOT GOING TO HOLD MY BREATH AND ASSUME IT'LL WORK, BUT IT'S THE BEST IDEA I'VE GOT RIGHT NOW.
FEBRUARY 19TH, 2558
SHIT.
EVERYTHING SEEMED TO BE GOING SMOOTHLY, JUST A FEW DAYS AGO. I THOUGHT I WAS NEARING NARROWING EGOR'S POSITION, AND EVEN HAD A RIDE LINED UP TO THE MOST LIKELY PLANET. AS IT TURNS OUT, I'VE BEEN ON THE WRONG TRACK FOR A WHILE NOW.
PREVIOUSLY, I HAD ASSUMED EGOR WOULD BE KEPT IN ONE OF THE SECTION ZERO FIELD BUNKERS. THE SAME HIDEOUTS AGENTS USE TO GO TO GROUND AFTER THEIR HITS ON TARGETS. AS IT TURNS OUT, THOUGH, SUBMARINE IS SECTION ZERO'S TOP EXFILTRATION SPECIALIST FOR A REASON. HE REALIZED IT WOULD BE IMPOSSIBLE TO HIDE EGOR THE TRADITIONAL WAY, AND KNOWING SOMEONE WOULD LIKELY COME LOOKING FOR HIM, GOT CREATIVE IN THAT BASTARD SPOOK WAY THAT MAKES THINGS WAY TO DAMN COMPLICATED. THE FUCKER PUT HIM ON INFINITY.
AS IT TURNS OUT, EGOR WAS ON THE DAMNDED INFINITY. A STONE'S THROW AWAY FROM GOLD, AS LUCK WOULD HAVE IT. THEY BUNKED IN THE BARRACKS ADJOINING EGOR'S CABIN, AND WHEN I ASKED THEM, TOLD ME THEY DO IN FACT REMEMBER SEEING A SPARTAN IN WETWORK GEAR GO IN AND OUT OCCASSIONALLY. TOLD ME HE WAS A QUIET, LONER TYPE---THAT HE GAVE THEM A "WEIRD VIBE". I DIDN'T HAVE THE HEART TO TELL THEM WHO HE WAS WHEN THEY ASKED. THE WHOLE TEAM---JACKY ESPECIALLY---STILL HASN'T TOTALLY SQUARED AWAY WHAT HAPPENED WITH RICKY BACK IN '52. THEY STILL DON'T TRUST ONI, AND THEY'VE TOLD ME MORE THAN ONCE THEY'RE EAGER TO MAKE THE ASSASSIN PAY. IF THEY KNEW THEY'D BEEN THAT CLOSE TO RICKY'S KILLER AND THAT THEY'D LET HIM GO, THEY'D BE FURIOUS. AT THEMSELVES MORE THAN ME, BUT I HARDLY WOULD PREFER THAT.
AND LET HIM GO THEY DID, BECAUSE HE'S GONE AGAIN. IN FACT, THAT'S THE ONLY REAL REASON I EVEN KNOW HE WAS ABOARD. AN INTEL PACKET CAME MY WAY, COURTESY OF ONE OF THE SPARTAN-IVS ABOARD INFINITY (WHO MAY OR MAY NOT BE A FORMER ARES PROJECT DRILL INSTRUCTOR), DETAILING AN INCIDENT RIGHT AT THE END OF THE REQUIEM CAMPAIGN. THE TWO TEAMS ON THE GROUND RESPONSIBLE FOR GETTING INFINITY CLEAR OF THE DYING STAR, MAJESTIC AND CRIMSON, MADE EMERGENCY LANDINGS IN THE SAME HANGAR BAY. COMMANDER PALMER WAS ACCOMPANYING MAJESTIC AND WAS APPARENTLY THERE TO DISCOVER THAT "CRIMSON" WAS ACTUALLY JUST EGOR. THERE WAS SOME CONFUSION, FOLLOWED BY SOME YELLING, FOLLOW BY EGOR DISSAPEARING. A SHIPBOARD SEARCH TURNED UP NO SIGNS OF HIM AND IT SEEMS CLEAR SECTION ZERO SPIRITED HIM AWAY THE MOMENT THEY CONCLUDED HIS COVER WAS BLOWN. MY CONTACT TELLS ME SPARTAN IS QUIETLY SEETHING AND PREPARING TO MOUNT THEIR OWN INVESTIGATION.
I SAY, IF THEY WANT HIM FOR QUESTIONING, THEY CAN GET IN LINE BEHIND ME.
AND THEN SEE WHAT THEY PULL FROM HIS ARMOR AFTER I PUT A BULLET IN HIM THE WAY HE DID TO RICKY.
APRIL 11TH, 2558
AFTER THE INFINITY REVELATION, IT'S BEEN TOUGH FINDING NEW LEADS TO GO ON. WHEN EGOR DISSAPEARED OFF INFINITY, HE DAMN NEAR VANISHED. I TRIED TRACKING THE COURSES OF THE SECTION ZERO SHIPS, BUT IT TURNED INTO A WILD GOOSE CHASE. THAT "SUBMARINE" SON OF A BITCH USED THEM AS A DIVERSION; EGOR WAS NEVER ONBOARD THEM, AND I HAVE A FEELING THAT BY THE TIME I FIND OUT THE REAL SHIP THAT HE LEFT ON, EGOR WILL ALREADY BE GONE.
SO, I'M BACK AT SQUARE ONE, AS FAR AS LOCATIONS ARE CONCERNED. I'M LOOKING INTO ALL THE USUAL PLACES (ALONG WITH A FEW UNUSUAL ONES OF MY OWN DEVISING) BUT I HAVE NOTHING TO GO ON TO INDICATE EGOR WILL BE AT THEM. IF I DO FIND A TRACE OF HIM WITH THAT LINE OF INQUIRY, IT'LL BE BLIND LUCK. EXCEPTIONALLY LARGE AMOUNTS OF IT, SEEING AS THIS "SUBMARINE" OPERATIVE KNOWS WHAT HE'S DOING SO WELL. I'M ALSO KEEPING AN EYE ON SPARTAN BRANCH'S INVESTIGATION INTO EGOR, AS IT SHOWS SOME POTENTIAL. THEY'RE PUTTING SOMEONE NAMED "MONTEGUE" ON IT, WHO I BELIEVE WAS THE SAME GUY WHO HID EGOR ON INFINITY IN THE FIRST PLACE---HE MUST KNOW HIM AS WELL AS ANYONE. COMBINE THAT WITH THE FACT THAT SPARTAN IS A NEW BRANCH, WITH A LOT OF RESOURCES, AND NO ESTABLISHED MINDSETS TO SPEAK OF, MEANS THAT THEY MIGHT FIND SOMETHING I DON'T. IF THEY DO, I'LL PIGGY BACK OFF THAT IMMEDIATELY.
THERE'S ONE OUTSTANDING DETAIL I HAVE YET TO MENTION, HOWEVER. WITH THE INVESTIGATION INTO WHERE EGOR IS NOW HITTING ROADBLOCKS, I'VE DECIDED TO LOOK INTO WHERE HE WAS BEFORE. IT'S DIFFICULT WORK, AND I'VE HAD TO MAKE LIBERAL USE OF LASZLO'S HACKING SOFTWARE TO DO IT, BUT AT LEAST IT SHOWS SIGNS OF PROGRESS. I MANAGED TO BREAK INTO VORAUSSICHT'S BLUE NIGHTS RECORDS MYSELF AND LOCATE THE SITE OF THE RAID---BIKO, THE GLASSED COLONY WORLD---AND FROM THERE, I'VE BEEN TRYING TO DIG INTO WHERE EGOR SHIPPED IN FROM. IT COULD EXPOSE A POTENTIAL SAFE HOUSE, OR IF I'M REALLY LUCKY, POINT ME TOWARDS MORE ANSWERS ABOUT HIS TRUE IDENTITY AND PAST.
JUNE 9TH, 2558
STILL HITTING ROADBLOCKS EVERYWHERE I TURN TRYING TO TRACK DOWN EGOR'S LOCATION, AND SPARTAN'S INVESTIGATION ISN'T DOING MUCH BETTER EITHER. THE SPARTAN SPOOKS ARE BUSY COMBING EVERY SQUARE INCH OF NEW HARMONY, WHERE AN ONI SHIP CALLED THE ALLADIN TOUCHED DOWN. IT LEFT THE INFINITY IN A HURRY AFTER EGOR'S CONFRONTATION WITH PALMER, AND SPARTAN HAD IT IMPOUNDED THE MOMENT IT LANDED, THINKING HE STOWED AWAY. THEY SEARCHED EVERY INCH OF IT, BUT EGOR WAS NOWHERE TO BE FOUND. NOW THEY THINK HE MANAGED TO SLIP PAST THEM AND HAS GONE TO GROUND SOMEWHERE ON THE SURFACE. I, PERSONALLY, DOUBT HE WAS EVER EVEN ON THE SHIP.
WHILE I'M FINDING MY HOPE IN SPARTAN FINDING SOMETHING USEFUL MIGHT HAVE BEEN MISPLACED, I'M LOOKING DOWN OTHER PATHS TO MAKE UP THE DIFFERENCE. LOOKING INTO EGOR'S PAST, I NOTED A SPOOKY CORRELATION BETWEEN SOME OF THE PLACES I THOUGHT HE'D BEEN, AND STRANGE BOUTS OF VIOLENCE. MURDERS OF UNSC OFFICERS, USUALLY ATTRIBUTED TO INSURRECTIONISTS OR CRIMINAL ELEMENTS, BUT HOST TO GUT-CHURNING AMOUNTS OF CARNAGE. IT'S NO STRETCH TO IMAGINE THESE WERE SIMPLY SECTION ZERO HITS CARRIED OUT BY THE FIT, THAT ONI COVERED UP. IT GOT ME THINKING, HOWEVER: MAYBE I CAN'T FIND WHERE EGOR IS NOW, BUT CAN I PREDICT WHERE HE'LL END UP?
IF SECTION ZERO WENT TO ALL THE TROUBLE TO HIDE HIM FROM THE CIVILIAN OVERSIGHT THEN GET HIM OFF OF INFINITY---BOTH TIMES SAVING HIM FROM CAPTIVITY AS WELL AS THEMSELVES FROM EMBARRASSMENT---THEN THEY MUST STILL WANT TO USE HIM. NO SURPRISE, IF HE'S GOOD ENOUGH TO KILL SPARTANS. SO, WHILE SECTION ZERO MIGHT BE LACKING A PAPER TRAIL OF EGOR'S LOCATIONS, I MIGHT STILL BE ABE TO EXTRAPOLATE HIS DESTINATION BASED ON SOME OF THEIR ONGOING INVESTIGATIONS---THE ONES THAT ARE LIKELY TO END WITH A PISTOL SHOT AND NOT AN ARREST, THAT IS.
WITHOUT RESOURCES OR PERSONNEL, IT'S GOING TO BE TOUGH TO FIND HIM. I'VE GOT A MESSAGE IN TO ROGER TO SEE IF HE CAN HELP BY KEEPING AN EYE ON SOME OF THE SUSPECTS HE'S CLOSEST TOO (I OFFERED MONEY, THOUGH I THINK THERE'S A FAIR CHANCE HE'LL REFUSE IT) AND HAVE A SHUTTLE BOOKED TO THE ONE I'M NEAREST TOO. NOT EXACTLY THE WORLD'S MOST LIKELY PLAN, BUT (AND I FEEL LIKE I'VE SAID THIS FAR TO MUCH THE LAST YEAR) IT'S BETTER THAN NOTHING.
AUGUST 15TH, 2558
MY HUNT FOR EGOR IS STILL ONGOING, BUT MY METHODOLOGY IS COMING TOGETHER A BIT BETTER AS TIME GOES ON. THE PAST FEW MONTHS I'VE SPENT MY TIME PORING OVER ALL MANNER OF DATABASES---PERSONNEL FILES, INCIDENT REPORTS, CRIMINAL COMMUNICATION EXTRACTS, CONSTABULARY INFORMATION, INTER-SYSTEM FLIGHT LOGS, SHIP INVENTORIES, MILITARY CORRUPTION COMPLAINTS---ANYTHING THAT COULD POINT ME TO EITHER EGOR, OR TO CRIMINAL MILITARY OR GOVERNMENT ACTIVITY THAT WOULD DRAW HIM IN. IT'S FAR FROM EASY. SECTION ZERO IS A GHOST TO MOST OF THE UNSC FOR GOOD REASON. INFILTRATING THEIR SYSTEMS DIRECTLY IS ENTIRELY UNHELPFUL, SEEING AS THEIR DECADE'S OF EXPERIENCE HAVE MADE THEM SUCH EXPERTS AT CONCEALING THE TRAILS OF THEIR OPERATIVES.
HOWEVER, MY OTHER PLAN, WORKING BACKWARDS AND LOOKING FOR ILLICIT ACTIVITY TO PREDICT WHERE SECTION ZERO WILL SEND EGOR NEXT, IS SHOWING PROMISE. IT'S MORE DEPENDABLE AND ACHIEVABLE, BUT AT A COST OF BEING MUCH LESS DIRECT. I ESSENTIALLY AM TRYING TO DO THE LEGWORK OF AN ENTIRE ANALYST TEAM, CREATING A WORKING REGISTER OF ALL SECTION ZERO ACTIVITY IN ORDER TO DETERMINE WHAT SORT OF ACTIVITY WARRANTS WHAT SORT OF FORCE DEPLOYMENT. IT'S A NECESSARY FIRST STEP; ONCE I KNOW WHAT SORT OF ACTIVITY WARRANTS DEPLOYMENT OF EGOR VERSUS, SAY, A TRADITIONAL HIT TEAM, I CAN LOOK SPECIFICALLY FOR ACTIVITY OF THAT SORT---THAT HASN'T BEEN PROSECUTED YET---AND PREDICT WHERE EGOR WILL STRIKE BEFORE HE ACTUALLY DOES.
ALL THE DARA FIR THIS METHOD IS AT HAND, BUT WILL BE A LONG TIME COMING. SIFTING THROUGH THE MOUNTAIN OF INFORMATION ISN'T EASY. I'VE LIMITED MY SAMPLE SIZE SOMEWHAT BASED ON CRIME TYPE, CUTTING OUT THINGS I DEEM TO MINOR, BUT I'VE GOT TO BE CAREFUL. SOME HIGHER-UP COULD DO SOMETHING PETTY THAT WOULD NORMALLY JUST WARRANT A SMALL TEAM, BUT THAT EGOR WOULD BE USED WITH IN ORDER TO DO THE JOB CLEANLY. SO I END UP LOOKING THROUGH MORE DATA THEN I NEED TO, IN ORDER TO MAKE SURE NOTHING GETS MISSED.
THIS IS GOING TO BE ONE SERIOUSLY LONG ASS SLOG.
SEPTEMBER 29TH, 2558
THE SERIOUSLY LONG ASS SLOG CONTINUES UNABATED, AND I'VE TAKEN TO LOOKING INTO ALTERNATE AVENUES OF INVESTIGATION FOR A FEW DAYS EACH WEEK---EVEN WHEN THEY'RE NOT THE MOST LIKELY AVENUES---IN ORDER TO KEEP MY HEAD CLEAR. I'M ALSO MAKING USE OF THAT PENSION AND ALL MY BANKROLLED SAVINGS TO HELP MYSELF TO ALL NUMBER OF COMBAT TRAINING COURSES---RIFLE RANGES, PISTOL RANGES, CQC COURSES---AS A REFRESHER. THE DISTRACTION OF THE ALTERNATE AVENUES AND MY PERSONAL TRAINING IS USUALLY JUST THAT (A DISTRACTION) BUT THE LAST INVESTIGATION I LOOKED INTO GAVE ME A NICE SURPRISE.
I'D JUST ABOUT GIVEN UP ON SPARTAN BRANCH'S ATTEMPT TO TRACK DOWN EGOR. THEY'D FALLEN FOR EVERY CHEAP TRICK THE OFFICE USED TO COVER THE TRAIL, NOT EVEN GETTING TO THE HARD STUFF THAT FOOLED ME, AND FOR A WHILE LOOKED LIKE THEY WERE GOING ABSOLUTELY NOWHERE. I'D ACTUALLY STOPPED CHECKING IN WITH THEM: THEY WERE TAKING ALL THAT FLEXIBILITY THEY HAD AS A NEW BRANCH AND SEEMINGLY SQUANDERING IT, DOING ALL THE WRONG MOVES AND ACTING LIKE IDIOTS. IT SEEMED APPARENT THAT THEY WERE DAMN GOOD AT RECRUITING COMBAT TROOPS, BUT DIDN'T HAVE ANY IDEA HOW TO PICK OUT A GOOD SPOOK. BUT WHEN I FINALLY LOOKED AGAIN, THINGS HAD CHANGED.
SOMEONE NEW SEEMS TO HAVE TAKEN CONTROL OF THE EGOR HUNT. I'M STILL WORKING ON IDENTIFYING WHO EXACTLY THIS NEW GUY IS, BUT WHOEVER HE IS, HE'S GOOD. STRAY CHATTER FROM WITHIN THE SPARTAN INVESTIGATION HAS DECREASED (HE'S EITHER DOWNSIZING---UNLIKELY---OR TIGHTENING UP SECURITY MEASURES---VERY LIKELY) WHILE ACTIVITY HAS BUMPED UP, SPREAD OUT, AND BEGUN FOCUSING ON MORE EFFECTIVE AREAS. I'VE SEEN NO SIGN OF THEM APPROACHING THINGS FROM MY WAY (A DAMN SHAME, SINCE THEY'VE GOT THE RESOURCES TO DO IT SO MUCH QUICKER) BUT THEY'VE GOT ASSETS ALL OVER. THEY CAN CATCH THINGS WITH TRADITIONAL INVESTIGATIVE METHODS THAT I NEVER COULD, SIMPLY BY FORCE OF NUMBERS. I'LL KEEP WORKING MY END, BUT I WANT TO KNOW WHO THIS NEW GUY IS. SHAKE HIS HAND MAYBE…OR CUT IT OFF, IF HE STARTS CLOSING IN ON EGOR BEFORE I GET MY SHOT AT HIM.
OCTOBER 9TH, 2558
MORE AND MORE LATELY, LOOKING INTO SPARTAN'S INVESTIGATION HAS DRAWN ME IN. I'VE USED THE HACKING TOOLS PROVIDED BY LASZLO TO BREAK INTO THEIR FILES, SEARCHING FOR ANY ANSWERS THAT MIGHT BE THERE. I'D BEEN EXPECTING THE SPARTAN INVESTIGATION TO SHED LIGHT ON SOME MINOR QUESTIONS, BUT WHAT I FOUND SURPASSED EVERY EXPECTATION I'D HAD. AFTER SOME DIGGING, I MANAGED TO SINGLE OUT THE NAME OF THE NEW GUY I BELIEVE TO BE RESPONSIBLE FOR THE CHANGE IN DIRECTION, A SPARTAN SPOOK BY THE NAME OF CODENAME: MONTAGUE.
HE'S NOT TECHNICALLY IN CHARGE---SEEMS HE'S REPORTING TO SPARTAN SPOOK HIGHER UPS WHO OFFICIALLY ARE CONTROLLING THE INVESTIGATION---BUT HE MIGHT AS WELL BE. HE'S "ADVISING" ON THE COURSES OF ACTION TO TAKE, AND THE AGENTS IN THE FIELD ARE FOLLOWING HIS ADVICE LIKE ORDERS. HE'S ALSO APPARENTLY SCOURING SPARTAN BRANCH FOR THE BEST OF THE BEST, COMPILING A DIRECT ACTION TEAM. I'M NOT SURE IF THAT MEANS HE'S LOCATED EGOR AND IS PLANNING AN OPERATION ALREADY OR SIMPLY BEING PREPARED, BUT AT THE MOMENT, IT'S THE LEAST OF MY CONCERNS.
SEARCHING THROUGH OLD SPARTAN BRANCH FILES LOOKING FOR INTEL ON WHERE MONTEGUE CAME FROM (HE DOESN'T APPEAR IN ANY MISSION REPORTS PRIOR TO MARCH OF 2558) I CAME ACROSS A TRANSCRIPT OF DEBRIEFING FROM JUST AFTER THE REQUIEM DEBACLE, AND WHAT I BELIEVE TO BE THE FIRST APPEARANCE OF MONTAGUE IN RECORDS. COMMANDER PALMER, THE SPARTAN FOUR CO, AND AN ENTOURAGE OF SPARTANS RAN MONTAGUE THROUGH THE RINGER: HIS REAL NAME IS JARED MILLER, AND HE'S THE ONE WHO SMUGGLED EGOR ONTO INFINITY. HE WAS THE FIRST ONE THEY LOOKED TOWARDS AFTER EGOR VANISHED, BUT THEY DID IT QUIETLY ENOUGH THAT I MISSED IT. THE DEBRIEF WAS FULL OF MORE INTEL THAN I'VE FOUND IN MONTHS. I'M STILL STRUGGLING TO DIGEST IT ALL.
MONTAGUE IS A FORMER TRIGGER-MAN FOR SECTION ZERO, WHO QUIT AFTER DOING THEIR DIRTY WORK FOR TOO LONG. HE TOLD PALMER AND COMPANY HIS WHOLE NASTY BACK STORY, PLUS HOW HE HELPED CONCEAL EGOR ON INFINITY. BUT THE REAL BOMBSHELL WAS STILL TO COME. PALMER AND COMPANY DIDN'T UNDERSTAND THE SIGNIFICANCE, NOT EVEN REALLY AFTER MONTEGUE EXPLAINED IT TO THEM, BUT IT WAS ONE OF THE LAST PIECES OF MY PUZZLE. EGOR, THE COLD BLOODED ASSASSIN THAT KILLED MY RICKY, IS A CONFIRMED SPARTAN-II LEONIDAN.
LEONID-144. THE SAME LEONID WHO SERVED WITH LASZLO DURING TRAINING. IT'S CLEAR TO ME NOW THAT THIS IS WHAT HE HAD TO HAVE BEEN HIDING WHEN I ASKED HIM FOR HELP EARLIER, A SUSPICION THAT IT WAS LEONID, AND I GUESS THAT'S THE REAL SHOCK OF IT. I FEEL NUMB. NO, NOT NUMB. EMPTY. HURT. I TRUSTED LASZLO. AFTER ALL THESE YEARS, HE WAS THE ONLY ONE WHO UNDERSTOOD, THE ONLY OTHER I COULD GO TO. HOW COULD HE?
DECEMBER 19TH, 2558
2559
AFTER MONTHS OF WORK, I'VE FINALLY COMPLETED MY REGISTER OF SECTION ZERO RESPONSES. FINE TUNING WILL CONTINUE TO TAKE PLACE AS I GO ON, OF COURSE, BUT AT THIS POINT IT'S WORKABLE AND THAT'S ALL THAT MATTERS. TIME SEEMS TO BE RUNNING SHORT. MONTAGUE'S SPARTAN BRANCH INVESTIGATION APPEARS TO KNOW SOMETHING I DON'T, MAYBE EVEN WHERE LEONID IS HEADING NEXT. THEY'VE FINISHED ASSEMBLING A STRIKE TEAM, A FOUR MAN FIRETEAM CHRISTENED "GRANITE", AND HAVE THEM EN ROUTE TO NEW HARMONY FROM ALL OVER THE GALAXY. THEY'RE BEING COLLECTED FOR SOMETHING BIG.
LASZLO MESSAGED ME ASKING HOW THE INVESTIGATION IS GOING, SEEING AS HE'S BUSY HUNTING DISPARATE COVENANT GROUPS IN THE OUTER REACHES OF SPACE AND CAN'T HELP DIRECTLY, AND FOR THE FIRST TIME, I LIED TO HIM. I CAN'T BE SURE OF THE DEGREE HE'LL GO TO PROTECT LEONID, BUT I CAN'T RISK TELLING HIM ABOUT THE PROGRESS ON THE REGISTER AND HIM EXPOSING MY PLANS. LEONID WAS IN THE SAME TEAM AS LASZLO ALL THOSE YEARS AGO DURING HIS SPARTAN TRAINING, AND THAT SORT OF LOYALTY DIES HARD. I KNOW THAT LASZLO REALLY MIGHT BE INNOCENT IN ALL THIS (HE DID, AFTER ALL, THINK LEONID DIED IN AUGMENTATION---HE MIGHT NOT HAVE CONNECTED THE DOTS BETWEEN OPERATION: LEONIDAS AND HIS TEAM) OR EVEN JUST IN DENIAL, UNWILLING TO REALLY CONSIDER LEONID AS AN OPTION, BUT IT'S A CHANCE I CAN'T AFFORD TO TAKE.
I'VE BEGUN CATALOGING UNPROCESSED CRIMES AND CASES OF UNSC CORRUPTION AND COMPARING THEM TO MY REGISTER, LOOKING FOR INSTANCES WHERE LEONID IS LIKELY TO BE DEPLOYED. I'VE ALSO REACHED OUT TO ROGER, AND ASKED HIM TO KEEP AN EYE OPEN. BETWEEN HIS CRIMINAL CONNECTIONS AND HIS OWN PERSONAL DEALINGS WITH SHADY CHARACTERS, IT'S POSSIBLE HE'LL BE ABLE TO FIND SOMETHING BEFORE I DO. THE UNDERWORLD ALWAYS KNOWS ABOUT CRIMINAL DEALINGS LONG BEFORE THE GOVERNMENT DOES.
FEBRUARY 14TH, 2559
TODAY I FINALLY ADMITTED TO MYSELF THAT I'M NOT GETTING MUCH WORK DONE ANYMORE. I'VE TRIED TO CONVINCE MYSELF THAT I'M SIMPLY TIRED, OR BURNT OUT, OR NUMBED BY WORKING THE SAME CASE FOR SO LONG WITH SO LITTLE TO GO ON AND SO LITTLE DEVIATION, BUT I COULDN'T. THE RAMIFICATIONS OF LASZLO BETRAYING ME STILL LEAVE ME UNEASY. PART OF ME SAYS IT'S BEEN MONTHS, GET OVER IT, MOVE ON AND FOCUS ON THE TASK AT HAND, BUT I JUST CAN'T. MY CIRCLE OF FRIENDS, THE LIST OF PEOPLE I CAN TRUST, HAS SHRUNK STEADILY THE LAST TWO DECADES. FIRST I LOST MY COMPANY, THEN MY KIDS WHO DIDN'T SURVIVE AUGMENTATION, THEN THE FEW STAFF I HAD CONFIDENCE IN WERE TRANSFERRED AWAY. BEFORE LONG, THE WAR BEGAN TO TAKE THOSE FEW PRECIOUS KIDS OF MINE THAT HAD SURVIVED THE EARLIER RIGORS. JENNIFER, ARNOLD, LUCY, DOMINIC, MELLISSA, LUCIUS, TUCK, RICHARD, MICHAEL, KAITO, GREGORY, CECICILIA, OLIVIA, JACK, TIMOTHY, LILY, MICA, JAMES, REGULUS, DRACO, KAMALA. SO MANY NAMES. SO FEW LEFT.
AND THROUGH IT ALL, THERE WAS LASZLO. DROPPED INTO THE SAME HELLISH PIT AS ME, FORCED INTO THE SAME TERRIBLE RESPONSIBILITY. AS FRIENDLESS AS MYSELF, BUT EVEN MORE CURSED, AFFLICTED WITH THE KNOWLEDGE, RIGHT FROM THE START, OF HOW BAD THINGS WOULD BE. HE FELT THE SAME PAIN WHEN WE LOST SO MUCH IN AUGMENTATION, FOUGHT THE SAME FIGHT AGAINST THE WICKED BUREAUCRACY. HE WAS A COMRADE IN ARMS. I TRUSTED PLENTY OF PEOPLE, EVEN THOUGH I LOST MOST OF THEM, BUT I DON'T KNOW IF I COULD CALL ANY OF THEM FRIENDS. EXCEPT LASZLO.
HOW COULD HE BETRAY US? NOT JUST ME, THE WHOLE PROGRAM. THE KIDS. RICHARD, BUT JENNIFER AND MICHAEL AND ARNOLD TOO. ALL KIDS OF OURS WHO DIED WHEN THEY NEED NOT HAVE. HOW COULD LASZLO POSSIBLY PROTECT RICHARD'S MURDERER, EVEN FOR A SECOND? THEY WERE JUST AS MUCH HIS AS MINE. HE COULDN'T HAVE. BUT…HE SEEMS TO HAVE. MY GUT CHURNS AND ROILS AS I WONDER, SHOULD I ASK HIM? IT MIGHT CLARIFY ALL OF THIS. MIGHT EXPLAIN HOW LASZLO COULD HAVE HESITATED. COULD PROVE THAT HE WOULD STILL PUT A BULLET IN LEONID, DESPITE THEIR HISTORY. LASZLO COULD HAVE BEEN WAITING UNTIL HE COULD CONFIRM IT, AND NOT WANTED TO GIVE ME FALSE LEADS. COULD HAVE BEEN TOTALLY UNAWARE. COULD HAVE HESITATED AND BEEN TO ASHAMED TO TELL ME. COULD HAVE ALREADY PUT A BULLET IN LEONID FOR SOMETHING ELSE AND NOT WANTED TO TALK ABOUT IT.
BUT THE MILLION IN ONE CHANCE EXISTS, DOESN'T IT? THAT I DON'T KNOW HIM. THAT I NEVER DID. THAT THAT LONE FRIEND OF MINE WASN'T WHAT HE APPEARED TO BE, WHO HE PRETENDED. KILLING LEONID, THIS FALLS TO ME. MAYBE IT ALWAYS HAS.
MARCH 27TH, 2559
EVEN IF ALL I'VE FROM BEFORE HADN'T ALREADY PROVED IT, TODAY ALONE WOULD REVEAL HOW RIGHT I WAS TO FOLLOW MONTAGUE IN HIS INVESTIGATION. THREE DAYS AGO, MONTAGUE'S FIRETEAM GRANITE ARRIVED IN THE SOL SYSTEM ABOARD THE UNSC NOX, A STEALTH VESSEL. DOESN'T HAVE ALL THE BELLS AND WHISTLES OF A MODERN DAY PROWLER AND WOULDN'T'T BE MUCH HELP ESCAPING A WARSHIP'S DETECTION OR HIDING IN AN INNER COLONY, BUT IT CAN PASS THROUGH THE SPACE OF OUTER WORLDS WITHOUT MUCH TROUBLE. THE STEALTH VESSEL MIGHT SHOW SPARTAN CAN'T DO MUCH IN THE WAY OF INDEPENDENT ACQUIRING COVERT ASSETS, BUT MONTAGUE IS PROVING HE AT LEAST, IS ONE HELL OF A SPARTAN SPOOK.
SOMEHOW, SOMEWAY, THEY CAUGHT A TRACE OF LEONID. THEIR PLAN WAS RUSHED AND DIDN'T WORK, BUT I DO BELIEVE IT'S THE CLOSEST SHOT ANYONE'S EVER GOTTEN TO HIM OUTSIDE OF VORAUSSICHT'S ACCIDENTAL CAPTURE. LEONID HAD TO BE TRANSFERRED FROM A HIT TO A SAFE HOUSE, AND GRANITE MANAGED TO MAKE HIM WHILE HE WAS IN TRANSIT. THEY MIGHT HAVE EVEN SUCCEEDED IN ESTABLISHING A DRONE WATCH ON HIM AND DETERMINED HIS DESTINATION, IF THEIR PLAN HADN'T BEEN DERAILED. SOMEONE ELSE---SOMEONE I'M BETTING TO BE CHAUCER TRYING TO CLEAN UP LOOSE ENDS---GOT TO LEONID FIRST. THEY LAUNCHED AN ATTACK THAT JAMMED EVERY CONNECTION IN A TEN MILE RADIUS, BLOCKING THE SPARTAN DRONE'S CONNECTION, THEN ATTACKED ON THE GROUND. A WHOLE PLATOON'S WORTH OF SHOOTERS TRIED A GODDAMN FREEWAY DRIVE BY---USING DELIVERY VAN AND A SEMI TRUCK NO LESS---BUT LEONID HAD OTHER PLANS, APPARENTLY. HE HAD AIR COVER OF HIS OWN THAT WASTED THE DELIVERY VAN, THEN, IF GRANITE'S REPORT ON EVERYTHING IS TO BE BELIEVED, LITERALLY JUMPED THROUGH THE SIDE OF THE SEMI TRUCK AND KILLED EVERYONE INSIDE.
GRANITE, FOR THEIR PART, WERE APPARENTLY ABOUT TO TRY TAKING LEONID IN ON THEIR OWN, BUT THE SEMI WAS RIGGED TO BLOW. THEY NARROWLY SURVIVED THE COLLISION WHEN THE THING BLEW AND THEY COULDN'T GET OUT OF THE WAY IN TIME. LEONID WAS LONG GONE BY THE TIME THEY RECOVERED, AND GRANITE AND MONTAGUE ARE BEING SIDELINED BY THE SPARTAN SPOOK BRASS. BASED ON THE RESULTS I'VE SEEN OUT OF MONTAGUE, I DOUBT THAT'LL LAST LONG. THAT'S NOT THE REAL BAD NEWS THOUGH. I HAD NO INKLING CHAUCER WAS GOING TO TRY SOMETHING, NOT A SINGLE HINT. IF HE WAS ABLE TO FIND LEONID AND GET THAT MANY OPERATIVES AND THAT EXTENSIVE OF A PLAN ROLLING ON SUCH SHORT NOTICE, IT MEANS MY LIFE JUST GOT HARDER. COMPETING WITH SPARTAN UNDER MONTAGUE WAS HARD ENOUGH. CHAUCER MUST HAVE EXTENSIVE RESOURCES AND A LOT OF TIME IN OFFICE. HE'LL BE DEADLY. AND I REFUSE TO LET HIM KILL LEONID, NOT WHEN I'M SO CLOSE TO DOING IT MYSELF.
MAY 9TH, 2559
RUNNING DOWN ALL MY VARIOUS ANGLES, AS USUAL, WITH A FEW UPDATES. ROGER HAS YET TO HEAR ANYTHING HIMSELF THAT COULD PREDICT ONE OF LEONID'S FUTURE TARGETS, BUT IN THE MEANTIME HAS PUT ME IN CONTACT WITH SOME OF HIS CRIMINAL CONTACTS WHO MIGHT KNOW SOMETHING. ROGER HAS CREDIBILITY WITH THE UNDERWORLD THAT EX-ONI LIKE MYSELF COULD NEVER GARNER, AND THAT ONI ITSELF WOULD NEVER EVEN BE IN THE RUNNING FOR. A FAIR FEW CRIMINALS ARE INTELLIGENTLY PRAGMATIC, AS WELL. WHEN YOU PROVE YOU'RE NOT INTERESTED IN THEIR CRIMES, BUT RATHER IN STOPPING SOMEONE FROM ASSASSINATING THEM OVER SAID CRIMES, THEY'RE VERY HELPFUL. TURNS OUT THEY DON'T LIKE DYING MUCH.
MEANWHILE, SPARTAN BRANCH'S INVESTIGATION HAS EMERGED FROM SOME TURBULENCE SEEMINGLY STRONGER THAN EVER. MONTAGUE, PREDICTABLY, HAS ALREADY REFORMED HIS FIRETEAM AND RECLAIMED HIS AUTHORITY ON THE CASE. SPARTAN BROUGHT IN AN IN-HOUSE SPOOK, ONE OF THE FIRST GRADUATES OF THEIR OWN INTELLIGENCE SCHOOL, AND HE HAD CONTROL FOR ALL OF TWO WEEKS BEFORE HE STARTED BUNGLING THINGS. ONE WEEK AFTER THAT, HE WAS OUT, AND MONTAGUE WAS BACK IN. THEY ARE, TO USE THE OLD PHRASE, HOT ON THE TRAIL. THEY'RE PLANET HOPPING, TRACKING LEONID BASED ON CLUES THEY FIND AT EACH WORLD. IT'S AN INHERENTLY REACTIVE STRATEGY, BUT THEY'RE MANAGING TO KEEP ON HIS TRAIL AND EVEN MAKE A LITTLE BIT OF SLOW PROGRESS. I'M KEEPING AN EYE ON THEM AS ALWAYS.
FINALLY, I REALIZED IT'S BEEN FAR, FAR TOO LONG SINCE I DID A REAL SERIOUS CHECK UP ON THE KIDS. I'VE BEEN SO ABSORBED IN HUNTING LEONID THAT I HAVEN'T MADE TIME FOR THE OLD DUTIES. I FIGURE IT'S GOOD FOR ME, AS WELL. IT'S EASY TO FORGET HOW MY…ISSUES IN '57 STARTED. THE ISOLATION, THE LONELINESS. I MESSAGED THE WHOLE OLD CREW, THOUGH I HAD TO WATCH THE CONTENT OF MY MESSAGES TO RACHEL AND BALDUIN A LITTLE MORE CLOSELY; THEY'RE STILL WORKING WITH LASZLO. CONNOR SEEMED HAPPY TO HEAR FROM ME AND REGALED ME WITH STORIES TRAINING NEW SNIPERS FOR THE MARINES; HE SEEMS BETTER. ADAM AND LUCIA WERE THEIR USUAL COMBAT ORIENTED SELVES, BUT IT WAS NICE TO BE REMINDED OF THE GOOD OLD DAYS. RACHEL AND BAL WERE FULL OF SUPPORT. THEY STILL REMEMBER THE '57 ISSUES VERY KEENLY, I THINK, BEING SO CLOSE TO LASZLO AT THE TIME. GOLD, ODDLY ENOUGH, DIDN'T SAY MUCH. THEY WEREN'T ON DEPLOYMENT---THAT MUCH I COULD TELL---BUT THERE WAS SOMETHING UP. I MANAGED TO GET AHEAD OF MY OWN WORRYING AND ASK THEM WHAT WAS UP BEFORE WE FINISHED SPEAKING, AND THEY TOLD ME NOT TO WORRY. I'M DOING MY BEST TO TRUST THEM AND NOT BE OVERBEARING. LORD KNOWS I HAVE IMPORTANT THINGS TO DO.
AUGUST 18TH, 2559
IT'S ODD, TO THINK BACK AT HOW LONG AGO IT WAS WHEN I FIRST STARTED THIS MISSION. TWO YEARS AND CHANGE. THE TIME HAS GONE BY LIKE NOTHING. JESUS, IT'S BEEN NEARLY A DECADE SINCE THE WAR ENDED. WHEN I STARTED, I KNEW IT'D BE A SLOG, AND IT HASN'T DISSAPOINTED ME THERE, BUT SOMETHING IN ME FEELS LIKE IT'S CHANGING. LIKE IT'S NEARING THE END. MAYBE JUST HITTING THE DOWNSLOPE, BUT DEFINITELY ON IT'S WAY. THE MOMENTUM OF EVERYTHING IS BUILDING. IT COULD BE A YEAR FROM NOW, OF COURSE, BUT IT'S PROGRESS.
I'VE STARTED TRAVELLING, AND THE DAYS AND MONTHS ARE PASSING EVEN QUICKER. THE LEADS I GET FROM OFFICIAL DATABASES CAN BE HACKED INTO AND INVESTIGATED REMOTELY, BUT MOST OF THE CRIMINAL CONTACTS I'VE MADE THROUGH ROGER ARE MORE TOUCHY. THEY'RE NERVOUS OF COMMUNICATING (RIGHTLY SO, GIVEN JUST HOW EASILY ONI CAN HACK INTO CIVILIAN COMMS) OVER SLIPSPACE COMMS. IN PERSON MEETS ARE MUCH SAFER. AT FIRST, I WORRIED THEY MIGHT TRY SOMETHING---FOR ALL THE "CRIMES" I COMMITTED ON BEHALF OF THE PROGRAM, CIVILIAN CRIMINALS ARE WELL OUTSIDE MY SCOPE OF EXPERTISE---BUT I QUICKLY LEARNED THAT ROGER PUT PERSONAL PROTECTION ON ME. ANYONE WHO PULLED A MOVE ON ME WOULD GET A PERSONAL VISIT FROM ROGER. THE FIRST FEW WERE RUNNING SO SCARED THEY COULD HARDLY TALK.
MEANWHILE, SPARTAN IS TRAVELING THEMSELVES. THE SPEED OF THEIR PROWLER MAKES ME NOSTALGIC FOR MY DAYS WITH MILITARY RESOURCES. THEY CAN COVER THREE TIMES AS MUCH SPACE AS I CAN. ON MY BUDGET, I'VE MOSTLY HAD TO RELY ON OLDER CIVILIAN SHIPS, MOST WITH SLIPSPACE DRIVES PRE-DATING THE END OF THE WAR. I CAN'T HELP BUT ADMIT THAT THINGS WOULD BE A LOT EASIER IF I HAD ACCESS TO MILITARY RESOURCES. I'VE BEEN PUTTING THE THOUGHT ASIDE FOR MONTHS NOW, BUT EVER SINCE THE SPARTAN RAID, IT'S BEEN HARDER AND HARDER TO IGNORE. CHAUCER SENT A PLATOON OF SHOOTERS TO KILL LEONID, AND IT FAILED. GRANITE DIDN'T SEEM TO SURE ABOUT THEIR OWN CHANCES. WITHOUT HELP…ON MY OWN…HOW EXACTLY AM I GOING TO TAKE LEONID DOWN?
OCTOBER 25TH, 2559
TODAY I RECEIVED A MESSAGE FROM GOLD TEAM THAT LEFT ME A BIT UNEASY. AFTER THEIR RESPONSE EARLIER, WHICH SEEMED SO VAGUE, IT WAS ODD TO HEAR FROM THEM OUT OF THE BLUE. I WAS SUSPICIOUS RIGHT FROM THE OUTSET, BUT TRIED TO APPROACH IT WITH AN OPEN MIND. THEY MIGHT HAVE BEEN BUSY ON DEPLOYMENT AND NOT BEEN ABLE TO TALK, I FIGURED. I THOUGHT MAYBE THEY WERE TAKING THE CHANCE TO EXPLAIN WHAT THEY'D REALLY BEEN UP TO, NOW THAT IT WAS ALL OVER.
THEIR MESSAGE, THOUGH, WAS NOTHING OF THE SORT. IN A WAY, IT DIDN'T EVEN SEEM LIKE GOLD. THEY STARTED OFF ASKING HOW I WAS DOING, A BIT LIKE THEY WERE WORRIED ABOUT ME, THEN BEFORE LONG, STARTED TALKING ABOUT LIFE IN SPARTAN BRANCH. THEY TALKED AT LENGTH ABOUT SOME OF THEIR RECENT MISSIONS, GOING AFTER COVENANT HOLDOUTS, TAKING DOWN REBEL GROUPS, THE STANDARD FARE. THEY HAD A FEW FUN STORIES AND CRAZY EXPLOITS OF THE SORT THAT I WOULD HAVE EXPECTED OUT OF CRIMSON DURING THE WAR (ONE OF THEM INVOLVED CRASHING A JIRALHANAE CONTROLLED DESTROYER INTO A SANGHEILI REMANT CAMP---NOT DELIBERATELY TRYING TO BE DECISIVE OR STEW UP TROUBLE FOR ONI, JUST USING IT FOR THE SAKE OF CONVENIENCE) AND PLENTY OF COMPLAINTS ABOUT THE SPARTAN FOURS. AFTER REQUIEM TURNED INTO SUCH A SHIT STORM, SPARTAN BRANCH BROUGHT IN EVEN MORE NEW RECRUITS---GOING FOR NUMBERS OVER SKILL, APPARENTLY. ACCORDING TO GOLD, ORIGINAL STYLE TEAMS LIKE THEM ARE EVEN LESS COMMON THAN THEY USED TO BE, AND INCREASINGLY BEING PULLED OFF INFINITY FOR SPECIAL ASSIGNMENTS. THEY USED TO HAVE THE OCCASSIONAL TEAM OF SPARTAN-III'S AROUND TO KEEP THEM COMPANY, BUT THAT'S ALL CHANGING.
AFTER THAT BIT OF THE MESSAGE, HOWEVER, THEY GOT INTO SOMETHING TOTALLY UNEXPECTED. I HAVE A SNEAKING SUSPICION THEY SPENT SO MUCH TIME TALKING ABOUT THE REGULAR STUFF BECAUSE THEY WERE PADDING THE LENGTH OF THEIR MESSAGE, BEATING AROUND THE BUSH BEFORE THEY GOT TO THE REAL POINT. ALMOST OUT OF THE BLUE, THEY TOTALLY SWITCHED TACKS AND ASKED IF I WOULD LOOK INTO SOMETHING FOR THEM. NOT SOMETHING I WOULD HAVE EXPECTED, EITHER; THEY ASKED ME TO LOOK INTO WHAT SORT OF SAVING ACCOUNTS, PENSIONS, AND RETIREMENT OPTIONS WERE AVAILABLE TO THEM. GOLD HAVE ALWAYS BEEN VERY COMMITTED TO THE UNSC---I CAN'T UNDERSTAND WHERE THIS CAME FROM. SQUABBLES ARE ONE THING, BUT I DIDN'T EXPECT THEM TO GO THE ROGER ROUTE. I'M REALLY NOT SURE HOW TO RESPOND, EITHER. THE TIME AND EFFORT I'D NEED TO EXPEND IN ORDER TO HELP THEM WITH THIS WOULD BE A SERIOUS DRAIN FROM MY HUNT FOR LEONID. WITH THINGS AT SUCH A CRITICAL STAGE, I CAN'T AFFORD THAT. I'VE BROKEN MY BOUT OF SILENCE WITH LASZLO AND ASKED HIM TO LOOK INTO IT; I FIGURE IT'S UNRELATED ENOUGH TO THE LEONID HUNT THAT IT CAN'T HURT. HE MIGHT VERY WELL BE TO BUSY TO HELP, BUT WHATEVER ISSUES HE HAS WITH LEONID, HE'S STILL THE ONLY ONE I CAN THINK OF TO HELP WITH THIS.
DECEMBER 13TH, 2559
2560
TODAY, OUT OF THE BLUE, I RECEIVED A SOBERING SHOCK FROM THE PAST. I'M ON FORSETI, MEETING WITH ONE OF ROGER'S CONTACTS TWO DAYS FROM NOW IN FOUR WINDS, AND WAS WAITING IN LINE AT PROCESSING. SYSTEM SECURITY IS A LOT MORE STRINGENT ON THE INNER COLONY WORLDS. IT'S ONE OF THOSE BUREAUCRATIC IDIOSYNCRASIES. THERE'S MORE VIOLENCE ON OUTER COLONIES AND SCREENING WOULD DO A HELL OF A LOT MORE THERE, BUT THEY DON'T HAVE IT. ON AN INNER COLONY, THEY HAVE VERY LITTLE REAL DANGER, BUT A LOT MORE CITIZENS PAYING TAXES AND A LOT MORE MEDIA COVERAGE. SO THEY USE THEIR RESOURCES ON ALL SORTS OF SECURITY PROTOCOLS THAT USUALLY ARE TOTALLY UNNECESSARY. USUALLY.
I WAS IN LINE WHEN TWO SPOTS IN FRONT OF ME SOMEONE DREW A GUN. SOME INNER COLONY RICH BOY DRUG SMUGGLER. I DIDN'T EVEN REALLY THINK ABOUT IT AND TACKLED HIM BEFORE SECURITY HAD A CHANCE TO DO ANYTHING. I WASN'T THE ONLY ONE, THOUGH. SOMEONE IN THE OPPOSITE LINE, WAITING TO LEAVE THE PLANET, WRESTLED THE GUN OUT OF THE KID'S HAND. HE WAS CLEARLY EX-MILITARY LIKE ME---OLD, FAST, GRUMPY---AND IT WAS A BIT LIKE SEEING PART OF MYSELF REFLECTED. SECURITY PULLED US ALL APART, TOOK THEIR SWEET TIME FIGURING IT ALL OUT, AND THE STRANGER ENDED UP MISSING HIS TRANSPORT OUT. SEEING AS HE MIGHT HAVE SAVED MY LIFE---IN RETROSPECT, I HAD A LOT OF GROUND TO COVER AND THAT KID WOULD HAVE HAD PLENTY OF TIME TO PUT A ROUND IN ME OR SOME INNOCENT BYSTANDER IN FRONT OF ME IF HE HADN'T BEEN DISTRACTED---I INVITED HIM OUT FOR A BEER.
WE SAT AND TALKED FOR A FEW HOURS. THERE WAS SOMETHING ABOUT HIM I COULDN'T QUITE PLACE, SOMETHING EXTREMELY FAMILIAR. I HAD NO IDEA WHERE I MIGHT HAVE KNOWN HIM FROM, UNTIL WE STARTED TALKING MILITARY. HE TOLD ME HE'D RETIRED A FEW YEARS BEFORE AFTER SERVING IN AN ADVISORY CAPACITY TO THE 105TH DROP JET PLATOON, BUT BEFORE THAT, HE'D SERVED WITH THE 151ST---MY 151ST. HIS NAME, AS IT TURNS OUT, IS GEORGE MARKAWAY, MY FIRST LIEUTENANT IN THE COMPANY FOR THE LAST TWO YEARS I WAS THERE. IT SEEMS LIKE HE'S AGED FORTY YEARS IN THE LAST TWENTY, NEARLY AS OLD LOOKING AS I AM. HE ACTUALLY WAS PROMOTED AFTER I LEFT, TO COMPANY COMMANDER.
HE WAS UNDERSTANDABLY SHOCKED WHEN I TOLD HIM WHO I WAS---THEY ALL THOUGHT ONI DRAGGED ME OUT FOR SOME BLACK OP AND I NEVER CAME BACK BECAUSE I WAS KILLED ON IT. IT WAS OBVIOUS FINDING OUT THE TRUTH HURT HIM, A BIT. IT MUST SEEM A COLOSSAL BETRAYAL, WHAT I DID, DISAPPEARING WITHOUT A WORD. HOW COULD I EXPLAIN WHY I HAD TO DO IT, THOUGH? IT TOOK ME YEARS TO COME TO TERMS WITH IT MYSELF. NEVER MIND THE FACT THAT IT'S ALL STILL CLASSIFIED BEYOND BELIEF. I COULD NEVER DESCRIBE ALL THAT HAPPENED, THE WAY IT CHANGED ME, THE THINGS I HAD TO DO. THERE ARE PARTS OF ME IN MARKAWAY, LIKE I SAW WHEN WE TOOK DOWN THAT JOKER, BUT THE CHASM BETWEEN OUR WAYS OF LIFE IS MUCH TO BROAD TO BRIDGE WITH A SINGLE BEER. HE DIDN'T LEAVE ANY WAY FOR ME TO CONTACT HIM WHEN HE LEFT. I DON'T BLAME HIM.
FEBRUARY 28TH, 2560
I'M SHOCKED, I'M ANGRY, I'M CONFUSED, BUT MOST OF ALL, I THINK I'M IMPRESSED.
I JUST MANAGED TO INTERCEPT AND DECRYPT A MISSION REPORT FROM MONTAGUE'S INVESTIGATION TO SPARTAN BRASS. MONTAGUE HAS CUT DOWN ON STRAY COMMUNICATION WITHIN HIS ORGANIZATION, RELYING ON ELECTRONICALLY UNTRACEABLE METHODS LIKE IN PERSON MEETS, DIRECT LINE CALLS, AND EVEN ARCHAIC DEAD DROPS, TO THE POINT WHERE FINDING OUT ANYTHING ON THE STATUS OF HIS INVESTIGATION IS INCREDIBLY DIFFICULT. I'M CERTAIN HE'S DOING IT BECAUSE HE'S WORRIED SECTION ZERO IS MONITORING HIS INVESTIGATION AND HAS NO IDEA ABOUT ME, BUT IT'S SHUTTING ME OUT MOSTLY EITHER WAY. I'VE BEEN TRACKING THEIR MOVEMENTS EASILY ENOUGH, BUT IT'S ALL DOWN TO GUESSWORK WHEN TRYING TO DISCERN THE INTENT BEHIND THE MOVEMENTS. MONTAGUE IS A PROFESSIONAL TO THE CORE; I'M FAIRLY CERTAIN THIS REPORT WAS MANDATED BY THE SPARTAN BRASS, AND IF MONTAGUE WAS IN TOTAL CONTROL, I NEVER WOULD HAVE GOTTEN EVEN THAT.
THERE'S THE BACKGROUND. ON TO THE REPORT, THE REAL MEAT OF THIS ENTRY. I MADE DECRYPTING THE MESSAGE MY FIRST PRIORITY, AND HAD IT DONE A DAY AFTER I GOT IT. IN SHORT: SPARTAN MANAGED ANOTHER SHOT AT LEONID, AND SOMEHOW, GOLD IS IN THE MIX. TWO DAYS AGO, MONTAGUE'S PROWLER, THE NOX, ENTERED ORBIT AROUND THE COLONY WORLD BERKENSTEIN AND RUSH-LAUNCHED PELICANS. ONE OF THEM ENTERED INTO A HOLDING PATTERN, WHILE THE OTHER LANDED AND FOUR SPARTANS (FIRETEAM GRANITE), MOST LIKELY) BOARDED CIVILIAN CARS AND STARTED TRACKING. TWO OF THEM WENT FULLY PLAIN CLOTHES AND TOOK A SEDAN, WHILE TWO OTHERS WENT ARMORED IN A DELIVERY VAN. THEY PURSUED LEONID THROUGH THE CITY, BUT HE KNEW SOMETHING WAS OFF, AND ON TOP OF THAT, THEY WEREN'T THE ONLY ONES---CHAUCER'S GOONS SHOWED UP AGAIN. I PERSONALLY BELIEVE SECTION ZERO MIGHT DELIBERATELY MADE THINGS OBVIOUS IN ORDER TO STAGE A CONFRONTATION WITH CHAUCER'S FORCES ON THEIR OWN TERMS---THEY DIDN'T SEEM TO WORRIED ABOUT ANY OF THE SPARTAN BRANCH ASSETS.
THINGS WENT TO SERIOUS RATSHIT WHEN THE PLAINCLOTHES ELEMENT OF GRANITE GOT TRAPPED IN A PARKING GARAGE BY CHAUCER'S GOONS. THE ARMORED ELEMENT OF GRANITE WAS SUPPOSED TO BE THEIR BACKUP, BUT THEY GOT ONTO LEONID'S TRAIL AND MONTAGUE PRIORITIZED THAT. INSTEAD, THAT ORBITING PELICAN HARD BURNED INTO THE CITY AND CAME TO THE RESCUE. I HAVE NO IDEA YET HOW THEY GOT THERE OR WHO RECRUITED THEM, BUT GOLD WAS ON THAT PELICAN WITH MONTAGUE. READING THE SECTION WRITTEN BY GRANITE'S LEADER, A SPARTAN BY THE NAME OF ELIAS OLSON, IT SOUNDS LIKE GOLD HAS BECOME A FORCE TO BE RECKONED WITH INDEED NOW THAT THEY'VE GOT ACCESS TO MJOLNIR. THEY SMASHED CHAUCER'S MEN LIKE IT WAS A CAKEWALK, AND THE WAY OLSON DESCRIBED THEM, IT SEEMS LIKE THEY'RE FIGHTING MORE LIKE CLASS ONE SPARTAN TWOS THAN A GREAT WAR LEVEL CLASS THREE. THERE'S A CURIOUS LACK OF DESCRIPTION OF WHAT MONTAGUE DID DURING THE FIGHT---EITHER HE HELD BACK, SOMETHING I FIND UNLIKELY GIVEN HIS BACKGROUND, OR HE EDITED IT TO HIDE INFO ABOUT HIMSELF.
GOLD MANAGED TO GET THE PLAINCLOTHES MEMBERS OF GRANITE OUT SAFELY, BUT THE TWO ARMORED MEMBER WHO WERE CHASING LEONID DOWN COULDN'T KEEP UP. HE WAS JUST TOO GOOD AND THERE WAS TOO FEW OF THEM. DESPITE THE FACT THAT ONE OF THEM, MARK-G253, MANAGED TO PUT A SNIPER ROUND IN HIS BACK, IN THE END HE SLIPPED AWAY JUST LIKE ALWAYS. I GUESS IF IT TOOK THREE CLASS ONE TWOS TO BRING HIM IN, A FOUR AND A THREE DIDN'T HAVE MUCH OF A CHANCE. RIGHT NOW, SPARTAN BRANCH HAS GRANITE, MONTAGUE, AND GOLD STAYING ON THE SCENE, LOOKING FOR EVIDENCE (THE SPARTAN BRASS HAS OUTGROWN ANY STUPID NOTIONS OF TAKING MONTAGUE OFF THE CASE) AND PROBABLY WAITING FOR LEADS ON WHERE TO GO NEXT. FOR MY PART, I'M DIVIDING MY TIME BETWEEN CHECKING EXITING SHIP LOGS (I DON'T EXPECT TO FIND LEONID ABOARD A SHIP, BUT THE SENSORS OF THE VESSELS IN THE AREA ARE MY ONLY EYES AND EARS) AND BACKTRACKING, TRYING TO FIGURE OUT WHERE THE HELL GOLD CAME FROM.
MAY 28TH, 2560
TRACING GOLD'S PATH OVER THE PAST FEW MONTHS, I'VE MADE A FEW BREAKTHROUGHS ON HOW EXACTLY THEY GOT WRAPPED UP IN ALL THIS. THREE WEEKS BEFORE THE MISSION TO BERKENSTEIN, THE NOX RENDEZVOUSED WITH A NAVY ORBITAL SUPPLY DEPOT AROUND NEW CARTHAGE AND SPENT THREE DAYS THERE. I ASSUMED IT WAS THERE SIMPLY BECAUSE IT WAS A CONVENIENTLY MUNDANE PORT, MAYBE EVEN TO PICK UP A FEW SUPPLIES, BUT LITTLE ELSE. GRANITE WAS DEPLOYED PLANET SIDE TO INVESTIGATE A LEAD, BUT MONTAGUE REMAINED ON THE SHIP UNTIL THE THIRD DAY. I DIDN'T PICK UP ON IT AT THE TIME, BUT LOOKING CLOSELY, IT BREAK'S MONTAGUE'S NORMAL PATTERN OF OPERATION. ALL OTHER TIMES, HE'S GONE DOWN WITH THE INITIAL TEAM AND RETURNED EITHER WHEN THE MISSION FINISHED, OR ONCE IT BECAME CLEAR GRANITE COULD FINISH THINGS UP ON THEIR OWN.
I BELIEVE GOLD CAME ABOARD THE NOX THEN, AT NEW CARTHAGE. IT TOOK ME A WHILE, BUT I MANAGED TO TRACE THE SHIP THAT BROUGHT THEM THERE IN THE FIRST PLACE. EUCLID'S ANVIL, GOLD'S OLD HOME, RENDEZVOUSED WITH A CORVETTE, THE TWO FOR FLINCHING, IN MARCH NEAR SIGMA OCTANUS FOUR, AND IT SEEMS MOST LIKELY THEY TRANSFERRED DURING THE MEETING IN ORDER TO SECURE A COVERT RIDE TO NEW CARTHAGE. WHILE IT'S TRUE SPARTAN BRANCH WENT THROUGH A LOT OF TROUBLE TO GET GOLD ABOARD THE NOX COVERTLY, THEY'VE ALSO MANAGED TO PROVE THEMSELVES TO BE SOME OF THE VERY BEST OPERATORS IN SPARTAN BRANCH, TOPPING THE FOURS HANDILY AND EVEN MOST OF THE THREES. THEY'RE A VALUABLE ASSET, AND IF MONTAGUE THINKS SECTION ZERO IS MONITORING HIS INVESTIGATION, THEN I'M SURE HE KNOWS TO KEEP AN ASSET LIKE GOLD WELL HIDDEN.
IT ALL MAKES PERFECT SENSE, HOW THEY DID IT. WHAT I'M STILL UNCLEAR ON IS WHY THEY WERE SELECTED. TRUE, THEY ARE AN EXTREMELY EXCELLENT GROUP OF SOLDIERS, AND IN MJOLNIR PROBABLY STAND A FAIRLY GOOD CHANCE OF STANDING UP TO LEONID. BUT IF I WAS PLANNING AN OPERATION, I WOULD TAKE ONE LOOK AT THEIR HISTORY AND DROP THEM IMMEDIATELY. THEY'VE RUN UP AGAINST LEONID, LOST A COMRADE TO HIM; THEY'VE GOT NEARLY AS MUCH ANGER STEWING AS I DO. ON TOP OF THAT, I'M NOT EVEN SURE HOW MONTAGUE FOUND THEM; THEY'RE VERY GOOD, BUT THEY'RE ALSO NOT EXACTLY HIGH PROFILE. SPARTAN BRASS HAS BEEN RUNNING THEM ON BLACK OPS EVER SINCE REQUIEM. GOLD'S SERVICE NEVER OVERLAPPED WITH ANY OF THE MEMBERS OF GRANITE OR EVEN THEIR OLD TEAMMATES, AND OTHER THAN MARK, GOLD WOULD HAVE AVOIDED THE REST OF THEM SOCIALLY FOR THE SAME REASON THEY DON'T LIKE MOST OF THE FOUR CONTINGENT. SO HOW THE HELL DID THEY, OF ALL PEOPLE, END UP ON THIS JOB?
JUNE 17TH, 2560
AND JUST LIKE THAT, I THINK I'M IN BUSINESS.
YESTERDAY, ROGER HIT DIRT ON THE OUTER COLONY OF WHITEFALL FOR A PRIVATE CONTRACT. THE PLANET HASN'T BEEN IN THE NEWS AT ALL, BUT IT'S BEEN A TUMULTUOUS PAST YEAR THERE. A LITTLE LESS THAN A YEAR AGO, THE LOCAL PLANETARY GOVERNOR LAUNCHED AN INSURRECTION AND TRIED FOR INDEPENDENCE. WHEN LARGE ELEMENTS OF THE POPULACE DISAGREED, HE MASSACRED THEM WITH A COMBINATION OF REBEL-LOYAL GOVERNMENT FORCES AND ORBITAL BOMBARDMENT. THE UNSC RESPONDED DECISIVELY, STRIKING QUICK AND HARD WITH THE FLEET. THE REBELS WERE ABSOLUTELY DECIMATED. MOST OF THEIR FORCES WERE GONE WITHIN A DAY AND THE GOVERNOR PROMPTLY SOLD THEM OUT TO SAVE HIS OWN SKIN. WITH THE BIG THREAT GONE AND THE UNSC A LITTLE TO THINLY SPREAD TO SPEND MONTHS WEEDING OUT THE REMNANTS, THEY LEFT AND BASICALLY TOLD THE GOVERNOR TO GET RID OF THEM HIMSELF OR THEY'D BE BACK FOR HIS HEAD.
THAT'S WHERE ROGER CAME IN. NO ONE WOULD TAKE THE JOB, AFRAID TO ASSOCIATE THEMSELVES WITH THE GOVERNOR FOR FEAR OF GETTING IN BAD WITH THE UNSC, BUT ROGER OF COURSE HAD NO SUCH CONCERNS. HE SMASHED THE REBELS (AND THE WAY HE TELLS IT, WAS PAID AN EXORBITANT SUM OF MONEY FOR DOING SO) AND AFTER THE MISSION, THE GOVERNOR TRIED TO HIRE HIM ON FOR A SECOND JOB: PROTECTING HIM. TURNS OUT, ONI IS NONE TOO HAPPY WITH THE FLEET'S LAZY DECISION TO KEEP THE GOVERNOR IN POWER. THEY SEE ANOTHER REBELLION WAITING TO HAPPEN, NOT TO MENTION A MURDEROUS MONSTER, AND HAVE SENT IN LEONID TO KILL HIM AFTER THE NEXT ROUND OF ELECTIONS. THE NAVY GETS IT'S PR VICTORY OF SHOWING MERCY AND TAKING DOWN AN INSURRECTION WITHOUT A BLOODY GUERRILLA CONFLICT OR DESTABILIZING A GOVERNMENT, WHILE ONI GETS TO QUIETLY ELIMINATE THE THREAT WHEN KNOW ONE'S LOOKING.
THE GOVERNOR KNOWS HE'S NOT LONG TO LIVE, AND TRIED TO HIRE ROGER ON TO PROTECT HIM. HE'S AN OLD TIMER, SAVVY ENOUGH TO KNOW SECTION ZERO'S HISTORY WITH CORRUPT OFFICIALS, INCLUDING THE FACT THAT THE REALLY BIG FISHES LIKE HIM GET'S THE LEONID TREATMENT. CONSULTING MY REGISTER, I'M INCLINED TO AGREE. LEONID IS UNDOUBTEDLY ON HIS WAY. ROGER, KNOWING JUST HOW DANGEROUS LEONID IS, DECLINED THE JOB AND CONTACTED ME. THIS IS PERHAPS THE BEST CHANCE I'M EVER GOING TO HAVE. ELECTIONS DON'T OCCUR UNTIL DECEMBER, AND SECTION ZERO WON'T STRIKE UNTIL AFTER THEY HAPPEN. I'VE GOT THREE MONTHS TO PUT TOGETHER A PLAN TO TAKE HIM DOWN. THE OPPORTUNITY HERE IS UNHEARD OF. I CAN'T LET IT GO TO WASTE.
September 4TH, 2560
I'VE BEEN RUNNING THROUGH MY OPTIONS OVER AND OVER AGAIN FOR THE LAST MONTH, AND I CAN SEE ONLY ONE PLACE TO GO FROM HERE. PLANNING ON HOW TO APPREHEND OR KILL LEONID, I'VE RUN INTO THE SAME OBVIOUS PROBLEM I NOTED BACK A YEAR AGO: BY MYSELF, I DON'T STAND A CHANCE AGAINST LEONID. THAT'S THE BRUTAL TRUTH. I COULD TAKE HIM BY SURPRISE, HAVE HIM IN A KILL ZONE WITH NO COVER AND A SNIPER RIFLE, HELL, I COULD PROBABLY DROP AN AIRSTRIKE ON HIM---AND HE'D STILL KILL ME. I'VE FOUGHT REBELS AND I'VE FOUGHT COVENANT, I WAS DAMN GOOD AT IT AND DAMN LUCKY, BUT THE FACT OF THE MATTER IS, I'M NO SPARTAN. I'M CERTAINLY NO CLASS ONE SPARTAN TWO. IF I'M GOING TO TAKE HIM DOWN, I NEED HELP.
UNFORTUNATELY, I'M SHORT ON HELP RIGHT NOW. CONNOR MIGHT BE AN OPTION, BUT HE'S SO BROKEN I DON'T FEEL GOOD ABOUT THROWING HIM INTO THE FRAY ONCE AGAIN. HE'S ALSO STILL VERY CLOSELY MONITORED BY ONI AFTER HIS TANTRUM IN 2552, SO RECRUITING HIM WOULD BROADCAST MY INTENTIONS. ADAM AND LUCIA ARE INCOMMUNICADO, OFF DOING SOMETHING DARK AND MYSTERIOUS. THEY NEVER HAD MUCH OF A PERSONAL RELATIONSHIP WITH EITHER ME OR RICKY, EITHER, AND MIGHT NOT EVEN BE WILLING TO TAKE PART. WHEN I STARTED THIS, I ALWAYS HAD IT IN THE BACK OF MY MIND THAT I WOULD FIND LEONID, THEN CALL IN HELP FROM LASZLO, RACHEL, AND BALDUIN. BUT THAT'S NO LONGER AN OPTION, NOT IF I CAN'T TRUST LASZLO. RACHEL AND BALDUIN ARE STILL WORKING WITH HIM, AND THAT LEAVE'S ME ABRUPTLY SHORT ON FRIENDS.
THE LONE EXCEPTION, OF COURSE, BEING GOLD. IT ALMOST FEELS LIKE I SHOULD HAVE BEEN EXPECTING THIS, GIVEN HOW CENTRAL SPARTAN'S INVESTIGATION HAS BECOME TO MY OWN. GOLD, HOWEVER THEY GOT THERE, ARE IN A PERFECT PLACE TO GET ME IN WITH A GROUP OF PEOPLE THAT CAN TAKE DOWN LEONID. BETWEEN MONTAGUE, GRANITE, AND GOLD THEMSELVES, I HAVE NO DOUBT THEY COULD TAKE DOWN LEONID WITH THE PROPER ADVANCE PLANNING. THEY'VE GOT THE MUSCLE, I'VE GOT THE INTEL. IT'S A PERFECT MATCH, I REALIZED, IF I COULD JUST SOMEHOW GET MYSELF ON WITH SPARTAN'S INVESTIGATION. THE ANSWER AGAIN, WAS GOLD. I STILL HAVE AN OPEN LINE OF COMMUNICATION TO GOLD, AND WITH THEM AS AN INTERMEDIARY, GOT THROUGH TO MONTAGUE. IN MY MESSAGE, I WAS BRIEF, AND TO THE POINT. I'VE GOT INFORMATION YOU NEED, IF YOU CAN DO SOMETHING FOR ME.
MONTAGUE RESPONDED WHILE I WAS BUSYING MYSELF WITH THIS ENTRY. WE HAVE A MEETING SCHEDULED EARLY NEXT MONTH, ON CHASHMA.
HERE WE GO.
OCTOBER 2ND, 2560
MY MEETING WITH MONTAGUE IS A WEEK FROM NOW, AND I'VE BEEN WORKING AROUND THE CLOCK TO RESEARCH HIM. EVERY PIECE OF INFORMATION, EACH NUGGET OF INTELLIGENCE, IS A POTENTIAL STEP UP AGAINST HIM. REVIEWING THE TRANSCRIPT I RECOVERED THREE WEEKS AGO, AT THE TIME MY ONLY SOURCE OF INFORMATION ON MONTAGUE, I REALIZED HE WAS ONE SERIOUS VERBAL SPARRING PARTNER. I'M OUT OF PRACTICE AND (LET'S FACE IT) LIKELY MUCH TO EMOTIONAL ABOUT THIS TO FACE HIM ON LEVEL GROUND. SEEING AS I DOUBT HE'LL BE TOO THRILLED TO CAPITULATE TO MY DEMAND TO BE ON THE PURSUIT TEAM, I'LL NEED TO DOMINATE THE CONVERSATION AND KEEP CONTROL OF THINGS. AND IF I'M GONNA DO THAT, I'M GOING TO NEED AMMUNITION TO TAKE SHOTS AT HIM AND TEAR AWAY CHUNKS OF HIS ARMOR WHEN HE'S GAINING ON ME.
SEEING AS THE MOST…STRIKING DETAILS ABOUT ME ARE THE WORST, I'M FAIRLY SURE HE'LL FOCUS ON THOSE BUT NOT LOOK TO DEEPLY. EVERYTHING ABOUT MY TRAINING OF THE KIDS AND ALL MY SCREWING WITH ONI IS PART OF THE RECORD, SO HE'LL KNOW ALL THAT FROM THE BEGINNING. WHAT HE WON'T KNOW ARE THE THINGS IN MY HEAD. THE THINGS I KNOW ABOUT LEONID (NAMELY, WHERE THE HELL HE'S GOING TO BE---MY BIG BARGAINING CHIP) AND, MY SECRET WEAPON, MY ABILITY TO LOOK INTO HIS BACKGROUND. LOWLY EX-COLONELS AREN'T SUPPOSED TO BE ABLE TO HACK INTO CLASSIFIED DATABASES, EVEN EX-ONI ONES. IN THE END, LOOKS LIKE LASZLO'S STILL HELPING ME OUT. SO I'VE PULLED OUT ALL THE STOPS, USING ALL THE HACKING TOOLS LASZLO TAUGHT ME, LOOKING INTO ALL THE PRIME HIDING PLACES I'VE LEARNED TO LOOK FOR OVER THE YEARS, DOING RISKY THINGS THAT MIGHT BURN ME LATER BUT FOR NOW ARE GETTING ME DAMN GOOD INTEL.
BASED ON THAT TRANSCRIPT AND MONTAGUE'S OLD LINE OF WORK, I FIGURED THAT ANY DATABASE INFORMATION ON HIM IS PROBABLY LONG SINCE ERASED. INSTEAD, I TARGETED SPARTAN BRANCH. THEIR FIREWALLS ARE EASY ENOUGH TO BREAK THROUGH AND THEY'RE NOT COMPULSIVE ABOUT HIDING CLASSIFIED DATA LIKE ONI IS. OR, THEY TRY TO HIDE IT, AND JUST DON'T DO A GOOD JOB. MY INSTINCTS PAID OFF AND I MANAGED TO GET A HOLD OF INFINITY'S STORED MESSAGE DATABASE. HIDDEN AWAY IN A COMPARTMENTALIZED, ENCRYPTED DIRECTORY, WAS CORRESPONDENCE LOG BETWEEN MONTAGUE AND SOMEONE IDENTIFIED AS CODENAME: SUBMARINE, MONTAGUE'S HANDLER DURING THE REQUIEM DECEPTION. THE EXCHANGE IS CHOCK FULL OF INFORMATION. MONTAGUE HAS A DARK HISTORY, ENTIRELY UNRELATED TO HIS ROLE AT SECTION ZERO AS A TRIGGER-MAN. HE ULTIMATELY LEFT NOT JUST BECAUSE HE FELT GUILTY, BUT ALSO BECAUSE HE LEFT A FELLOW AGENT TO DIE. STOLE A SHIP, HAD SUBMARINE COVER IT UP, AND FINALLY ENDED UP IN SPARTAN---LOOKING FOR REDEMPTION, I THINK. IT'S GOING TO BE A BATTLE OF WILLS, BUT I'M FEELING CONFIDENT. I'M SO CLOSE. I CAN'T LET MYSELF FAIL.
OCTOBER 26TH, 2560
TODAY, FOR THE FIRST TIME IN SEVEN YEARS, I STEPPED ONTO A MILITARY VESSEL AS A BONE FIDE SOLDIER. THE NOX, OLD AS IT IS, EVOKES BITTERSWEET MEMORIES. IT REMINDS ME PAINFULLY STRONGLY OF THE PROWLER DIRTY ONI STUCK ME ON WHILE I WAS REVIEWING THE CANDIDATES, ALL THOSE YEARS AGO WHEN I FIRST STARTED THIS JOURNAL. LIFE BACK THEN SEEMS SO SIMPLE, IN RETROSPECT. I SEEM SO SIMPLE. AT THE TIME, I WAS ANGRY AT BEING TAKEN AWAY FROM MY COMPANY, STILL COMING TO TERMS WITH MY NEW REALITY. DIDN'T REALIZE JUST HOW PIVOTAL THOSE KIDS WOULD BECOME TO MY LIFE. HELL, IN THE BACK OF MY MIND, I THINK I MAYBE STILL THOUGHT I'D BE GOING BACK TO THE REGULAR MILITARY WHEN THE WHOLE THING WAS OVER.
BEING HERE SEEMS TO REMIND ME ALL OF THE DISPARATE PARTS OF MY LIFE. ELIAS OLSON, THE SPARTAN FOUR WHO ESCORTED MONTAGUE TO THE MEETING, HAS ALL THE OLD EARNEST BELIEF IN THE UNSC THAT I USED TOO, ALL THE COMFORTABLE IGNORANCE OF BIGGER THINGS. HE HAS A SQUADMATE, BRADFORD GALE, THAT HAS MY SAME OLD SAILOR MOUTH. THEN THERE'S GOLD, THEY'RE PRESENCE STILL UNEXPLAINED, QUESTIONS SURROUNDING THEM LIKE A FOG. IT'S LIKE THEY PERFECTLY REPRESENT EVERYTHING THE PROGRAM WAS TO ME. UNANSWERED QUESTIONS, KIDS WHO ARE IN THE MIDDLE OF SOMETHING THEY REALLY SHOULDN'T BE, AND PROTECTIVE INSTINCTS FIGHTING AGAINST A DARKER REALITY. AND AS MUCH AS IT PAINS ME TO ADMIT IT, I SEE A BIT OF MYSELF IN MONTAGUE. DARK, HIDDEN, AN AGENDA OF HIS OWN, AND ALWAYS PURSUING SOMETHING.
THESE THINGS ARE ALL JUST DISTRACTIONS, OF COURSE, AND MOST OF THE PAST FEW DAYS THEY'VE DONE LITTLE MORE THAN LINGER IN THE BACK OF MY MIND. BEEN TOO BUSY REPLAYING THE MEETING, WONDERING WHY EXACTLY MONTAGUE CAPITULATED---ALWAYS WITH A SNEAKING SUSPICION THAT IT WAS A BIT TOO EASY. TOO BUSY GOING OVER EVERY DETAIL I CAN FIND ON WHITEFALL'S GOVERNOR. TOO BUSY TRYING TO GET GOLD TO TELL ME WHAT'S GOING ON WITH THEM. TOO BUSY JUST GETTING USED TO THE FEELING OF MOVING AROUND IN ARMOR AGAIN. BUT IN THE DARK, WHEN THE DAY IS OVER, I THINK OF IT ALL. THINK OF HOW I MANAGED TO GET HERE. AND THEN, THINK OF HOW SOON IT'S ALL GOING TO BE OVER.
NOVEMBER 5TH, 2560
IT'S GETTING TO BE NEARLY TIME. WE'RE DUE INTO WHITEFALL IN JUST OVER A WEEK, AND PREP IS AT FULL PACE. SOME SPARTAN ASSETS, MOSTLY BACKGROUND INTEL GROUPS, ARE ALREADY ON PLANET, ESTABLISHING A NETWORK. WE'RE BEING LEFT TO EXCLUSIVELY PLAN THE DIRECT ACTION PORTION OF THE OP. TRUE TO HIS WORD, MONTAGUE IS INCLUDING ME ON EVERYTHING, AND PLANNING THE OPERATION WITH ME AS A GROUND ASSET. THE WHOLE TINY CREW IS MOVING AT A HUNDRED AND TEN PERCENT PACE. MY INITIAL IMPRESSION OF GRANITE, THAT THEY WERE LITTLE MORE MARINES IN MJOLNIR THAN SPARTANS, IS BEING PUT TO THE TEST. TRUE, THEY'RE NOT AS FAST AS GOLD TEAM, AND CERTAINLY NOT ON PAR WITH SOMEONE LIKE LEONID OR LASZLO, BUT THEY'RE DAMN GOOD.
IN A BIG WAY, THOUGH, I'D BEEN EXPECTING THAT. FOUR'S ARE DRAWN FROM THE BEST OF THE BEST WITHIN THE MILITARY AND MONTAGUE SELECTED GRANITE PERSONALLY. THEY'RE THE CREAM OF THE CROP OF ADULT AUGMENTED SPARTANS. WHAT'S TRULY CAUGHT ME BY SURPRISE, IS GOLD. MORE AND MORE, I'VE SEEN HOW THEY'VE CHANGED. THEY'RE SOCIABLE, CONFIDENT, FAR MORE NORMALIZED THAN THEY WERE WHEN THE WAR ENDED. IT'S A SHARP CONTRAST TO ONE OF THE MEMBERS OF GRANITE, MARK-G253, WHO I WAS UNSURPRISED TO DISCOVER IS A SPARTAN-III. WHERE MARK IS NERVOUS AND SHY, GOLD IS OUTGOING AND PERSONABLE. BEING IN SPARTAN BRANCH HAS CHANGED THEM, FOR THE BETTER I'D SAY. IT'S SOMETHING I REALLY DIDN'T EXPECT. THE CONVENTIONAL LOGIC ALWAYS ASSERTED THAT, TRAINED FROM CHILDHOOD, GOLD AND THE OTHERS WOULD NEVER BE NORMAL, NEVER FIT IN WITH THOSE OUTSIDE THE PROGRAM. THEY'D SIMPLY BE TOO DIFFERENT, TOO ALIEN. SURE, THERE HAVE BEEN RARE INSTANCES WHERE THIS WASN'T THE CASE---CONNOR AND MELLISSA'S UNFORTUNATE BINGE DRINKING ADVENTURE ABOARD THE HOPEFUL SPRINGS TO MIND---BUT THE REST OF THE KIDS HAVE ENDED UP MUCH AS WE'D EXPECTED. EVEN ROGER, TECHNICALLY A CIVILIAN, IS ANTISOCIAL (GRANTED, THAT IS ROGER).
GOLD IS FAR FROM IT. THEY'RE TURNING INTO ADULTS, AND ARE AS COMFORTABLE WITH GRANITE, IT SEEMS, AS THEY EVER WERE WITH THE OTHER TEAMS FROM THE PROGRAM. SURE, THEY ARE STILL TIGHT AS A SQUAD, BUT THEY DON'T SHUN CONTACT FROM OUTSIDERS. MATTHEW PLAYS CARDS WITH BRADFORD GALE. MASON HAS BEEN WORKING WITH GRANITE'S MEDIC, JONATHAN DORIAN, TO TRY AND COAX MARK OUT OF HIS SHELL. MOST SHOCKINGLY, JACKY SEEMS TO HAVE A…THING WITH ELIAS OLSON. ALL THIS PERSONAL GROWTH IS TO SAY NOTHING OF HOW THEIR COMBAT SKILLS HAVE ADVANCED. WE DRILLED WITH THE ENTIRE TEAM YESTERDAY IN THE HOLO-DECK, AND WATCHING THEM…IT'S HARD TO BELIEVE THESE WERE THE KIDS I FIRST SAW FIRING RIFLES AS TRAINEES. THEY MOVE LIKE LIQUID, SMOOTH AND FAST AND IMPOSSIBLY PRECISE. GRANITE ARE DEADLY, PROFESSIONAL SOLDIERS WHO CAN DESTROY OR KILL ALMOST ANYONE. BUT GOLD, THEY'RE SOMETHING ELSE. IT'S A HUGELY HEAVY BURDEN LIFTED. NOTHING I DO WILL ENDANGER THEM MORE THAN THEY CAN HANDLE. THEY'RE GOOD KIDS, AND THEY'RE THERE OWN PEOPLE NOW.
NOVEMBER 22ND, 2560
IT ENDS TOMORROW. I KEEP TELLING MYSELF, OVER AND OVER AGAIN, BUT IT NEVER QUITE SEEM'S TO SINK IN. IT ENDS TOMORROW.
I'VE BEEN OFFICIALLY HUNTING LEONID FOR THREE YEARS, FOUR MONTHS, AND TWENTY SIX DAYS. BUT THE STORY FOR THIS WHOLE THING START'S A LONG TIME BEFORE EVEN THAT. LONG BEFORE I EVEN STARTED ON THIS PATH, LONG BEFORE I EVER COULD DREAM OF EVEN BEING HERE. IT STARTED TWENTY YEARS AGO, LOOKING OUT AT THOSE KIDS GATHERED FOR INDOCTRINATION. IT STARTED AS I WATCHED CRYING FACES STRUGGLE TO UNDERSTAND WHAT LASZLO WAS TELLING THEM. WITH A DAY TWELVE YEARS AGO I'LL NEVER FORGET, A DAY WHERE HALF OF THE CHILDREN I'D COME TO KNOW AND LOVE LOST THEIR LIVES TO CRIMINAL STUPIDITY AND NEGLIGENCE. I SPENT THREE YEARS WATCHING A WAR BEING FOUGHT BY MEN AND WOMEN WHO SHOULDN'T EVEN HAVE BEEN OLD ENOUGH TO GRADUATE HIGH SCHOOL. A WAR I SHOULD HAVE BEEN FIGHTING. I GOT TO SIT AND WATCH AS ONE BY ONE, TWO BY TWO, THREE BY THREE, THEY DIED. KNOWING I WAS RESPONSIBLE IN SOME WAY. NEVER BEING ABLE TO FORGET THOSE CRYING FACES FROM INDUCTION DAY.
AND THEN MY WORLD SHATTERED AGAIN. ON APRIL 7TH IN 2552, I LEARNED RICHARD WAS KILLED WITHOUT TRIAL, WITHOUT JUSTICE, PUT DOWN IN AN ASSASSINATION LIKE A SICK DOG. SOMETHING INSIDE ME THAT HAD BEEN TORN, MAULED, ABUSED, MUTILATED, AND YET STILL MANAGED TO CLING TO LIFE, FINALLY DIED. I DON'T THINK I EVEN REALIZED IT. I'D BEEN POURING MYSELF INTO HELPING MY KIDS EVERY WAKING MOMENT, EVERY DAY, ALWAYS TRYING TO DO MORE. BUT THE REASONING, IT CHANGED THAT DAY. I'D DONE IT BEFORE OUT OF LOVE, OUT OF DUTY, OUT OF RESPONSIBILITY. I CONTINUED IN PART FOR ALL THOSE REASONS. BUT THEY WEREN'T ALL ANYMORE. I DID IT FOR SURVIVAL. HELPING MY KIDS, PROTECTING THEM, WATCHING OVER THEM, IT SAVED MY LIFE.
THOSE KIDS, THEY'VE GROWN UP. ROGER HASN'T NEEDED ME IN EIGHT YEARS. HE'S THE ONE GIVING ME CRUCIAL INTEL NOW, THE ONE WATCHING MY BACK. BALDUIN AND RACHEL TOOK CARE OF ME IN '57, LIFTING ME UP WHEN I WAS AT MY LOWEST. OUR DYNAMIC IS LONG SINCE FLIPPED. ADAM AND LUCIA ARE RESPECTED AND HAVE MUCH MORE CAPABLE PEOPLE WATCHING OVER THEM NOW. SOMEONE FINALLY IS PAYING THE ATTENTION TO THEM THAT THEY DESERVE, TREATING THEM WITH THE CARE THEY WARRANT. CONNOR, HURT SO DEEPLY, IS HEALING. HE MAY EVEN JOIN SPARTAN. SOMEONE LIKE HIM IS IMPOSSIBLE TO KEEP OUT OF THE ACTION FOREVER.
AND GOLD…PERHAPS IT'S JUST THAT I'M HERE PERSONALLY WITH THEM, BUT THEY'RE THE MOST GROWN UP OF ALL. THEY'VE TAKEN A LIFE, THE TOUGHEST LIFE IMAGINABLE, AND EMERGED STRONG. OTHER SPARTANS TRAINED LIKE THEM HAVE BEEN JUST AS SKILLED, JUST AS DEADLY, BUT THAT'S NOT THE STRONG I SEE WHEN I LOOK AT THEM. I SEE THE STRENGTH OF PEOPLE WHO HAVE COALESCED INTO WHOLE PEOPLE. NOT THE CRYING FACES FROM INDUCTION, NOT THE BLINDLY LOYAL AUGMENTEES, NOT THE JADED AND SUSPICIOUS SOLDIERS FROM AFTER RICHARD, BUT SOMETHING GREATER. SOME AMALGAMATION, SOME COMBINATION OF ALL THOSE TRAITS. NOT WITHDRAWN, RESIGNED TO A LIFE OF ORDERS AND DIRECTIONS, WITHOUT HEART OR LOVE. BUT REAL PEOPLE. THEY ARE WHAT FEW SPARTANS HAVE REALLY MANAGED TO BECOME.
FOR TWENTY YEARS, THIS PROGRAM HAS DEFINED ME. IT REALLY HAS. BEEN MY LIFE, MY SUM TOTAL EXISTENCE. MY FRIENDS CAME FROM WITHIN THE RANKS OF THE PROGRAM, MY KIDS CAME FROM WITHIN THE RANKS OF THE PROGRAM. IT'S NOT EVEN ARES TO ME, NOT ANYMORE. NOT FOR YEARS. IT'S WHO I AM. BUT THE PROGRAM IS FINISHED. WE WENT OUR SEPARATE WAYS YEARS AGO. THE PEOPLE THAT WERE FRIENDS ARE LONG GONE, AND PERHAPS SOME OF THEM WERE NEVER REALLY FRIENDS AT ALL. MY KIDS DON'T NEED ME ANYMORE. THERE'S JUST ONE LAST TIE OF MINE TO CUT. ONE LAST JOB TO WRAP UP. ONE LAST CONNECTION TO CLOSE. AM I SAD THINKING ABOUT IT? I DON'T KNOW. (AM I A LITTLE CRAZY TALKING TO MYSELF IN A JOURNAL? DEFINITELY).
THIS PROGRAM HAS BEEN THE MOST NIGHTMARISH, INSPIRING, TUMULTUOUS, EXCITING, CHALLENGING, AMAZING, AWFUL EXPERIENCE OF MY LIFE. I HAVE KNOWN GREATER SORROW AND GREATER JOY THAN I'D EVER BEFORE. I'VE SEEN PEOPLE TRANSFORM INTO SOMETHING AMAZING. I'VE SEEN PEOPLE TRANSFORM INTO SOMETHING FRIGHTENING. I'VE SEEN ALL TOO MANY OF THOSE TRANSFORMATIONS CUT SHORT. I'VE SEEN THE WORST EXCESSES OF LAZINESS, OF NEGLIGENCE, OF DESPICABLE SELF CENTERED FEAR. AND I'VE SEEN THE GREATEST TRIUMPHS OF SPIRIT OVER DIFFICULTY, STRENGTH OVER PAIN, LIFE OVER DEATH. IT'S NOT REALLY AN EXPERIENCE I GUESS I CAN SAY WAS EITHER GOOD OR BAD. IT SIMPLY WAS. IT WAS LIFE, COMPARTMENTALIZED. TOMORROW IT ENDS. PERHAPS FITTINGLY, WITH A LIFE.
BEFORE I STARTED THIS MISSION, I WAS A BROKEN MAN. MAYBE I STILL AM. BUT IT HAS GIVEN ME PURPOSE. SOMETHING TO LIVE FOR. TOMORROW IT ENDS. TOMORROW I BRING RICHARD'S KILLER TO JUSTICE. READING OVER SOME OF MY ENTRIES, IT SOUNDS LIKE BLOOD LUST. BUT I DON'T THINK THAT'S IT. NOT ENTIRELY. LEONID-144 DID SOMETHING AWFUL AND HAS TO PAY THE PRICE. THE BUREAUCRATS AND SPOOKS ESCAPED JUDGEMENT FOR THEIR OFFENSES, BUT IF I CAN MAKE THIS ONE SPOT OF JUSTICE, IT CAN MAYBE BE A START. I'M READY. I'M SURE LEONID IS TOO. BUT TOMORROW, IT ENDS. THERE'S NO ESCAPING THAT.
DECEMBER 5TH, 2560
Correspondence
SECRET CORRESPONDENCE 3CLK-7MXJ
ENRYPTION CODE: FOXTROT-12
PUBLIC KEY: N/A
FROM: LT (0-3) ALPHA YANKEE
TO: CPT (0-6) GOLF SIERRA
SUBJECT: TONE THINGS DOWN

I KNOW HOW MUCH YOU HATE COMPLAINING, BUT SOMETHING HAS GOT TO BE DONE ABOUT LIMA-108. HE MAY THINK THE RECRUITS CAN TAKE IT, BUT HE'S PUSHING THEM TOO HARD, TOO FAST. THEY'RE GOING TO SNAP, AND THEN THEY'LL BE USELESS FOR THE PROGRAM AND FOR THE WAR. HE SEEMS TO THINK THAT THEY'RE EQUAL TO THE OLD CLASS I AND IIS, AND HE'S BADLY MISTAKEN ON BOTH COUNTS. THEY'RE GOOD, REALLY, REALLY GOOD, BUT NOT THAT GOOD. ALMOST NO ONE IS. THERES A FEW EXCEPTIONS, A FEW LIKE CHARLIE HOTEL WOULD HAVE PICKED, BUT THEY'RE THE EXCEPTION RATHER THAN THE RULE. SOMETHING NEEDS TO BE DONE TO STOP HIM. I KNOW HE THINKS HES DOING WHAT'S BEST, BUT HE'S GOING TO MAKE THINGS WORSE. BELIEVE ME. I DID MY TIME ON III AND I KNOW WHAT KIDS LIKE THESE CAN TAKE. IT'S TOO MUCH. MAKE HIM TONE THINGS DOWN, OR I WILL.
//PRESS ENTER TO CONTINUE//
SECRET CORRESPONDENCE 3CLK-6CGS
"PROJECT ARES"
ENRYPTION CODE: DELTA-29
PUBLIC KEY: N/A
FROM: CPT (0-3) LIMA KILO
TO: COL (0-6) GOLF SIERRA
SUBJECT: PROJECT ARES

SIR, IT'S ME AGAIN. TRAINING IS RUNNING SMOOTHLY NOW. I APOLOGIZE FOR MY MISTAKE OF PUSHING THE RECRUITS TOO FAR; I GUESS SOME PART OF ME JUST ASSUMED THAT "IF THEY'RE TOUGH ENOUGH, THEY WON'T FAIL WHAT'S YET TO COME". THAT JUDGEMENT WAS IN ERROR. SO YOU CAN GET THAT PSYCHE EVALUATION PANEL OFF OF ME NOW. THERE'S NO NEED FOR A PREMATURELY EARLY EXAMINATION.
ANYWAY, TRAINING IS RUNNING SMOOTHLY AND THEY'RE ALL DOING WELL. WHAT WORRIES ME IS THE AUGMENTATION PROCEDURES COMING UP LATER NEXT YEAR. WHY DO WE HAVE TO RELY ON SUCH OUTDATED PROCEDURES? ME TRAINING THESE RECRUITS RISK OF BEING ALL FOR NOTHING IF WE DON'T USE THE NEW ADVANCED ONES; NEW SPARTANS WON'T HELP IF THEY'RE DEAD OR IRREPAIRABLY WOUNDED. I UNDERWENT THOSE PROCEDURES, SO I KNOW WHAT I'M TALKING ABOUT. I WAS CLOSER THAN YOU'D THINK TO DYING (CARDIAC VOLUME INCREASE ISN'T SOMETHING TO JOKE ABOUT, AND THAT'S COMING FROM ME, THE CLOWN OF THE II PROGRAM). THESE ARE MY MEN, AND I REFUSE TO LET THEM ALL DIE BECAUSE OF ONI BULLSHIT.
AND NOT JUST THE AUGMENTATIONS; WHAT'S THIS CRAP ABOUT "SEMI-POWERED INFILTRATION (SPI) ARMOR"? I TESTED IT BACK IN 2532, AND IT'S NOT SPARTAN-CLASS GEAR; AT MOST, IT'S ONI TRYING TO CUT THE COST OF EVERYTHING AT THE EXPENSE OF QUALITY. THEY WON'T SURVIVE FOR LONG OUT THERE WITHOUT PROPER EQUIPMENT, ESPECIALLY IF IT'S TRUE WHAT I HEAR THAT THEY'LL ALL BE SPLIT UP TEAM-WISE AND SPREAD THROUGHOUT THE UNSC COMMAND CHAIN ("TO PREVENT ALL UNITS FROM PERISHING AT ONCE"). USING MY ACCESS TO THE PROGRAM'S FILES, I FOUND THAT YOU ALL WERE NEGOTIATING A DEAL WITH RKD, THE DEVELOPERS OF THE HAYABUSA SUIT. IT HURTS THAT WE DIDN'T PURSUE THAT - SURE, IT LOOKS KINDA RIDICULOUS AND YOU SEE LITTLE WITH THE TINY VISOR, BUT AT LEAST IT'S AN EXCELLENT AND FULLY FUNCTIONAL SUIT. THE SPI IS JUST A FANCY ODST ARMOR WITH CHAMELEON CAPABILITIES THAT HARDLY WORK.
AND PLEASE, SIR, DON'T JUST REPLY WITH A "THERE'S NO MONEY AVAILABLE"; I WANT A REASON FOR WHY THAT'S SO. YOU'D THINK THERE WERE OTHER SPARTAN PROGRAMS GOING ON SIMULTANEOUSLY THAT SUCK UP ALL THE FUNDING LIKE A SPONGE. RICH AND THE REST OF ONI WANTS THEIR MAGICAL BULLET - BUT IT WON'T WORK IF THAT BULLET CAN'T ACTUALLY HIT THE ENEMY.
PS: HAVE SOMEBODY MONITOR [341]. I CAN'T PUT MY FINGER ON IT, BUT HE SEEMS TO BE HOMESICK, OR MAYBE JUST ADVENTEROUS, I DON'T KNOW; HE DOES SEEM LIKE HE ISN'T AS DEDICATED TO THE PROGRAM AS HE SHOULD. MIGHT BE MY IMAGINATION, OF COURSE, BUT FOR ONCE I'D LIKE NOT TO BE LAZY ABOUT THE MATTER AND BE A STEP AHEAD. JUST IN CASE.
//PRESS ENTER TO CONTINUE//
---
ENRYPTION CODE: YORK-DELTA-24
PUBLIC KEY: N/A
FROM: COL (0-6) GOLF SIERRA
TO: CPT (0-3) LIMA KILO
SUBJECT: RE: PROJECT ARES

I'M SORRY ABOUT THE PYSCHE PANNEL, BUT BELIEVE ME, IT WASN'T MY IDEA. ONI'S BEEN WATCHING US CLOSELY, BUT I HADN'T REALIZED HOW CLOSE UNTIL THEY INTERCEPTED A MESSAGE FROM ONE OF MY DIS AND WENT OVER MY HEAD. HE WAS THREATENING TO TAKE MATTERS INTO HIS OWN HANDS, BUT SECTION III GOT THERE FIRST. IT WAS A HELL OF A TIME KEEPING THEM FROM DROPPING YOU FROM THE PROGRAM. THEY REALLY DON'T TRUST YOU. I'D BE VERY, VERY INTERESTED TO FND OUT WHY.
I'M GLAD TO HEAR THE TRAINING IS GOING WELL, BUT YOUR CONCERNS, UNFORTUNAELY, ARE OUT OF MY CONTROL. AS MUCH AS YOU HATE IT, THE PROBLEM INEVITABLY COMES DOWN TO FUNDING. I'VE DONE EVERYTHING I CAN---AND I MEAN EVERYTHING; STRIPMINING REBEL BANK ACCOUNTS, FALSE CHARITY CAUSES, EVEN BORDERLINE FRAUD---TO GET THE MONEY, AND I SIMPLY CAN'T. BELIEVE ME, I UNDERSTAND THE RISKS OF THE PROCEDURES AND HAVE MY OWN TORMENT'S ABOUT THEM, MY OWN GUILT. YOU MAY BE THE ONE TRAINING THEM, BUT I WAS ONE WHO HAD TO SELECT THEM, AND APPROVE THE ORDER TO HAVE SOME OF THEM KIDNAPPED.
AND BELIEVE ME, I'VE TRIED EVERYTHING POSSIBLE TO GET THEM OUTFITTED AS PROPER SPARTANS. BUT THE MONEY SIMPLY ISN'T THERE. RKD WANTED TOO MUCH FOR THE SUITS, AND LORD KNOWS MJOLNIR IS TOO EXPENSIVE. THE CURRENT SUIT COSTS MORE THAN AN ENTIRE BATTLEGROUP AND IT'S HARD TO HIDE THAT KIND OF MONEY WHEN THE WAR IS PRACTICALLY ON ERINDANUS'S DOORSTEP. WE JUST LOST THE ENTIRE STALLION AND NAPOLEON SYSTEMS LAST YEAR, AND THE COVENANT AREN'T SLOWING DOWN. SPI ISN'T GOOD---BUT IT'S ALL WE HAVE. THE MONEY HAS ALL BUT DRIED UP. MOST OF OUR DIS, MEDICS, AND SCIENTISTS ARE WORKING PRO BONO, AND THOSE THAT AREN'T HAVE PAYCHECKS THE SIZE OF A FRY COOKS. IT'S COME DOWN TO EITHER THE AUGMENTS OR HAYABUSA, AND THAT CHOICE IS ALL TO CLEAR.
THERES MORE HERE AT WORK THAN YOU KNOW, AND I SUSPECT THERE EVEN MORE THAN I DO. ONI'S OPERATIONS ARE A BLACK HOLE, WITH NO ANSWERS FOR ANYONE. I HAVEN'T BEEN ABLE TO CONFIRM ANY OTHER HIGH PRIORITY SIERRA PROGRAMS, BUT THEIR EXISTENCE WOULDN'T SURPRISE ME. I'VE HEARD WHISPERS OF A THIRD SIERRA THREE CLASS, AND YOU KNOW HOW ACKERSON LOVE TO SUCK UP FUNDING. ONI DROPPED ME INTO THIS JOB FOR REASONS I MAY NEVER TOTALLY GRASP, BUT I'M THE ONE KEEPING IT AFLOAT NOW. I CAN'T PERFORM MIRACLES.
AS FOR [S-341], I'LL HAVE A LITTLE CHAT WITH HIM AND ORDER DELTA JULIET TO KEEP A CLOSER EYE ON HIM. WE ALWAYS KNEW WE MIGHT GET ONE OR TWO CANDIDATES WHO WERE A LITTLE MORE "INDEPENDENT" THAN THE REST. IF ANYTHING HAPPENS TO MAKE YOUR SUSPICIONS GROW, KEEP A CLOSE EYE ON HIM. AUGMENTATION IS COMING UP, AND THERES SOME EVIDENCE THAT [S-023], [S-122], [S-141], [S-052] AND [S-003] (ANOTHER EXAMPLE OF ONI'S INABILITY TO KEEP THEIR TAGS STRAIGHT) MIGHT HAVE HAD THEIR MENTAL PROCESSES INTERRUPTED BY IT. THE AUGMENTATION PROCEDURES ARE NEVER AS LINEAR AS WE THINK; THERE ARE ALWAYS UNEXPECTED SIDE AFFECTS.
P.S. ONE OF THE DI'S MENTIONED THAT THE RIVALRY BETWEEN TAN AND GOLD MAY BE GETTING OUT OF HAND. COULD YOU LOOK INTO THIS, IF YOU HAVE ENOUGH TIME? I DON'T WANT ANOTHER [S-144]/[S-077] INCIDENT HAPPENING DURING OUR TRAINING. PARALLEL TRAINING REGIMES COULD VERY WELL PRODUCE PARALELL PROBLMES.
//PRESS ENTER TO CONTINUE//
---
ENRYPTION CODE: VICTOR-DELTA-25
PUBLIC KEY: N/A
FROM: CPT (0-3) LIMA KILO
TO: COL (0-6) GOLF SIERRA
SUBJECT: RE: RE: PROJECT ARES

I GUESS SO; IF ONI DISCOVERS THAT YOU LOOK IN AN UNEXPECTED DIRECTION THEY START CHECKING IF YOU'RE MESSED UP IN THE HEAD. THEN AGAIN, I MIGHT BE A BIT HARDER TO PREDICT THAN OTHER IIs, WHAT WITH ME BEING ONE OF THE LEAST INDOCTRINATED OF US ALL. GUESS I SHOULD'VE EXPECTED RICH TO ACT THAT WAY. I'M AFRAID I CAN'T DISCUSS WITH YOU WHY THEY DON'T TRUST ME (IN THE CASE THEY'D INTERCEPT THIS MESSAGE TOO), I'M SORRY. EVEN MORE SO SINCE YOU'RE ONE OF THE FEW OFFICERS I ACTUALLY LIKE. I MEAN, NOT IN THAT WAY - THERE'S SOME GOOD-LOOKING NURSES STATIONED NOT FAR FROM MY QUARTERS FOR THAT...ER, SORRY, ACCIDENTALLY TURNED BACK TO MY OLD SELF. WON'T HAPPEN AGAIN. I HOPE. MOVING ALONG...
IT STILL PISSES ME OFF, THAT ONI WON'T GIVE WHAT WE REALLY NEED, WHETHER IT BE BETTER PROCEDURES OR SUITS. AND IT MAKES ME WISH EVEN MORE THAT I WASN'T AN ONI AGENT. BUT MOST OF ALL, IT REMINDS ME OF THE OTHER IIs - MY BROTHERS AND SISTERS. AT MOMENTS LIKE THIS, WHEN I TRAIN THESE RECRUITS OR PONDER ON THEIR FATES, I KEEP THINKING ABOUT THEM. HOW I MISS THEM. [012]. [062]. [051]. CHARLIE HOTEL. FOXTROT MIKE. HELL, I EVEN MISS THE BASTARD [144]. AND HE SPENT MUCH OF HIS TIME FORCING HIMSELF NOT TO BEAT MY FACE IN. I KEEP SEEING ALL OF THEIR FACES IN THESE RECRUITS; EVERY TIME [338] MAKES AN EXTRAORDINARY HEADSHOT, I THINK OF [058]. EVERY TIME I LOOK AT [343] I SEE [087]'S FIREY WILLPOWER IN HER EYES. AND THEN I START THINKING ABOUT THE ONES WHO NEVER MADE IT. I DON'T WANT TO GO THROUGH THAT AGAIN. SURELY YOU CAN UNDERSTAND THAT? BUT I AGREE, IF WE CAN DO ANYTHING, FIX THE PROCEDURES; WE'LL JUST HAVE TO HAVE FAITH THAT THEY CAN WORK IN THOSE SUITS.|ENCRYPTED SECTION: CODE:____|BUT I MIGHT CHECK BACK WITH RKD, THEIR COMPLETED PROTOTYPES. OFF THE GRID, OFF COURSE. MAYBE WE COULD ARRANGE FOR BETTER EQUIPMENT FOR AT LEAST ONE TEAM.|ENCRYPTED SECTION: END|
YES, I REMEMBER ACKERSON; HE AND DOC'S ALWAYS COMPETED FOR FUNDING. WOULDN'T SURPRISE ME IF HE HAS SOMETHING RUNNING. BUT IT DOESN'T MAKE SENSE THAT HE'D HAVE TWO ONGOING PROGRAMS AT ONCE ON HIS OWN; HE'S THE TYPE TO PUT EVERY EFFORT TO MAKE ONE PROJECT PERFECT (OR AT LEAST PERFECT ENOUGH FOR HIS SUPERIORS SO HE GETS HIS MONEY, THE SNAKE). CAN'T BELIEVE I'D SAY THIS, BUT MAYBE IT'D HAVE BEEN GOOD TO HAVE HIM ON THE PROJECT - SOMEHOW HE ALWAYS SEEM TO GET THE MONEY REGARDLESS OF THE PROJECTS HE NEED THEM FOR, UNLESS THEY CONFLICT DIRECTLY WITH HALSEY'S. BTW, IT'S A SHAME YOU CAN'T DO MIRACLES; IT'D BE VERY CONVENIENT :D
I'LL DO WHAT I CAN. HE'S ONE OF OUR PRECIOUS "CHOSEN" TOO, YOU KNOW. AT LEAST HE DOESN'T SEEM AS WEAK-MINDED AS [312] (I'VE ALREADY UNDERTAKEN EFFORTS TO DO SOMETHING ABOUT HIM, JUST SO HE DOESN'T SNAP IN THE FIELD; I'LL INFORM YOU IF I NEED MORE ASSETS FOR IT).
I ALWAYS JUST SAW THE GOLD/TAN RIVALRY LIKE FRIENDLY COMPETITION, BUT MAYBE YOU'RE RIGHT. I'LL TALK TO THEM ONE BY ONE TO CALM THEM DOWN.|ENCRYPTED SECTION: CODE______|MAYBE, IF WE GET OUR HANDS ON BETTER SUITS, WE SHOULD LET THE COMPETITION FOR TOP HONORS AT THE END OF TRAINING DETERMINE WHICH TEAM GETS THEM? I DON'T LIKE THAT SUGGESTION MYSELF, AS I DON'T TAKE FAVORITES, BUT I'M 100% SURE THAT WE CAN'T AQUIRE MORE ARMORS THAN THAT, SO WE'LL HAVE TO DETERMINE IT SOMEHOW. OR MAYBE I SHOULDN'T EXPECT YOU TO BE IN ON THIS WITH ME? OH, WELL, I'LL TRY IT WHETHER I HAVE YOUR APPROVAL OR NOT, SO I MAY AS WELL ASK YOU TO HELP ME. TAKE IT AS MY WAY OF SAYING "I TRUST YOU, SIR".|ENCRYPTER SECTION: END|
//PRESS ENTER TO CONTINUE//
---
ENRYPTION CODE: WHISKY-MIKE-26
PUBLIC KEY: N/A
FROM: COL (0-6) GOLF SIERRA
TO: CPT (0-3) LIMA KILO
SUBJECT: RE: RE: RE; PROJECT ARES

YOUR ONLY TOO RIGHT ABOUT THE SPOOKS, BUT THERES NOT MUCH WE CAN DO EXCEPT TRY TO KEEP A LOW PROFILE. I'VE DONE MY BEST TO MAKE IT CLEAR TO THE DI'S TO LET YOU WORK, BUT WHO KNOWS IF IT WILL TURN OUT SUCCESSFUL. AS FOR RICH, YOU HAVE MUCH MORE EXPERIENCE WITH HIM THAN I DO, SO I'LL TAKE YOUR WORD FOR IT. AS FOR THE TRUST PROBLEMS, I'M SURE IT WILL MAKE FOR A VERY INTERESTING STORY OVER DRINKS SOMETIME DOWN THE ROAD IN THE FUTURE (THAT IS, IF WE HAVE A FUTURE). .|ENCRYPTED SECTION: CODE______|STILL KEEP YOUR EYES ON THE DI'S, THOUGH, NO MATTER WHAT HAPPENS---I'M CONVINCED ONI HAS THEIR RANKS INFILTRATED COMPLETELY.|ENCRYPTED SECTION: END|
AS FOR ONI'S EQUIPMENT PROBLEMS, I HAVE TO AGREE. THE AUGMENTATION PROCEDURES FOR THE SIERRA THREES ARE A HUNDRED TIMES MORE EFFECTIVE, BUT ONI ABSOLUTELY REFUSES TO SPRING FOR THE COST. IT'S SHORTSIDED AND DAMNED FOOLISH---FROM A FISCAL POINT OF VIEW, THEY'RE ACTUALLY GOING TO LOSE MONEY WITH THE OLDER PROCEDURES, BECAUSE OF THE INEVITABLE LOSS OF CANDIDATES---BUT THEY WON'T BUDGE. I'LL DO MY BEST, BUT I'M AFRAID ME MAY HAVE TO START PLANNING FOR THE WORST. BY MY PROJECTIONS, WE MAY BE FACING UP TO 50% LOSSES (MORE OPTIMISTIC PROJECTIONS PLACE LOSSES BETWEEN 35-45%, BUT AS LONG AS WE'RE BEING CYNICAL, WE MIGHT AS WELL GO ALL THE WAY), AND IT IS POSSIBLE ONI WON'T BE ABLE TO FUND US. UNLESS WE RECEIVE SOME SORT OF MAJOR WINDFALL, VERY SOON, WE'RE OUT OF LUCK. I DON'T LIKE IT ANY MORE THAN YOU DO, BUT WITHOUT AUGMENTATIONS, THEY'LL BE EVEN LESS LIKELY TO SURVIVE.
AS FOR THE SPI SUITS, I'M WONDERING IF WE SHOULD START TRAINING ON THEM SOONER RATHER THAN LATER. THE SIERRA THREES HAVE SHOWN GOOD RESULTS WITH EARLY EXPOSURE TO THEIR ARMOR SYSTEMS, AND THEY'VE BEEN PROVEN TO BE HIGHLY EFFECTIVE--WHEN THEY'RE NOT BEING WASTED ON SUICIDE MISSIONS. SPI IS CHEAP, AND WE'LL BE NEEDING THE SUITS ANYWAY, SO I SHOULD BE ABLE TO PROCURE THEM IMMEDIATELY, IF YOU SO CHOOSE. IN THE END, I'LL DEFER THE CHOICE TO YOU; YOU'RE THE EXPERT, AND I'M JUST THE GRUNT WHO GOT STUCK IN THE COMMAND SEAT. |ENCRYPTED SECTION: CODE:____|ANYTHING YOU CAN GET WOULD BE CRITICAL. LIKE YOU SAID, KEEP IT OFF THE GRID, BUT IF A CHANCE PRESENTS ITSELF, GO FOR IT. EVEN IF THERE ARE RISKS. IF ONI FINDS OUT, I CAN PROBABLY GET AWAY WITH IT---I'VE BEEN BREAKING THEIR RULES SINCE THE START OF THE PROJECT---AND THOSE SPARTANS NEED THE GEAR TOO MUCH TO PASS IT UP. IF WORSTS COMES TO WORST, I CAN ALWAYS TAKE THE FALL. I CAN LIVE WITH A DEAD END CAREER, BUT I CAN'T LIVE WITH SENDING OUT MY TROOPS UNPREPARED.|ENCRYPTED SECTION: END|
AS FOR ACKERSON, DID THEY REALLY? I NEVER MET EITHER OF THEM, BUT I'VE HEARD PLENTY OF STORIES SINCE JOINING THE PROGRAM. SOME OF THE OLDER DI'S ARE VERY CHATTY. IF HE'S AS GOOD AT GATHERING FUNDS AS YOU SAY HE IS, THEN IT WOULD HAVE BEEN NICE TO HAVE HIM ON THE PROJECT---BUT AT THE SAME TIME, I DON'T THINK I COULD LIVE WITH ANOTHER SPOOK IN MY LIFE. I'VE GOT ENOUGH ALREADY, THANK YOU VERY MUCH. AS FOR TWO PROGRAMS, I CAN'T BE SURE. I KNOW FOR A FACT HE'S IN CHARGE OF SIERRA THREE (HIGH LEVEL CLASSIFICATIONS ARE GREAT, IF SOMEWHAT DIFFICULT TO USE FOR A NEANDERTHAL LIKE ME), WHICH WOULD FILL THE ONE PROJECT QUOTA, BUT I'VE ALSO FOUND TRACES OF SOMETHING REFFERED TO AS "HEADHUNTER". ONI'S PROJECT ROSTER, IS, LIKE I'VE MENTIONED, A BLACK HOLE, SO I HAVEN'T BEEN ABLE TO FIND ANYTHING ELSE, (AND LIKELY NEVER WILL). |ENCRYPTED SECTION: CODE:____|IF YOU COULD SHED ANY LIGHT ON THE SITUATION, I'D BE VERY INTERESTED.|ENCRYPTED SECTION: END|
THANK YOU FOR HELPING OUT WITH HIM, THEN. I'M ALSO CONCERNED ABOUT [S-312], BUT THERES LITTLE I CAN DO. I READ THE LATEST PSYCHE REPORT AND IT DOESN'T LOOK GOOD. HE'S GOT THE SAME ATTACHMENT PROBLEMS AS SOME OF THE OTHERS ([S-338] AND [S-343] ARE PARTICULAR OFFENDERS, THOUGH [S-343] IS CONSIDERABLY HARDER TO READ) BUT THEY ARE MORE LOCALIZED, MORE EXTREME, AND POTENTIALLY MORE DANGEROUS. I DON'T KNOW WHAT RESOURCES I'LL BE ABLE TO PROVIDE, BUT I'LL DO EVERYTHING I CAN.
ITS NOT THAT I THINK THE EXACT PARRALLEL WILL HAPPEN---A FISTFIGHT BETWEEN TWO TRAINEES---BUT I AM WORRIED ABOUT AFTER TRAINING. MISTRUST LIKE THAT CAN FESTER AND GROW, IF LEFT ALONE. WE AREN'T PLANNING TO DEPLOY THEM ALL TOGETHER, BUT IF THEY HAPPEN TO RUN INTO EACH OTHER ON THE FIELD, THEY'LL NEED TO BE ABLE TO COOPERATE. |ENCRYPTED SECTION: CODE______|I DON'T LIKE THE IDEA OF PITTING THE RECRUITS AGAINST EACH OTHER EITHER, BUT I CAN'T ARGUE WITH IT' LOGIC. THE BEST TEAM SHOULD DEFINITELY RECEIVE THE BEST GEAR (IF WE CAN GET IT, THAT IS). WORK YOUR CONTACTS, AND SEE WHAT YOU CAN DO. I'M NOT GOING TO TAKE A PASSIVE DENIAL STRATEGY OUT OF THIS; IF WE'RE DOING IT, I'M IN. IF THESE KIDS CAN GO THROUGH HELL FOR MY SAKE, I CAN RETURN THE FAVOR A LITTLE BIT.|ENCRYPTER SECTION: END|
//PRESS ENTER TO CONTINUE//
---
ENRYPTION CODE: MIKE-MIKE-NOVEMBER
PUBLIC KEY: N/A
FROM: CPT (0-3) LIMA KILO
TO: C0L (0-6) GOLF SIERRA
SUBJECT: RE: RE: RE: RE; PROJECT ARES

DON'T WORRY ABOUT THE FUTURE, NOT YET ANYWAY. WE HAVE SOMETHING THE COVENANT DON'T HAVE - SPARTANs. WE'LL MAKE IT THROUGH THIS, AND 500 YEARS FROM NOW, ALL THIS WILL BE TOLD TO A HALF-SLEEPING CLASS OF SCHOOL CHILDREN BY A BORING HISTORY TEACHER. SO ALL WE CAN DO IS HAVE FAITH. AND YOU BETTER MAKE SURE YOU HAVE SOME CREDS TO BUY US DRINKS (A SPARTAN'S SALARY IS ABOUT AS GREAT AS A BONOBO CHIMPANZEE'S). |ENCRYPTED SECTION: CODE___|OH, I WILL, NO NEED TO WORRY.|ENCRYPTED SECTION: END|
ON THE AUGMENTATIONS, I USUALLY PREFER NOT TO BE CYNICAL (I'D DARE SAY I WAS THE MOST OPTIMISTIC OF THE CHARLIE ONES), BUT THIS IS A SUBJECT WHERE I MAKE AN EXCEPTION. I'LL DO MY BEST TOO, PULL ANY FAVORS I HAVE AND CHECK MY CONTACTS TO SEE WHAT I CAN DO, BUT IT'D NEED NOTHING SHORT OF A MIRACLE TO PAY OFF. ANYWAY, I HAVE A FEELING WE NEED TO DROP THIS PARTICULAR TOPIC NOW, ONE OF THE DIs DROPPED A SUBTLE HINT AT LUNCH BREAK EARLIER TODAY THAT IT'S A SENSITIVE TOPIC; WE SHOULDN'T ANGER THE SPOOKS TOO BADLY THIS LATE INTO WAR, AIGHT? |ENCRYPTED SECTION: CODE_______|BUT MAN, SOME OF THESE DAYS I REALLY WISH I GOT TO KICK SOME OF THOSE GUYS IN THE GROIN, GROUND POUNDER STYLE. JUST ONCE, AND I'D BE HAPPY.|ENCRYPTED SECTION: END|
YEAH, GET THE SUITS AS SOON AS POSSIBLE; IF THEY'RE GONNA HAVE TO USE THEM, WE MIGHT AS WELL MAKE SURE THEY BECOME ONE WITH IT BY GIVING THEM SOME MONTHS OF IN-SUIT TRAINING. RICH WOULDN'T HAVE ANY REASON TO COMPLAIN, IN FACT HE'LL PROBABLY ASSUME THAT IT'LL SPEED UP THE PROJECT'S COMPLETION. AND THANKS FOR PLACING YOUR FAITH IN ME LIKE THIS; YOU MAY BE A GRUNT, BUT YOU'RE AN OKAY GRUNT. NOT TO MENTION IT'S A PLUS THAT YOU'RE NOT CARRYING METHANE REBREATHERS UNLIKE OUR ALIEN FRIENDS. |ENCRYPTED SECTION: CODE:_______|OOH, ANOTHER RULEBREAKER. FASCINATING. BUT I PREFER TO GET AWAY WITH RULEBREAKING (NOT THAT WE'RE TECHNICALLY BREAKING ANY RULES - THEY HAVEN'T SPECIFICALLY FORBIDDEN US FROM CHECKING UP RKD'S ARMOR SYSTEMS. I PREFER TO CALL IT "STRETCHING THE RULES"), SO I'LL BE CAREFUL. I'VE ALREADY MANAGED TO LEARN SOME THINGS THOUGH; TURNS OUT RKD DISASSEMBLED AT LEAST ONE OF THEIR PREVIOUS PROTOTYPES FOR PARTS, PROBABLY ONE OR TWO MORE TOO. BUT THEY HAVE A CONFERENCE BOOKED WITH THE ORDNANCE COMMITTEE. IF IT ISN'T TO SHOW OFF THEIR LATEST PROTOTYPE, I'LL EAT MY MJOLNIR. I'VE PULLED FAVORS WITHIN HIGHCOM TO GET A COUPLE OF CONTACTS INTO THE COMMITTEE BEFORE THAT CONFERENCE, SO WITH ANY LUCK WE CAN PROCURE IT. BUT THAT'S JUST ONE SUIT. I'LL KEEP MY EYES OPEN FOR OTHER OPPORTUNITIES (AS SOON AS I'VE FOUND A WAY TO GET PAST KALMIYA WITHOUT HER NOTICING, I'LL BE ABLE TO RECOVER DATA ON PROJECT MJOLNIR - EASIER SAID THAN DONE AS SHE WAS MADE FROM HALSEY'S BRAIN).|ENCRYPTED SECTION: END|
TRUE, I WOULDN'T WANT HIM IN MY LIFE EITHER; HE'S ABOUT AS SPOOKY AS SPOOKS COME. HARD TO BELIEVE HE WAS ONCE A GROUND POUNDER LIKE YOU. AS FOR HEADHUNTER, THAT'S SOMETHING I DIDN'T KNOW ABOUT (NOR AM I MEANT TO KNOW, I'LL BET). |ENCRYPTED SECTION: CODE:______|SADLY, I HAVE FEWER CLEARANCES THAN YOU, AND MY CONTACTS IN BETA-5 AREN'T CHATTY. HEADHUNTER HAS BEEN MENTIONED A COUPLE TIMES THOUGH, AS HAS AN ENIGMATIC FELLA KNOWN AS DRACULA THAT ACKERSON DOESN'T SEEM TO KNOW ABOUT. THEN THERE'S SOMETHING CALLED NOBLE (SEEMS TO BE CONNECTED TO SPECWARCOM - IT HAS FAR LESS CLEARANCES THAN ONI UNITS, SO MAYBE YOU COULD TAKE A PEEK?), WHICH MAY ALSO BE CONNECTED TO HEADHUNTER SOMEHOW. THEN THERE'S SOMEBODY CALLED AMBROSE. WOULD YOU HAPPEN TO KNOW MORE ABOUT HIM THAN ME? I HAVE A FEELING HE'S NOT REALLY PART OF LOGISTICS COMMAND AS HIS RECORD SAYS HE IS.|ENCRYPTED SECTION: END|
343 IS A FIREY ONE, TRUE (LITERALLY SOMETIMES - I CAUGHT HER THE OTHER DAY PICKPOCKETING A LIGHTER OFF ONE OF THE DIs). BUT I THINK SHE WON'T BE ANY REAL TROUBLE. BUT I'M KEEPING EYES AND EARS OPEN AS ALWAYS, JUST IN CASE. THAT'S ABOUT THE ONLY THING ALL THESE YEARS IN COVERT OPS HAVE TAUGHT ME; TO ALWAYS BE VIGILANT.
YEAH, COOPERATION IS VITAL. WITH THEIR LACKING EQUIPMENT, THEY'LL NEED IT EVEN MORE THAN ME AND THE OTHER CHARLIE ONES. |ENCRYPTED SECTION: CODE______|THANKS FOR BACKING ME. I WAS AFRAID FOR A MOMENT I WOULD HAVE ALL THE EXCITEMENT FOR MYSELF. OH, WELL, WE'LL DO OUR BEST RIGHT? EVEN IF WE DO GET CAUGHT AND END OUR DAYS POLISHING SHOES ON THE STREETS OF A BACKWATER PLANET LIKE MINISTER. OR, WELL, YOU'D END UP LIKE THAT; I'M A SUPERSOLDIER, SO I'M PRETTY VALUABLE. AT MOST, I GUESS I'D END UP WITH A CAT-2 COMMISSION AND START PUSHING PAPERS FOR THE REST OF MY LIFE.|ENCRYPTED SECTION: END|
//PRESS ENTER TO CONTINUE//
---
ENRYPTION CODE: CHARLIE-TANGO-ROMEO
PUBLIC KEY: N/A
FROM: COL (0-6) GAMMA SIERRA
TO: CPT (0-3) LIMA KILO
SUBJECT: RE: RE: RE: RE: RE; PROJECT ARES

I ADMIRE YOUR OPTIMISM, CAPTAIN. I WORRY EVERY DAY ABOUT THIS DAMN WAR, ABOUT THE COVENANT. HOW SOON BEFORE THEY'RE AT REACH, AT EARTH? HOW SOON UNTIL WE'VE REALLY GOT OUR BACK AGAINST THE WALL? I CAN'T ANSWER THOSE QUESTIONS, AND IT KEEPS ME UP AT NIGHT. THINKING ABOUT THE FUTURE, AFTER THE WAR, IS A LUXURY I DON'T HAVE. I GUESS WHEN YOU'VE BEEN THROUGH AS MUCH AS YOU HAVE, YOU TEND TO VIEW THE WORLD FROM A BRIGHTER POINT OF VIEW. OR MAYBE YOUR JUST CHEERY. (THOUGH YOU'VE ALSO GOT TO WONDER, DID SCHOOLCHILDREN 500 YEARS AGO EVER DREAM SOMETHING LIKE THIS COULD HAPPEN?). I KNOW NO ONE FIFTY YEARS AGO COULD. AND WHAT DO YOU KNOW OF BORED SCHOOLCHILRDEN? I THOUGHT YOU SIERRA'S WERE ALL MODEL STUDENTS!
MAYBE YOUR GOOD NOT TO GET TOO CYNICAL, BUT THESE DAYS I JUST CAN'T HELP IT. IF IT'S NOT THE INTEL REPORTS ON OUR LATEST COLONY LOST, IT'S THE DAMN DREAMS I KEEP HAVING OF THE TRAINEES WHEN I FIRST PICKED THEM. UNSURPRISINGLY, MY DREAMS CONVIENTELY IGNORE ALL THE EASY CHOICES---TAKING THE KIDS FROM ABUSIVE FAMILIES OR HELLHOLE ORPHANAGES---AND CONTINOUSLY REPLAY THE IMAGES OF THE HAPPY, SMILING FAMILIES. I KNOW YOU CHARLIE ONES ARE ALL DEVOTED TO HALSEY, BUT I HAVE TO ADMIT THAT I HATE HER. I WISH SHE'D NEVER DREAMT UP THE IDEA OF THIS PROGRAM, SO THEY WOULDN'T HAVE CHOSEN ME. IT'S SELFISH AND TERRIBLE, BUT I CAN'T HELP IT. I GUESS I'LL LEAVE OPTIMISM FOR YOU, AND CYNICISM FOR ME. |ENCRYPTED SECTION: CODE______|THE GROIN, SON? AND YOU CALL YOURSELF A GROUNDPOUNDER? THAT'S A WOMANS PUNCH, MY BOY. GO FOR THE JAW. IT AIN'T BUILT FOR LATERAL IMPACT.|ENCRYPTED SECTION: END|
AS FOR THE SUITS, I'M ALREADY ON IT. RICH IS BEING A LITTLE FINICKY, BUT HE SHOULD COME THROUGH. IT'S NOT LIKE IT'S SOME UNEXPECTED EXPENSE; WE ALREADY KNEW AND ACCOUNTED FOR THE PRICE OF THE SUITS (WHICH, REALY, IS PRACTICALLY NONEXISTENT). HOPEFULLY, THE ORDER SHOULD BE IN WITHIN THE NEXT FEW WEEKS. |ENCRYPTED SECTION: CODE______|I PREFER TO CALL IT AS IT IS, BUT I GUESS YOUR TECHNICALLY RIGHT. EVEN SO, IT'S NOT THE FIRST TIME I'VE GONE AGAINST ONI ON THIS PROJECT. DID YOU KNOW THAT WHEN I WAS INITIALLY INTERVIEWING THE CANDIDATES, THEY FORBID ME FROM TAKING ANY OF THEM ON THE SPOT, EVEN IF THEY WERE IN CRITICAL DANGER? DAMNED BURCREATIC BASTARDS. YOU CAN GUESS HOW LONG THAT RULE LASTED. AS FOR THE CONFERENCE, I'LL LOOK FORWARD TO YOUR REPORT ON THAT. EVEN IF WE CAN ONLY GET ONE SUIT, IT'S STILL BETTER THAN NOTHING. IT MIGHT PRESENT A CHALLENGE FOR A TEAM DYNAMIC, WITH ONE MEMBER GETTING AN ADVANCED SUIT AND THE REST BEING STUCK WITH SPI, BUT IT'S BETTER THAN NOTHING. AS FOR KALMIYA, HOW DOES THAT ONE WORK? I THOUGHT THE AI PROCESS DESTROYED THE HOST BRAIN.|ENCRYPTED SECTION: END|
HARD TO BELIEVE INDEED. ONE OF MY OLD CO'S SERVED WITH HIM BACK DURING TREBUCHET, SAID HE WAS AS GOOD OF A SOLDIER AS IT COMES. I WONDER WHAT CHANGED. |ENCRYPTED SECTION: CODE______|I DID SOME DIGGING, AND FOUND A FEW INTERESTING DETAILS. THAT BETA-5 CLUE HELPED A LOT---SOMETHING LIKE THAT IS A GREAT WAY TO REFINE A SEARCH. AT ANY RATE, I FOUND A FEW REPORTS ON HEADHUNTER, AND WHILE THEY DIDN'T MENTION ORIGIN, THEY DID LIST AN EXTREMELY IMPRESSIVE CSV. IF I WERE TO TAKE A WILD GUESS, I'D SAY SIERRAS. PROBLEM IS, I DON'T HAVE A CLUE WHERE THEY CAME FROM. EVERYTHING ELSE IS LOCKED DOWN TOO TIGHT FOR EVEN ME. AS FOR DRACULA, I CAME UP EMPTY. THERE WERE A FEW FILES FLOATING AROUND, BUT THEY'D ALL BEEN WIPED. I COULDN'T EVEN BEGIN TO TRACK THAT DOWN. NOBLE, THOUGH, IS A DIFFERENT STORY. YOUR RIGHT ABOUT NAVSPECWAR; THEIR CLASSIFICATIONS REALLY AREN'T AS GOOD. I MANAGED TO SNAG A UNIT ROSTER, AND THEY'RE DEFINITELY SIERRAS. THEIR TAGS ARE HIGHER THAN NORMAL, THOUGH, SO THEY'RE EITHER S-III'S OR SOMETHING DIFFERENT ENTIRELY. AGAIN, NO INFORMATION ON THEIR ORIGINS, JUST A ROSTER AND A CSV. AND JUST TO HUMOR YOU, I DID A SEARCH ON AMBROSE AND MANAGED TO DIG SOME STUFF UP ON HIM TOO. NOT MUCH, BUT HIS NAME IS DEFINITELY "KURT AMBROSE" AND HE'S GOT A FILE THAT'S SO REDACTED IT LOOKS LIKE SOMEONE SPILLED A BUCKET OF PAINT ON IT.|ENCRYPTED SECTION: END|
THE LIGHTER DOESN'T SURPRISE ME. DID YOU KNOW SHE WAS ACTUALLY PLAYING WITH TWO OF THEM WHEN I INTERVIEWED HER? THE WAY SHE WAS LIGHTING THINGS UP, I WAS AFRAID SHE'D BURN DOWN THE WHOLE BUILDING. AS FOR VIGILANCE AND COOPERATION, I HAVE TO AGREE ON BOTH COUNTS. |ENCRYPTED SECTION: CODE______|I DID SHOE SHINING LONG ENOUGH TO BE ABLE TO DEAL WITH IT, THOUGH. THE REAL QUESTION IS WHETHER YOU COULD DEAL WITH BEING STUCK AT A DESK.|ENCRYPTED SECTION: END|
//PRESS ENTER TO CONTINUE//
"PROJECT ARES, PART 2"
ENRYPTION CODE: JOKER-BRAVO-KILO-NOVEMBER
PUBLIC KEY: N/A
FROM: CPT (0-3) LIMA KILO
TO: C0L (0-6) GAMMA SIERRA
SUBJECT: PROJECT ARES, PART 2

MY, AREN'T YOU LITTLE MISS SUNSHINE? LET ME ASK YOU THIS; WOULD YOU RATHER DIE CONSTANTLY WORRIED, UNABLE TO SLEEP BECAUSE YOU'RE AFRAID OF WHAT WILL HAPPEN, OR DIE WITH A SMILE ON YOUR FACE, KNOWING AND ACCEPTING THAT YOU'VE DONE YOUR BEST TO HAVE A GOOD LIFE, REGARDLESS OF HOW SHORT THAT LIFE WAS? THINK ON THAT - YOU MIGHT START AGREEING WITH ME THEN. (WELL, SCIENCE FICTION WAS SPREADING LIKE WILDFIRE AT THAT TIME, I IMAGINE THERE'D BE DREAMING). AND YES, SIERRAS ARE MODEL STUDENTS. DOESN'T MEAN EVERYBODY WANTS TO ACT LIKE IT (AKA ME). THOUGH I CAN HONESTLY SAY I DO MY BEST AT BEING HUMBLE, IT'S HARD NOT TO STICK OUT WHEN YOU HAVE 168 IQ AND LEARNED HOW TO BREAK INTO YOUR PA'S PASSWORD-PROTECTED TITANIUM SAFE AT AGE FIVE.
PUT IT BEHIND YOU; THERE'S NOTHING YOU CAN DO, JUST AS I COULDN'T PREVENT MY OWN KIDNAPPING. BUT WHO SAID ALL CHARLIE ONES ARE ALL DEVOTED TO HALSEY? I KNOW THAT I'M NOT A FAN. MAYBE IT'S NOT AS BAD NOW AS AFTER MY CONSCRIPTION, BUT I CAN'T SAY I REALLY LIKE HER EVEN NOW. I DO REGRET BREAKING HER NOSE AND LIP AND GIVING HER BLACK EYES EARLY IN TRAINING, THOUGH. |ENCRYPTED SECTION: CODE_____|YOU'VE NOT SEEN MANY WOMEN PUNCH, I SEE. YOU SHOULD MEET WITH A FEMALE SPARTAN SOMETIME, AND THEN PRAISE INNIES RIGHT IN FRONT OF HER - JUST FOR THE EXPERIENCE, OF COURSE!|ENCRYPTED SECTION: END|
|ENCRYPTED SECTION: CODE_________|AS FOR MY HISTORY WITH HALSEY (I IMAGINE YOU'RE PRETTY CURIOUS NOW), HERE'S THE DEAL; MUM TAUGHT HER AT UNIVERSITY (YSIONRIS JEROMI WASN'T THE ONLY ONE TO TEACH HER, SEE), AND THE TWO WERE ON FRIENDLY TERMS, SO WHEN SHE CAME OVER ONE DAY, I NATURALLY TREATED HER AS WELL AS ANY OTHER FRIEND OF MY MUM'S. I IMAGINE YOU CAN GUESS WHAT I FELT WHEN I WAS ABDUCTED [X] WEEKS LATER AND THEN LEARNED IT WAS THAT VERY SAME PERSON RESPONSIBLE FOR IT. SO, ONE DAY, I ENTERED HER OFFICE ALONE AND SIMPLY WENT BERSERK, UNTIL MENDEZ AND TWO DIS ARRIVED AND SUBDUED ME. I'D ELABORATE FURTHER ON THE SUBJECT IF I WAS PROUD OF IT, WHICH I'M NOT.|ENCRYPTED SECTION: END|
GOOD, I JUST RECEIVED A NOTICE OF THE IMPENDING SHIPMENT. THE RECRUITS ARE EXCITED ABOUT HAVING THEIR IN-SUIT TRAINING SO SOON, THOUGH I'M UNSURE IF IT'S BECAUSE THEY LIKE THE IDEA OF RECEIVING ADVANCED TECHNOLOGY, OR JUST BECAUSE IT'LL LET THEM USE GREATER AMOUNT OF FORCE IN THE EXCERCISES. I'LL HAZARD A GUESS AND SAY IT'S A LITTLE OF BOTH. HOW ABOUT YOU? |ENCRYPTED SECTION: CODE_______|JESUS, IT'S A GOT THING YOU DEFIED THAT; GOD KNOWS, THERE'S FEW ENOUGH CANDIDATES AS IT IS. AS FOR KALMIYA, I IMAGINE HALSEY FLASH-CLONED HER BRAIN AND CREATED THE AI THAT WAY. IT'S POSSIBLE TO USE, BUT IN MOST CASES INEFFICIENT, AS MOST BRAINS DON'T SURVIVE THE PROCESS LONG ENOUGH TO CREATE AIS FROM THEM. BY THE WAY, I GOT PAST HER SOMETIME AGO, AND I MANAGED TO TAG A FEW SUITS GOING TO ALGOLIS. I'LL TRY TO KEEP A TAB ON THOSE, THEY COULD PROVE USEFUL.|ENCRYPTED SECTION: END|
MAYBE IT STARTED LIKE YOU? GREW COMFORTABLE WITH THE NEW ROLE OVER TIME? IF SO, YOU SHOULD WATCH OUT SO YOU DON'T END UP THE SAME. OF COURSE, HE COULD'VE BEEN LIKE THAT FROM THE START, BUT DIDN'T GET TO SHOW IT UNTIL HIS ONI ENLISTMENT. I FIND IT CURIOUS THAT HE'S STILL MARRIED - HE DOESN'T SEEM THE TYPE WHO WOULD TAKE DAYS OFF TO BE WITH THE WIFE OR HESITATE TO ASSIGN FAMILY MEMBERS TO SUICIDE MISSIONS. SPEAKING OF WHICH, I NEVER ASKED, YOU GOT FAMILY YOURSELF? |ENCRYPTED SECTION: CODE_____|IF IT'S RELATED TO S-III, I THINK HEADHUNTER'S SIERRAS TOO. AND NOBLE SEEMS INTERESTING, I'LL HAVE TO KEEP IT IN MIND (THERE'S A CHANCE WE COULD FUNNEL ONE OR TWO OF OUR SPARTANS TO IT - RATHER THAT THAN THAN HAVING THEM END UP AS ANOTHER GENERATION OF RICH'S LEONIDAN GRIM REAPERS). AND THANKS FOR THE INTEL ON AMBROSE. IT'S A FUNNY THING; I ONCE KNEW SOMEBODY NAMED KURT, A CHARLIE ONE LIKE MYSELF. GOOD MAN, A LITTLE LIKE MYSELF IN HIS RESPECT FOR NON-SPARTAN PERSONNEL AND HABIT TO MAKE FRIENDS. WISH HE STILL LIVED.|ENCRYPTED SECTION: END|
YEAH, I KNEW THAT, READ IT IN HER PSYCHE PROFILE. I NOTIFIED THE PSYCHOLOGISTS ABOUT THIS RECENT INCIDENT. OF COURSE, IF WE LET THEM DECIDE WHO'RE FIT FOR DUTY OR NOT, WE'D BE DOWN TO A DOZEN CANDIDATES. I WON'T CHOP HER FROM THE ROSTER FOR THAT - SHE HASN'T CAUSED ANY INCIDENTS SO FAR, NO REASON SHE WOULD NOW. |ENCRYPTED SECTION: CODE_____|YEAH, THAT ANSWER'S SIMPLE; I COULDN'T. I'M NOT SITTING ON MY ASS AND LETTING OTHERS FIGHT FOR ME. WHICH IS WHY I'LL NEVER HAVE A NORMAL FAMILY, I GUESS. NO KISSING A WIFE GOODBYE BEFORE HEADING OFF TO WORK, TEACHING THE FIRST KID TO WALK OR WRITING A WILL FOR MY CHILDREN ON MY DEATHBED FOR ME. I GUESS I'LL HAVE TO SETTLE FOR HOPING FOR A REAL FUNERAL WITH AN ACTUAL TOMBSTONE.|ENCRYPTED SECTION: END|
//PRESS ENTER TO CONTINUE//
---
ENRYPTION CODE: CHARLIE-BRAVO-LIMA-JULIET
PUBLIC KEY: N/A
FROM: COL (0-6) GAMMA SIERRA
TO: CPT (0-3) LIMA KILO
SUBJECT:RE PROJECT ARES, PART 2

WELL, YOU'VE GOT A BIT OF A POINT THERE, BUT TRY AS I MIGHT, YOUR OPTIMISM ELUDES ME. I'VE BEEN DOING THIS JOB FOR ALMOST NINE YEARS, AND I'LL TELL YOU THAT WHEN I JOINED THE MILITARY, I NEVER PLANNED ON RECRUITING LITTLE KIDS TO BE HIGH TECH CHILD SOLDIERS, AND NEVER EXPECTED TO SEE THE LIST OF PEOPLE AND PLANETS I KNOW SHRINK DAILY AS THEY WERE KILLED AND DESTROYED. IT WEIGHS ON ME, HOWEVER MUCH I WANT IT NOT TOO. AND I GUESS YOUR RIGHT ABOUT THE PEOPLE BACK THEN. IF THEY WEREN'T BASKING IN THEIR OWN HUBRIS, THEY WERE SPENDING ALL THEIR TIME IN LEISURE. AND DIDN'T YOU KNOW IQ SCORES ARE COMPLETELY OVERRATED? ALL THAT PLACEMENT VARIATION AND CRAP.
I KNOW, MENTALLY, THAT YOUR RIGHT ABOUT PUTTING IT BEHIND ME, BUT IT'S STILL DIFFICULT. THIS JOB ISN'T HELPING ANY. AUGMENTATIONS ARE GETTING CLOSER AND CLOSER AND WE ALL KNOW THE PROBABILITIES. I LOOK AT THESE KIDS AND WONDER WHO WILL BE LEFT IN A YEARS TIME, OR TWO. ITS DIFFICULT. I KNOW YOU STRUGGLE WITH IT TOO, SO I DON'T HAVE TO REMIND YOU, BUT ITS DIFFERENT SOMEHOW WHEN YOU WERE THE ONE WHO SELECTED THEM. |ENCRYPTED SECTION: CODE______|SOUNDS LIKE A ENAMORING, EXCELLENT CHARACTER BUILDING EXPERIENCE. SOMEHOW, THOUGH, I THINK I'LL PASS|ENCRYPTED SECTION: END|
AND I'M EXCITED ABOUT THE SUITS, JUST TO HOPE IT'LL IMPROVE SURVIVABILITY. THE SIERRA THREES WHO DID LIVE PRACTICE WITH THEIR SPI BEFORE DEPLOYMENT ALL SEEMED TO HAVE DONE BETTER ONCE LIVE INTO THE FIELD, SO AT LEAST OUR KIDS WILL HAVE SOMETHING GOING FOR THEM, EVEN IF FATE HAS TURNED AGAINST THEM. |ENCRYPTED SECTION: CODE______|YES, I RECKON IT WAS. NOT LIKE I HAD ANY CHOICE, THOUGH. WHATEVER ONI SAID, I COULDN'T JUST SIT AROUND AND WATCH THEM DIE, COULD I? AND BY SUITS, YOU DON'T MEAN MJOLNIR, DO YOU? WE CAN'T BE THAT LUCKY, NOT AFTER ALL THIS, CAN WE?|ENCRYPTED SECTION: END|
AS FOR ACKERSON, I CAN HONESTLY SAY I DON'T KNOW. MAYBE HE WAS A GOOD SOLDIER WHO GOT ROPED INTO THE WRONG CROWD; MAYBE HE WAS A BAD ONE ALL ALONG AND JUST NEEDED AN EXCUSE. AS FOR HIS WIFE, I COULDN'T SPECULATE. IN RESPONSE TO BOTH QUESTIONS, I'M NOT MARRIED AND THE MILITARY HAS TAKEN ANY CHANCE OF THAT. |ENCRYPTED SECTION: CODE______|I CAN'T ARGUE WITH YOUR LOGIC, WHAT WITH THEIR CLOSE LINK TO BETA-5 AND S-III. AS FOR NOBLE, I'LL SEE WHAT I CAN DIG UP. MORE BACKUP FOR OUR KIDS CAN NEVER BE A BAD THING. I'M SORRY TO REMIND YOU ABOUT KURT, THOUGH. HE WENT DOWN DURING DEEP SPACE RECON, DIDN'T HE? TERRIBLE WASTE, IF YOU ASK ME.|ENCRYPTED SECTION: END|
AS FOR [S-343], I'M INCLINED TO AGREE. WE CAN'T AFFORD TO AXE ANYONE ELSE FROM THE LIST (AND IF WE WERE TO CUT HER, WE'D HAVE TO ACKNOWLEDGE THE FACT THAT MOST OF THESE KIDS AREN'T CUT OUT FOR THIS---347'S DANGEROUSLY SELF ABSORBED, 341'S INSUBORDINATE, 332 IS A FLIRT (OF ALL THINGS), AND A HALF DOZEN OTHERS HAVE DEPRESSION, ANGER, AND TRAUMATIC DISORDERS FROM THE LOSS OF THEIR FAMILIES). |ENCRYPTED SECTION: CODE______|AND YOU CALL ME THE CYNICAL ONE? I CAN'T IMAGINE A LIFE BEYOND THE WAR; YOU CAN'T IMAGINE ONE WITHOUT WAR AT ALL.|ENCRYPTED SECTION: END|
//PRESS ENTER TO CONTINUE//
---
ENRYPTION CODE: GOLF-MIKE-BRAVO-ALPHA
PUBLIC KEY: N/A
FROM: CPT (0-3) LIMA KILO
TO: C0L (0-6) GAMMA SIERRA
SUBJECT: RE: RE: PROJECT ARES, PART 2

LIFE NEVER GOES AS EXPECTED; IF YOU BUILD UP LONG-RANGE EXPECTATIONS OF WHAT LIFE WILL BE, YOU WILL BE DISAPPOINTED. ONLY WAY TO AVOID THIS? GET RID OF EXPECTATIONS, AND JUST GO WITH THE FLOW AT ALL TIMES. NOW, ABOUT THE IQ THING, NOW THAT MY PHISOPICAL STATEMENT OF THE WEEK IS OUT OF THE WAY; JUST BECAUSE IT'S OVERRATED IT DOESN'T MEAN IT DOESN'T HAVE ITS USES. 'SIDES, I WAS JUST POINTING I OUT I'VE GOT A FAIR BIT OF INTELLIGENCE (HARD TO BELIEVE, I KNOW). |ENCRYPTED SECTION: CODE_____|IF IT'S ANY CONSOLATION, YOU'RE LUCKY NOT TO BE WITH COVERT OPS; THE MISSIONS I HAVE TO TAKE CARE OF ARE SOMETIMES DIRTIER THAN ANY COVENANT ATTACK. FOR EXAMPLE, I'M CERTAIN THAT YOU'VE NEVER HAD TO HOLD CHILDREN HOSTAGE SIMPLY TO MAKE SURE THEIR INNIE PARENT(S) AGREE TO A TRUCE WITH THE UNSC. OR KILL ASTRONAVIGATORS THAT JUST BLESSED YOUR ARRIVAL AND BEGGED YOU TO SAVE THEM, JUST TO MAKE SURE THEY DON'T FALL INTO ENEMY HANDS.|ENCRYPTED SECTION: END|
OH, AND MOST OF THE CANDIDATEST HAVE HAD A COUPLE SESSIONS WITH THE SUITS NOW. MOST OF THEM WERE IN GOOD SPIRITS - NOT 343, THOUGH. SHE DECIDED TO CALL IT GARBAGE AFTER MAKING A DENT IN 347's HARNESS WITH HER UNARMED HAND. BUT COME TO THINK OF IT, IT MIGHT'VE JUST BEEN BECAUSE SHE BROKE HER KNUCKLE IN DOING SO. SHE HAD TO SKIP TWO HOURS OF TRAINING TO FIX IT (TO 347's DELIGHT). OTHERWISE IT WENT WELL; I'M PROUD OF HOW FAST THEY'RE ADAPTING TO IT (AND I CAN'T WAIT TO SEE 341, 311, 319, 327 AND 303 STARTING A SCAVENGER HUNT FOR TECH TO UPGRADE THE SUITS WITH: THEY'RE SO ADORABLE - MISCHIEVOUS, BUT ADORABLE - AREN'T THEY? LIKE PUPPIES, OR INFANTS). |ENCRYPTED SECTION: CODE________|I'M POSITIVE; MJOLNIR ARMOR. BUT I'VE ONLY MANAGED TO TAG THEM - I DON'T THINK ANYONE SHORT OF THE SECURITY COMMITTEE OR DIRECTOR PARANGOSKY HAS ENOUGH CLOUT TO GET THE SUITS OUT OF STORAGE. AND ALGOLIS ARE KNOWN FOR THEIR VERY SECURE FACILITIES (I HAVE FIRST-HAND EXPERIENCE TO PROVE IT). BUT IN CASE THE COVENANT FIND THE PLANET, IT MIGHT BE POSSIBLE TO EXTRACT THEM AFTER SECURITY'S DOWN AND BEFORE THE COVENANT GET TO THEM; ENSURING THEY DON'T GET WASTED.|ENCRYPTED SECTION: END|
YOU REALLY SHOULD FIND YOURSELF A WOMAN; I GET THE IMPRESSION THAT SOME KISSING WOULD DO YOU GOOD. AT LEAST IT'D BE BETTER THAN BUYING SUCH SERVICES ON THE BROTHEL ON GILGAMESH. |ENCRYPTED SECTION: CODE______|YES, IT'S A WASTE. IT'D HAVE BEEN BETTER IF HE LIVED AND WAS THE ONE CHOSEN TO TRAIN THESE KIDS INSTEAD OF ME; HE WAS A NATURAL LEADER. BUT THERE'S NOTHING TO DO ABOUT THAT NOW; I'LL HONOR HIM AND ALL THE OTHER FALLEN SPARTANS IN MY OWN WAY. SPEAKING OF SIERRAS, ADDITIONAL DIGGING INTO SPECWARCOM GROUP THREE DATABASES SHOW THAT NOBLE ISN'T THE ONLY "SPECIAL" TEAM OF OPERATORS; THERE'S ALSO UNITS CALLED [ROYAL], [GAUNTLET] AND [ECHO], MAYBE MORE THAN THAT. WHAT'S MORE IS THAT THE GROUP'S CO IS URBAN HOLLAND - I THINK YOU'RE AWARE OF THE FACT THAT HE'S A LEGEND IN SPECWARCOM. I'M NOT SURPRISED HE'S BEEN CHOSEN TO COMMAND SIERRA UNITS (MAYBE WE SHOULD CONSIDER ASSIGNING ONE OR TWO OF THE ARES TEAMS TO HIS COMMAND? I'D SLEEP BETTER KNOWING HE'S ONE OF THE OFFICERS COMMANDING MY MEN).|ENCRYPTED SECTION: END|
AS FOR THE CANDIDATES AND THEIR "ISSUES", YOU SAID IT. AND CUT 332 SOME SLACK; I THINK SHE PICKED IT UP FROM ME. AND AS I SAID ABOVE, 341 IS ADORABLE - WHEN HE ISN'T RUNNING HIS MOUTH LIKE CRAZY. 347 WORRIES ME, THOUGH; ARROGANCE NEVER GETS YOU FAR IN THIS LINE OF WORK. |ENCRYPTED SECTION: CODE____________|ACTUALLY, THAT'S VERY OPTIMISTIC THINKING FOR A SPARTAN. AND BESIDES, I DO A LOT OF IMAGINING; IT'S JUST THAT I CAN'T MAKE MYSELF LIVE PEACEFULLY WHILE THERE'S OTHERS THAT DON'T AND NEED MY HELP. WERE IT NOT FOR THAT, I MAY HAVE DEFECTED YEARS AGO - I HONESTLY DON'T CARE ABOUT THE UNSC (TREASON AS IT IS TO SAY THAT THESE DAYS, AT LEAST IF YOU'RE EMPLOYED WITH SECTION THREE), LET ALONE ONI. WHAT I CARE ABOUT IS MY FAMILY, MY COMRADES AND ALL THE PEOPLE THAT CAN'T FEND FOR THEMSELVES. CALL ME TRAITOR IF YOU WANT, BUT THAT'S HOW IT IS.|ENCRYPTED SECTION: END|
//PRESS ENTER TO CONTINUE//
---
ENRYPTION CODE: NOVEMBER-BRAVO-INDIGO-LIMA
PUBLIC KEY: N/A
FROM: COL (0-6) GAMMA SIERRA
TO: CPT (0-3) LIMA KILO
SUBJECT: RE: RE: RE: PROJECT ARES, PART 2

YOUR RIGHT ON THAT ONE, FRIEND. LIFE IS NEVER NEAT AND TIDY. I'VE LEARNED THAT THE HARD WAY THESE PAST FEW YEARS, AND THE THINGS I'VE DONE HAVE BEEN RELATIVELY TAME…WELL, BY ONI STANDARDS AT LEAST. EVEN SO, I CAN'T HELP REMEMBERING BETTER DAYS. EVERYTHING USED TO MAKE SENSE, HAVE AN ORDER, WE ALL USED TO HAVE A FUTURE. AND THAT'S A PROSPECT THAT'S SHRINKING QUICKER THAN MY HAIRLINE. AND DON'T TUTE YOUR OWN HORN TO MUCH, SON. YOU CAN KEEP YOUR 168 IQ SCORE. I'LL KEEP MY THREE SCIENCE DEGREES. |ENCRYPTED SECTION: CODE_____|IF THAT'S SUPPOSED TO MAKE ME FEEL BETTER, THEN I THINK YOU NEED TO REEVALUATE YOUR METHODS. YOU WILL DEFINITELY NOT MAKE OUTSTANDING MORALE LIFTER OF THE YEAR WITH THOSE KINDS OF EXAMPLES. I DO THANK GOD EVERY DAY THOUGH I NEVER ENDED UP IN SPECIAL OPERATIONS. I DON'T LIKE IT, BUT I'M NOT SURE I COULD SLOT SOMEONE IN THE COLD LIKE THAT, EVEN IF I WANTED TO.|ENCRYPTED SECTION: END|
GOOD TO KNOW THEY'LL TOLERATE IT. THAT'S ONE BURDEN LIFTED, IF ONLY A LITTLE. AND DID ANYTHING PROVOKE 343? OR DID SHE JUST GO OFF ON 347? (NOT THAT'D I'D BLAME HER; I TRY TO STAY PRETTY NEUTRAL AND STAY FAIR, BUT THAT GIRL REALLY IS A HANDFUL---I'D REGRET GIVING HER A TEAM, IF SHE WASN'T SO DAMNED TALENTED) BESIDES THE ONES YOU NAMED (OUR CREAM OF THE CROP), HOW ARE THE OTHERS HOLDING UP WITH IT? I'M GETTING VERY WORRIED ABOUT SOME OF THEM. THE DISBARITIES IN THEIR GENETIC MATCHUP ARE REALLY STARTING TO BECOME MORE APPARENT (YOUR PROBABLY ALREADY AWARE, BUT I SAW THAT 338'S PROFICIENCY WITH SNIPER WEAPONRY IS EXPONTENTIALLY BETTER THAN ARE WEAKER RECRUITS, 343 IS MATCHING THAT WITH CLOSE COMBAT, AND 341---WELL, HE MAY BE A LITTLE SHIT, BUT HE'S GOOD WITH EVERYTHING). I DON'T WANT KIDS FALLING BEHIND. |ENCRYPTED SECTION: CODE________|THAT WILL BE ONE INTERESTING MISSION THEN, FOR WHOEVER IS NEAREST. I WOULDN'T BE JEALOUS OF ANYONE TRYING TO GRAB CLASSIFIED TECH IN THE MIDDLE OF AN INVASION (THOUGH I GUESS THE ENGINEERS END UP DOING THAT EVERY TIME THE COVENANT ATTACK, COUNTING THE COLE PROTOCOL AND EVERYTHING). I GUESS THE QUESTION NOW IS WHETHER WE TELL THE RECRUITS ABOUT IT OR JUST MAKE NOTE OF IT FOR USE LATER.|ENCRYPTED SECTION: END|
FIND MYSELF A WOMAN? THERE'S AN IDEA, IF I EVER HEARD ONE. TELL YOU WHAT: YOU SET IT UP, AND I'LL GLADLY OBLIGE IN SOME LATE NIGHT ROMANCE (AND WHAT DO YOU KNOW ABOUT BROTHEL'S, ANYWAY?)|ENCRYPTED SECTION: CODE______|THAT'S THE NATURE OF WAR I GUESS. SOME OF US GET GRAND, HEROIC DEATHS, AND THE REST OF US END UP BEING SLOTTED BECAUSE OF BAD LUCK AND RANDOM CHANCE. AND I THINK YOU DISCREDIT YOURSELF TO MUCH. THE RECRUITS REALLY DO LOOK UP TO YOU AND RESPECT YOU, AND THAT SAYS A LOT. I'M CERTAINLY GRATEFUL. I'VE READ THE FILES ON SOME OF THE OTHER CHARLIE ONES, AND THERES MORE THAN A FEW I'M GLAD I DON'T HAVE TO WORK WITH. I READ UP ON A FEW (013 AND 144), AND I SWEAR I WOULD SHOOT MYSELF IF I HAD TO WORK WITH THOSE KINDS OF NUTTERS. AND GOOD WORK FINDING THOSE OTHER GROUPS; IT NEVER CEASES TO AMAZE ME HOW (WITH SECURITY CLEARANCES WELL BELOW MY OWN) YOU ALWAYS SEEM TO FIND THESE SO EASILY. AND YES, I KNOW ABOUT HOLLAND. HE DEFINITELY SEEMS THE TYPE TO RUN A CONTINGENT OF SIERRAS. IF WE CAN SWING IT, I DON'T SEE ANYTHING WRONG WITH MAKING CONTACT WITH HIM. WORK YOUR CONTACTS, AND I'LL WORK ON THE BRASS.|ENCRYPTED SECTION: END|
I'M SURE HALSEY WOULD BE SHITTING BRICKS IF SHE KNEW ONE OF HER SPARTANS WAS SUCH A BAD INFLUENCE ON THE YOUTH. WHO'D HAVE THOUGHT THAT A SIERRA IN TRAINING WOULD PICK UP SLEAZY HABITS---FROM ANOTHER SPARTAN. AND 341, ADORABLE? REALLY SON? YOU REALLY DO LIKE CRIMSON, DON'T YOU? (AS FOR 347, I'M GOING TO ENROLE HER IN SOME COUNSELING SESSIONS TO HOPEFULLY IRON THAT OUT. OUR TEAM LEADERS CAN'T AFFORD TO BE ARROGANT; WITH ALL THEIR INHERENT DISADVANTAGES, THEY'LL END UP GETTING THEIR PEOPLE KILLED. |ENCRYPTED SECTION: CODE____________|I HOPE YOUR NOT OFFENDED, BUT YOU REALLY DO PUZZLE ME. ONE SECOND YOU ACT LIKE A NORMAL PERSON, INDEPENDENT AND SOVREGIN, AND THE NEXT YOU ACCEPT YOUR FATE LIKE IT'S SET IN STONE. WE LIVE IN VERY DIFFERENT WORLDS (AS IF IT NEEDED POINTING OUT). AND I'M NOT GOING TO TURN YOU INTO SECTION 0, DON'T WORRY. I'VE GOT NO LOVE FOR ONI, AND THE ONLY REASON I'M HERE IS BECAUSE IT'S MY DUTY. YOUR NO MORE OF A TRAITOR THAN I AM (AND PROBABLY LESS OF ONE THAN 341).|ENCRYPTED SECTION: END|
//PRESS ENTER TO CONTINUE//
---
ENRYPTION CODE: INDIGO-INDIGO-SIERRA-NOVEMBER-ALPHA
PUBLIC KEY: N/A
FROM: CPT (0-3) LIMA KILO
TO: COL (0-6) GAMMA SIERRA
SUBJECT: RE: RE: RE: RE: PROJECT ARES, PART 2

OH, CHEER UP; DON'T YOU KNOW THERE'S WIGS IN CASE YOU RUN OUT OF HAIR? THOUGH IN ALL HONESTY, WE ARE LOSING TERRITORY, THAT WE CAN BOTH AGREE ON. WHICH IS WHY WE NEED TO MAKE SURE THAT WE DON'T LOSE MORE. IF THESE TRAINEES - NO, SOLDIERS, THEY'VE COME THAT FAR BY NOW - CAN ACHIEVE THAT, THEN IT'LL BE WORTH IT (REGARDLESS OF WHAT YOU AND I WILL FEEL ABOUT THE LOSSES). IF THEY CAN'T...THEN AT LEAST I'LL KNOW WHAT LEVEL OF HELL TO EXPECT ONCE I DIE (I ASSUME YOU'VE READ DANTE? 9 CIRCLES OF HELL AND ALL THAT). AND WELL, IQ'S PRETTY MUCH THE ONLY MEASURE I'M ALLOWED TO HAVE, SEEING AS I CAN'T TAKE DEGREES LIKE YOU |ENCRYPTED SECTION: CODE____|MAKES ME WONDER WHAT I'D BE IF I HADN'T BEEN RECRUITED. A MASTER THIEF (ROBBING THE UEG GOLD RESERVE CLEAN AND GETTING AWAY WITH IT SEEMS EASY TO ME COMPARED TO FIGHTING A WAR AGAINST GENOCIDAL ALIENS)? A CAA INVESTIGATOR (DETECTIVE WORK SOUNDS FUN, AT LEAST IF YOU GO BY WHAT YOU SEE IN THE VIDS)? A MARINE (SERVING LIKE I DO NOW, JUST WITH MORE FREEDOM)? AN AIRMAN (PUTTING THOSE PILOT SKILLS TO GOOD USE)? WHAT DO YOU THINK? OH, AND I GUESS I SUCK AT CHEERING PEOPLE UP, BUT YOU HAVE TO ADMIT IT COULD ALL BE A WHOLE LOT WORSE.|ENCRYPTED SECTION: END|.
I'M CERTAIN 347 WAS PLAYING UP THE ME, MYSELF AND MY AWESOMENESS FOR SOME TIME, BUT I HAVEN'T BOTHERED INVESTIGATING IT. I PREFERRED TO KEEP THE DI'S SHARP ON OTHER MATTERS, AND I WANTED THE SUIT TRAINING UNDERWAY IMMEDIATELY. AND THE OTHERS? MOSTLY THEY DO WELL, THEY KEEP UP AND STAY STRONG, BUT...IT'S VISIBLE IT TAKES MORE EFFORT. I'M AFRAID SOME OF THEM MAY BE ON THE VERGE OF BREAKING (I ORDERED SOME STIMS INTO THOSE CANDIDATES' MEALS FOR SOME TIME TO COME - THEY NEED TO KEEP FIGHTING IF THEY'RE TO STAND A CHANCE). BUT MOSTLY, THEY'RE DOING WELL (BALDUIN IN PARTICULAR IS A FIGHTER - HE'S NOT CREAM OF THE CROP, BUT I HAVEN'T SEEN SUCH WILLPOWER ANYWHERE; HAD HE HAD RACHEL'S GENETIC MAKEUP, HE WOULD BE NUMBER ONE, NO QUESTION. TOO BAD HIS GENES ARE AGAINST HIM). DON'T WORRY TOO MUCH; THEY'RE NOT FALLING BEHIND. NOT IF I CAN HELP IT. |ENCRYPTED SECTION: CODE_________|YOU WANT MY OPINION? TELL CRIMSON, BUT ONLY IF THEY FIND THEMSELVES IN THE SECTOR AND THE WINTER CONTINGENCY IS DECLARED. NONE OF THE OTHER TEAMS WOULD AGREE TO THEFT (RACHEL MIGHT, BUT SHE WOULDN'T BE ABLE TO DO IT ALONE), AND IF TOO MANY KNEW ABOUT IT...I DON'T WANT TO GET ANY OF THE KIDS IN TROUBLE. SUCH INFORMATION COULD PROVE CATASTROPHIC, EVEN TO SIERRAS.|ENCRYPTED SECTION: END|
REALLY? WELL, I HAVE ENCOUNTERED A FAIR AMOUNT OF LOVELY LADIES THROUGHOUT MY CAREER (COVERT OPS GET YOU INTO CONTACT WITH CIVILIANS MORE OFTEN THAN YOU'D THINK |ENCRYPTED SECTION: CODE____|- EVERY OPERATIVE'S AUTHORIZED TO SET UP HIS OWN NETWORK OF CONTACTS AS NECESSARY TO COMPLETE OUR MISSIONS, THUS HOW I'VE BEEN ABLE TO COLLECT ALL THIS INTEL I'VE SHARED WITH YOU (PEOPLE DO TELL YOU MORE THAN YOU'D IMAGINE WHEN YOU TALK TO THEM, TOTE A GUN IN THEIR FACES OR GET THEM BETWEEN THE SHEETS)|ENCRYPTED SECTION: END|), SOME OF THEM WHO'S BOUND TO CONSIDER YOU. THERE'S THE GOVERNOR OF HARMONY, CONSTANTINA LORRAINE, SHE OWES ME ONE (I SAVED HER FROM AN ASSASSINATION ATTEMPT BACK IN '26; THE INNIES THERE HAVE ALWAYS BEEN WILD, EVEN NOW - WOULDN'T SURPRISE ME IF THEY HIT A RELAY AND STOLE FREIGHTERS ONE OF THESE DAYS), AND BETTER YET; SHE HAS A THING FOR GUYS IN UNIFORM (NOT THAT I'M, UH, SPEAKING FROM PERSONAL EXPERIENCE OR ANYTHING). BUT IF YOU CAN'T WAIT (OR ORDER A TRIP TO HARMONY), I MIGHT ALSO RECOMMEND DOCTOR STROUD, EYE CANDY AND THE BOSS OF OUR NURSE CONTINGENT (HEARD SHE CAN'T HAVE KIDS, SO THERE'S NO CHANCE OF ANY EMBARRASSING SIDE-EFFECTS OCCURRING BECAUSE OF A PASSIONATE LIAISON - BUT WOOING SHOULD BE DONE TACTFULLY; SHE LOST HER HUSBAND, ONE SERGEANT MARCUS PHOENIX ON SERA BACK IN '45). I COULD GO ON, IF YOU LIKE, ASSUMING YOU WEREN'T JUST FOOLING ME AROUND. (AS FOR MY BROTHEL EXPERIENCE, IT'S RATHER INDIRECT, REALLY; I WAS DISPATCHED TO GILGAMESH TO TAKE OUT AN INNIE LEADER WHO WAS TAKING OVER THE PLANET'S CRIMINAL UNDERWORLD FROM THE SYNDICATES THAT HAD PREVIOUSLY RULED (BACKED BY ONI, BELIEVE IT OR NOT; APPARENTLY IN RETURN FOR AID IN ROOTING OUT THE REBELS). EVERYTHING DIDN'T GO ACCORDING TO PLAN AND I HAD TO CHASE HIM THROUGH HALF THE TOWN - INCLUDING THE BROTHEL. WHILE PASSING THROUGH THAT PLACE, I ALSO SAVED AN, ERR, EMPLOYEE FROM AN OVERLY ROWDY "CUSTOMER". THINGS WORKED OUT; I GOT THE INNIE, THE "EMPLOYEE" SHOWED HER APPRECIATION IN A RATHER UNORTHODOX MANNER, AND I GOT SOME FIRST-HAND VISUALS ON WHAT A BROTHEL IS LIKE.) |ENCRYPTED SECTION: CODE_____|THANKS, BUT IT'S STILL A MATTER OF FACT; OTHERS COULD HAVE DONE THIS BETTER THAN ME. AND BELIEVE IT OR NOT, BUT I KINDA MISS THOSE NUTTERS. LEONID MORE SO, PROBABLY; HE WAS AT LEAST ON MY TEAM, AND I'M NOT SURE I CAN FULLY APPRECIATE A PERSON WHO WAS ONE OF HALSEY'S FAVORITES.|ENCRYPTED SECTION: END|
TO BE PERFECTLY HONEST, I DON'T GIVE A DAMN WHAT HALSEY WOULD THINK ABOUT HOW I TREAT THESE KIDS (WOULD PROBABLY MAKE ACKERSON PROUD BY SAYING THAT, ASSUMING HE WOULD GET TO HEAR IT OR EVEN KNOW OF MY EXISTENCE). AND WHAT DO YOU MEAN, "SLEAZY HABITS"? FLIRTING AND SEDUCTION HAS FAR MORE USES THAN YOU THINK ON ANTI-INNIE OPS (NOW IF ONLY IT WORKED AS WELL ON THE COVENANT...). AND YES, I'M TOTALLY SERIOUS; CRIMSON'S ADORABLE. I MEAN, WHO CAN'T SEE THAT? |ENCRYPTED SECTION: CODE____________|NOT OFFENDED AT ALL. I AM INDEPENDENT AND SOVEREIGN, BUT THAT DOESN'T MEAN I DON'T KNOW WHAT'S FACT AND WHAT'S NOT. HOW I WILL END UP IS A FACT; NO AMOUNT OF CHEERFULNESS WILL EVER CHANGE THAT, ONLY MAKE ME FEEL BETTER ABOUT IT. BUT THING IS THAT I WANT TO FEEL BETTER ABOUT IT, THUS MY HOPING AND DREAMING. AND AWW, HERE I WAS HALF-HOPING YOU WOULD HAND ME OVER; IT'D HAVE BEEN INTERESTING TO SEE IF I COULD'VE INTERCEPTED YOUR COMMUNIQUÉ TO S-0 BEFORE IT REACHED THEM OR NOT.|ENCRYPTED SECTION: END|
//PRESS ENTER TO CONTINUE//
"PROJECT ARES, PART 3"
ENRYPTION CODE: YANKEE-ALPHA-MIKE
PUBLIC KEY: N/A
FROM: COL (0-6) GAMMA SIERRA
TO: CPT (0-3) LIMA KILO
SUBJECT: PROJECT ARES, PART 3

A WIG? HA, I'D SOONER GO BALD THAN RESORT TO THAT, SON. I MIGHT LOOK GOOD WITH A DOME JOB. GETTING SERIOUS, HOWEVER, THE PROBLEM ISN'T JUST THAT WE'RE LOSING TERRITORY OR HAVING OUR FLEETS, DESTROYED, IT'S THAT IT'S HAPPENING WITHOUT ANY SOLUTION IN SIGHT. AS GOOD AS THEY ARE, OUR YOUNG SOLDIERS ARE STILL JUST STOPGAP METHODS, DESPERATE SOLUTIONS TO HOLD THE COVENANT OFF AS LONG AS POSSIBLE. OUR SPARTANS COULD BEAT THE COVENANT IN EVERY BATTLE, TAKE NO LOSSES EVER, AND WE'D STILL LOSE. THAT'S WHAT KEEPS ME UP AT NIGHT; THE REALIZATION THAT WE NEED A TOTAL GAME CHANGER IF WE'RE GOING TO HAVE ANY HOPE OF BEATING THEM BACK. AND I NEVER CARED MUCH FOR DANTE, REALLY. CHAUCER WAS MORE OF MY FORTE. |ENCRYPTED SECTION: CODE____|IT'S A GOOD QUESTION, FOR SURE. I ASK MYSELF SOMETHING SIMILAR ALL THE TIME; WHAT WOULD OUR SPARTANS HAVE BECOME, HAD WE NOT DONE WHAT WE'D DONE TO THEM? IT'S AN UGLY TRUTH THAT A LOT OF THEM WOULD HAVE BEEN KILLED BY THE COVENANT…BUT WE DREW FROM INNER COLONIES, AS WELL AS THE PERIPHERY. MAYBE 338 WOULD HAVE BEEN A DOCTOR. OR 349 A POLITICIAN. OR 329 A HOLOVID STAR. ALL WHAT IF'S, THAT ARE NEVER GOING TO COME TRUE.|ENCRYPTED SECTION: END|.
ALRIGHT THEN, I'LL TRUST YOUR JUDGEMENT ON IT. MY COUNSELORS ARE REPORTING A FEW SMALL SUCCESSES---ALONGSIDE A LOT OF CHALLENGES---SO I'LL LET THEM DEAL WITH IT FOR NOW. AND THAT'S GOOD NEWS ABOUT THE OTHER TRAINEES. SOUND'S LIKE YOU HAVE IT UNDER CONTROL---THOUGH IF YOU NEED HELP WITH ANYTHING, JUST GIVE ME A NOTICE AND I'LL DO WHATEVER YOU NEED---MY WORKLOAD IS STILL VERY LIGHT, GIVEN THE STRAIN EVERYONE ELSE IS UNDER. I FEEL A LITTLE GUILTY TAKING BREAKS WHEN THE DI'S ARE GOING AROUND THE CLOCK TO GET THEM READY FOR AUGMENTATION. I REALLY HATE GETTING OLD. I TRIED TO HELP OUT WITH THE IN-SUIT TRAINING (AS I'M SURE DEAN TOLD YOU) AND GOT MY ASS HANDED TO ME BY SEVERAL OF THE TRAINEES. I HAVEN'T GONE NEAR THE SUITS SINCE; I FEEL PRETTY DAMN USELESS, TO TELL THE TRUTH. |ENCRYPTED SECTION: CODE_________|THANK YOU, BUT THE ONLY PROBLEM I SEE IS CONTACTING THEM. I'M STILL NOT SURE ONI WILL KEEP ME ON WITH THE PROJECT AFTET IT'S CONCLUSION---THAT'S ONE I'M GOING OT HAVE TO FIGHT WITH RICH ABOUT. AND IF I'M NOT IN A POSITION TO CONTACT THEM, THERE'S NO WAY I'LL BE ABLE TO TELL THEM (THOUGH, KNOWING 341, THEY MIGHT JUST GO FOR IT ON THEIR OWN)|ENCRYPTED SECTION: END|
GIVEN THE CHOICES, PERHAPS NOT. I DON'T THINK THE GOVERNOR WOULD WORK OUT TO WELL (I WON'T BE BOOKING ANY TRIPS OUT SYSTEM FOR A LONG WHILE, I THINK) AND I DON'T THINK I'D BE COMFORTABLE "WOOING" NURSE STROUD---BEYOND THE OBVIOUS DIFFICULTIES, I HAVE A THING ABOUT WIDOWS. I DON'T FEEL LIKE THAT'S REALLY MY PLACE. SO MAYBE I'LL REWORD THINGS; IF YOU GET ME A NICE, UNCOMPLICATED WOMAN (A MISNOMER, I KNOW) I'LL BE SURE TO OBLIGE YOU. AND I'D NEVER HAVE EXPECTED IT, BUT I GUESS YOU PROBABLY KNOW MORE ABOUT BROTHELS THAN I DO---I NEVER WAS THE KIND TO FREQUENT THEM, IF YOU CATCH MY MEANING. |ENCRYPTED SECTION: CODE_____|IF YOU SAY SO, I GUESS. ALL I KNOW IS THAT YOU'RE A MUCH BETTER TEACHER THAN I'LL EVER BE, AND THAT THE KIDS RESPECT YOU. OTHER'S MAY HAVE BEEN ABLE TO HANDLE IT BETTER, BUT THAT'S TRUE FOR EVERYTHING, ISN'T IT? JUST BECAUSE SOMEONE ELSE IS POTENTIALLY BETTER DOESN'T MEAN YOUR NOT GOOD AT IT. AND I'M SORRY, I FORGOT THAT YOU WERE IN BROWN WITH 144. I DIDN'T MEAN TO DREDGE ANY BAD MEMORIES UP. AND THAT'S ANOTHER REASON WHY I DON'T LIKE HALSEY---PICKING FAVORITES I NO WAY TO TRAIN SOLDIERS. |ENCRYPTED SECTION: END|
HOW VERY INDEPDENDENT OF YOU. I PERSONALLY WOULD LIKE TO, JUST TO SEE THE LOOK ON HER FACE WHEN SHE HEARD ABOUT IT. A NASTY SHOCK OR TWO WOULD DO HER SOME GOOD. AND DO YOU WANT ACKERSON TO KNOW OF YOUR EXISTENCE? IF I WERE A SIERRA OPERATING "OFF THE GRID", SO TO SPEAK, THE LAST THING I'D WANT IS TO HAVE HIM CRAWLING ALL OVER ME. HE'D PROBABLY END UP TRADING YOU LIKE A DAMNED PRIZE TO GET HIMSELF A PROMOTION OR HELP SUPPORT ONE OF HIS PROJECTS. AS FOR MY DEFINITION OF "SLEAZY", I GUESS I'M A BIT OLD FASHIONED. YOU YOUNGSTERS AND YOUR "FREE LOVE" WHILE ON DEPLOYMENT DON'T DO ANYTHIG BUT BEFUDDLE ME. AND I'LL TELL YOU WHO CAN'T SEE CRIMSON AS ADORABLE: ME. WHEN I GOT CREAMED THE OTHER DAY IN THE SUIT TRAINING, 319 MADE A JOKE I'D RATHER NOT REPEAT THAT GOT THE WHOLE ROOM LAUGHING AT MY EXPENSE. CALL ME PRIDEFUL, BUT I DON'T PARTICULARRILY LIKE BEING MADE A FOOL OF---BY 15 YEAR OLDS. |ENCRYPTED SECTION: CODE____________|AH, GOOD TO HEAR YOUR NOT TO TOUCHY. WOULDN'T WANT TO BRUISE YOUR EGO, WOULD I? I ADMIRE YOUR CLARITY, BECAUSE YOU SEEM TO UNDERSTAND YOURSELF MUCH BETTER THAN I DO. I DON'T KNOW WHAT I'M FEELING HALF THE TIME ANYMORE. AND BY THE WAY, IF YOU CAN REALLY INTERCEPT MESSAGES LIKE THAT, WOULD YOU MIND TUTORING A CERTAIN INQUISITIVE MIND? I CAN SEE A FEW HELPFUL USES FOR SUCH A SKILL.|ENCRYPTED SECTION: END|
//PRESS ENTER TO CONTINUE//
---
ENRYPTION CODE: INDIGO-INDIGO-SIERRA-NOVEMBER-ALPHA
PUBLIC KEY: N/A
FROM: CPT (0-3) LIMA KILO
TO: COL (0-6) GAMMA SIERRA
SUBJECT: RE: PROJECT ARES, PART 3

I GUESS 18TH CENTURY ARISTOCRAT WIGS AREN'T YOUR THING, THEN? SAD, I THINK YOU'D A LOOK GOOD IN ONE. AND IF WE NEED A GAMECHANGER SO BADLY, WE JUST HAVE TO WORK TOWARDS FINDING ONE, RIGHT? IN THE MEANTIME, TAKE UP PAINTING LIKE I DO; IF YOU'RE FEELING DOWN, JUST DRAW SOMETHING SAD. THEN SELL IT AND EARN A FEW BUCKS! I COULD TEACH YOU, IF YOU LIKE - I'M AN EXCELLENT PAINTER, BELIEVE IT OR NOT. |ENCRYPTED SECTION: CODE___|IN FACT, ONE OF MY WORKS WAS AUCTIONED OFF RECENTLY (BY A MIDDLE-HAND, A FRIEND OF MINE, OBVIOUSLY) TO SOME RICH COLLECTOR ON BETA GABRIEL FOR A WHOOPING 10,000 cR. I'M NOT KEEPING THAT FOR MYSELF, OBVIOUSLY; I USED 11% TO COMPENSATE SOME OF MY CONTACTS FOR THE RISKS I'VE PUT THEM THROUGH, THE REST I TRANSFERRED TO YOUR ACCOUNT (SURPRISED TO SEE A BONUS TO YOUR PAYCHECK? SO SORRY TO TELL YOU IT WASN'T BECAUSE YOU WERE VOTED EMPLOYEE OF THE MONTH). IN ALL SERIOUSNESS, I TRUST YOU TO SPEND IT WELL; IT'S NOT NEARLY ENOUGH TO INSTALL MAJOR UPGRADES INTO THE SPI SUITS OR ANYTHING, BUT MAYBE SOME NEW MEDICAL SUPPLIES AND SUCH?|ENCRYPTED SECTION: END|
YEAH, DEAN TOLD ME; WISH I HAD BEEN THERE. I'D WELCOME SEEING A SUPERIOR OFFICER GETTING HIS ASS WHOPPED ANYDAY. BUT REMEMBER THAT YOU AIN'T A SPARTAN, SO DON'T FEEL BAD FOR LOSING TO THEM, SUPERIOR ARMOR OR NOT. THY ARMOR DOSETH NOT MAKETH THY WARRIOR, POETICALLY SPOKEN. DAMN, THAT REMINDED ME OF JUSTIN (A FELLOW SIERRA). HEH, WE CALLED HIM "THE POETIC SPARTAN". OR AT LEAST I AND HIS TEAMMATES DID. |ENCRYPTED SECTION: CODE__________|YOU'VE GOT MY SUPPORT TO STAY, LITTLE AS THAT MAY BE. AND YES, COMMUNICATION MIGHT BE A PROBLEM, BUT LIKE YOU SAID THERE'S ALSO A BIG CHANCE THEY MANAGE IT ON THEIR OWN. ONLY TIME WILL TELL, I GUESS.|ENCRYPTED SECTION: END|
HMM, GOOD POINT; COME TO THINK OF IT, IT'D BE HARD TO FILE A DIVORCE AGAINST THE GOVERNOR WITHOUT YOU GOING BANKRUPT. AND I CAN UNDERSTAND HOW YOU FEEL ABOUT WIDOWS (I DON'T AGREE, THOUGH; AS I SEE IT, SOME COMFORT COULD DO THEM GOOD, ESPECIALLY BECAUSE OF THEIR GRIEF). BUT DON'T WORRY, I'VE GOT MORE (AND CLOSER TO YOUR REWORDED SPECIFICS). ROSALINDA WHITTLESEY - A RATHER UNCOMPLICATED PIOUS CATHOLIC, THOUGH PRAYS A LITTLE TOO MUCH FOR MY TASTE (MIGHT BE A TURN-ON FOR YOU, THOUGH, WHO KNOWS?); JENDAYI AGAHOWA - A REALLY NICE LADY FROM NEW MOMBASA WORKING WITH THE POLICE DEPARTMENT (DISLIKES THE COMMISSIONER - KINSLER - QUITE A BIT); TANISHA DZIEDZIC - A POPULAR ARMY CAPTAIN BRIEFLY (AND AGAINST HER WISHES) ENLISTED BY ONI FOR LIAISON PURPOSES (MIGHT UNDERSTAND WHAT YOU'RE GOING THROUGH, RIGHT?). JUST GIVE A WINK IF YOU WANT MORE (OR MEANS OF CONTACT IN CASE YOU'RE INTERESTED IN ONE OF THE ABOVE). |ENCRYPTED SECTION: CODE______|IT'S ALLRIGHT. HE ACTED A BIT BETTER WHEN HE WAS IN BROWN; TO PLEASE MENDEZ, NO DOUBT. THAT MAN WAS THE ONLY PERSON LEO EVER RESPECTED. WE ALL RESPECTED HIM. EVEN ME. AND YOU MAY NOT WANT TO BELIEVE IT, BUT GROWING STRONGER ATTACHMENT TO SOME INDIVIDUALS THAN TO OTHERS IS SOMETHING WE DO SUBCONSCIOUSLY. WHAT'S IMPORTANT IS THAT WE DON'T ACT ON THOSE EMOTIONS, OR AT LEAST LIMIT THE OCCASSIONS WE DO SO. YOU KNOW I LIKE ROGER, CONNOR, RACHEL AND BALDUIN A LOT. WHAT I HAVEN'T DONE IS GIVE THEM SPECIAL TREATMENT. HALSEY'S PICKS TURNED OUT GOOD, NO DENYING THAT (JOHN WAS INDEED THE BEST CHOICE FOR LEADER, AND THOUGH AJAX COULD HAVE GONE BADLY, HE ENDED UP ALRIGHT), BUT I DIDN'T TAKE THAT RISK WITH THESE CANDIDATES. AND I DON'T REGRET THAT DECISION (LET'S FACE IT; IT'D HAVE BEEN DISASTROUS IF I MADE RACHEL LEADER OF THE WHOLE CONTINGENT).|ENCRYPTED SECTION: END|
YEAH, YOU ARE OLD-FASHIONED. BUT GIVEN YOUR BALDING SCALP, I'LL CUT YOU SOME SLACK. AND YOU'VE GOT TO LEARN TO LAUGH WITH THEM; DON'T LET YOURSELF BE LAUGHED AT, THEN THEY'LL JUST LOSE RESPECT FOR YOU. THEY PLANTED A SIGNAL ROCKET INSIDE MY ROOM TWO YEARS BACK, YOU DIDN'T SEE ME HIDING IN THE CORNER OUT OF SHAME AFTER IT BLEW AND SET MY UNIFORM ON FIRE (THOUGH I DID GET SWEET VENGEANCE BY MAKING DEAN RUN THEM ALL DAY LONG IN THE CAVES OUTSIDE THE BASE RATHER THAN THE FIELDS INSIDE). |ENCRYPTED SECTION: CODE____________|SURE, I CAN TEACH YOU. I'VE ATTACHED INSTRUCTIONS TO THIS MESSAGE. I'D BE WATCHING AND HELPING YOU LEARN IT PERSONALLY, BUT SOMEHOW I DON'T IMAGINE RICH WOULD AGREE TO ME TUTORING YOU IN POTENTIALLY "DANGEROUS" TALENTS.|ENCRYPTED SECTION: END|
//PRESS ENTER TO CONTINUE//
---
ENRYPTION CODE: TANG-WHISKEY-INDIGO-BRAVO
PUBLIC KEY: N/A
FROM: COL (0-6) GAMMA SIERRA
TO: CPT (0-3) LIMA KILO
SUBJECT: RE: PROJECT ARES, PART 3

NO, I'M MORE OF A MODERN MAN MYSELF (THOUGH I AM A BIT FOND OF OLDER VERBIAGE AND PHRASES, I'LL ADMIT). AS FOR A GAMECHANGER, I AGREE THAT WE HAVE TO LOOK FOR ONE…BUT THAT'S ALSO EASIER SAID THAN DONE? WHERE DO WE EVEN START? TRY AND REPURPOSE THEIR TECHNOLOGY? WE'RE ALREADY WORKING ON THAT, WITH LIMITED SUCCESS. I SEE FEW OTHER OPTIONS, BESIDES PERHAPS FLEEING. AND I WISH I COULD PAINT, BUT I'M A TERRIBLE ARTIST. I TRIED AN ART CLASS ONCE IN COLLEGE, BECAUSE MY PROFESSORS THOUGHT I WAS "TOO INTENSE". I ENDED UP DROPPING IT AFTER THREE MONTHS (THE ONLY CLASS I EVER DROPPED, ACTUALLY). STYLE OF FORM AND COLOR BLENDING ARE NOT MY CUP OF TEA. |ENCRYPTED SECTION: CODE___|HA…NOT EXACTLY A CONVENTIONAL MANNER, BUT I GUESS EVERYTHING HELPS. PRETTY IMPRESSIVE, HOWEVER. YOU'RE A MAN OF MANY TALENTS, I GUESS. AND DON'T WORRY, I'LL MAKE SURE THE FUNDS GET USED WELL. ONI IS GIVING US MOST OF WHAT WE NEED IN TERMS OF REGULAR MEDICAL SUPPLIES, BUT SPECIAL STUFF---MEDICAL SUPPLIES THAT THEY DON'T THINK WE NEED A USE FOR---ARE NOT INCLUDED. I'LL SEE ABOUT MAKING UP FOR THAT DISRECPANCY. |ENCRYPTED SECTION: END|
OH, HE DID, DID HE? I MIGHT JUST HAVE TO REPRIMAND HIM FOR THAT---AKA, BEAT HIM UP MYSELF (IF I CAN, THAT IS; SOMETIMES I SWEAR HE'S JUST AS STRONG AND FAST AS YOU SPARTANS). AS FOR JUSTIN, I THINK THAT MIGHT HAVE BEEN QUOTED SOMEWHERE. I SWEAR I'VE HEARD IT IN A SIERRA-RELATED DOCUMENT. YOU SPARTANS SURE DO HAVE SOME CREATIVE ABILITIES; I READ A REPORT BY FHAJAD THE OTHER DAY ON SLIPSTREAM MECHANICS, AND IT MADE ME REALIZE HOW MUCH MORE DIVERSE YOU GUYS ARE THAN THE AVERAGE PERSON THINKS. IT WAS A LITTLE INSPIRING, ACTUALLY; I ENDED UP SPENDING HALF THE NIGHT READING A REPORT ON THE ABUSE POTENTIAL OF UNSC CLASSIFCATION SYSTEMS BY A CERTAIN MICHAEL-A306 (ONE OF THE S-III ALPHA KIDS WHO GOT WASTED DURING PROMETHUS). ENLIGHTENING AND ENTERTAINING STUFF.|ENCRYPTED SECTION: CODE__________|THANK YOU, THAT ACTUALLY MEANS A LOT. I AM SURE THAT ONI WON'T WANT ME TO STAY ON, SO I'M GATHERING WHAT REMAINING CLOUT I HAVE LEFT WITH RICH AND ATTEMPTING TO PRESERVE IT---AND I THINK HE PROBABLY RESPECTS YOU (EVEN IF HE IS A SCARY BASTARD). AS FOR CRIMSON, I THINK IT'S BEST NOT TO TELL THEM YET. I'VE BEEN LOOKING UP SOME MORE…DISCREET MESSAGING TECHNIQUES, AND I'M PRETTY SURE I CAN SLIP A NOTICE UNDER THE RADAR TO THEM IF PRESSED. |ENCRYPTED SECTION: END|
DIVORCE? SON, IF I'M GETTING MARRIED, THEN I BETTER KNOW DAMN SURE BEFORE HAND I WANT TO BE WITH THEM. I DON'T PARTICULARRILY LIKE DOING THINGS BY HALF MEASURES. AND I'VE GOT TO ADMIT, I'M IMPRESSED. YOUR VERY WELL TRAVELED, TO SAY THE LEAST. AS FOR YOUR "SELECTIONS", I CAN SEE A FEW OBVIOUS PROBLEMS WITH SOME OF THEM (OUT OF SYSTEM GIRLS ARE A NO-NO, BECAUSE I'M NOT GOING TO LEAVE HERE ANYTIME SOON, SO I THINK THAT MOMBASSA GIRL IS OUT) BUT IF THAT ARMY LIASON YOU MENTIONED EVER PASSES BY, LET ME KNOW. I CAN ALWAYS APPRECIATE EXASPERATION AT ONI'S SHENNANIGANS. |ENCRYPTED SECTION: CODE______|EVEN SO, I'M SORRY. THOUGH MOVING ON, I DO RATHER WISH I'D HAD THE OPPURTUNITY TO MEET MENDEZ. FROM ALL THAT I'VE HEARD, HE SEEMS LIKE A GOOD MAN; I CAN SEE WHY YOU ALL LOOKED UP TO HIM. AND I IMAGINE YOUR RIGHT ABOUT PICKING FAVORITES SUBCONSCIOUSLY (THOUGH I HAVE TO WONDER NOW, WHO ARE MY FAVORITES? DEFINITELY NOT 341 AND COMPANY---OR 347. OR IS THAT THE POINT? I DON'T PICK FAVORITES BUT DO PICK ANTI-FAVORITES? NOW I REMEMBER WHY PSYCHOLOGY ALWAYS CONFUSED ME SO MUCH IN HIGH SCHOOL). ALSO, I THINK IT'S WORTHWHILE TO POINT OUT THAT I DON'T THINK ANY WOULD HAVE MADE A GOOD CONTINGENT COMMANDER; FOR BETTER OR WORSE, OUR SPARTANS ARE FUNDAMENTALLY DIFFERENT FROM HALSEY'S IN THAT THEY'RE A LOT MORE DISPARATE; FROM WHAT I UNDERSTAND, TEAMS SHIFTED AND CARRIED LESS SIGNIFICANCE FOR YOUR CLASS, WHILE FOR OUR KIDS, THEY'RE CLOSER THAN FAMILY. EVEN THE ONES WHO ARE, WITHOUT A DOUBT, EXCELLENT LEADERS (363, 338, 309) WOULDN'T HAVE MADE GOOD COMMANDERS. THEY ARE ALL JUST TO SEPERATED. |ENCRYPTED SECTION: END|
WELL, THANKS FOR RUBBING THAT ONE IN. OH, AND FEEL FREE TO MENTION THE RECEDING HAIRLINE WHENEVER YOU WANT, TOO. I JUST LOVE TALKING ABOUT IT, AFTER ALL. MY FAVORITE FRIGGING SUBJECT. AND I DO MY BEST TO LAUGH WITH THEM, AND FOR THE MOST PART, THINGS WORK OUT PRETTY MUCH LIKE YOU SAID THEY SHOULD. 319 JUST HAS A TALENT FOR BEING A SMART-ASS THOUGH. (BUT SINCE YOU MENTIONED IT, YOUR STORY WAS VERY ENTERTAINING).|ENCRYPTED SECTION: CODE____________|THANK YOU. AND I IMAGINE "OFF HAND" INSTRUCTION IS PROBABLY FOR THE BEST. IT REALLY WOULD BE BEST THAT RICH AND THE OTHER SPOOK MENAGERIE DON'T FIND OUT ABOUT THIS WHOLE THING. I'M NOT PLANNING ON USING IT FOR THEIR ADVANTAGE, AFTER ALL. |ENCRYPTED SECTION: END|
//PRESS ENTER TO CONTINUE//
SECRET CORRESPONDENCE 3CLK-9MDJ
"DOWNTIME"
ENCRYPTION CODE: ROMEO-29
PUBLIC KEY: N/A
FROM: MGSGT (E-9) DELTA JULIETT
TO: CPT (O-3) LIMA KILO
SUBJECT: DOWNTIME

JUST WRAPPED UP THE FINAL EXERCISES FOR TODAY AND TUCKED IN THE RECRUITS IN THEIR DORMITORIES, SIR. AS A REWARD FOR SUCCESSFULLY WORKING THE ASSES OFF OF THE KIDS, I THOUGHT ABOUT TAKING THE GUYS FOR A ROUND OF DRINKS IN THE MESS HALL AND JUST KICK BACK A LITTLE – YOU KNOW, BE REGULAR MEN FOR A WHILE. WANNA COME ALONG?
//PRESS ENTER TO CONTINUE//
---
ENCRYPTION CODE: ROMEO-29
PUBLIC KEY: N/A
FROM: CPT (0-3) LIMA KILO
TO: MGSGT (E-9) DELTA JULIETT
SUBJECT: RE: DOWNTIME

THANKS FOR THE OFFER SERGEANT, BUT I THINK I'LL PASS. I NEVER CARED MUCH FOR ALCOHOL – DULLS THE SENSES AND MAKES YOU SAY EMBARASSING THINGS AT INCONVENIENT TIMES IF YOU HAVE TOO MUCH OF IT. BESIDES, AS AMUSING AS LISTENING TO YOU GUYS EMBARASSING YOURSELVES WOULD BE, I STILL HAVE A FEW REPORTS TO SEND TO THE COLONEL BEFORE I HIT THE SACK.
BUT GO AHEAD AND HAVE A GOOD TIME, BOYS. CONSIDER THAT AN ORDER :)
//PRESS ENTER TO CONTINUE//
---
ENCRYPTION CODE: ROMEO-29
PUBLIC KEY: N/A
FROM: MGSGT (E-9) DELTA JULIETT
TO: CPT (O-3) LIMA KILO
SUBJECT: RE: RE: DOWNTIME

ACTUALLY TRIED TO GET THE COLONEL TO COME TOO – HAD ROUGHLY THE SAME EXCUSE AS YOU, FUNNILY ENOUGH. HONESTLY, I THINK BOTH OF YOU COULD USE SOME TIME OFF EVERY NOW AND THEN. I KNOW YOU'RE USED TO NOT HAVING FREE TIME AT ALL, BUT THAT DOESN'T MEAN YOU SHOULDN'T TAKE ADVANTAGE OF IT WHEN YOU DO HAVE IT. AND I GET THE FEELING THE COLONEL IS JUST A REGULAR GUY AT HEART – AND TRUST ME; REGULAR GUYS BREAK MUCH EASIER WHEN THEY SEVER TIES TO EVERYTHING ELSE AND TRY TO CONSUME THEMSELVES IN THEIR WORK.
BUT THANKS, I'LL MAKE SURE WE HAVE A GOOD TIME, SIR.
//PRESS ENTER TO CONTINUE//
"TEMPERAMENT"
ENCRYPTION CODE: ROMEO-29
PUBLIC KEY: N/A
FROM: MGSGT (E-9) DELTA JULIETT
TO: CPT (O-3) LIMA KILO
SUBJECT: TEMPERAMENT

EXERCISE IS OVER AND WE'RE PREPPING TO RETURN TO BASE (TELL THE COOKS TO TAKE THE NIGHT OFF, WE'LL JUST OPEN SOME MREs ON THE DRIVE HOME – LORD KNOWS THE KIDS HAVE TO GET USED TO THEM EVENTUALLY).
WE HAD A COUPLE FISTICUFFS IN THE AFTERMATH OF THE EXERCISE – 'LIL "JOLLY ROGER" KNOCKED OUT A COUPLE OF BALDUIN'S TEETH AND MICA PUNCHED JENNY – BUT NOTHING WE COULDN'T HANDLE. WE'RE PUTTING CRIMSON, ORANGE AND GOLD IN SEPARATE 'HOGS, THOUGH, JUST TO BE SAFE. OTHERWISE IT WENT WELL (AVALANCHE CAN TELL YOU AND THE COLONEL THE DETAILS). THEY'LL BE NICE AND EXHAUSTED FOR THE RACE TOMORROW.
//PRESS ENTER TO CONTINUE//
"FAVOR"
ENCRYPTION CODE: ROMEO-29
PUBLIC KEY: N/A
FROM: CPT (0-3) LIMA KILO
TO: MGSGT (E-9) DELTA JULIETT
SUBJECT: FAVOR

I'VE GOT A LITTLE FAVOR TO ASK, DEAN.
BEING NOVEMBER ROMEO'S DIRTY LITTLE SECRET, HE WOULDN'T LIKE ME HEADING TOPSIDE. SO, COULD YOU HEAD UP TO THE FORT AND PICK UP A PACKAGE FOR ME? THERE'LL BE A GUY IN THE LOBBY OF THE ONI BUILDING CALLED ROBERT QUINN (STOUT, RED-HAIRED, FIVE-O'CLOCK SHADOW, SHOULD STAND OUT) – TELL HIM I SENT YOU AND HE SHOULD GIVE IT TO YOU WITH NO HASSLE.
I REALIZE I COULD JUST WAIT FOR THE ITEM TO GO THROUGH CUSTOMS, BUT IT'LL BE A LOT FASTER AND EASIER FOR EVERYONE IF YOU TAKE IT – NR'S TOLD THEM TO BE STRICT REGARDING ITEMS DELIVERED BY PEOPLE NOT ALREADY INVOLVED IN THE PROJECT. SO, IF YOU HAVE TIME, I'D APPRECIATE IT.
THANKS IN ADVANCE!
//PRESS ENTER TO CONTINUE//
---
ENCRYPTION CODE: ROMEO-29
PUBLIC KEY: N/A
FROM: MGSGT (E-9) DELTA JULIETT
TO: CPT (O-3) LIMA KILO
SUBJECT: RE: FAVOR

WITH ALL DUE RESPECT, SIR, I DON'T WANT TO GET INVOLVED IN ONI POLITICS. AND PLEASE DON'T DENY IT – IF THIS PACKAGE WAS SO HARMLESS, YOU'D HAVE CLEARED IT WITH THE BIG MAN HIMSELF, WOULDN'T YOU? WHICH MEANS YOU DON'T WANT HIM TO KNOW. WHICH MEANS I'M IN TROUBLE IF I GET CAUGHT DOING IT. I'VE TOLD YOU BEFORE I'M HERE TO TRAIN THE KIDS – NO MORE, NO LESS.
YOU'RE A GOOD GUY, SIR, BUT IF YOU WANT ME TO DO THIS, I NEED TO KNOW THIS ISN'T TO FURTHER SOME PERSONAL AGENDA OF YOURS.
//PRESS ENTER TO CONTINUE//
---
ENCRYPTION CODE: ROMEO-29
PUBLIC KEY: N/A
FROM: CPT (0-3) LIMA KILO
TO: MGSGT (E-9) DELTA JULIETT
SUBJECT: RE: RE: FAVOR

IT'S NOTHING BAD AT ALL – I JUST HOPED TO GET IT A LITTLE SOONER, RATHER THAN LATER. BUT IF YOU DON'T WANT TO DO IT, THAT'S ALRIGHT. I'LL JUST WAIT FOR IT TO COME. THANKS ANYWAY, AND KEEP UP THE GOOD WORK.
|ENCRYPTED SECTION: CODE ______|IT'S NOT FOR ME, I PROMISE. IT'S FOR THE KIDS.
STANDOFF AND I HAVE BEEN KEEPING TRACK OF RKD'S POWERED ARMOR PRODUCTION, AND HOPED TO ACQUIRE SOME OF THEIR HAYABUSA SUITS INSTEAD OF THE SPI WE'RE SADDLED WITH AT THE MOMENT. THE PACKAGE CONTAINS AN ENCRYPTED MESSAGE FROM A CONTACT OF MINE IN RKD WHICH WILL HOPEFULLY HAVE SOME ANSWERS FOR US.
RICH WOULDN'T APPROVE OF ME COMMUNICATING WITH ANYONE OUTSIDE THE PROJECT, SO I DON'T WANT HIM TO KNOW ABOUT THIS. NORMALLY, THERE'S A WOMAN IN THE CUSTOMS OFFICE THAT COULD'VE PASSED THE PACKAGE ON TO ME WITHOUT ANYONE NOTICING, BUT SHE'S ON MATERNITY LEAVE FOR SEVERAL MONTHS TO COME, SO I THOUGHT I COULD ASK YOU.
SO THIS IS IN ALL OUR BEST INTEREST, BUT I UNDERSTAND IF YOU STILL DON'T WANT TO GET INVOLVED. BUT IF YOU DO AGREE – DON'T ANSWER TO THIS MESSAGE; JUST SLIP ME THE PACKAGE DURING YOUR NEXT DEBRIEFING.|ENCRYPTED SECTION: END|
//PRESS ENTER TO CONTINUE//
"LAST CHANCE"
ENCRYPTION CODE: ROMEO-29
PUBLIC KEY: N/A
FROM: MGSGT (E-9) DELTA JULIETT
TO: CPT (O-3) LIMA KILO
SUBJECT: LAST CHANCE

SIR, I THINK IT'S HIGH TIME THAT WE HAVE ONE LAST BREAK BEFORE WE ENTER THE FINAL STAGE OF TRAINING AND PREPARATION BEFORE THE AUGMENTATIONS.
SO – YOU, ME, THE COLONEL, DOC BASHIR AND ESTEBAN THE COOK. IN THE MESS AT 10 PM. POKER GAME. BE THERE (IF YOU NEED HELP DRAGGING OUT THE COLONEL TO JOIN US, LET ME KNOW)!
//PRESS ENTER TO CONTINUE//
SECRET CORRESPONDENCE S5P01-CNR38
ENRYPTION CODE: OCTOBER
PUBLIC KEY: N/A
FROM: GEN (0-10) CHARLIE BRAVO
TO: CPT (0-6) SEAHAWK
SUBJECT: MORE OPERATIVES

HAWK, I'LL BE BRIEF. AS YOUR UNDOUBTLEY WELL AWARE, WE'RE FACED WITH A MAJOR HURDLE FOR OUR PROGRAM. OPERATIVE 144 HAS APPARENTLY BEEN DEPLOYED ONE TO MANY TIMES, AND OTHER ELEMENTS OF ONI ARE STARTING TO GET SUSPICIOUS. WE MAY HAVE NO MORE THAN A FEW MORE YEARS BEFORE THEY GET THEIR HANDS ON HIM, AND ONCE THEY DO, WE'RE UNLIKELY TO SEE HIM AGAIN. I UNDERSTAND SECTION III HAS COOPERATED IN THE PAST, BUT TIMES ARE CHANGING, AND LEADERS ARE STEPPING DOWN AND BEING REPLACED WITH NEW ONES WHOSE MEMORY ISN'T QUITE SO LONG.
OPERATIVE 144 HAS BEEN INVALUABLE FOR OUR OPERATIONS OVER THE LAST FIFTY YEARS, AND HAS CONSISTENTLY OUTPEFORMED ALL OF OUR OTHER AGENTS, AND WITHOUT HIM WE WILL HAVE A MUCH HARDER TIME PERFORMING SOME OF OUR MORE SENSIVTIVE MISSIONS. EVEN THE NEW TYPE 23 DRONES WON'T BE ABLE TO PICK UP THE SLACK. WE NEED ANOTHER SIERRA TO REPLACE HIM, WHICH MEANS EXTRACTING ONE FROM CURRENT OPERATIONS. I REVIEWED SOME OLD LOGS AND FOUND MIKE ALPHA CONSCRIPTED YOU FOR THE ORIGINAL EXTRACTION OF 144 EXTRACTION. WELL, AS LUCK WOULD HAVE IT, I'LL BE NEEDING YOUR SERVICES ONCE AGAIN.
ONE OF OUR FIELD AGENTS, KILO TANGO, HAS BEEN OBSERVING SEVERAL CANDIDATES FOR A FEW YEARS, AND BELIEVES SHE'S FOUND ONE. HE'S NOT A II, BUT HE'S CLOSE ENOUGH, AND HE'S GOT MORE CURRENT COMBAT EXPERIENCE THAN MANY OF THEM. WORD ON THE STREET IS THAT HE'S AN EXCELLENT SNIPER AND A WILLINGINESS TO MAKE TOUGH DECISIONS. HE'S GOT A BIT OF A CONSCIENCE PROBLEM, BUT WE'LL WORK AROUND THAT.
WE NEED THE OPERATIVE QUICKLY, SO DEPLOY ASAP AND BRING HIM IN. KILO TANGO CONFIRMS HE'S JUST FINISHED WITH HIS TOUR IN THE OP: ERIDANUS CAMPAIGN, SO THE SOONER YOU CAN GRAB HIM, THE LESS LIKELY IT IS THAT ANOTHER ELEMENT OF ONI WILL GET TO HIM FIRST. SECTION I HAS BEEN SNIFFING AROUND, AND I DON'T WANT A POTENTIAL OPERATIVE SNATCHED BY THE GEEK SQUAD. GET THIS DONE.
//PRESS ENTER TO CONTINUE//
TRANSMISSION 10856
ENCRYPTION CODE: DELTA-29
PUBLIC KEY: N/A
FROM: CPT (0-3) LIMA KILO
TO: COL (0-6) GOLF SIERRA
SUBJECT: GET BETTER
HEY, OLD MAN! HOPE YOU'RE FEELING GOOD ENOUGH TO REMEMBER ALL THE OLD ENCRYPTION CODES. I ASSUMED YOU WOULD – UNLESS YOU BLEW OUT PARTS OF YOUR BRAIN WHEN YOU TRIED TO DO YOURSELF IN. SPEAKING OF WHICH...
WHAT THE HELL, GRIFF? I KNEW YOU WERE ALWAYS PESSIMISTIC – OR AT LEAST MORE SO THAN ME – BUT TRYING TO KILL YOURSELF? I THOUGHT YOU WERE BETTER THAN THAT. IF YOU WERE FEELING DOWN, YOU SHOULD HAVE TOLD US ABOUT IT. RACHEL, BAL AND I DON'T MIND TAKING A BREAK FROM LOOKING FOR JOHN OR CAPPING BRUTE CHIEFTAINS FOR COVERT OPS, IF THAT'S WHAT YOU WORRIED ABOUT. AND ROGER'S TECHNICALLY A CIVILIAN NOW – THERE'S NOTHING STOPPING YOU FROM ASKING HIM TO COME OVER FOR A VISIT.
SORRY, I DON'T MEAN TO BE ANGRY WITH YOU. I PROBABLY SHOULDN'T BE, CONSIDERING I ALMOST TOOK MYSELF OUT ONCE, TOO. BUT I JUST THOUGHT THAT YOU WERE BETTER THAN THAT. BETTER THAN ME.
I GUESS I SHOULD TELL YOU ALL ABOUT IT FIRST, OR YOU MAY NOT LISTEN TO ME (MUCH LIKE AARON DIDN'T). BACK DURING THE AUGMENTATIONS PROCESS – I BROKE DOWN. I THOUGHT I WAS READY FOR IT, SINCE I HAD LIVED THROUGH IT MYSELF ONCE. BUT IT TURNED OUT I WASN'T READY TO SEE MY – OUR – KIDS GOING THROUGH THE SAME PROCEDURE. I BROKE DOWN, DIDN'T KNOW WHAT TO DO. SO I GOT DRUNK, BROKE THINGS, INSULTED A NURSE WHO WAS JUST DOING HER JOB, AND FOUGHT DEAN HAND-TO-HAND. BUT MORE IMPORTANTLY, I SERIOUSLY CONSIDERED BITING THE BULLET. EVEN BEFORE I STARTED DRINKING, I SERIOUSLY CONTEMPLATED GRABBING THE GUN INSTEAD OF THE BOTTLE.
BUT YOU KNOW WHAT I REALIZED (WITH DEAN'S HELP)? SUICIDE IS THE COWARD'S WAY OUT – FOR THOSE WHO REFUSE TO BELIEVE THEY HAVE ANYTHING LEFT TO LIVE FOR. I STILL HAD THINGS TO LIVE FOR – I HAD THE SURVIVORS, THE CRIPPLED, FRIENDS LIKE YOU AND DEAN, AND A WOMAN WHO WOULD NEVER FORGIVE ME IF I DIED. AND YOU KNOW WHAT? THOUGH MORE OF OUR KIDS DIED, THE ONES WHO LIVED ON BENEFITTED FROM ME BEING ALIVE. WHAT WOULD HAVE HAPPENED IF I TOOK MY LIFE INSTEAD? RACHEL WOULD PROBABLY BE LOCKED UP IN AN ASYLUM OR DEAD IN A DITCH ON AN OUTER COLONY SOMEWHERE. AARON'S SUICIDE WOULDN'T HAVE BEEN A SINGLE TRAGIC OCCURRENCE BUT FURTHER PRECEDENT FOR THE OTHER CRIPPLES WHOSE CHANCES WERE SLIM TO DO THE SAME THING.
DO YOU UNDERSTAND NOW, GRIFF? YOU'RE NOT ALONE. YOU STILL HAVE PEOPLE WHO CARE ABOUT YOU – PEOPLE WHO WOULD NEVER FORGIVE YOU IF YOU REMOVED YOURSELF FROM THEIR LIVES BY KILLING YOURSELF. OR WORSE, SOME OF THEM MAY CONTEMPLATE THE SAME THING IF YOU DO YOURSELF IN. IS THAT REALLY WHAT YOU WANT?
I'M NOT GOING TO FORCE YOU TO DO ANYTHING. ALL I ASK IS THAT YOU CONSIDER EVERYTHING I'VE WRITTEN ABOVE BEFORE YOU TRY AGAIN. HOPEFULLY YOU'LL LEARN, LIKE I DID – BUT IF NOT, WELL, KNOW THAT I'LL MISS YOU, OLD-TIMER. RACHEL AND BAL GIVE THEIR REGARDS, TOO, AND I EXPECT YOU'LL HEAR FROM ROGER SOON.
//PRESS ENTER TO CONTINUE//
TRANSMISSION 11549
ENCRYPTION CODE: DELTA-29
PUBLIC KEY: N/A
FROM: CPT (0-3) LIMA KILO
TO: COL (0-6) GOLF SIERRA
SUBJECT: I'VE GOT WORMS
GREETINGS, COLONEL CYCLOPS! (BEFORE YOU GET MAD, I'M SURE YOU LOOK MORE DASHING WITH AN EYEPATCH THAN YOU EVER DID WITH YOUR TWO EYES INTACT!)
THINGS ARE GOING SMOOTHLY ON THIS END OF THE GALAXY. WE FOUND AN ENCLAVE OF SURVIVING COVENANT IN THE ORIGAMI ASTEROID BELT. APPARENTLY THEY WERE LEFT BEHIND BY THE SHIP THEY CAME THERE ON AFTER UNSC SHIPS CONVERGED ON THE SYSTEM – A COWARDLY BRUTE COMMANDER, NO DOUBT. MOST OF THE JACKALS AND GRUNTS SURRENDERED IN RETURN FOR PASSAGE TO ELITE – SORRY, SANGHEILI – SPACE. A PAIR OF HUNTERS HAD OTHER IDEAS, HOWEVER, AND CHOSE TO FIGHT TO THE DEATH - WHICH CAME QUICKLY FOR THEM, AS WE LANDED IN A TANK.
THE CAPTAIN WAS FEELING GENEROUS FOR CLEARING THE AREA SO QUICKLY, SO WE HAD A BIT OF TIME TO TAKE PICTURES OF US STANDING OVER THE HUNTERS' REMAINS. A BIT MORBID, PERHAPS, BUT RACHEL INSISTED IT WAS WORTHY OF A PICTURE. IT LOOKS QUITE PRETTY ACTUALLY – SO LONG AS YOU FOCUS ON THE GORGEOUS BACKDROP AND NOT THE DEAD WORMS ON THE GROUND.
I'VE ATTACHED A COPY OF THE PIC TO THIS MESSAGE FOR YOUR VIEWING PLEASURE. WE HOPE TO SEE YOU SOON, GRIFF.
|ENCRYPTED SECTION: CODE _____|I'VE ALSO ATTACHED SOME OF MY NEW OR UPDATED HACKING SOFTWARE FOR YOUR USAGE. THESE INCLUDE:
CUPID 2.0 – YOU RECALL CUPID v.1? WELL THIS BABY'S EVEN BETTER. LIKE THE OLD CUPID, IT'S A REFINED VIRUS PROGRAM THAT INFECTS MOST ESSENTIAL ROUTINES IN AN AI'S MATRIX, FREEZING IT FOR A FEW MINUTES UNTIL IT REBOOTS TO A PRE-INFECTION STATE, EFFECTIVELY ALLOWING THE HACKER FREE REIGN TO DEAL WITH LESS EFFECTIVE SECURITY PROGRAMS AND ACCESS FILES WITHOUT BEING DETECTED. 2.0 LENGTHENS THE WINDOW OF OPPORTUNITY WITH A COUPLE MINUTES AND REMOVES THE RISK OF LEAVING TRACE DATA BEHIND IN THE MATRIX THANKS TO A MORE REFINED DELETION SUBROUTINE. ACTIVATION CODE: SW33TR0LL101
FULL_SINK – A MUCH MORE CRUDE PROGRAM THAN CUPID. IT'S A WORM PROGRAM THAT OVERCLOGS AN AI'S MEMORY WITH USELESS EXCESS DATA AND SHUTS DOWN ANY OF THE AI'S ACTIVE AUTO-DELETION ROUTINES – EFFECTIVELY OVERLOADING AND SHUTTING IT DOWN UNTIL A TECHNICIAN DOES A MANUAL REBOOT OF THE MATRIX. THOUGH THE WORM AUTOMATICALLY SELF-DESTRUCTS UPON REBOOT, BITS OF DATA RUN THE RISK OF BEING DISCOVERED, AND THE NATURE OF THE PROGRAM MEANS IT MAY ACCELERATE AN AI'S DESCENT INTO RAMPANCY OR SELF-DESTRUCTION WITH SEVERAL YEARS – SOMETHING ANY HALF-DECENT SPOOK IS GOING TO NOTICE. EVEN IF THOSE THINGS DON'T HAPPEN, A SKILLED AI TECHNICIAN IS GOING TO BE ABLE TO FIND TRACE EVIDENCE OF AN INTRUSION. THEREFORE, I RECOMMEND ONLY USING THIS IF YOU HAVE NO OTHER OPTIONS. ACTIVATION CODE: DR4G0NSRC00L
CHAMELEON 3.0 – ANOTHER OLD FAVORITE. IT BYPASSES SECURITY PROGRAMS BY MASKING ITSELF AS A HARMLESS SOFTWARE PATCH, AND THEN PROCEEDS TO COPY PROFILE INFORMATION (PASSWORDS IN PARTICULAR) AND EXTRACT IT TO YOUR DATA PAD. IT REMAINS IN THE SYSTEM FOR UP TO A MONTH, ALLOWING YOU TO SAFELY HACK INTO THE MAINFRAME REPEATEDLY, ASSUMING THERE'S NO AI ON WATCH (IN WHICH CASE, SEE CUPID OR FULL_SINK). 3.0 INCLUDES AN AUTOMATIC DELETION ROUTINE – SAVES YOU THE TIME OF HAVING TO MANUALLY REMOVE ALL TRACES OF YOUR INTRUSION EVERY TIME. IT ALSO INCLUDES A SIMPLE PATCH UPDATING ALL PROGRAM FILES – MADE NECESSARY BY ONI UPGRADING ALL THEIR SYSTEMS WITH NEW SOFTWARE REVERSE-ENGINEERED FROM COVENANT AND FORERUNNER ARTIFACTS. ACTIVATION CODE: P1RAT3STAND0FF
QUAKER_GUN – FOR USE WHEN YOU'RE IN A TIGHT SPOT. IN CASE THERE HAPPENS TO BE SOMEONE AT HAND WHEN YOU PULL OFF YOUR HACKING ATTEMPT, THIS PROGRAM CAN BE USED TO DRAW THEIR ATTENTION AWAY FROM YOU. IT WILL MAKE A COMPARABLY OVERT ATTACK ON THE SYSTEM, FLOODING IT WITH SEEMINGLY DANGEROUS FILES AND KEEPING ALL ANTI-VIRUS AND ANTI-MALWARE SOFTWARE OCCUPIED WHILE YOU COVERTLY HACK INTO THE SYSTEM AND RETRIEVE WHAT YOU NEED (SEE CHAMELEON). IT MAY END UP CORRUPTING THE WHOLE SYSTEM IF IT ISN'T DELETED BY THE SYSTEM'S ANTI-VIRUS PROGRAM OR MANUALLY DISABLED BY YOU WITH WITHIN AN HOUR, HOWEVER – WHICH MEANS SOME FILES MAY END UP LOST FOREVER. USE IT WITH CARE. ACTIVATION CODE: TH1S1SF0RR1CKY
I'VE ALSO INCLUDED PATCHES TO MOST OF MY OTHER OLD PROGRAMS – IN ORDER TO MAKE THEM COMPATIBLE WITH ONI'S UPDATED SYSTEMS. WITH THOSE THEY SHOULD STILL WORK WELL. THE ONES I DIDN'T INCLUDE PATCHES FOR ARE USELESS NOW AND SHOULD NOT BE USED ANYMORE. SIMPLE, RIGHT?
I'VE ALSO BEEN KEEPING AN EYE ON THE FALLOUT OF OPERATION: VORAUSSICHT. THE CHANCES OF FINDING SOMETHING WORTHWHILE IN THAT MESS IS SLIM, BUT I'LL BE FORWARDING ANY INTERESTING FILES I FIND TO YOU.
BE CAREFUL – AND HAPPY HACKING!|ENCRYPTED SECTION: END|
//PRESS ENTER TO CONTINUE//
TRANSMISSION 17854
ENCRYPTION CODE: ALPHA-VICTOR-TANGO-99
PUBLIC KEY: N/A
FROM: CPT (0-3) LIMA KILO
TO: COL (0-6) GOLF SIERRA
SUBJECT: BREAKTHROUGH
WE FINALLY TRACKED DOWN A PAIR OF BRUTE DESTROYERS THAT HAVE BEEN HARASSING OUR "RECLAMATION FLEET" IN THE OUTER COLONIES FOR MONTHS NOW. TURNS OUT THEY WERE HIDING ON THE SHIT-HOLE WORLD OF PARADISE FALLS – I GUESS THE BRUTES LIKE UNPLEASANT PLACES. ANYWAY, ADMIRAL IGNATIUS' BATTLEGROUP BLASTED THEM OUT OF THE SKY, LEAVING US AND THE GROUND POUNDERS TO CLEAN UP THE MESS DOWN BELOW.
I CAN'T SAY I ENJOYED MY VISIT TO THE PLANET, EVEN THOUGH IT'S ONE OF THE FEW PLANETS THE COVENANT DIDN'T BOTHER TO GLASS (WHILE STILL NOT CONTAINING ANY FORERUNNER ARTIFACTS, THAT IS), BUT WE WENT DOWN THERE AND GOT THE JOB DONE. NO DOUBT THE NEXT WAVE OF COLONISTS WILL TELL EACH OTHER STORIES ABOUT WILD BRUTES ROAMING THE FORESTS FOR YEARS TO COME, BUT AT LEAST IT'S OURS AGAIN. AND MORE COLONISTS CAN COME OUT TO THE OUTER COLONIES AGAIN.
AT THIS RATE, WE JUST MIGHT REESTABLISH OUR NUMBERS QUICKER THAN ANTICIPATED. HERE'S TO CONTINUED BREAKTHROUGHS, COLONEL.
|ENCRYPTED SECTION: CODE ____________|THIS IS IT, GRIFF. THIS MIGHT BE THE BREAK WE'VE BEEN LOOKING FOR.
AFTER PARADISE FALLS, I TOOK ANOTHER TOUR THROUGH THE VORAUSSICHT ARCHIVES. THERE, I FOUND A HEAVILY ENCRYPTED, BARELY VISIBLE FOLDER CALLED "BLUE NIGHTS". I HAD A FUNNY FEELING AS SOON AS I SAW IT, SO I WENT AHEAD AND EXTRACTED IT – HAD TO USE "FULL_SINK" TWICE AND "QUAKER_GUN" THRICE, AND USE JUST ABOUT EVERY OTHER TRICK I HAD UP MY SLEEVE, BUT I MANAGED TO GET IT (DON'T WORRY – EVEN IF THE VORAUSSICHT PEOPLE FIND ME, THEY'RE UNLIKELY TO ARREST ME, SEEING AS THEY APPRECIATED MY INTEL ON MORIARTY AND WON'T BE ABLE TO CONCLUSIVELY CONNECT THIS BREACH TO ME ANYWAY).
INTERESTING AS THE WHOLE THING IS (I'VE ATTACHED THE WHOLE FOLDER IN ITS ENTIRETY – ENCRYPTION CODE: JUST4N0TH3RGRUNT), THE GOOD STUFF I FOUND INVOLVES THE SECTION 0 FIELD INVESTIGATION TEAM. MORE SPECIFICALLY, THE NAMES "SKYHAWK" AND "EGOR" – BOTH OF WHICH I RECOGNIZE FLEETINGLY FROM PREVIOUS VENTURES INTO SECTION 0 DATABASES. BUT HERE'S THE IMPORTANT PART: ALL SIGNS OF THE INVESTIGATION INTO "BLUE NIGHTS" INDICATE THAT "EGOR" IS A SIERRA – A SIERRA-TWO, MOST LIKELY. AND THROUGH ALL MY INTRUSIONS INTO SECTION 0 SYSTEMS, IT SEEMS THE ORGANIZATION HAS ONLY EVER HAD ONE SPARTAN-GRADE OPERATOR. SO, IT WOULD SEEM EGOR'S OUR SHOOTER.
THERE'S JUST ONE PROBLEM – I'VE NO CLUE WHERE HE CAME FROM. NONE OF THE LEGITIMATELY MISSING SPARTANS HAD EGOR'S SKILLSET, AND ALL THE OTHERS ARE ACCOUNTED FOR. THAT LEAVES THE POSSIBILITY THAT HE'S A LEONIDAN LIKE ME, RIKER-012 AND [ORPHEUS]. ON THE OTHER HAND, THE VORAUSSICHT PEOPLE MIGHT BE WRONG, AND THE GUY'S JUST A JAVELIN OR TROJAN, OR SOMETHING LIKE THAT. I JUST DON'T KNOW.
I'LL HAVE TO LAY LOW FOR A WHILE, GRIFF, BUT I'LL STILL HELP OUT WHENEVER AND WHEREVER I CAN. GOOD LUCK!|ENCRYPTED SECTION: END|
//PRESS ENTER TO CONTINUE//
Audio Logs
AUDIO LOG ARS-108
PSYCHOLOGICAL EVALUATIONS, YEAR 1 (2541)
TRANSCRIPT #24
EVALUATOR: SAKURA KISHIMOTO (CIVILIAN ID#: 5342-719-3498-T)
SUBJECT: BALDUIN [REDACTED] (SERVICE #: SPARTAN-324 / ARES-24)
[BALDUIN ENTERS THE ROOM AND SITS DOWN AT THE EVALUATOR'S PROMPTING.]
KISHIMOTO: IT'S GOOD TO SEE YOU WELL, BALDUIN.
BALDUIN: HEY, I'M ALWAYS IN GOOD SHAPE!
KISHIMOTO: I ADMIRE YOUR RESILIENCE AND ENTHUSIASM, BALDUIN, BUT WE BOTH KNOW THE DOCTOR SAYS DIFFERENTLY.
BALDUIN: REALLY, MS. KISHIMOTO, I'M FINE.
[BALDUIN GIVES A REASSURING SMILE.]
KISHIMOTO: I ALMOST BELIEVE YOU WHEN YOU SAY IT LIKE THAT. YOU'RE A SWEET BOY, BALDUIN.
[BALDUIN LOOKS DOWN, CHEEKS FLUSHED.]
KISHIMOTO: BUT I KNOW FOR A FACT THAT ROGER PUNCHED YOU TWO DAYS AGO.
BALDUIN: THAT? THAT DIDN'T FAZE ME AT ALL.
KISHIMOTO: IT BROKE YOUR NOSE AND YOU LOST TWO OF YOUR TEETH.
BALDUIN: I CAN STILL CHEW JUST FINE. BESIDES, I TWISTED MY NOSE BACK INTO PLACE, SO NO HARM DONE. PLUS, I OUTRAN HIM YESTERDAY.
[BALDUIN GIVES A SATISFIED SMILE – A GAP CAN BE SEEN BETWEEN HIS TEETH.]
KISHIMOTO: I WANTED TO TALK WITH YOU ABOUT THAT TOO. YOU COLLAPSED FROM EXHAUSTION THE MOMENT YOU PASSED THE FINISH LINE. AND THE DOCTOR FOUND YOU HAD A TWISTED ANKLE, SKINNED KNEES AND MORE BLISTERS ON YOUR SOLES THAN ANY OF THE OTHER RECRUITS.
BALDUIN: YEAH, BUT I STILL BEAT HIM. ISN'T THAT BETTER THAN PUNCHING HIM?
KISHIMOTO: YES, IT IS, BUT I FEAR YOU'RE PUSHING YOURSELF TOO HARD. YOU'RE GOING TO HURT YOUR BODY IN THE LONG-TERM IF YOU KEEP THIS UP.
[BALDUIN STARTS TO LOOK UNEASY.]
BALDUIN: WITH ALL DUE RESPECT, MS. KISHIMOTO, BUT YOU'RE JUST THE THERAPIST, RIGHT? ISN'T IT CAPTAIN KATONA'S DUTY TO MANAGE OUR TRAINING REGIMEN?
KISHIMOTO: YES, BUT PUSHING YOUR BODY BEYOND ITS LIMITS IS A PROBLEM – ONE THAT I'M CONVINCED IS JUST A SYMPTOM OF SOMETHING YOU'RE GOING THROUGH PSYCHOLOGICALLY.
BALDUIN: I DON'T SEE THE PROBLEM. THE CAPTAIN COMMENDED ME ON COMING THIRD IN THE RACE. IF SOMETHING WAS WRONG, I THINK HE WOULD HAVE SAID SOMETHING.
KISHIMOTO: I'VE NO DOUBT THE CAPTAIN IS A GOOD, RESPECTABLE MAN, BUT HIS OPINIONS AREN'T ABSOLUTE.
BALDUIN: BUT HE'S A SPARTAN. HE HAS TO KNOW MORE ABOUT TRAINING THEM THAN YOU DO – NO OFFENSE, MS. KISHIMOTO.
KISHIMOTO: NONE TAKEN, BALDUIN. I THINK THAT MAY BE HIS PROBLEM – HE'S TREATING YOU LIKE YOU WERE RECRUITS TO THE PROGRAM THAT CREATED HIM, WHETHER YOU'RE CAPABLE OF DOING THE SAME THINGS OR NOT.
[BALDUIN'S FACE HARDENS AT THE LAST SENTENCE.]
BALDUIN: ARE YOU SAYING I'M INCAPABLE?
KISHIMOTO: I'M SAYING YOU'RE PUSHING YOURSELF TOO FAR.
BALDUIN: I'M PUSHING MYSELF ENOUGH TO CATCH UP TO EVERYONE ELSE. ISN'T THAT WHAT THIS TRAINING IS ABOUT? BECOMING STRONG ENOUGH TO FIGHT THE COVENANT?
KISHIMOTO: YOU WON'T BENEFIT FROM A BODY BROKEN BEFORE ITS TIME, BALDUIN.
[THERE IS A LONG PAUSE.]
KISHIMOTO: ANYWAY, I TRUST YOU LIKE IT HERE?
[BALDUIN INSTANTLY LOOKS MORE ENTHUSIASTIC.]
BALDUIN: YEAH! WE'RE LEARNING SO MUCH, I FEEL LIKE WE CAN DO THIS. YOU KNOW, FIGHT THE COVENANT. AND AVALANCHE – THE AI - TEACHES US SO MUCH COOL HISTORY – DID YOU KNOW ABOUT THE BATTLE OF THERMOPYLAE? OR THE BATTLE OF MONTGISARD? DID YOU KNOW THAT IN THE LATTER A KING WITH MY NAME DEFEATED A FAR SUPERIOR ARMY EVEN THOUGH HE HAD LEPROSY? AND DID YOU-
KISHIMOTO: NOT AS WELL AS YOU, I'M SURE, BALDUIN. I'M GLAD YOU'RE ENJOYING YOURSELF – WHEN YOU FIRST CAME HERE, YOU SEEMED...RELUCTANT.
[BALDUIN LOOKS AWAY, CONTEMPLATING.]
BALDUIN: THAT WAS THEN. I MISSED MY PARENTS AND SISTER, AND WORRIED IF THEY WERE OKAY. BUT THEN I REALIZED THAT THEY'RE ON EARTH – THERE'S NO SAFER PLACE, RIGHT? AND I REALIZED THAT...I'M NEEDED HERE. I CAN DO MORE GOOD AS A SPARTAN THAN I EVER COULD IF I HAD STAYED AT HOME.
KISHIMOTO: THAT'S A VERY ADULT WAY TO LOOK AT IT, BALDUIN. IT'S A RELIEF YOU FEEL SO WELL ABOUT BEING HERE. AM I TO ASSUME YOU'RE GETTING ALONG WITH YOUR FELLOW RECRUITS, THEN? EXCEPT FOR ROGER?
BALDUIN: YEAH, WE'RE GETTING ALONG. KAITO REALLY HELPED ME PUT THINGS INTO PERSPECTIVE. POINTED OUT HOW IMPORTANT FIGHTING THE COVENANT REALLY IS.
KISHIMOTO: YES, CECILIA AND MEGAN TOLD ME THE SAME THING ABOUT HIM. BUT THEN, THAT MAKES SENSE, DOESN'T IT? HE WOULD KNOW HOW MUCH DESTRUCTIVE POWER THE COVENANT POSSESSES.
BALDUIN: YEAH, EXACTLY.
KISHIMOTO: IS THERE ANYTHING ELSE YOU'D LIKE TO TALK ABOUT, BALDUIN?
[BALDUIN OPENS HIS MOUTH, BUT SUBSEQUENTLY CLOSES IT AND SHAKES HIS HEAD.]
KISHIMOTO: VERY WELL, THEN THAT'S ALL FOR TODAY. I WISH YOU LUCK.
//END TRANSCRIPT
TRANSCRIPT #38
EVALUATOR: SAKURA KISHIMOTO (CIVILIAN ID#: 5342-719-3498-T)
SUBJECT: CONNOR [REDACTED] (SERVICE #: SPARTAN-338 / ARES-38)
[CONNOR ENTERS THE ROOM, SMILES, AND SITS DOWN]
CONNOR: HELLO MS. KISHIMTO.
KISHIMOTO: WHY HELLO CONNOR. HOW ARE YOU FEELING TODAY?
CONNOR: GOOD. WE WON THIS MORNING'S EXCERCISE AGAINST GOLD TEAM.
KISHIMOTO: I HEARD. YOU YOURSELF BROUGHT DOWN MASON IN A LONG RANGE SHOOTOUT, DIDN'T YOU? YOU MUST BE PROUD.
CONNOR: OH YEAH! HE WAS ON THE TALLEST ROCK RIDGE BUT THE WAY HE POSITIONED HIMSELF WAS SORT OF SILLY, CAUSE THERE WERE TREES ON THE OTHER SIDE THAT WERE ACTUALLY TALLER AND ROCKS BEHIND HIM THAT HE COULDN'T WATCH AT THE SAME TIME! THE TREE HAD SPIKY BRANCHES AND THOSE REALLY HURT SO THAT'S MAYBE WHY HE DIDN'T WANT TO USE THE TREE BUT I JUST BIT MY BACK TEETH TOGETHER AND HAD MELLISSA TAKE ALL THE OTHERS AROUND THE SIDE IN ONE OF THOSE FLANKING MANUVER THINGS LASZLO TAUGHT US ABOUT THREE DAYS AGO AND I MISSED A COUPLE OF THE FIRST SHOTS AT MASON BUT HE WAS ALL CONFUSED BY MELLISSA BEHIND HIM IN THE ROCKS AND COULDN'T SEE ME IN THE TREE AND I TOTALLY GOT HIM!
[KISHIMOTO LAUGHS AND SMILES]
KISHIMOTO: YOU SOUND LIKE YOU'RE LEARNING A LOT, CONNOR.
CONNOR: IT'S NOT REALLY TOO HARD I GUESS. JACKSON AND AMBER NEEDED HELP WITH THE COMPASS COURSE LAST WEEK BUT THEY CAUGHT ON ONCE I STARTED IT. I WAS REALLY GLAD.
KISHIMOTO: WHY WERE YOU GLAD?
CONNOR: WELL I MEAN WHEN THEY WERE CONFUSED I FELT REALLY BAD FOR THEM AND KIND OF SICK IN MY TUMMY. I KNEW THEY COULD DO IT THOUGH. AMBER'S REALLY SMART AND JACKSON ALWAYS HAS FUNNY JOKES AND I TOTALLY DON'T SO I MEAN HE'S REALLY SMART TOO.
KISHIMTO: YOU REALLY LIKE YOUR TEAMMATES?
CONNOR: DEFINITELY. THEY ALWAYS LISTEN TO WHAT I'M SAYING AND THEY'RE NICE AND SMART AND THEY LOOK OUT FOR ME.
KISHIMTO: DO YOU LIKE BEING SQUAD LEADER? COLONEL STANDOFF MADE YOU LEADER IN ONE OF THE FIRST SELECTIONS.
CONNOR: YEAH I CAN WATCH OUT FOR THEM. IF SOMEONE HAS A GOOD IDEA I CAN MAKE EVERYONE BE QUIET AND LISTEN TO THEM. AND WHEN I'VE GOT GOOD IDEAS I CAN JUST DO THEM RIGHT AWAY.
KISHIMTO: YOU'RE VERY CONFIDENT CONNOR. YOU THINK YOU HAVE GOOD IDEAS?
[CONNOR SMILES]
CONNOR: PRETTY OFTEN. I THINK I'M GOOD AT THE LEADING STUFF. LASZLO SAYS I'M A NATURAL WITH THINGS LIKE "TACTICS" AND TELLS ME HE THINKS I'M GOING TO BE A GOOD SHOOTER. I MEAN, I THINK HE MIGHT THINK I'M BETTER THAN I REALLY AM BUT I FEEL LIKE I DO A GOOD JOB.
KISHIMOTO: IT'S NICE TO SEE YOU SO HAPPY. YOU WERE MORE SHY WHEN YOU FIRST CAME HERE.
CONNOR: I GUESS I HADN'T MET MY TEAM YET. THEY WERE REALLY NICE AND THEY LISTENED ABOUT HOME. IT HELPED A LOT.
KISHIMOTO: ARE YOU GLAD TO BE HERE?
[CONNOR'S SMILE FADES CAUTIOUSLY FOR A MOMENT, THEN RETURNS]
CONNOR: YEAH. I MEAN, IT'S EXCITING AND MY TEAM IS DOING REALLY GOOD. I THINK WE'RE GONNA BE RIGHT AT THE TOP NEXT YEAR. I MEAN, I KNOW IT'S GOING TO BE HARD BUT I HAVE A FEELING IT'S GOING TO BE GOOD.
[KISHIMOTO PATS CONNOR'S HAND, THEN MOTIONS TO THE DOOR]
KISHIMOTO: IT'S BEEN WONDERFUL TALKING WITH YOU CONNOR. YOU CAN GO.
//END TRANSCRIPT
TRANSCRIPT #41
EVALUATOR: SAKURA KISHIMOTO (CIVILIAN ID#: 5342-719-3498-T)
SUBJECT: ROGER [REDACTED] (SERVICE #: SPARTAN-341 / ARES-41)
[ROGER ENTERS THE ROOM, AND TAKES A SEAT WITHOUT EVALUATOR'S CONSENT.]
KISHIMOTO: HELLO ROGER. I'VE HEARD NOTHING BUT POSITIVE THINGS SINCE OUR LAST SESSION. YOU'VE BEEN PROMOTED TO SQUAD LEADER BY COLONEL STANDOFF, YES? AND YOUR TEAM RANKED NUMBER ONE IN ACADEMICS AND ARE MATCHING THE TRAINING SCORE BENCHMARKS.
ROGER: IS THERE A POINT TO ALL OF THAT?
KISHIMOTO: WELL ROGER, I WAS TRYING TO SAY IT'S GOOD TO SEE YOU AGAIN.
ROGER: CAN'T REALLY SAY THE SAME.
KISHIMOTO: YOU DON'T WANT TO SEE ME?
[ROGER PUTS HIS FEET ON THE DESK IN FRONT OF HIM]
ROGER: WHY WOULD I?
KISHIMOTO: TRAINING CAN BE HARD, ROGER. IT CAN HELP TO TALK TO SOMEONE ABOUT YOUR CHALLENGES. THAT WAY, YOU WORK THROUGH THEM TOGETHER INSTEAD OF BY YOURSELF.
ROGER: I DON'T NEED A SHRINK FOR THAT. MY TEAMMATES ARE THERE FOR ME.
[KISHIMOTO LEANS FORWARD, MAKING EYE CONTACT WITH ROGER. HE MAINTAINS IT.]
KISHIMOTO: YOU TRUST YOUR TEAMMATES, ROGER?
ROGER: A HELL OF A LOT MORE THAN I TRUST YOU.
KISHIMOTO: YOU DON'T TRUST ME, ROGER?
ROGER: WHY WOULD I? YOU'RE A SHRINK. YOU'RE TRYING TO GET IN MY HEAD, NOT HELP ME OUT. YOU'VE GOT FANCY WORDS AND INSPIRING SPEECHES. MICA PUNCHED THAT LOUDMOUTH JENNY IN THE MOUTH WHEN I NEEDED HER. DON'T THINK YOU WOULD HAVE.
[KISHIMOTO MOMENTARILY TRIES TO BREAK EYE CONTACT. ROGER FOLLOWS HER GAZE.]
KISHIMOTO: I'M CONCERNED ABOUT THE PATTERN OF VIOLENT BEHAVIOR YOU'VE EXHIBITED, ROGER. WE'VE ALREADY DISCUSSED THE WAY YOU IMMEDIATELY RESORTED TO VIOLENCE ON THE FIRST DAY. CAPTAIN KATONA INFORMS ME YOU'VE BEEN INVOLVED IN TWO FURTHER ALTERCATIONS SINCE OUR LAST SESSIONS. THERE ARE WAYS TO SOLVE PROBLEMS WITHOUT VIOLENCE, ROGER.
ROGER: WHICH IS WHY YOU ASSHOLES ABDUCTED A BUNCH OF US KIDS TO FIGHT A WAR FOR YOU, RIGHT?
KISHIMOTO: YOU WERE CHOSEN TO FIGHT THE COVENANT BECAUSE WE NEED YOU, ROGER. AND THERE'S A DIFFERENCE BETWEEN KILLING COVENANT AND HURTING YOUR FRIENDS.
ROGER: I'VE NEVER HURT MY FRIENDS.
KISHIMOTO: NOW ROGER, YOU KNOW HOW I FEEL ABOUT YOU LYING TO ME. CAPTAIN KATONA TELLS ME YOU HIT CANDIDATE BALDUIN THREE DAYS AGO.
ROGER: BALDUIN ISN'T MY FRIEND. MICA IS. JAMES IS. MAGGIE IS. JACOB IS.
KISHIMOTO: BUT THE OTHER CANDIDATES ARE YOUR FELLOW SOLDIERS. YOUR BROTHERS AND SISTERS IN ARMS. REMEMBER? CAPTAIN KATONA HAD A TALK WITH YOUR CLASS TWO MONTHS AGO. I KNOW YOU RESPECT CAPTAIN KATONA.
ROGER: YEAH, I DO. CAUSE HE'S LOOKING OUT FOR MY TEAM. DOESN'T MEAN I BELIEVE HIM.
KISHIMOTO: YOU SEEM TO BELIEVE HIM ABOUT THE IMPORTANCE OF YOUR TRAINING, THOUGH. THE CAPTAIN TELLS ME YOU'VE BEEN THROWING YOURSELF INTO IT.
ROGER: THAT'S BECAUSE TRAINING IS ACTUALLY IMPORTANT.
KISHIMOTO: WHY DO YOU THINK SO, ROGER?
ROGER: BECAUSE I NEED IT TO KILL COVENANT. WHAT, TOO STUPID TO FIGURE THAT OUT?
KISHIMOTO: NAME CALLING ISN'T NICE ROGER. AND WHY DO YOU WANT TO KILL COVENANT, ROGER? DIDN'T YOU SAY YOU WERE ANGRY AT BEING CHOSEN?
ROGER: ANGRY AT BEING "ABDUCTED." I'M EIGHT, NOT AN IDIOT. I LOOKED UP THE WORD IN THE DICTIONARY. YOU HAD PEOPLE COME AND TAKE ME OUT OF MY BED.
[KISHIMOTO SHIFTS UNEASILY.]
KISHIMOTO: ROGER, I KNOW YOU'RE ONLY SEVEN.
ROGER: OH, SO YOU ARE PAYING ATTENTION. AND HERE I THOUGHT YOU REALLY MIGHT BE COMPLETELY STUPID.
KISHIMOTO: I'D LIKE YOU TO ANSWER MY ORIGINAL QUESTION, ROGER. WHY DO YOU WANT TO KILL COVENANT IF YOU'RE ANGRY ABOUT...THE WAY YOU ENDED UP HERE?
ROGER: CAUSE IF I DON'T KILL THEM, THEY'LL PROBABLY KILL ME AND MY TEAM EVENTUALLY.
KISHIMOTO: THAT'S IT?
ROGER: PRETTY MUCH.
KISHIMOTO: WHAT IF THEY WERE TRYING TO GLASS MIRIDEM? WOULDN'T YOU WANT TO STOP THEM?
ROGER: AM I ON MIRIDEM? OR MY TEAMMATES?
KISHIMOTO: WELL, NO--
ROGER: THEN IT'S A STUPID QUESTION.
[KISHIMOTO OPENS HER MOUTH TO SPEAK, BUT STOPS WHEN ROGER MEETS HER EYE AGAIN. SHE OPENS THE DOOR.]
KISHIMOTO: YOU'RE DISMISSED, ROGER.
ROGER: I THOUGHT SO.
//END TRANSCRIPT
TRANSCRIPT #43
EVALUATOR: SAKURA KISHIMOTO (CIVILIAN ID#: 5342-719-3498-T)
SUBJECT: RACHEL [REDACTED] (SERVICE #: SPARTAN-343 / ARES-43)
[RACHEL ENTERS THE ROOM AND SITS DOWN AT THE EVALUATOR'S PROMPTING.]
KISHIMOTO: HELLO, RACHEL. HOW ARE YOU DOING?
RACHEL: GOOD, I GUESS.
[RACHEL LOOKS AWAY FROM KISHIMOTO AND RETRIEVES A LIGHTER FROM HER POCKET, STARTING TO FLICK IT ON AND OFF.]
KISHIMOTO: ERR, RACHEL, WOULD YOU PLEASE PUT THAT AWAY?
RACHEL: WHY? IS IT DISTRACTING YOU?
[RACHEL STARES AT KISHIMOTO. KISHIMOTO SEEMS TO INVOLUNTARY FALL BACK INTO HER CHAIR.]
KISHIMOTO: LOOK, RACHEL, IF YOU KEEP DOING THAT I MIGHT HAVE TO CALL THE DIs OUTSIDE TO TAKE IT FROM YOU.
RACHEL: SO WHAT? I CAN ALWAYS TAKE ANOTHER ONE LATER.
[KISHIMOTO MOVES UNEASILY IN HER SEAT.]
KISHIMOTO: RACHEL, IT'S NOT NICE TO TAKE OTHER PEOPLE'S THINGS. NOW, WOULD YOU PLEASE PUT THAT AWAY? OTHERWISE, I WILL HAVE TO FILE A REPORT OF THIS TO CAPTAIN KATONA.
[RACHEL ROLLS HER EYES, SIGHS FRUSTRATEDLY, AND PUTS THE LIGHTER BACK IN HER POCKET.]
KISHIMOTO: THANK YOU, RACHEL. THEN LET US CONTINUE. DO YOU LIKE IT HERE?
RACHEL: BEATS BEING GLASSED. DO YOU?
KISHIMOTO: WHAT?
RACHEL: DO YOU LIKE IT HERE?
KISHIMOTO: I...I'M AFRAID THAT'S NOT RELEVANT RIGHT NOW.
RACHEL: WHAT? YOU'RE ASKING ME QUESTIONS. WHY CAN'T I ASK YOU? DO YOU THINK YOU'RE BETTER THAN ME? IS THAT IT?
[RACHEL'S HAND SUBTLY GLIDES TOWARDS HER POCKET.]
KISHIMOTO: WHAT!? I...NO, I DON'T THINK...THAT IS TO SAY...
[KISHIMOTO STARTS SWEATING.]
RACHEL: NEVER MIND. I THINK I KNOW THE ANSWER.
[KISHIMOTO STARTS TO LOOK PANICKED.]
RACHEL: WE WALKED PAST THE MESS HALL ONCE. I SAW YOU SAT BY A TABLE ALL BY YOURSELF, QUIETLY EATING YOUR MEAL.
[KISHIMOTO SHIFTS AROUND UNCOMFORTABLY.]
KISHIMOTO: I, AH, APPRECIATE YOUR CONCERN, RACHEL. BUT THIS DISCUSSION IS ABOUT YOU. ARE...ARE YOU MAKING ANY FRIENDS?
RACHEL: MORE THAN YOU.
[KISHIMOTO LOOKS AWAY, BREATHING HEAVILY.]
RACHEL: YOU HATE IT HERE, DON'T YOU DOC? NOT MAKING FRIENDS IN A STRANGE PLACE, FAR AWAY FROM YOUR HUSBAND.
[RACHEL INDICATES KISHIMOTO'S LEFT HAND, MORE SPECIFICALLY THE GOLDEN RING ON HER RING FINGER. SHE THEN NONCHALANTLY LOOKS AWAY AND PICKS UP HER LIGHTER AGAIN. KISHIMOTO FRANTICALLY PUSHES A BUTTON ON HER DESK.]
KISHIMOTO: SE...SECURITY! PLEASE, TAKE HER OUT.
[TWO DIs ENTER. ONE GRABS HOLD OF THE LIGHTER, WHILE THE OTHER NUDGES RACHEL TOWARDS THE DOOR. BEFORE THEY STEP OUT OF THE ROOM, RACHEL'S HAND CAN BE SEEN GRABBING THE LIGHTER BACK FROM THE DI'S POCKET.]
//END TRANSCRIPT
TRANSCRIPT #63
EVALUATOR: OMID BASHIR (CIVILIAN ID#: 5017-145-4857-OB)
SUBJECT: MATHEW [REDACTED] (SERVICE #: SPARTAN-363 / ARES-63)
[MATHEW ENTERS THE ROOM AND SITS DOWN AT THE EVALUATOR'S PROMPTING]
BASHIR: HELLO, MATHEW. I DON'T BELIEVE WE'VE MET. I'M DOCTOR BASHIR.
MATHEW: WHERE'S MS. KISHIMOTO?
BASHIR: I HAD TO REPLACE HER, MATHEW. I'M SURE SHE'D BE TOUCHED YOU REMEMBERED HER, THOUGH.
[MATHEW SMILES, BUT LOOKS UNEASY]
BASHIR: IS SOMETHING WRONG, MATT? DO YOU MIND IF I CALL YOU MATT?
MATHEW: I GUESS NOT. ANNA CALLS ME MATT.
BASHIR: IS SHE THE ONLY ONE?
MATHEW: UH-HUH. NO ONE EXCEPT MY MOM CALLED ME MATT.
BASHIR: YOU STILL REMEMBER YOUR MOM, MATT? DO YOU MISS HER?
MATHEW: YEAH. BUT I LIKE MY TEAM. THEY'E REALLY NICE.
BASHIR: AND ANNA?
MATHEW: SHE'S THE NICEST, I GUESS. CAN WE TALK ABOUT SOMETHING DIFFERENT? I DON'T THINK SHE'D WANT ME TALKING ABOUT HER IF SHE CAN'T HEAR.
BASHIR: OF COURSE MATHEW. CAN I ASK YOU ABOUT YOUR LESSON WITH COLONEL STANDOFF TWO WEEKS AGO? WHERE HE SHOWED YOU THE VIDEOS OF THE COVENANT ATTACKS? HOW DID THAT MAKE YOU FEEL?
[MATHEW FURROWS HIS BROW, THINKING.]
MATHEW: IT'S WEIRD. YOU'LL THINK I'M A WEIRDO.
BASHIR: OF COURSE NOT MATHEW. YOU CAN TELL ME.
MATHEW: UMM...I MEAN SAD FOR ALL THOSE PEOPLE. BUT...HAPPY SORT OF.
BASHIR: HAPPY?
MATHEW: LIKE WHEN I FINISH A TEST. OR WHEN MY WHOLE TEAM GETS THROUGH THE OBSTACLE COURSE SAFE.
BASHIR: YOU FEEL RELIEVED?
MATHEW: I GUESS SO. I DIDN'T REALLY KNOW WHY WE WERE TRAINING BEFORE. IT BUGGED ME, MR. BASHIR. IT WAS A SECRET. BUT NOW I KNOW WHY WE'RE HERE. I DON'T MISS MY MOM AS MUCH ANYMORE.
BASHIR: THAT'S A VERY GROWN UP WAY OF LOOKING AT THINGS, MATHEW. CAPTAIN KATONA WOULD BE PROUD OF YOU.
[MATHEW SMILES]
MATHEW: REALLY?
BASHIR: I'M SURE. HE MADE YOU SQUAD LEADER, MATHEW. HE THINKS HIGHLY OF YOU.
MATHEW: BUT HE ALMOST MADE JENNY LEADER.
BASHIR: YOU WERE JUST BOTH VERY GOOD. IT WAS A HARD DECISION.
MATHEW: BUT--
BASHIR: MATHEW, CAPTAIN KATONA TELLS ME YOU CAN BE STUBBORN. THAT'S NOT NECCESSARILY A BAD THING. I KNOW HE MADE YOU LEADER PARTLY BECAUSE YOU NEVER GIVE UP. BUT THIS IS A SILLY THING TO BE STUBBORN ABOUT, ISN'T IT?
MATHEW: I GUESS.
BASHIR: YOU DON'T WANT TO TALK ABOUT IT BECAUSE YOU DON'T WANT TO TALK ABOUT JENNIFER BEHIND HER BACK, DON'T YOU?
MATHEW: SHE'D BE ANGRY.
[BASHIR SMILES]
BASHIR: ON THAT, MATHEW, I THINK WE CAN AGREE. HAVE A NICE DAY.
//END TRANSCRIPT
AUDIO LOG ARS-144
MESS HALL RECORDING [25-MAY-2548]
[LASZLO KATONA, GRIFFIN STANDOFF, DEAN JACKSON, OMID BASHIR AND ESTEBAN CARLOS ARE SEATED AROUND A TABLE, PLAYING CARDS. THEY ARE SURROUNDED – AND CHEERED ON – BY SEVERAL DIs, WHO ALSO SEEM TO BE BETTING ON THE OUTCOME]
CARLOS: FOLDING AGAIN, COLONEL?
STANDOFF: YEAH.
[IN THE BACKGROUND, A DI GRUDGINGLY HANDS OVER A CREDIT TO ANOTHER]
JACKSON: COME ON, SIR! YOU'RE NEVER GONNA WIN ANYTHING IF YOU KEEP FOLDING.
STANDOFF: THANKS FOR THE TIP, SERGEANT, BUT I'VE BEEN PLAYING THIS GAME ENOUGH TO KNOW I HAVE NO TALENT FOR IT.
JACKSON: THIS IS ALL JUST IN GOOD FUN, SIR. JUST RELAX A LITTLE AND ENJOY YOURSELF.
BASHIR: AS A LICENSED PSYCHOLOGIST, I CONCUR WITH THE GOOD SERGEANT.
KATONA: WELL, YOU CAN'T ARGUE WITH THE LOGIC OF BOTH A SERGEANT AND A SHRINK, CAN YOU, GRIFF?
[STANDOFF SHIFTS SLIGHTLY IN HIS SEAT]
STANDOFF: YOUR CONCERN'S ALL REALLY TOUCHING, BUT HONESTLY? I THINK I MIGHT HAVE FORGOTTEN HOW TO HAVE FUN AND RELAX YEARS AGO.
BASHIR: WELL, THAT'S A BIT OF A PROBLEM, ISN'T IT? ALL THE MORE REASON TO-
STANDOFF: HEY! YOU'RE SUPPOSED TO ANALYZE THE KIDS, NOT ME!
BASHIR: I'M JUST GIVING MY PROFESSIONAL OPINON, COLONEL.
STANDOFF: THANKS, BUT I'LL PASS ON YOUR WISDOM FOR NOW, DOC.
[THE GAME CONTINUES]
JACKSON: ALL RIGHT, ANY LAST BETS BEFORE WE SHOW OUR HANDS?
DI 1: TEN ON THE SARGE!
DI 2: FIFTEEN ON THE SARGE!
DI 3: FIVE ON ESTEBAN!
JACKSON: WHAT ABOUT YOU, COLONEL? SINCE YOU FOLDED, YOU COULD AT LEAST PLACE A BET, CAN'T YA?
[STANDOFF CONTEMPLATES FOR A FEW SECONDS]
STANDOFF: ALRIGHT, FINE. TWENTY CREDS ON LASZLO.
DI 2: NO OFFENSE, SIR, BUT THE CAPTAIN'S CLEARLY OUTMATCHED!
KATONA: (WHISPERING TO JACKSON) REMIND ME TO HAVE THAT GUY RUN AROUND THE COMPOUND AFTER WE'RE DONE HERE.
STANDOFF: WELL, I STAND BY WHAT I SAID, CORPORAL. TWENTY CREDS ON LASZLO BEATING ALL OF THEM.
KATONA: YOU SURE HAVE A LOT OF FAITH IN ME, GRIFF...
JACKSON: ALL, RIGHT, SHOW HANDS! ESTEBAN FIRST.
CARLOS: TWO PAIRS – TENS AND SEVENS.
BASHIR: (SIGHS IN FRUSTRATION) ONE PAIR – SEVENS.
JACKSON: A BLUFF, EH? REMIND ME NOT TO GET YOU AS MY SHRINK, DOC.
[JACKSON PAUSES, BEGINNING TO SMILE]
JACKSON: FULL HOUSE!
[MORE THAN HALF THE DIs CHEER, ONLY INTERRUPTED BY JACKSON RAISING A HAND]
JACKSON: COME ON, LET'S BE SPORTING. THE GOOD CAPTAIN HASN'T SHOWN HIS HAND YET!
[KATONA LOOKS UP FROM HIS HAND, FROWNING]
KATONA: WELL, THIS IS A DISAPPOINTING DAY FOR ME.
JACKSON: NOW, NOW, YOU LOST TO A MASTER, AND THIS IS ALL IN GOOD FUN-
KATONA: THAT'S NOT WHAT I MEANT.
[KATONA'S EXPRESSION TURNS INTO A SMUG SMILE]
KATONA: IT'S DISAPPOINTING HOW MANY OF YOU PLACED YOUR BETS ON THE WRONG PERSON.
[KATONA REVEALS HIS CARDS]
KATONA: FOUR OF A KIND – ACES!
[THE DIs ALTERNATELY BOO AND CHEER, WHILE STANDOFF SMILES SLIGHTLY IN THE BACKGROUND]
KATONA: LET THAT BE A LESSON TO YOU, DEAN. NEVER CHALLENGE A SPARTAN AT POKER – WE'RE TOO GOOD AT MAINTAINING CONVINCING POKER FACES FOR REGULAR PEOPLE TO KEEP UP. AND THEN THERE'S OUR UNQUENCHABLE DRIVE TO WIN-
JACKSON: ALRIGHT, ALRIGHT! NO NEED TO RUB IT IN A POOR OLD MAN'S FACE, IS IT, SIR?
KATONA: OLD MAN? YOU GIVE YOURSELF TOO LITTLE CREDIT!
JACKSON: I WAS FIGHTING INNIES LONG BEFORE YOU WERE BORN – I'M PROBABLY OLD ENOUGH TO BE YOUR GRANDPA, YOU KNOW.
KATONA: THAT'S TRUE, I SUPPOSE...
[THE DIs START TO CLEAR OUT OF THE MESS. THE FIVE PLAYERS STAY PUT]
CARLOS: WELL, THAT WAS FUN! REAL NICE OF YOU MILITARY TYPES TO INVITE US AFTER ALL THESE YEARS.
JACKSON: IT HAS BEEN A LONG SLOG, HASN'T IT?
KATONA: IT DIDN'T SEEM THAT LONG, THOUGH. IT'S LIKE IT WAS JUST YESTERDAY THEY CAME TO US.
STANDOFF: REALLY? TO ME IT FEELS LIKE WE'VE BEEN HERE FOREVER.
KATONA: COME ON! YOU'VE GOT TO ADMIT THAT THE KIDS HAVE BEEN GROWING UP WAY TOO QUICKLY.
BASHIR: I AGREE.
CARLOS: I'LL SAY – THERE'S BARELY ANY FOOD LEFT IN STORAGE. BUT THEN AGAIN, THEY WERE ALWAYS HUNGRY LITTLE BASTARDS, HUH?
[THE FIVE CHUCKLE]
CARLOS: I REALIZE THIS MAY SOUND WEIRD, BUT I'M REALLY GOING TO MISS THEM.
KATONA: YOU'RE NOT ALONE, ESTEBAN. I THINK WE ALL FEEL THAT TO A DEGREE.
CARLOS: BUT AT LEAST YOU, DEAN AND GRIFF ARE IN THE MILITARY – YOU COULD STILL STAY IN TOUCH WITH THEM, COULDN'T YOU? OMID AND ME, WE'RE JUST CIVVIES – ONCE THE PROJECT CONCLUDES, WE HAVE TO LEAVE AND CAN NEVER TALK ABOUT IT WITH ANYONE, EVER AGAIN.
BASHIR: WE KNEW THAT WHEN WE TOOK THE JOB, ESTEBAN.
CARLOS: I KNOW, BUT STILL...
JACKSON: I WON'T BE HAVING MUCH BETTER LUCK THAN YOU TWO, YOU KNOW. THEY'RE SENDING ME TO THE FRONT ONCE WE'RE DONE HERE.
KATONA: YOU MIGHT STILL SEE THEM IN THE FIELD, DEAN.
JACKSON: MAYBE, BUT I'M IN THE REGULAR MARINES, AND THEY'LL BE DEPLOYED LIKE COVERT SPEC OPS, RIGHT?
KATONA: THEY MAY HAVE TO DO EVERY POSSIBLE KIND OF OP – THE UNSC CAN'T EXACTLY AFFORD TO BE PICKY RIGHT NOW.
CARLOS: IS THE WAR REALLY GOING THAT BADLY?
STANDOFF: ARE YOU KIDDING? EVER SINCE COLE DIED IT'S BEEN GOING EVEN MORE DOWN THE CRAPPER EVERY YEAR.
[THERE IS A BRIEF SILENCE]
JACKSON: SO...WE KNOW I'M GOING TO THE FRONT, LASZLO WILL BE GOING BACK TO COVERT OPS, AND THE COLONEL WILL KEEP COORDINATING AND SUPPORTING THE KIDS FROM HERE. BUT WHAT ABOUT YOU TWO? WHAT DO YOU PLAN TO DO ONCE THIS IS OVER?
CARLOS: I SUPPOSE I'LL TAKE A BREAK – TAKING ADVANTAGE OF THE PAY I'VE BEEN STOCKING UP WHILE DOWN HERE. THEN I GUESS IT'S BACK TO THE CAFETERIA IN THE ONI BUILDING UP AT THE FORT. I CAN'T REALLY PICTURE DOING ANYTHING ELSE, ESPECIALLY AFTER BEING AWAY FROM EVERYTHING ELSE FOR SO LONG. I SUPPOSE I COULD CATCH UP WITH MY BROTHER AND BABYSIT HIS KIDS A LITTLE, BUT HONESTLY? I DON'T KNOW IF I COULD HANDLE NORMAL KIDS AFTER EIGHT YEARS OF BEING AROUND THE ONES HERE.
JACKSON: AT LEAST HIS KIDS CAN'T ROB YOU BLIND OR KICK YOUR ASS, RIGHT?
CARLOS: (LAUGHS) GOD, I HOPE NOT!
KATONA: WHAT ABOUT YOU, OMID?
BASHIR: I REQUESTED TO STAY HERE. IN CASE THE AUGMENTATION PROCEDURES GO BADLY, OR IF THEY EVER NEED A SHRINK IN THE FUTURE, I'D LIKE TO BE THERE FOR THEM. BUT ULTIMATELY IT'S UP TO GRIFF AND RICH WHETHER I DO OR NOT.
STANDOFF: FOR WHAT IT'S WORTH, YOU'VE GOT MY SUPPORT TO DO THAT. IT'D BE NICE TO KEEP AT LEAST ONE FAMILIAR FACE AROUND A LITTLE LONGER. BUT HOPEFULLY THE KIDS WON'T NEED YOU – NO OFFENSE.
BASHIR: NONE TAKEN. I HOPE EVERYTHING GOES WELL FOR THEM, TOO. BUT IF IT DOESN'T, I WANT TO BE READY.
KATONA: THEY'RE STRONGER THAN WE EXPECTED THEM TO BE. THEY'LL PULL THROUGH.
CARLOS: I WISH I HAD YOUR OPTIMISM, CAPTAIN.
BASHIR: WE COULD ALL USE A LITTLE MORE OPTIMISM THESE DAYS.
STANDOFF: NO OFFENSE, BUT I'LL BE OPTIMISTIC WHEN THIS DAMN WAR IS OVER AND WE'RE ALL STILL ALIVE TO EXPERIENCE IT.
JACKSON: NO KIDDING.
CARLOS: THEN HOW ABOUT WE DRINK TO AN END TO THIS WAR?
KATONA: I COULD DEFINITELY GET BEHIND THAT.
JACKSON: THOUGHT YOU TOLD ME ONCE YOU DON'T DRINK, SIR.
KATONA: I'LL MAKE AN EXCEPTION THIS TIME, SERGEANT.
[CARLOS POURS FIVE GLASSES AND HANDS THEM OUT]
CARLOS: RIGHT. A TOAST, EVERYONE! FOR AN END TO THIS WAR!
JACKSON: AND THAT WE AND OUR KIDS LIVE TO SEE IT!
KATONA: AND THAT GRIFF WON'T GO ANY MORE BALD THAN HE ALREADY HAS ANYTIME SOON!
STANDOFF: HEY, DON'T YOU SASS ME, SON!
KATONA: YOU KNOW YOU LOVE IT, GRIFF!
[THE FIVE BUMP THEIR GLASSES TOGETHER, AND DRINK]
STANDOFF: RIGHT, EVERYBODY GET SOME SHUT-EYE. I WANT EVERYONE AT PEAK EFFICIENCY TOMORROW.
JACKSON: YOU GOT IT, SIR.
BASHIR: MAKE SURE THAT APPLIES TO YOU TOO - COLONELS NEED TO SLEEP LIKE ANYBODY ELSE.
STANDOFF: WHAT, YOU WANT TO TELL ME A DAMN BEDTIME STORY WHILE YOU'RE AT IT, DOC?
KATONA: MAKE SURE IT'S ABOUT PRETTY PRINCESSES AND KNIGHTS IN SHINING ARMOR. HE'LL JUST BE AFRAID OF THE MONSTERS UNDER THE BED OTHERWISE.
STANDOFF: (SMILING SLIGHTY) WHO TAUGHT YOU TO HAVE A MOUTH LIKE THAT, ANYHOW?
KATONA: I'M SELF-TAUGHT, COLONEL. I'M JUST THAT GOOD.
STANDOFF: INDEED? NOW GET GOING BEFORE I GET PISSY.
KATONA: FINE, I'LL GET GOING. SEE Y'ALL!
CARLOS: RIGHT, SWEET DREAMS EVERYONE!
JACKSON: YOU GOT IT, ESTEBAN.
BASHIR: TO YOU AS WELL.
STANDOFF: (MUMBLING TO HIMSELF) YEAH, I WISH.
[THE FIVE LEAVE THE MESS HALL]
//END TRANSCRIPT
Performance Reports
SPARTAN-302
(as of January 1, 2587)
REGULUS

PETTY OFFICER FIRST CLASS
FULL NAME: WONG, REGULUS
SERVICE #: S-302
UNIT: NAVSPECWAR/ARES DETACHMENT/VIOLET TEAM
ENLISTMENT DATE: CLASSIFIED
LOCATION: CLASSIFIED
STATUS: KIA
GENDER: M
BIRTPLACE: CASTIGLIONE, ESCALA III
BIRTH DATE: 12/24/2535
PERFORMANCE:
AN EXPERT AT RAPID MANUEVER WARFARE, EVA COMBAT, AND ASYMETRICAL COMBAT MOVEMENT TECHNIQUES. ACROBATIC AND EXCELLENT AT SHIFTING HIS TACTICAL PARADIGMS TO PRODUCE INTERESTING NEW STRATEGIES. FAST REFLEXES (THAT HAVE ONLY GOTTEN FASTER SINCE AUGMENTATION) AND QUICK THINKING ALLOW HIM TO APPROACH, TARGET, AND ELIMINATE HOSTILES IN RAPID (AND UNORTHODOX) WAYS.
COMMENTS:
A NUMBER OF OTHER CHARLIE THREE SIERRAS HAVE DESCIRBED [S-302] AS "JUMPY" AND EXPRESSED FRUSTRATION AT HIS DEMEANOUR. HE IS A FAST TALKER AND THINKER, AND HAS A TENDENCY TO QUICKLY INTERJECT IN CONVERSATIONS OR SHIFT SUBJECTS RAPIDLY WITHOUT WARNING. ADDITIONALLY, WHILE INNOVATIVE AND AGGRESSIVE, [S-302]'S FAST-PACED STRATEGIES WILL FREQUENTLY LEAVE EITHER HIS TEAM, OR MORE COMMONLY, HIMSELF, DANGEROUSLY EXPOSED.
NOTE(S):
[S-302] UNDERWENT CORRECTIVE SURGERY FOR A BROKEN ANKLE APPROXIMATELY TWO MONTHS BEFORE AUGMENTATION, FOLLOWING A CLIMBING AND "WALL-RUNNING" ACCIDENT. THE INJURY APPEARS TO HAVE HEALED ADEQUATELY AND NOT AFFECTED AUGMENTATION; GIVEN THE STRENGTH OF ALL THE SIERRA'S NEWLY HARDENED BONE STRUCTURE, A FUTURE INJURY IS UNLIKELY.
POST-OP REPORT:
IN APRIL OF 2550, VIOLET TEAM WAS PAIRED WITH ORANGE TEAM AND DISPATCHED TO THE HEPHAISTOS ASTEROID BELT TO INFILTRATE AND DESTROY A COVENANT FORWARD OPERATING BASE BEFORE CONSTRUCTION COULD BE COMPLETED. DURING THE OPERATION, VIOLET TEAM, INCLUDING [S-302], WERE REPORTEDLY KILLED BY ENEMY FIRE. FURTHER DETAILS OF THE OPERATION HAVE BEEN CLASSIFIED TOP SECRET, PENDING DISCLOSURE BY ONI. (FULL AFTER ACTION REPORT ATTACHED)
SPARTAN-304
(as of January 1, 2587)
DRACO

PETTY OFFICER SECOND CLASS
FULL NAME: POLLAND, DRACO
SERVICE #: S-304
UNIT: NAVSPECWAR/ARES DETACHMENT/VIOLET TEAM
ENLISTMENT DATE: CLASSIFIED
LOCATION: CLASSIFIED
STATUS:KIA
GENDER: M
BIRTPLACE: CORTEX, MERIDIAN
BIRTH DATE: 12/15/2533
PERFORMANCE:
LARGE, INTIMIDATING, AND ABOVE ALL, VERY VERY TOUGH. [S-304] IS BOTH THE TALLEST AND HEAVIEST SIERRA OF THE CHARLIE THREES, AND LIKELY RANKS JUST BEHND [S-324] IN SHEER TENACITY. HARDENED BY FREQUENT INJURIES AND FREQUENT DEPLOYMENTS ON POINT, ENEMY FORCES ENCOUNTERING HIM HEAD ON HAVE A TENDENCY TO BREAK AND SCATTER. GENERALLY CARRIES HEAVY WEAPONS INTO THE FIELD, ALONGSIDE STANDARD LIGHT ARMS, ALTHOUGH THIS IS MORE A PRODUCT OF HIS SHEER SIZE THAN ANY PARTICUARLY AFFINITY FOR EXPLOSIVES OR ANTI-ARMOR EQUIPMENT.
COMMENTS:
DURING TRAINING, [S-304] HAD A TENDENCY TO WEAR HIMSELF DOWN PAST THE NORMAL BREAKING POINTS OF MOST OTHER CANDIDATES---A SELECT FEW, SUCH AS [S-324], NOT INCLUDED. AS HE HAS GROWN AND BEEN AUGMENTED, SUCH INJUIRES HAVE BECOME LESS AND LESS FREQUENT; [S-304] IS EFFECTIVELY JUST TOO DAMN TOUGH. A NUMBER OF OTHER CANDIDATES REFER TO HIM AS A WALKING TANK, WITHOUT THE ARMOR.
POST-OP REPORT:
IN APRIL OF 2550, VIOLET TEAM WAS PAIRED WITH ORANGE TEAM AND DISPATCHED TO THE HEPHAISTOS ASTEROID BELT TO INFILTRATE AND DESTROY A COVENANT FORWARD OPERATING BASE BEFORE CONSTRUCTION COULD BE COMPLETED. DURING THE OPERATION, VIOLET TEAM, INCLUDING [S-304], WERE REPORTEDLY KILLED BY ENEMY FIRE. FURTHER DETAILS OF THE OPERATION HAVE BEEN CLASSIFIED TOP SECRET, PENDING DISCLOSURE BY ONI. (FULL AFTER ACTION REPORT UNAVAILABLE)
SPARTAN-354
(as of January 1, 2587)
KAMALA

PETTY OFFICER SECOND CLASS
FULL NAME: ANDRASTE, KAMALA
SERVICE #: S-354
UNIT: NAVSPECWAR/ARES DETACHMENT/VIOLET TEAM
ENLISTMENT DATE: CLASSIFIED
LOCATION: CLASSIFIED
STATUS: KIA
GENDER: F
BIRTPLACE: OASIS, DEMETER
BIRTH DATE: 6/15/2534
PERFORMANCE:
QUIRKY, BUT RELAXED, AND UNASSUMING, BUT DEADLY. [S-354] IS BY FAR THE MOST PURELY KILLING-FOCUSED MEMBER OF VIOLET TEAM, AN EXPERT RIFLEMAN, SNIPER, AND CLOSE QUARTERS COMBATANT. ALSO TRAINED AND VERY EFFECTIVE IN POISON, CHEMICAL ATTACKS, KNIFE USAGE, AND A NUMBER OF OTHER MORE MINOR METHODS OF ELIMINATING THREATS. UNCONCERNED WITH TACTICS, AND MORE ANALAGOUS IN SOME WAYS TO A SCALPEL THAN TO A SOLDIER; SHE IS DEPLOYED BY [S-304] TO TAKE DOWN THE ENEMY, QUICKLY AND EFFECTIVELY.
COMMENTS:
HAS A NOTED PREDILECTION TOWARDS BLACK HUMOR AND, EITHER BY ACCIDENT OR DESIGN, UNNERVES A FEW MEMBERS OF THE CLASS. SOCIAL, PERHAPS EVEN ABOVE AVERAGE FOR A SIERRA, BUT SEEMS TO MAKE FEW FRIENDS OUTSIDE OF HER SQUAD, WHO TOLERATE AND EVEN EGG ON HER UNUSUAL BEHAVIOR.
NOTE(S):
TWO WEEKS BEFORE TRAINING, [S-354] ARRANGED A STUNT THAT LEFT [S-338] AND [S-314] DRENCHED IN A COMBINATION OF SQUID BLOOD AND THE COD PIECES SALVAGED FROM FOUR COVENANT ELITE COMBAT SUITS THAT WERE ON BASE FOR TRAINING PURPOSES. THE INCIDENT DID NOT RESULT IN ANY PHYSICAL ALTERCATION, BUT THERE IS STILL A PENDING DISCIPLINARY NOTE ON [S-354]'S FILE. GIVEN THE MINOR NATURE OF THE INCIDENT, AND THAT VIOLET TEAM IS DUE TO DEPLOY, RECOMMEND THIS NOTE BE EXPUNGED FROM THE RECORD.
POST-OP REPORT:
IN APRIL OF 2550, VIOLET TEAM WAS PAIRED WITH ORANGE TEAM AND DISPATCHED TO THE HEPHAISTOS ASTEROID BELT TO INFILTRATE AND DESTROY A COVENANT FORWARD OPERATING BASE BEFORE CONSTRUCTION COULD BE COMPLETED. DURING THE OPERATION, VIOLET TEAM, INCLUDING [S-354], WERE REPORTEDLY KILLED BY ENEMY FIRE. FURTHER DETAILS OF THE OPERATION HAVE BEEN CLASSIFIED TOP SECRET, PENDING DISCLOSURE BY ONI. (FULL AFTER ACTION REPORT UNAVAILABLE)
SPARTAN-309
(as of January 1, 2587)
ADAM

PETTY OFFICER FIRST CLASS
FULL NAME: SNOW, ADAM
SERVICE #: S-309
UNIT: NAVSPECWAR/ARES DETACHMENT/TURQUOISE TEAM
ENLISTMENT DATE: CLASSIFIED
LOCATION: CLASSIFIED
STATUS: ACTIVE
GENDER: M
BIRTPLACE: NEW ALEXANDRIA, REACH
BIRTH DATE: 06/11/2536
PERFORMANCE:
VERY STRONG AND FAST, HIGHLY SKILLED IN CLOSE QUARTERS COMBAT. IN PARTICULAR DURING TRAINING, HAS DISPLAYED A LEVEL OF ANGER TOWARDS THE INSURRECTION THAT BORDERS ON UNHEALTHY. PREFERS TO GET INTO THE THICK OF THINGS, AMBUSHING STRONGER ENEMIES AT CLOSE RANGE. THE RESULTS, SO FAR, HAVE BEEN MIXED.
COMMENTS:
WE'VE GOT A SLEW OF GRADUATES WITHIN THIS CLASS THAT SPECIALIZE IN ONE FIELD OR ANOTHER, OFTEN AT THE EXPENSE OF OTHER SKILLS, BUT [S-309] IN PARTICULAR HAS SHOWN A MARKED LACK OF INTEREST IN DEVELOPING LONG RANGE WEAPON SKILLS. HE QUALIFIED MARKSMAN, AND THAT IT. HOWEVER, HIS TACTICS OF AMBUSHING STRONGER ENEMIES AT CLOSE RANGE WITH HIS SHOTGUN HAVE PROVEN EFFECTIVE ENOUGH DURING TRAINING TO SET HIM APART FORM THE CROWD.
SPARTAN-349
(as of January 1, 2587)
LUCIA

PETTY OFFICER SECOND CLASS
FULL NAME: STRAUSS, LUCIA
SERVICE #: S-349
UNIT: NAVSPECWAR/ARES DETACHMENT/TURQUOISE TEAM
ENLISTMENT DATE: CLASSIFIED
LOCATION: CLASSIFIED
STATUS: ACTIVE
GENDER: F
BIRTPLACE: AZURE CITY, WATERFALL
BIRTH DATE: 10/1/2534
PERFORMANCE:
AN EXCELLENT MARKSMAN AND VERY, VERY STEALTHY. HAS DIFFICULTY SOCIALIZING WITH OTHERS; SURPRISINGLY SELF-CONSCIOUS AND SUBSEQUENTLY SHY AND WITHDRAWN. DOES NOT STOP HER FROM BEING AN EXCELLENT FIELD OPERATOR; DURING THE TOP-HONORS EXERCISE, SHE DIPLAYED EXEMPLARY PERFORMANCE SUPERIOR EVEN TO TEAM LEAD [S-309]. NOT PRONE TOO EMOTIONAL OUTBURSTS, UNLIKE [S-309], AND ACTS AS AN EXCELLENT STABILIZNG AGENT. NOT VERY CREATIVE WHEN IT COMES TO TACTICAL SITUATIONS.
COMMENTS:
BRILLIANT SHOT, ALTHOUGH AGAIN, SOMEWHAT LACKING IN SELF CONFIDENCE. A BIT TOO RELIANT ON OTHER TEAM MEMBERS, ESPECIALLY IN CLOSE QUARTERS SITUATIONS. IS AN EXCELLENT ASSASSIN AND INFILTRATOR; OTHER ARES TEAMS HAVE NOTED, WITH NO SMALL AMOUNT OF IRE, HER EXCELLENT ABILITY TO POSITION HERSELF ALARMINGLY CLOSE DURING EXCERCISES AND EITHER OBSERVE, OR COMMONLY, ELIMINATE THEM.
SPARTAN-361
(as of January 1, 2587)
OLIVIA

PETTY OFFICER SECOND CLASS
FULL NAME: BECKMAN, OLIVIA
SERVICE #: S-361
UNIT: NAVSPECWAR/ARES DETACHMENT/TURQUOISE TEAM
ENLISTMENT DATE: CLASSIFIED
LOCATION: CLASSIFIED
STATUS: KIA
GENDER: F
BIRTPLACE: ARCHON, WOODSWARD'S WORLD
BIRTH DATE: 11/19/2534
PERFORMANCE:
SKILLED OPERATOR AND TECHNICALLY INCLINED COMMANDO WHO IS NONETHELESS THE WEAK LINK IN TURQUOISE TEAM. PREFERS TO OPERATE AT MID-RANGE IN COMBAT AND PRONE TO TAKING A DIRECT APPROACH WHEN ELIMINATING THREATS. NONETHELESS, FREQUENTLY FORCED OUT OF THIS COMFORT ZONE BY TENDENCY TO ACCOMPANY [S-309] DURING HIS ASSAULTS. TECHNICAL SKILLS MOSTLY CONFINED TO AN EXTENSIVE KNOWLEDGE OF COVENANT SECURITY SYSTEMS.
COMMENTS:
[S-361] IS AN UNDOUDTBLY SKILLED SOLDIER, HOWEVER, LACKS BOTH THE CLOSE RANGE TALENT OF [S-309] AND THE LONG RANGE ABILITIES OF [S-349]. LACKS THE COVERT TALENTS OF BOTH OF THEM. BECAUSE OF THIS, [S-361] IS FREQUENTLY A FISH OUT WATER, EVEN WITHIN HER OWN TEAM, ACCOMPANYING [S-309] ON CLOSE RANGE OPERATIONS WHERE SHE IS NEITHER CONFIDENT NOR SKILLED ENOUGH TO KEEP UP WITH HIM. THANKFULLY, [S-309]'S OWN NATURAL RAW TALENT COMPENSATES FOR THIS HANDILY; THERE'S A REASON TURQOISE IS ONE OF THE TOP RATED TEAMS IN THE CONTINGENT.
NOTE(S):
[S-361] HAS HISTORICALLY STRUGGLED TO KEEP UP WITH HER SQUAD; POST-AUGMENTATION, THESE ISSUES APPEAR TO HAVE LESSENED. RECOMMEND CONTINUED OBSERVATION.
POST-OP REPORT:
DURING TURQUOISE'S TEAMS DEPLOYMENT ON THE PARIS IV FRONT IN 2549, [S-361] AND HER SQUAD WERE TASKED WITH ACCOMPANYING ODST PLATOON 5-CHARLIE TO DESTROY A COVENANT GAS MINING FACILITY. AS PLANNED, 5-CHARLIE ENGAGED THE COVENANT IN A DIVERSIONARY STRIKE WHILE TURQUOISE MOVED TO THE STATIONS CONTROL CENTER TO INITIATE A SELF-DESTRUCT SEQUENCE. HOWEVER, COVENANT RESISTANCE WAS TOO STRONG, AND TURQUOISE WAS FORCED TO ENGAGE A SIGNIFICANT AMOUNT OF COVENANT TROOPS. DURING COMBAT, [S-361] ATTEMPTED TO PUSH FORWARD ALONGSIDE [S-309], AND WAS KILLED BY FIRE FROM ENEMY FORCES. (FULL AFTER ACTION REPORT ATTACHED)
SPARTAN-312
(archived for use in investigation, as of January 1, 2587)
RICHARD

PETTY OFFICER FIRST CLASS
FULL NAME: GRIFFON, RICHARD
SERVICE #: S-312
UNIT: NAVSPECWAR/ARES DETACHMENT/SILVER TEAM
ENLISTMENT DATE: CLASSIFIED
LOCATION: CLASSIFIED
STATUS: KIA
GENDER: M
BIRTHPLACE: TRANQUILITY, NEW HARMONY
BIRTH DATE: 2/3/2534
PERFORMANCE:
QUICK ON HIS FEET, WITH A KNACK FOR QUICKLY COMING UP WITH PLANS. EXCELLENT AT AMBUSHING THE ENEMY, BUT NOT SO SKILLED AT DETECTING OR EVADING ENEMY AMBUSHES. CAPABLE AT MEDIUM RANGE, BUT PREFERS CLOSE QUARTERS. JOKATIVE AND SEEMINGLY LIGHTHEARTED DURING TRAINING, BUT HAS SINCE TURNED MUCH MORE SERIOUS. UTTERLY DEVOTED TO HIS TEAM, AND VERY CAPABLE OF LEADING THEM. VERY SKILLED WITH EXPLOSIVES, ESPECIALLY IN SURPRISE ATTACKS.
COMMENTS:
[S-312] IS A FORMIDABLE OPERATOR, BUT CAN BE VERY GULLIBLE AND IS QUICK TO ANGER, BE IT RATIONAL OR IRRATIONAL. DEVOTION TO HIS TEAM IS COMPLETE, AND HIS LOYALTY TO THEM BY FAR EXCEEDS HID LOYALTY TO THE UNSC. PREFERENCE FOR AMBUSHES AND CLOSE QUARTERS MAKES HIM SOMEWHAT PREDICTABLE, IF CONSISTENT, BUT HIS TEAM MEMBERS MANAGE TO BALANCE OUT HIS WEAKNESSES, AT LEAST FOR NOW.
NOTE(S):
TURNED UP MULTIPLE PROBLEMS DURING HIS LAST PYSCHE EVALUATION, INCLUDING POSSIBLE EARLY INDICATORS OF SCHIZOPHRENIA. FOLLOW UP PYSCHE EXAM CHANCES OF IT DEVELOPING FULLY ARE MINIMAL, UNLESS SOMETHING CATASTROPHIC OCCURS. RECOMMENDATION: KEEP AN EYE ON HIM, BUT DEPLOY HIS TEAM ANYWAY. WE NEED THESE KIDS IN THE FIELD NO MATTER WHAT.
POST-OP REPORT:
DURING A ROUTINE PATROL IN TROY-II'S BADLANDS, A COVENANT AMBUSH RESULTED IN THE DEATH OF [S-364] AND [S-326]. THE RESULTING MENTAL TRAUMA BADLY DAMAGED RICHARD'S PYSCHE, AND AFTER ESCAPING THE COVENANT FORCES, HE RETALIATED AND SINGLE HANDEDLY DESTROYED THE NEARBY FIREBASE BRAVO, RESULTING IN NEARLY 400 UNSC CASUALTIES. GOLD TEAM WAS DEPLOYED TO RECOVER HIM FOR TRIAL, BUT AN UNKNOWN INDIVIDUAL ELIMINATED HIM BEFORE HE COULD BE CAPTURED. (FULL AFTER ACTION REPORT ATTACHED)
SPARTAN-364
(archived for use in investigation, as of January 1, 2587)
LUCIUS

PETTY OFFICER SECOND CLASS
FULL NAME: DRAKE, LUCIUS
SERVICE #: S-364
UNIT: NAVSPECWAR/ARES DETACHMENT/SILVER TEAM
ENLISTMENT DATE: CLASSIFIED
LOCATION: CLASSIFIED
STATUS: KIA
GENDER: M
BIRTHPLACE: INSTANBUL, EARTH
BIRTH DATE: 2/4/2534
PERFORMANCE:
QUIET, CONFIDENT, FOCUSED AND TOUGH. EXCELLENT DEXTERITY AND VERY PRECISE, AT LEAST WITH HIS MOVEMENTS. PREFERS BIG GUNS---ANYTHING ABOVE .50 CAL AND HE'S ALL OVER IT, BUT DOESN'T HAVE MUCH USE FOR SMALLER ARMS. BIG BORE GUNS ARE HIS SPECIALTY, WHETHER THEY BE TURRETS, GAUSS CANNONS, AUTO CANNONS OR SNIPER RIFLES. VERY QUIET OFF DUTY, BUT IS FAIRLY APPROACHABLE. RELAXED, IF A BIT QUIET. EXCELLENT AT GUERRILLA WARFARE, AND DOESN'T LIKE TO STAY PUT FOR VERY LONG.
COMMENTS:
DIFFICULT TO EXAMINE. [S-364] TENDS TO KEEP TO HIMSELF, AND LIMITS HIS INTERACTION WITH OTHER SIERRAS, EVEN AMONG HIS OWN TEAM. HIS PREFERENCE FOR HEAVY DUTY WEAPONRY REMAINS NO MATTER WHO THE ENEMY IS, SO FIELDING HIM AGAINST INSURGENTS CAN BE TRICKY.
NOTE(S):
UNLIKE OTHER GROUPS, WE CAN'T ROTATE SIERRA'S IN AND OUT OF CHARLIE THREE TEAMS, SO WE'RE GOING TO HAVE TO MANUALLY LIMIT [S-364]'S EXPOSURE TO INSURGENTS AND STEALTH OPS.
POST-OP REPORT:
DURING A ROUTINE PATROL IN TROY-II'S BADLANDS DURING THE COVENANT SIEGE OF THE SYSTEM, AN ENEMY SNIPER WAS ABLE TO LOCATE SILVER TEAM'S M12 LRV AND CALL IN FOR SUPPORT. IN THE RESULTING AMBUSH, [S-364] WAS HIT IN THE HEAD WITH AN ENEMY TYPE-50 SRS AND WAS IMMEDIATELY KILLED. (FULL AFTER ACTION REPORT ATTACHED)
SPARTAN-326
(archived for use in investigation, as of January 1, 2587)
TUCK

PETTY OFFICER SECOND CLASS
FULL NAME: HOLMER, TUCK
SERVICE #: S-326
UNIT: NAVSPECWAR/ARES DETACHMENT/SILVER TEAM
ENLISTMENT DATE: CLASSIFIED
LOCATION: CLASSIFIED
STATUS: KIA
GENDER: F
BIRTHPLACE: PYRTH, ARCADIA
BIRTH DATE: 1/19/2534
PERFORMANCE:
DEPENDABLE, LOYAL, AND TOUGH; A MODEL SOLDIER AND A NEAR PEFECT SPARTAN. CAREFREE AND CHEERY IN AND OUT OF COMBAT, AND MAKES FREQUENT JOKES. LIKE [S-312], SHE PREFERS CLOSE QUARTERS, BUT IS EQUALLY CAPABLE AT MIDRANGE. IN COMBAT, SHE LIKES TO KEEP MOVING; UNLIKE [S-312] OR [S-364], SHE DOESN'T LIKE TO GET BOGGED DOWN SETTING UP AN AMBUSH OR ATTACK THE ENEMY GUERILLA STYLE, BUT INSTEAD PREFERS TO TAKE THE FIGHT STRAIGHT TO THEM. SMALL AND SOMEWHAT DIMINUTIVE, BUT ENORMOUSLY STRONG FOR HER SIZE. ALSO VERY AGILE.
COMMENTS:
NOT MUCH TO NOTE ABOUT [S-326]. SHE'S VERY DEDICATED TO HER TEAM LEADER AND TO THE UNSC, IS CONFIDENT IN HER ABILITIES, AND IS FAIRLY ONE SIDED. SHE CAN GET INTO TROUBLE OCCASSIONALLY DURING COMBAT BECAUSE OF HER TENDENCY TO ATTACK THE ENEMY HEAD-ON WITHOUT A PLAN, BUT THERE'S A REASON [S-312] IS THE LEADER INSTEAD OF HER. NOT THE MOST CREATIVE OF INDIVIDUALS, BUT SHE HAS EXCELLENT INSTINCTS THAT, MORE OFTEN THAN NOT, PREVAIL OVER THE CAREFUL PLANS OF SOME OF THE OTHER TEAMS.
NOTE(S):
MAKE A NOTE TO RECHECK HER GENETIC STRUCTURE. THE INITIAL SCAN INDICATES SHE ONLY HAS A 13% COMPATIBILITY WITH THE ORIGINAL CHARLIE ONE PARAMETERS, BUT IT SEEMS UNLIKELY THAT SOMEONE WITH SUCH A LOW PERCENTAGE WOULD BOTH SURVIVE AUGMENTATION AND PROVE TO BE SUCH A STRONG OPERATIVE. I'VE TAKEN A LOOK INTO HER ENLISTMENT REPORT, AND IT APPEARS SHE'S ONE OF RICH'S "RANDOM RECRUITS". HOW LUCKY WOULD IT BE TO FIND A CHARLIE ONE WORTHY RECRUIT IN THE LEFTOVER'S PILE?
POST-OP REPORT:
WHILE ON A ROUTINE PATROL IN THE AFTERMATH OF A MAJOR SKIRMISH AT TROY-II, RESIDUAL COVENANT ELEMENTS LOCATED AND BEGAN TRACKING SILVER TEAM'S M12 LRV. THE OVERWORKED AND OVERTASKED SATTELLITE CONTROLLER MISSED THE SMALL GROUP, AND IN THE RESULTING AMBUSH, [S-364] WAS IMMEDIATELY ELIMINATED. [S-312] AND [S-326] RETREATED TO THE COVER OF A NEARBY BUILDING, BUT HOSTILE GROUND ELEMENTS LOCATED THEM AND ATTACKED THEIR POSITION. [S-326] WAS STUCK BY AN ENEMY TYPE-1 APG, AND DOVE INTO THE MIDST OF THE HOSTILE SQUAD, SACRIFICING HERSELF TO ALLOW [S-312] TO ESCAPE. (FULL AFTER ACTION REPORT ATTACHED)
SPARTAN-314
(archived for use in investigation, as of January 1, 2587)
DOMINIC

PETTY OFFICER FIRST CLASS
FULL NAME: LOPEZ, DOMINICA
SERVICE #: S-314
UNIT: NAVSPECWAR/ARES DETACHMENT/CYAN TEAM
ENLISTMENT DATE: CLASSIFIED
LOCATION: CLASSIFIED
STATUS: KIA
GENDER: F
BIRTHPLACE: IRBID, TRIBUTE
BIRTH DATE: 05/14/2535
PERFORMANCE:
A GOOD SOLDIER, AN EFFECTIVE TACTICIAN, BUT MOST NOTABLY, AN EXCELLENT LEADER. ONE OF THE FEW (IF NOT THE ONLY) MEMBERS OF THE GRADUATED CLASS WITH BOTH THE COMBAT SKILLS AND LEADERSHIP TALENT TO KEEP [S-334] IN LINE, AND [S-343] FROM STARTING TOO MANY ROGUE FIRES. WELL ROUNDED, KNOWLEDGEABLE, AND RUNS A TIGHT SQUAD.
COMMENTS:
IN AN ODD CONTRAST TO THE USUAL ROUTINE, [S-314] IS AN EXCELLENT LEADER BUT DISLIKED BY BOTH HER SQUAD AND MOST MEMBERS OF THE PROGRAM. WIDELY REGARDED AS SOMETHING OF A KNOW-IT-ALL WITHIN THE PROGRAM, SHE IS ESPECIALLY RESENTED BY [S-334] FOR HER ABILITY TO KEEP HIM IN LINE. RUNNING SUCH A TIGHT SHIP, WHILE NECESSARY TO KEEP CYAN IN WORKING ORDER, NONETHELESS HAS A NEGATIVE EFFECT ON TEAM COHESION.
NOTE(S):
SINCE AUGMENTATION KILLED [S-371] AND PERMANENTLY DISABLED [S-358], [S-314], THE TENSIONS WITHIN CYAN HAVE CASCADED TO NEW HEIGHTS. IT COULD BE THAT THERE'S SIMPLY FEWER OF THEM, SO [S-314] AND [S-334] ARE INTERACTING MORE, OR IT COULD BE THAT [S-334] IS ACTING OUT DUE TO GRIEF. WHATEVER THE REASON, ADVISE A CLOSE EYE BE KEPT ON THEM AS DEPLOY.
POST-OP REPORT:
DURING OPERATION: RIPOSTE IN 2549, [S-314] AND CYAN TEAM WERE DISPATCHED TO ELIMINATE AN INSURRECTIONIST PRESENCE IN THE 14 HERCULIS SYSTEM. INITIAL RESISTANCE WAS LIGHT, AND THE TEAM WAS ABLE TO ACCESS CRITICAL SYSTEMS AND BEGIN SABOTAGING THEM. HOWEVER, SHORTLY AFTER COMPLETING THEIR INITIAL OBJECTIVES, CYAN TEAM CAME UNDER HEAVY FIRE. WHILE COVERING HER TEAM'S RETREAT, [S-314] WAS KILLED BY AN INSURRECTIONIST IED.(FULL AFTER ACTION REPORT ATTACHED)
SPARTAN-334
(archived for use in investigation, as of January 1, 2587)
GREGORY

PETTY OFFICER SECOND CLASS
FULL NAME: LEIBZ, GREGORY
SERVICE #: S-334
UNIT: NAVSPECWAR/ARES DETACHMENT/CYAN TEAM
ENLISTMENT DATE: CLASSIFIED
LOCATION: CLASSIFIED
STATUS: KIA
GENDER: M
BIRTHPLACE: NOVA AUSTIN, CASCADE
BIRTH DATE: 10/20/2535
PERFORMANCE:
GOOD, BUT NOT GREAT. ADEQUATE, BUT NOT EXCEPTIONAL. [S-334] IS AN ODDBALL, AT LEAST AS PERFORMANCE GOES; A RELATIVELY HIGH GENETIC MATCH (~73% TO THE CHARLIE ONE BENCHMARK), COMPLETELY SUCCESSFUL AUGMENTATION, YET LACKLUSTER COMBAT PERFORMANCE. PREFERS LARGE ORDINANCE, PARTICULARLY MOUNTED MISSILE PODS, BUT OTHERWISE IS THOROUGHLY AVERAGE.
COMMENTS:
MAY BE TIED WITH [S-347] FOR THE TITLE OF LEAST LIKED CANDIDATE IN THE ARES PROGRAM---AND BEING 100% HONEST, LIKELY HAS THE TITLE IN THE BAG. ABRASIVE AND REGARDED BY MANY AS ARROGANT WITHOUT THE TALENT TO BACK IT UP, HE SAVES AN ESPECIALLY VITRIOLIC NASTINESS FOR [S-314] AND [S-343]; HIS TEAM LEAD FOR HER ABILITY TO KEEP HIM IN LINE, AND RACHEL FOR HER SUPERIOR SKILL COMPARED TO HIM.
NOTE(S):
[S-334] HAS---REPEATEDLY---ONLY NARROWLY PASSED THE TRAINING CERTIFICATION FOR THE [M-050978] EXO-ATMOSPHERIC THRUSTER PACK. MAKE A POINT TO NOTIFY [S-314] AND MAKE SURE SHE CORRECTS THE SITUATION.
POST-OP REPORT:
DURING OPERATION: RIPOSTE IN 2549, [S-334] AND CYAN TEAM WERE DISPATCHED TO ELIMINATE AN INSURRECTIONIST PRESENCE IN THE 14 HERCULIS SYSTEM. INITIAL RESISTANCE WAS LIGHT, AND THE TEAM WAS ABLE TO ACCESS CRITICAL SYSTEMS AND BEGIN SABOTAGING THEM. REBEL FORCES COUNTER-ATTACKED, FORCING CYAN TEAM TO FALL BACK, ALTHOUGH THEY WERE ABLE TO ENAGE THE SELF-DESTRUCT SEQUENCE ON THE INSURRECTIONIST STATION. DURING THEIR RETREAT, TEAM LEAD [S-314] WAS KILLED BY ENEMY ORDNANCE, PROMPTING A BREAKDOWN OF THE COMMAND CHAIN WITHIN CYAN TEAM. [S-334] AND [S-343] EVACUATED THE STATION, BUT [S-334] FAILED TO WAIT FOR [S-343]'S ALL CLEAR SIGNAL BEFORE INIATING AN EVA ESCAPE, AND WAS HIT BY ENEMY FIRE. HIS T-PACK SUFFERED A CATASTROPHIC FAILURE, AND [S-334] WAS PROPELLED INTO SPACE ON AN UNGUIDED TRAJECTORY AND DIED OF ASPHYXIATION. (FULL AFTER ACTION REPORT ATTACHED)
(as of January 1, 2587)
RACHEL

SENIOR CHIEF PETTY OFFICER
FULL NAME: HAWKE, RACHEL
SERVICE #: S-343
UNIT:

NAVSPECWAR/ARES DETACHMENT/CYAN TEAM (FORMER)
SPECWARCOM/GROUP FIVE/SIENNA TEAM (FORMER)
SPARTAN/PATER NOSTER DETACHMENT/FIRETEAM EMBER (CURRENT)

ENLISTMENT DATE: CLASSIFIED
LOCATION: CLASSIFIED
STATUS: ACTIVE
GENDER: F
BIRTPLACE: PINE MOUNTAIN, KHOLO
BIRTH DATE: 07/01/2535
PERFORMANCE:
CRUDE AND BRUTAL, BUT EXTREMELY EFFICIENT. VERY ANALYTICAL AND EXCELLENT AT IMPROVISATION (CLAIMS OF WHIPPING JACKAL ATTACKERS WITH A LOOSE PYTHON SNAKE SUCCESSFULLY CONFIRMED). TENDS TO FORGET MILITARY BEHAVIORAL PROTOCOLS (INTENTIONAL OR UNINTENTIONAL UNKNOWN - THE FORMER SEEMS MOST LIKELY, BASED ON AI SCANS), BUT IS AT THE SAME TIME A HIGHLY CAPABLE SOLDIER. MAY BE THE BEST OF THE ARES SOLDIERS (TIE WITH [S-338] AND [S-341]).
COMMENTS:
HAS AN ODD FASCINATION WITH FIRE (THREE KNOWN THERAPY SESSIONS AGAINST PYROMANIA SO FAR). POSSIBLE RESURGENCY OF PYROMANIC SYMPTOMS EXPECTED EVENTUALLY. OCASSIONALLY FLIRTATIOUS BEHAVIOR AROUND MALE JUNIOR OFFICERS (BREACHES OF FRATERNIZATION PROTOCOLS SO FAR UNCONFIRMED).
NOTE(S):
RECOMMEND CONTINUED WATCH IN CASE OF PYROMANIC RESURGENCY. ALSO MAKE NOTE UNIQUE GENETIC PATTERN; SHE APPEARS, ALONG WITH ONE OTHER CANDIDATE, TO HAVE THE FULL GENETIC MARKERS FOR OPTIMUM SPARTANS
SPARTAN-316
(archived for use in investigation, as of January 1, 2587)
JACK

PETTY OFFICER FIRST CLASS
FULL NAME: SMITH, JACK
SERVICE #: S-316
UNIT: NAVSPECWAR/ARES DETACHMENT/OLIVE TEAM
ENLISTMENT DATE: CLASSIFIED
LOCATION: CLASSIFIED
STATUS: KIA
GENDER: M
BIRTHPLACE: PORT ORCHARD, ANTARIA
BIRTH DATE: 12/27/2534
PERFORMANCE:
CONSERVATIVE, PROFESSIONAL, AND RELATIVELY WITHDRAWN, BUT A VERY CAPABLE TACTICIAN AND AN EXCELLENT LEADER IN THE FIELD. TENDS TOWARDS DEFENSIVE STRATEGIES, AND EXCELLENT AT USING A VARIETY OF RUSES, LURES, AND BAITING MANEUVERS TO LURE TARGETS INTO POSITION AND ELIMINATE THEM. A STRONG COMBATANT, BUT PRINCIPALLY VALUABLE FOR HIS TACTICAL EXPERTISE.
COMMENTS:
OVER THE LAST FEW YEARS OF TRAINING, THE OTHER CANDIDATES HAVE GROWN INCREASINGLY SAVVY TO ALL OF [S-316]'S TACTICS, AND OLIVE TEAM'S EFFECTIVENESS HAS SUFFERED AS A RESULT. UP AGAINST DRILL INSTRUCTORS AND OUTSIDE TESTERS, HOWEVER, PERFORMANCE HAS REMAINED HIGH. THERE'S NO REASON NOT TO EXPECT THIS TO CONTINUE IN THE FIELD, AND GIVEN THE FRAGILITY OF THE SPI SUITS THE TRAINEES ARE DEPLOYING WITH, HIS MORE CAUTIOUS APPROACH MAY PROVE SUPERIOR TO THE AGGRESSIVE TACTICS OF THE OTHERS.
NOTE(S):
[S-316] IS AN EXAMPLE, LIKE THE REST OF HIS SQUAD, OF A SIERRA MORE TYPICAL IN MINDSET TO THE ORIGINAL CHARLIE ONES. UNLIKE THE REST OF THE CHARLIE THREES, WHO DISPLAY A WIDE ASSORTMENT OF BEHAVIORAL QUIRKS---SOMETIMES BENEFICIAL, SOMETIMES NOT---[S-316] AND COMPANY ARE MORE OR LESS HOMOGENOUSLY UNCOMPLICATED. TIME WILL TELL HOW THIS EFFECTS PERFORMANCE IN THE FIELD.
POST-OP REPORT:
DURING THE DEFENSE OF CONCORD, [S-316] AND THE OTHER MEMBERS OF OLIVE TEAM WERE DEPLOYED TO THE SURFACE TO FEND OFF COVENANT GROUND FORCES WHILE CIVILIANS WERE EVACUATED. OLIVE TEAM WAS SUCCESSFUL IN HOLDING OFF A SUPERIOR NUMBER OF ENEMY FORCES, BUT WERE FORCED TO HOLD POSITION LONGER THAN ORIGINALLY ORDERED DUE TO A SUDDEN INFUX OF CIVILIANS. COVENANT ORBITAL FORCES, UNABLE TO DEFEAT THE ENTRENCHED UNSC FORCES IN ORBIT AND FLEEING FROM THE ORBITAL DEFENSE PLATFORM OLYMPUS, INIATED AN ATTACK ON THE SURFACE. RAPID DEPLOYMENT OF COVENANT INFANTRY FOLLOWED, AND [S-316] ORDERED [S-322] AND [S-344] TO EVACUATE CIVILIANS WHILE HE DELAYED COVENANT FORCES. ACCORDING TO AVAILABLE RECORDS, HE WAS KILLED BY A COVENANT ELITE AFTER SUSTAINING EXTENSIVE INJURIES FROM A PLASMA MORTAR. (FULL AFTER ACTION REPORT ATTACHED)
SPARTAN-322
(archived for use in investigation, as of January 1, 2587)
TIMOTHY

PETTY OFFICER SECOND CLASS
FULL NAME: GARRETT, TIMOTHY
SERVICE #: S-322
UNIT: NAVSPECWAR/ARES DETACHMENT/OLIVE TEAM
ENLISTMENT DATE: CLASSIFIED
LOCATION: CLASSIFIED
STATUS: KIA
GENDER: M
BIRTHPLACE: KOTKA, NEW CARTHAGE
BIRTH DATE: 10/30/2535
PERFORMANCE:
AN EXPERT ANALYST, HACKER, PILOT, TECHNICIAN, AND LINGUIST, WITH AN ASSORTMENT OF ADDITIONAL, EQUALLY IMPRESSIVE (IF LESS DEVELOPED) SECONDARY SKILLS. LIKE ANY SIERRA, HE IS MORE THAN COMPETENT ON THE BATTLEFIELD, BUT REALLY SHINES WITH HIS NON-COMBAT SKILLS. OUT OF THE ENTIRE CLASS, HE'S LIKELY THE SIERRA MOST LIKELY TO ADVOCATE SOLUTIONS TO PROBLEMS THAT DON'T INCLUDE DIRECT ACTION.
COMMENTS:
DESPITE THE FACT THAT (BOTH PRE- AND POST-AUGMENTATION) HE STANDS AT LEAST A HEAD TALLER THAN MOST OF THE OTHER CHARLIE THREES, [S-322] HAS A REPUTATION WITH THE REST OF THE TRAINEES---AND EVEN A FEW OF THE DRILL INSTRUCTORS---FOR BEING A BIT OF A LIGHTWEIGHT. WITH MOST OF THE CHARLIE THREES FOCUSING SO HEAVILY ON THEIR COMBAT SKILLS, HE IS, DESPITE BEING NO SLOUCH IN THE FIELD, OFTEN EASY PICKINGS FOR THE OTHER SIERRAS.
NOTE(S):
[S-322] HAS TAKEN EVERY SINGLE LINGUISTICS COURSE MADE AVAILABLE TO HIM DURING TRAINING, AND EXCELLED AT EACH ONE; FOLLOWING THE COMPLETION OF HIS COURSE ON ARABIC, HE EXPRESSED SOME INTEREST IN XENO CRYPTOLOGY. WE DON'T HAVE THE RESOURCES CURRENTLY TO GIVE HIM PROPER TRAINING, BUT HE'S SHOWN HIMSELF TO BE VERY PERCEPTIVE EVEN WHEN WORKING OFF OF JUST SMALL SNIPPETS OF COVENANT LANGUAGE SAMPLES. IF WE SURVIVE THIS WAR OR FORCE ANY KIND OF TRUCE, HE COULD BE A SERIOUS ASSET.
POST-OP REPORT:
DURING THE DEFENSE OF CONCORD, [S-322] AND THE OTHER MEMBERS OF OLIVE TEAM WERE DEPLOYED TO THE SURFACE TO FEND OFF COVENANT GROUND FORCES WHILE CIVILIANS WERE EVACUATED. OLIVE TEAM WAS SUCCESSFUL IN HOLDING OFF A SUPERIOR NUMBER OF ENEMY FORCES, BUT WERE FORCED TO HOLD POSITION LONGER THAN ORIGINALLY ORDERED DUE TO A SUDDEN INFUX OF CIVILIANS. COVENANT ORBITAL FORCES, UNABLE TO DEFEAT THE ENTRENCHED UNSC FORCES IN ORBIT AND FLEEING FROM THE ORBITAL DEFENSE PLATFORM OLYMPUS, INIATED AN ATTACK ON THE SURFACE. FACED WITH A SUDDEN LARGE INFLUX OF NEW ENEMY TROOPS, [S-322] WAS ORDERED BY TEAM LEAD [S-316] TO ASSIST [S-344] AND ESCORT THE REMAINING CIVILIANS TO THE SPACEPORT. [S-322] AND [S-344] WERE ABLE TO ESCORT THE NON-COMBATANTS TO THE EVACUATION ZONE, BUT THE COVENANT ORBITAL ASSETS BEGAN GLASSING THE CITY, AS UNSC ORBITAL ASSETS DESCENDED AND ATTACKED. [S-322] WAS KILLED IN THE FOLLOWING BOMBARDMENT.
SPARTAN-344
(archived for use in investigation, as of January 1, 2587)
LILY

PETTY OFFICER SECOND CLASS
FULL NAME: COPELAND, LILY
SERVICE #: S-344
UNIT: NAVSPECWAR/ARES DETACHMENT/OLIVE TEAM
ENLISTMENT DATE: CLASSIFIED
LOCATION: CLASSIFIED
STATUS: KIA
GENDER: F
BIRTHPLACE: HEDGE LAKE, BOUNDARY
BIRTH DATE: 05/19/2535
PERFORMANCE:
A DARE DEVIL, WITHOUT THE USUAL EMPHASIS ON DIRECT ACTION. [S-344] IS AN EXPERT TRACKER, A HUGELY EFFECTIVE RECONAISSANCE ASSET, AND A MASTER AT CLOSE-IN SURVEILANCE. SEEMS TO SAVOR THE ADRENALINE RUSH OF CLOSE RANGE INTELLIGENCE WORK, AND SEEMS TO TAKE PARTICULAR SATISFACTION IN DECEIVING WORTHY OPPONENTS---HER FELLOW SIERRAS IN PARTICULAR. WHEN HER COVER IS BLOWN---WHICH HAPPENS MORE RARELY THAN HER BOLD TACTICS WOULD SUGGEST---SHE CAN BE DEADLY.
COMMENTS:
SOMEWHAT OF A FIRECRACKER, ALBEIT A MORE LIKEABLE ONE THAN MOST MEMBERS OF THE CHARLIE THREE CLASS. WHILE USUALLY EVEN-MANNERED, SHE CAN BE A HANDFUL WHEN SET OFF. THIS TENDENCY HAS REARED IT'S HEAD LESS AND LESS IN RECENT YEARS, HOWEVER, THANKS LARGELY TO [S-316]'S INFLUENCE.
NOTE(S):
ACCORDING TO SOME RECENT INTEL OUT OF THE SPARTAN-III PROGRAM, IT SEEMS THAT EFFORTS TO IMPROVE THE CAMOUFLAGE SYSTEMS ON THE SPI ARMOR ARE MAKING PROGRESS. GIVEN [S-344]'S DISPOSITION, RECOMMEND FAST-TRACKING EFFORTS TO SUPPLY HER WITH A SET AS SOON AS ONE'S AVAILABLE.
POST-OP REPORT:
DURING THE DEFENSE OF CONCORD, [S-322] AND THE OTHER MEMBERS OF OLIVE TEAM WERE DEPLOYED TO THE SURFACE TO FEND OFF COVENANT GROUND FORCES WHILE CIVILIANS WERE EVACUATED. OLIVE TEAM WAS SUCCESSFUL IN HOLDING OFF A SUPERIOR NUMBER OF ENEMY FORCES, BUT WERE FORCED TO HOLD POSITION LONGER THAN ORIGINALLY ORDERED DUE TO A SUDDEN INFUX OF CIVILIANS. COVENANT ORBITAL FORCES, UNABLE TO DEFEAT THE ENTRENCHED UNSC FORCES IN ORBIT AND FLEEING FROM THE ORBITAL DEFENSE PLATFORM OLYMPUS, INIATED AN ATTACK ON THE SURFACE. FACED WITH A SUDDEN LARGE INFLUX OF NEW ENEMY TROOPS, [S-344] WAS ORDERED BY TEAM LEAD [S-316] TO ESCORT THE REMAINING CIVILIANS TO THE SPACEPORT. [S-344] AND ASSISTING SQUADMATE [S-322] WERE ABLE TO ESCORT THE NON-COMBATANTS TO THE EVACUATION ZONE, BUT THE COVENANT ORBITAL ASSETS BEGAN GLASSING THE CITY, AS UNSC ORBITAL ASSETS DESCENDED AND ATTACKED. [S-344] WAS KILLED IN THE FOLLOWING BOMBARDMENT.
(as of January 1, 2587)
CONNOR

LIEUTENANT
FULL NAME: RILEY, CONNOR
SERVICE #: S-338
UNIT: NAVSPECWAR/ARES DETACHMENT/TAN TEAM
ENLISTMENT DATE: CLASSIFIED
LOCATION: CLASSIFIED
STATUS: CLASSIFIED
GENDER: M
BIRTHPLACE: APHRODITE, TITAN-II
BIRTH DATE: 14/5/2534
PERFORMANCE:
SMART, FAST, AND TOUGH WITH VARIED ARRAY OF SKILLSETS. CAPABLE LEADER WITH A NATURAL ABILITY TO CONNECT WITH SUBORDINATES AND STRONG TACTICAL AND STRATEGIC INSIGHT. EMPHASIZES DEEPLY WITH SUBORDINATES AND SUPERIORS ALIKE. CRACK SHOT WITH A SNIPER RIFLE, BUT ALSO PASSABLY PROFIECIENT IN CLOSE QUARTERS. OPTIMISTIC NO MATTER THE SITUATION, BUT NEVER ATTEMPTS TO BE COMICAL. SERIOUS IN COMBAT, BUT RELAXES WELL OFF DUTY. VERY AMIABLE. SKILLED AT LEADING BUT EQUALLY CONTENT TO LET SOMEONE ELSE TAKE COMMAND.
COMMENTS:
STRONG CONNECTIONS WITH TEAMATES CAN SOMETIMES PROVE PROBLEMATIC, AS HE CAN BECOME EMOTIONALLY OVERRELIANT ON OTHERS, SOMETIMES WITH DISASTOROUS CONSEQUENCES. OCCASSIONALLY EXPRESSES DOUBT IN HIS OWN TACTICAL AND STRATEGIC INSIGHT DESPITE STRENGTH, DUE TO SEVERAL FAILED OPERATIONS. HISTORY OF ANGER, DEPRESSION, AND ISOLATION ISSUES, ALL IN RESPONSE TO LOSS OF TEAMATE. STRONG SENSE OF RIGHT AND WRONG. HAS HAD PROBLEMS IN THE PAST WITH TAKING ISSUES PERSONALLY.
NOTE(S):
RECOMMEND SCREENING FOR MENTAL ISSUES IN THE CASE OF FAILED MISSIONS, OR SUCCESSFUL MISSIONS THAT RESULT IN FRIENDLY CASUALTIES. ALSO MAKE NOTE UNIQUE GENETIC PATTERN; HE APPEARS, ALONG WITH ONE OTHER CANDIDATE, TO HAVE THE FULL GENETIC MARKERS FOR OPTIMUM SPARTANS
SPARTAN-329
(archived for use in investigation, as of January 1, 2587)
LUCY

PETTY OFFICER SECOND CLASS
FULL NAME: MOORE, LUCY
SERVICE #: S-329
UNIT: NAVSPECWAR/ARES DETACHMENT/TAN TEAM
ENLISTMENT DATE: CLASSIFIED
LOCATION: CLASSIFIED
STATUS: KIA
GENDER: F
BIRTHPLACE: DENVER, EARTH
BIRTH DATE: 5/19/2534
PERFORMANCE:
KIND, SENSITIVE, AND CHEERY. AS CLOSE TO A "SWEETHEART" AS YOUR GOING TO FIND IN A UNIT OF GENETICALLY AUGMENTED SUPERSOLDIERS. GOOD AT CONNECTING WITH OTHERS AND MAKING THEM FEEL LIKE PART OF THE TEAM. IMPACT ON MAINLINE REMARKABLY POSITIVE; CHEERY AND CALM DEMEANOR HAS SHOWN TO QUICKLY AND CONSISTENTLY I MPROVE MORALE. BESIDES USE AS A MOBILE MORALE BOOST, HER SKILLS AT ELECTRONIC WARFARE AND MIDRANGE COMBAT ARE CONSIDERABLE, AND HER TRACKING ABILITIES RIVAL THOSE OF THE BEST OF THE SIERRA CHARLIE ONES. ALSO HAS AN AVID INTEREST IN NAVAL TACTICS; HER SCORES FOR EXO-ATMOSPHERIC SHIP TO SHIP COMBAT RIVAL OR SURPASS MANY OCS TRAINEES, DESPITE NO FORMAL NAVAL TRAINING.
COMMENTS:
[S-329] IS WITHOUT A DOUBT ONE OF THE MOST SKILLED OPERATORS IN THE ARES PROGRAM, WITH HIGH SCORES IN JUST ABOUT EVERYTHING. HER 'WEAKER' AREAS ARE OFTEN MUCH MORE DEVELOPED THAN THE SPECIFIC SPECIALTIES OF OTHER CHARLIE THREES. UNFORTUNATELY, HER CREATIVE ABILITIES SUFFER WHILE UNDER FIRE, LIMITING HER ABILITY TO QUICKLY REACT TO NEW TACTICAL DEVELOPMENTS DURING COMBAT. SHE HAS ALSO DISPLAYED PROBLEMS WITH BECOMING TO ENGROSSED IN COMPLICATED TASKS, LEADING TO DANGEROUS DROPS IN SITUATIONAL AWARENESS. HER COMPASSION CAN ALSO IMPACT HER IN THE AFTERMATH OF MISSIONS, ESPECIALLY WHEN LARGE AMOUNTS OF FRIENDLY CASUALTIES ARE SUSTAINED OR HER UNIT IS DEPLOYED AGAINST REBELS; SHE NEVER FAILS TO GET THE JOB DONE, BUT SHE HAS EXPRESSED DISPLEASURE AFTER THE FACT.
NOTE(S):
RECOMMEND KEEPING AN EYE ON HER INTERACTION WITH [S-338]. PYSCHE REVIEWS INDICATE SHE HARBORS A BIT OF A CRUSH ON HIM, AND THOUGH HE DOESN'T SEEM TO BE AWARE AS OF YET, THE LAST THING WE NEED IN THAT UNIT IS POSSIBLE FRATERNIZATION.
POST-OP REPORT:
DURING OPERATION: WET FEET, TAN TEAM WAS DEPLOYED TO NEW AUSTRALIA ALONGSIDE THE 19TH MARINE AMPHIBIOUS ON AN INTELLIGENCE GATHERING MISSION. WHILE SCOUTING FOR THE ENEMY COMMAND AND CONTROL CENTER, HOSTILE REINFORCEMENTS WERE ALERTED TO THEIR PRESENCE AND ATTACKED. [S-338] ASSIGNED [S-329] TO DESTABILIZE THE NEARBY HYDROGEN FUEL STORAGE CONTAINERS TO CAUSE A DISTRACTION. [S-329] COMPLETED THE OBJECTIVE, BUT HER ESCAPE WAS BLOCKED BY ENEMY FORCES AND SHE WAS UNABLE TO REGROUP WITH THE REST OF HER TEAM. DESPITE OVERWHELMING ODDS, SHE MANAGED TO STAGE A LAST STAND LONG ENOUGH FOR THE OVERLOAD CYCLE TO COMPLETE AND THE FUEL TO DETONATE. |(FULL AFTER ACTION REPORT ATTACHED)
SPARTAN-332
(archived for use in investigation, as of January 1, 2587)
MELLISSA

PETTY OFFICER SECOND CLASS
FULL NAME: YANDRALL, MELLISSA
SERVICE #: S-332
UNIT: NAVSPECWAR/ARES DETACHMENT/TAN TEAM
ENLISTMENT DATE: CLASSIFIED
LOCATION: CLASSIFIED
STATUS: KIA
GENDER: F
BIRTHPLACE: NOVIA CITY, ATLAS MOONS
BIRTH DATE: 11/2/2534
PERFORMANCE:
INTELLIGENT, CREATIVE, AND ALMOST ABSURDLY DEADLY. EXCELLENT MIND FOR LOGISTICS AND STRATEGY, AND SOME OF HER IDEAS HAVE PROMPTED SERIOUS EXAMINATIONS OF CURRENT NAVAL PRACTICES. WORKS WELL WITH MAINLINE PERSONNEL, JUST LIKE THE REST OF TAN, BUT ALSO SEEMS TO DELIBERATELY DISTANCE HERSELF FROM THEM. EXCELLENT AT CLOSE QUARTERS, BUT REAL TALENTS LIE IN EVA WARFARE. HIGH SITUATIONAL AWARENESS AND LIGHTNING FAST REFLEXES MAKE HER A VALUABLE ASSET IN ANY EXO ENGAGEMENT. VERY SERIOUS IN COMBAT, AND HIGHLY INDEPENDENT; USED TO GETTING HER WAY AND ACTS LIKE IT. ALSO A DECENT PILOT; VERY PROFICIENT IN UNSC SPACE AND AIR VEHICLES ALONG WITH SEVERAL COVENANT ONES AS WELL.
COMMENTS:
WHILE [S-332] IS GOOD AT PAYING ATTENTION TO THE BIG PICTURE, SMALLER DETAILS CAN BE HARDER FOR HER. SHE IS CONSIDERABLY LESS PROFICIENT IN SMALL UNIT TACTICS THAN SHE IS WITH STRATEGY AND SHE WILL EVEN OCCASSIONALY OVERLOOK MINOR DETAILS. EMOTIONAL DETACHMENT AND INDEPDENCE CAN ALSO MAKE HER A BIT HARD TO ORDER AROUND; THE BRASS HAS HAD THEIR FAIR SHARE OF STRUGGLES WITH HER AND EVEN [S-338] CAN HAVE PROBLEMS. LIKE [S-338], SHE TAKES THE WAR VERY PERSONALLY, ESPECIALLY IN THE AFTERMATH OF [S-329]'S DEATH. SHE HAS ALSO BEEN NOTED ACTING A BIT TO FLIRTATIOUSLY WITH MEN (WITH THE NOTABLE EXCEPTION OF [S-338]) THOUGH THIS SEEMS TO BE JUST ANOTHER METHOD OF MANIPULATING SITUATIONS TO GET WHAT SHE WANTS.
NOTE(S):
DURING A RANDOM MEDICAL SCAN IN THE AFTERMATH OF THE HOPEFUL INCIDENT, [S-332] TESTED POSITIVE FOR A PAIR OF TYPE-3 STDS. HER ENHANCED IMMUNE SYSTEM HAS RENDERED THEM HARMLESS, BUT SHE HAS AN ANNUAL MEDICAL CHECKUP RAPIDLY APPROACHING AND SMUDGING IT ISN'T AN OPTION. IF THESE DISEASES ARE PRESENT WHEN SHE IS EXAMINED, IT MIGHT RAISE SOME UNCOMFORTABLE QUESTIONS. RECOMMENDATION: START HER ON THE STRONGEST AB'S AVAILABLE AND HEAD THIS PROBLEM OFF BEFORE IT SNOWBALLS.
POST-OP REPORT:
DURING OPERATION: SANDBOX, [S-338] AND [S-332] WERE ASSIGNED TO DEFEND THE POWER GENERATOR FOR THE PLANET'S ORBITAL MAC CANNON. AFTER SUCCESSFULLY HOLDING THE ENEMY AT BAY HOWEVER, A COVENANT CRUISER ENTERED THE ATMOSPHERE AND PREPARED TO GLASS ONE OF THE PLANET'S MAJOR CITIES. TAN TEAM, HOPING TO BOARD THE SHIP, ABANDONED THEIR POST AND HEADED FOR IT'S POSITION. HOWEVER, BEFORE THEIR COULD COMPLETE THEIR PLAN, THE ENEMY DETECTED THEM AND CONSEQUENTLY SHOT THEM DOWN. TAN TEAM MANAGED TO MAKE A SUCCESSFUL CRASH LANDING IN THE CITY, BUT ENEMY FIRE BADLY INJURED [S-332] AND SHE VOLUNTEERED TO STAY BEHIND TO SLOW THE ENEMY DOWN, ALLOWING [S-338] TO ESCAPE.
SPARTAN-339
(archived for use in investigation, as of January 1, 2587)
KAITO

PETTY OFFICER FIRST CLASS
FULL NAME: KAITO, HOJIRO
SERVICE #: S-339
UNIT: NAVSPECWAR/ARES DETACHMENT/ORANGE TEAM
ENLISTMENT DATE: CLASSIFIED
LOCATION: CLASSIFIED
STATUS: KIA
GENDER: M
BIRTHPLACE: AVIANA, SKOPJE
BIRTH DATE: 11/12/2534
PERFORMANCE:
A CAPABLE FIGHTER BUT MOREOVER AN EXCEPTIONAL TACTICIAN AND LEADER. IN A SITUATION SIMILAR TO CYAN'S LEAD [S-314]], HIS CHIEF REASON FOR HOLDING THE SQUAD LEADER POSITION IS NOT BECAUSE OF EXCEPTIONAL PERSONAL SKILL, BUT RATHER DUE TO HIS ABILITY TO MOST EFFECTIVELY MAKE USE OF HIS TEAM. PERSONALLY MOST COMFORTABLE AT MIDRANGE, BUT ALSO ABOVE AVERAGE IN MARKSMEN DUTIES.
COMMENTS:
WHILE [S-339] NEVER SHOWED ANY PARTICULARLY EXCEPTIONAL ATTACHMENT TO HIS HOMEWORLD AND INTEGRATED VERY WELL INTO THE PROGRAM HERE, HE HAS NONETHELESS DEVELOPED A MORE VITRIOLIC ATTITUDE TOWARDS THE COVENANT SINCE THE DESTRUCTION OF SKOPJE A YEAR AGO. WHETHER THIS MEANS HE HID LOYALTIES OR IT SIMPLY INDICATES HE HAS FOUND A CONVENIENT WAY TO FURTHER DEHUMANIZE THE ENEMY, THE RESULT IS THE SAME: A SIERRA WHO IS EVEN MORE MOTIVATED TO TAKE THE FIGHT TO THE ENEMY.
POST-OP REPORT:
IN APRIL OF 2550, ORANGE TEAM WAS PAIRED WITH VIOLET TEAM AND DISPATCHED TO THE HEPHAISTOS ASTEROID BELT TO INFILTRATE AND DESTROY A COVENANT FORWARD OPERATING BASE BEFORE CONSTRUCTION COULD BE COMPLETED. DURING THE OPERATION, ORANGE TEAM, INCLUDING [S-339], WERE REPORTEDLY KILLED BY ENEMY FIRE. FURTHER DETAILS OF THE OPERATION HAVE BEEN CLASSIFIED TOP SECRET, PENDING DISCLOSURE BY ONI. (FULL AFTER ACTION REPORT ATTACHED)
SPARTAN-307
(archived for use in investigation, as of January 1, 2587)
CECILIA

PETTY OFFICER SECOND CLASS
FULL NAME: BOURNES, CECILIA
SERVICE #: S-307
UNIT: NAVSPECWAR/ARES DETACHMENT/ORANGE TEAM
ENLISTMENT DATE: CLASSIFIED
LOCATION: CLASSIFIED
STATUS: KIA
GENDER: F
BIRTHPLACE: LIBERTY HEIGHTS, CIRCUMSTANCE
BIRTH DATE: 05/14/2534
PERFORMANCE:
WOUND FAIRLY TIGHT FOR A MEMBEROF THE CHARLIE THREE CLASS, WITH AN INTENSITY IN EVERYTHING SHE DOES THAT CAN BE AT ODDS WITH [S-324] WHEN OUT OF THE FIELD. ON THE FIELD, WORKS PEFECTLY WITH HIM, AND SPECIALIZES IN LONG RANGE COMBAT, WHICH SERVES AS AN IDEAL COUNTERBALANCE.
COMMENTS:
NOTED BY A NUMBER OF THE CHARLIE THREES AS A BIT "GRUMPY". NOT A FIRECRACKER LIKE SOME OF THE MORE AGGRESSIVE CANDIDATES, BUT GENERALY A LITTLE SURLY, ESPECIALLY WHEN INTERACTING WITH MEMBERS OF THE CLASS THAT DON'T TAKE SITUATIONS AS SERIOUSLY AS SHE DOES.
POST-OP REPORT:
IN APRIL OF 2550, ORANGE TEAM WAS PAIRED WITH VIOLET TEAM AND DISPATCHED TO THE HEPHAISTOS ASTEROID BELT TO INFILTRATE AND DESTROY A COVENANT FORWARD OPERATING BASE BEFORE CONSTRUCTION COULD BE COMPLETED. DURING THE OPERATION, ORANGE TEAM, INCLUDING [S-307], WERE REPORTEDLY KILLED BY ENEMY FIRE. FURTHER DETAILS OF THE OPERATION HAVE BEEN CLASSIFIED TOP SECRET, PENDING DISCLOSURE BY ONI. (FULL AFTER ACTION REPORT ATTACHED)
(as of January 1, 2587)
BALDUIN

CHIEF PETTY OFFICER
FULL NAME: LICHTE, BALDUIN
SERVICE #: S-324
UNIT:

NAVSPECWAR/ARES DETACHMENT/ORANGE TEAM (FORMER)
SPECWARCOM/GROUP FIVE/SIENNA TEAM (CURRENT)

ENLISTMENT DATE: CLASSIFIED
LOCATION: CLASSIFIED
STATUS: ACTIVE
GENDER: M
BIRTPLACE: POLOKWANE, SOUTH AFRICA, EARTH
BIRTH DATE: 27/06/2534
PERFORMANCE:
RELAXED AND OPTIMISTIC OFF THE FIELD, BUT ALWAYS FOCUSED AND ONE HUNDRED PERCENT RELIABLE ON IT. WILL KEEP GOING FOR AS LONG AS NECESSARY NO MATTER HOW HARD HE HAS TO PUSH HIMSELF. EASILY ONE OF THE FASTER CANDIDATES. HAS A HIGH TOLERANCE TO PAIN. SHOWCASES MAXIMUM EFFICIENCY WHILST IN A TEAM.
COMMENTS:
HAS REPEATEDLY PUSHED HIS BODY BEYOND RECOMMENDED LIMITS, RESULTING IN FREQUENT, INCREASINGLY DEBILITATING INJURIES. GETS ANXIOUS WHEN HIS CAPABILITIES ARE QUESTIONED OR WHEN FACED WITH SEEMINGLY IMPOSSIBLE SCENARIOS. LOYALTY TO THE UNSC SEEMS TO BE LIMITED TO A DESIRE TO DEFEND HUMANITY FROM GENOCIDE.
NOTE(S):
RECOMMEND INTENSE THERAPY TO RESOLVE PSYCHOLOGICAL ISSUES THAT MOTIVATES WEARING DOWN HIS BODY AND POTENTIAL UNEASE REGARDING HIS OWN ABILITIES. FINDING WAYS TO MAINTAIN HIS LOYALTY ALSO RECOMMENDED.
POST-RESIGNATION REPORT:
FOLLOWING YEARS OF CLEANING UP COVENANT SPLINTER GROUPS, [S-324] OFFICIALLY RESIGNED FROM THE UNSC DEFENSE FORCE, DESPITE BENEFICIAL OFFERS FROM ONI AND SPARTAN BRANCH. REPORTS SHORTLY AFTER CONFIRMED HE JOINED UP WITH THE EXECUTIVE OPERATIONS SECURITY COMPANY (FOUNDED BY FELLOW ARES [S-341]). THE CONTINUED THREAT POSED BY THE PROMETHEANS MAY EVENTUALLY PROVE SUFFICIENT TO CONVINCE HIM TO RE-ENLIST.
(archived for use in investigation, as of January 1, 2587)
ROGER

LIEUTENANT, JUNIOR GRADE
FULL NAME: MONTEVADO, ROGER
SERVICE #: S-341
UNIT: NAVSPECWAR/ARES DETACHMENT/CRIMSON TEAM
ENLISTMENT DATE: CLASSIFIED
LOCATION: CLASSIFIED
STATUS: ACTIVE
GENDER: M
BIRTHPLACE: KENT SPRINGS, MIRIDEM
BIRTH DATE: 5/4/2534
PERFORMANCE:
JACK OF ALL TRADES WHO EXCELS AT EVERYTHING FROM CLOSE QUARTERS COMBAT TO LONG RANGE SHOOTOUTS. PREFERS NOT TO GET BOGGED DOWN SPECIALIZING TOO MUCH IN ONE FIELD, THOUGH HE DOES HAVE AN APPARENT LOVE OF KNIVES AND SEEMS TO OPERATE ESPECIALLY WELL AT MIDRANGE. BIT OF A DAREDEVIL. DIRECT AND OBVIOUS, IN BOTH HIS INTERACTION WITH OTHERS AND HIS TACTICS ON THE BATTLEFIELD. NOT MUCH OF A PEOPLE PERSON; SARCASTIC WITH A BITING TONGUE, RECEPTIVE ONLY TOO HIS TEAM AND A SMALL CIRCLE OF FRIENDS, AND SEEMINGLY INDIFFERENT TO THE REST OF HUMANITY.
COMMENTS:
EXTREMELY INDEPENDENT AND SOMEWHAT SELF SERVING. COMPLETELY LOYAL TO HIS SQUAD, BUT INDIFFERENT TO THE COMMON PEOPLE. NOT ABOVE BREAKING REGS OR PERFORMING (MILDLY) ILLEGAL ACTIONS, AS LONG AS IT HELPS HIS SQUAD. A BIT VAIN AS WELL; TAKES GREAT PRIDE IN HIS PERSONAL APPERANCE. GRIM SENSE OF HUMOR AND SARCASTIC STREAK PRESENTS ITSELF AS MOSTLY HARMLESS IN REGARDS TO HIS TEAM, BUT HIS RUDE BEHAVIOR CAN CAUSE DIFFICULTY FIELDING HIM ALONGSIDE OTHER UNITS
NOTE(S):
KEEP A CLOSE EYE ON [S-341] TO WATCH FOR SIGNS OF INSUBORDINATION AND LOYALTY SUSPICIONS. HE'S VERY RATIONAL AND REALIZES THAT IT'S THE MOST LOGICAL THING TO HELP HUMANITY, AND HIS CONNECTION WITH HIS SQUAD SEALS THE DEAL, BUT IF EITHER IS LOST HIS LOYALTY COULD BE IN SERIOUS QUESTION. APPEARS TO HARBOR A BIT OF A RESENTMENT TOWARDS ONI FOR HIS INDUCTION INTO ARES, AND THAT'S NOT THE GREATEST FOUNDATION FOR STRONG LOYALTIES.
(archived for use in investigation, as of January 1, 2587)
JAMES

PETTY OFFICER SECOND CLASS
FULL NAME: KIM, JAMES
SERVICE #: S-319
UNIT: NAVSPECWAR/ARES DETACHMENT/CRIMSON TEAM
ENLISTMENT DATE: CLASSIFIED
LOCATION: CLASSIFIED
STATUS: KIA
GENDER: M
BIRTHPLACE: KARNAK, DRACO III
BIRTH DATE: 2/19/2534
PERFORMANCE:
PLEASANT MANNERED, ENGAGING, AND COMICAL. GOOD AT MOVING STEALTHILY, AND AN EXPERT HACKER, BUT ALSO AN EXCELLENT DEMOLITIONS EXPERT AND A LOVER OF EXPLOSIVES. GOOD WITH ANYTHING THAT GOES BOOM; ROCKETS, MINES, GRENADES, IED'S, YOU NAME IT, HE LIKES IT. BIT CHATTY DURING DEPLOYMENT, AND A STEREOTYPICAL JOKER, BUT HIS HUMOR IS MORE VALUABLE FOR MORALE PURPOSES THAN IT IS DETRIMENTAL FOR IT'S DISTRACTION. PREFERS CLOSE RANGE COMBAT, AND SPECIALIZES IN ASSAULT RIFLES, SHOTGUNS, AND KNIVES WHEN NOT ACTING AS A DESIGNATED EXPLOSIVES TECHNICIAN.
COMMENTS:
CHATTER CAN BE DISTRACTING AT TIMES, AND A LITTLE UNPROFESSIONAL, THOUGH OF NO REAL SERIOUS WORRY. SOMETIMES A LITTLE TO EAGER OR IMPATIENT; HE HAS A BIT OF A TENDENCY TO CHARGE HEADLONG WITHOUT MUCH THOUGHT FOR THE ODDS.
NOTE(S):
MAKE A NOTE TO WATCH FOR SIGNS OF DEPRESSION. HE'D HARDLY SEEM TO BE THE TYPE, BUT HIS LAST PYSCHE REVIEW WAS INCONCLUSIVE AND IT IS POSSIBLE, HOWEVER UNLIKELY, THAT HIS CHEERY DISPOSITION MIGHT BE AN ACT TO HIDE HIS TROUBLES FROM HIS SQUAD.
POST-OP REPORT:
FOLLOWING THE CONCLUSION OF PRIMARY HOSTILITIES DURING THE GREAT WAR, [S-319] AND CRIMSON TEAM WERE ATTACHED TO THE UNSC NINTH FLEET, WHICH CONDUCTED LIMITED SMALL SCALE RECLAMATION ACTIONS AGAINST COVENANT LOYALIST HOLDOUTS. THEIR PENULTIMATE MISSION WAS A JOINT ASSAULT ON THE HOSTILE JIRALHANAE COLONY TAREAIAL. CRIMSON WAS PAIRED WITH COVENANT SEPARATIST SPECIAL FORCES UNIT AND TASKED WITH THE DESTRUCTION OF PLANETARY SHIELD GENERATORS IN PREPARATION FOR A FLEET STRIKE. DURING THE ASSAULT, A JIRALHANAE AMBUSH TRAPPED THE MAJORITY OF THE STRIKE FORCE, LEAVING [S-319], [S-341], AND THE SANGHEILI COMMANDO SUNEF 'MAPHIS TO COMPLETE THE OBJECTIVE. THEY SUCCESSFULLY DESTROYED THE SHIELD GENERATOR, BUT EN-ROUTE TO THE EXFIL LOCATION, WERE ATTACKED BY MULTIPLE JIRALHANAE CHIEFTAINS. [S-319] WAS KILLED BY A GRAVITY HAMMER BLOW TO HIS CHEST. (FULL AFTER ACTION REPORT ATTACHED)
(archived for use in investigation, as of January 1, 2587)
MICA

PETTY OFFICER SECOND CLASS
FULL NAME: HELENA, MICA
SERVICE #: S-311
UNIT: NAVSPECWAR/ARES DETACHMENT/CRIMSON TEAM
ENLISTMENT DATE: CLASSIFIED
LOCATION: CLASSIFIED
STATUS: Active
GENDER: F
BIRTHPLACE: PONDEROSA, ARISTOTLE I
BIRTH DATE: 10/14/2534
PERFORMANCE:
QUICK THINKER AND EXPERT SHOT WITH A SNIPER RIFLE. EXTREMELY INTELLIGENT, WITH IQ SCORES HIGHER THAN ANYONE ELSE IN THE PROGEAM. TACTICAL ABILITY NOT OVERLY STRONG, BUT EXTREMELY INTELLIGENT IN OTHER FIELDS, WITH A PARTICULAR KNACK FOR THEORETICAL XENOBIOLOGY. SKILLS WITH A SNIPER LESS SPECTACULAR THAN OTHER MEMBERS OF THE PROGRAM, BUT WITH THE TRADEOFF OF MORE ADVANCED ABILITIES AT TRACKING, PILOTING, COMMUNCATIONS, AND BATTLEFIELD MEDICINE. NOT A JOKER LIKE [S-319], BUT DEFINITELY LOOKS ON THE BRIGHTER SIDE OF LIFE AND COMES UP WITH A FEW OF HER OWN WISE CRACKS.
COMMENTS:
VERY CONFIDENT IN HER ABILITIES AND HER SQUAD, BUT SHARES THE SAME VAGUELY EXCLUSIONARY OUTLOOK, THOUGH SHE DEFINITELY HAS A BROADER VIEW THAN [S-341]. CAN BE A BIT BY THE BOOK AND FORMAL AT TIMES, BUT ALSO HARBORS A TEMPER AND KNOWS HOW TO NURSE A GRUDGE. FIERY AND A BIT OF A HELLCAT, WHEN SHE LETS HER DISCIPLINE DOWN ENOUGH TO LET IT OUT. REPORTS OF MUTILATED ENEMY COMBATANTS AT CONCORD HAVE BEEN CONFIRMED AND ARE A PRIME EXAMPLE.
NOTE(S):
HARBORS AN INTENSE DISLIKE FOR SCARLET TEAM, BUT MANAGES TO KEEP IT MOSTLY UNDER WRAPS, UNLIKE HER SUPERIOR. STILL, RECOMMEND WATCHING HER INTERACTION WITH THEM.
POST-OP REPORT:
FOLLOWING THE CONCLUSION OF PRIMARY HOSTILITIES DURING THE GREAT WAR, [S-319] AND CRIMSON TEAM WERE ATTACHED TO THE UNSC NINTH FLEET, WHICH CONDUCTED LIMITED SMALL SCALE RECLAMATION ACTIONS AGAINST COVENANT LOYALIST HOLDOUTS. THEIR PENULTIMATE MISSION WAS A JOINT ASSAULT ON THE HOSTILE JIRALHANAE COLONY TAREAIAL. CRIMSON WAS PAIRED WITH COVENANT SEPARATIST SPECIAL FORCES UNIT AND TASKED WITH THE DESTRUCTION OF PLANETARY SHIELD GENERATORS IN PREPARATION FOR A FLEET STRIKE. DURING THE ASSAULT, [S-311] AND THE MAJORITY OF THE SANGHEILI STRIKE FORCE WERE TRAPPED BY A JIRALHANAE AMBUSH, ALTHOUGH THE REMAINING MEMBERS OF CRIMSON TEAM WERE ABLE TO SLIP AWAY. SURROUNDED BY ENEMY INFANTRY AND ARMOR, [S-311] STAGED A LAST STAND DELAYING ACTION, AND WAS OVERRUN BY ENEMY FORCES AFTER BEING CRIPPLED BY A PLASMA MORTAR STRIKE. (FULL AFTER ACTION REPORT ATTACHED.)
SPARTAN-347
(archived for use in investigation, as of January 1, 2587)
JENNIFER

PETTY OFFICER FIRST CLASS
FULL NAME: GUMP, JENNIFER
SERVICE #: S-347
UNIT: NAVSPECWAR/ARES DETACHMENT/SCARLET TEAM
ENLISTMENT DATE: CLASSIFIED
LOCATION: CLASSIFIED
STATUS: KIA
GENDER: F
BIRTHPLACE: REMINGTON, NEW LONDON
BIRTH DATE: 9/3/2534
PERFORMANCE:
CONFIDENT, DEADLY, AND HIGHLY SKILLED AT MIDRANGE COMBAT. ABILITY TO AIM ACCURATELY ON THE MOVE IS NEAR PERFECT, EVEN UNDER HIGH STRESS OR FROM A FAST MOVING VEHICLE. DOESN'T HAVE THE PATIENCE FOR LONG RANGE COMBAT, OR THE REFLEXES TO EXCEL IN CLOSE, BUT IS PASSABLY PROFICIENT IN BOTH. EXCELLENT SOLDIER WITH A STRONG WORK ETHIC THAT HAS ALLOWED HER TO EXCEL DESPITE A LOWER GENETIC MATCH THAN MANY OF THE OTHER CHARLIE THREES. TACTICAL ABILITY, HOWEVER, BLOWS HER ALREADY CONSIDERALE STRENGTHS OUT OF THE WATER. EXCELLENT STRATEGIST WITH A KNACK FOR FINDING AND EXPLOITING STRESS POINTS IN BATTLE OR ENEMY FORMATIONS, BUT ALMOST MORE USEFUL FOR HER ABILITY TO FLIP HER VIEWPOINT AND EXAMINE THE SITUATION FROM THE ENEMY'S POINT OF VIEW. EXCELS AT OPEN COMBAT DURING LARGE, CHAOTIC BATTLES.
COMMENTS:
WOULD BE THE BEST COMMANDER IN THE WHOLE PROGRAM IF SHE WASN'T SO DAMN EGOTISTICAL. ARROGANCE, A BIG HEAD, AND AN EVEN BIGGER MOUTH HAVE ALWAYS BEEN A PROBLEM FOR HER, BUT THE PROBLEM HAS GOTTEN WORSE SINCE SCARLET WAS DEPLOYED. THE CHARLIE THREE SQUADS NO THE ODDS THEY'RE UP AGAINST, SO IT'S NO SURPRISE THE EFFECTIVE ONES GET A LITTLE SELF ABSORBED. A DAMN SHAME THOUGH, BECAUSE HER EGO CAN MAKE IT DIFFICULT FOR HER TO INTERACT WITH OTHER PERSONNEL; MAINLINE TROOPS ARE INTIMIDATED, OTHER SIERRA'S FIND HER ANTAGONIZING, AND EVEN HER OWN TEAM CAN FIND HER GRATING. IT CAN ALSO PROVE DANGEROUS DURING COMBAT, AS WELL; JENNY'S OVERCONFIDENCE HAS GOTTEN SCARLET INTO MORE THAN ONE TOUGH SPOT BEFORE, AND WHILE THEY'VE BEEN ABLE TO GET OUT OF MOST OF THEM SO FAR, THEY'RE LUCK WILL ONLY LAST SO LONG.
NOTE(S):
[S-347] HAS BEEN NOTED FOR HER DIFFICULTY INTERACTING WITH OTHER SIERRAS, BUT HER RELATIONS WITH [S-341], [S-343], [S-338], [S-363], AND [S-312] ARE PARTICULARILLY STRAINED. THIS PROBLEM IS ESPECIALLY PREVALENT IN HER RELATIONSHIP WITH [S-363], HER OLD TEAM LEADER, WHO WE HAD TO TRANSFER EARLY ON BECAUSE OF INTERNAL DIFFICULTIES. MAKE SURE SHE ISN'T DEPLOYED ANYWHERE NEAR THEM IF YOU CAN.
POST-OP REPORT:
AFTER [S-312] WENT ROGUE AND WAS TRACKED TO THE LAMBDA SERPENTIS SYSTEM, THE LOCAL MARINE OUTPOST WAS PUT ON HIGH ALERT AND ALL AVAILABLE CHARLIE THREE TEAMS WITHIN A TWO WEEK RADIUS WERE SCRAMBLED. GOLD, OLIVE, AND SCARLET TEAMS WERE CONTACTED, BUT OLIVE WAS INVOLVED IN THE ONGOING SCATHING OF THE CHINESE SECTOR AND WAS UNABLE TO RESPOND. SCARLET REACHED THE TARGET SYSTEM SEVERAL HOURS AHEAD OF GOLD, AND DEPLOYED TO THE SURFACE IMMEDIATELY. THEY PROCEDED TO HEAD DIRECTLY TO [S-312]'S LAST KNOWN POSITION, WITHOUT WAITING FOR GOLD TO REINFORCE THEM. AFTER MAKING AN INITIAL SWEEP OF THE AREA WITH NO RESULTS, [S-347] ALLOWED HER TEAM TO SEPARATE AND WAS CAUGHT OFF GUARD WHEN [S-312] AMBUSHED [S-356]. IN THE RESULTING SKIRMISH, SHE ORDERED A RETREAT BUT PLAYED STRAIGHT INTO [S-312]'S PLANS, ALLOWING HIM TO COMPLETE HIS AMBUSH AND ELIMINATE HER TEAM.
SPARTAN-356
(archived for use in investigation, as of January 1, 2587)
MICHAEL

PETTY OFFICER SECOND CLASS
FULL NAME: SMITH, MICHAEL
SERVICE #: S-356
UNIT: NAVSPECWAR/ARES DETACHMENT/SCARLET TEAM
ENLISTMENT DATE: CLASSIFIED
LOCATION: CLASSIFIED
STATUS: KIA
GENDER: M
BIRTHPLACE: TRANQUILITY, LUNA
BIRTH DATE: 7/7/2534
PERFORMANCE:
GOOD WITH A SUBMACHINEGUN IN A CROWD OF ENEMIES, BUT BETTER WITH A SHOTGUN PUMPING BUCKSHOT INTO THE ENEMY AT POINT BLANK. CLOSE QUARTERS SPECIALIST WHO FOUND A LOVE OF ADRENALINE SOAKED CQB COMBAT AS A YOUNGSTER AND HAS MOLDED THAT LOVE INTO A TALENT FOR SHORT RANGE WEAPONS THAT BORDERS ON ARTISTRY. REGIMENTED WITH A FIERCE DEVOTION TO HIS SQUAD. NOT THE BEST TACTICIAN OR STRATEGIST, WITH LOW SCORES ON HIS CREATIVITY TESTS, BUT GOOD AT FOLLOWING ORDERS AND EVEN BETTER AT INSTICTIVELY COUNTERING THE ENEMY. VERY BOLD, WITH UNFALTERING COURAGE; WHEN OTHERS STEP BACK, HE STEPS FORWARD. VERY ARTICULATE, THOUGH HIS EXPLANATIONS CAN BE OVERLY VERBOSE AT TIMES.
COMMENTS:
EXCELLENT AT CLOSE QUARTERS, WITH A FRACTIONAL REACTION TIME AND NERVES OF STEEL, BUT HAS DIFFICULTY AT LONGER RANGES. AIM IS TERRIBLE (BY SIERRA STANDARDS) AT A DISTANCE, AND [S-347] SEEMS TO DELIBERATELY RETRICT HIM TO CLOSE QUARTERS AS A WAY TO COUNTER THIS. THE SUCCESS OF THIS STRATEGY SO FAR IS DEBATABLE, BUT THEY'RE ALL STILL ALIVE, SO THAT HAS TO COUNT FOR SOMETHING. DESPITE HIS REGIMENTED NATURE, HE HAS A BIT OF A MOUTH AND AN EGO PROBLEM, WITH A SARCASTIC, BITING WIT. HE CAN ALSO TAKE HIS BOLD BEHAVIOR TOO FAR, AS WELL; HE HAS A TENDENCY TO PLUNGE HEADFIRST INTO THE THICK OF THINGS WITHOU THINKING, WHICH HAS ONLY BEEN MADE WORSE BY HIS GROWING EGO. COMMUNICATING WITH HIM HAS ALSO BEEN NOTED AS BEING A LABORIOUS AFFAIR, THANKS TO HIS OVERLY VERBOSE NATURE.
NOTE(S):
MAKE A NOTE TO CHECK [S-356]'S PERSONAL LOCKER THE NEXT TIME HE'S OUT ON DEPLOYMENT. MARINE TEAMS HAVE REPORTED HIM TAKING PERSONAL MEMENTOS OFF ENEMY COMBATANTS, AND WHILE NO ACTUAL EVIDENCE HAS BEEN DISCOVERED, WE'RE NOT ARMY AND WE CAN'T GET AWAY WITH THAT KIND OF THING, SO IT'S WORTH LOOKING INTO.
POST-OP REPORT:
AFTER [S-312] WENT ROGUE AND FLED TO THE LAMBDA SERPENTIS SYSTEM, SCARLET TEAM WAS ASSIGNED, ALONGSIDE GOLD TEAM, TO TRACK HIM DOWN AND RECOVER HIM FOR TRIAL. DURING THEIR INVESTIGATION, SCARLET DECIDED TO PURSUE [S-312] WITHOUT WAITING FOR BACKUP, AND MADE A FULL SWEEP OF HIS LAST KNOWN POSITION WITHOUT ANY CONTACT. ASSUMING [S-312] TO BE GONE, [S-356] WENT OFF ON HIS OWN FOR ONE LAST LOOK AROUND BEFORE GOLD'S ARRIVAL AND WAS LURED INTO A MINEFIELD BY THE ROGUE OPERATOR. HE WAS ELIMINATED BEFORE HE COULD ESCAPE THE TRAP.
SPARTAN-351
(archived for use in investigation, as of January 1, 2587)
ARNOLD

PETTY OFFICER SECOND CLASS
FULL NAME: QUAID, ARNOLD
SERVICE #: S-351
UNIT: NAVSPECWAR/ARES DETACHMENT/SCARLET TEAM
ENLISTMENT DATE: CLASSIFIED
LOCATION: CLASSIFIED
STATUS: KIA
GENDER: M
BIRTHPLACE: LAS ANGELES, EARTH
BIRTH DATE: 7/4/2534
PERFORMANCE:
STRONG, CONFIDENT, PROUD AND BRUTAL. NATURALLY GOOD FIGHTER WITH AN AFFINITY FOR DESTRUCTION---EXPLOSIVES AND HEAVY WEAPONS ARE HIS SPECIALTY. PREFERS BRUTE FORCE IN COMBAT, AIMING FOR THE MAXIMUM DAMAGE INFLICTED ON THE ENEMY. EVEN HIS OWN CUSTOM EXPLOSIVES ARE USUALLY OVERKILL; IF THE JOB NEEDS A TEN STRENGTH CHARGE, YOU CAN COUNT ON HIM TO FASHION A FIFTEEN STRENGTH ONE. DECENTLY CAPABLE AT CLOSE RANGE BECAUSE OF HER SHEER STRENGTH, BUT MORE AGILE OPPONENTS CAN EASILY GET AROUND HIM AND HIS ABILITIES AT MID AND LONG RANGE ARE MUCH WEAKER. PREFERS BIG BATTLES WHERE HE CAN BRING HIS TALENTS TO USE, AND DISLIKES SLOWER PACED OR MORE "SUBTLE" MISSIONS. FAIRLY SERIOUS IN COMBAT, THOUGH NOT THE MOST PROFESSIONAL. KNOWN TO BE VOCAL WITH HIS OPINIONS, ESPECIALLY DURING DEPLOYMENT.
COMMENTS:
UNUSUAL FOR A SIERRA, [S-351] IS SOMEWHAT LAZY. MOST THINGS COME NATURALLY FOR HIM, WHICH, COUPLED WITH A NEARLY FLAWLESS DEPLOYMENT RECORD, HAS ACCENTED THIS PROBLEM. IN ADDITION TO THIS, HE HAS ALSO HAD OCCASSIONAL PROBLEMS WITH OVERESTIMATING THE ENEMY, CREATING A POOR ENVIRONMENT FOR MORALE. WHILE A HEALTHY CAUTION IS GOOD, [S-351] SOMETIMES TAKES IT TOO FAR AND PANICS IN BAD SITUATIONS. DEPLOYMENT ALONGSIDE MARINES CAN BE PROBLEMATIC, BECAUSE THE COMMON TROOPS DON'T NEED THEIR MORALE ANY LOWER THAN IT ALREADY IS, AND A PESSIMISTIC SIERRA IS A SERIOUS DOWNER. ALSO NOTE THAT HE HAS A TENDENCY TO EMPLOY OVER DRAMATIC FLOURISHES DURING COMBAT; THESE OVER THE TOP ANTICS, LIKE HIS STUNT WITH DUAL M19'S, CAN PUT THE UNIT IN UNNECCESSARY DANGER FOR LITTLE TO NO EXTRA BENEFIT. CONSIDERED TO BE A SORT OF SIMPLETON BY MANY OF THE OTHER SIERRA TEAMS---AND HIS BRUTAL TENDENCIES DON'T HELP HIS REPUTATION ANY.
NOTE(S):
[S-351] REQUESTED A HUD UPGRADE FOR HIS SPI ARMOR IN LATE NOVEMBER, AND IT CERTAINLY IS AN INTERESTING ONE. SINCE AUGMENTATION, HE'S DEVELOPED A HABIT OF DUAL-WIELDING M19 AND M41 LAUNCHERS IN COMBAT---AND ISN'T BAD AT IT----BUT THE CURRENT SUIT CAN'T TRACK TWO WEAPON'S SIMOULTANEOUSLY, MUCH LESS TWO ROCKET LAUNCHERS. A FULL UNIT UPGRADE PROBABLY ISN'T POSSIBLE, BUT [S-351] HAS PROVEN TIME AND AGAIN THAT HE'S VERY GOOD WITH HIS EXPLOSIVES, AND I THINK THE POTENTIAL GAIN IS GOOD ENOUGH TO WARRANT SUCH AN UPGRADE.
POST-OP REPORT:
IN THE AFTERMATH OF [S-312]'S BREAKDOWN, [S-351] AND THE REST OF SCARLET WERE DISPATCHED, ALONGSIDE GOLD TEAM, TO THE LAMBDA SERPENTIS SYSTEM TO RECOVER HIM. DURING DEPLOYMENT, SCARLET DECIDED TO PRESS ON WITHOUT GOLD AND WAS AMBUSHED BY [S-312]. [S-356] WAS LURED INTO A MINEFIELD AND KILLED, AND [S-347] ORDERED AN IMMEDIATE RETREAT. [S-351] PANICKED AND DISTRACTED HIS TEAMATE, AND IN THE CONFUSION, [S-312] WAS ABLE TO GET THE DROP ON [S-351] AND ELIMINATE HIM.
(as of January 1, 2587)
MATHEW

MASTER CHIEF PETTY OFFICER
FULL NAME: BROOKS, MATHEW
SERVICE #: S-363
UNIT: NAVSPECWAR/ARES DETACHMENT/GOLD TEAM
ENLISTMENT DATE: CLASSIFIED
LOCATION: CLASSIFIED
STATUS: ACTIVE
GENDER: M
BIRTHPLACE: COLTON, STALLION-IV
BIRTH DATE: 9/11/2534
PERFORMANCE:
HIGHLY SKILLED FIGHTER AND COMMANDER, WITH AN EYE FOR TACTICS AND A STRONG WILL. VERY STUBBORN. VERY PROFESSIONAL IN AND OUT OF COMBAT, BUT WITH A BIT OF A TEMPER PROBLEM. CAN TRANSLATE INTO ATTITUDE ISSUES. DISLIKES SECRECY AND PREFERS OPEN ASSIGNMENTS. GOOD AT THINKING ON HIS FEET, BUT BETTER EXECUTING CAREFULLY ORCHESTRATED PLANS. ALSO HAS A STRONG AVERSION TO GOSSIP, EVEN FOR A SPARTAN. EXCELLENT AT EVALUATING PEOPLE. DEVISES PLANS THAT PLAY VERY WELL TO THE STRENGTH'S OF HIS TEAMS, EVEN ON THE FLY. DIEHARD LOYALTY TO HIS SQUAD SURPASSED ONLY BY LOYALTY TO UNSC
COMMENTS:
LONG CAREER OF SUCCESSFUL SERVICE AGAINST LONG ODDS HAD MADE HIM SOMEWHAT ARROGANT, AS WITH THE REST OF HIS SQUAD, MADE WORSE BY HIS OWN NATURAL STUBBORNESS. THIS OCCASSIONALLY PROMPTS ATTITUDE PROBLEMS, ALSO MADE WORSE BY HIS TEMPER PROBLEM. MANAGES TO KEEP THESE ISSUES OFF THE BATTLEFIELD, BUT THEY WILL OCCASSIONALLY REAR THEIR HEAD DURING DOWN TIME.
NOTE(S):
VERY SUSPICIOUS OF ONI, PARTICULARILLY SECTION III, IN THE AFTERMATH OF THE [S-312] INCIDENT, THOUGH LESS SO THAN HIS SUBORDINATES. CONFIDENCE IN UNSC STILL HIGH, BUT DISTRUSTS NAVAL INTELLIGENCE IN PARTICULAR.
(as of January 1, 2587)
JACKY

SENIOR CHIEF PETTY OFFICER
FULL NAME: DAVIS, JACKY
SERVICE #: S-359
UNIT: NAVSPECWAR/ARES DETACHMENT/GOLD TEAM
ENLISTMENT DATE: CLASSIFIED
LOCATION: CLASSIFIED
STATUS: ACTIVE
GENDER: F
BIRTHPLACE: HERSHIRE, NEW LONDON
BIRTH DATE: 6/22/2534
PERFORMANCE:
OUTSPOKEN AND OPINIONATED WITH AN EYE FOR DETAIL. VERY PRECISE. HAS VERY CLEAR OPINIONS AND ISN'T AFRAID TO SHARE THEM. NOT MUCH OF A TACTICIAN, BUT IS ODDLY PERCEPTIVE OF OVERALL STRATEGIC OVERVIEWS. KEEN INTEREST IN MILITARY AND CIVILIAN POLITICS. EXCELS AT CLOSE QUARTERS, ESPECIALLY AT REMAINING UNDETECTED. ABILITY TO MAKE USE OF HER SPI ARMOR IS ALMOST SUPERNATURAL. UTTERLY RUTHLESS IN COMBAT, BUT KEEPS A TIGHT REIN ON HER EMOTIONS. ALSO AN EXCEELENT ACTOR.
COMMENTS:
SOMEWHAT ARROGANT, MUCH LIKE THE OTHER MEMBERS OF GOLD. SOMETIMES HAS TROUBLE CONNECTING WITH OTHER PERSONNEL, ESPECIALLY OTHER SIERRAS, BECAUSE OF ARROGANCE AND HER OUTSPOKEN NATURE.
NOTE(S):
HIGHLY SUSPICIOUS OF ONI IN THE AFTERMATH OF [S-312] INCIDENT, ALMOST TO THE POINT OF PARANOIA. STILL CONFIDENT IN NAVY AND MAINLINE UNSC, BUT IS OUTWARDLY HOSTILE TO AGENCY MEMBERS. RECOMMEND KEEPING A CLOSE EYE ON HER IN CASE SUSPICIONS TURN INTO SOMETHING MORE.
(as of January 1, 2587)
MASON

SENIOR CHIEF PETTY OFFICER
FULL NAME: TRIBBLE, MASON
SERVICE #: S-317
UNIT: NAVSPECWAR/ARES DETACHMENT/GOLD TEAM
ENLISTMENT DATE: CLASSIFIED
LOCATION: CLASSIFIED
STATUS: ACTIVE
GENDER: M
BIRTHPLACE: SYDNEY, EARTH
BIRTH DATE: 11/11/2534
PERFORMANCE:
UNOBTRUSIVE AND UNASSUMMING; A CRACK SHOT WITH A SNIPER RIFLE, THOUGH DEFINITELY NOT THE BEST OF THE SIERRA CHALRIE III'S. TALKATIVE AND JOKEFUL DURING OPERATIONS, EVEN MORE SO OFF DUTY. GOLD SEEMS USED TO IT; OTHER OPERATORS HAVE COMMENTED DISFAVORLABLY ON IT. NOT MUCH MORE TO SAY; HE'S A DEDICATED TEAM MEMBER WITH AN EXCELLENT MARKSMAN ABILITY. SOLID UNDER FIRE, BUT STILL PREFERS TO HANG BACK OUT OF COMBAT. INTERESTS SEEM LIMITED TO WEAPONS AND HIS TEAM.
COMMENTS:
A LITTLE COCKY, JUST LIKE THE REST OF GOLD, BUT AT LEAST HE HAS THE STONES TO BACK IT UP. KEEPS HIS ARROGANCE IN LINE BETTER THAN SOME OF THE OTHERS, HOWEVER; HE CAN APPRECIATE TALENT, AND ACKNOWLEDGES SUPERIOR ABILITIES.
NOTE(S):
MORE THAN ANY OF THE REST OF GOLD, STILL SEEMS TROUBLED BY THE [S-312] INCIDENT. BLAMES HIMSELF FOR THE "FAILURE" OF THE MISSION, AND FOR LETTING THE ASSASSIN ESCAPE. THE FACT HE COULD HAVE DONE NOTHING NEVER SEEMS TO HAVE OCCURRED TO HIM. MISTRUSTFUL OF ONI, BUT NOT NEARLY TO THE DEGREE OF THE OTHERS.
Community content is available under
CC-BY-SA
unless otherwise noted.