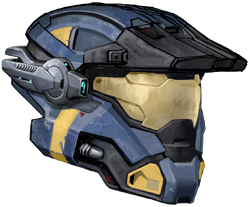 The Administrators are the community leaders of Halo Fanon who maintain order and aide users on a day-to-day business. Currently, there's an active staff of five people consisting of two Bureaucrats and three Administrators. The symbol seen on the right is used to identify a staff member, and is placed at the top right of his or her userpage.
Background
What are Administrators?
Different users have access to different functions of the site. While anyone can do most things on the site, including reading and editing, administrators can access a few additional functions.
Deleting and restoring pages and page histories. Administrators can also delete uploaded files, but cannot restore them.
Locking (protecting) a page so it can not be edited or renamed by users without admin rights.
Blocking IP addresses or user names from editing; and very quick "rollback" of undesirable edits.
Editing the interface by changing system messages and skins.
A bureaucrat can make other users into bureaucrats or administrators on their own wiki. They are also able to remove administrator access from any user to which it was granted. Please contact one of the community staff in the unlikely event that you need this done and cannot reach a bureaucrat.
Some Wikia staff members have full access to all Wikia. They will be shown in Special:Listusers/staff on any wiki. Please see the Central Wikia contact page for details on how to contact Wikia staff.
How do I use administrator powers?
See the administrators' how-to guide for a guide on using admin functions.
What can administrators not do?
Administrators should not use their administrator powers to settle editing disputes; for example, to lock a page on a version he or she prefers in an editing dispute that isn't vandalism. Administrator powers should be used to help keep the wiki clear of vandalism, spam, and users who make malicious edits, but not for simple disagreements between users acting in good faith. While an admin wasn't originally considered "in charge" of the wiki, however as our has wiki grown, the need for community-oriented administrators who take the initiative in leading the site and overseeing its content is standard procedure. The ideal admin is just someone who is trusted to have a few extra buttons and to use them for the benefit of the Wikia community with their personal issues and beliefs kept out of their professional duties.
List of Administrators
Current
Retired
Bureaucrats
Administrative Term
Bureaucratic Term

H*bad

(

talk

•

contribs

)
Jan 11, 2007—Jun 13, 2008
Jan 11, 2007—Jun 13, 2008

RelentlessRecusant

(

talk

•

contribs

)
Jan 11, 2007—Sep 15, 2009
Jan 11, 2007—Sep 15, 2009

Rotaretilbo

(

talk

•

contribs

)
Mar 12, 2007—Apr 4, 2010
Jun 5, 2007—Apr 4, 2010

Spartan-091

(

talk

•

contribs

)
Jun 1, 2007—Dec 11, 2011
Mar 31, 2010—Dec 11, 2011

Subtank

(

talk

•

contribs

)
Sep 2, 2008—Dec 20, 2011
Mar 31, 2010—Dec 20, 2011

Lordofmonsterisland

(

talk

•

contribs

)
Sep 2, 2008—Nov 7, 2013
May 7, 2014—May 7th, 2021
Dec 20, 2011—Nov 7, 2013

Sonasaurus

(

talk

•

contribs

)
Sep 10, 2011—Jan 7, 2015
Dec 20, 2011—Jan 7, 2015
Administrators

Donut THX 1138

(

talk

•

contribs

)
Mar 24, 2007—Dec 2, 2009

Leon2323

(

talk

•

contribs

)
May 14, 2007—Jun 10, 2007
(Officially DRfA'd Apr 4, 2010)

Dragonclaws

(

talk

•

contribs

)
Nov 4, 2007—Dec 15, 2011

SPARTAN-077

(

talk

•

contribs

)
Sep 2, 2008—Jan 31, 2009

Grizzlei

(

talk

•

contribs

)
April 24, 2010—May 11, 2013

-AR-

(

talk

•

contribs

)
April 24, 2010—Nov 7, 2013

Maslab

(

talk

•

contribs

)
April 24, 2010—Nov 7, 2013

Leo Fox

(

talk

•

contribs

)
Feb 24, 2011—Jan 7, 2015

StoneGhost

(

talk

•

contribs

)
March 31, 2012—Jan 7, 2015
Current Biographies
Bureaucrats

Ajax 013

Ajax 013 is one of the most veteran users on Halo Fanon, and its currently longest serving administrator. He enjoys NCFing articles, elaborate revenge schemes and dominating the minds of lesser men. Fear him. On the 7th of November, 2013, after a dark ritual involving the sacrifice of hundreds of virgins (Which is most of Halo Fanon's user base), he ascended to the position of Bureaucrat. Now all that is left for him is the last two steps on his plan to world domination, the first being to build a giant slingshot, the second is using said slingshot to fire Sona into the sun.

Brodie-001

Brodie-001 wandered onto this site in mid-2010, looking for a place to set down his many story ideas. After nearly two years of quietly getting on with his work he finally braved the IRC and began interacting with his fellow users. He has since amassed a number of articles and has a habit of killing characters en-masse in his stories. While not writing fanon stuff he takes the time to help lead his fellow fanoneers on online excursions and tries to keep order in the site's community. Brodie currently lives in London, and spends most of his time playing games, not sleeping, and trying to make others do work.
Administrators

Actene

Actene joined the site in 2008 and hit the ground running by winning his first award in the annual awards a few months later. Since then he has participated in several community projects and expanded his own meta-verse to include a diverse cast of award-winning characters. Connected to the community through the IRC, his talk page, and a round-the-clock observation of the recent changes page, he never tires of collaboration with other uses. When left to his own devices he delights in rewriting his own work ad infinitum, as the last version was disgustingly shoddy and this new version is the pinnacle of literary perfection.

Ahalosniper

Arriving in mid-2009, ASniper remained largely ignorant of the site at large for over years, working on his own machinations in the background before joining the IRC and first connecting with other members of the community in 2012. In that time, however, he observed and learned through imitation the skills necessary to craft a quality article, and connected with newer users through talk pages rather than chats, taking the time to think out his responses. He looks forward to collaboration between users, and wishes that there would be more prose stories written on the site and articles would shoot for a wider range of annual awards.

Distant Tide

Distant Tide entered Halo Fanon in 2017 knowing more than most newcomers after being an on-and-off viewer of content produced by the very same admins and site veterans he finds himself among today. A well-established fanfiction writer before Halo Fanon, Tide quickly joined the site's regular ranks through quality articles and frequent interaction on the site's new Discord server at the time. Tide never slowed down, building collaborative partnerships with all types of writers. While often distracted by new ideas left-and-right, his eyes remain zeroed on propelling the community to new heights.
Relevant timeline
2007

January:

The wikia is founded, granting RelentlessRecusant and H*Bad bureaucratic powers

March:

Instatement of Rotaretilbo and Donut THX 1138

May:
July:

Instatement of Spartan-091

November:

Instatement of Ajax and Dragonclaws

2008

June:
August:

Instatement of LOMI, Subtank and SPARTAN-077 (Forum:RfA Voting)
Failed RfA of The Parkster

2009

September:

Retirement of RelentlessRecusant

2010
2011
2012
2013
2014
2015
2021
Images
Related Pages
Internal
External
Administrators on Halopedia — One of the wikis the Halo Fanon staff cooperates and maintains good relations with. Some staff members of the Halo Fanon Administration may also be members of the Halopedia staff which allows for a continuous friendly manner between users and the ability to share policies.