| | |
| --- | --- |
| | This article, Ezekiel-254, was written by Maslab. Please do not edit this fiction without the writer's permission. |
Ezekiel
Spartan tag

254

Service Record
Service Number

23457-34254-EN

Unit

SPARTAN-II Class-II

Biographical Information
Homeworld

Mars

Date of Birth

March 13, 2531

Physical Description
Gender

Male

Height

6' 8" (Unarmored); 7' 2" (Armored)

Hair

Black

Eyes

Green

Miscellaneous Information
Rank

Commander

Decorations

*Purple Heart (2)

Colonial Cross
UNSC Silver Star (3)

Affiliation

  [Source]
Command
"Sir, with all due respect, asking a Spartan to push papers is like asking an elephant to play rock-paper-scissors."
―Ezekiel on his transfer to a Spartan training camp
Ezekiel-254 was promoted to Lieutenant in the UNSC Navy by 2559, and was the second in command of all Spartans. He personally oversaw Katana team's mission to Zeta-9 to investigate an old emergency signal.
It is known that he was one of the Spartans assigned to assist the Sangheili during the Rift Crisis, in which hundreds of Sangheili newborns were kidnapped. He is one of the few humans to have ever set foot on Sanghelios.
Ezekiel aided the Spartans during the Rift Crisis. He helped by providing psychological information and insights to the other Spartans.
During the final assault on Isto 'Vadum's stealth corvette, Ezekiel fought a squad of six Fallen Sangheili while Rtas 'Vadum fought the Fallen leader.
He managed to kill all six of the Elites, then went hunting later on Spartan 116's orders. He managed to kill a little over 20 Elites, racking up the highest kill ratio of any of the others during the battle.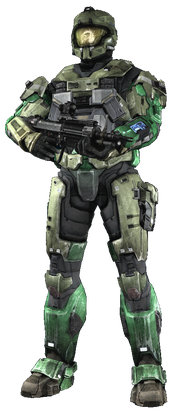 Ezekiel in MJOLNIR Mk. VII armor.
Appearance and Personality
Not much is known about Ezekiel-254. He is most certainly a Spartan, and is obviously proud to be around training three thousand other Spartans. He does have an obvious dislike of office work, but weighs this against the fact that he'll return to fighting when Delta Company is deployed. He is also frustrated with ONI, who keeps diverting funds for his camp to "rebuilding Earth's infrastructure".
He stands just over two meters tall, has black hair, and odd green eyes rimmed by a light blue color.
† Deceased