| | |
| --- | --- |
| | This article, 024 Archaic Chivalry, was written by Lordofmonsterisland. Please do not edit this fiction without the writer's permission. |
51293 Archaic Chivalry
Biographical information
Began service 

101,752 BC

Physical description
Gender

Male Programming

Description

Floating, round-edged cube, with one "eye" sign that is blue by default.

Normal color

Turquoise illuminations with dull gray casing

Political information and functions
Affiliation
Primary Function

Monitor of Satellite 02, the Ceres Installation

Notable Battles

Forerunner-Hydra War
Forerunner-Flood War
Battle of Ceres
Battle of Ignito Prime
Necros War

  

[Source]
"It was once said that

Our Makers

were without equal, that their sheer power of will and their oft treasured hope was enough to spur them to victory through any trial. Where are they now?"
―024 Archaic Chivalry

024 Archaic Chivalry, referred to occasionally by Covenant species as Oracle and often simply Chivalry, was the Catalogue-class Monitor assigned to Satellite 02, the Ceres Installation. Though fairly unknown during the era of the Forerunners, Archaic Chivalry would play an important rule in the Battle of Ceres, the continued existence of the Covenant Remnants, the Battle of Ignito Prime, and the Necros War.
Biography
Background
The Ceres Installation was another Forerunner station built to contain and study the Hydra, as well as the Flood; later, it served as a testing ground for the destruction weapon used on the Halo Array. Archaic Chivalry was assigned to the station, and watched over it for thousands of years without incident.
When Archaic Chivalry awoke to the sounds of battle, he immediately awoke the last Forerunner, the Librarian of Ceres and attempted to contain both parasites, to no avail. During the battle, he and his tactical operations sub-Monitor 714 Cognitive Tactics did everything they could to destroy the Flood and Hydra, but in the end Chivalry gave the Index to two humans who activated the installation. Archaic Chivalry managed to escape with a small group of sentinels and 823543 Discordant Fervor in his custody. The tables were soon turned though, as Discordant Fervor broke free, taking Archaic Chivalry captive and controlling his sentinels.
Rebuild Era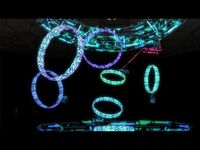 024 Archaic Chivalry: "They're still out there Repentance: do you intend to use them?"
823543 Discordant Fervor: "Yes, I do intend to: but we'll need to rebuild a few of them, you know"
024 Archaic Chivalry: "I believe she will be more than glad to help us to earn such a prize as the Array"
— Repentance and Chivalry discussing their plans
Personality
Trivia
"Archaic" means "old; ancient; elderly" and "Chivalry" is "being valiant; sticking to a task till death". So, Archaic Chivalry is an "ancient" Monitor that will "bravely and valiantly stick to his duty till death".
Archaic Chivalry was featured as one of the lesser Rogue Monitors in the alternate universe RP Halo: What If?.
Sources
Literary References
Community content is available under
CC-BY-SA
unless otherwise noted.